Turns out GIFs aren't just for reacting to tweets — they're also a fantastic way to drive engagement in your email marketing.
There are plenty of brands driving eye-catching results by using GIFs in emails. For instance, tech giant Dell ran a GIF-centered email campaign that, when compared to quarterly benchmarks, delivered a:
42 percent increase in click rate
103 percent increase in conversion rate
109 percent increase in revenue
So it's no surprise that over half of marketers use animated GIFs in emails at least some of the time.
Interested in joining them? You're in the right place. In this article, I'll explain how to put GIFs in emails, talk through the benefits of doing so, and share some of my favorite real-world examples.
4 Reasons You Should Use GIFs in Emails
Before we get into the practicalities of how to add GIFs in emails, you might be wondering: "Do GIFs work in emails?"
That's a good question. After all, the last thing you want is to embed a bunch of non-functioning GIFs in your emails, or invest a ton of time and effort without generating any results.
While I can't guarantee that including a couple GIFs in your next campaign will double your click-through rate or send revenue through the roof, there are some pretty compelling benefits to doing so:
1. GIFs Add Visual Interest to Emails
The most obvious benefit to using GIFs in emails is that they make your emails look more interesting by adding an element of motion to otherwise static content.
2. Movement is Eye-Catching
Unless you're adding dozens of animated GIFs to a single email, your GIF will likely stand out against the rest of the (non-animated) content. This helps GIFs to draw the eye. Use this approach to guide readers toward the most important stuff in your email — like a call to action or promotion.
3. GIFs Work When Videos Don't
Generally speaking, if an email client supports embedded image files (JPGs and PNGs), it'll also support GIFs. However, a lot of clients — including Apple Mail, Gmail, and Outlook — don't support embedded video files. So if you want a dynamic format with widespread support, GIFs are a safe bet.
4. Showcase Several Products in a Small Space
GIFs are like a flipbook, because they're made up of lots of individual images spliced together. That means you can use them to display multiple products within a single "element", without taking up a ton of space in your email.
How to Insert a GIF Into an Email
The process of inserting GIFs into emails is pretty simple, but varies depending on your email service provider. Here's how to do it with Drip:
Click

Image

within our email builder.

Click

Choose image

to insert an animated GIF from your local drive, or enter a URL to embed an online GIF using the

Enter a URL

bar.

Choose your GIF file.

Use the

Place image

tool to move your GIF to the desired position.

See how it all looks.

If you're happy with the results, that's all there is to it. If not, go back and play around with the GIF location, vertical spacing, alignment, and size.
How to Create Your Own GIFs (6 GIF Creation Tools)
Creating your own GIFs is simple, with plenty of tools to do all the hard work for you. Here are some of our favorites…
1. PixTeller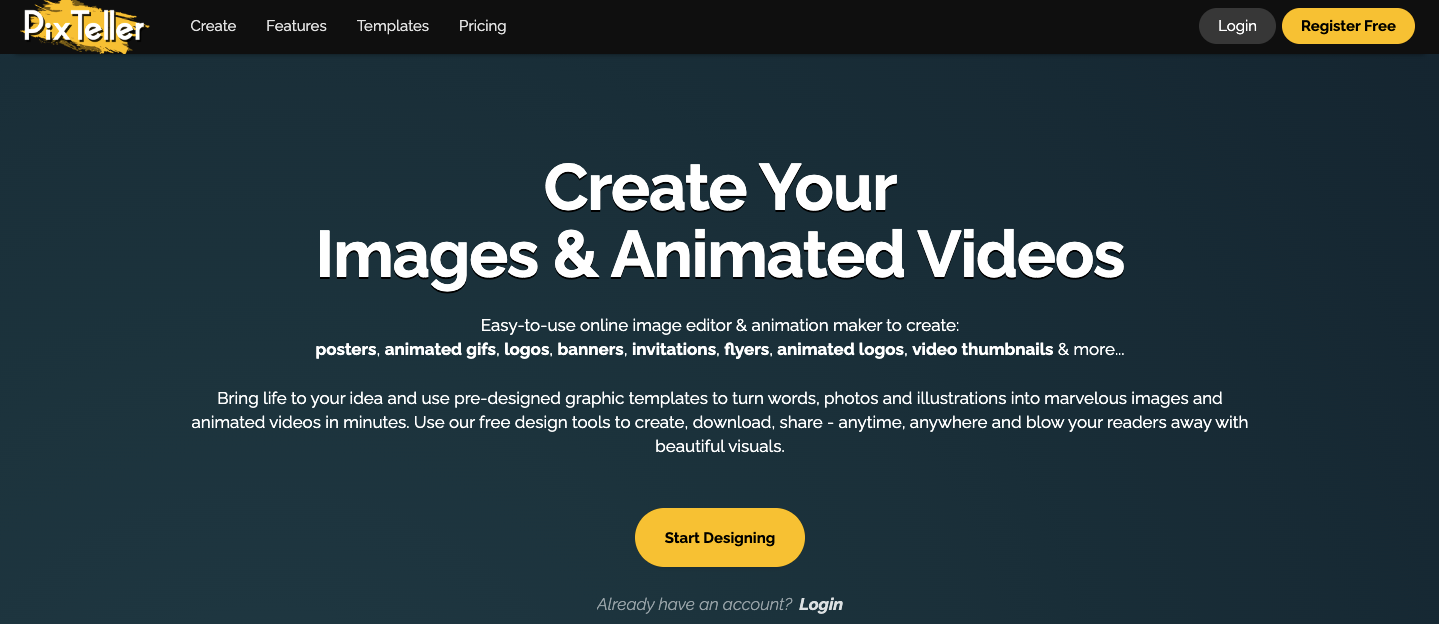 Price: From free; paid plans start at $7 per month
PixTeller is a simple online image and animation-maker that allows users to create GIFs, logos, video thumbnails, and more. It all works directly from your browser, with no need to download any additional animation software.
The animation editor makes it easy to tinker with individual elements of your animation, such as altering the size and position or adding different filters.
Once you've finished editing, you can download your work as a GIF or MP4 video.
2. GIPHY Create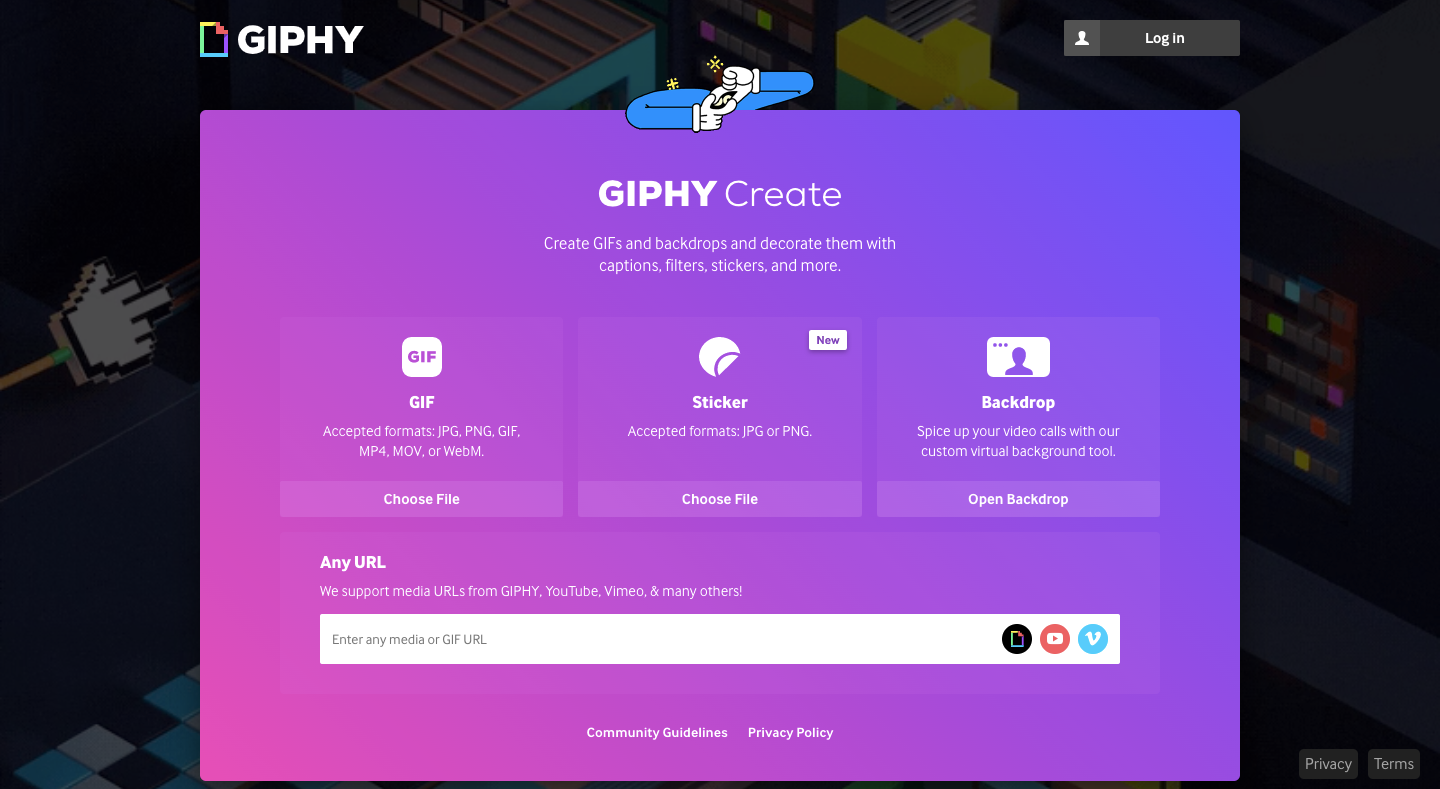 Price: Free
GIPHY Create is GIPHY's built-in GIF-maker. Users can import media from various sites, including Vimeo, YouTube, and—of course—GIPHY itself. The tool allows you to create GIFs and backdrops, then elevate them by adding filters, stickers, and captions. It works with various file formats, including GIFs, JPGs, PNGs, and MP4s.
3. Gifs.com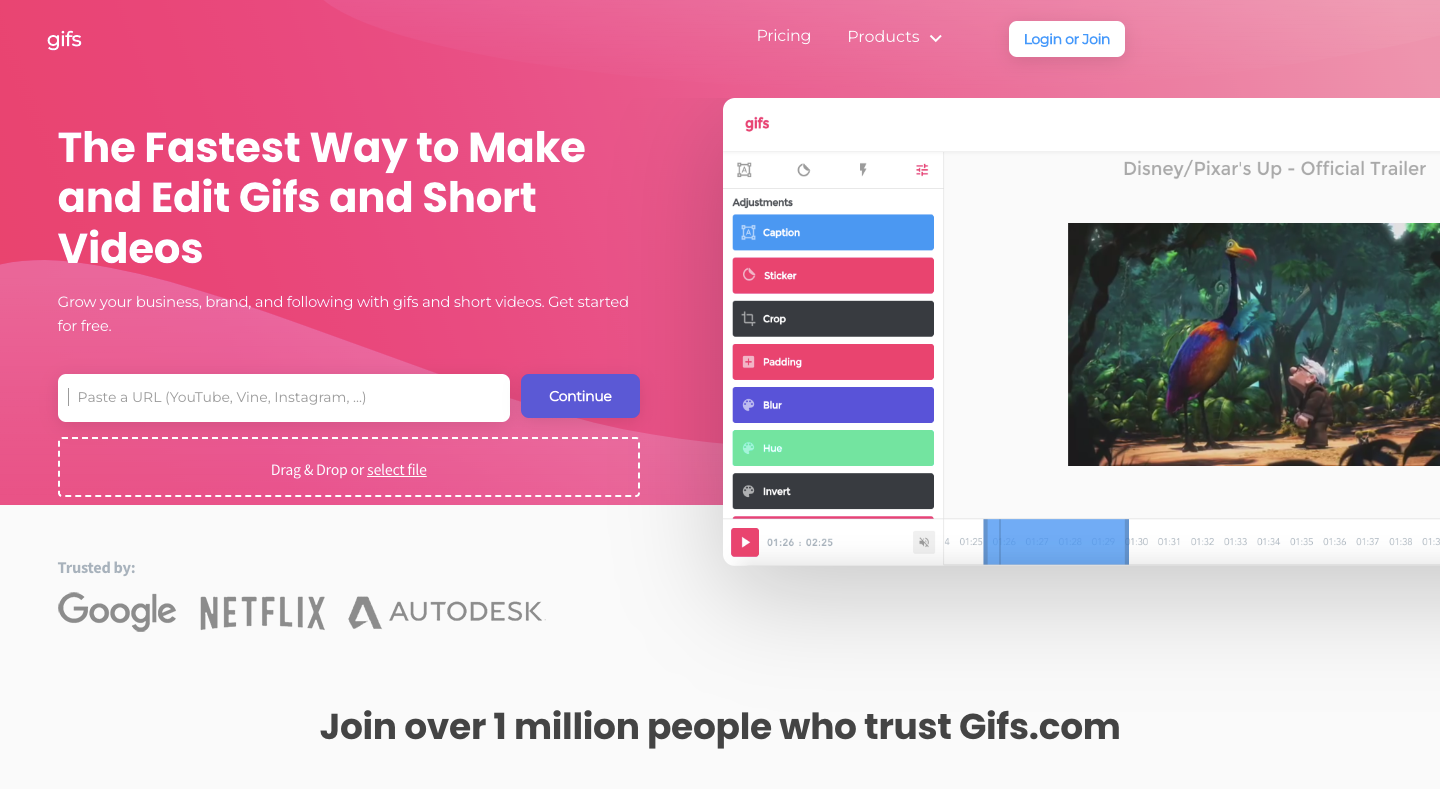 Price: From free; paid plans start at $1.99 per month
Big brands like Google and Netflix use Gifs.com to create animated GIFs from video files. Just copy-paste any video URL and the tool will transform it into an animated GIF, WebM, or MP4 file. Uploads can be up to 150 MB, while GIFs created through the platform can be up to 15 seconds long.
While Gifs.com is an excellent tool, be aware that the free product tier adds watermarks to any GIFs you create and doesn't allow you to include premium effects.
4. Ezgif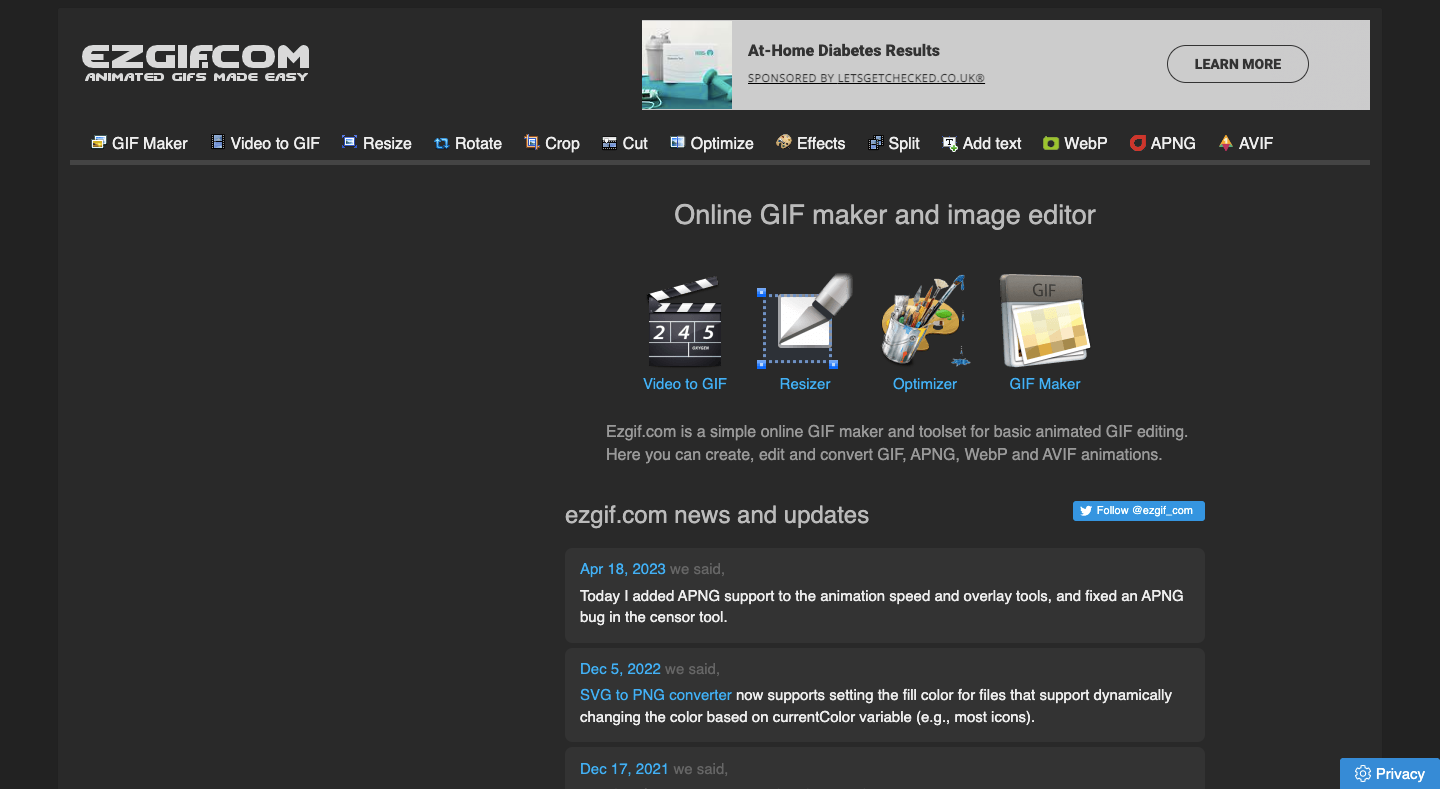 Price: Free
A simple online GIF-maker and basic animated GIF editor, Ezgif helps you create, edit, and convert GIF, APNG, WebP, and AVIF animations. The platform also features a video-to-GIF converter.
5. Make A GIF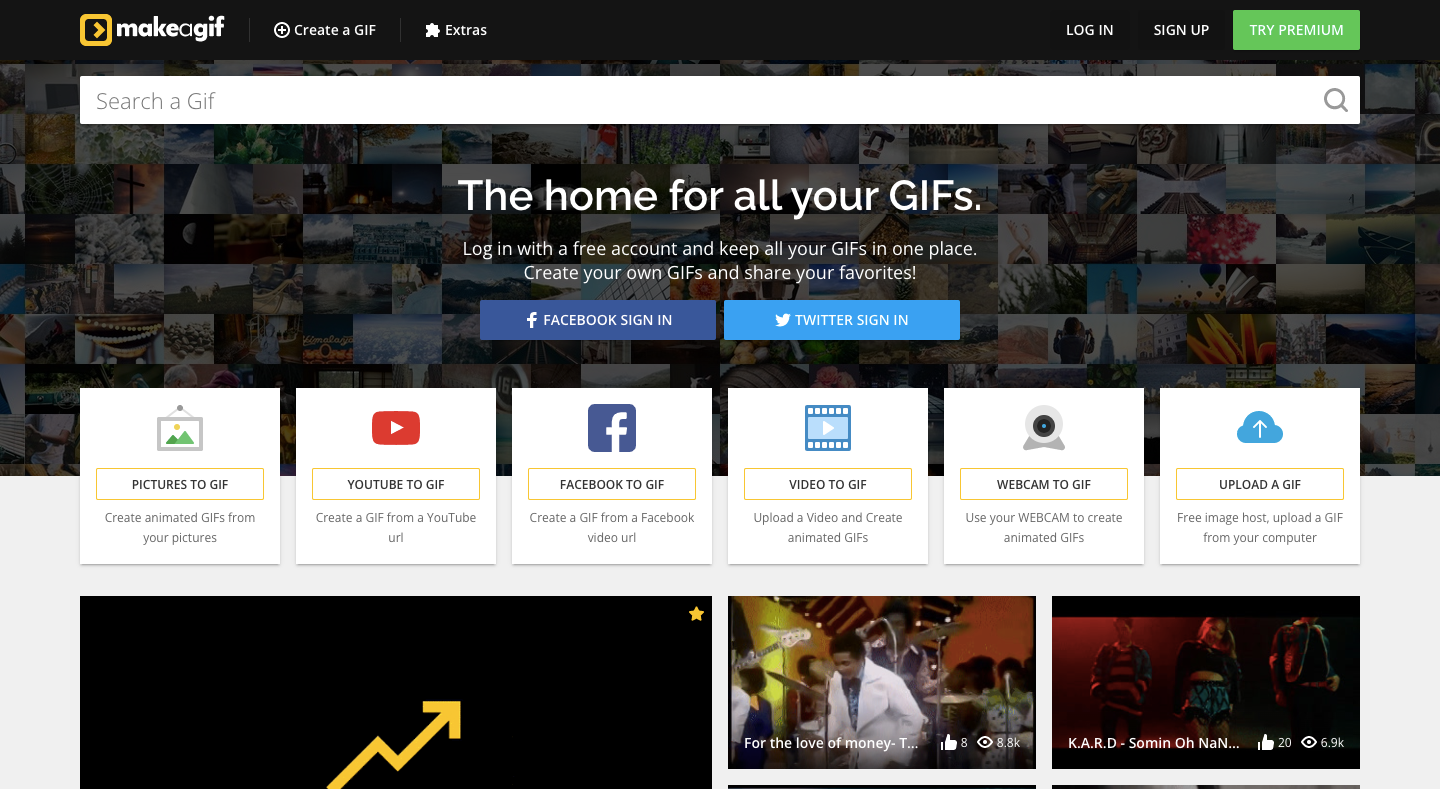 Price: Free
Use Make A GIF to create GIFs from multiple static images, YouTube or Facebook URLs, uploaded video files, and even from footage captured on your webcam. Sign up for a (free) premium account to access high-definition GIFs, add personalized watermarks, add social links, and more.
6. Awesome Screenshot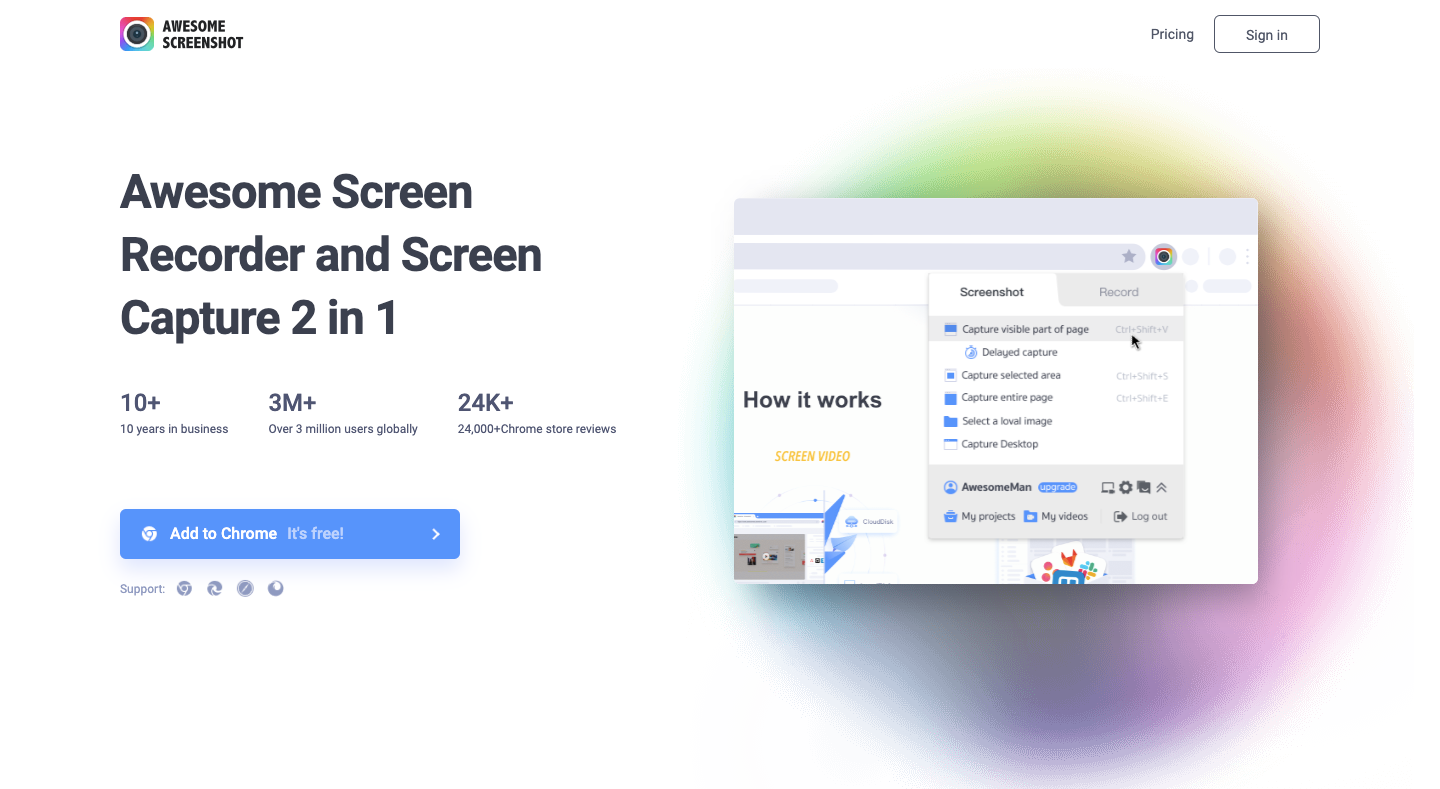 Price: From free; paid plans start at $5 per month
Awesome Screenshot isn't actually a GIF-maker, but you can use its screen-recording functionality to capture video footage and convert it into GIF format using some of the other tools on this list.
The free plan allows you to record up to 20 videos a month at 720p resolution, with unlimited recording length. Upgrade to a paid plan to unlock additional annotation tools and increase the resolution to 4k.
How to Use GIFs in Emails Effectively (with Examples)
1. Promote Your Products
Your marketplace dictates how you market your products in the email. If you're in a niche like cruelty-free makeup, values will take precedence over, say, product marketing.
But if you're in ecommerce — an industry that perhaps is best known for its use of GIFs in its emails — then you will likely focus more on personality and why the buyer needs to buy you from over a competitor.
One of the most common ways to use GIFs in marketing emails, based on my research, is promoting multiple products at once. Here are three ways to do that using real brands as examples.
a. Promote New Arrivals
When asking for a visitor's email address, it's common for many ecommerce websites to segment new visitors by gender, such as the below example from Calvin Klein.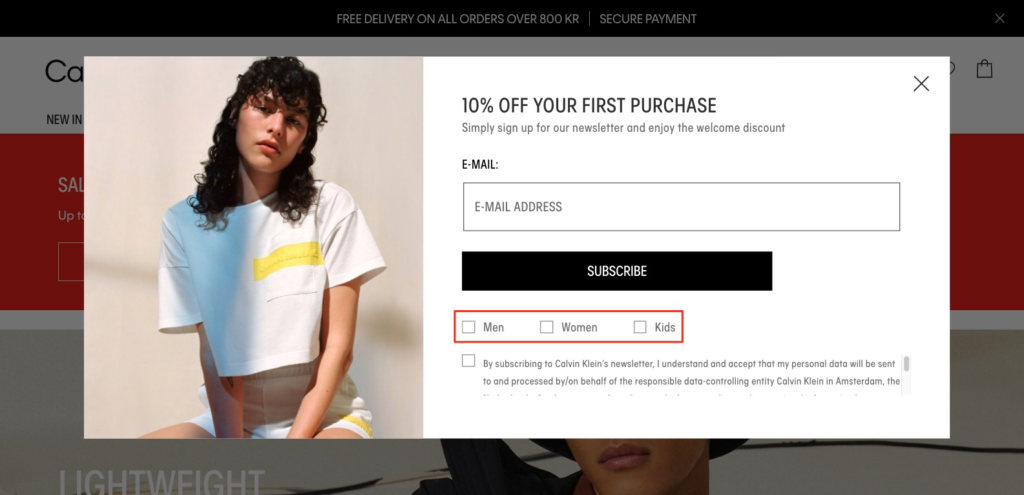 However, brands that don't leverage email popups, such as Ralph Lauren, use an opt-in form to collect emails, resulting in emails to appeal to both men and women.
To save on its emails limited real estate, Ralph Lauren recently leveraged a GIF to promote its new arrivals. The GIF featured a man and a woman modeling the new range.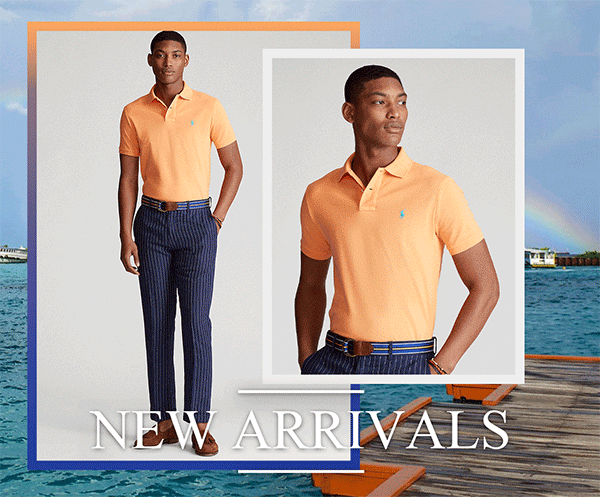 Old Navy leveraged a GIF in a recent email of its own, going one step further than Ralph Lauren and adding the item's price to promote its newly discounted items.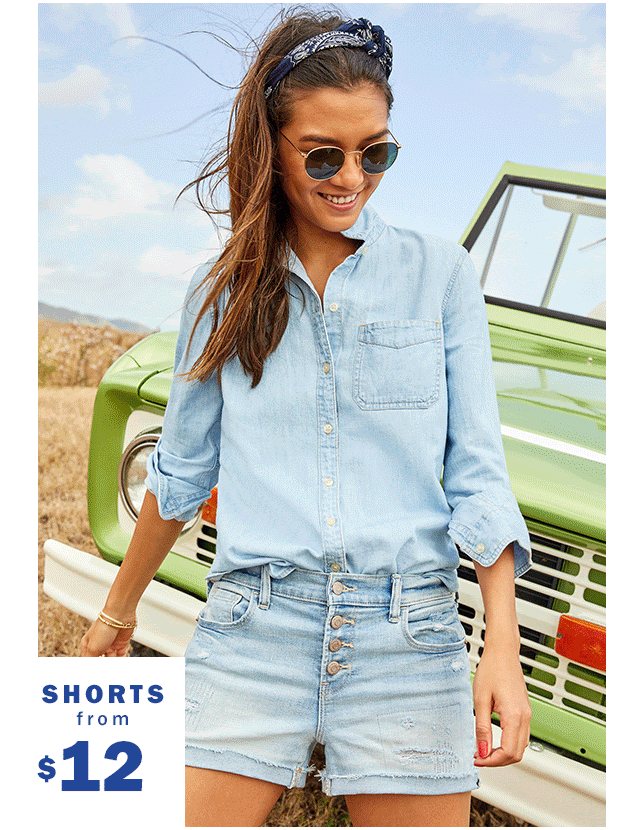 b. Promote a Bundle
Many of the GIFs I found while researching this post focus on the product in question. But others, as with the example below from Flat Tummy Co., focus on a promotion's specificity.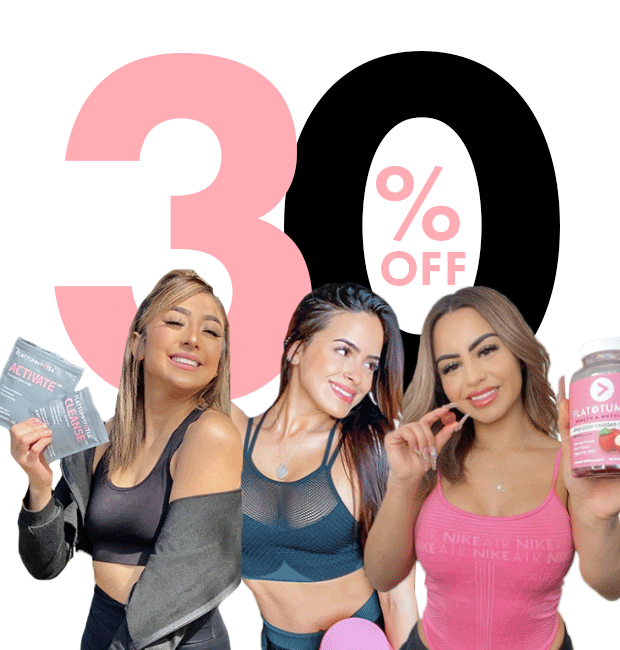 Not only that, but the brand also included a countdown timer underneath the above GIF to drive urgency for the promotion, counting down from the final hour.

c. Promote a Color Range
Rather than promote a range of products, it's common to sometimes want to promote one product, but showcase its range in color. That's exactly what Violet Grey did in a recent email.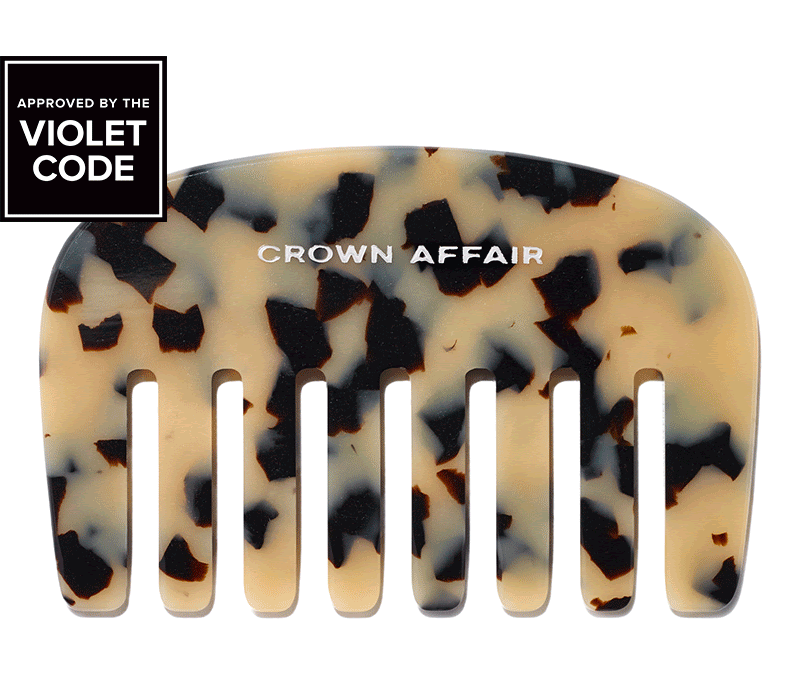 While the other products featured in the email were promoted with images, Violet Grey's choice of highlighting one of its items with a GIF was enough to rivet my attention and read more.
2. Show Products in Action
A common best practice when photographing products is to photograph them in context. After all, it's easier to envision owning a product after seeing it in its intended environment.
One brand that goes beyond that best practice is Sweaty Betty. In a recent email promoting its new gym equipment, the brand used a GIF to showcase its gym ball.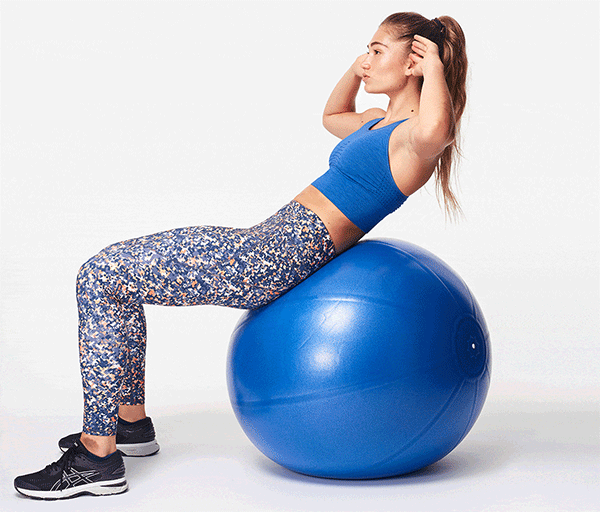 My favorite example, though, belongs to one of our favorite brands, Barkbox. From its copywriting to its unmistakable humor, the brand always goes the extra mile, and its email marketing is no exception.
In a recent email promoting a limited-time deal to claim a free splash pad, the brand used a GIF to show the mat in action, complete with a happy dog.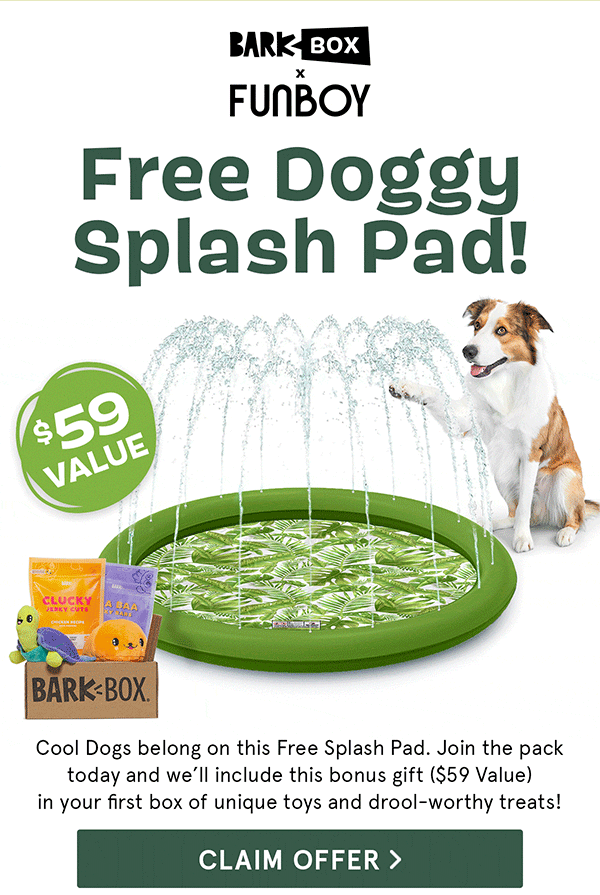 Using a GIF is an effective way of promoting the freebie. Plus, adding a dollar amount to boost the item's perceived value was a particularly nice touch.
3. Showcase Customer Reviews
So far, we've seen brands leveraging GIFs to promote new arrivals or discounted products, which is the common approach to using GIFs in emails.
Another way, which Hollister expertly leverages, is using a GIF to highlight customer reviews. In a recent email, the brand featured a jigsaw-like GIF, promoting its bestsellers, complete with testimonials.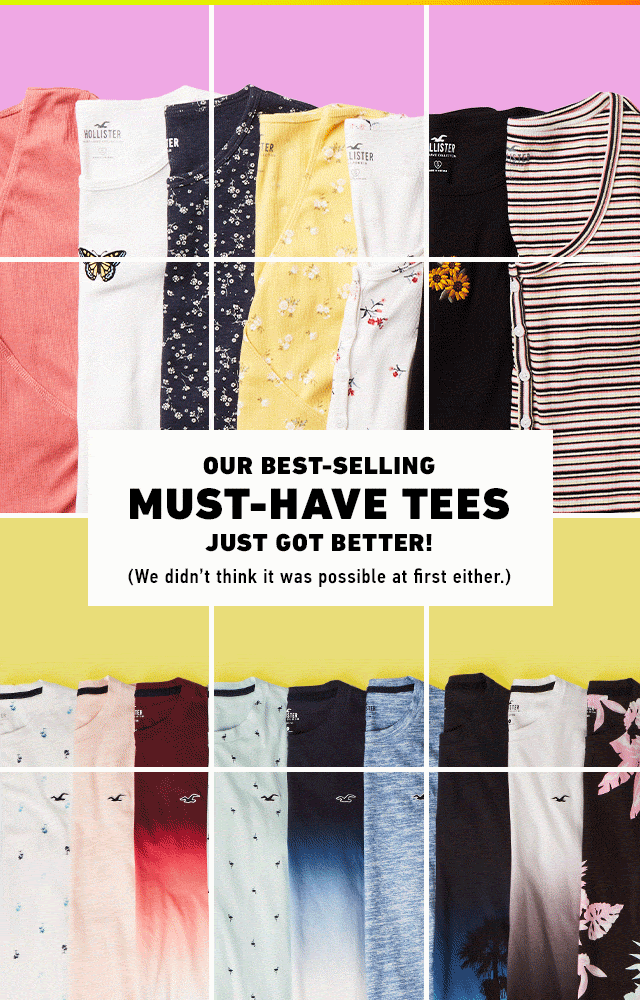 The testimonials, mostly praising the materials the brand uses, range from informative and helpful ("Ridiculously comfortable") to memorable and humorous, "The material is so soft I just want to rub my face on it."
Adding the buyer's location, as well as five stars (perhaps to demonstrate social proof), adds to conveying the brand is liked, known, and trusted by a far-reaching fanbase.
4. Create Urgency
It's no secret that urgency drives people to act. If there's limited availability or a finite window to snag a bargain, we can't help but take action.
In our research from 1+ billion popup sessions, we found that popups with a countdown timer (8.07 percent) convert better than campaigns without a countdown timer (3.79 percent) by 112.93 percent.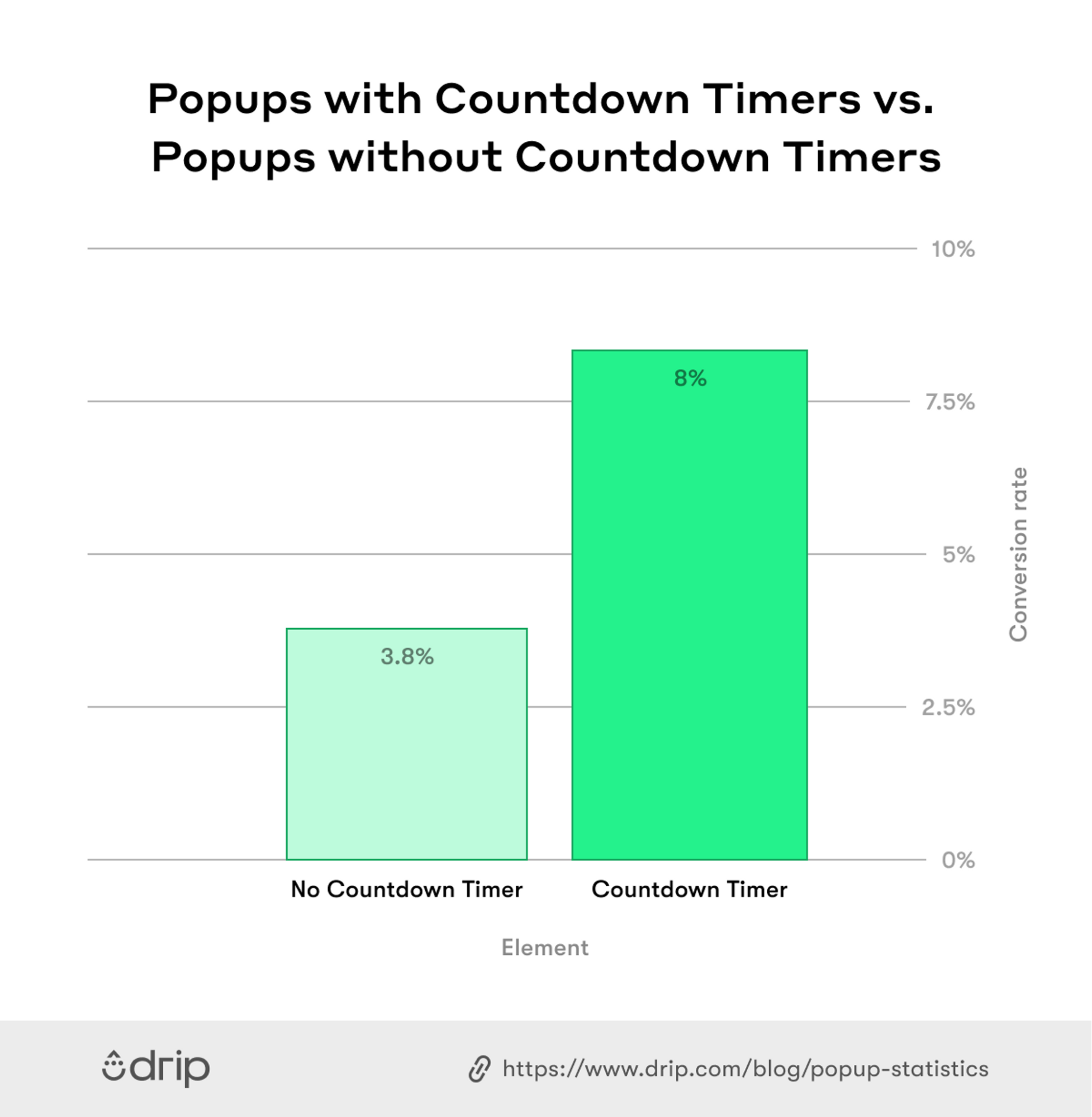 It's no surprise, then, that emails that communicate urgency — through copy or even better, a countdown timer — tend to perform well at driving buyers to take action.
In a recent email from Brooklinen, the brand leveraged a GIF of a clock counting down to signify the end of a promotion to get a free candle with orders over $150+.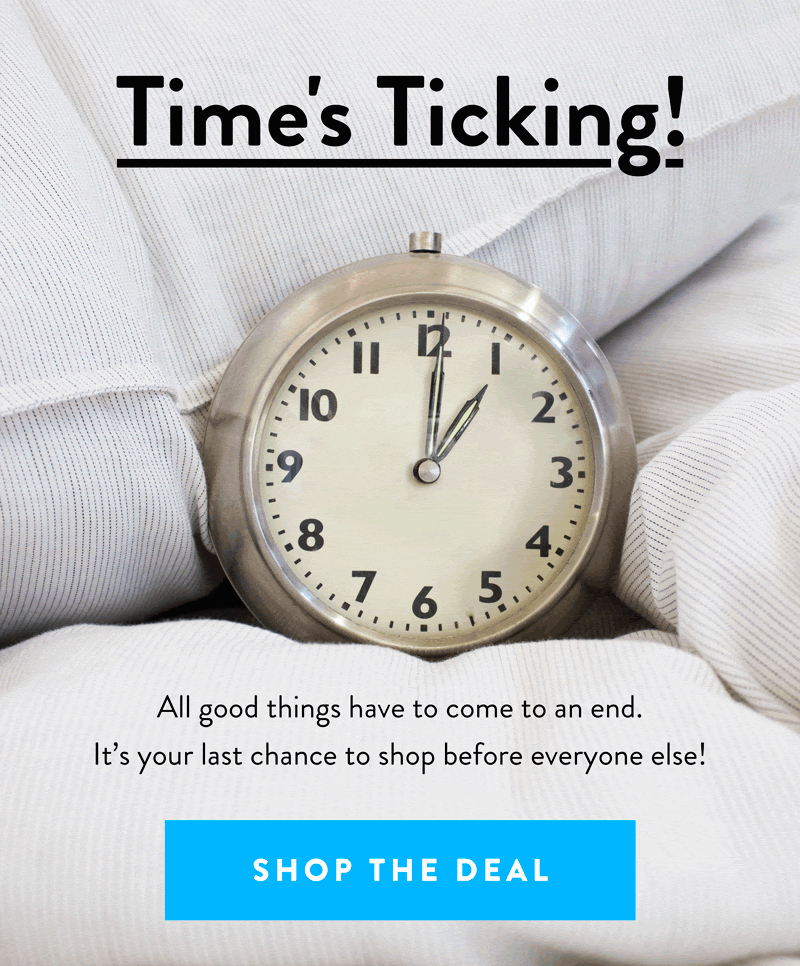 Bed Bath & Beyond, by contrast, leverages a GIF of half a clock — perhaps to emphasize how limited the time really is — to drive further urgency for its daily deal.

Even though both of the above examples aren't counting down to a deadline, the GIF combined with compelling copy is a clever way to drive prospective customers to take action.
5. Boost Email Engagement
Many brands leverage GIFs as an afterthought, a means of maybe getting a laugh or two. The best brands, though, leverage GIFs as a means of driving engagement.
Here are three ways to do that.
a. Pull the Reader Down the Email
Copywriter Joseph Sugarman once wrote, "Your readers should be so compelled to read your copy that they cannot stop reading until they read all of it as if sliding down a slippery slide."
While Sugarman's axiom was written with ads in mind, inviting the reader to keep reading is especially relevant to email marketing campaigns.
Gone are the days of having one call to action (CTA) at the bottom of an email. Today, e-commerce emails, in particular, have multiple CTAs, each pertaining to different offers at different price points.
Writing magnetic copy is one way to pull the reader down an email. Another, as Candy Club has discovered, is using a GIF to direct the reader down the email.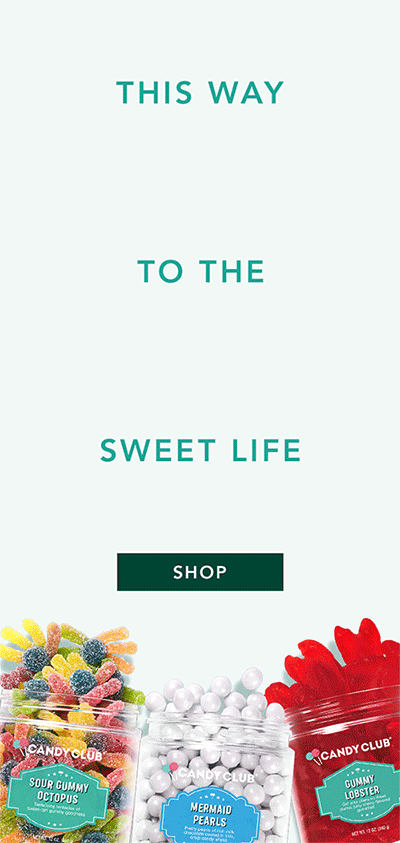 The email, promoting free shipping and 50 percent off all purchases, leverages a GIF of Swedish fish "swimming" down to a call to action to "Shop."
The accompanying pun-based copy ("This way to the sweet life") cleverly spaced out helps to further guide the reader down the email and hopefully, make a purchase.
b. Make Your Emails Interactive
One way to engage the reader, as we saw in the above example from Candy Club, is using GIFs to pull the reader down an email. Another ingenious way is to make the GIF interactive.
In a recent email Seray found during her research into funny email examples, Shinesty invited its readers to answer questions in the style of Who Wants to Be a Millionaire?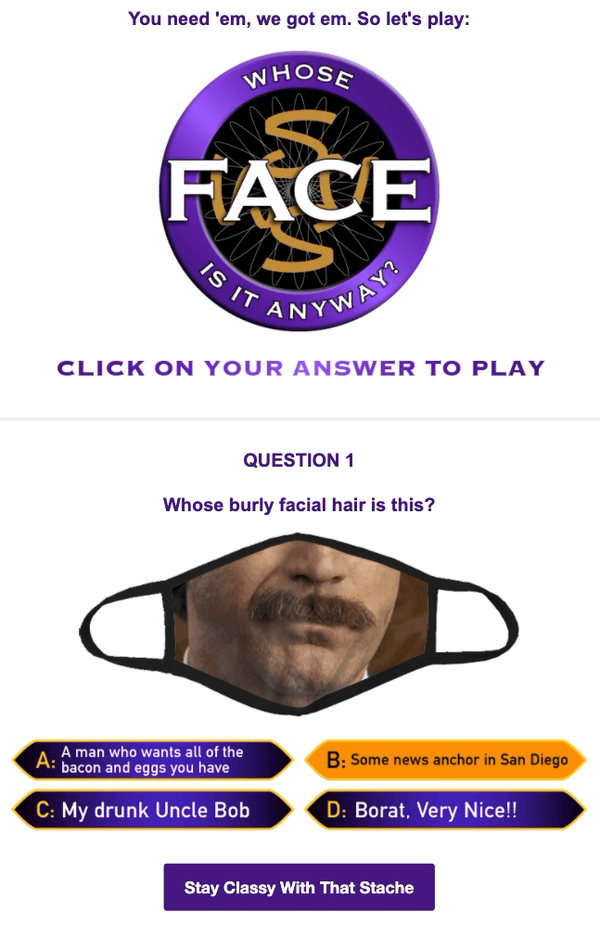 After clicking an answer, regardless of whether it was correct, the brand redirected you to a product page promoting its face mask collection, including those featured in the email.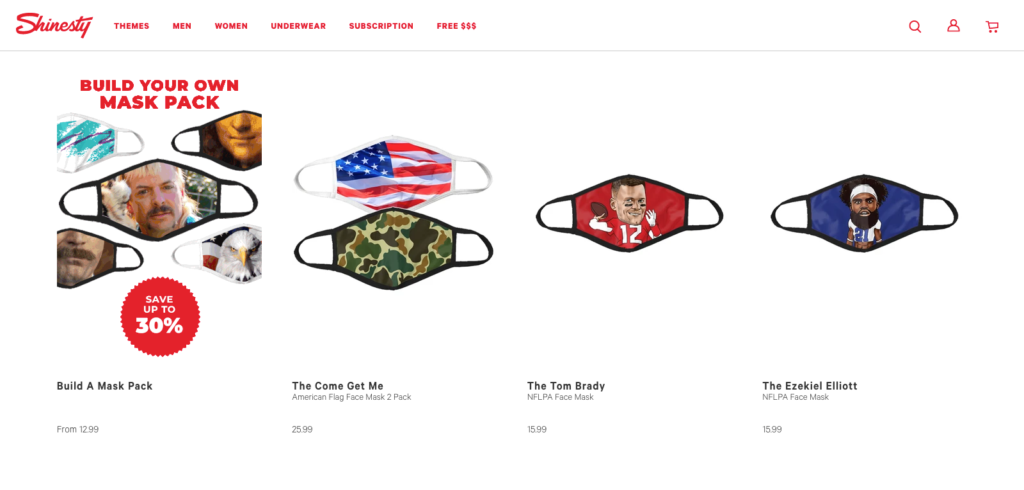 Another way Shinesty uses GIFs to drive engagement is by opening an information gap at the bottom of each of its emails. Oftentimes, the brand will close its emails with a cryptic headline and GIF as with the example below.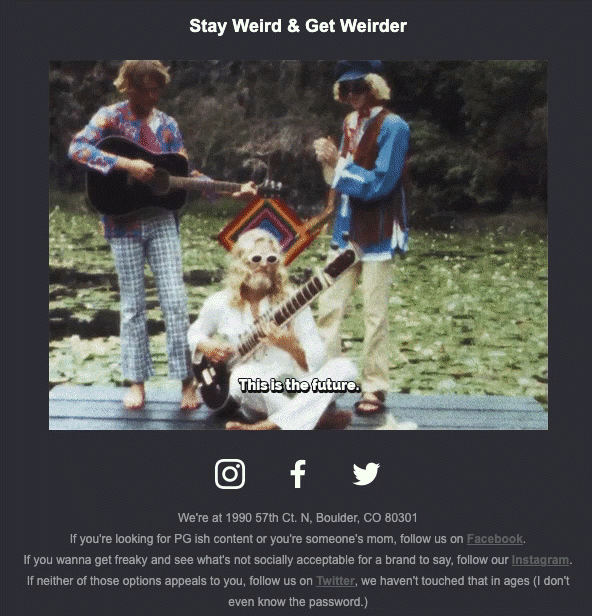 When clicked, the brand redirected you to the product page for the product mentioned above in the email, serving as a final reminder to check out its products.
c. Create Powerful CTAs
When you think of a call to action, you tend to think of either an anchor, that is, a hyperlinked word, or a button (as is often the case with e-commerce emails).
One brand that goes beyond that is Tarte, who, in a recent cart recovery email for contour concealer, used a GIF call to action, flashing the phrase, "Ok. I Want It."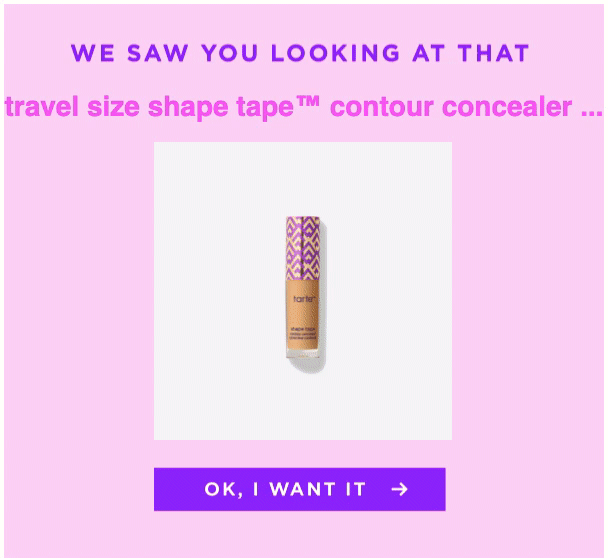 Writing a compelling call to action is powerful. But when you add a button, and make that button a GIF, it's hard not to ignore, and more importantly, click.
Conclusion
GIFs are one of many tools and media types you can use to jazz up your emails, promote your products, and compel readers to take action.
With Drip's powerful marketing automation platform, you can unlock a wealth of features to help you design beautiful, high-converting emails time after time.
Choose from 50+ professionally designed, ecommerce-friendly templates—then customize to your heart's content by syncing your brand logo, colors, fonts, and more. And understand what resonates best with your audience by testing up to four content variations at a time.
See what Drip can do for your email marketing campaigns by signing up for your 14-day free trial today.