You can ask your website visitors to hurry up, buy now, or place their orders quickly. But without an actual deadline limiting their decision, your directives won't be as convincing.
Limited-time offers work like a charm on online shoppers because they give prospects a compelling reason to make a purchase by driving urgency.
An offer becomes more attractive for consumers when it's bound by time or availability because we're afraid to miss out on a good opportunity.
Knowing this well, e-commerce marketers often trigger consumers' fear-of-missing-out (FOMO) and combine it with scarcity marketing to boost their sales. (Think about the long Black Friday queues.)
But, unfortunately, not all marketers use limited-time offers the right way.
For your limited-time offer to be effective, you need to combine your website popups with well-crafted email campaigns.
To help you with that, I've put together a complete guide on how to run and promote limited-time offers that'll drive more sales to your online store—with 13 real-life examples from top brands.
How to Use Limited-Time Offers
What is a Limited-Time Offer?
A limited-time offer refers to a special promotional deal that is exclusively available for a specific period. This can range from running promotions for a few minutes or hours to several days or weeks, particularly during seasonal sales.
A limited-time offer can be free shipping, a discount code, or free gift, and can take the form of limited-time ads, sales campaigns, website banners, email offers, or popups.
By using the principles of scarcity and urgency, limited-time offers work like a miracle in turning on-the-fence prospects to customers, and one-time purchases into repeat buyers.
Although this type of offer can be the ideal nudge your visitors need, you should use them with caution. In this comprehensive guide, you'll get the perfect recipe for how to run limited-time offers on and off your site—without annoying your prospects.
1. Promote Your Limited-Time Sale
Whether you're throwing a weekend-long sale or a discount code valid for 24 hours, a well-timed popup can promote your limited-time offer to your site visitors in the right place at the right time.
If you're running a time-bound campaign, every second your visitors spend on your site is valuable. That's why your popup should catch users' attention and clearly state what the benefit is for your customers.
Check this popup example by BarkBox:

BarkBox converts visitors into first-time customers by offering $40 worth of freebies. Then, they drive urgency by limiting the campaign to "this week only."
This type of limited-time offer works especially well for converting prospects at the consideration stage of their sales funnel.
If a visitor is interested in BarkBox's products and needs a nudge to become a customer, they'll be motivated to do it quickly because otherwise, they might miss out on this special deal.
BarkBox knows the effectiveness of urgency-driven popups. That's why they offer different limited-time benefits at different times.
Here's a more recent one:

Using "National Dog Day" as an excuse, the company nudges its visitors with a limited-time dollar-value discount.
If you want your popups to grab attention without distracting your visitors, try adding a floating image or a GIF, just like BarkBox does.
2. Convert Abandoning Shoppers with a Timely Popup
You don't necessarily have to run a big sale or discount your products to nudge your site visitors with urgency.
By adding time limits to your exit-intent campaigns, you can stop abandoning shoppers and increase your conversions. That's exactly what Nicehair did with this campaign: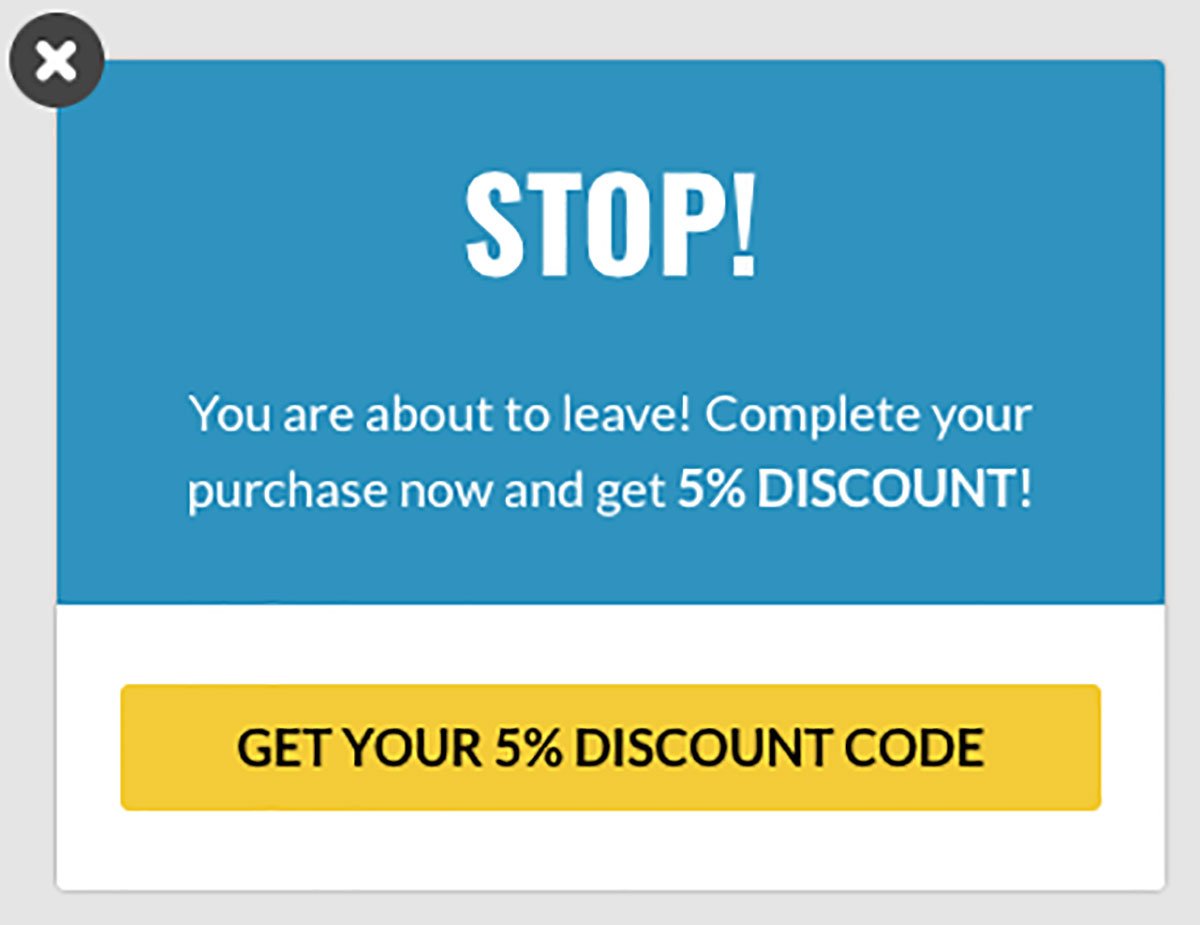 At first, this looks like any other exit-intent popup with an attention-grabbing headline and benefit-driven
call-to-action
(CTA) button.
But when users clicked the button, this is what they saw: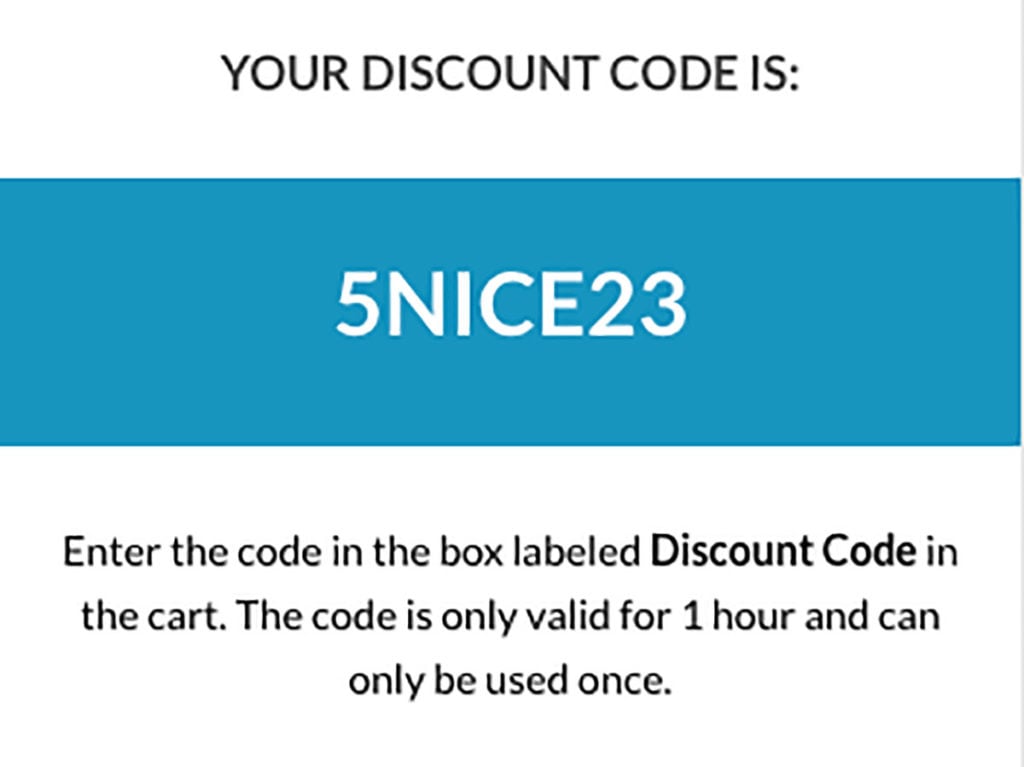 Nicehair added a time limit to their discount code in the success step to further increase this campaign's effectiveness.
The result? They got a 44.76% conversion rate during the period they ran this campaign.
It's a simple but effective twist.
3. Leverage the Holiday Season
In addition to being the busiest time of the year, the holiday shopping season has the potential to drive e-commerce sales for several reasons:
It's limited by a certain time; and
It already drives a sense of urgency and scarcity.
Promoting your holiday offers with timely popups, you can further increase your sales during this high season. It's no coincidence, then, that Black Friday revenues keep breaking records year after year, especially for online businesses.
Focusing on the time aspect and the limited availability of stocks in your popups, you can make more out of Black Friday.
Here's how your campaign might look: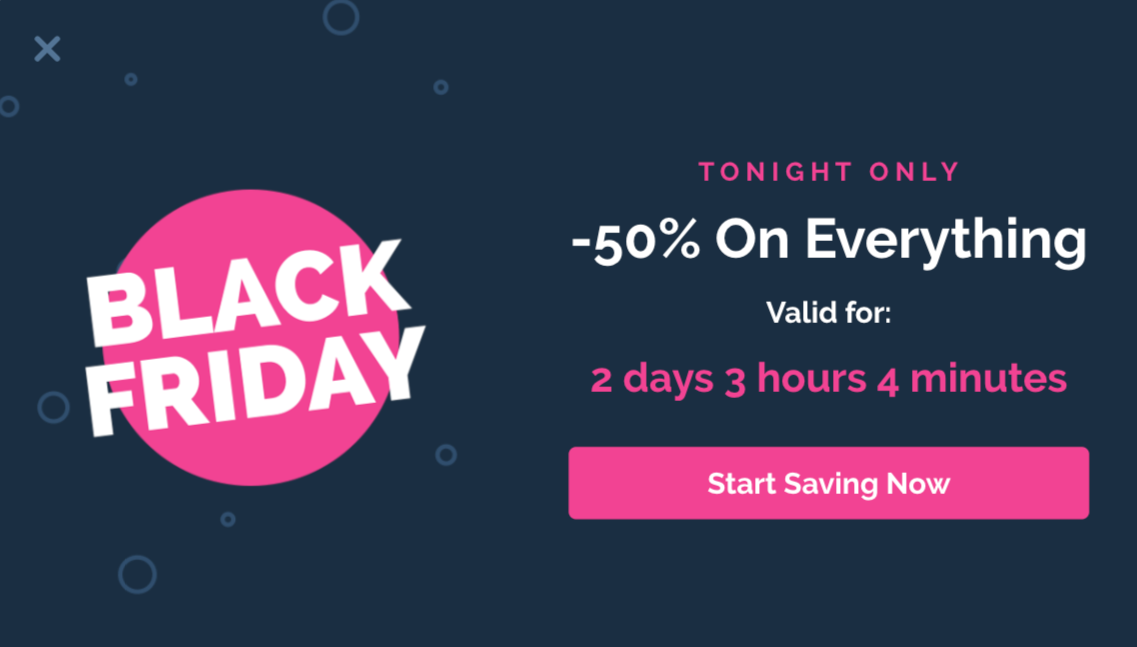 This popup works for several reasons:
It grabs attention by its color scheme and Black Friday logo;
It clearly states the benefit (50% on everything);
It has a value-driven CTA button;
It drives urgency with the headline "Tonight Only"; and
The countdown timer triggers urgency even further.
Black Friday is only one example. Make sure you cover the important days with your time-bound offers and use popups to convert your site visitors into customers.
The best part? You don't have to wait until the big day comes. Use advanced scheduling to plan your campaigns ahead (and enjoy the holidays while increasing your sales on autopilot.)
4. Offer Free Delivery for a Limited Time
There's a common misconception that an attractive limited-time offer must include a big discount. But that's not always necessary.
Maybe you don't want to discount your products because you're worried that it will decrease their perceived value. Luckily, there's a solution that will make you and your customers happy: Use free shipping as a limited-time offer.
You've probably read about the effectiveness of free shipping as an incentive for completing purchases and placing a higher-value order. In fact, 93% of consumers are likely to spend more if an online store offers free shipping.
Offering free shipping for a limited-time will drive urgency and make your incentive even more appealing. But it only works as intended if you let your visitors know about it on the right pages and at the right time.
Here's a free delivery popup example from Silvan:
(Free Shipping on Everything: You get free shipping on everything you buy between 19/02 and 25/02.)
This popup grabs attention because it's intuitive. From the headline, you can easily understand that the company is offering free delivery. And when you read the copy, you learn that it's limited by time. So, you know that you should complete your order until February 25th, or else you'll miss out on free shipping.
Make sure to use page-level targeting to show your popup on specific pages, such as category, product, or checkout pages, so you don't disturb visitors while they're looking for other types of information on your site.
5. Create Urgency-Driven Popups
There are a million different ways to design an ugly, intrusive popup. Unfortunately, many marketers choose one of those ways.
The result?
Visitors end up hating your popups;
They leave your site without buying anything; and
Your conversion rates drop.
Little do they know that with minor improvements, popups can be powerful tools that increase sales drastically. And limited-time offer campaigns are a great example.
Check this example by Jysk Vin: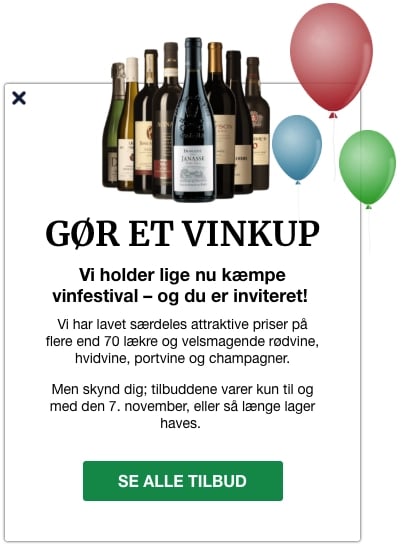 (Get a Wine Bargain: We're having a big wine festival and you're invited! We have very attractive prices for more than 70 delicious wines. But hurry up—the offer is only valid until November 7 or while supplies last.)
Jysk Vin frames their limited-time offer as a big party and visually supports it with balloons.
This popup works well for a few reasons (in addition to the urgency-driven nature of the offer):
It has an eye-catching but subtle contrast with the site's color scheme;
Floating images help capture attention; and
It's a non-intrusive popup that gives enough space to their visitors.
With that in mind, you can further improve such a campaign to drive more urgency and help your visitors to take action.
Here's a similar campaign I created using a countdown timer and a benefit-driven CTA: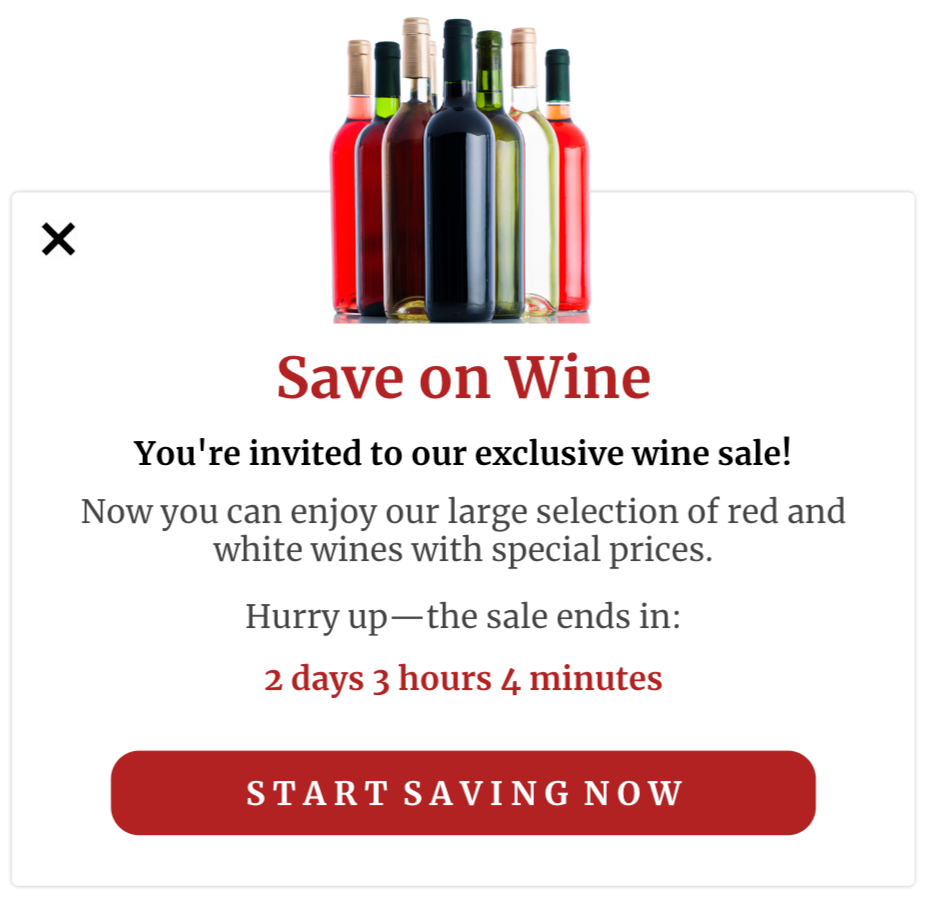 6. Add Psychological Triggers to Email Subject Lines
Surely, your goal with an urgency-driven email campaign is to convert as many subscribers as possible into customers. But for this to happen, first, you need to get your emails opened. And a well-crafted email subject line is the first condition for that.
Using psychological triggers in your subject lines, you can emphasize the urgency and scarcity of your promotional offers and trigger your subscribers' FOMO.
Here's a brilliant example by Brooklinen:

With this email, Brooklinen implies that there's a party going on without you … And you're about to miss out on it if you don't act quickly.
It's a simple subject line that makes their prospects (including me) open the email and see what they're missing.
This is the content of the email: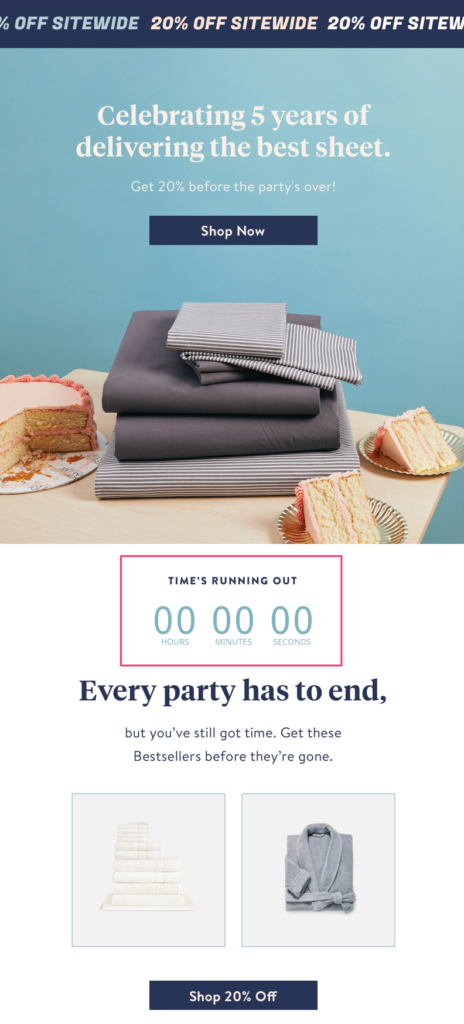 Celebrating its fifth anniversary, the company offers a 20% discount on everything for a limited time only.
Pay attention to the middle part of the email and you'll see something interesting. In case you missed the clues that the sale is bound by time, they drive further urgency with a countdown timer.
I, obviously, missed this sale, but using a countdown timer is a smart tactic to nudge prospects to take action. (More on that on Strategy #7.)
Consumers' inboxes are already full of emails with subject lines like "HURRY!!!".
Knowing this well, Firebox takes another approach to stand out and be more subtle while promoting their time-bound offer:

Taking an upside-down approach to psychological triggers, they drive urgency by, ironically, claiming that's not their intention.
Acting like a considerate friend, Firebox urges you to open the email and read about their limited-time offer: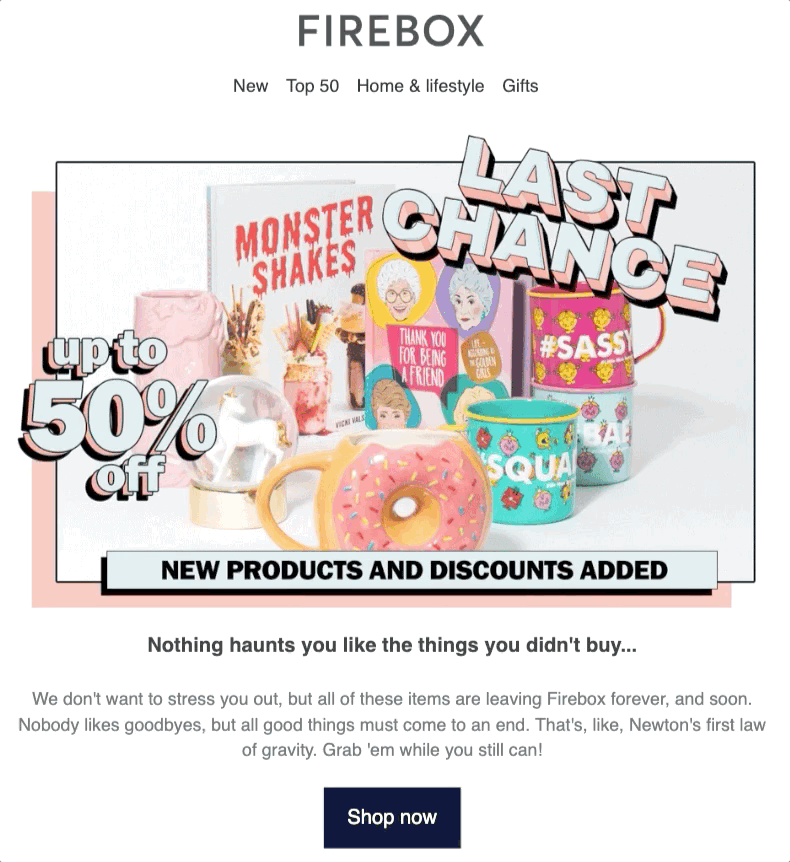 While triggering your FOMO, they give you two logical reasons to click through: "These items are leaving forever" and "nothing haunts you like the things you didn't buy."
It's not an empty promise because you know that it really is your last chance to buy these items (if you don't want to experience FOMO.)
7. Drive Urgency with an Email Countdown Timer
It's not only popups that can drive urgency by focusing on the scarcity of time and availability. By adding a countdown timer to your emails, you can encourage your subscribers to take action in a short time.
Take a look at this example by Ipsy: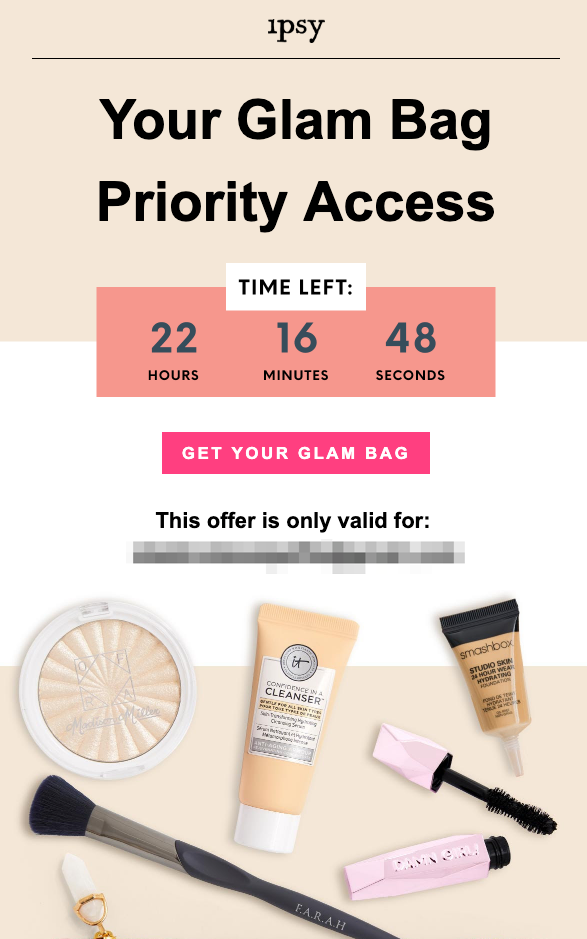 When I left the Ipsy site without completing my subscription order, I received this email.
The company aims to persuade me with a unique limited-time offer that is only valid for my email address.
The offer "priority access" simply means that I get to skip the lines on the waiting list for the item. In other words, with this access, Ipsy gets the chance to sell me the product but they reframe the offer cleverly.
To support this exclusive offer, they use a countdown timer and drive urgency: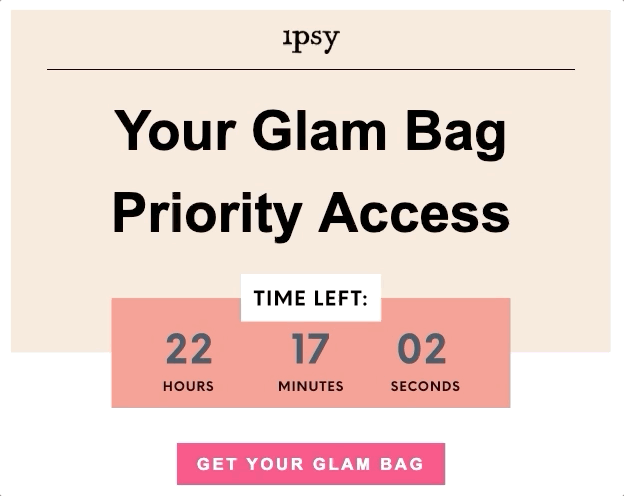 But here's the tricky part: Instead of using dynamic content, they insert a GIF to the email. This means that whenever I open the email, I see the same 22-hours alert.
If you want to use a real-time countdown timer instead, use an email marketing software such as Moosend or try a third-party service like Sendtric.
A countdown timer in emails would work great especially if you're trying to convert abandoning shoppers with a discount code.
Make sure you use it in moderation, though. If you overdo it, you might end up annoying your subscribers.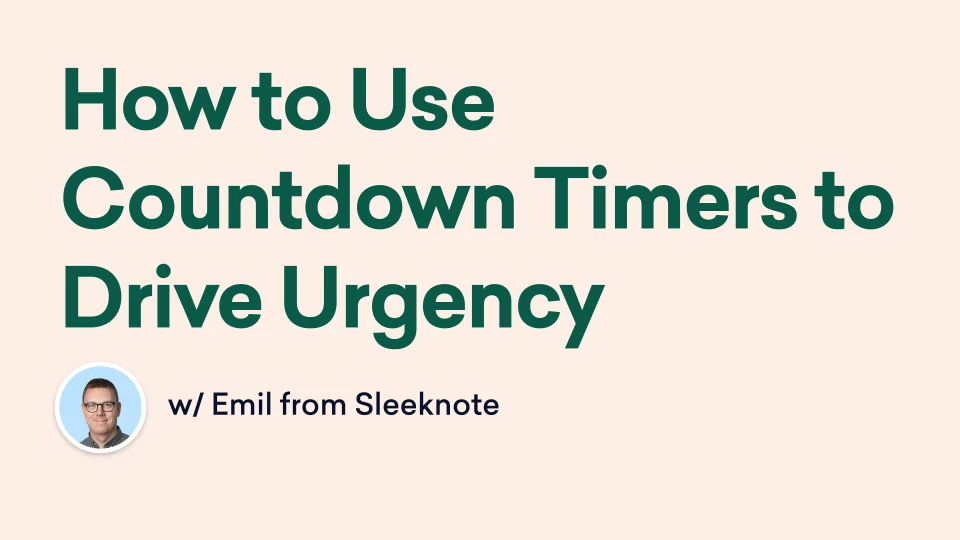 8. Reword Your Limited-Time Deals
Does your inbox also look like this?

If you have a handful of e-commerce subscriptions, it likely does. And your subscribers certainly experience the same problem.
When everybody is offering the same thing, it becomes impossible to get your subscribers' attention because they get immune to "today-only" sales.
With a minor tweak to your wording, you can reframe your limited-time offer and break the mold.
Check this example by Anthropologie:

It's a today-only campaign that is no different from the examples above. However, using the numbers and focusing on the hours, the company enhances the feeling of urgency.
Here's another way to frame your time-bound promotional offers by Crate and Barrel: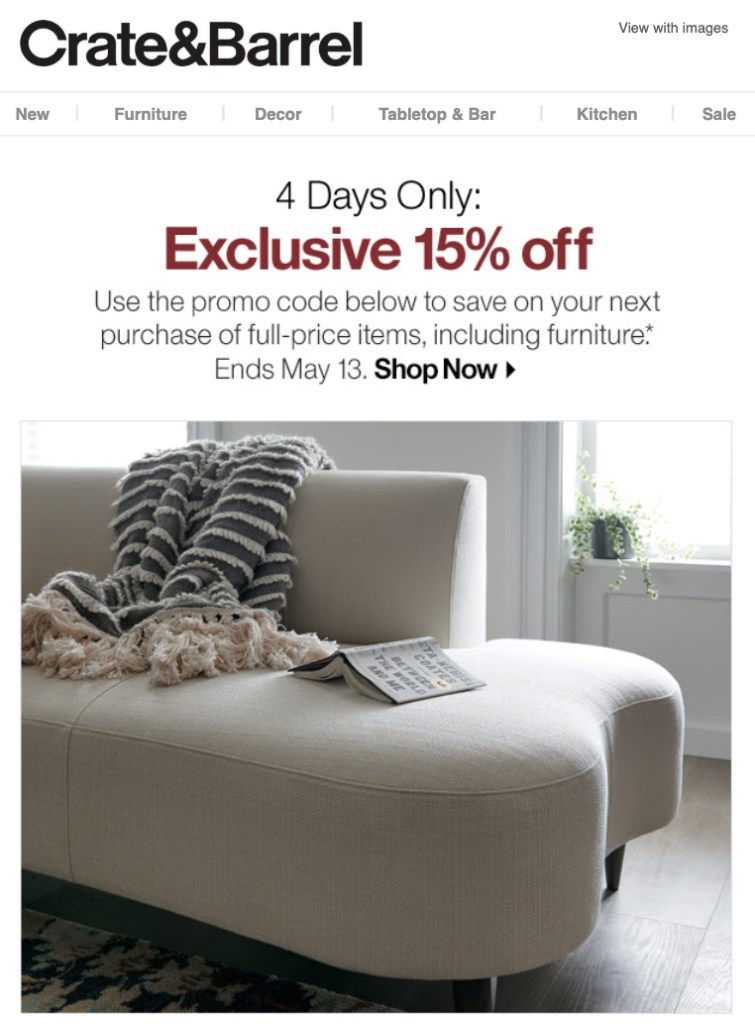 Running a 4-days-only offer, the company makes sure that their campaign doesn't go unnoticed in case people don't check their inboxes immediately. On the other hand, they make a compromise on the urgency by extending the sale.
So how do you find the sweet spot? It's all up to you.
If you want to get more creative, try Vinomofo's approach with super-specific numbers:

Running a free shipping offer that only lasts for 300 minutes, the company takes a riskier approach to urgency…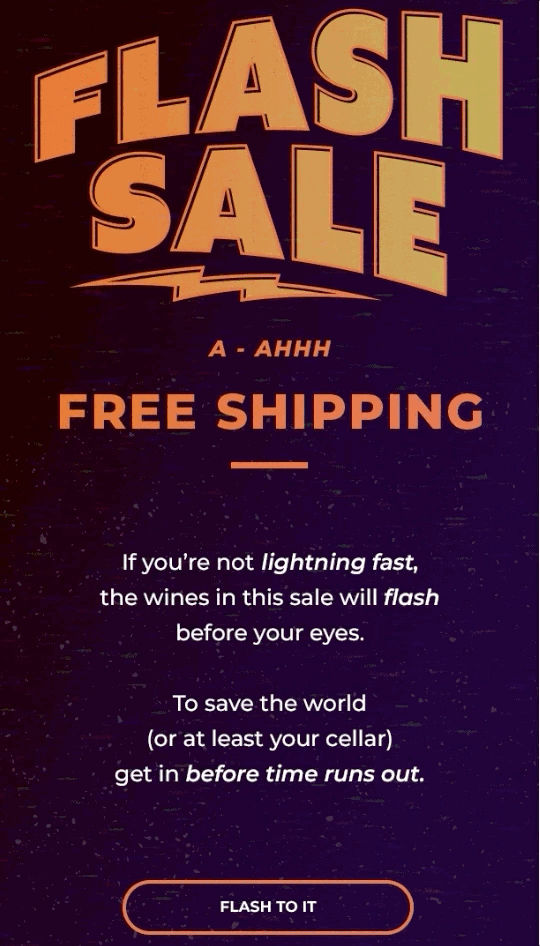 …and they support this feeling of urgency in the email body, too.
If you also want to be creative in your email campaigns, but still be on the safe side, try running an offer that is valid for a hyper-specific period, like 37 hours.
Don't forget to come up with an excuse for it—maybe you're celebrating your 37-month anniversary or your 37,000th subscriber, who knows?
9. Recommend Products in Your Emails
While running any kind of online sale, many e-commerce companies simply write an email about the discount percentage and for how long it's valid for.
A limited-time discount is undoubtedly an effective incentive—as long as your prospects know what to buy.
If your subscribers don't have enough information about your online store or your products, surely, they might still be motivated to visit your site. But would they be motivated enough to visit your site AND make a purchase?
Not if they have no idea what to buy.
Your limited-time offer emails are the perfect places to guide your subscribers for better buying decisions.
Whether it's your most popular products, customer favorites, or new arrivals, you can guide your subscribers to a particular page and accelerate their buying decision.
Take a look at this email Rikke got from Colourpop:

Sent with a personalized, curiosity-evoking subject line, it's difficult not to open this email.
And when Rikke opened the email, she saw that it's a limited-time offer that Colourpop calls a "VIP Exclusive Access":
So far, this bright-colored email looks like any other promotional email. Colourpop gives you an exclusive code and invites you to claim your VIP deal with the CTA button.
As you scroll down, it gets interesting. If you're interested in this offer but don't know where to start, they help you out with it: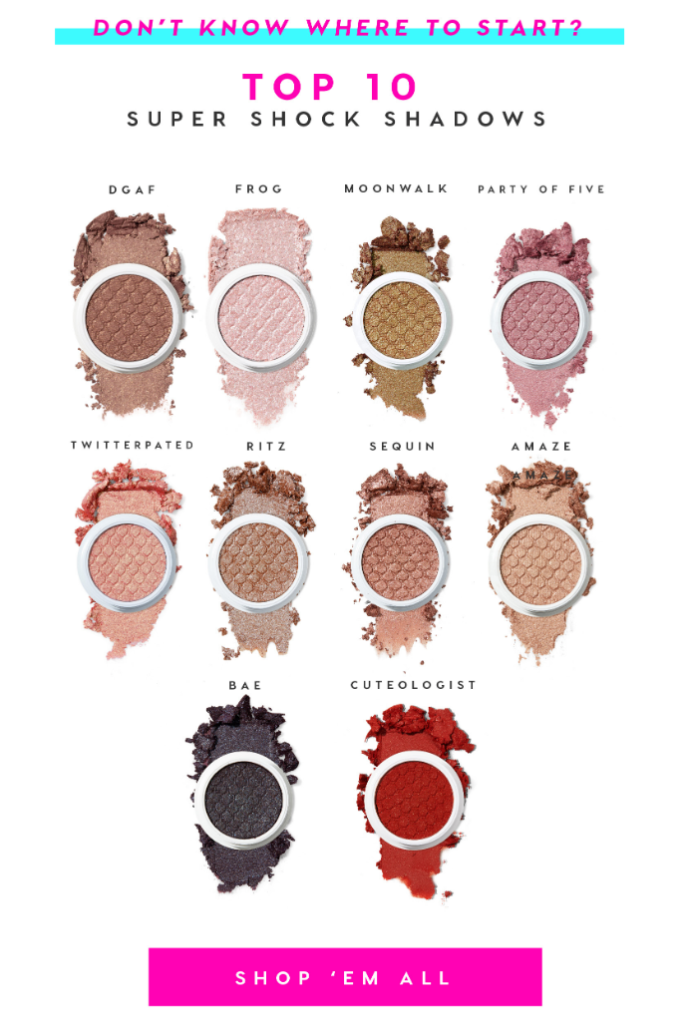 Colourpop knows that many of us start shopping from the bestsellers section (thanks to social proof.) That's why they recommend you check their top 10 products and they end the email with a greed-driven CTA button that reads "Shop 'Em All."
This is a smart way to subtly promote your top products and increase conversions from your limited-time offers.
10. Tease Upcoming Limited-Time Sales
So far we covered how you can promote your limited-time offers with website popups and email marketing.
The next question is, what do you do when your offer ends? Do you sit back and hope that your subscribers don't open your expired emails anymore?
A better solution is to tease your upcoming offers or product launches.
Forever 21 has a creative solution to this problem. They know that if someone opens their time-bound offer emails when it's too late, they will only be frustrated. And they turn their frustration into an advantage: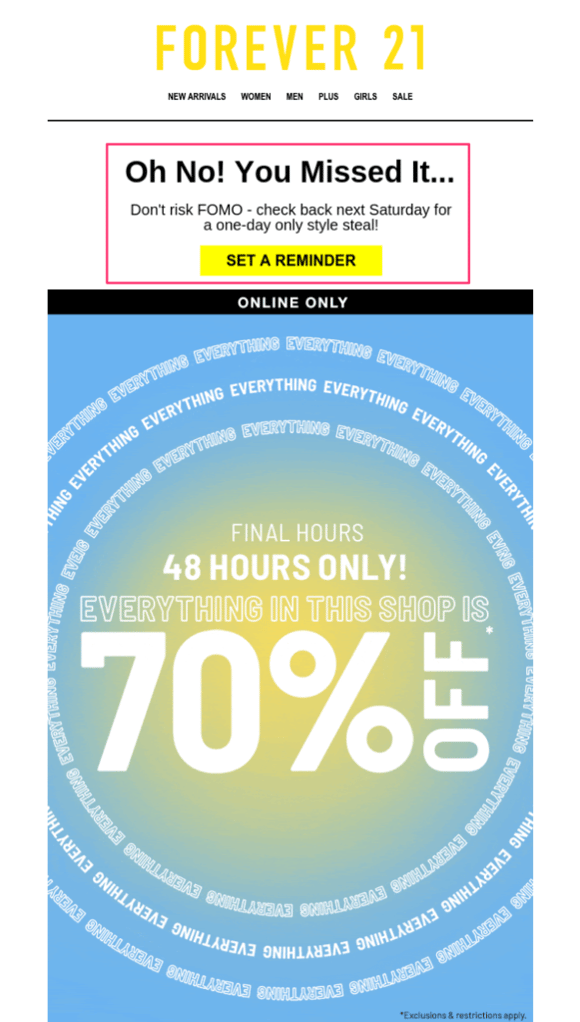 When you open one of their promotional emails too late, they inform you that you missed the offer.
Knowing that you don't want to experience FOMO, they suggest you check back next Saturday for another one-day-only offer. And to make things easier for you, they send a calendar invite in the email.
When you click "Set a Reminder" and download the .ics file, you can add this event to your calendar: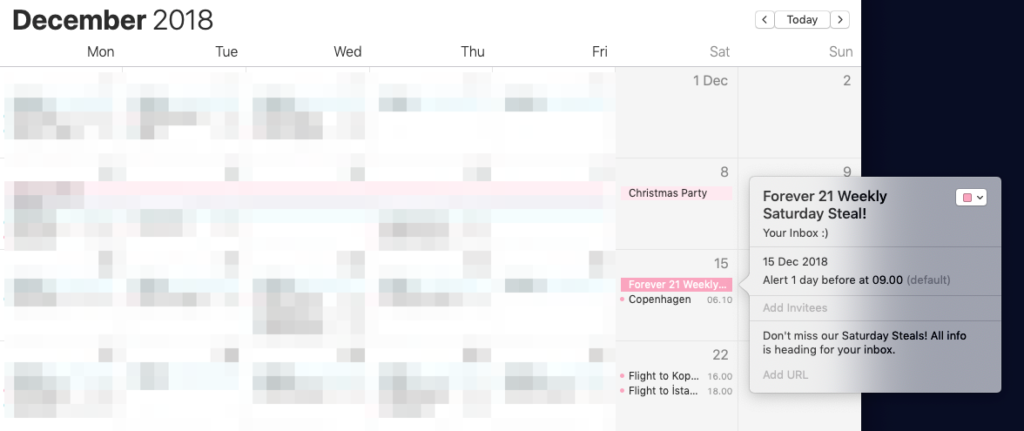 This way, Forever 21 not only stays on top-of-mind but also sneaks into your everyday life. For them, this means better conversions and higher revenue week by week.
Conclusion
These were the 10 best strategies that will help you make the most out of your limited-time offers.
Test the ones that fit your store (and your budget) the best and combine them in your next sale campaign.
Now that you know how to promote a limited-time offer on your site and in your emails, you can easily turn every day into Black Friday.