Chris Simmons is a veteran software developer. He owns WP BackItUp, a WordPress plugin with both lite and premium versions. WP BackItUp allows users to backup and restore their WordPress websites.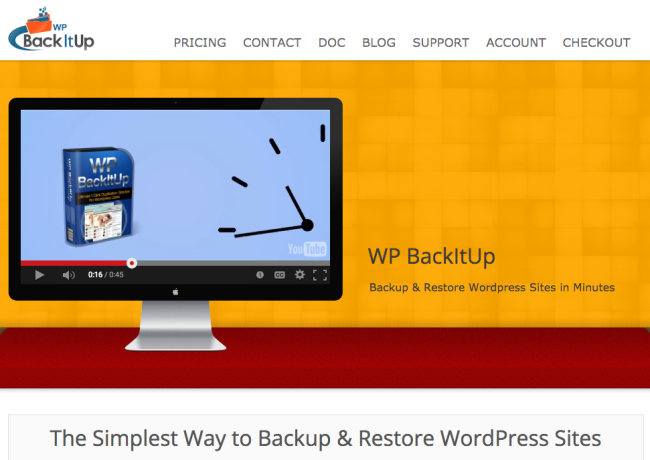 WPBackItUp
In January 2014, Chris Simmons purchased WP BackItUp on Flippa for $3,000 USD. Since then he's renovated the plugin and achieved a 5x growth in revenue. Here's how Drip helped him reach that milestone.
Challenge: Increase Reviews and Renewals
Chris' funnel begins with the lite version of WP BackItUp, available for free in the WordPress repository. As they progress through the funnel, WP BackItUp lite users upgrade to his premium plugin and convert to paying customers.
Because the WordPress Plugin Directory is extremely competitive, reviews are essential. Chris needed a way to attract more reviews for his plugin in order to drive installs of WP BackItUp lite. While WP BackItUp had been around since 2012, it didn't have many reviews.
Chris also needed a way to incentivize renewals for his premium customers. WP BackItUp licenses are good for one year, so as soon as a user converts from lite to premium, Chris begins working to keep them around for as long as possible – but he needed a way to automate his system. According to Chris:
"Once you find a group that's willing to pay for your product, you want to keep them as long as possible. They are a great market because you already know they're willing to spend money for your product."
Solution
Chris initially used Drip to drive conversions from his lite to premium (paid) version. However, he soon realized there was another conversion opportunity that was almost as valuable.
He began asking for reviews from users who responded positively to his campaign emails and the response rate was incredible – almost 100% of those requests resulted in reviews. He then decided to automate the process to get as many positive reviews as possible.
The Automation Hybrid
Initially, Chris modified his drip campaign to include an automated ask for a review, but to his surprise that didn't work.
Chris felt that while most people didn't realize his initial campaign emails were automated, they could tell the review request email was part of a campaign and it went ignored. In Chris' words,
"People will often ignore automated requests because the interaction is between software and a person – there is no personal connection. But when the request is part of an interaction they are very likely to respond."
Next, Chris tried a combination of automation and direct email using a virtual assistant.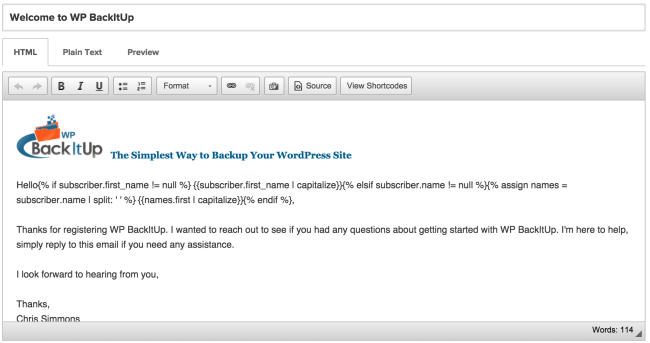 The first email in Chris' onboarding campaign. Replies to this email go to Chris' VA.
When a user responds to Chris' campaign emails, his VA, Jeremy, sends a personalized response thanking them for taking the time to respond. If the user loves the plugin, Jeremy also asks for a review.
If the user replies with a feature request or a problem, he is able to route the request to the appropriate support channel – and once the issue is resolved, a positive review is all but guaranteed.
The Declining Discount
Chris' most complex campaign is designed to keep his customers around for as long as possible. He incentivizes renewals by offering a declining discount as a reward for being a valued customer and for renewing early.
The campaign begins sending automated emails 60 days before a user's license expires. Each email offers a discount with an expiration date. If a user doesn't renew before the discount expires, the campaign sends another, smaller discount offer.
He starts out with just a tickler: An email that lets the user know their license will expire soon, and an offer to renew with a 20% discount which expires in a couple of days.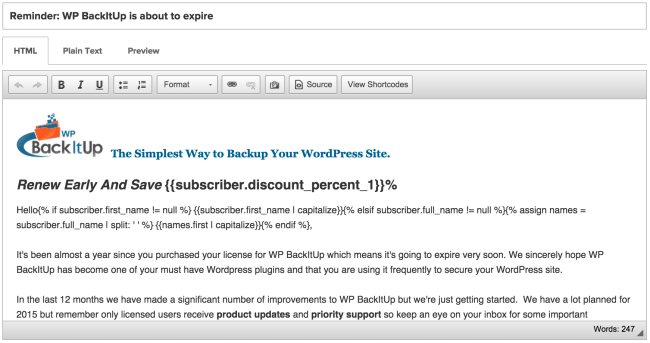 Chris offers his declining discount using Liquid Tags.
The next email in the campaign states that even though they didn't take advantage of the 20% discount, they can still renew for 15% off.
The campaign continues to reduce the discount by 5% and eventually the customer is informed that they missed out on an opportunity to renew at the discounted rate.
Chris' Declining Discount campaign has given him a 100%+ increase in renewals.
Both of these campaigns were entirely automated through Drip's web API and Easy Digital Downloads (EDD), Chris' ecommerce software. Chris says that the automation was extremely easy given the extensibility of both Drip and EDD.
Results
As soon as Chris implemented Drip and personal requests for reviews, he saw his review rate increase dramatically. According to Chris:
"When customers respond to my drip campaign emails and I asked them for a review, they almost always would say 'sure,' and then leave a review immediately. It has been an extremely effective way for me to increase my customer reviews."
Chris says his Lite Customer Registration campaign alone covers the cost of Drip. The campaign drives a multitude of reviews, but according to Chris, getting just one review a month is worth the cost of Drip.
His Declining Discount campaign has also been a smashing success, increasing renewals more than 100%.
Summary
Before Drip, Chris didn't have an effective way to reach out to customers, other than a direct email. He wanted to add a personal touch to his software business, but direct email just wasn't sustainable with a larger customer base. WP BackItUp currently has more than 10,000 active installs and averages around 1,000 new installs per week.
As a single founder, Chris' time is limited, and he says automating outreach to his users and customers has been invaluable. Drip allows him to send emails that foster engagement and keep his users warm. When it comes time to renew or to ask for a review, Chris sees a higher conversion rate because he keeps in touch using Drip.
WP BackItUp isn't the largest WordPress backup plugin, and Chris believes that many of his users choose his plugin because they're looking for a more one-to-one interaction. Drip helps Chris compete with larger companies, giving him the advantage of a personal touch.
For a limited time, WP BackItUp is offering a 20% discount to all Drip customers. Use discount code DRIP20 at checkout.
*Offer ends Monday, August 3rd, 2015