If you've ever created a product for your audience—such as an ebook, WordPress plugin, SaaS app, or online course—then you know just how stressful it can be to hit "Send" on that final email:
Telling your audience what you've made for them.
No matter how good your marketing chops are, you can always learn a thing or two from studying conversion experts and how they announce and sell new products.
And that's what makes Derek Halpern of Social Triggers such a fascinating case study.
Recently, Halpern launched his new online training program, 7 Figure Courses, which teaches people how to start and grow an online business.
Halpern uses a unique recipe in his product launch.
If you're in the online marketing space, you'll be familiar with some of his strategies, but he also adds some unusual wrinkles that we can all learn from, including:
The "House Of Cards" Cliff Hanger: a cliff-hanger that builds suspense for Halpern's upcoming release, like a Netflix TV series.
The Weekend Catch Up: the Saturday and Sunday Halpern gives readers to catch up on all the valuable content they might have missed during the week of frequent emails.
The Founder Facebook FAQ: the well-placed Facebook custom audience ad that complements Halpern's drip email marketing and encourages people to ask questions, where they can get personalized, thoughtful answers directly from Derek on Facebook, just 48 hours before the deadline to join his course.
Plus, lots more.
Before we dive in, here's a broad overview of how Derek Halpern announced his new training program, in 3 phases:
Build Anticipation
Announce The Offer
Handle Objections
Halpern has deep experience in buyer psychology, persuasion, and conversion, so we can definitely learn a thing or two from his own launches.
So, without further ado…
Let's jump into some of the unique wrinkles and main takeaways from how Halpern sells products.
1. The "House Of Cards" Cliff Hanger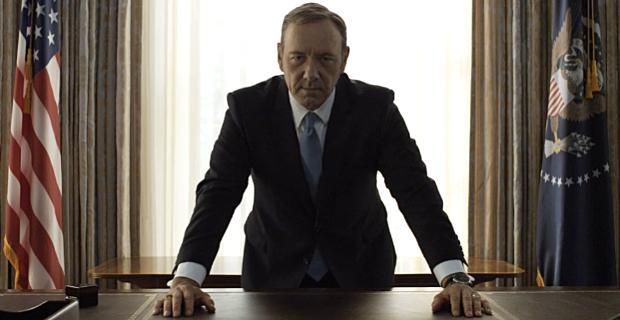 Here's the truth:
By far, the most important part of selling products is a deep understanding your prospect's problems and showing how your product can solve those problems and achieve a better outcome.
Halpern obviously gets this, considering he offers an entire separate course on the psychology of sales.
That said, let's assume you've gotten deep inside the mind of your ideal client. You have a fantastic product that solves a real pain point.
With that crucial groundwork, you might be able to announce your product with one email and get some sales.
But it'd be better to build up some anticipation.
That's where the "House Of Cards" email comes in.
Let's take a look at the ending of one of Halpern's early emails in the campaign, which "teases" his upcoming online course in a juicy cliff hanger: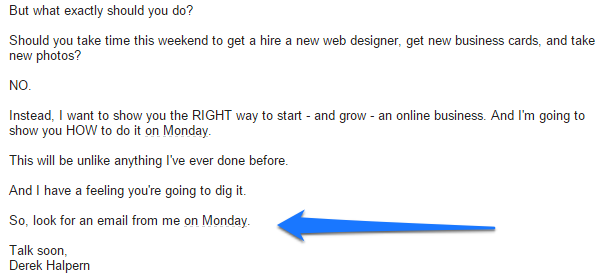 Halpern writes:
"I want to show you the RIGHT way to start – and grow – an online business. And I'm going to show you HOW to do it on Monday. This will be unlike anything I've ever done before. And I have a feeling you're going to dig it. So, look for an email from me on Monday."
Suppose you desperately wanted to start an online business, earn more, spend more time with your family, and make a bigger impact in the world – but you just didn't know where to begin in starting an online business…
Then suppose you opened this email from Derek Halpern, whose content you'd been devouring for years as a trusted expert.
The ending would kind of leave you hanging, like an episode of Breaking Bad or House Of Cards, right?
Anticipation is powerful.
According to Cornell University social psychologist Amit Kumar, the longer you wait and anticipate an experiential purchase (like taking an online course, as opposed to making a material purchase, like a new house), the more you enjoy the experience.
"The anticipation of experiential purchases is more pleasurable than the anticipation of material goods."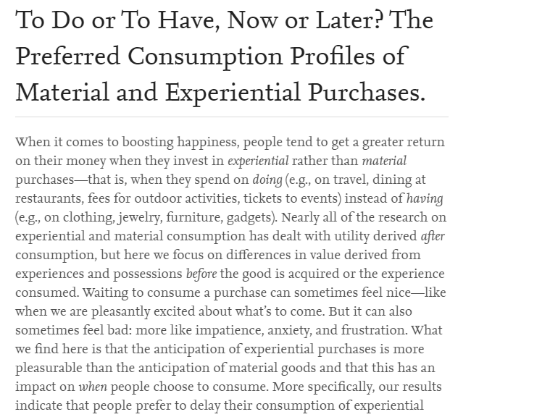 Anticipation isn't only for "launch" based businesses, like online courses.
Dialing up the suspense can also work well in SaaS, WordPress plugins, and even ecommerce, where you're constantly rolling out new products, UI/UX redesigns, and other announcements.
Here at Drip, when we launched Workflows, we similarly sent a "House Of Cards" email.
This created a wave of comments and Tweets speculating what we were about to release.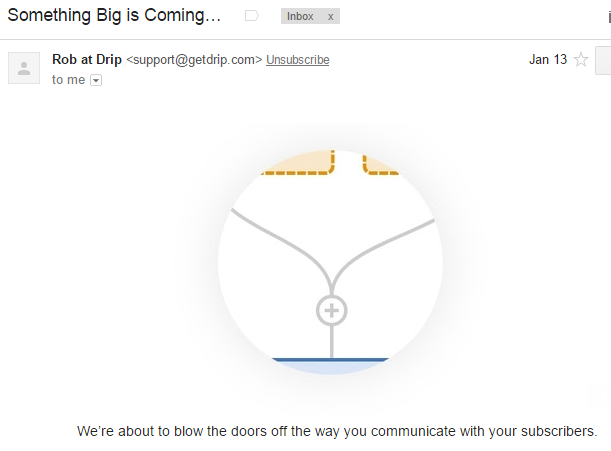 Great brands like Apple use curiosity and anticipation to engage their followers with every launch. Derek Halpern uses this technique, and you can use it, too.
2. The VIP Webinar Invite
Next up, Halpern announces the webinar.
Here's what that email looks like: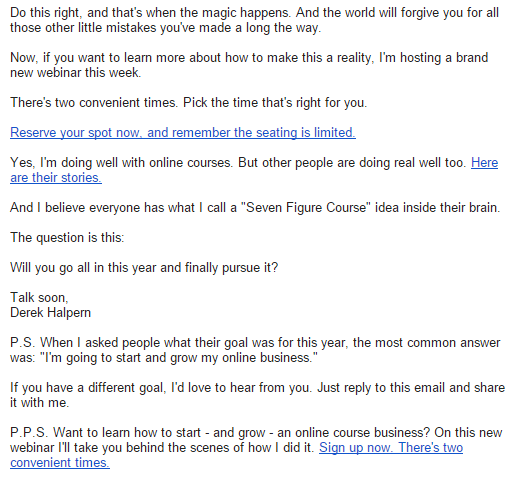 There are plenty of takeaways to highlight with this email and the Social Triggers webinar itself.
However, we're going to assume that you've been on a few webinars, and that you're at least generally familiar with the "content, content, content, offer" style of product launch.
(If not, keep reading below, and we'll get you caught up on this popular product launch strategy in just a minute.)
For the purposes of this post, it's what Halpern does AFTER his webinar and 3 pure content videos that's really worth unpacking. Whether it was planned or unintentional, the way Halpern sets up the time and date of his next launch email is very subtle, and very smart.
This is also a simple tactic that almost nobody else is doing in their product launches.
3. The Weekend Catch Up

Here's the deal:
If you're on anyone's email list who's ever promoted an online course, you've probably received a ton of valuable material in the form of free videos… leading up to an offer to invest in more premium material.
The basic is this:
Give Content
Give Content
Give Content
Make An Offer
(If you're not familiar with this, see Jeff Walker's book, Launch, which is a great primer on the general product launch strategy pictured below.)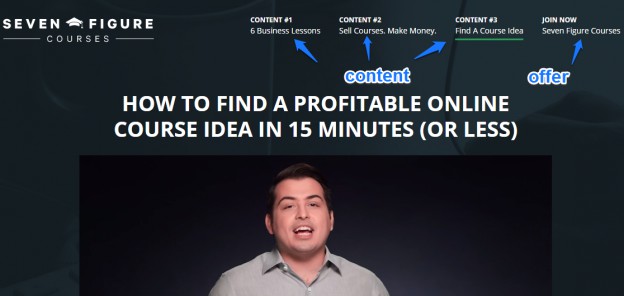 Here's the subtle twist that Halpern adds to this funnel:
The Catch Up email.
In essence, Halpern gives readers a weekend "pause" in the middle of the launch—with no other emails—just so people can catch up on all the free material he's been sending.
Here's what that email looks like: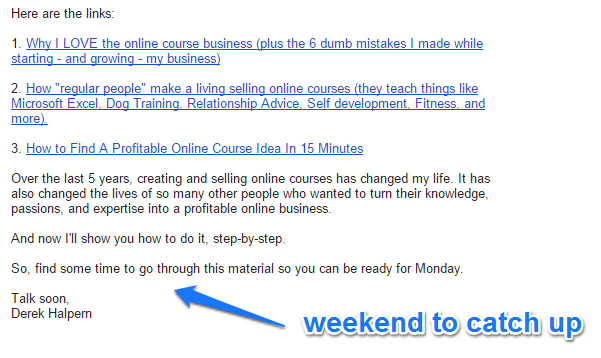 "Find some time to go through this material so you can be ready for Monday."
This is dead simple, but effective.
Why?
Put simply, people are BUSY. When you publish lengthy video lessons (or content in your free email mini course), you're expecting folks to sit down and digest the content. Unless you're an outlier with 50%+ open rates, many people won't have time to watch your videos right away—even if they fully intend to learn more about your product or service.
Now, after Halpern's readers  have had a weekend to catch up, it's Monday morning.
And Derek Halpern takes us right back to the story…
4. Announce The Product
On Monday, Halpern rolls out the red carpet to join his program.
Rather than giving some hard pitch, Halpern shares a "behind the scenes" video that walks us through the actual course.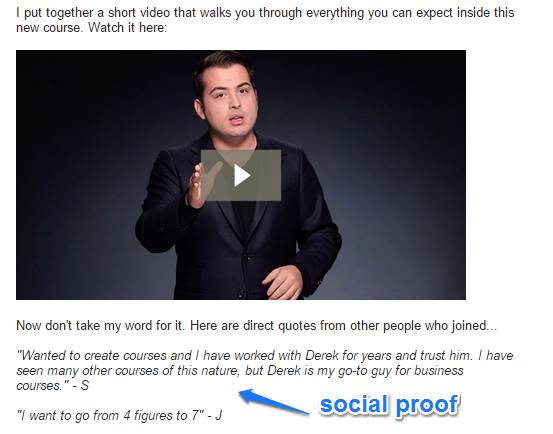 Here's what's interesting:
The doors open on Monday. And the deadline to join is Friday at midnight.
That means readers have five days to make a decision, with no more "catch up" weekends.
With readers pondering the 4-figure price tag and a potentially life-changing decision, Halpern comes prepared to answer their questions—this time incorporating Facebook ads to continue the theme of nurturing and serving readers.
5. The FAQ Email
Why send an FAQ email?
Oftentimes, with high-ticket products and services, you'll have a subset of leads who know they want to buy.
But before they invest thousands of dollars in an online training program, at a high price, many people need some reassurance.
Again, this strategy isn't exclusive to online education. In his epic guide Profitable Ecommerce, ecommerce expert Andrew Youderian from Ecommerce Fuel talks about the buying behavior of online shoppers, offering this:
"Most people won't balk at placing an order for a $150 item over the internet… When you get into higher price ranges, the number of people willing to order without speaking to a real person decreases, so you'd need to invest more in customer service."
Same goes for information products, SaaS, and consulting.
The fact is, most people want some interaction with a real person before clicking a "Buy Now" button to spend thousands of dollars online.
That's where the FAQ campaign comes in.
Halpern sends out an email to answer FAQs like "can I get a refund if it doesn't work?" and "what if I don't have an idea?"
He then goes one step further and shows how he persuaded someone to NOT join, because they just weren't a good fit.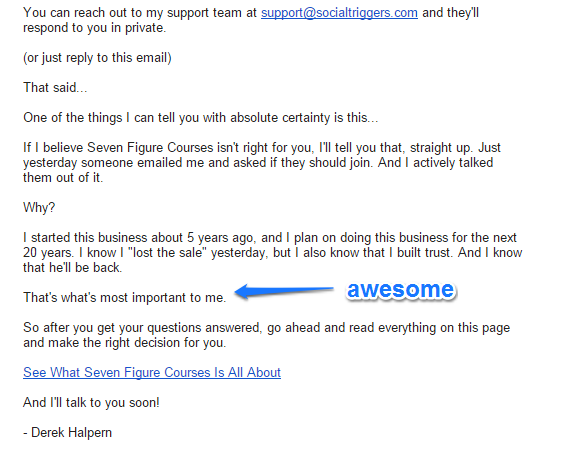 Cool, right?
Even if you missed this FAQ, the "7 Figure Courses" launch stays in front of readers near the deadline—with strategic Facebook retargeting ads.
Halpern uses a sponsored News Feed post as yet another venue for people to ask questions about the course (or check out questions that other people are asking).
With Facebook and email combined, you can create an impressive "surround sound" effect with any announcement you're making. It's the online equivalent of hearing a radio ad whilst driving past a billboard advertising the same company on the highway.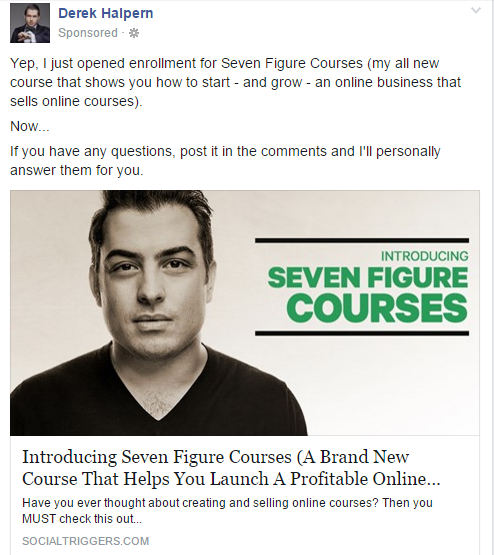 Powerful.
With this tactic, people can ask questions in the comments, reply to other readers, and even share the sponsored post (driving free traffic to Halpern's course).
Check it out.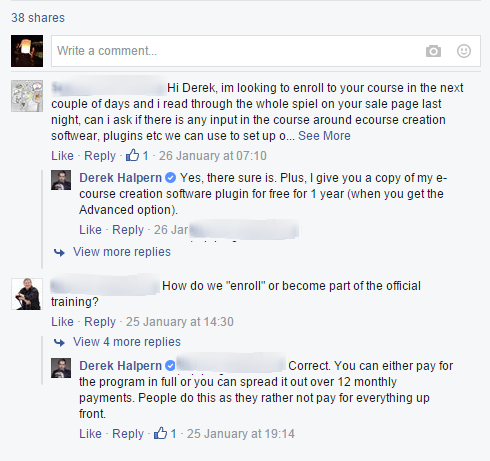 Lead nurturing, anyone?
If you've been following Social Triggers for years, and you see a personal reply from Halpern in your Facebook notifications, you'd be MUCH more likely to invest in the course.
The lesson is this:
Don't be afraid to use other channels in tandem with your email marketing strategy. If you're not sure where to start, just upload a .csv of your email list into Facebook as a custom audience. Spend $20 on a "reminder" campaign 24 hours before the deadline of your next launch, and answer a few questions in the comments. A little personal touch can go a long way.
6. The "Which Are You?" Email
Before we get into this final section, just take a gander some of Halpern's subject lines below.
Notice anything strange?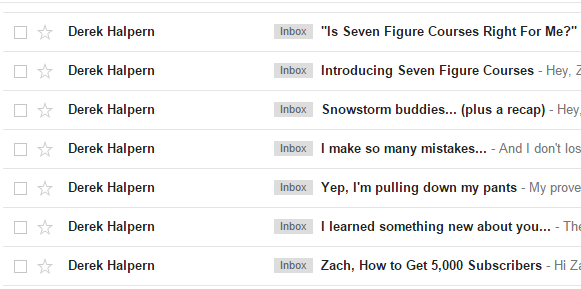 "Yep, I'm pulling down my pants"
"I make so many mistakes."
"I learned something new about you…"
"Introducing Seven Figure Courses"
Would any of these lines NOT stand out in your inbox?
At Drip, we've seen firsthand how much effort businesses put into writing value-packed emails.
And that's good. But if your prospects never open your emails in the first place, it's all for naught.
That's what makes Derek Halpern's subject lines worth modeling. They stand out in the inbox and BEG to be clicked.
The subject line on this next email is no exception:
"Which of these 3 people are most similar to you?"
In the email, Halpern describes his 3 different customer avatars for the program: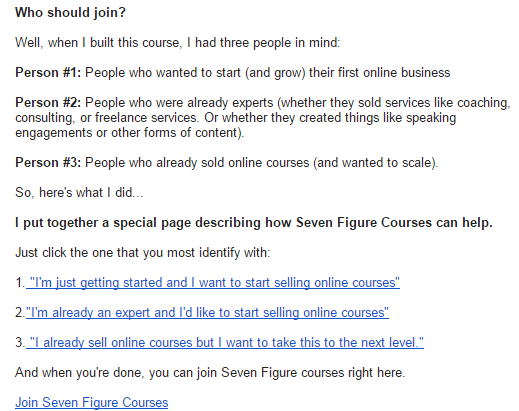 Once again, Halpern goes above and beyond the level of education and lead nurturing that most online businesses dream of offering.
And whether you sell software, online education, or consulting services, you likely have a range of customer types that fall into 2 or 3 general "buckets."
Instead of writing vague copy that tries to appeal to everyone, you could model Halpern. Tell subscribers exactly who you serve—and how you can help them.
Chances are, unless you operate in an extremely narrow niche, there are several customer segments you can speak to. And it pays. According to Econsultancy, 94% of companies say that personalization is critical to their current and future success. Yet only 4% of companies say that their customer experiences is 'very' personalised.
What is the main driver for personalization in marketing?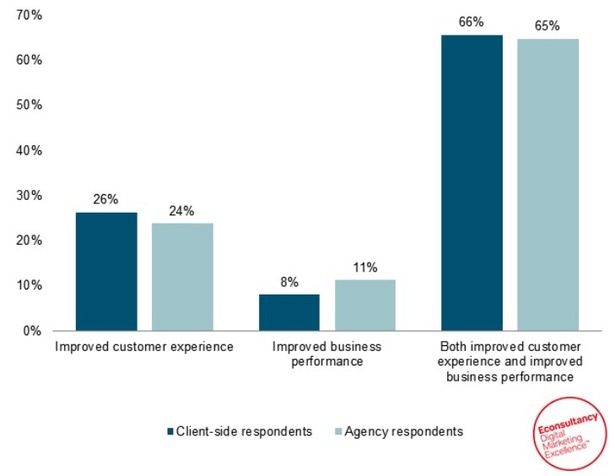 Even on Halpern's blog, personalization is a key tenet of his marketing.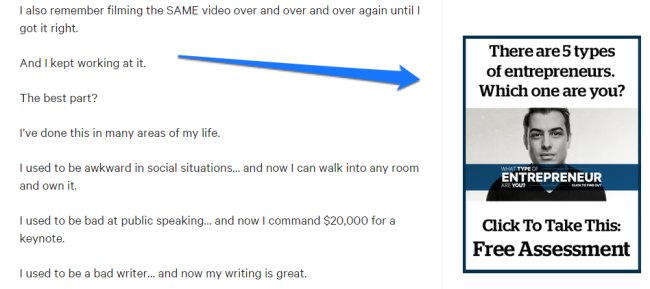 Again, this isn't just for information products.
David Siteman Garland baked the "Which Are You?" angle into his software product Course Cats, speaking directly to 4 target customer groups instead of writing vague copy for everyone: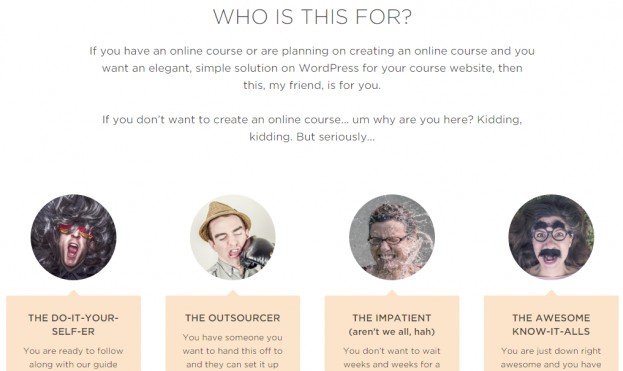 7. The Testimonial Flood
Now we're in the home stretch.
Halpern does something interesting, coming right after the "Which Are You?" email.
He gives us a FLOOD of reasons why other Social Triggers readers are investing in the course… and many of these quotes are strategically picked to get to the heart of why people really want an online business.
Take a look: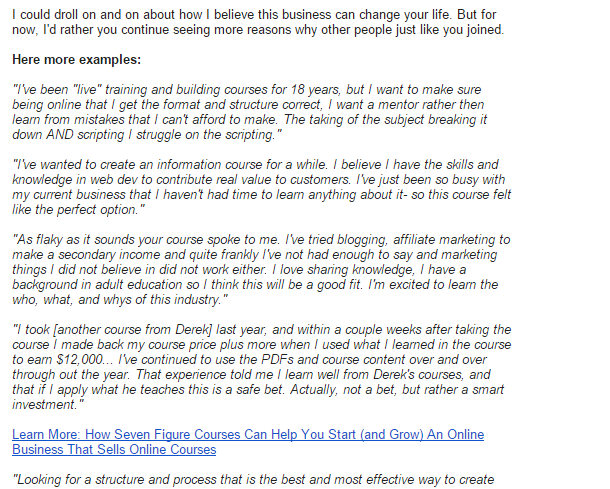 Halpern doesn't use any sales tactics in this email. In fact, he barely writes any copy at all. He just shows you why other people are joining the program, and asks whether you'll "take the leap just like they did."
To really understand why this works, it's helpful to look the science of decision making.
VentureHacks, a blog for startup advice, recommends that entrepreneurs study investor Marc Andreessen. Andreessen has written at length about the 25 human cognitive biases, citing fellow billionaire investor Charlie Munger for his thoughts on psychological biases and their power to influence decision making at a primal level.

It's hard to overstate the importance of these persuasion "triggers."
Halpern's campaign definitely incorporates a few:
Reciprocity

: When you give away a ton of free value, people naturally want to reciprocate.
IKEA Effect

: When you create something yourself (like a piece of IKEA furniture—or an action plan for creating your online business), you're more likely to place a high value on what you've built. This is what makes worksheets and fill-in-the-blank exercises effective.
Authority

: When you publish content on your topic of expertise, you trigger people's authority bias, making them more prone to pay attention.
Lollapalooza Effect

: The confluence of several cognitive biases at once (e.g. reciprocity, authority, the IKEA effect), that creates an almost irresistible effect.
(Go here for a full list of cognitive biases.)
So what do all of these cognitive biases have to do with the "testimonial flood" email?
Well, one of the most powerful persuasion triggers is social proof.
That's why Halpern showcases others who are joining the course. When you combine social proof with elements of authority, reciprocity, the IKEA effect, and more in your own marketing, you'll create what Munger calls the "Lollapalooza Effect" and many folks will take the leap.
If your conversions are low, it's worth adding in some of these triggers and testing your results. Make sure to add testimonials at every step of your funnel (your website, welcome email, pricing page, checkout page, etc.). Let people know that others are buying and, more importantly, their reasons why.
With that, there are just 48 hours to go…
Halpern devotes two more emails to tackling two big objections people have to joining the course and starting their own life-changing online business.
8. Address And Remove Objections
It's hard to tell whether Halpern wrote these next two emails spontaneously, or if he planned them prior to the product launch.
Either way, it's smart to tackle people's fears head-on. Why aren't people buying your product or service, and—assuming they're a good fit—how do you respond?
For Halpern, these are the two big objections:
"I don't have time."
"I don't have an online course idea."
Let's take a quick look.
For Halpern, these are the two big objections:
The Time Objection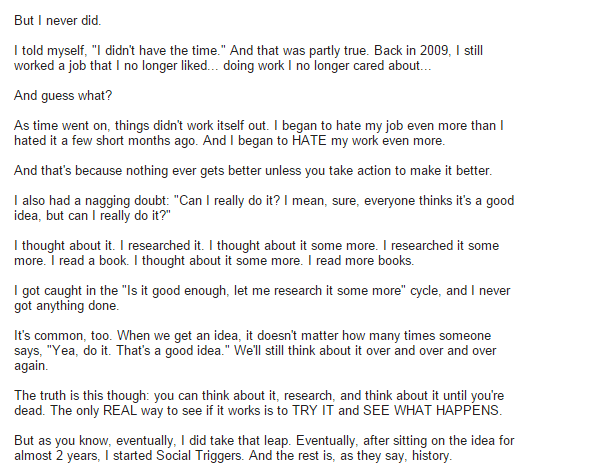 With any online education program, you run into the objection, "I'll just do this later" or "now's just not a good time."
Guess what?
There's never a perfect time to commit. It's your job to prove not just that it's in your prospect's best interest to invest—but that TODAY is the best day to do it.
For Halpern, he dedicates one an entire email to this objection. He writes:
"After sitting on the idea for almost 2 years, I started Social Triggers."
The message is clear:
If you're sitting on an idea, waiting for the clouds to part and grant you 6 months and an extra $5,000 windfall to finally start, you're on the path to wasting years of your life.
Which is why today is the best time to invest. Not just in Halpern's program, but in any online education product that solves a pain point. Always be sure to articulate why NOW is the time for your prospects to invest in your product or service.
Finally, for prospects who *aren't* sure about their idea, Halpern removes another one of the biggest barriers to starting an online business:
"I don't know if my course idea is any good."
The Idea Objection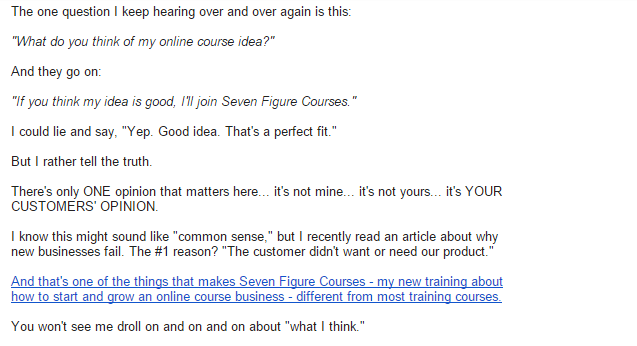 Halpern makes the point that his opinion doesn't matter.
Instead, people need to talk to THEIR customers to get feedback.
On a broader level, this isn't about common objections to starting an online business. If you're a business owner, it's about gaining a deep understanding of why someone wouldn't buy your product or service.
Do you know why customers leave you?
Have you asked people directly why they chose not to buy your product or service?
When you have empathy for the people who don't buy from you (even though they're a perfect fit and could benefit from your solution), then you too can write copy like this that cuts to the heart of the most common objections. Whether it's an email announcing an online course, your sales demo for a SaaS product, or your consulting services pitch over the phone, every business can benefit from addressing objections head-on like Halpern.
After tackling these two objections, Halpern sends one final "last call" email on Friday night. Just a few hours before the midnight deadline, he gently reminds people that the train is leaving.
And that wraps up Halpern's launch of "7 Figure Courses."
Conclusion
Halpern is a master of increasing conversions.
We can all learn a thing or two from this funnel, so we can get more traffic, leads, and revenue—even if we operate in different industries and rely on mediums besides email.
If you borrow even one idea from Halpern's funnel (like an FAQ with your founder on Facebook, a "House Of Cards" cliff hanger, adding social proof), you'll hit a home run on your next announcement and turn even more leads into loyal customers.