Do you run a consulting business? Take a quick glance at your to-do list for today. Lots of small tasks, or a few big to-do's?
How many of your tasks are directly related to winning more consulting engagements?
You want to be sure that your activities are moving you toward the kind of clients and income you really want as a consultant.
In the book 80/20 Sales and Marketing, Perry Marshall writes:
"The 80/20 Curve says that if you have five clients, one is going to be 40% of your business. And if you have 500 clients, the biggest one is going to be 10% of your business."
Powerful.
In this post, you're going to learn some practical tips to help you identify the activities that help you land bigger deals as a consultant, systematize your processes, and help you make these repeatable habits to grow your business.
Let's dive in.
The 6 Must-Do Activities For Consultants To Get Growth
1. Create Your Marketing Calendar
Quick question:
How many proposals, on average, do you convert into clients?
Let's say your closing rate is 30%.
Once you know your numbers, you can predict with surprising accuracy how many new leads, appointments, clients, and dollars you'll bring into your consulting business each month.
For example:
15 leads per month
12 appointments (50% conversion to proposal)
6 proposals (30% closing ratio)
2 new contracts per month
The key here is to know what activities feed each part of your funnel, and to schedule these activities consistently.
Maybe you're not generating enough leads?
In this case, to grow your business, you need to focus on activities to get more leads in the top of your funnel.
This could include:
Calling your past clients to check in and ask for a referral
Sending a whitepaper to your clients along with an offer for a new service you offer
Sending a time-sensitive offer to your email list
Sending pitches with ideas for articles to editors of industry relevant magazines, to gain authority and exposure to your target clients
Do what's most applicable for your consulting firm, but the important thing is that you focus on sales-generating activities consistently.
As a consultant, it's so easy to get caught up doing the work for clients, that you forget to continue marketing your services. When you neglect sales-generating activities, you run the risk of seeing "feast or famine" swings in your cash flow.
Here's one way to ensure that you focus on sales-generating activities:
Create a marketing calendar for your consulting business.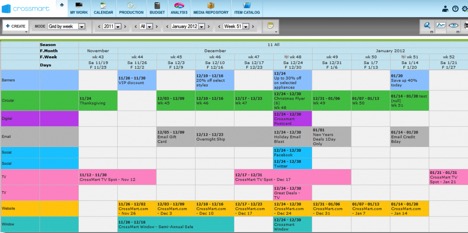 (Photo credit: crosscap.com)
First, figure out the most important activities to getting leads and clients.
Next, set aside time for these activities on your marketing calendar, every week or month. This way, you encourage steady, consistent income as a consultant—instead of the ups and downs of being in "reaction" mode.
John Logar, a marketing consultant who earns multiple six figures per year in his business, does his marketing first thing in the morning, every day.
Here's John, via Consulting Unleashed:
"Most people in business have many days where they don't focus on income generating activities in the course of a day."
Logar's morning ritual lets him review his current leads, outstanding proposals, invoices, and cash flow on a daily basis.
When you schedule important activities in your calendar, you make time to get more offers on the table consistently.
2. Increase The Average Lifetime Value Of Each Client
In a piece called 15 Statistics That Should Have Changed The Business World But Haven't, Colin Shaw cites some eye-opening data from Marketing Metrics:
"The probability of selling to an existing customer is 60 – 70%. The probability of selling to a new prospect is 5-20%."
Same goes for your consulting clients.
Most consultants overlook their database of past happy clients when looking for work.
If you, on the other hand, can figure out ways to increase the frequency of sale from your existing clients, then you'll be able to grow much faster, and focus more on delighting your roster of select clients and less on finding new leads.
James Schramko from SuperFastBusiness calls this being a farmer instead of a hunter as a consultant. You want to cultivate your existing clients, because you've already planted the seed of trust. Focus on growing and adding value to your clients' businesses, not hunting down new clients.
Here are some ideas to increase the lifetime value of each client in your business:
Introduce a recurring "productized service" to your business, such as monthly SEO, a monthly advertising spend with recurring management fees, or 2 consulting calls per month on Skype.
Reactivate previous clients with a new offer.
Strike up partnerships with other non-competitive service providers, and negotiate a percentage that you receive for each of your clients you refer.
The possibilities are endless.
As a consultant, it can be a huge relief to have a cushy retainer income that you know is coming every month. This also frees you up to spend more time going after the big fish clients you really want.
3. Automate Your Follow-Up Systems
You know that relationships are critical to your success as a consultant.
In his #1 New York Times bestseller, Never Eat Alone, networking expert Keith Ferrazzi writes:
"I've come to believe that connecting is one of the most important business—and life—skill sets you'll ever learn. Why? Because, flat out, people do business with people they know and like."
Here's the problem:
How do you remember to stay in touch? As a consultant, how do you make sure that you're connecting and following up with the right people?
You could rely on your memory, schedule email reminders, or set aside one weekday to follow up with key people.
Or you could automate the process.
With marketing automation, it's easier now than ever before to design drip sequences of messages that follow up with key people while you sleep.
Not sure what to write?
You can put together a sequence with case studies of your past clients. Use software like Drip to queue up weekly emails with case studies and tips that demonstrate your expertise.
This way, you can simply invite prospects and potential partners to sign up for your newsletter, and they'll begin to receive regular correspondences from you—without you having to touch anything.
When you automate your follow ups, you'll find that key clients and partners come to you, because they come to know, like, and trust you over time. As Ferrazzi notes, that's 80% of the game.
4. Figure Out What Makes You Different From Competitors (Hint: Don't Guess)
Here's one question every prospect is wondering when you make an offer:
"Why should I go with you instead of one of your competitors?"
The truth is, if you don't know what unique value you offer to your clients, then the 3 tips above will only bring you more objections to overcome.
What's unique about your consulting service?
As business psychology expert Derek Halpern writes, it's possible to raise your prices by 26% or more by offering less to clients—if you can specialize in the one thing that's really enticing to your market.
What's the best way to find your one offer?
Ask your clients.
To glean insights about your value as a consultant, email your past clients with something similar to this script today:
Subject: Strange question?
Hi NAME,
I'm overhauling some of my marketing, and I value your opinion. So, I have a question for you…
Why did you initially choose to work with me on <FIRST PROJECT> instead of someone else? Were you looking at any other options?
Thanks in advance!
– YOUR NAME
That's the bare-bones template you need, so of course flesh it out with any information that makes sense for you to include.
Schedule 30 minutes today to fire off this email to 10 of your past clients.
When clients respond, you can reply with followup questions:
What's most important to you when hiring a consultant?
What event made you realize that you wanted to invest?
If you could wave a magic wand, what would your ideal outcome be for PROJECT?
You will learn exactly how the market perceives your unique value.
Of course, the next step is to adjust your offer if needed, emphasize your value in all your drip sequences, and close more proposals into clients by speaking your clients' language.
5. Hire Some Outside Help
In his book, Million Dollar Consulting, Alan Weiss writes:
"You grow based on exploiting strengths, not by acclimating to weaknesses."
You can't be great at everything. In fact, you should never spend too much time on anything that you can outsource for cheap.
Here are just a few resources for hiring virtual assistants and cheap contractors for menial tasks:
Bottom line:
The next time you find yourself transcribing notes from a client call, re-sizing photos, fixing your website, or just about any other task that you're not good at, just remember that there are people who are professionals that are looking for work in these areas.
Spend more time on your strengths, and your consulting business will grow proportionately.
6. Focus On The Important, Not Just Urgent
This one applies to everything you do.
Back in the 1950s, President Eisenhower famously scheduled his day with the help of a decision making matrix. He categorized his to-dos as "important" and/or "urgent." It turns out, this distinction is especially relevant to independent consultants.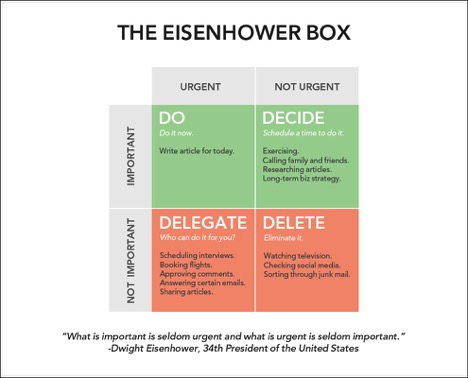 (Source: JamesClear.com)
Of course, you have to do urgent work for your clients. Where you can, outsource low-value tasks, preferably with a profit margin on top.
The problem is when you fall into a pattern of only responding to emails—without ever focusing on the long-term planning of where you really want to be in your consulting business in 6 months' time.
For example…
Do you want to write a book someday?
What about keynote speaking engagements?
Do you want to hire outside contractors, step into a business owner role, and go after big corporate accounts with massive budgets to pay you?
Clearly, these tasks are important, but not urgent. Nobody is going to give you a deadline to write a book about your expertise. But as a consultant, doing so could transform your business.
Shifting Your Activity Focus As A Consultant Is The Key
Operating as a consultant is difficult. You have to manage your clients, your cash flow, and yourself.
Many consultants spend the majority of their time responding to emails and generally doing low-value tasks.
But if you're deliberate about spending your time serving clients, winning new deals, and marketing for your long-term growth, then you'll be in a better position to grow your consulting income and create a business you really want to run.