Did you know that humans have a shorter attention span than goldfish
Shocking, right?
In Microsoft's study of the human attention span, they found that we only have an attention span of about eight seconds.
That means it has become much harder for email marketers to create email campaigns that not only capture their reader's attention but holds it long enough for the reader to take action.
Luckily, there's one tactic that can do both:
Visual marketing.
By incorporating visuals into your email marketing, you have a greater chance of people reading your emails and completing the desired call-to-action.
In fact, humans process visuals 60,000 times faster than text, which is quite significant when you consider that you only have eight seconds to get your message across.
But visual marketing isn't just about adding an image or two to your emails. The right visuals in the right emails can increase your email engagement significantly, but the wrong visuals in the wrong emails will do just the opposite and turn your readers off.
There's a fine balance. And it's a balance I'll help you find in this post.
You'll learn how to use different types of visuals in your email marketing, and see examples of how other businesses have done.
How to Use Visual Marketing in Your Email Campaigns
Much has been written about visual marketing in relation to content such as blog posts, social media, and so on.
But visual marketing should also be considered in relation to email marketing (especially if you want your emails to stand out from the competition.)
Using visual elements in emails isn't for everyone, and it's about figuring out what works best for your business. There are many email marketers such as Ben Settle, Brian Dean, and Pat Flynn who rely on plain text emails—and with great success.
Visual email content is commonly used by e-commerce retailers. But it can just as easily be applied to all other online businesses—provided it ties in with your brand image and how you want your audience to perceive you.
Today, I'll go through five different types of visuals you can use in your email marketing:
I'll show you when, where, and how to use them, and also if you should be using them at all.
Let's dive in.
1. Product Images
Product images are the most common type of visuals in e-commerce email marketing—and for good reason.
No one wants to buy a sweater they've never seen, right?
But with so many marketers using product images in their emails, you need to figure out a way for your images to stand out.
One way of doing so is by showing your products in use.
There's a big difference between showing an image of the product on its own and showing examples of how to use it.
Let's take an example…
Which of the following would you be most likely to purchase: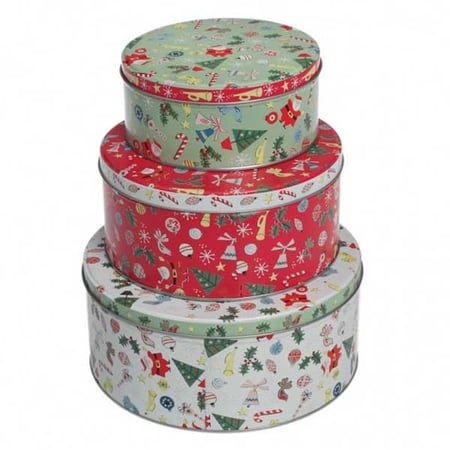 Or: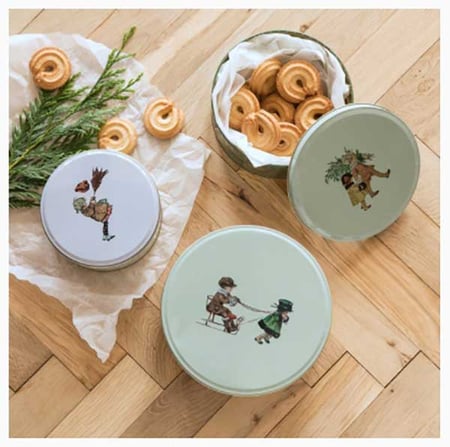 The second one, right?
By adding a "scene" to your product images, your readers automatically go one step further and visualize the product in their home.
Here's an example from Crate & Barrel of how you can incorporate product images into your emails: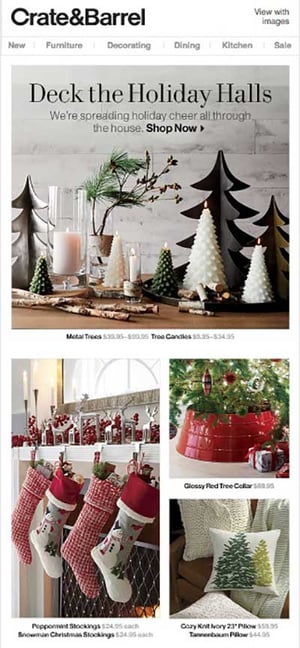 The more "in use" your products look, the more likely your readers will purchase them (or at the least, add them to their Christmas wish list).
You can also use product images to position your product in a way that makes it easy for prospects to relate to such as a visual. That might include a product that isn't visually appealing or can't be used in traditional product imagery.
An example is Poo Pourri, who sells fragrances to hide the smell of poo—not the most appealing visual product, right?
But Poo Pourri has found a way to break the tabu, and make their product look and feel exclusive through colorful and feminine visuals: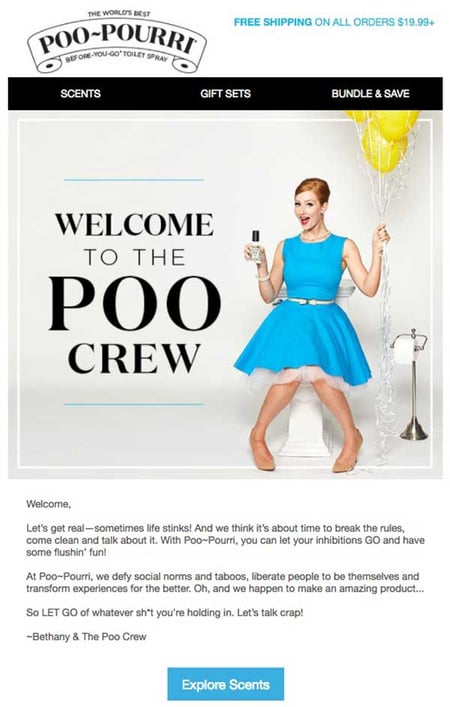 Who would have thought it was possible to make a visit to the bathroom look this good?
The product is not particularly visible in the image, but the focus here is on the purpose of the product which has a much larger appeal than the look of the product itself.
Should you use product images in your emails?
Well, that depends on the purpose of your email and the product you're trying to sell.
Most e-commerce businesses can use images in their email marketing to their advantage.
The challenge is finding the right strategy to show your products in the best way possible.
When you use product images in your email marketing, you also need to ensure that your product images are aligned across all channels. This means having a design guideline for how your product images should look.
Here are the types of emails you can use product images in…
Sales emails/promotional emails
Product launch emails
Product update emails
Onboarding emails
…and the pros and cons of using product images in your emails:
Pros:
Images are processed faster than text
When used correctly, images support your call-to-action
Images will showcase your products better than any copy you write (in most cases)
Images tell a story in less space than text would
Cons:
Not all email services support images
Images can be time-consuming to create
If not used correctly, your images will take focus away from your call-to-action
Too many images can make your emails look messy
2. GIFs
Who doesn't love a good GIF?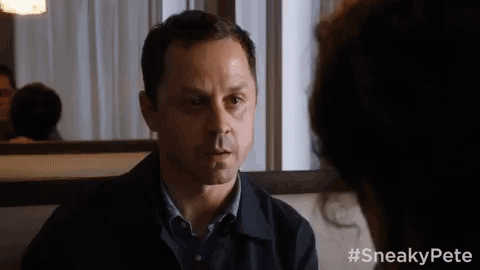 You're probably already familiar with them, but if you're not, GIFs (Graphic Interchange Format) are moving images/videos that typically run on a loop (like the one above).
(Fun fact: not a day goes by in the Drip office without someone communicating through GIFs—our developer Daniel, is the current GIF master and can answer any question with a GIF.)
GIFs have become very popular among internet users, and marketers are increasingly using them in their marketing.
But why are GIFs so popular?
Well, for one thing, they have the ability to capture the attention of your audience in a way that static images cannot. And they have a relatively small file size compared to regular video formats.
And most important of all…
They're FUN.
So, should you use GIFs in your emails?
There are many ways to use GIFs in your email campaigns, but before you start using them, you need to determine if you should be using them.
GIFs are fun and good at capturing attention, but they can also entail their share of challenges.
Because of the humorous nature of the GIF, it's not for everyone. If your marketing approach is serious and professional, GIFs might not be the best solution for you.
On the other hand, if you're already using humor as part of your email marketing strategy, GIFs can be a great addition.
Here's an example from Joybird: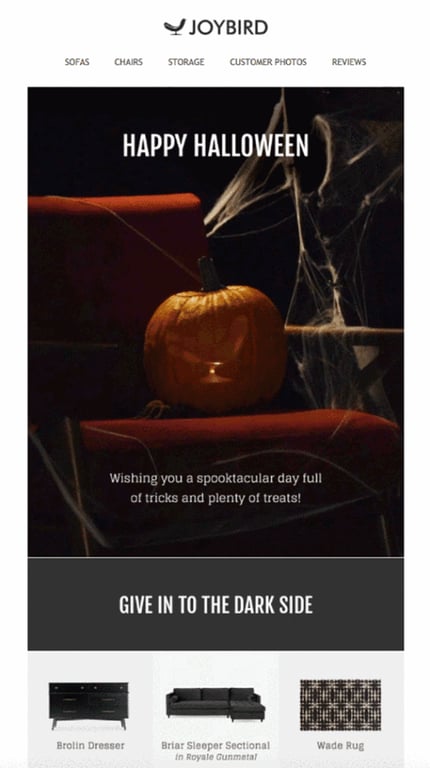 This GIF is simple but has a strong effect (notice how the carving in the pumpkin represents their logo).
Not only does this GIF evoke feelings in the reader, it also establishes relevance both in terms of the seasonal reference and Joybird's logo. They use the GIF as a bridge to their offer which is dark colored products which add to the Halloween theme.
You can also use GIF as a humorous element in your emails to catch the reader's attention.
Here's an example from Death Wish Coffee: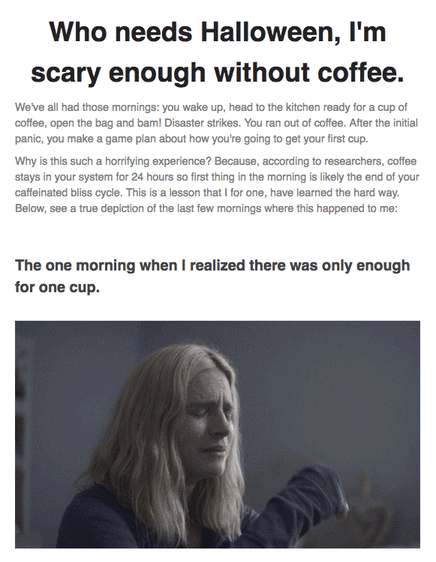 The GIF itself doesn't have anything to do with their product (coffee), but the caption above the GIF establishes a connection with the product.
They also try to connect with the reader on an emotional level by visualizing the emotion many people have when they run out of coffee, but in an exaggerated way to be humorous.
If you decide to use GIFs with captions in them and not above or beneath them, you need to make sure that the first frame is the one you want people to see in case the GIF doesn't play.
Some email platforms don't support GIFs and others will take too long to load GIFs, so it's important that the still image of your GIF conveys the message you want.
You also need to consider how many GIFs you use in your email campaigns. I recommend only using one per email, as they can easily make your email look confusing and take the focus away from your call-to-action.
Here are the types of emails you can use GIFs in…
Promotional emails
Retention emails
Welcome emails
Feedback emails
Product update emails
…and the pros and cons of using GIFs in your emails:
Pros:
They catch your reader's attention
They are easy to find or create
They make your content more digestible
They can add a humorous element to your emails and increase engagement
Cons:
GIFs won't play until they're fully loaded, so people with a slow internet connection might not see it
Not all email platforms support GIFs
If the file size is too big, they won't load properly so keep the file size to a minimum. (Read this guide about the technical aspects of adding GIFs to emails for more information).
3. Videos
Video marketing is bigger than ever, and more businesses are using them to promote products on their website, Facebook, Youtube, and more.
But there's another unexplored growth opportunity in video marketing:
Emails.
Adding videos to your emails can help you get a long message across without taking up too much space.
Like other visual aids, videos are much easier to process, and consumers are craving videos like never before.
In fact, 73% of consumers are more likely to purchase a product or service if they have watched a video with it beforehand.
But adding videos to your emails isn't as easy as adding an image. Videos don't automatically play when opened, so readers have to click the video to see it (and you already know how hard it is to get people to click on your emails).
It's not all bad news. Because videos are so popular, readers are more likely to click a link to a video rather than a link to purchase a product.
So, should you use videos in your emails?
Well, that depends on the type of video you use.
There are many different ways to use videos for marketing purposes such as tutorials, best practice, product illustrations, and more.
Here's an example from Beardbrand, who specializes in men's grooming products: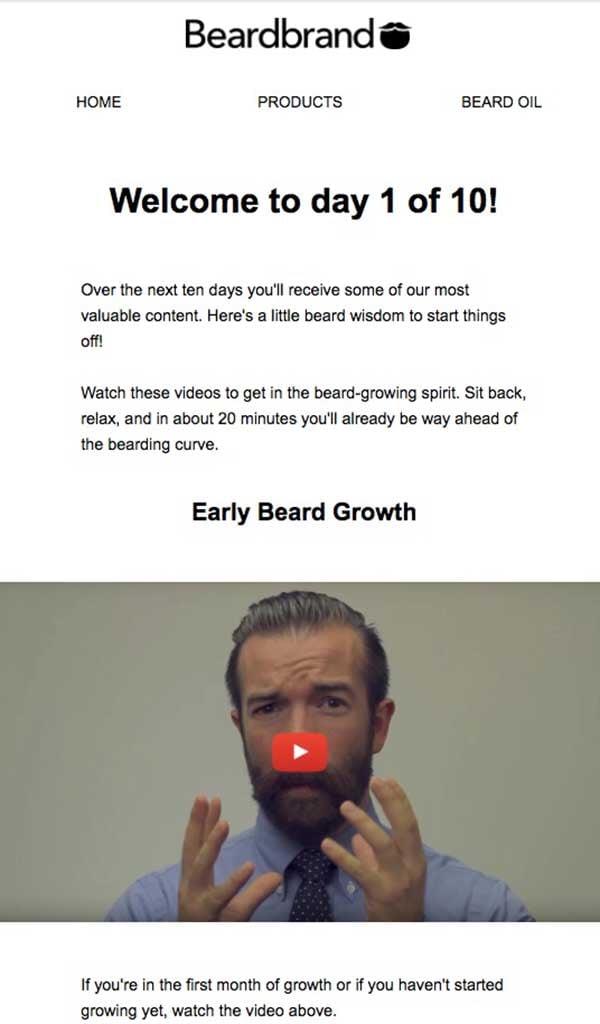 They created a video sequence consisting of 10 videos giving advice on how to groom your beard depending on the type of beard you have. (Just to clarify: I don't have a beard…but I watched the video anyway.)
The video is quite long, so imagine having to read the same amount of information in an email…
You wouldn't.
That's why videos should be used more in email marketing. They convey a lot of information in an easily digestible way.
For instance, Frank Kern uses videos in his email marketing to welcome new subscribers, and give them a chance to get to know him more personally: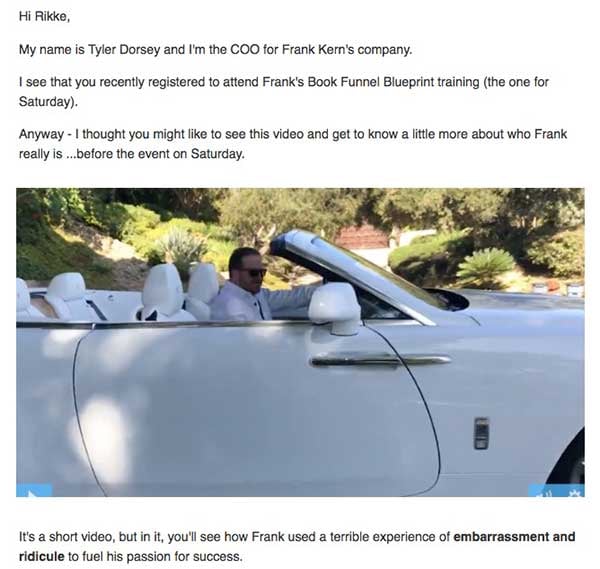 (You can watch the full video here)
Here are the types of emails you can use videos in:
Product update emails
Promotional emails
Sales emails
Email courses/sequences (like Beardbrand)
Outreach emails
Pros and cons of using videos in your emails:
Pros:
They evoke curiosity in readers
They can convey a lot of information in a clear manner
Marketers who use video grow revenue 49% faster than non-video users.
Cons:
Videos are time-consuming to make
Not all email platforms support videos
Videos link away from your email and readers might not return to the email
4. Personal Images
Using personal images in emails isn't new.
But the way we use them in emails is.
There's a higher need for personalization in email marketing now, and using personal photos in your email marketing is a great way to incorporate personalization.
Now, I'm not telling you to start adding your wedding pictures to your emails, but rather use pictures of yourself or your employees to establish a more personal connection with your audience and your business.
For instance, Ramp T-Shirts sent me this email earlier this year: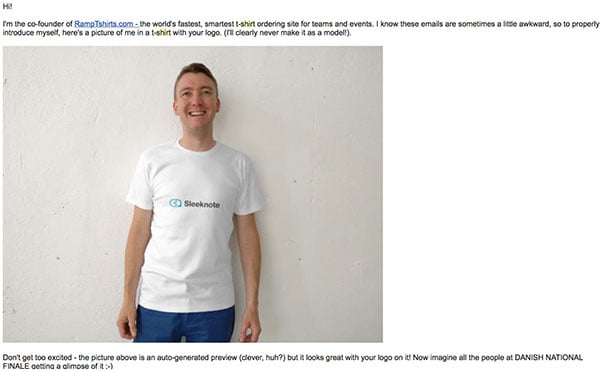 Besides containing a lot of personalized content specific to Drip, it had this photo of the CEO in a t-shirt with the Drip logo on it.
In a post about visual marketing, this email might not look like much, but the one image in this email made the whole difference, and I show this example to everyone asking for a great example of personalization in email marketing.
This specific type of visual content works very well in informal emails that go out to a small audience.
But you can easily include personal images in emails for a large audience.
Here's how we do at Drip: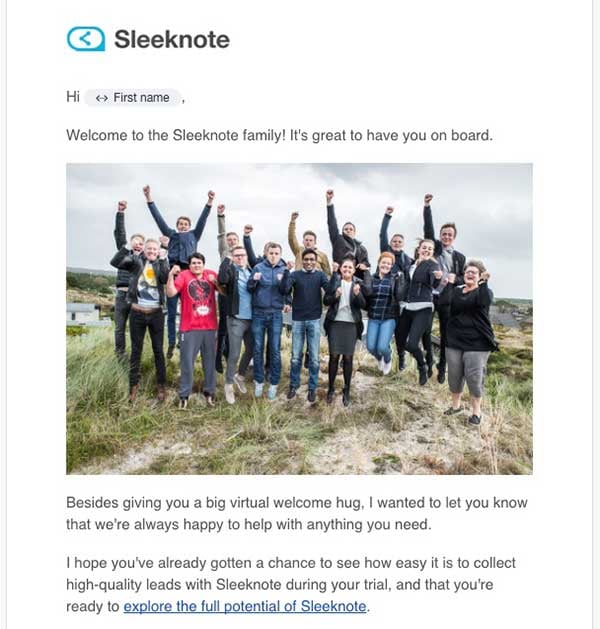 This is part of our welcome email to new customers, and we've had great response on this image because it lets customers see the people behind the business which help us establish a stronger and better relationship with our customers.
The personal images you use in your email marketing don't have to be perfect. Imperfection is the new perfect, and when used correctly, these imperfections will make your emails more authentic and personal.
Should you use personal images in your emails?
There's a fine balance between personal and inappropriate.
The images you use have to be relevant to the context in which they appear, and that's one of the reasons you have to consider if personal photos are right for your business and goals.
Personal images will work for a number of emails, but not for others. If you've never used images of employees in your emails, it might not be the place to start doing it.
Instead, I'd start out by adding a few to your website and build from there.
Here are the types of emails you can use personal images in:
Welcome emails
Outreach emails
Product update/launch emails
Pros and cons of using personal images in your emails:
Pros:
They make your emails more personal
They're easy to implement
They can help you establish a stronger connection with your audience
Cons:
Unedited images with bad resolution can make your emails look unprofessional if not used correctly
Some people might find personal images inappropriate
Conclusion
Visual marketing is more important than ever, but it's about finding the right balance between when, where, and how you use it.
Using visuals in emails is always more tricky than using it on your website because you have to consider that not all visual content is supported in emails.
Moreover, you need to carefully consider the visuals you include and why you include them. What is the purpose of adding this visual element? And does it convey your message better than text would?
If you follow best practices and put a lot of thought into your visual email marketing strategy, it has the potential to skyrocket your email engagement and conversions.
Do you have any experience with visual marketing? If so, what have you learned from it? Leave a comment below.