Imagine this: You're out shopping and see a new store you want to check out.
The moment you step inside, a salesperson jumps in front of you asking: What can I do for you? Are you looking for a new shirt?

Your immediate reaction is to say no and run out of the store again, right?
Not everyone who enters a store is ready to buy. They all have some interest in your brand (otherwise they wouldn't have entered in the first place), but they might be at different stages in the funnel.
That's why it's important to know who to contact and with what message so you don't scare top-of-funnel prospects. At this stage, they might just be window shopping and getting to know your brand.
More, it's equally important to know which prospects are further down the funnel and just need that final push before buying.
That's where lead scoring comes in.
With it, you can easily target the right prospects, at the right time, with the right message. And with today's technology, it's never been easier to implement.
In this post, I'll show you how to set up a simple e-commerce lead scoring system. Plus, plenty of examples of how to segment and score new leads.
Shall we?
What is Lead Scoring?
Lead scoring is a way for businesses to categorize and prioritize leads based on various parameters to determine where each lead is in the sales funnel.
For each action your leads take in your sales funnel, you give them a score. Each action has a point value based on how far that action takes them down the funnel.
These values can be based on demographics and user behavior that you define prior to setting up your lead scoring (more on this later).
That means you need to have a good understanding of your buyer persona and your sales funnel to create an effective lead scoring model.
You can then create targeted campaigns for leads in every step of your funnel to help them move further down and hopefully end up as customers.
Once you set up your lead scoring system, it will run automatically.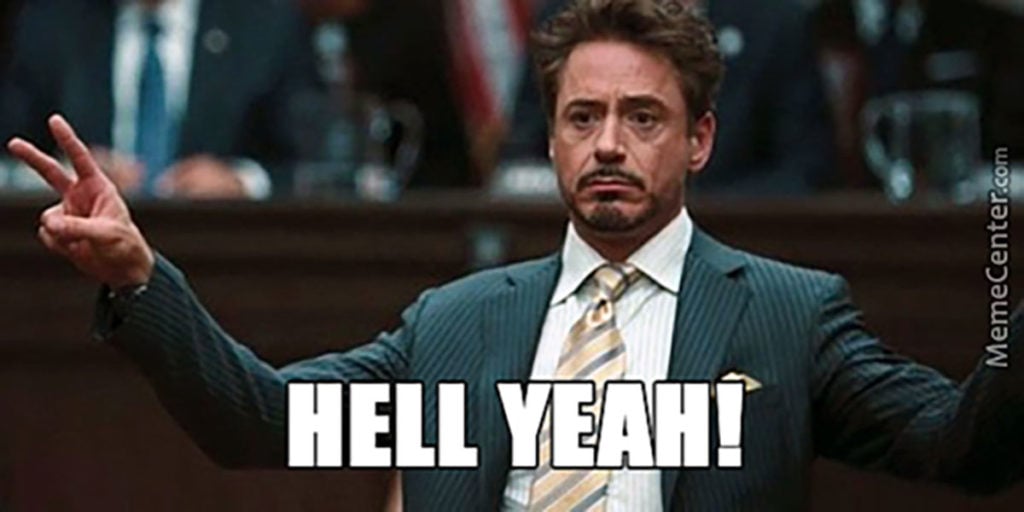 Now, let's look at how to create a lead scoring framework for your online store.
Lead Scoring Examples for E-Commerce
When it comes to deciding which parameters to include in your lead scoring strategy, it's important to know which user behavior is most likely to trigger a purchase.
This depends on your product, your buyer persona(s), and your sales funnel.
But for many e-commerce businesses, it makes sense to look at demographics and user behavior.
You can segment new leads based on demographics such as age, gender, and geographic location to get an idea of how they fit into your target group.
Different age groups have different shopping behaviors. So if you're targeting millennials, you might give leads within that age range a higher lead score than you would with, say, baby boomers.
The same goes for gender. If you sell makeup and hair products, you might want to give leads that segment themselves as female a higher score than male.
Further, leads that live in areas where you have physical stores or areas where you see a high percentage of potential buyers, will get a higher score than leads from outside those locations.
Demographics are a good way to segment new leads upon signup (I'll show you how later in this post), but they don't tell you much about where prospects are in the funnel.
That's where user behavior comes in.
You probably already track user behavior on your site (if not, you should get started), so why not use this data to enrich your leads and identify their place in the customer journey?
Here are a few examples of what data you can use:
1. Product Categories
Consider looking at the types of product categories users view to know what types of product to recommend to them.
Look at how often they viewed these pages to score their level of interest. The more times they viewed a certain product category, the greater their interest in that product.
If you have a search function on your site, you should score your leads based on what they're searching for. Set up Site Search in Google if you don't have that activated. Then you can see the exact words and phrases users search for on your site.
Depending on your products, specific search phrases should yield specific scores.
2. Frequency of Visits
How often a user visits your site is a great indicator of their interest in your brand.
Let's say a user visits your site five times within one week and looks at a few different product pages.
You know that user is interested in your brand but hasn't shown interest in a specific product.
This lead would most likely get a lower score than leads who visited a specific product page multiple times. But that doesn't mean they're not worth contacting. It just means you have to appeal to them in a way that doesn't involve selling.
For example, you could show them a popup inviting them to contact you. They might need help finding something on the site or they could have questions.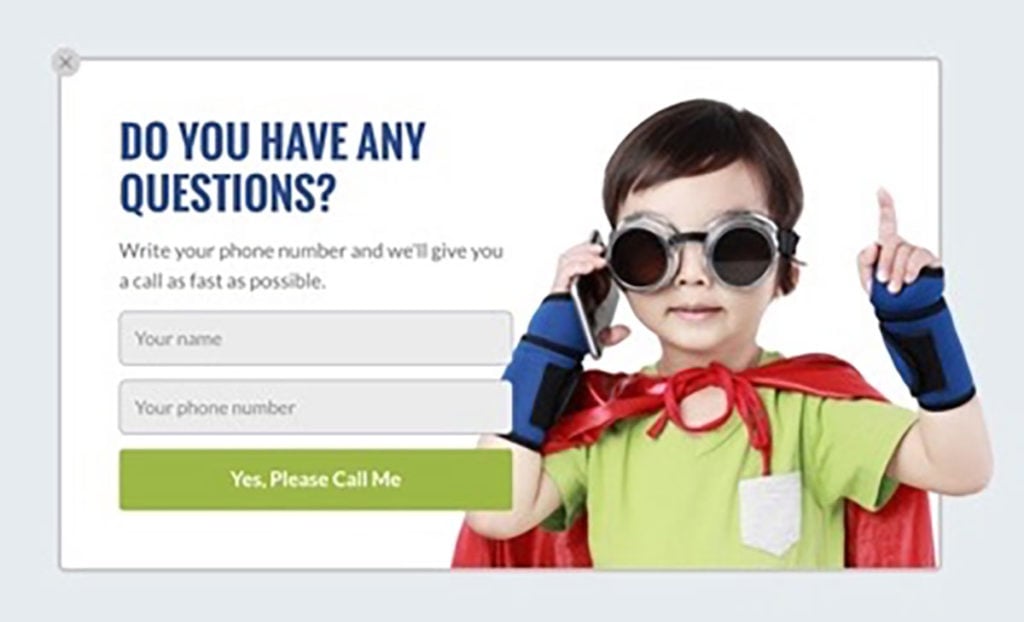 If they get in touch with you through this form, they get a score based on the level of interest that type of action shows (and that's up to you to define).
3. Specific Pages
It's likely you have pages on your site that indicate a higher level of interest than others.
This can also be an important parameter in your lead scoring.
For instance, leads who visit a product page should get a higher score than leads who visit your homepage or about page.
So you could rank the pages on your site and assign a value to each of them to help improve scoring.
Here's an example:
Maybe you have a page with opening hours and leads who visit this page are interested in offers from a specific store in their area.
Then it would be ideal to send them information about store offers in that area based on their location data.
4. Shopping Behavior
This is a fascinating parameter to look at because shopping behavior says a lot about how likely visitors are to buy from you.
Have they added items to their basket? Have they bought from you previously?
This information is valuable.
In fact, second time customers are 53% more likely to place a third order. And by the time they've placed their tenth order, they're 83% more likely to buy again.
Also, if users abandoned their carts, you need to follow up with them to invite them to complete their purchase.
They've shown high interest in buying, but something kept them from going through with it. So help them overcome the obstacle by addressing that concern in an abandoned cart email.
Remember, abandoned cart emails have an average ROI of $5.64, compared to only $0.02 for promotional emails.
This shows how important it is to follow up with abandoned carts. Find out why users are abandoning their carts and eliminate that obstacle in your emails.
Repeat customers need different types of messages than first-time buyers because they already know your brand (and in many cases, you can push harder for a sale with this segment).
Prospects that leave items in their cart should get a higher lead score than those who browsed a product page. And repeat customers should get a higher score than leads who abandon their carts.
Here's an example of what a simple combined lead scoring model could look like:

When you combine all of the above parameters into your lead scoring strategy, you'll get a more relevant lead score system that enables you to target the right prospects with the right message depending on their lead score.
How to Segment New Leads on Signup
When a user first signs up for your newsletter, it's tempting to get as much information as possible for your lead scoring.
It's a fine balance between asking for too much information and too little. You don't want to ask for too much information and risk lowering your conversion rate. But you still want to ask for enough to give new prospects a score.
At the point of signup, it's a good idea to ask for demographic information such as age, gender, location, or even interests.
With that in mind, make it easy for people to choose their preference when signing up.
For instance, if you're in the travel industry, you might want to know where the prospect is interested in traveling to.
Then your form could look like this: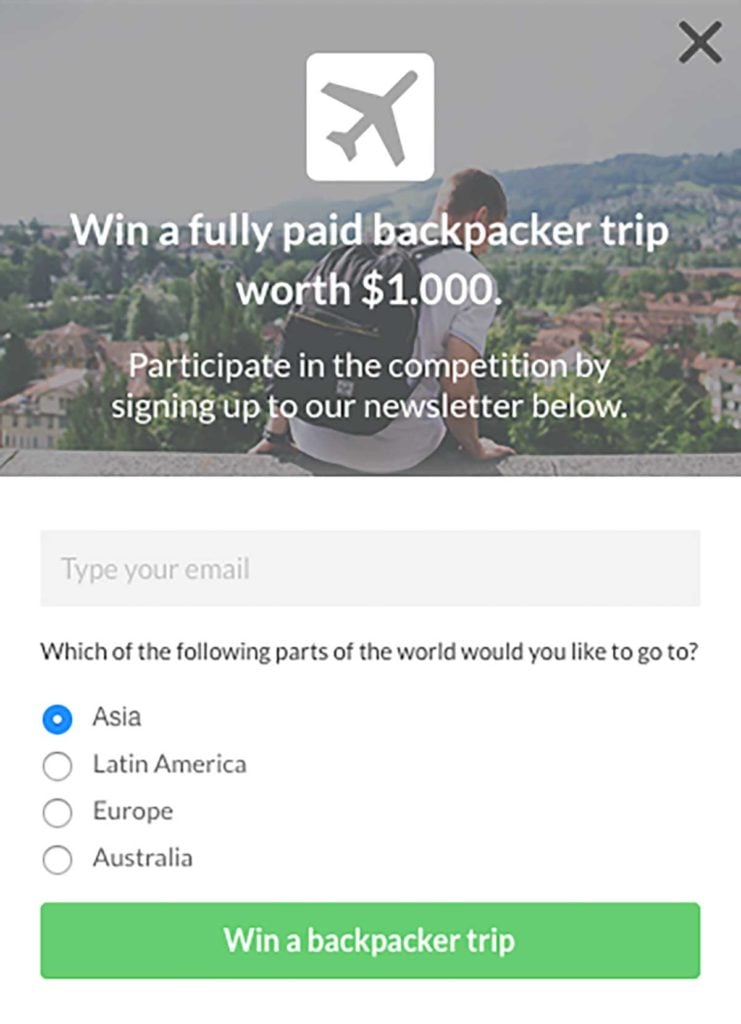 How to Set Up Lead Scoring
Setting up an automated lead scoring system is simple.
To illustrate, I'll show you how to set it up in Active Campaign.
(If you use another CRM system the process might be different, but this should give you an idea of how it works).
Step 1. Log into Active Campaign and click "Contacts".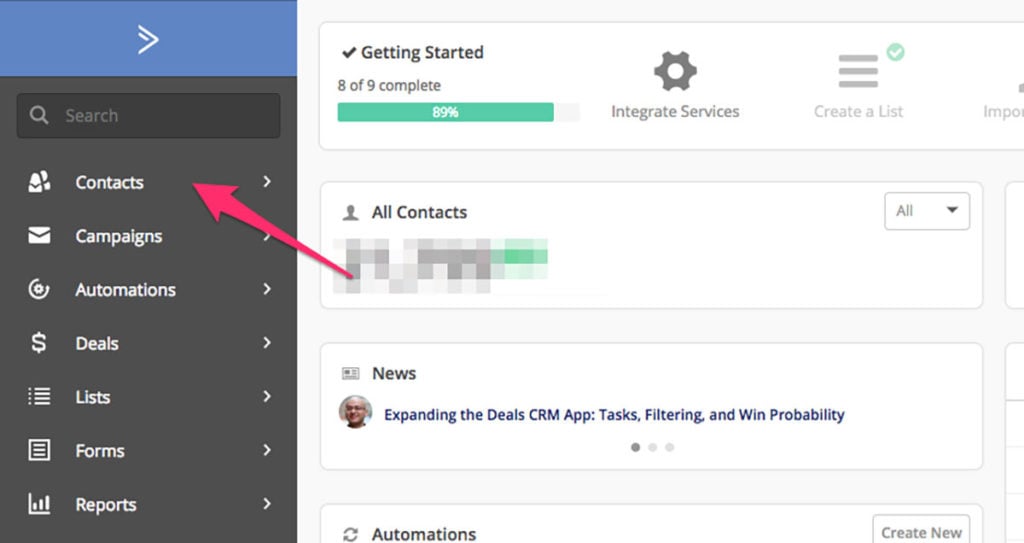 Step 2. Click "Manage Scoring".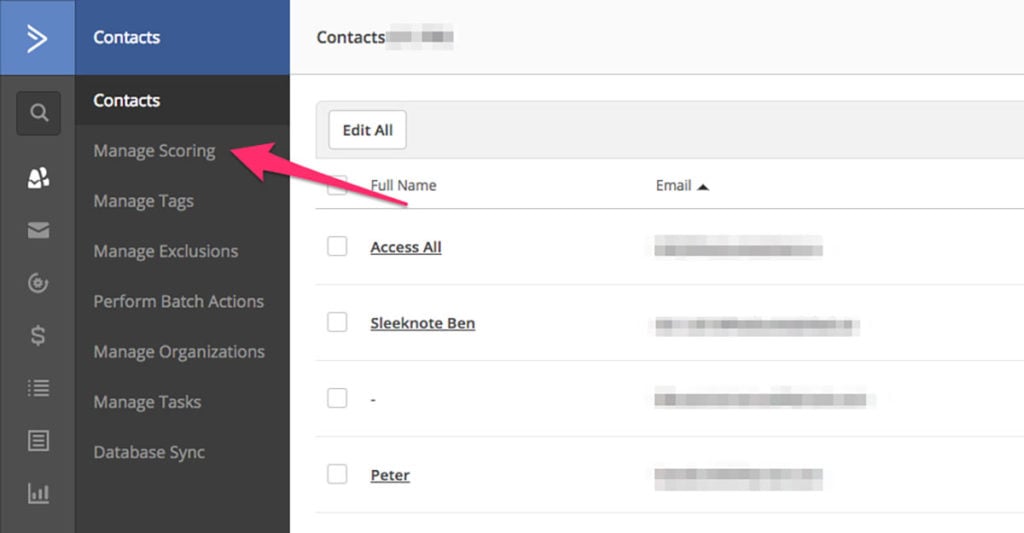 Step 3. Click "Add New Score".

Step 4. Choose "Contact score".
Step 5. Click "Add New Rule" to define the conditions for your lead scoring.

Step 6. Choose your condition from the drop-down.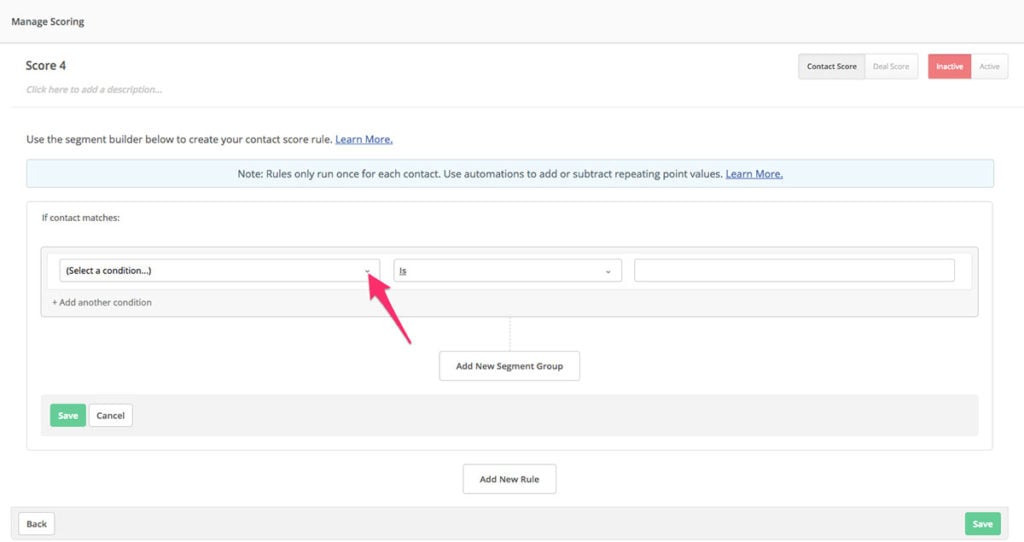 Let's say you want to give a score based on a specific number of visits to a certain landing page.
Then you would choose "Site & Event Data".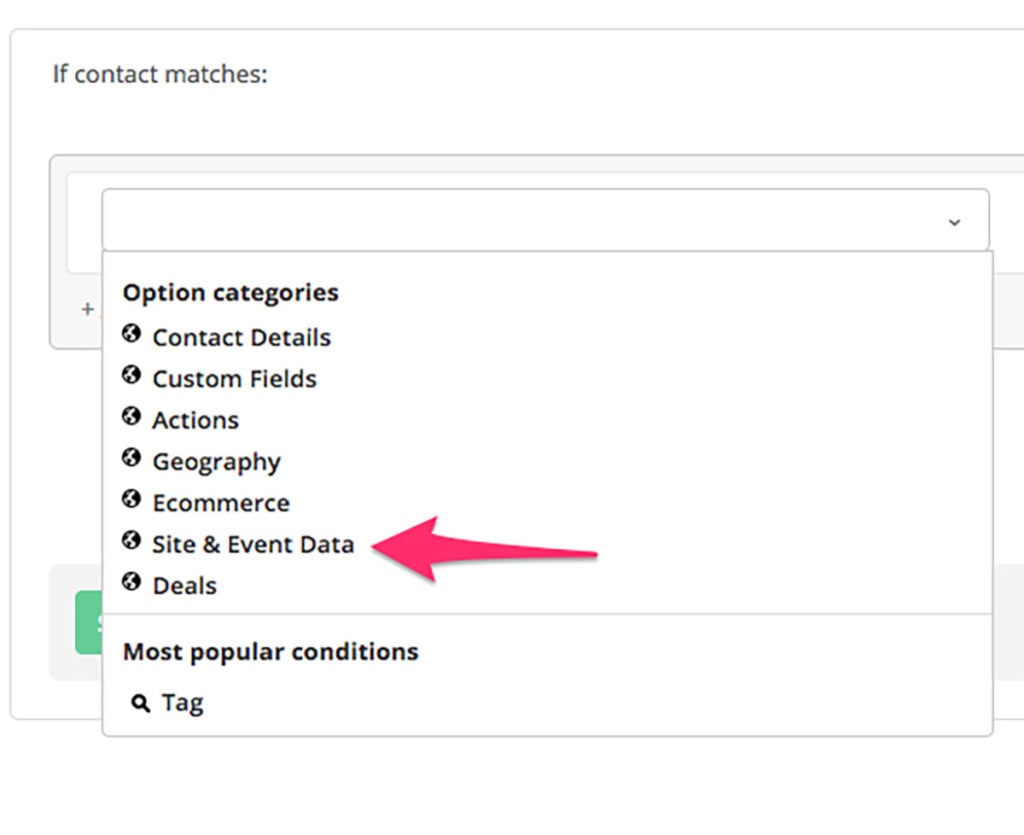 And then "has visited".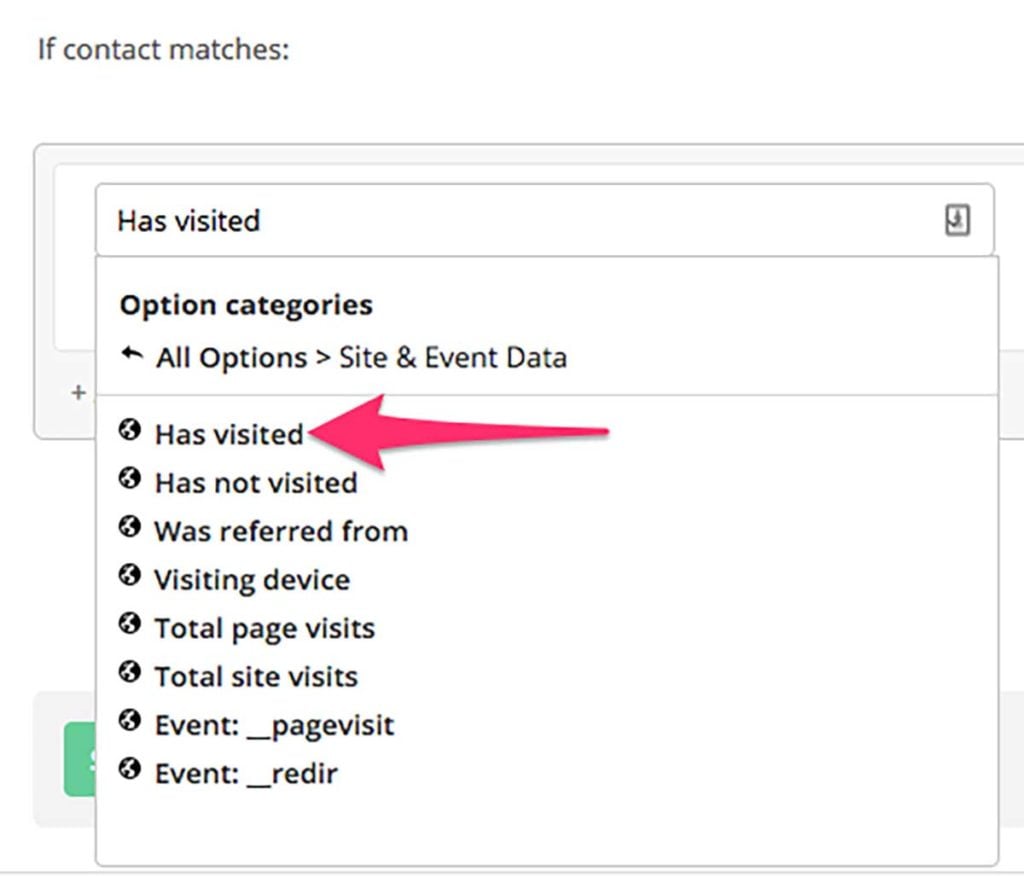 Step 7. Enter the URL of the landing page.

Step 8. Choose how many times a lead should visit the page before getting a score in the drop-down.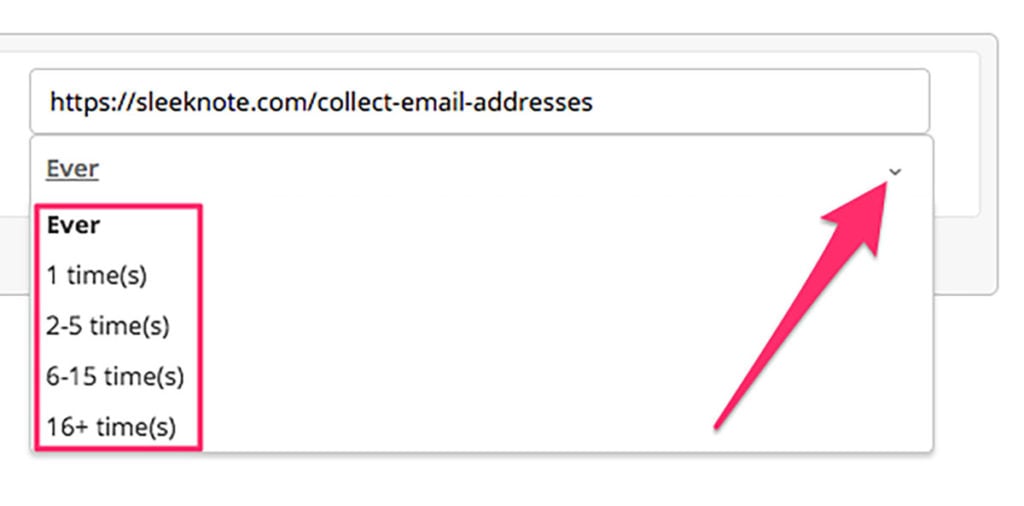 You can add more conditions or segments if you want to give a combined score to users who have completed more than one action.
(Example: You can use this if you want to give a combined score of 40 to users who visit three specific product pages that go well together. Then they won't get the score until ALL actions in that rule have been completed.)

Step 9. Click "Save".

Step 10. Set the score you want to give for this action.

Now you can add as many rules as you want by repeating step 5-10.
(Note: steps 6-8 will vary depending on what condition you choose in step 6.)
Step 11. When you're happy with the rules you've set, toggle the "Inactive" bar to "Active", and click "Save".

Every time a lead now completes one of these actions, the corresponding scores will be added to their overall score.
How to Target the Right Leads with the Right Message
The value of a lead doesn't stay constant over time.
A lead that has a score of 80 today, won't necessarily have the same score tomorrow.
That's why it's important to follow up with leads at the right time when they're more likely to convert.
A good nurturing strategy requires sending relevant content to leads encouraging them to take further action (even if it's just clicking a link in an email).
You can set up a simple lead nurturing email sequence to contact leads at the right moment in the customer journey.
For example, whenever a lead reaches a score above 80, they automatically enter a three-email flow inviting them to buy something.
It could look as simple as this: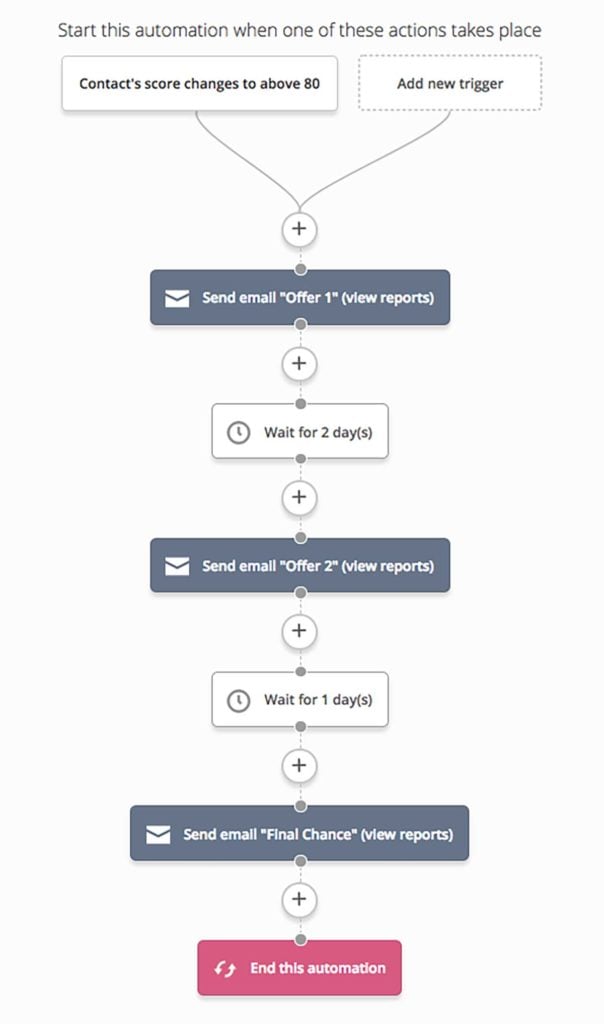 If you want to take it one step further, you can segment leads based on the actions they've taken.
Here's an example of how you could do that: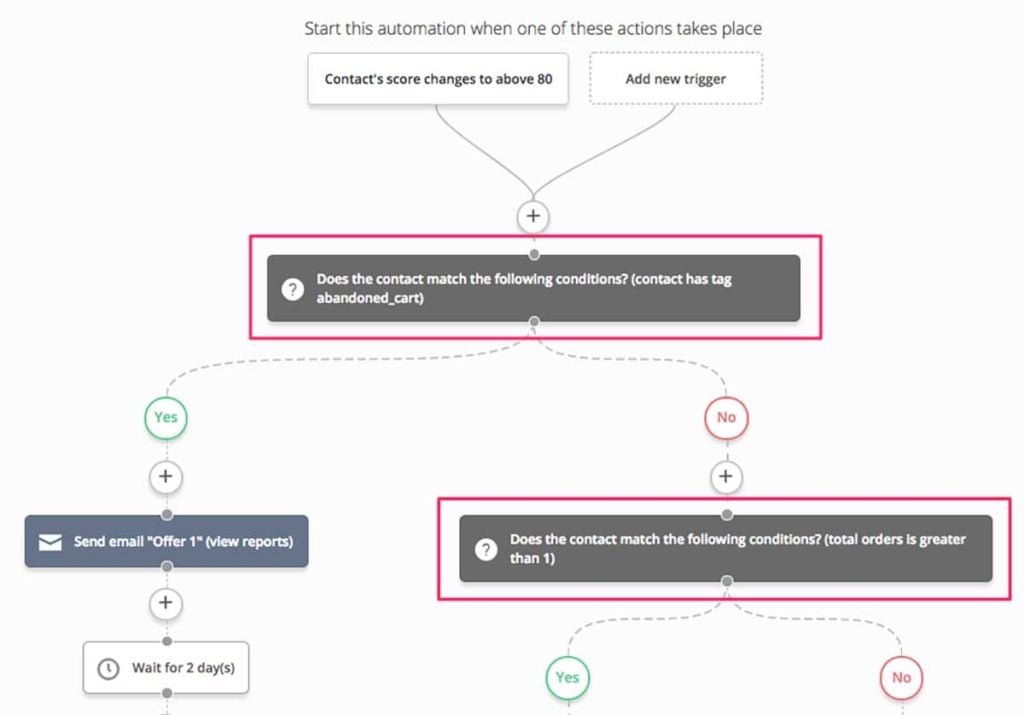 You already collect a lot of data from the visitors on your site and your leads, so use that data to send only relevant content to the right prospects matching where they are in the buyer's journey.
Conclusion
Using lead scoring is an effective way to quickly identify warm prospects who are ready to buy.
It also enables you to target leads at different stages in the customer journey with targeted messages aimed at pushing them further down the sales funnel.
Your lead scoring strategy can be as simple or as advanced as you want. But only you can find the right balance that suits your business.
I hope this post gave you a few ideas to get started with lead scoring so you're ready to create more relevant content for prospects and increase sales.
Have you done lead scoring before? What are your experiences? Leave a comment below.