A few months ago, our marketing department was over the moon with the number of free trials we were getting.
We were investing a lot of money in paid advertising and retargeting which more than doubled our free trials signups so we knew we were doing something right.
But we soon noticed something unsettling…
Our free trials were NOT converting into customers at the rate we were expecting.
If you're running a SaaS, you can probably relate.
You know better than anyone that free trial users are some of the best leads you can get. They've already decided to try your product, maybe over a competitor, so if you're not converting them, you're in trouble.
We had a few ideas why our process wasn't working, but one thing was certain:
We needed to do something about it—fast.
So we went back to the drawing board and reworked our entire free trial email sequence, from top to bottom…
And results surprised even us…
By matching each email to each user segment in our funnel, we increased our open rates by 16.5% and increased our click-through rates by 4.2%.
In this article, I'll show you how to create an effective onboarding process for free trial emails so it's easier to turn free trial users into customers.
Let's dive right in.
How We Increased Our Free Trial Email Open Rate by 16.5%
Before diving into the specifics of the post, let me give you a quick overview of the results we got.
By using the strategies outlined below, we increased our average open rate by 16.5% and our click-through rate by 4.2%.
I want to be honest here:
It's not that our original user onboarding wasn't awful. We just knew we could do much better.
We didn't know why our free trial users weren't becoming customers, but we had a few ideas. Specifically:
We failed to identify an important user segment: partially active users
We weren't sending the right emails to the right users at the right time based on the actions they had or had not taken with our product
These ideas led to the implementation of a new email strategy for onboarding our free trials successfully.
Here's how we did that.
How to Successfully Onboard Free Trial Users
If users don't engage with your product during their free trial, it's unlikely they'll become customers once their trial ends. Nothing new there.
So the most important step to onboarding free trial users is to get them using your product as quickly as possible.
Focus, here, on the necessary steps required to see results with your product. The better results users get during their trial, the more likely they are to purchase when their trial ends.
To show how you can create an onboarding sequence, I've focused on three common user segments:
Active users
Partially active users
Inactive users
Let's take a closer look.
1. How to Onboard Active Users
Active users are four times more likely to convert into customers than other free trial users.
Why?
Because they've already taken the first step towards purchasing: implementing your product.
In our case, active users have both implemented the tracking code on their site and created their first SleekBox.
But we don't want to leave them at that.
Just because users get started doesn't mean they'll automatically get results.
You need to help them get those results.
How?
By providing them with the necessary resources to help them achieve the best results.
This is where we realized we made our first mistake.
In our old onboarding sequence, we sent users case study emails for inspiration on how to create effective SleekBoxes.
The problem, though, meant we were sending too many case studies emails. And as a result, the click-through rates hovered around 2% for months.
We soon realized we were only confusing users by sending too many different case studies. So we focused instead on creating one quality case study email linking to a single case study that included everything a user would need to create a high-converting SleekBox.
The result?
We increased our click-through rate by 111.11%.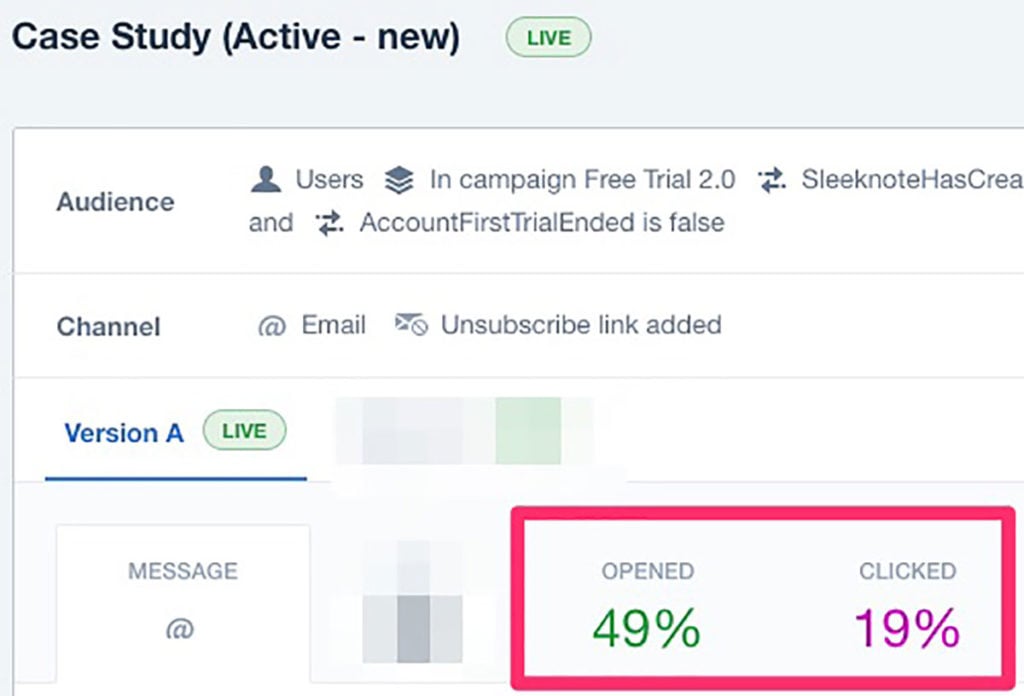 Takeaways:
Inspire users to go the extra mile with your product
Send fewer, but better emails
Send content that's relevant and specific to where they are in the onboarding process.
Send examples of resources such as free templates, best practice guides, video tutorials, free tools, etc.
Contrary to popular belief, you don't need to finish with a strong sales pitch.
As Pat Flynn puts it:
I feel much better having my audience make buying decisions on their own based off of real life results, then hype or exaggeration or a "YOU NEED THIS NOW" from me.

The reason you offer a free trial is to get users to try the product and fall in love with it, right? So if users get great results, the natural choice is for them to buy.
That said, you still need to give users a reason to take action when their trial ends.
It's too easy for users to postpone buying unless you give them a final push in the right direction.
Especially if you offer multiple pricing plans.
In our old onboarding process, we sent an email at the end of a trial trying to convince users to upgrade to a paid plan without informing them of the different plans we offer. We also didn't help them pick the right plan specific to their needs.
So, our new strategy focused on simplifying our plans, making it easy for users to click the plan that fits them.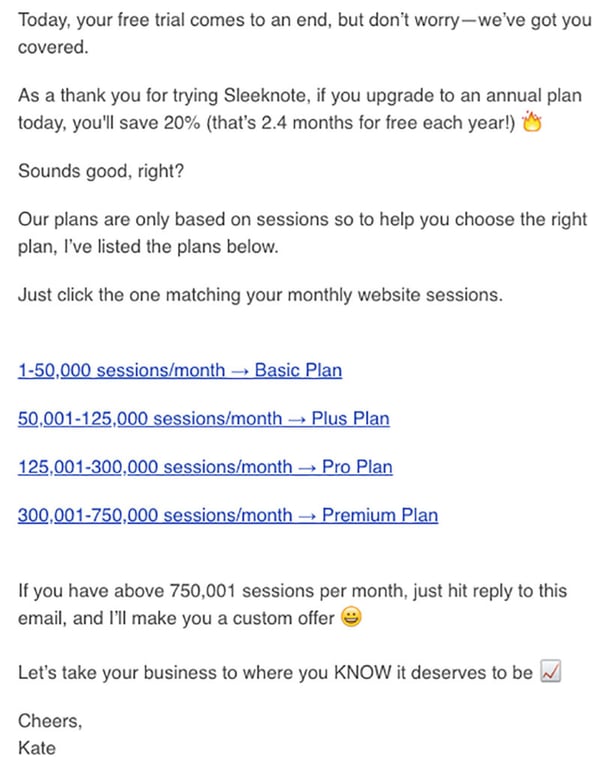 By listing the plans and only giving them one choice based on their monthly sessions, we went from a click rate of 5% to a click rate of 13%.
Before: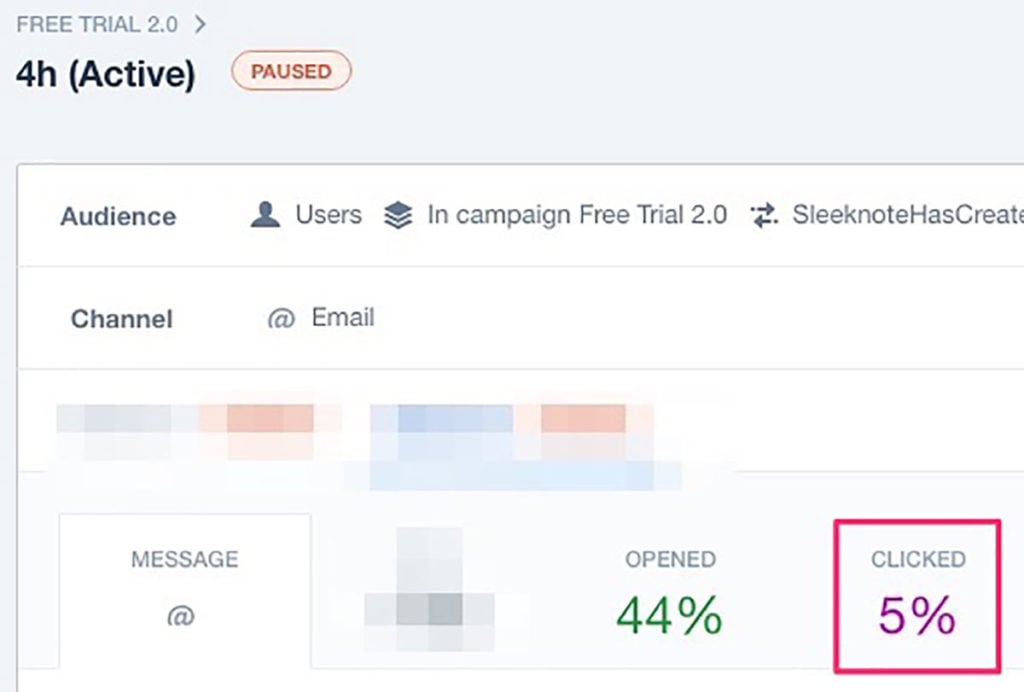 After: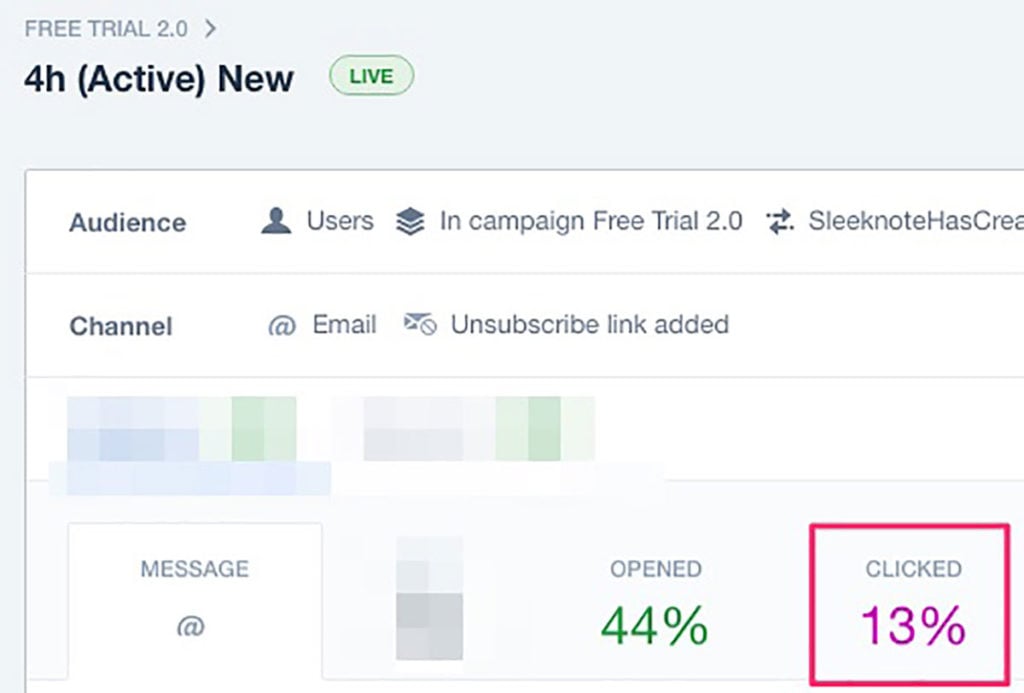 Takeaways:
Incentivize users to take action now by giving a reason ("Upgrade today, and save 20%")
Limit the number of choices
Finish off with a strong call-to-action
You shouldn't copy this free trial email as it's specific to the Sleeknote product. But you can use the same elements to create your own "sales email" where you help users make a decision.
2. How to Onboard Partially Active Users
Users that take one or more of the required actions during their trial are partially active users.
At Sleeknote, we have two types of partially active users:
Users who created their first SleekBox but didn't implement the tracking code
Users who implemented the tracking code but haven't created their first SleekBox
These users have shown an interest in starting (aside from signing up for a free trial), but they haven't completed the onboarding process.
This means they won't see any results unless they complete both steps.
In our initial onboarding sequence, we didn't even consider this type of user.
We only differentiated between active and inactive users (I'll get to the latter shortly).
Big mistake!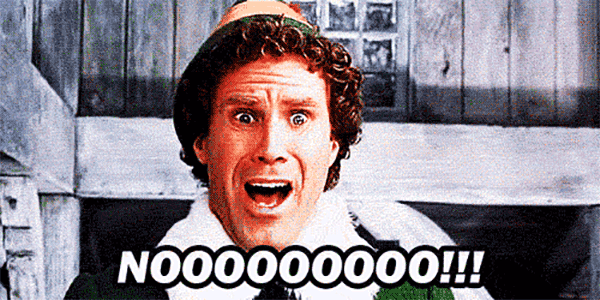 These users are only a few steps away from becoming active users, so you should help them get there.
How do you do that?
Trigger your emails based on the actions they've taken so far.
According to CrazyEgg, the first three days of a free trial is the most important.
So during the first three days of a partially active user's trial, we send one email per day:
All emails have a clear call to action: to get started.
However, the approach is different depending on the actions a user takes.
For example, if they've created a SleekBox but haven't implemented their tracking code, we want them to implement the code.
This is the second push email we send to that specific segment: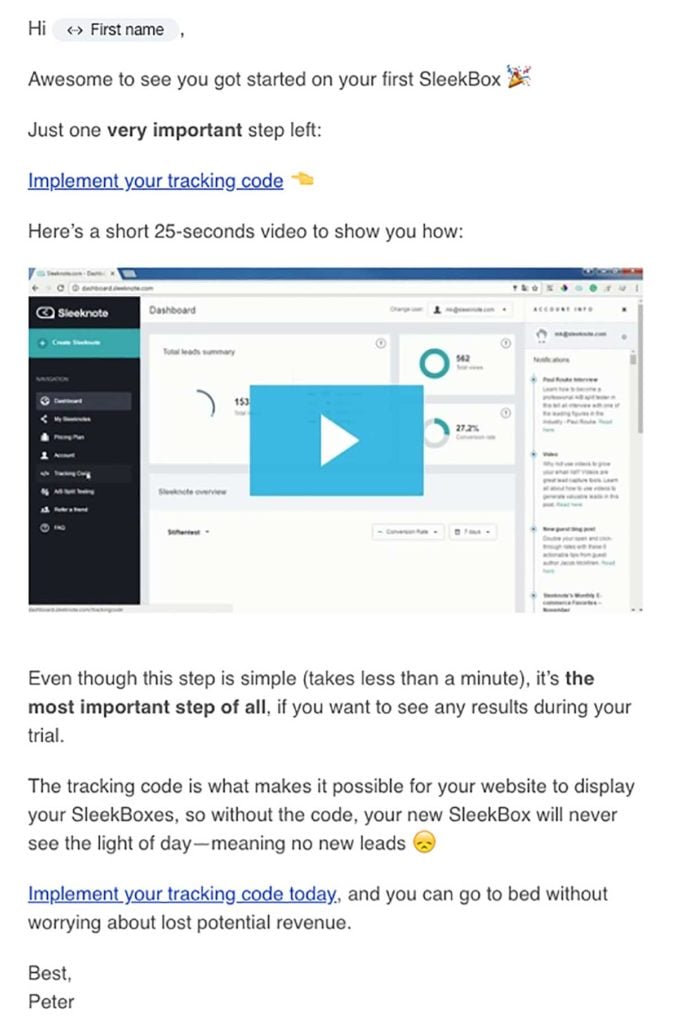 Takeaways:
Get users excited about the step they've already taken
Emphasize the importance of taking the next action
Show them how to use your product effectively (video tutorial, step by step guide, images, etc.)
Include your call-to-action several times in your email
We do the same thing with the users who implement the tracking code but haven't created a SleekBox.
But what happens if they still haven't taken the next step when their trial comes to an end?
We send partially active users an email 24 hours before their trial ends.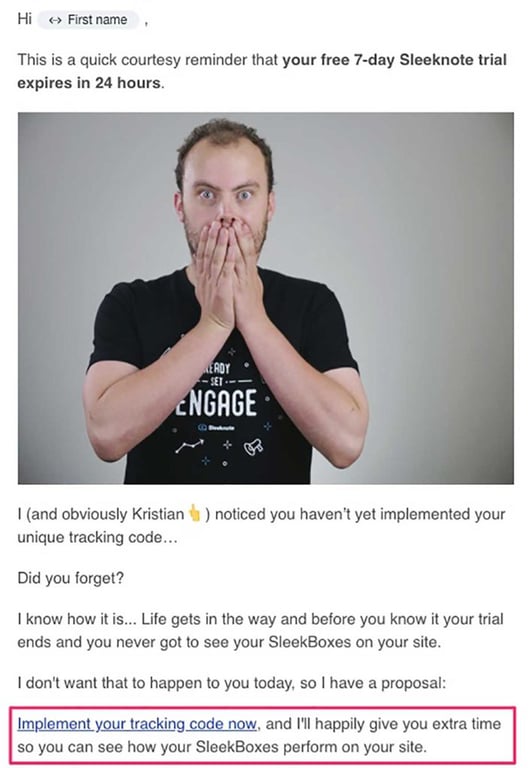 We don't know what stopped them from becoming active users, but we know they were interested in using the product.
So, we offer them an extended trial. But to get the extension, they have to complete the final step (create a SleekBox or implement their tracking code).
That way we don't just extend all partially active trials. We only extend the ones where the prospect has an actual interest in seeing results with our product.
This may not be the solution for your business, but it's one way of engaging this type of user.
Takeaways
Identify the objections these users might have at this stage of the free trial journey
Address these objections in your emails
Segment users based on the actions they've taken
Don't leave out any partially active users (we only have two types, but you may have more)
3. How to Onboard Inactive Users
As the headline implies, inactive users are those who have signed up for a trial and not taken any further action.
At Sleeknote, these users are those who don't install the tracking code AND don't create their first SleekBox.
They're also less likely to become customers when their trial ends, so are they worth spending time on?
In a word, YES.
They signed up for a reason, remember. So try to address that reason when nudging them to get started.
Andre Chaperon distinguishes between two types of marketers:
The amateur and the pro.
The amateur "will wait for shit to happen before reacting."
The pro "will actively go after opportunities that will add more value and stability to the engine of their business."
You want to belong to the latter, so ignoring inactive users is not an option.
So how do you approach inactive users?
First, you need to consider why they're inactive.
This, of course, depends on your product but common reasons are:
Lack of time
They don't know how to get started
They forget they signed up (this does happen)
They signed up my mistake
Once you identify the reasons your users are inactive, you can address these reasons in your emails.
While you can't do much about users who signed up by mistake, there are many approaches to engage inactive users.
The mistake we made with these users was thinking that all users were inactive for only two reasons:
They forgot to take action
They didn't know how to use our product
That's why our initial email strategy, was to send an email every day during their trial to remind them that they "forgot something."
These emails were almost identical, and they all included a "how-to-get-started" guide.
These emails were driving some engagement, but not as much as we had predicted.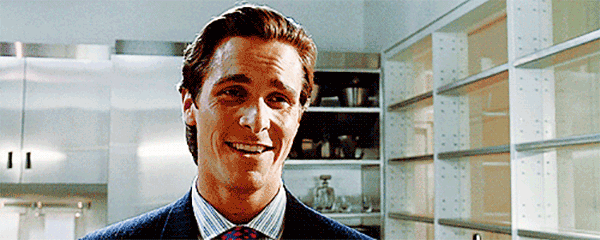 We needed to find a way to address more of our user's concerns without sending more emails.
So, we sent three new emails.
We send email #2 on day two and email #3 on day two (every user gets the welcome email on day one). Then we send a final email 24 hours before their trial ends.
The first email is a friendly reminder that they forgot to create a SleekBox and implement the tracking code: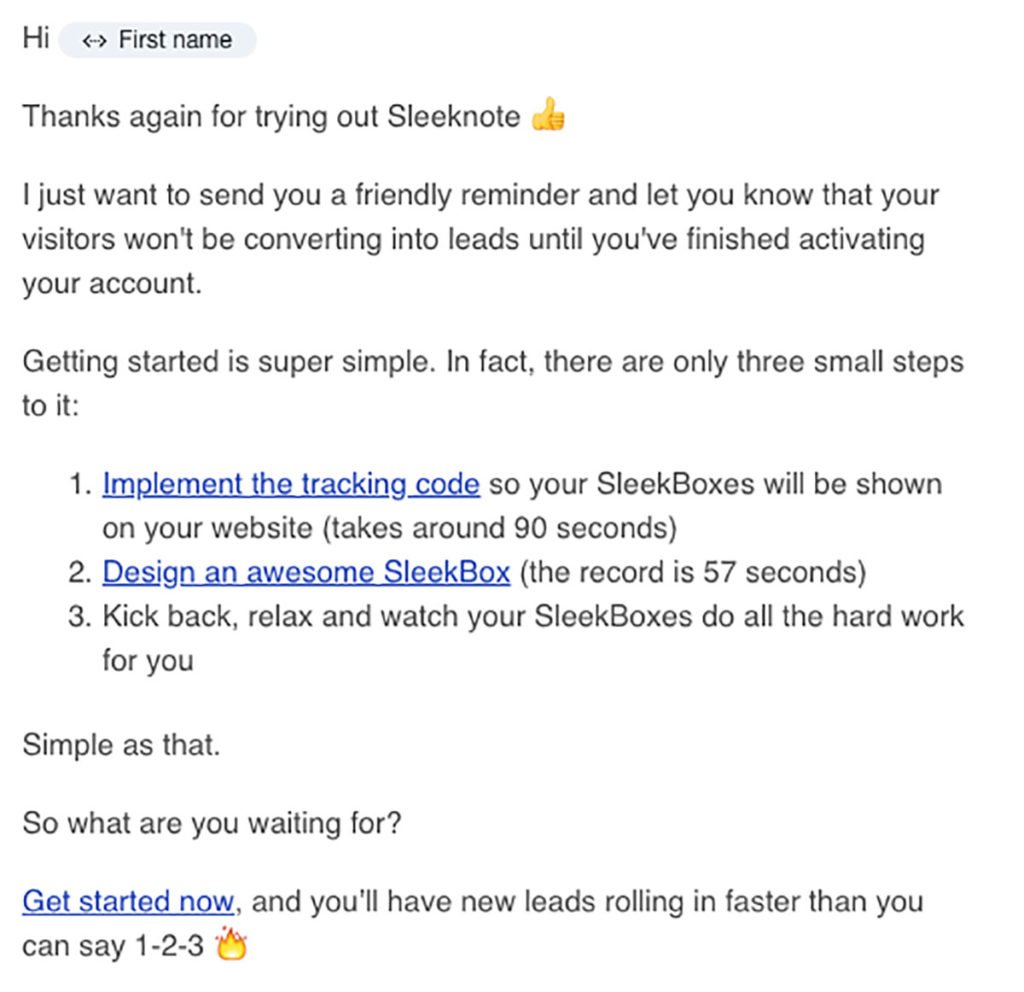 Takeaways:
Remind users that they forgot to get started
Repeat your call to action multiple times
Use bullets to simplify getting started
Address the problem that made them sign up in the first place
Tell them how long it takes to get started (and its level of ease)
The second email has the same call-to-action as the above. However, here, we remind users that they forgot to get started, and nudge prospects to take action.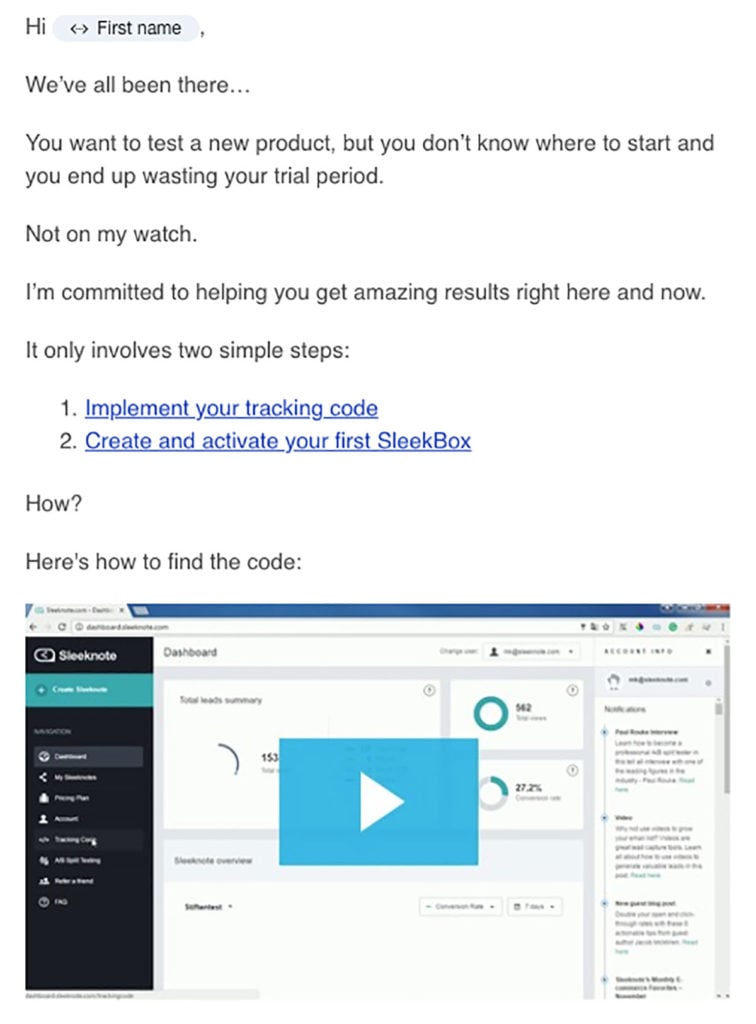 This is an excerpt from the email, and it includes a video guide illustrating how to create a SleekBox.
Takeaways:
Provide the resources users need to get started (video guides, step-by-step guide, live session tutorial, etc.)
Let users know you're there to help them see results
Relate to them and help them overcome any objections they have at this stage
In the final email, we extend their trial to address the "I didn't have time to get started" reason.

This email is identical to the one we send to partially active users except for a few tweaks in the copy including an added focus on problem-solving and fear of missing out (FOMO).
Once a trial has ended we send a final email asking all user segments why the user didn't move forward with Sleeknote.
Then, we link to a one-question survey, and the feedback we get here continuously helps us improve our marketing and our product.
Getting feedback from the people who decided not to buy your product, is one of the best ways to find out how you can improve.
Which Free Trial Emails Will You Use?
Writing free trial emails isn't always easy.
It takes time and many resources to get it right. But once you have an automated sequence in place, you will see results.
As with everything else, it's just about getting started.
Do you have an automation onboarding process for your business? Share your experiences in the comments below.