It's a mistake I see all-too-often… Marketers write a blog post, hit "Publish," share it on social media and…
Nothing.
No comments. No backlinks. And no influx in organic search traffic.
So what do they do?
They move onto the next blog post without maximizing the reach of the one that preceded it.
I'm not criticizing: we've been guilty of this, too.
In fact, we recently decided to try something different.
After reading this post by Brian Dean, we decided to republish an old blog with a few marginal improvements using Brian's content relaunch framework…
…and the results surprised even us.
In today's post, I'll walk you through, step-by-step, how we grew our organic traffic for our most popular post by 290.67% and increased its on-page conversion rate by 177.78% (in only 3 weeks).
Plus, I'll show you how to drive traffic to your blog (even if you don't have much content on your site, or time for content promotion or link building).
If you've ever wondered, "How do I get more people to read my blog?" this post is for you.
Our Results from Our Content Relaunch
Before explaining our approach, here's a brief overview of the results we achieved with our content relaunch.
For reasons we'll cover shortly, we decided to relaunch, 7 Facebook Lead Ad Examples That Actually Work (And Why).
As for the results?
Three weeks after relaunching our post, our organic search traffic increased by 290.67%:

Further, our on page-conversion rate for that post increased by 177.78%:

Not bad for a few hour's work, right?
It gets better…
In the weeks that followed, our post skyrocketed up the search engine results pages (SERPs), first from position 63 to 21…

…and then from 19-16:

And that's not all…
We were able to rank page one for several other long-tail keywords including "Facebook lead ad examples" (position 4):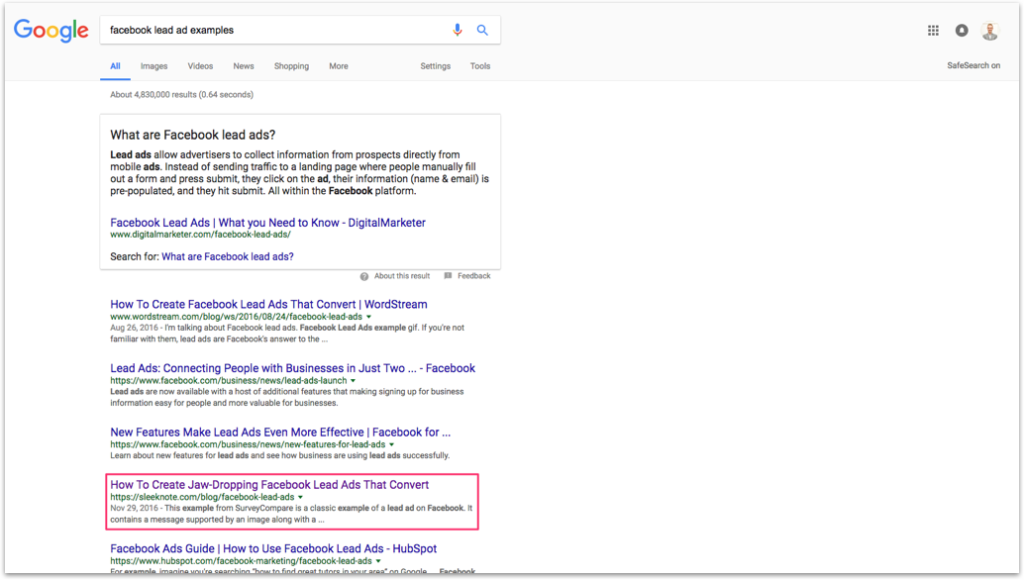 And "Facebook lead ad best practices" (position 6):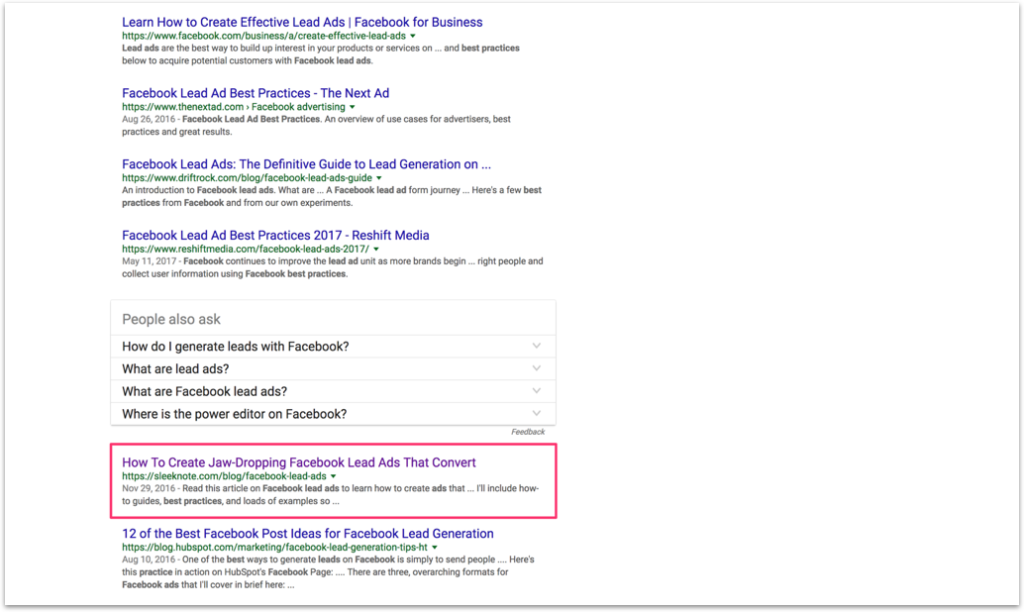 But enough about our results:
Here's how you can boost your organic traffic.
Follow This 3-Step Process to Get More Traffic to Your Site
While Brian does an outstanding job outlining his process in his post, we needed to build on his process as we'd overlooked a few best on-page SEO practices (more on that later).
Our process was threefold:
2. Do an 80/20 analysis of the most popular posts/pages
Let's look at each step in detail.
Step 1. Define a goal
Before relaunching content, you need to define your goal.
What specifically do you want to achieve with a content relaunch?
Do you want more organic traffic? More conversions? A higher average session duration?
Our goal was twofold:
Drive more organic traffic to our blog (think: greater visibility in the SERPs)
Increase our on-page conversion rate for our 20 most popular posts (more on why we chose that number shortly)
Without a clear goal in mind, you won't know (1) what metrics to measure and (2) when to measure them (in our case, we knew we wouldn't see improvements until weeks, maybe even months later).
Step 2. Do an 80/20 analysis of the most popular posts/pages
If you've ever read The 4-Hour Work Week by Tim Ferriss, you're probably familiar with the Pareto Principle:
"For many events, roughly 80% of the effects come from 20% of the causes."
Similarly, with content marketing, roughly 80% of your site's traffic comes from 20% of your posts/pages.
And, if you're using content upgrades for each post on your site, the above applies, too.
The goal, then, is to identify:
The 20% of posts/pages that are responsible for 80% of your site's traffic
The 20% of content upgrades that are responsible for 80% of your on-site conversions (if applicable, of course)
We call this "the vital 20%."
Doing at 80/20 analysis ensures you focus your time, attention and energy of the posts/pages that will make the highest possible contribution to your goal.
To do an 80/20 analysis, log into Google Analytics (GA) and click "Behavior > Site content > Landing Pages":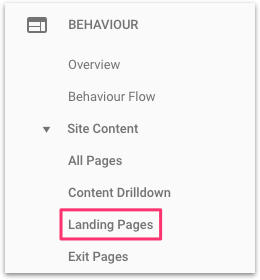 Your posts/pages will be sorted by sessions by default.
To view your highest converting posts/pages, select your conversion goal from the drop-down under "Conversions" and click the goal. (Note: you need to have a goal set up in GA to do this. If you don't know how to do that, read this article.)
Next, export your data to a Google Sheet so (1) it's easier to track and (2) everyone on your team has access to it.
Exporting is easy in GA: click "Export > Google Sheets":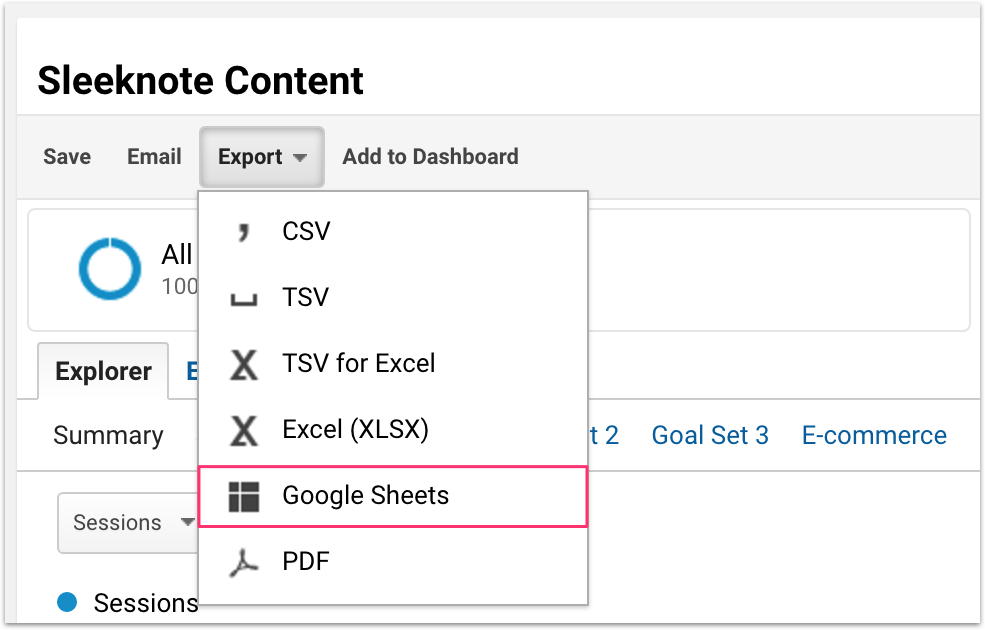 Aside from helping you generate more traffic and increase conversions, examining your data will offer insight into the goals and pain points of your audience and how far along the buyer's journey they are.
For example, when analyzing our most popular content upgrades, we noticed swipe files converted better than any other type of lead magnet.
(Guess where we're not focusing our efforts?)
ProTip: If you want to be really thorough with your analysis, download Screaming Frog's SEO Spider Tool. This program crawls your sites' links, images, CSS, script, and apps to help you evaluate your onsite SEO.
Here's an overview of ours:
The more information you have at the beginning, the faster you can decide where to focus your marketing efforts.
Step 3. Improve the vital 20%
The goal you outlined in Step 1 will determine how you improve your content.
Our goal, if you recall, was to improve our organic reach in the SERPs and increase our on-page conversions.
At the time, we had around 100 posts on our site, so our 80/20 analysis was easy: we needed to focus on the 20 highest performing posts.
This meant ensuring each post was optimized for on-page SEO and each content upgrade was relevant and interesting to the reader.
Here's how we approached each area.
1. Increase our organic reach
Like many SaaS startups, our goal, in the beginning, was to hit the ground running with content marketing.
But, with few employees, it meant we didn't always follow the best practices for on-page SEO.
Sometimes, in an effort to publish on time, target keywords weren't assigned to posts and pages, and when they were, they weren't always the best choice to begin with. Other times, images were titled incorrectly or overlooked entirely.
Our content was performing; we were receiving positive feedback and building links from other sites. But as a company, we know we could do more to boost our organic traffic.
Today, it's a very different story.
We now have checklists and standard operating procedures (SOPs) for every step of our content creation process. From choosing a blog post topic to writing compelling meta-descriptions, we have systems in place to ensure our content meets high standards.
Here are a few of the things we improved for our Facebook Lead Ads post, among others:
i. Assigned target keywords
Not all our content had an assigned keyword (I know, don't hate) so we made sure each post had an assigned keyword.
We use Yoast SEO for all our on-page SEO—and so should you. It's the best out-of-the-box SEO plugin on the market. And it's free.
ii. Added LSI keywords
Our keyword research tool of choice? Ahref's Keyword Explorer. As mentioned, in the beginning, keyword research wasn't always as thorough as it could have been.
So, when we updated our most popular content, we added a few LSI keywords.
iii. Rewrote meta-descriptions
High click-through rates from the SERPs has been known to increase rankings.
We rewrote our meta-descriptions so users would feel more compelled to click through and read our content.
iv. Added target keyword to images
This included adding our target keyword to the hero image in each post and ensuring all images were titled correctly (e.g. "Facebook Lead Ads.png" not "facebook-hero-image-2".)
Tagging images correctly is especially important with infographics because it helps drive more traffic from Google Images.
2. Increase our on-page conversions
Once we were confident we had done all we could to drive more organic traffic to our content, we focused on increasing engagement and conversions once users were on our site.
A few areas we focused on:
i. Improved introductions
It's easy to believe a blog post introduction's only goal is to keep visitors reading, but it's also another opportunity to increase on-page optins.
In short, if you can make readers feel a sense of urgency or excitement in the introduction, they're more likely to optin for the content upgrade.
With this in mind, we rewrote the introductions for a few of our most popular posts in an attempt to encourage more signups.
ii. Repositioned lead forms
If you're a regular reader, you've probably noticed many of our posts have a callout box (COB) above the main body.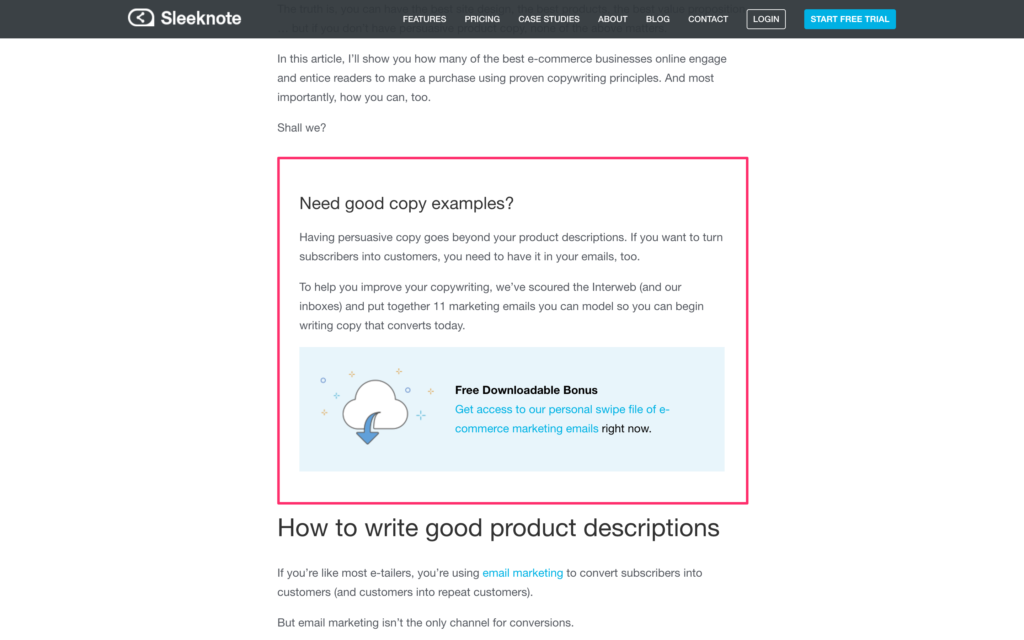 This is to increase the likelihood of optins before the reader exits the post.
For example, with our Facebook Leads Ads post, we noticed the COB was too far down and readers were exiting before optin in (this information was available by looking at the average session duration in GA and a heatmap we created using Hotjar).
So, we moved it further up the post to appear before the main body in the effort to encourage more optins.
iii. Improved "lede" for content upgrades
You've probably noticed the yellow COB that accompanies most content upgrades.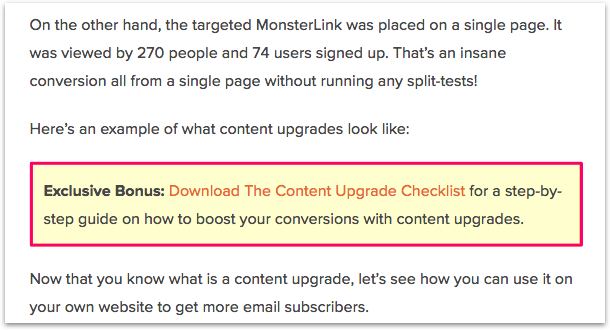 It's a staple of any properly executed content upgrade. And it works well.
But there's a common problem with this approach:
Rarely do they sell the reader on why they should optin.
For each of our lead magnets, we include a "lede": a sentence or two reminding the reader the benefit they'll gain from opting in (think: feature/benefit).
We rewrote the ledes for our most popular posts so readers felt more compelled to enter their email.
Here's an example from one of our recent posts: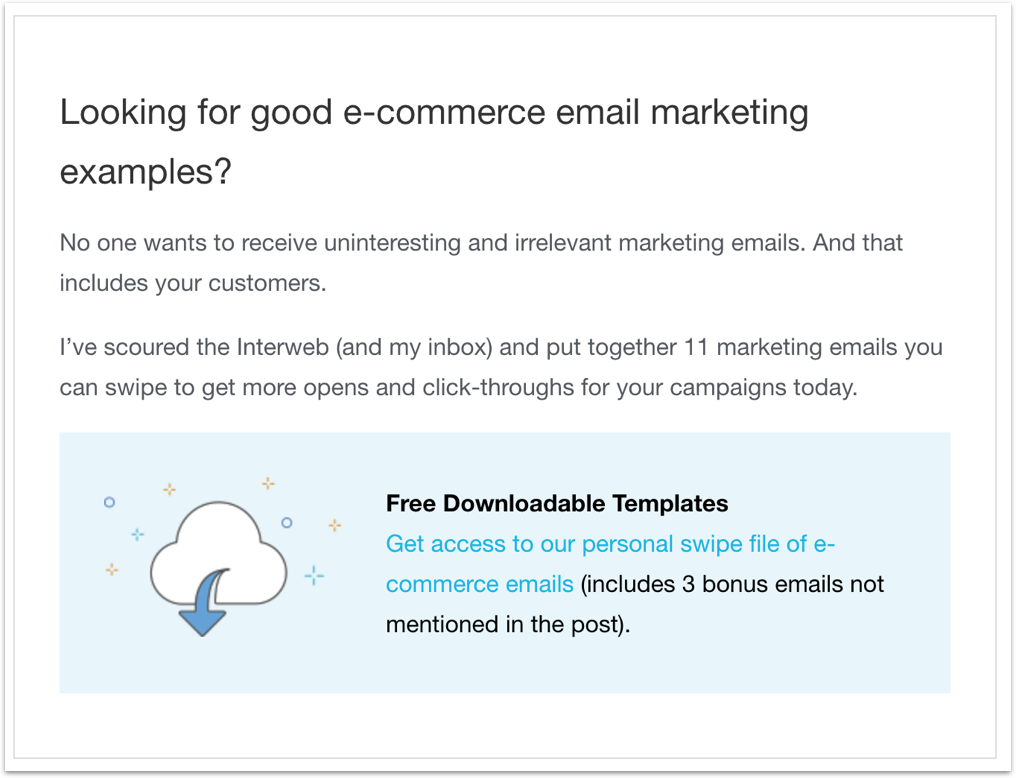 If you want to get noticed in today's noisy blogosphere, you need to go the extra mile when creating content upgrades. And that includes applying good copywriting to your work.
iv. Added graphics to COBs
Previously our COBs lacked images. However, adding relevant images to lead forms are known to increase conversions by as much as 40.56%.
(And let's be honest, optins with images look nicer, too.)
So, with that in mind, we asked our creative director Daniel to create a unique image to accompany our optin copy.
Here's how our COBs looked after we spruced them up:

Better than a wall of text, right?
We thought so, too.
It might not seem like much, but tiny changes aggregate fast. And although we haven't split test image vs. no images, it has improved the user experience on our blog.
What Are Your Existing Assets?
With two million blog posts published every day, it's a challenge for most marketers to get noticed online.
But publishing more content isn't always the answer (as tempting as it is).
As we've seen, if you continually update your most popular posts and ensure you're providing the best possible experience for your audience, Google will reward you.
And when they do, you can rest in the knowledge your post(s) will generate traffic for years to come.
How do you generate traffic to your blog? Leave a comment below. I'd love to hear from you.