October is the first full month of fall. It's all about pumpkin spice lattes, cozy outfits, Halloween costumes… and shopping.
That's right. Data shows that in 2021, October saw the second-highest US retail sales total of any month besides November: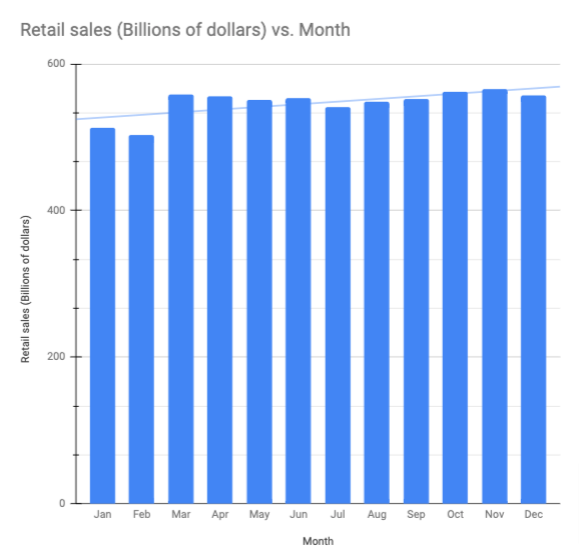 What's more, figures from one report show that October has the third-highest email open rate of any month, at 21.22 percent.
In other words, consumers are looking to splash the cash, and they're even more receptive than usual to brands' marketing emails. As an email marketer, it's hard not to be excited by all that opportunity.
But at times of plenty, do we sit back and dial it in, confident in the knowledge that results will come anyway? Or do we work even harder to nail our messaging and smash our revenue targets?
For me, option #2 wins every time.
If you feel the same, you're in the right place, because I've rounded up some of the most inspiring October newsletter examples from brands I love.
7 October Newsletter Ideas to Inspire You
1. Torrid: Push Halloween (Early)
Seems like just a few years ago, Halloween involved nothing more complicated than stocking up on candy in case the neighbors kids came knocking.
Today, it's become a huge retail event.
So huge that we've dedicated a whole article to rounding up the best Halloween email marketing examples.
According to the National Retail Federation (NRF), US consumers will splurge a record $10.6 billion on Halloween-related purchases in 2022. And with 69 percent of shoppers planning to celebrate the holiday this year, up from 65 percent in 2021 and 68 percent in 2019, it seems there's unprecedented interest in "spooky szn."
Obviously, fancy dress is a big seller ahead of October 31st. But it's certainly not the only show in town, with the NRF naming the top product categories for Halloween shoppers as:
Candy (96 percent of households plan to buy for Halloween 2022)
Decorations (75 percent)
Costumes (67 percent)
Greeting cards (39 percent)
That spells opportunities for retailers across multiple niches, from apparel to interiors to food.
Okay, so we're agreed that Halloween is a key seasonal retail event. But when's the right time to start promoting it?
The answer is: probably earlier than you'd think.
According to Google, searches on Google Images for "family Halloween costumes" grew by 90 percent year on year from June to August 2021.
That's right. It's 90 degrees out and parents are thinking about whether to dress their kids as Wednesday and Pugsley Addams or tiny versions of Harley Quinn and The Joker.
I'm not suggesting you start sending Halloween emails at the height of summer—that's going too far.
But early October gives you plenty of time to build excitement and drive sales from super-prepared Halloween shoppers. That's precisely when plus-size fashion brand Torrid sent this October newsletter example: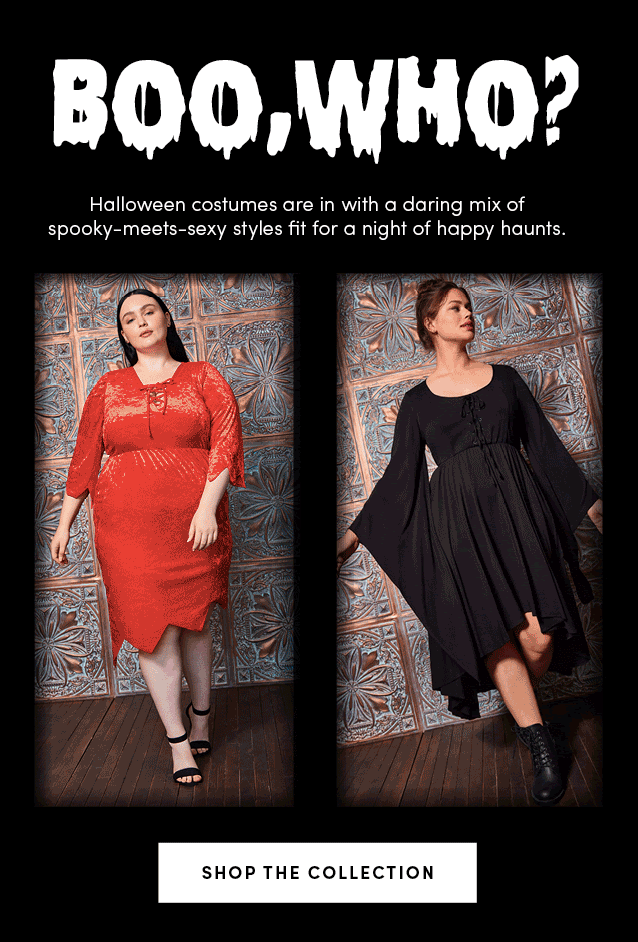 Torrid didn't just nail the timing of this campaign.
The combination of spooky graphics, engaging copy, a clear call to action, and some strong (and seasonal) product imagery makes for a highly effective email.
2. Fabletics: Start Your Black Friday Sale
It's fair to say Black Friday is kind of a big deal in the world of ecommerce, with US consumers spending a whopping $8.9 billion online on Black Friday 2021.
(NB want more juicy tidbits like that? Check out my roundup of eye-catching Black Friday statistics.)
But I know what you're thinking:
"Emil, isn't Black Friday the last Friday in November? Why are you mentioning it in an article on October newsletter ideas?"
Because for a lot of consumers, Black Friday isn't just about the day itself. According to Criteo, 54 percent of shoppers start thinking about Black Friday deals at least one week beforehand, while one in 12 start the process more than four weeks in advance.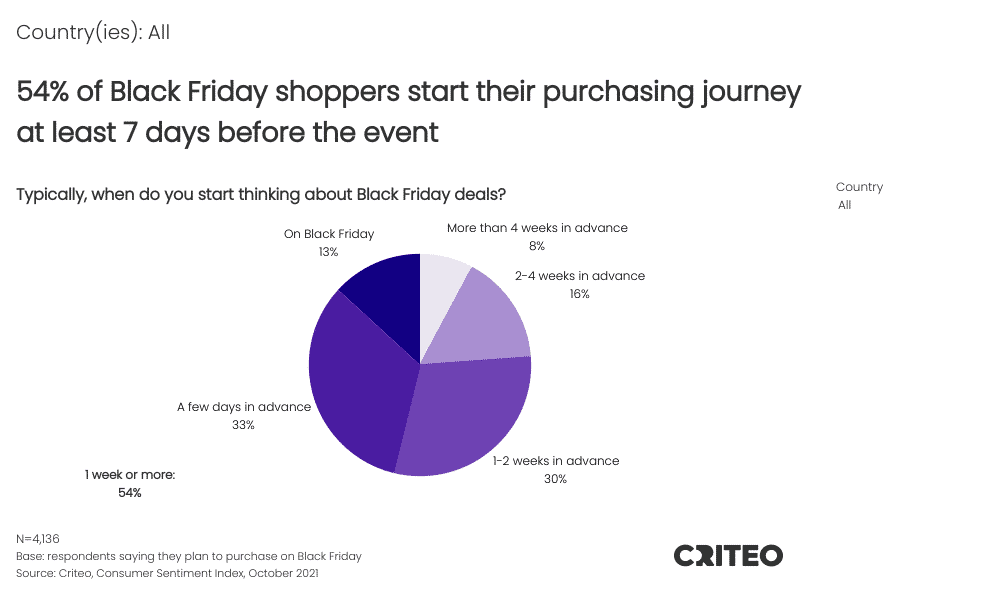 And by my math, four weeks before Black Friday takes us firmly into late October.
So I wasn't exactly shocked to discover this email from Fabletics—sent on October 30th, 2021—while trawling our massive virtual library of high-quality email marketing examples: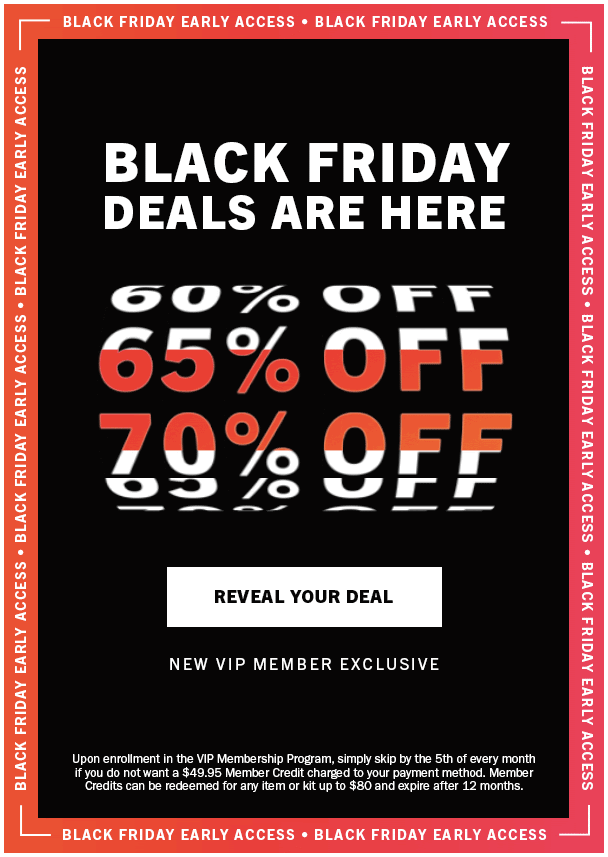 As you can see, this isn't just a teaser email prompting customers to sign up for a sneak peak at forthcoming deals. It's a full-scale launch of the sports apparel brand's Black Friday sale, sent 27 days before Black Friday "officially" arrives.
One word of advice:
Although I fully recommend beginning your Black Friday marketing in late October, don't push the messaging too hard.
Remember, Criteo's research shows that only a relatively small proportion of consumers are thinking about Black Friday this early in the year. And you definitely don't want people to be sick of your messaging by the time late November arrives.
One Black Friday-themed October newsletter is totally acceptable. Any more than that is probably overkill.
3. Missguided: Promote Cold-Weather Essentials
With the long, hot summer behind us and fall kicking into gear, October is the perfect time to push those cold weather must-haves.
The sort of stuff you need when you're heading out for a chilly day of pumpkin-picking or curling up on the couch with a good book.
Once again, timing is everything when it comes to promoting your fall collections.
Google Trends data shows that searches for the term "fall fashion" peak in late September and early October, before plummeting as November approaches: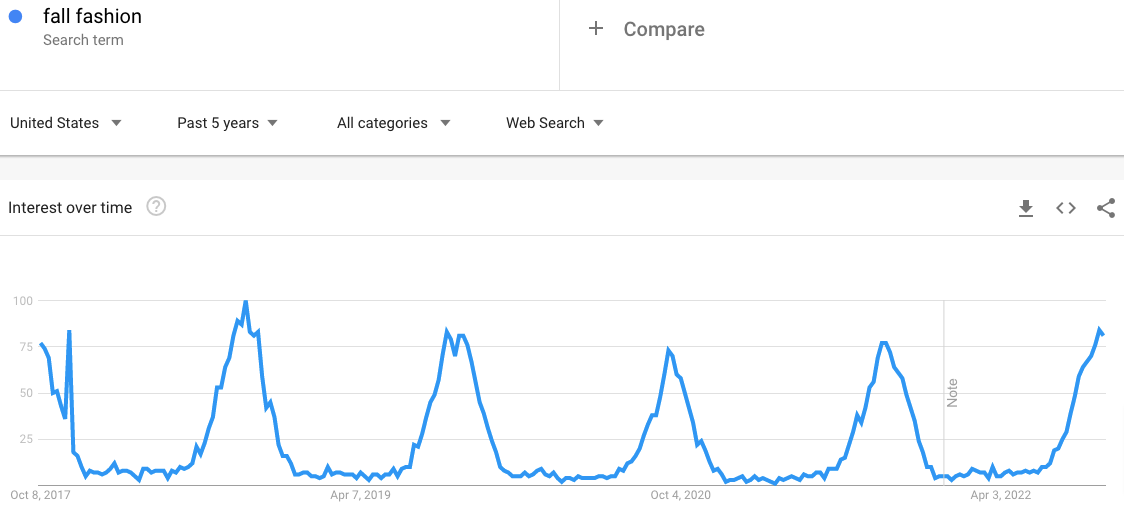 Ideally, you've already started sending fall-themed newsletters by the time October rolls around. Either way, this is the month to really ratchet up your fall messaging.
That's precisely what Missguided does in this October newsletter example: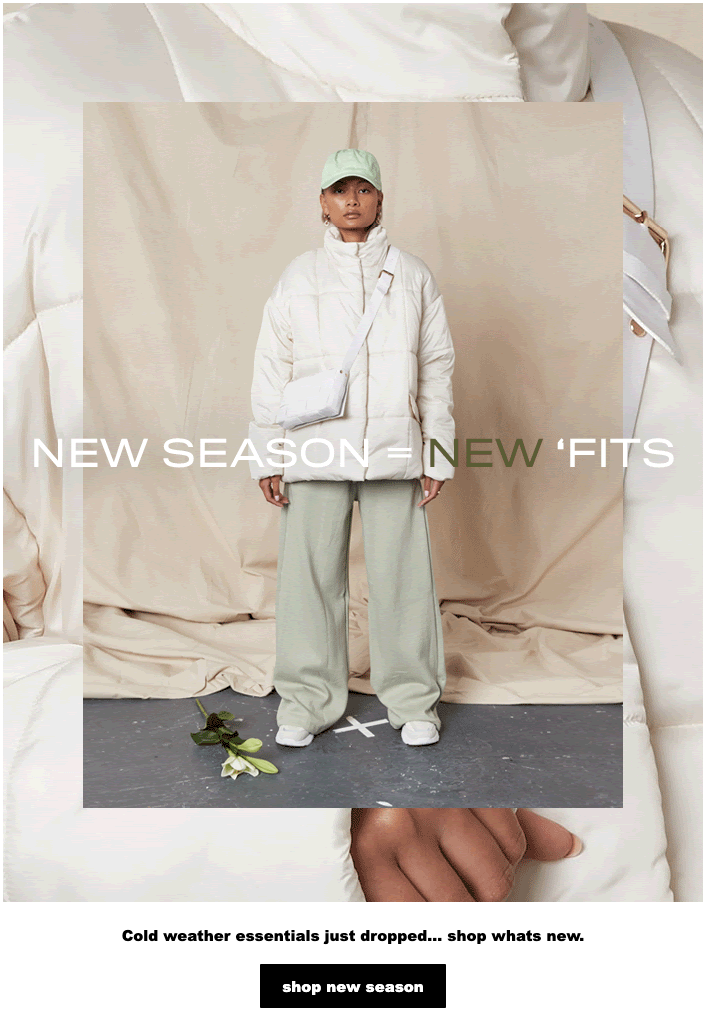 The best thing about this email?
After catching our attention with the hero image and banner text, it goes on to offer product recommendations on specific outfits: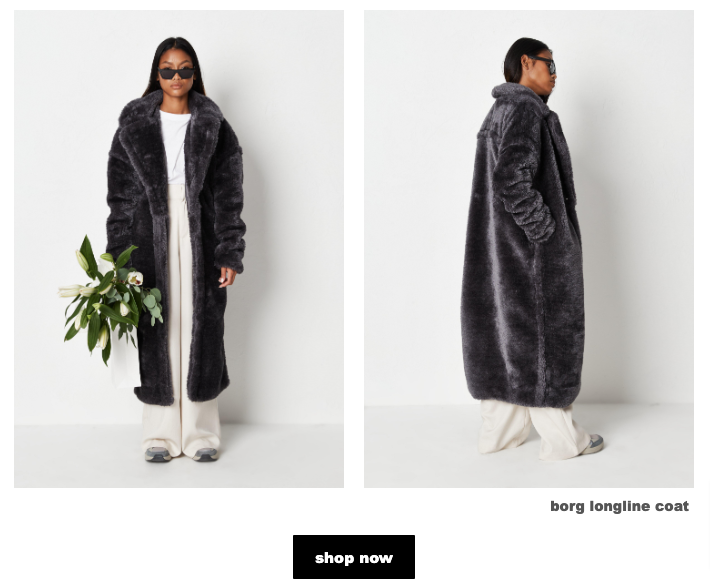 In a world where 17 percent of consumers admit to feeling overwhelmed by choice, your audience will definitely appreciate a little expert guidance when it comes to picking on-trend fall looks.
4. Outdoor Voices: Drive Customer Referrals
Referral marketing is a powerful tool at any time of year.
According to one study carried out over a three-year period, customers referred by other customers:
Generate higher profit margins
Are more loyal
But it can be especially effective in October.
Think about it. Every new customer you attract in October will have your brand in mind as the ecommerce holiday season approaches, putting you in pole position to drive a ton of additional sales during the busiest shopping period of the year.
That's why I'm such a fan of this October newsletter example from Outdoor Voices: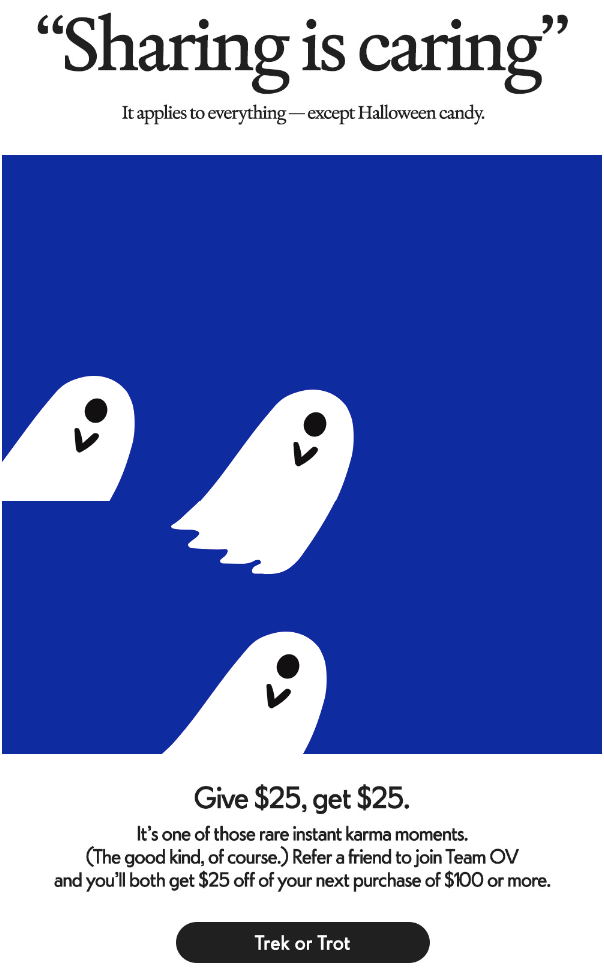 For more, this email stands out for two main reasons:
It nails the seasonal messaging.

The use of Halloween-themed copy and graphics stops this feeling like a generic referral marketing email that could have been sent at any time of year. That makes it feel more relevant and impactful.
It promotes a simple referral offer.

Some referral campaigns fall down by overcomplicating things. "Share with a friend and you'll both get 17.5

SploshPoints. Every

SploshPoint

is worth $0.01, except on random

SploshDays, when their value doubles. Happy sploshing!" Outdoor Voices avoids this trap by simply offering $25 off a $100 purchase for both the referrer and referee.
5. The White Company: Prepare for Party Season
In some ways, October is a tough time of year for us marketers.
You've got a key shopping event—Halloween—at the end of the month, and another—Black Friday—just around the corner.
As if that wasn't enough, you're acutely aware that the holiday season is creeping ever closer. If your holiday campaigns miss the mark, you might as well spend Christmas dusting off your resumé.
For that reason, it pays to focus some of your October newsletters on key holiday trends, such as Christmas party shopping.
A quick glance at the ever-helpful Google Trends shows us that searches for "party outfits" rise steadily throughout the year, with a spike in activity in October (that's the bit in the red box below):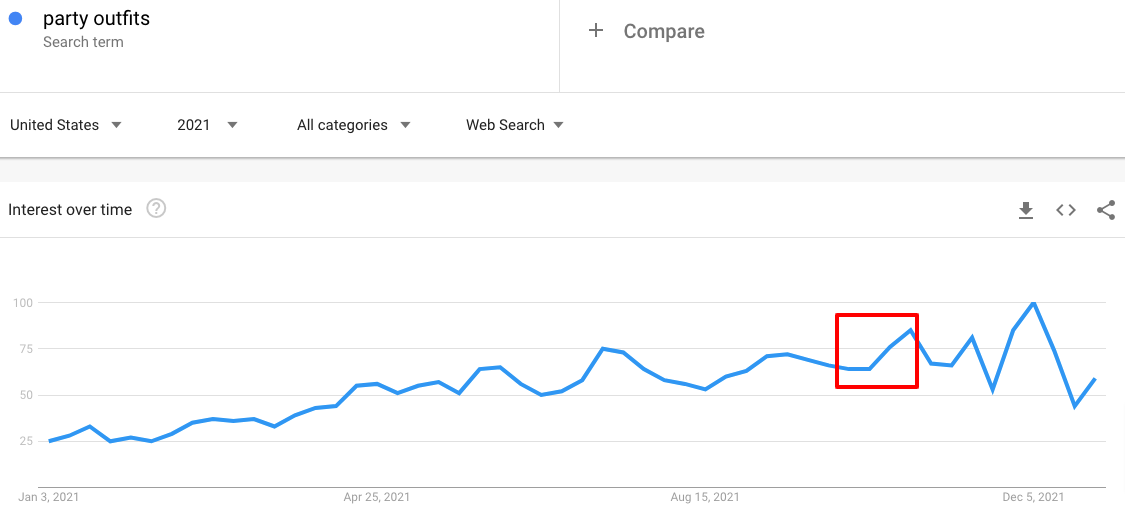 So I'd definitely recommend taking a leaf from The White Company's book by promoting partywear in your October campaigns.
As is so often the case, it all starts with a strong subject line:

It captures the tone perfectly, essentially saying: "Sure, Christmas parties are still a couple months away, but why not start planning your outfit right now?"
The email body is simple but equally effective…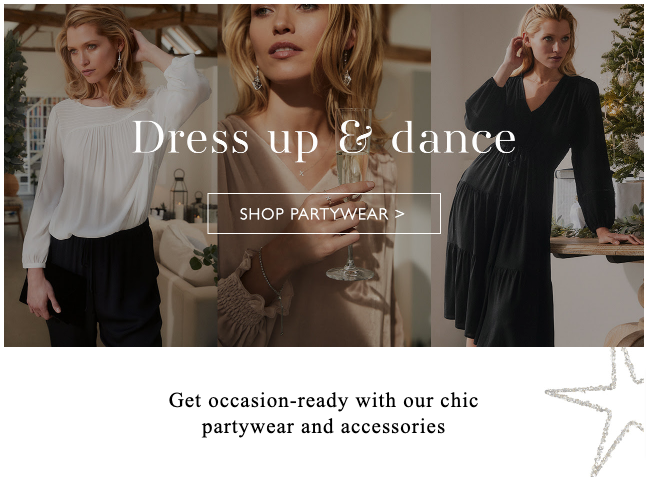 …using product imagery to showcase The White Company's party outfits and incorporating a prominent CTA to its partywear collection.
6. Søstrene Grene: Roll Out Your Christmas Campaign
I know, I know.
We all love complaining about Christmas "getting earlier every year." It's practically a reflex reaction to tut and shake our heads when we first see baubles, tinsel, and wrapping paper on the shelves.
But the data suggests that consumers actually like giving themselves plenty of time to plan for the festive season. Two in five Americans start their Christmas shopping before the end of October, while an astonishing one percent begin in January.
Talk about preparation.
So October is definitely fair game for a spot of Christmas email marketing.
Scandi interiors brand Søstrene Grene was one of the brands to take advantage of this strategy in October 2021: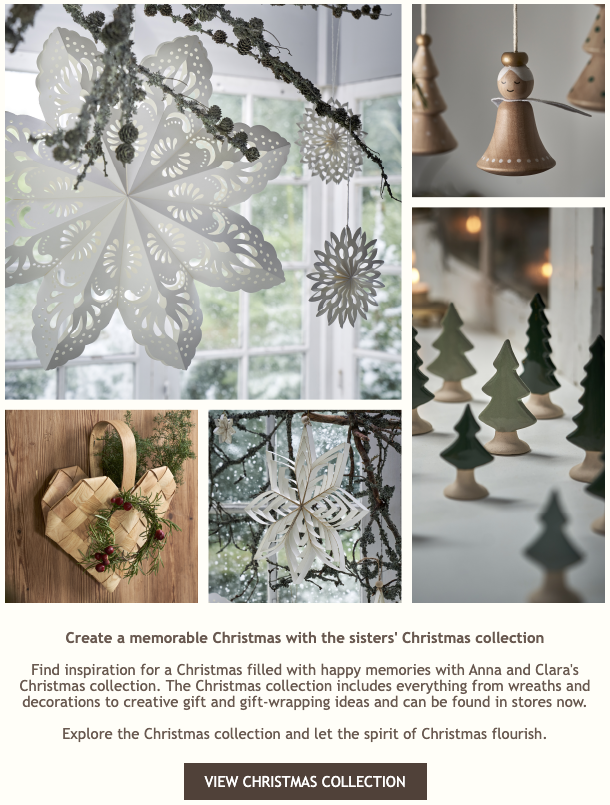 The product imagery does a fantastic job of making you feel excited about decking out your house with tasteful Christmas decor, and the copy is equally inspirational.
Just make sure you don't overdo it.
As with the Black Friday advice I gave earlier in this article, it's fine to promote your festive collections in October. But don't bombard your audience with Christmas messaging for three whole months—unless you want a bunch of unsubscribes.
7. J.Crew: Launch a Fall Sale
We know that for a lot of consumers, October is prime time for Christmas shopping.
That might sound like a good thing for retailers—after all, Christmas means big spending. But when you think about it, it's actually a double-edged sword.
Sure, you might be able to bring forward your festive and winter collections.
But on the flip side, you've got a lot less time to promote and sell your fall merch.
To illustrate my point, let's take one last glimpse at Google Trends, comparing the terms "fall fashion" and "summer fashion":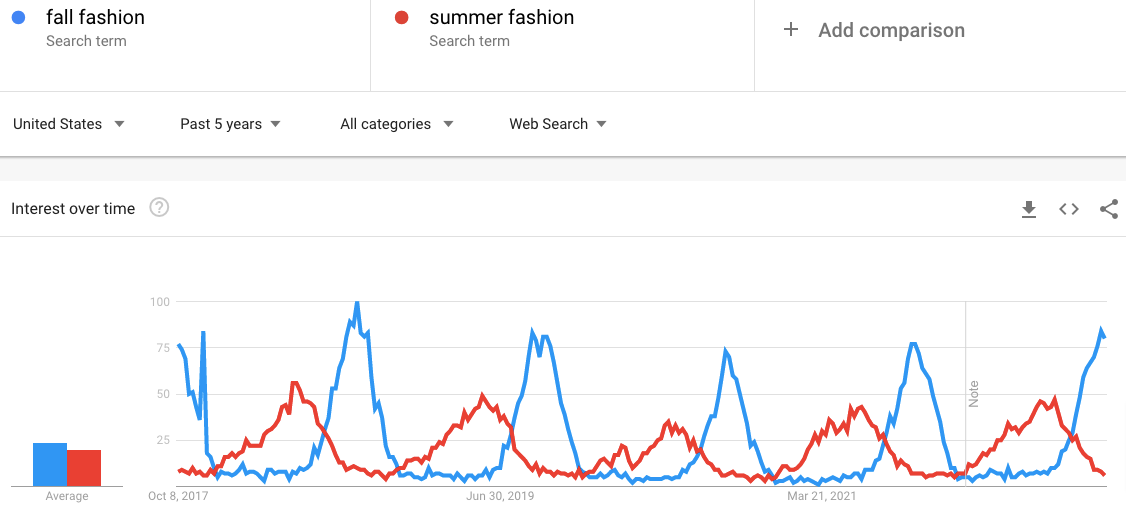 As you can see, there's slightly more overall activity around "fall fashion", and the peaks are a lot more pronounced. But "summer fashion" has greater longevity, with less severe troughs.
In other words, fall products have a short shelf life.
So by the time mid-October comes around, think about launching a fall sale to ensure you're not stuck with a bunch of out-of-season stock, like J.Crew does here: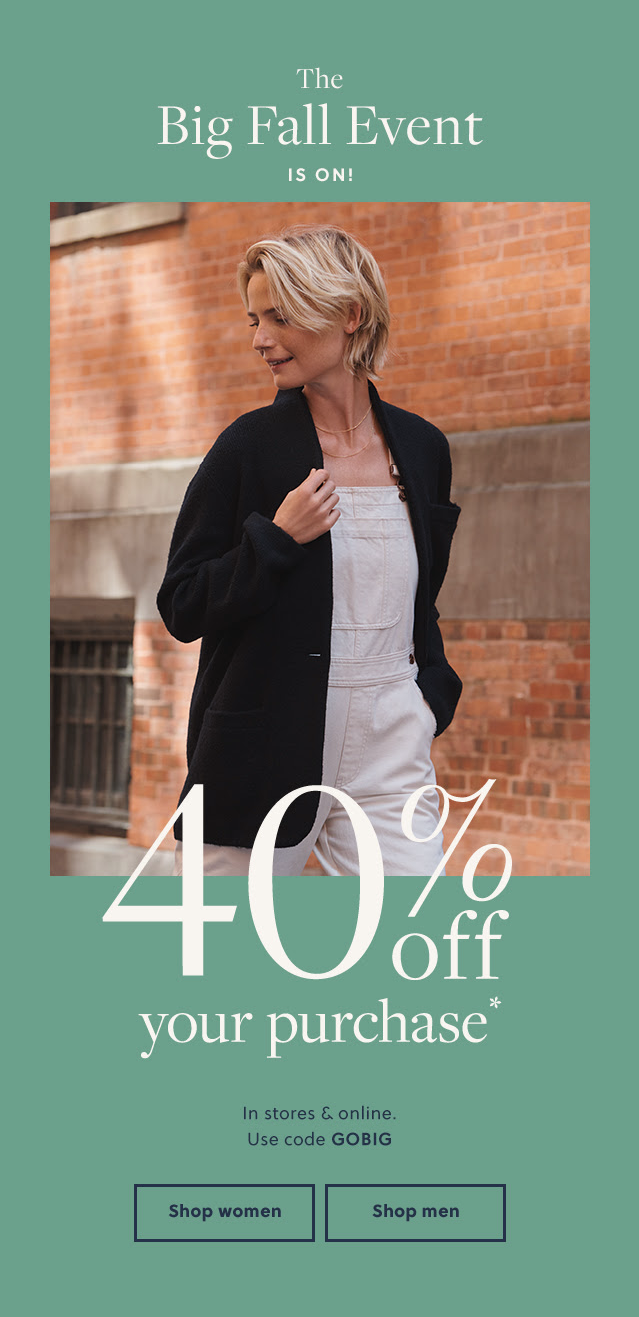 Once again, the best thing about this October newsletter example is its simplicity.
No overly wordy email copy or distracting, flashy visuals. Just an easy-to-understand offer and two clear calls to action.
Drive More Email Marketing Revenue With Drip
Ever feel like you spend more time on the basic nuts and bolts of email marketing than on the high-value, creative stuff?
Like you'd love to have the bandwidth to plan bigger, better campaigns, but you're bogged down with building email sequences?
There's a simple solution: Drip.
With Drip, you can leverage our pre-built playbooks to set up revenue-driving automations in just a few clicks—from welcome series and abandoned cart emails, to post-purchase campaigns and personalized product recommendations.
Of course, I don't expect you to just take my word for it.
See for yourself by signing up for your 14-day free trial.