BFCM – Black Friday Cyber Monday – is, without a doubt, the busiest time of year for online sellers. For many merchants, it can be a make-or-break moment that determines their entire year's performance.
In a tryptophan-induced stupor, they wake up at the crack of dawn (or don't sleep at all) to find massive deals, shelling out huge amounts of money in the process.
It's a day that's known simply as Black Friday — the biggest ecommerce holiday that exists.
The numbers for Black Friday Cyber Monday 2023 are in, and they don't lie.
This year's record-breaking weekend shows that in a tough macro environment, where consumers are tightening their belts and it costs more than ever for brands to acquire customers, loyalty and retention strategies remained key to driving profitable growth.


2023 Was Another Record-Breaking Year – But There's More to The Story
In the face of challenging economic circumstances, a record 200.4 million people shopped over the five-day period according to the National Retail Federation.
By the numbers, more consumers than ever shopped online –134.2 million, according to the National Retail Federation. And consumers spent $38 billion online over the five-day period, a 7.8 percent increase over last year.
Still, according to Reuters, 2023's Black Friday was quieter than in previous years – both in store and online.
This can be attributed to the fact that many retailers and merchants are beginning their holiday promotions as early as October, so Black Friday tends to be a tentpole day in an already extended and busy holiday shopping season. With so many customers taking advantage of those early-bird deals, there was simply less buying to be done during Black Friday.
Cyber Monday was the biggest shopping day, with shoppers spending $12.4 billion, a 9.6% YoY increase. This begs the question: was it that consumers were saving their purchases for Cyber Monday, or was it that retailers were saving their best promotions for Cyber Monday?
Drip Customer Insights for Black Friday Cyber Monday
This year, Drip customers sent 258 million emails throughout BFCM weekend, a 48% increase from last year. The number of discounts increased 52% from 2022, and gross revenue increased 20% from 2022. 👏

You've heard us say it before, and you'll hear us say it again: your customers are craving personalized experiences that make them feel like you're speaking to them directly. Our customers saw revenue from segmented emails increase by 29% from last year.

If you've read our Marketing Automation Report, this will come as no surprise. We found that only 20% of ecommerce merchants segmented their email lists. That same 20% earns nearly 80% of all the revenue generated.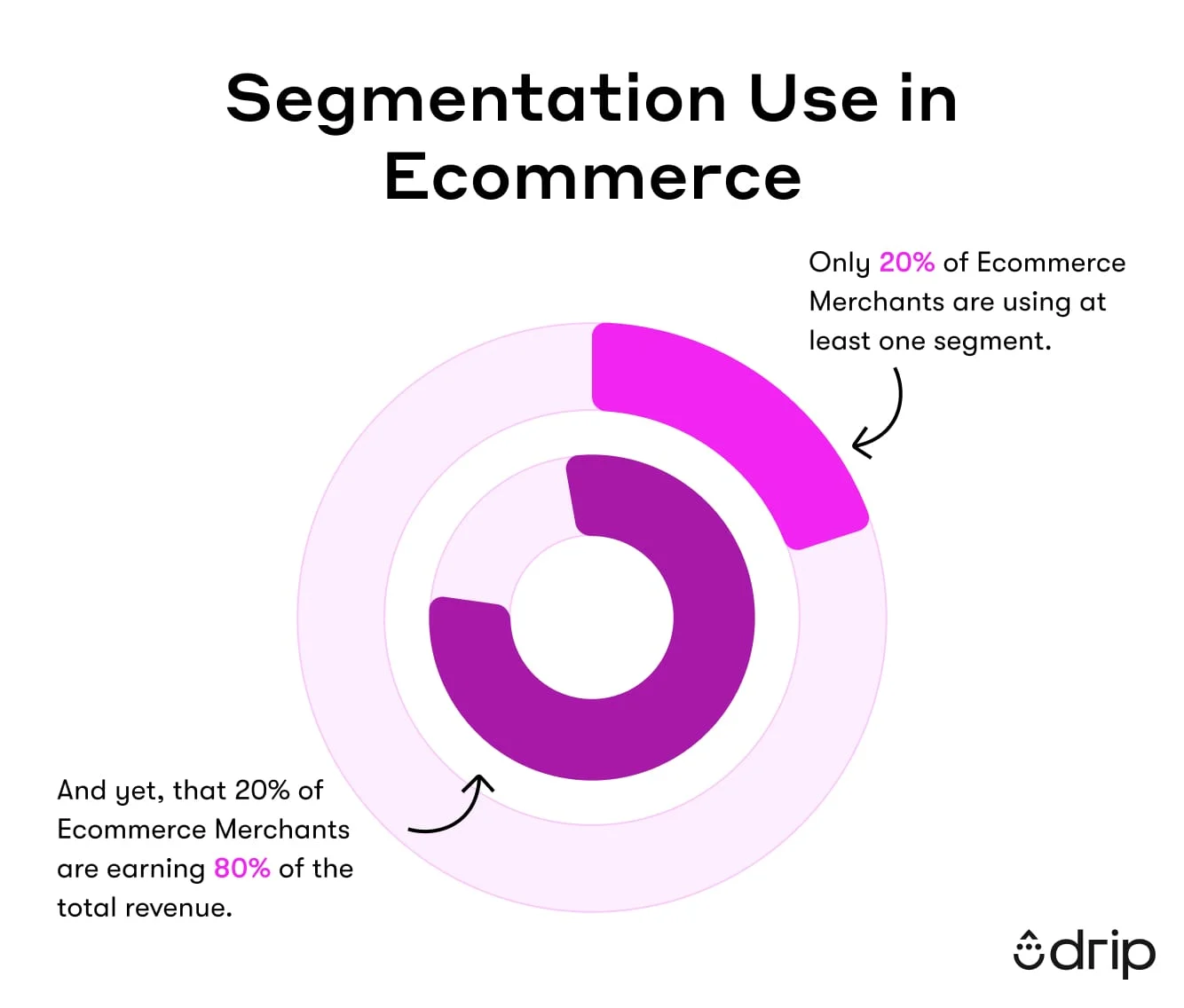 Bravo to all who segmented their audience this BFCM. 👏
And if you didn't – now you know what to focus on, and you've got time to test, perfect, and implement it.
(The best part is that with Drip, you can segment your audience really easily. We even tell you what segments you need to drive more sales.)
More Consumers Are Brand Loyal, with Repeat Purchases Increasing 180%
While many retailers and merchants began their holiday promotions earlier, our data shows that BFCM weekend was by far the biggest week for total purchases.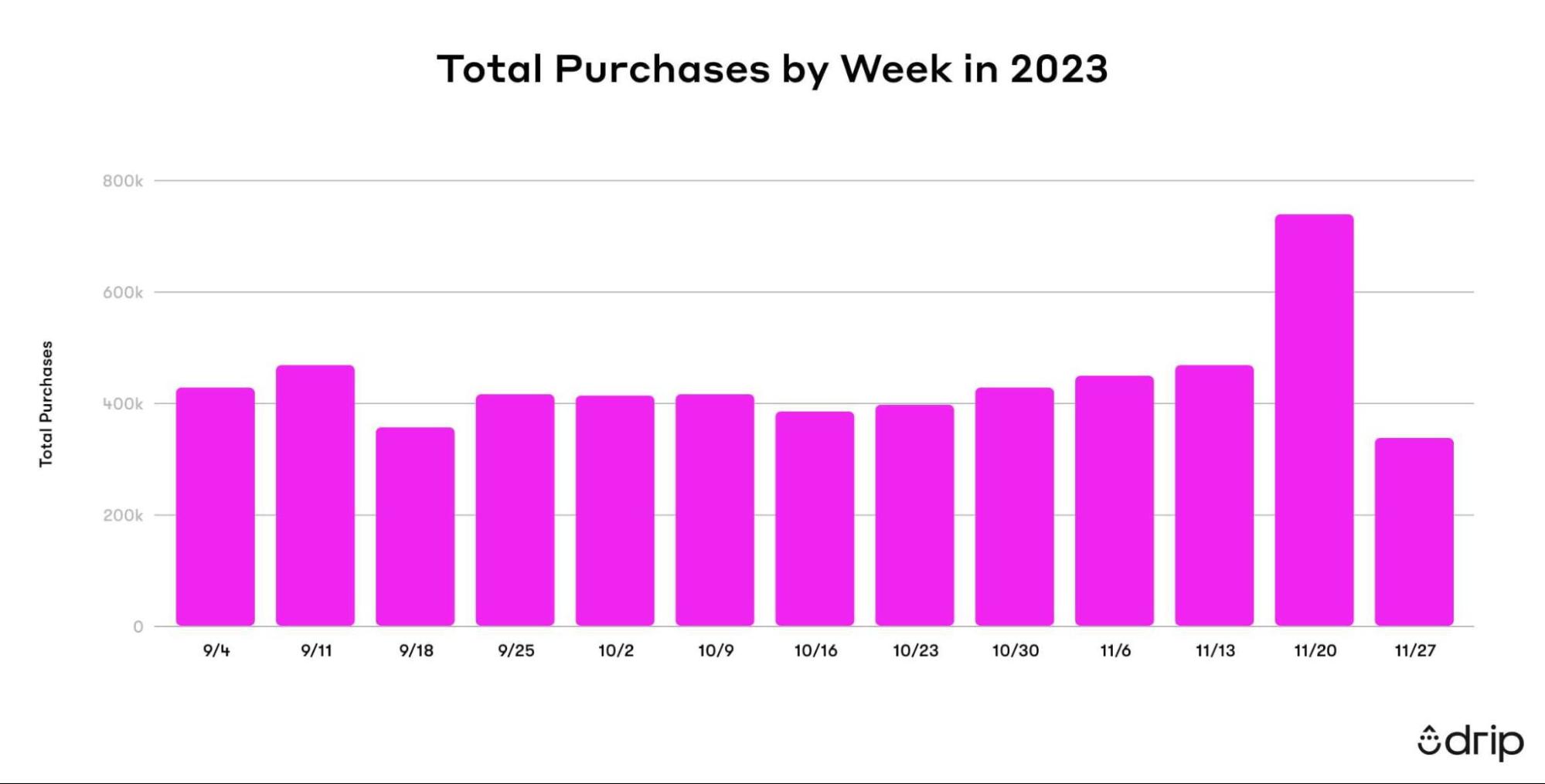 And during BFCM weekend, shoppers were loyal and shopped with brands they know and love.
For Drip customers, repeat purchases made up 56% of all purchases, a staggering 180% increase from last year. In contrast, first purchases made up 44% of all purchases, a 45% decrease from last year.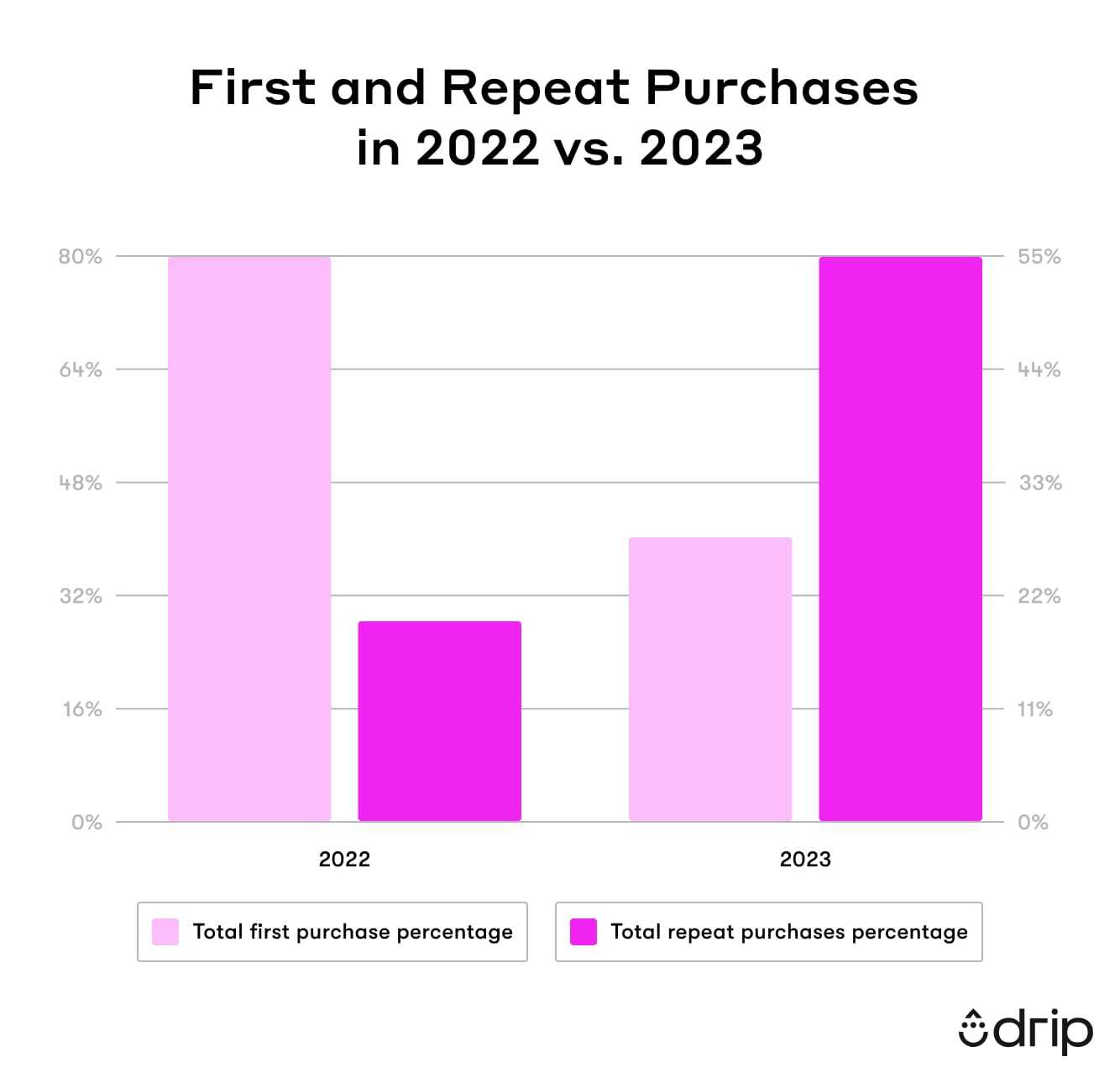 Earlier this year, we reported that Loyalty and Referral Workflows had some of the highest click-through rates (25.15%), and earned the highest revenue-per-workflow of any automation sequence.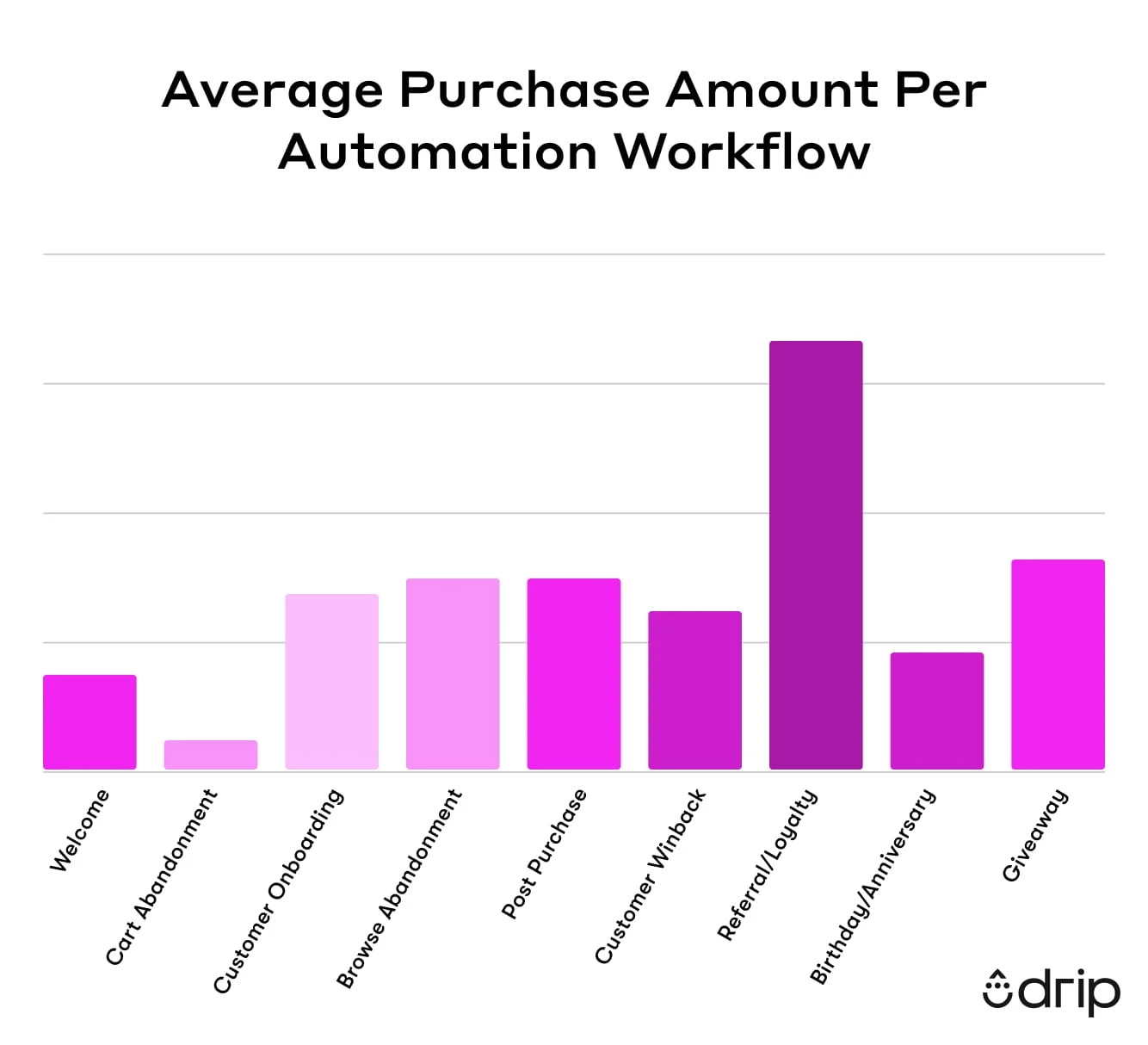 BFCM mirrored these findings. While Cart Abandonment Workflows drove the most revenue for Drip customers overall, and saw an 11% increase YoY, it was Referral/Loyalty and Winback Workflows that saw the biggest YoY revenue increases.
Referral and Loyalty Workflows saw an 82% increase in revenue YoY. And Winback Workflows saw a 61% increase in revenue YoY. Without a doubt, focusing on your most loyal customers and winning back previous customers were winning strategies this BFCM.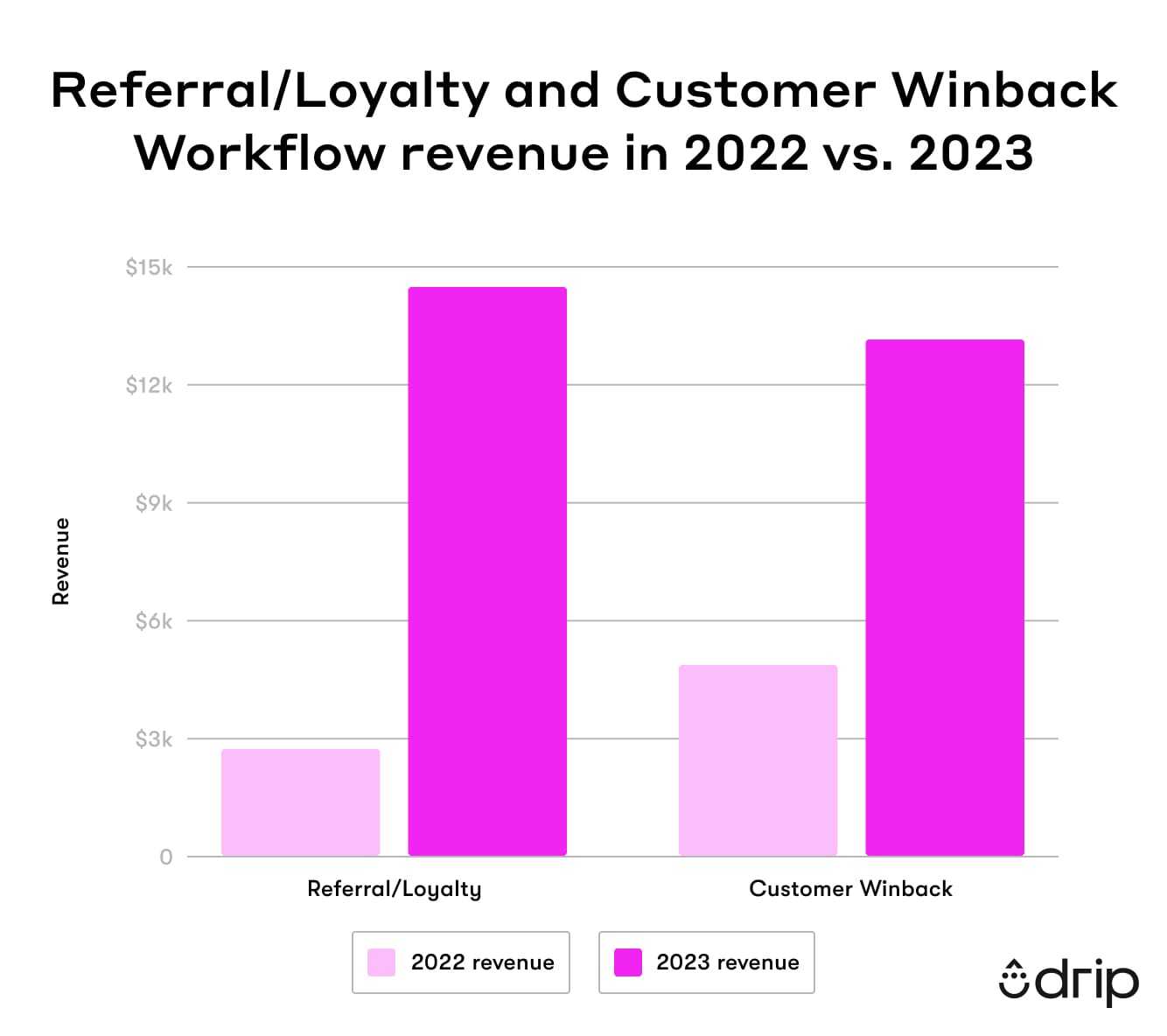 With consumers spending more with brands they know and love, and first purchases down 45%, Drip customers saw a 16% decrease YoY in revenue from Welcome Series this year.
That's not to say that welcoming new subscribers and customers isn't an important strategy – Welcome Series Workflows were third overall in total revenue from automations.
For ecommerce merchants, the takeaway is to continue focusing on retention and loyalty throughout the holiday season. Now more than ever, shoppers are looking to stick with brands they're already familiar with versus risking the unknown.
Personalized Payment Options Win This BFCM
With the current economic climate, how do you work with your customers' tightened budgets?
The answer is to offer flexible payment options, of which there's no shortage of – buy-now-pay-later (BNPL), payment in installments, etc.
Indeed, it paid to be flexible in 2023: BFCM weekend saw a 42.5% YoY increase in buy-now-pay-later use. During the entire month of November, BNPL drove an increase of $8.3 billion in revenue – a 17% jump from 2022.
According to Retail Dive, Black Friday orders through the installment payment service Klarna also jumped by nearly 30% this year. In another study released by Klarna, 8 out of 10 shoppers found the option of paying in installments without extra cost helpful during the holiday season.
Offering different payment options through the holiday season (and frankly, year round) is a great way to give your customers a bit of their purchasing power back. For even more success with your end-of-year campaigns, lead with your value. Include your payment options in your email campaigns and automation workflows to drive more sales.
Drip Customer Support Has Your Back All Month Long
The people supporting you during the most important time of year are just as important (if not more so) as anything else. Whether it was a last-minute question about scheduling a send, or an inquiry about pulling a specific analytics report, our Support team was here to help.
Our Customer Support team's data supports the trend that the holiday shopping season this year started as early as October. As our customers prepped and started their holiday campaigns earlier, we saw a higher ticket volume throughout October than in November.
The level of support we provided our customers this BFCM was both faster and better than ever before. This year, our amazing Support team was able to help out every customer who wrote in within an hour.
And, our team's customer satisfaction score was 100% throughout Black Friday Cyber Monday weekend, demonstrating our people-centric values in action.
Win by Putting Customers First
At Drip, we're as proud as ever to serve our customers, especially as they've faced challenge after challenge and yet remained resilient as ever. With rising customer acquisition costs, increasing privacy regulations, and consumers tightening their belts due to a tough macro environment, this year has been anything but easy.
And yet, again and again, we watched brands come out on top by focusing on building loyalty, driving referrals, offering more personalized options, and increasing retention.
The takeaway? When you put your customer first, you truly can't lose.
Congrats to all on another successful BFCM weekend, and cheers to a great rest of the year. We'll be right there with you—helping you segment, automate, and increase sales along the way.