It's that time of year. The day when shoppers the world over momentarily lose their minds and buy, buy, buy to stock up for the Christmas season.
In a tryptophan-induced stupor, they wake up at the crack of dawn (or don't sleep at all) to find massive deals, shelling out huge amounts of money in the process.
It's a day that's known simply as Black Friday — the biggest ecommerce holiday that exists.
While it's historically been a day when brick-and-mortar retailers see products fly off the shelves, in more recent years ecommerce brands have been cashing in on it as well.
And that's never been more true in 2023.
Here's a list of Black Friday statistics I've compiled that show where this holiday has come from, where it's heading, and how to optimize your marketing efforts so you can take full advantage of it in 2023.
1. US Black Friday Online Sales Climbed from $1.93 Billion in 2013 to $7.4 Billion in 2019
This first stat puts the sheer growth of Black Friday for ecommerce brands into perspective.
In just seven years, American Black Friday online sales have more than tripled and don't show any signs of slowing down.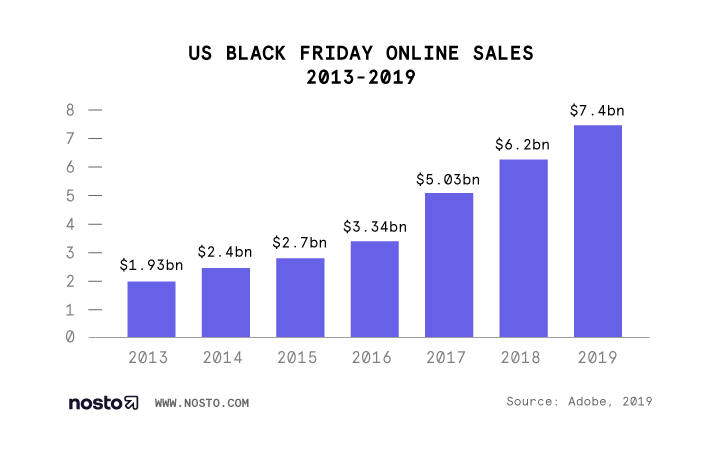 This makes it one of the hottest days of the year for brands to make major sales.
2. Customers Are Expected to Spend 20 Percent More in 2020
Adobe Analytics quantifies 2020 growth and predicts that the overall revenue will increase by 20 percent from 2019.
This means that 2020 is set to be a record-breaking year, which is certainly a sigh of relief for any brands who've felt the financial backlash of COVID in recent months.
3. Seventy Percent of Shoppers Won't Be Going to Brick-and-Mortar Stores To Do Their Shopping Anytime Soon
A Wells Fargo survey found that nearly three-quarters of customers won't be shopping in physical stores in the foreseeable future.
This of course is due to concerns and restrictions stemming from COVID. In fact, many big stores won't be open at all.
"In the past few years, many retailers have been opened on Thanksgiving day but this year many retailers like Walmart, Target, Best Buy, Kohl's and others have already announced that they will keep their stores closed on Thanksgiving and we expect no in-store events on Black Friday either," reports TheBlackFriday.com.
Not to relish in the misfortune of brick-and-mortar retailers, but this presents a tremendous opportunity for ecommerce brands that know how to reach their demographic through enticing deals and captivating marketing campaigns.
4. Ecommerce Black Friday Shopping is Expected to Increase Up To 30 Percent in 2020
With such a high volume of shoppers not going to physical stores as they have in the past, many will instead do their shopping online.
Wells Fargo even predicts an increase from 25 percent to 30 percent, which stems directly from COVID.
"Since the pandemic, online shopping spend has increased 59 percent compared to this time last year," says Joshua Ogugua of The Drum."Consumers are now more confident and more skilled when making purchases online."
While many ecommerce brands were already bringing in big revenue in years past, 2020 is poised to propel them to the next level.
Just look at these accelerated trends in online shopping.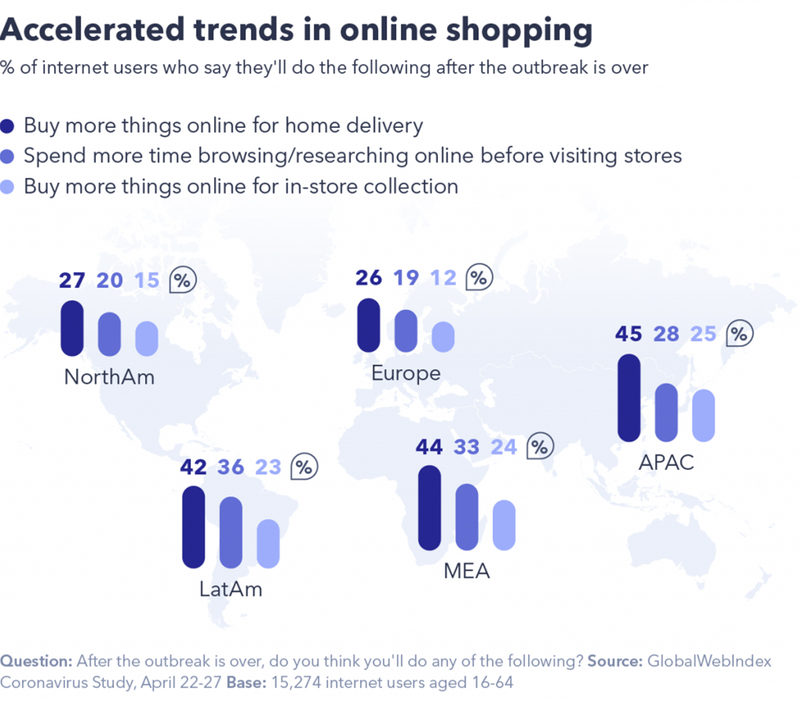 5. Fifty-Four Percent of Consumers Start Holiday Shopping Before Black Friday
Here's a stat I found especially interesting.
A 2017 report by RetailMeNot found that more than half of consumers begin their holiday shopping well before Black Friday rolls around.
In fact:
Twenty-five percent start before October
And 12 percent start in the summer
This trend is a trend that should definitely continue in 2020, especially with so many big retailers having their stores closed on Thanksgiving and Black Friday.
"This year, we expect Black Friday sales and the pre-Black Friday sales to arrive earlier," explains TheBlackFriday.com. "We expect many US retailers to launch deals far ahead of Thanksgiving, with early start dates as early as October, and have them available through the end of the year."
It's all about getting a jump things—something that Tinker Watches, a brand that sells high-quality minimal watches, did in this in an email that was sent out in advance of Black Friday.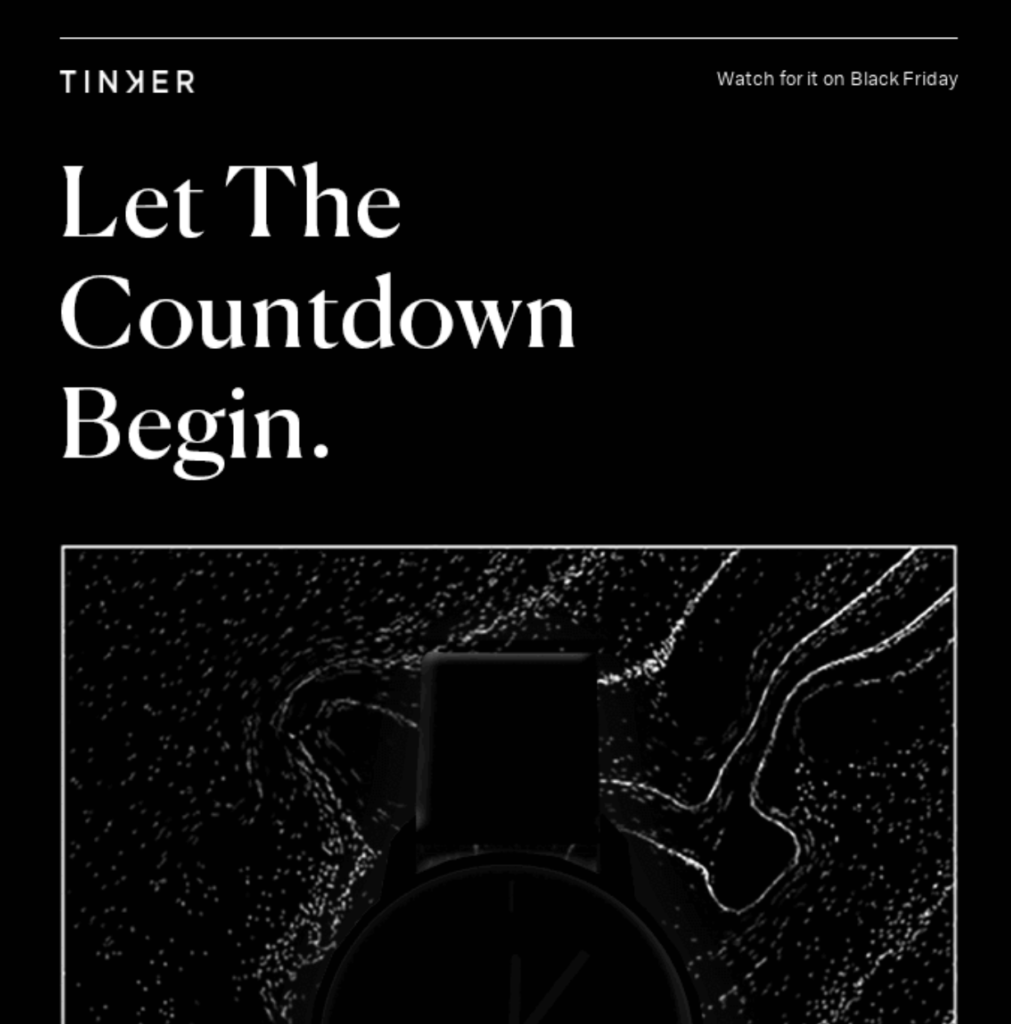 And check out this Facebook post from Blenders Eyewear that got shoppers in the buying zone two days before Black Friday.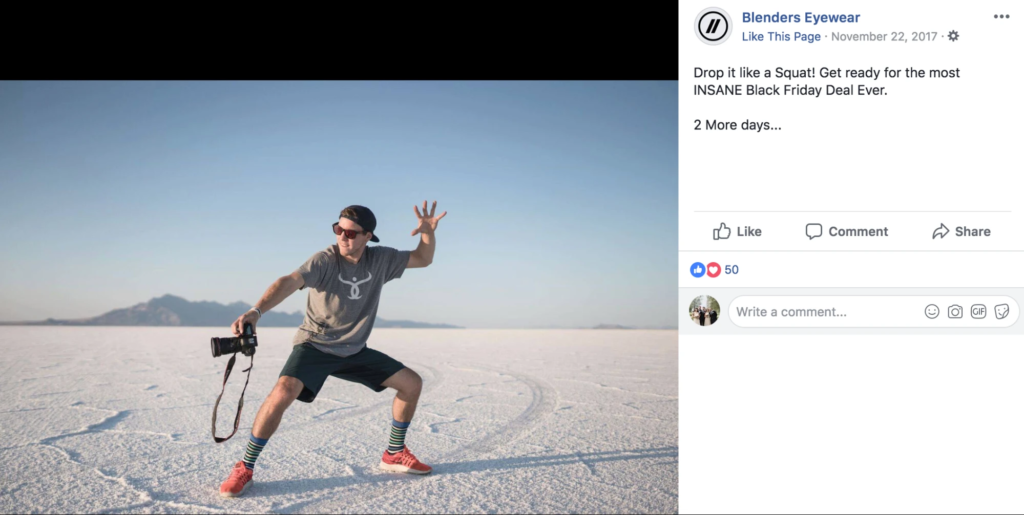 The takeaway here is that the earlier you plan the better, as many online shoppers are chomping at the bit to get a hold of Black Friday deals.
Ideally, you'll want to have your Black Friday marketing campaign prepared well in advance and ready to go as early as October.
This brings me to my next stat.
6. 116.5 Million Emails Are Sent on Black Friday—More Than Any Other Day of the Year
In terms of specific marketing strategies ecommerce brands use to reel in leads, email marketing continues to be one of the top options.
One study found that a whopping 116.5 million emails go out on Black Friday, which is more than any other single day.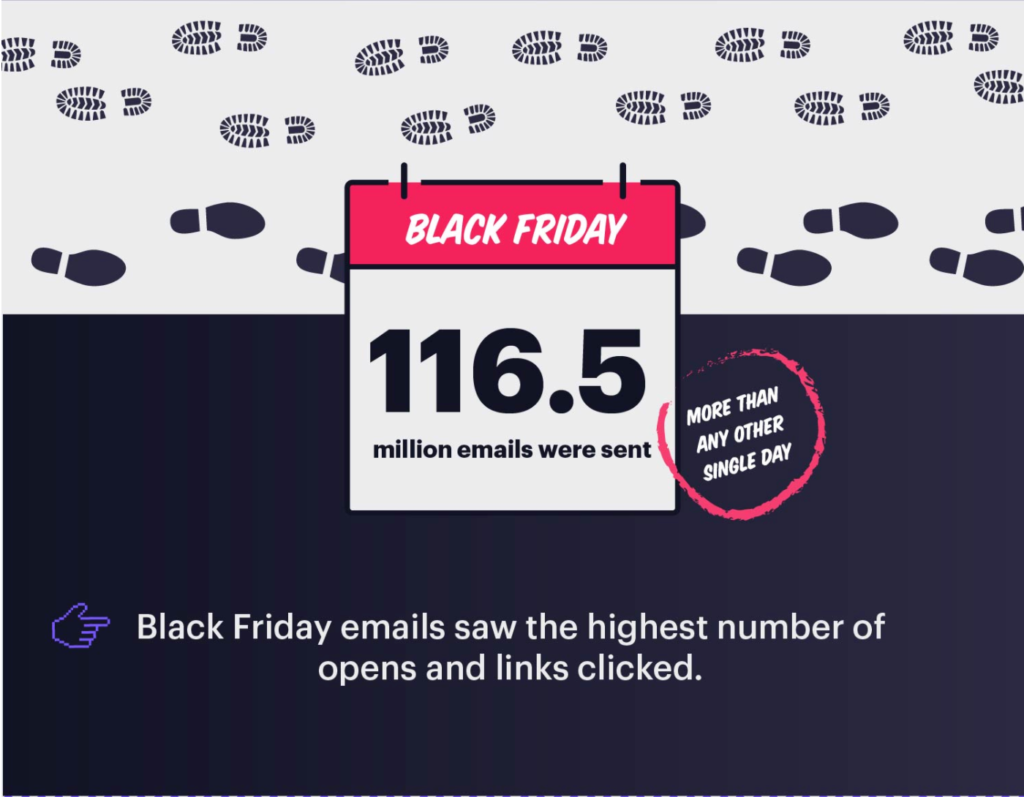 But is this having any real impact? Or are emails getting drowned out with all of the other noise?
Campaign Monitor says that there it does have a legitimate impact, and "Black Friday emails saw the highest number of opens and links clicked."
Considering that "consumers who purchase products through email are likely to spend 138 percent more than people who don't receive email offers," this should definitely be at the top of your Black Friday marketing list.
Here's a good example from footwear brand Hush Puppies.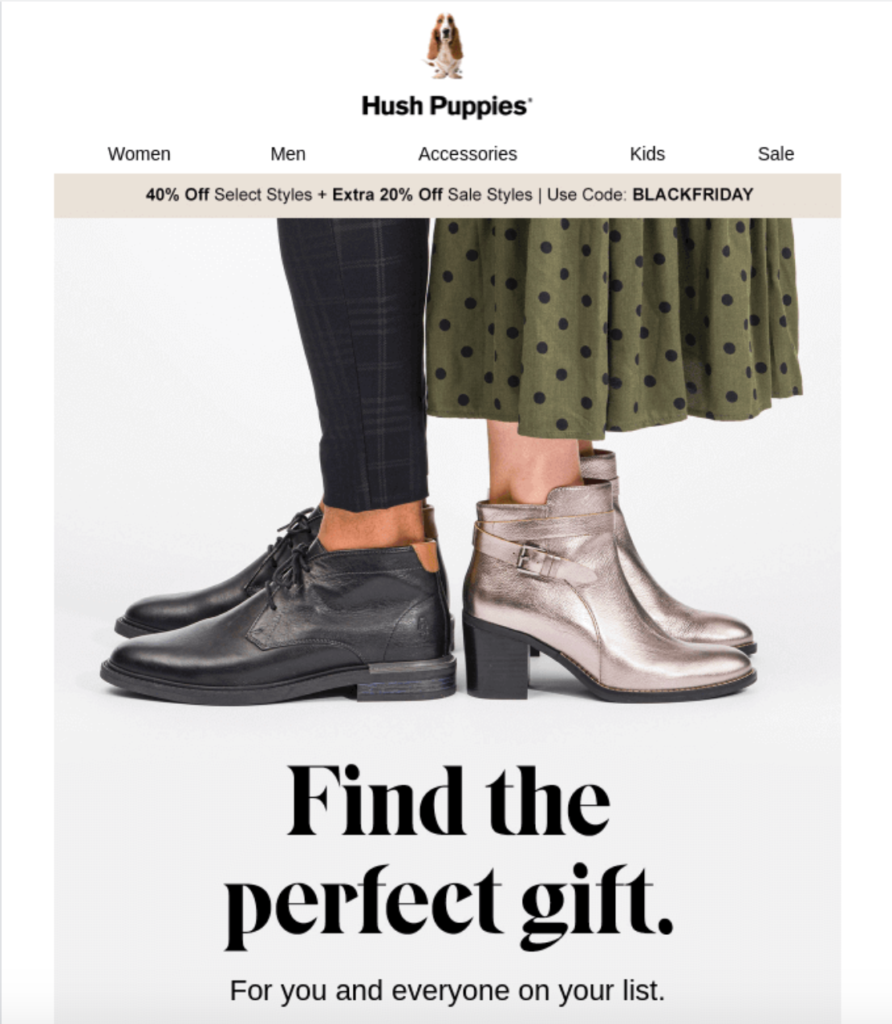 7. Cart Abandonment Emails Have a 34 Percent Open Rate and a 9 Percent Click-Through Rate During Black Friday
The average email open rate across all industries is just under 18 percent, and the average click-through rate is 2.6 percent.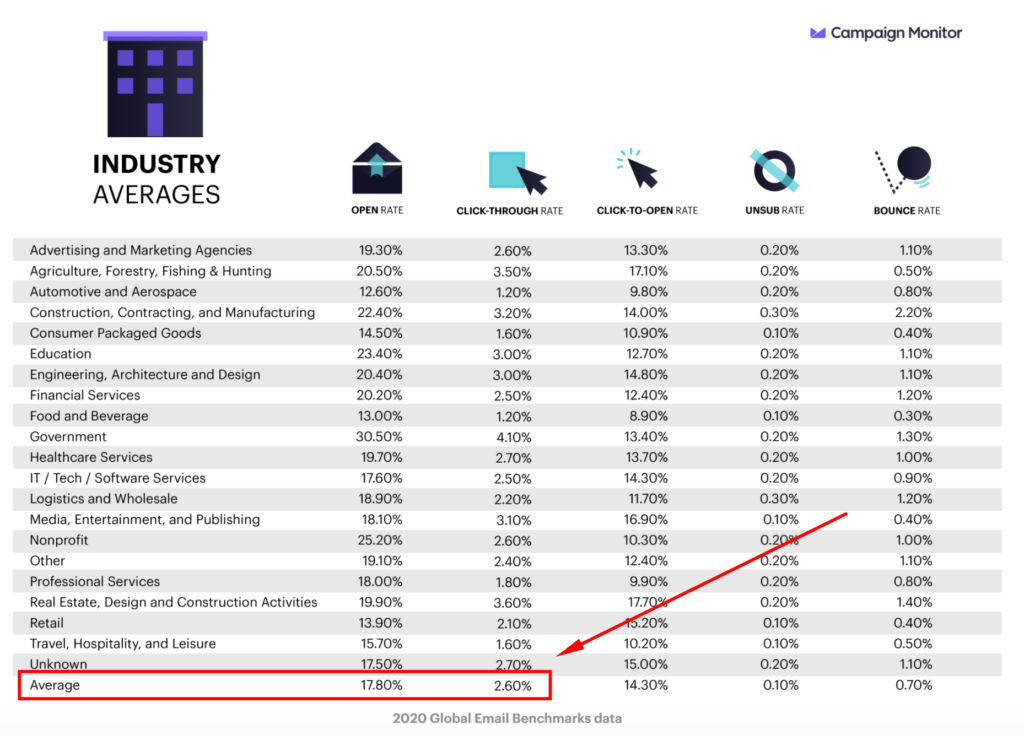 But sending out cart abandonment emails during Black Friday boasts dramatically higher numbers.
In fact, the average open rate is almost double at 34 percent, and the average click-through rate is well over triple at 9 percent.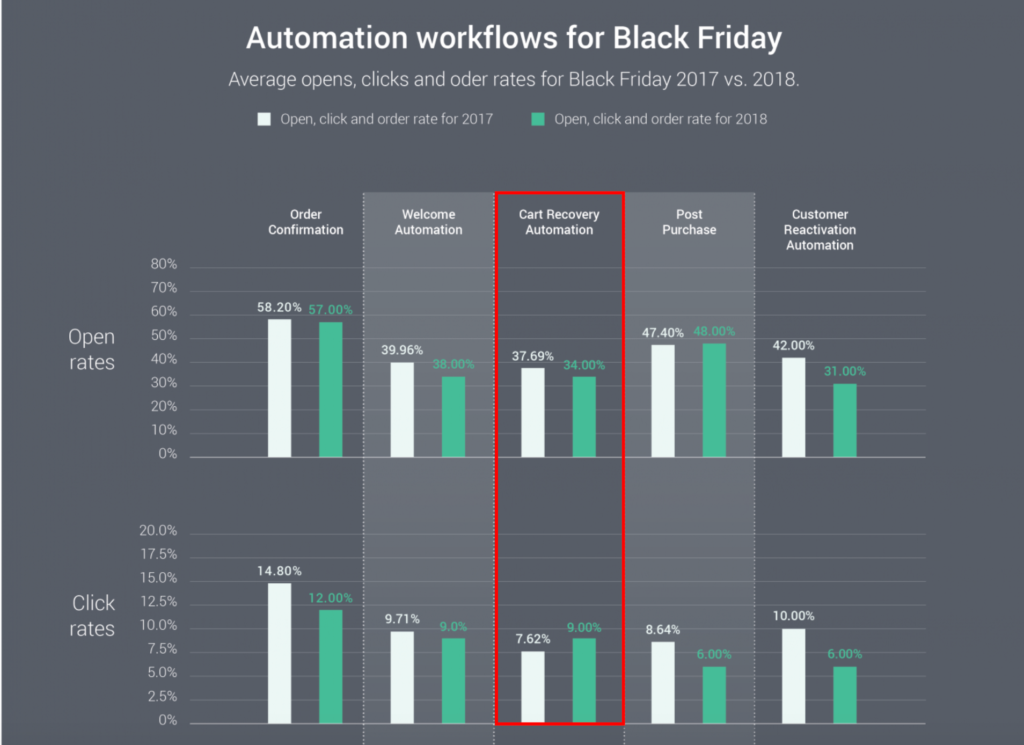 Think about that for a second.
Sending out cart abandonment emails like this one from grooming and hair company Rudy's Barbershop that feature products shoppers added to their carts but didn't check out can quickly bring attention back to your brand.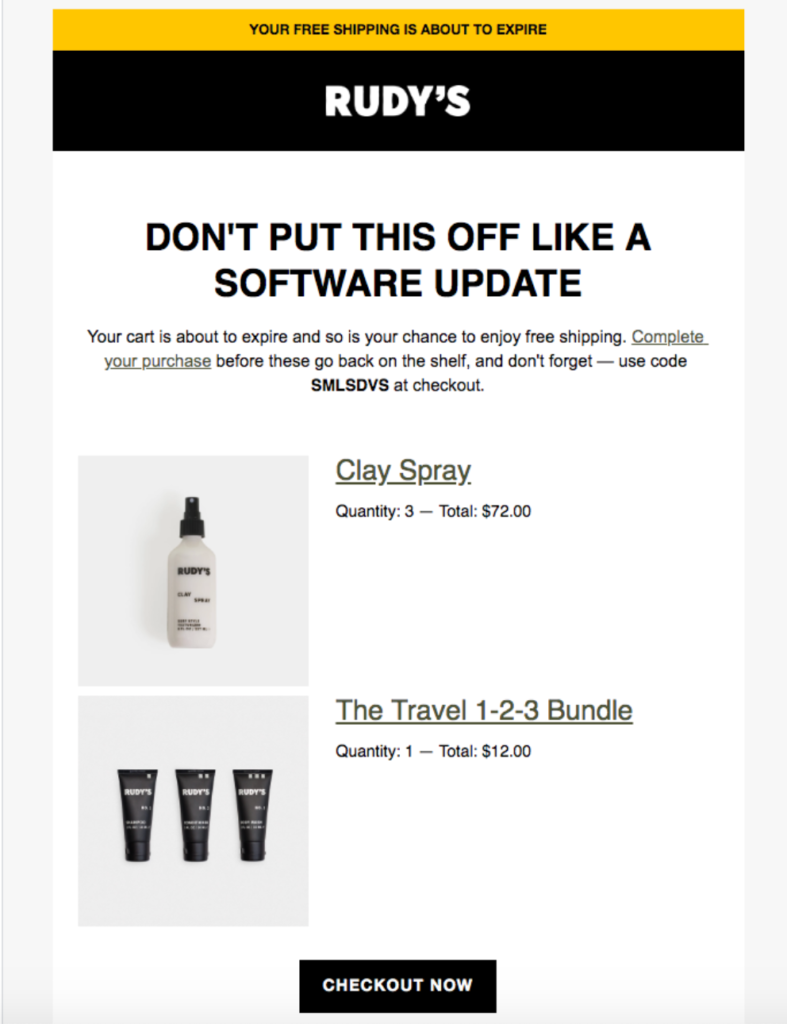 And with the average conversion rate for cart abandonment emails at around 10 percent, this can result in a nice spike in revenue.
For an overview of abandoned cart email best practices and ideas, check out this blog post.
8. Targeted Black Friday Emails Get 5.83 Percent More Opens Than Non-Targeted Emails
Unsurprisingly, it's beneficial to make your Black Friday emails as targeted as possible.
A study by Klaviyo found that emails that were sent to a targeted group of contacts (between 1–25 percent of the master list) saw a 5.83 percent higher open rate than the remaining contacts.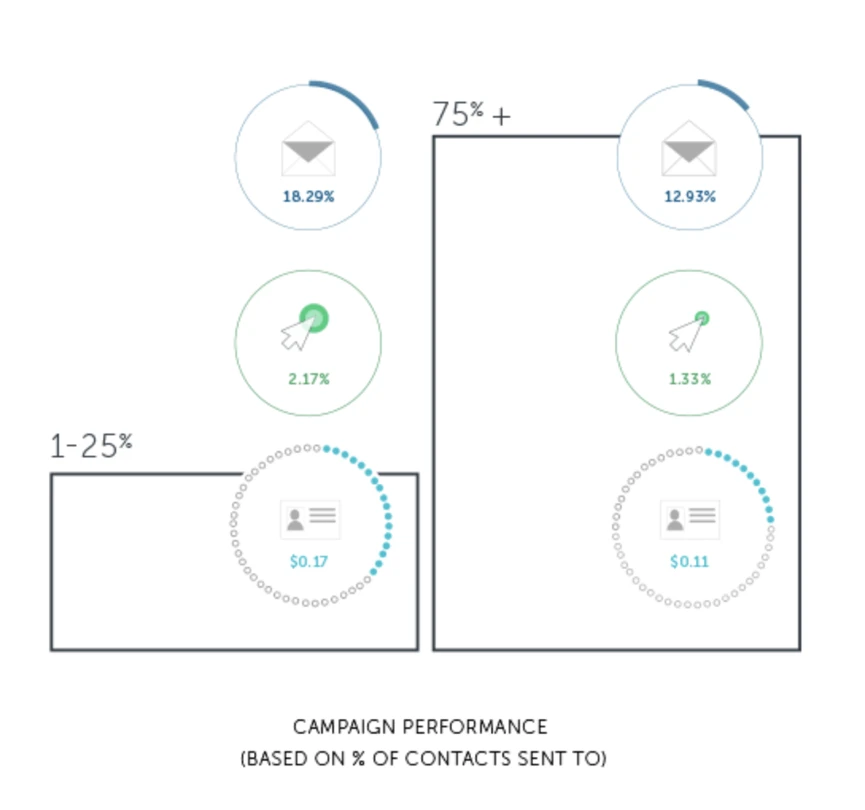 As for the click-through rate, it was 2.17 percent for the targeted group and only 1.33 percent for the non-targeted group.
In terms of revenue, "the more targeted segment saw revenue per recipient at $0.17 as opposed to $0.11 for the less targeted send."
These numbers speak for themselves and show how important it is to segment your Black Friday emails.
And there are several ways to go about that.
Blenders Eyewear, for example, sent this email to recent openers who have opened one of their other emails within the previous three months.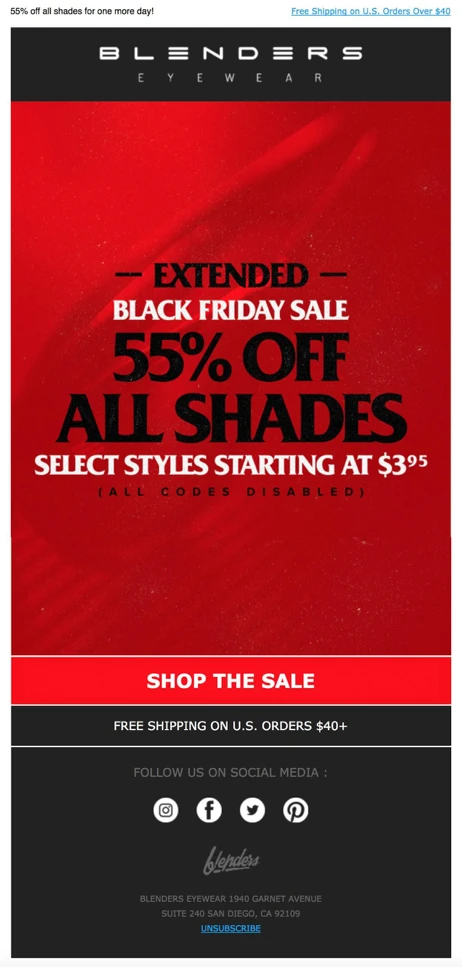 The Elephant Pants, a company that sells yoga pants where the proceeds go to protecting endangered elephants, sent this email to their VIP customers offering a massive discount of up to 80 percent (something we'll discuss in more detail later on).

Some other email segment ideas include:
Website pages visited
Geographical area
Prior purchases
Amount spent
The current position in the sales funnel
9. SMS Marketing Can Result in as Much as a 2000 Percent ROI During Black Friday
The SMS global market has experienced steady growth over the past decade and is expected to reach $78 billion by 2022.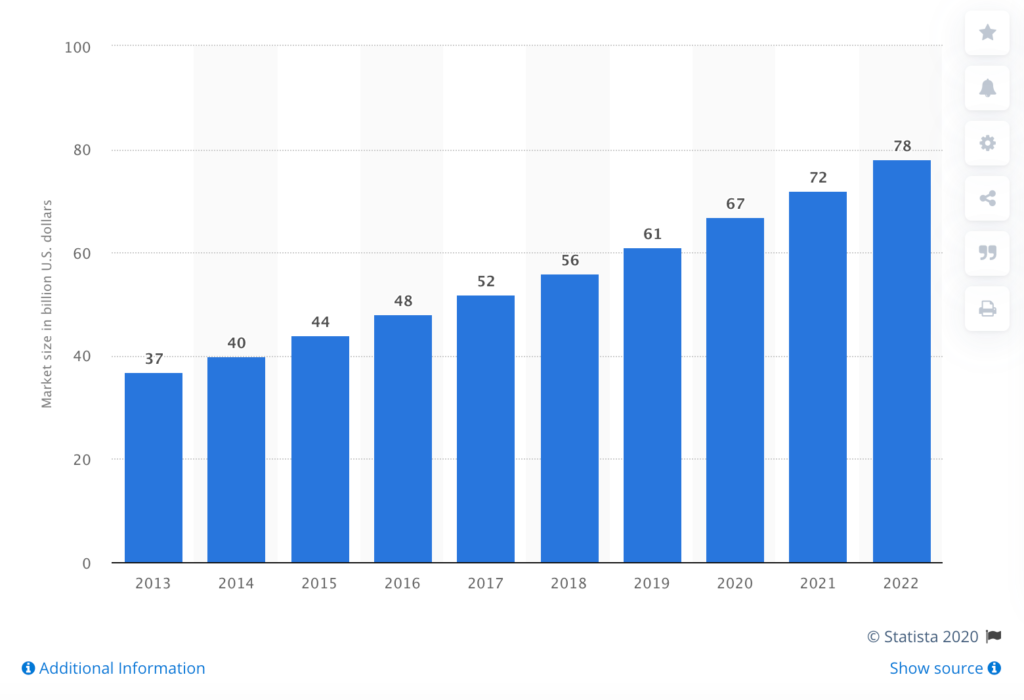 With a mind-blowing open rate of 98 percent, there are a growing number of ecommerce brands that are getting on board with SMS marketing.
A recent study found that's an incredibly smart move for Black Friday marketing, given that some SMS campaigns have seen an ROI as high as 2000 percent during this shopping holiday.
This example from Old Navy illustrates a simple formula for creating Black Friday SMS messages.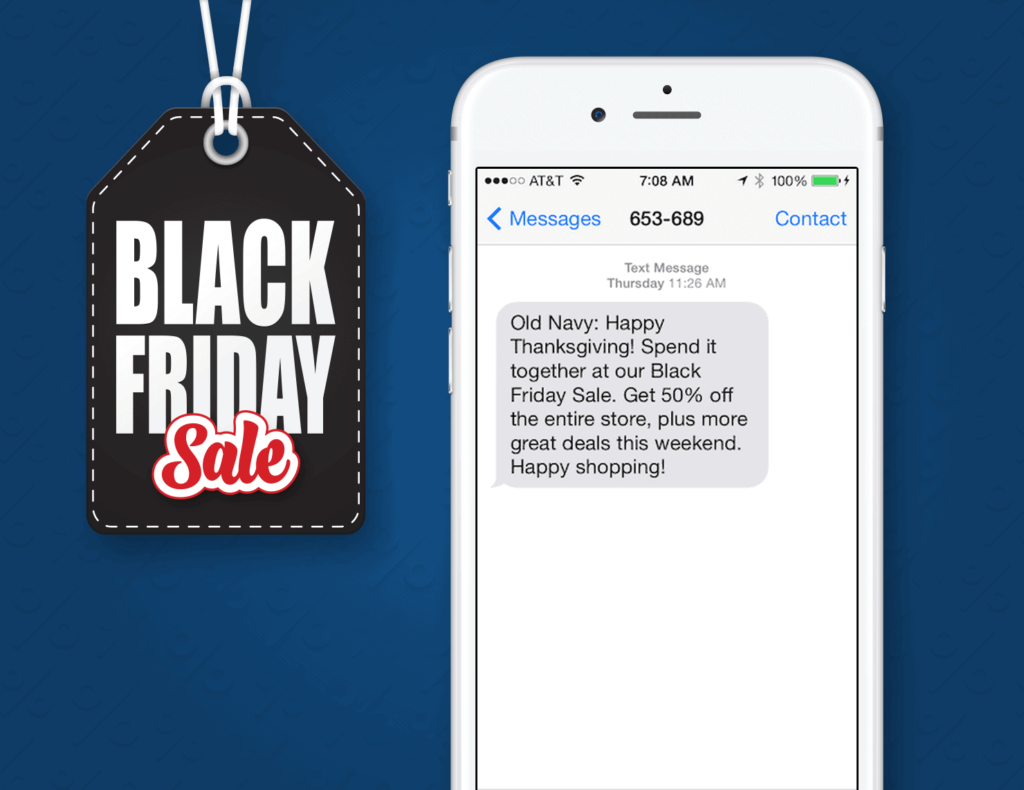 10. Black Friday Discounts Now Average Nearly 50 Percent
Needless to say, the massive discounts are large what fuels the popularity of Black Friday.
And to stay on track with the competition, it's the norm to now offer discounts (at least on certain product categories) of around 50 percent.
According to recent research from Numerator, deals averaged 49.6 percent off in 2018, which was up more than 4 percent from 45.5 percent in 2017.
This graph illustrates the popular gifting categories that have seen the sharpest increase in discounts, with kids' outerwear being the leader at 11.9+ percent year-over-year.
The point here is that you need to go big on Black Friday to have any real impact.
Or as Chase Fisher, founder, and CEO of Blenders Eyewear puts it, "You can't go into Black Friday and put 15 percent off, 20 percent off and expect to do well. Everything comes down to your offer — and it's the one time of the year you can lower your prices without feeling like you're losing brand integrity."
The bottom line is that you need to "make sure your offer is compelling, no matter what."
Take Beauty brand MONAT for example.
They gave their VIP customers 70 percent off during their 2018 Black Friday sales event and had great success because of it.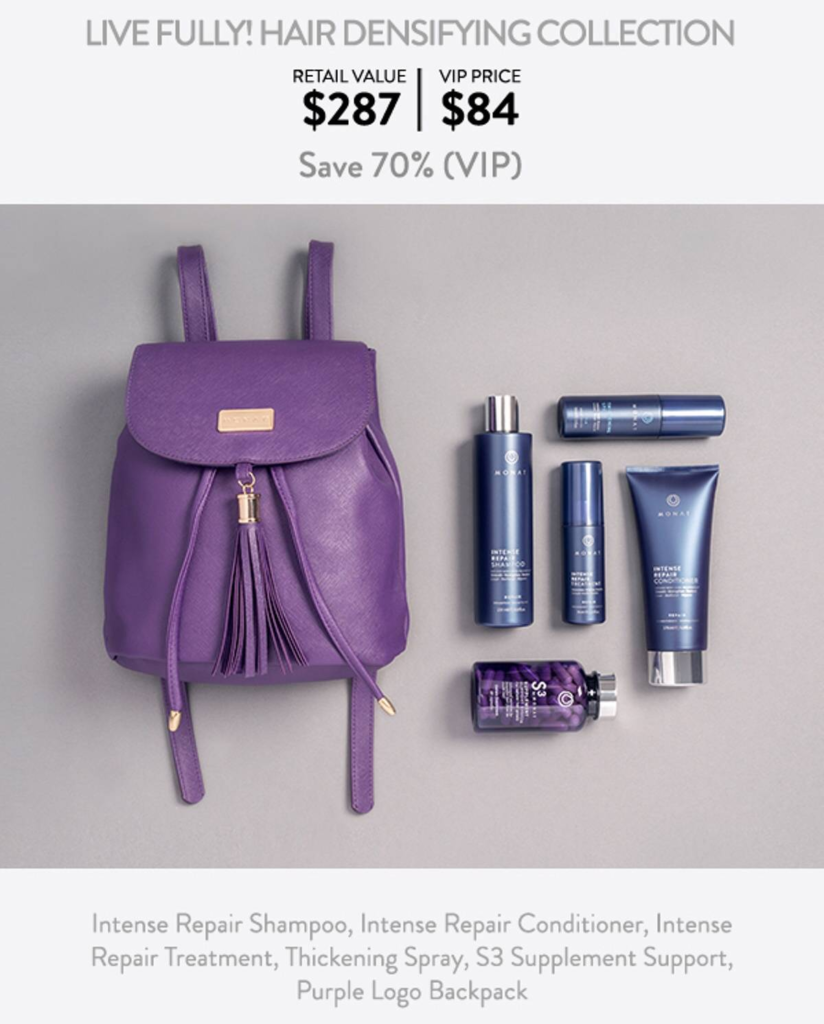 11. Mobile Transactions Account for 66 Percent of Global Black Friday Sales
It's not news that a growing percentage of ecommerce shoppers prefer to use their mobile devices rather than a desktop.
But I was personally amazed to find that two-thirds of global Black Friday sales for Shopify merchants came from mobile in 2018.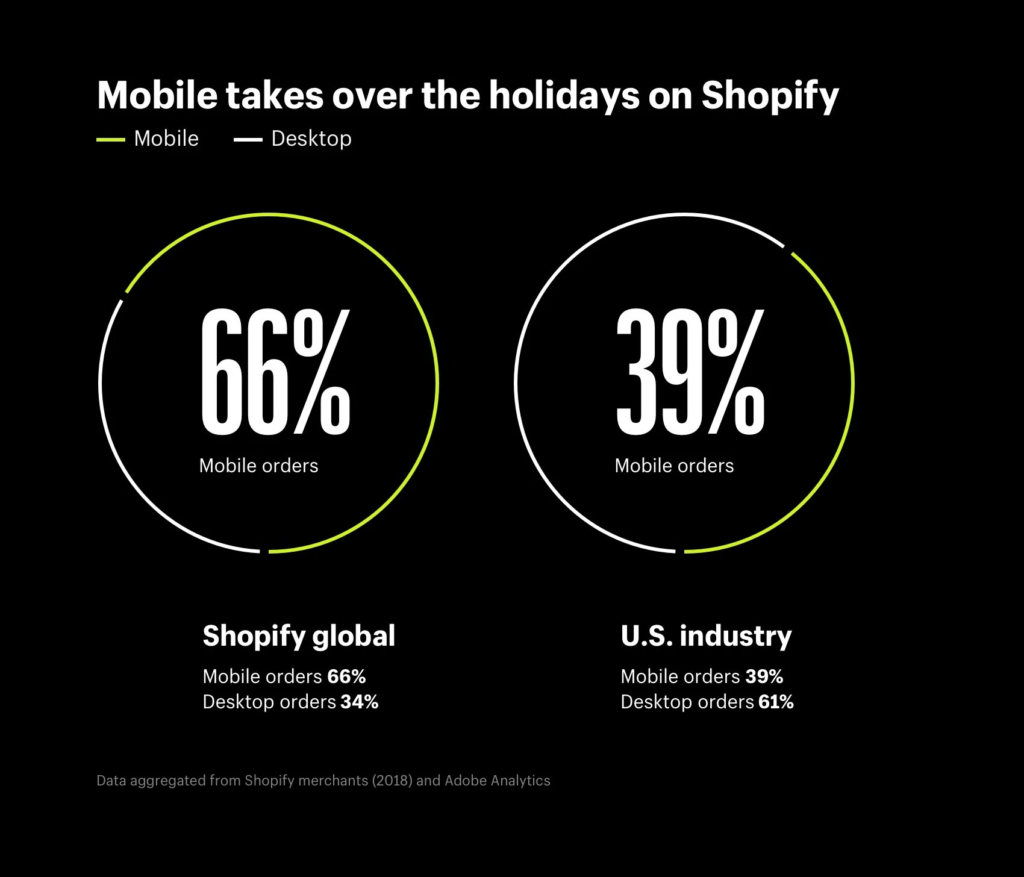 And I could only imagine that that number will increase in 2020.
This shows firsthand the importance of having your ecommerce store fully optimized for mobile.
Otherwise, any friction is going to put a damper on your revenue.
As Shanelle Mullin of ConversionXL explains, simply using responsive web design (RWD) doesn't mean a store is fully optimized.
But some specific steps you can take to ensure a seamless mobile experience include:
Increasing your website speed
Optimizing site navigation
Creating a dedicated mobile landing page
Adjusting copy to better suit mobile users
Besides that, you can offer a one-click purchasing option for mobile-first customers so they don't have to fumble with manually entering their credit card information.
Instead, they simply choose the mobile wallet they use and authenticate with either a Touch ID or PIN.
For instance, lingerie and clothing company Natori offers one-click PayPal checkout.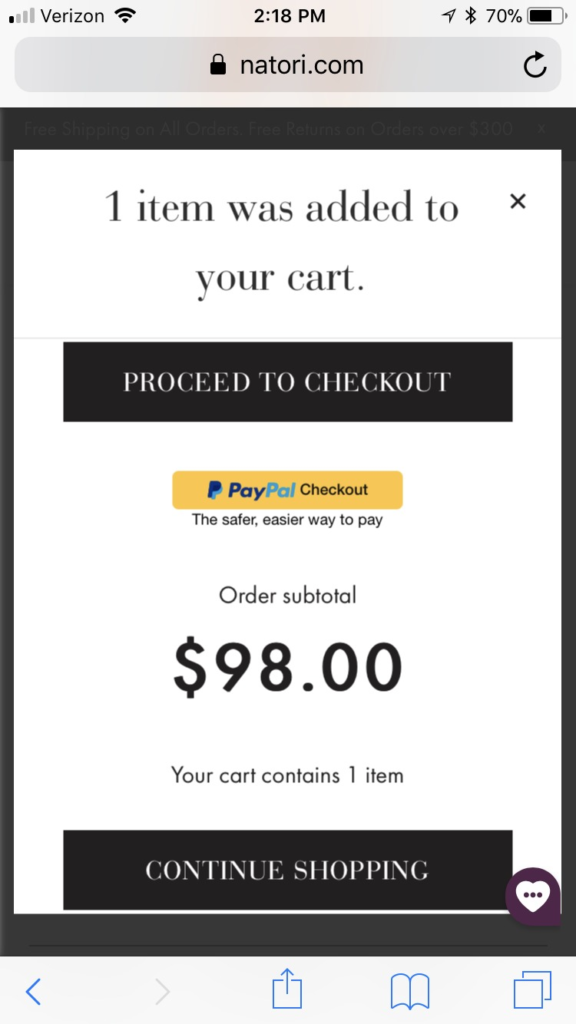 Conclusion
These Black Friday statistics paint a vivid picture of where things are heading in 2023 and beyond. Black Friday online sales have more than tripled in the last seven years and are poised to increase even more this year.
With COVID altering the sales landscape, ecommerce brands have a massive advantage over brick-and-mortar retailers. More than half of holiday shoppers will start well before Black Friday, making it crucial to begin your marketing efforts in advance.
In terms of the specific marketing strategies to use, targeted emails, abandoned cart emails, and SMS messages should be your top priority for reaching ecommerce shoppers. It's also extremely important to cater to mobile users, as they now account for 66 percent of total global Black Friday sales.
And with 50 percent off now being the norm for most brands, it's clear that you'll want to offer robust discounts to entice shoppers and get them to buy—something that's especially true for your VIPs.