Whether it's Halloween, Christmas, or Martin Luther King Jr. Day, there's always a holiday around the corner.
In addition to being the most joyful time of the year, the shopping season, starting with Black Friday, is a huge revenue opportunity for online stores.
Last year, e-commerce sales during the holiday season amounted to more than $123 billion in the US, alone.
Indeed, the opportunities are big, but so is the competition.
You might think seasonal email marketing is only about promoting your Christmas sale with a red-and-green announcement email.
While that does work, there's so much more you can do to increase your revenue with holiday email campaigns. And the best part is, you don't have to wait until Christmas.
Here at Drip, we love the ecommerce holiday season for a special reason: some of the best emails we receive are sent around this time.
And today, I'm going to share the best of them with you.
So, before planning your holiday marketing this year, check out these 14 best seasonal email examples (plus, two bonus strategies.)
Table of Contents
Strategy #1: Offer Gift Guides
Helping your prospects while promoting your products… Sound too good to be true?
With holiday gift guides, you can easily do that.
While many e-commerce sites use this strategy, only a handful of them use email marketing to promote their gift guides effectively.
Wonder what those sites have in common? They optimize their emails for higher click-through rates.
Let's see how.
1. Recommend Gifts by Category (Wool and the Gang)
If you've ever sat down at your computer to find a gift for someone you love, you know that it's not easy.
That's why companies like Wool and the Gang work hard to simplify finding the perfect gift: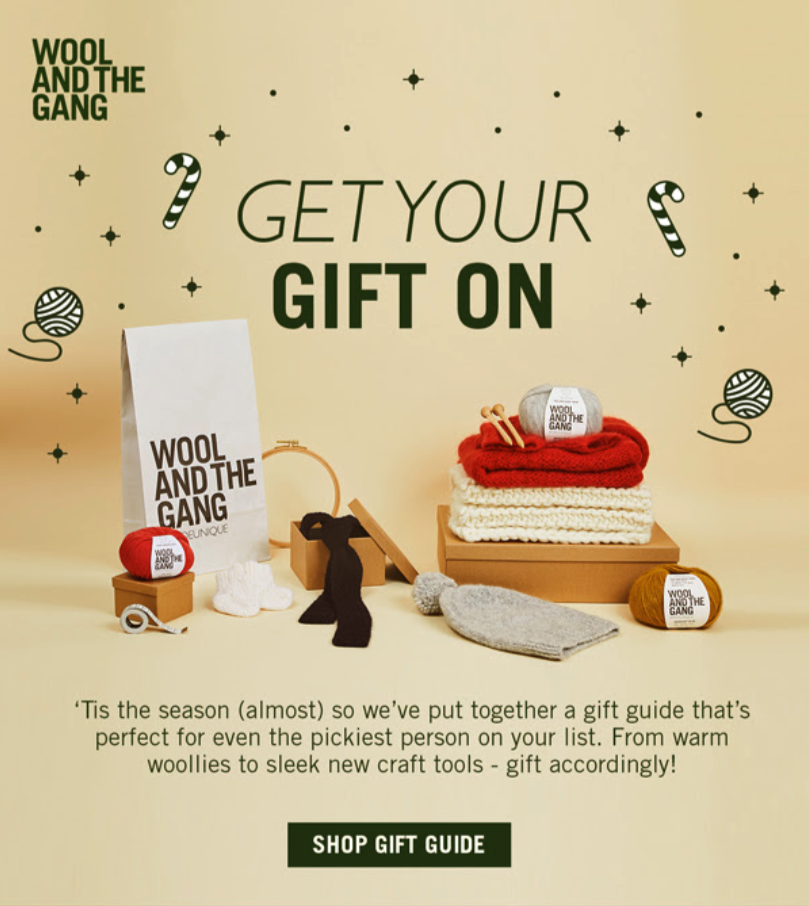 While this looks like any other holiday email in the beginning, as you scroll down, you see that the company divides its gift guide into different categories, based on the recipient's level of expertise…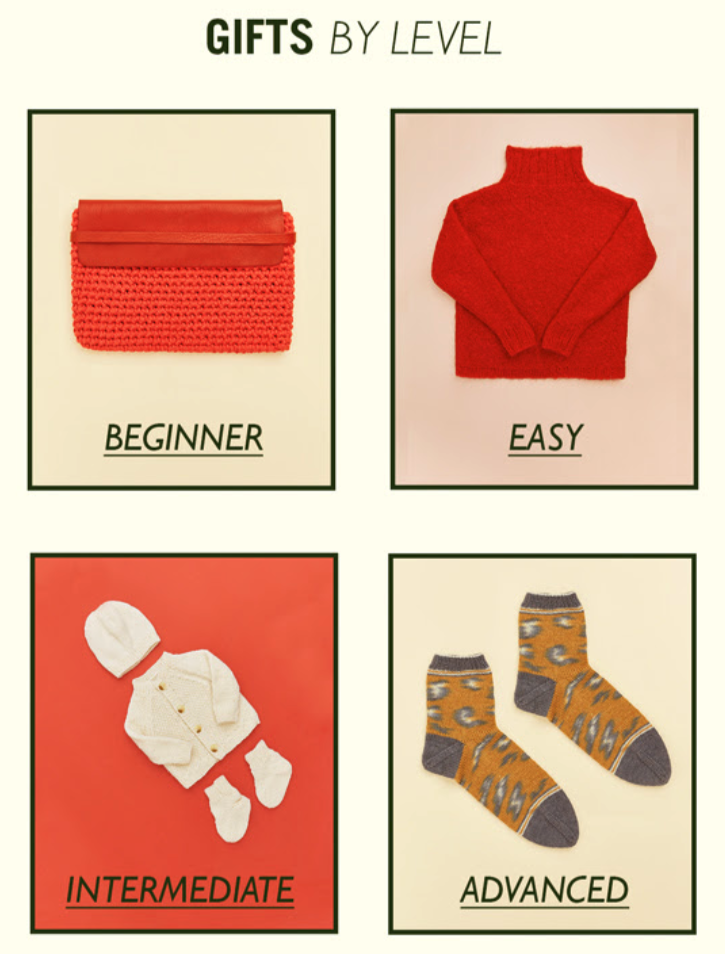 …and the type of craft they're interested in: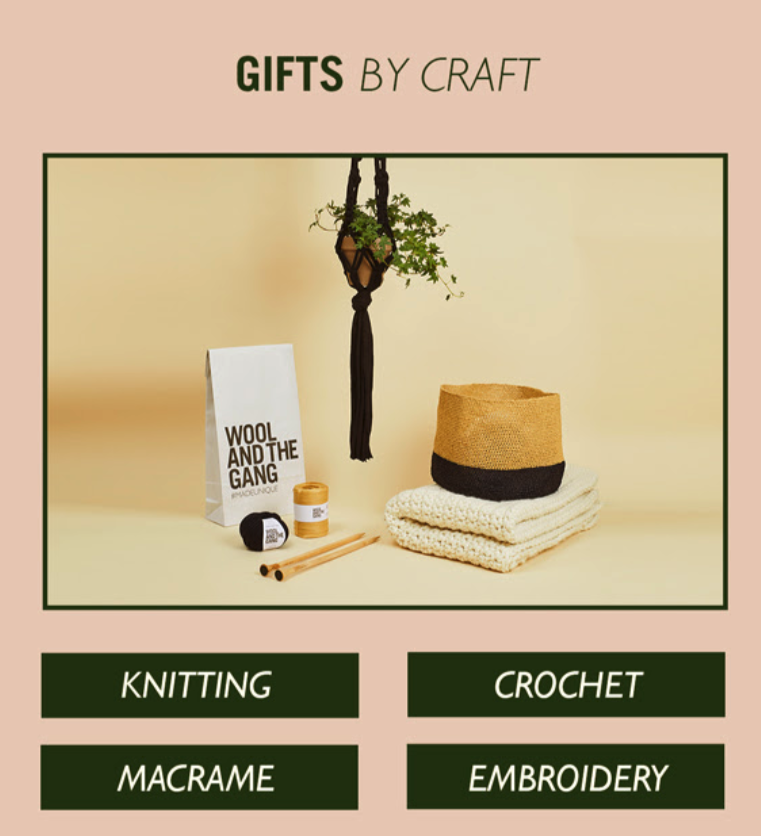 With this email, Wool and the Gang make your gift search easier.
Furthermore, the company goes beyond the simplistic for him/her division and offers you diverse categories to choose from.
So if you have someone in your life, who's an advanced macrame fan, you know exactly where to start browsing from. This means higher click-through rates, more sales, and happier customers for Wool and the Gang during the holiday season.
2. Recommend Gifts by Personality (One Kings Lane)
While looking for good seasonal email examples, I saw that many brands simply categorize their gift guides based on who the recipient is. That's why my inbox is full of ideas "for my mom," or "for my best friend."
While there's nothing wrong with that, brands like One Kings Lane found a better angle in their gift guide emails.
Knowing that people have different personality types and interests— regardless of their parenthood or relationship status—One Kings Lane recommends gifts for gourmets…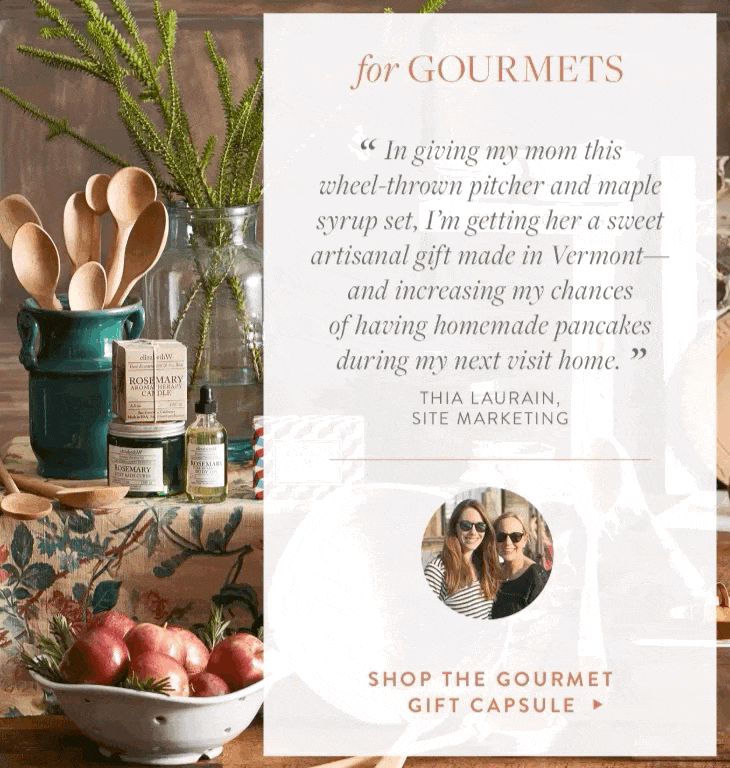 …as well as for multitaskers, kids at heart, animal-lovers, and modern bohemians:
So, if you have a modern bohemian in your life, you can click through to see the retailer's gift suggestions without much thinking.
As a final note, notice how One Kings Lane uses personal copy with employee quotes and photos instead of displaying only products. This makes their holiday email look even less salesy and more selfless.
3. Recommend Gifts by Price (Ban.do)
Consumers love brands that understand their problems.
And Ban.do is no exception. They know that most of us buy gifts for different people in our lives before major holidays (and that we take a big hit to our wallets.)
That's why the company takes a realistic approach to gift-giving and sends you a gift guide with only two categories: gifts under $50…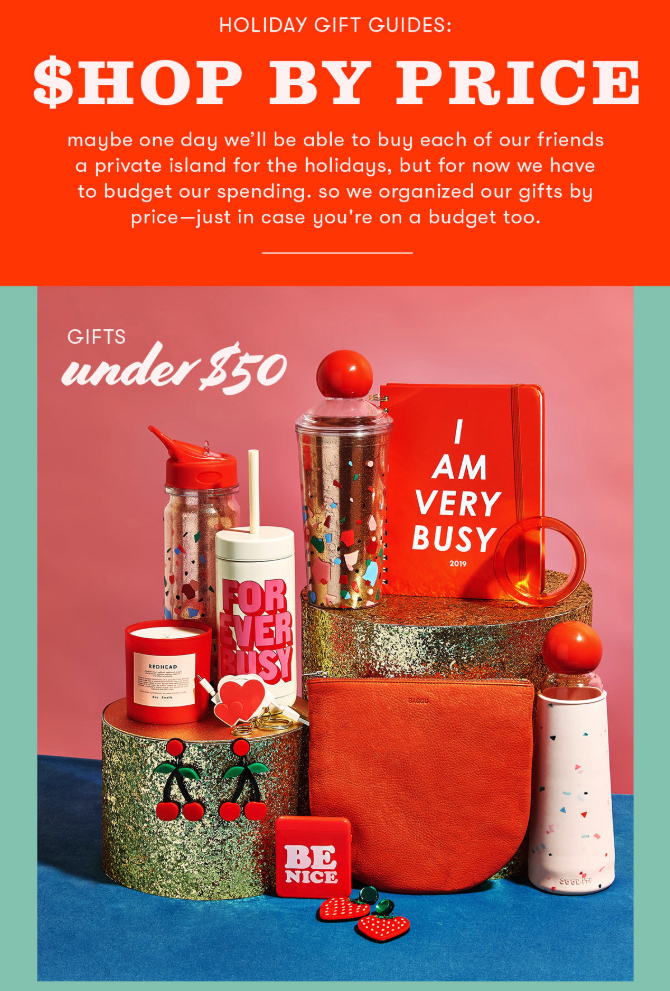 …and gifts under $25: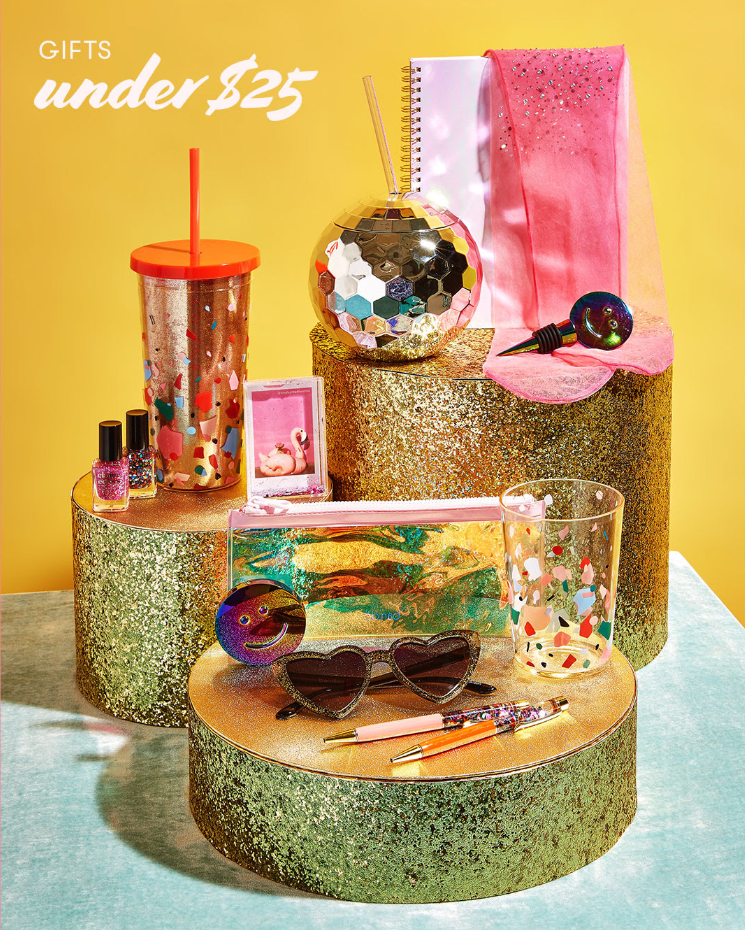 Notice how Ban.do explains the reason behind this gift guide at the beginning of the email. The company tells you that they understand not only your wishes but also your budget.
While acting like a considerate friend inviting you to limit your holiday spending, the company cleverly shows you how to do that (read: through buying their products.)
Strategy #2: Target Last-Minute Shoppers
Ambushing procrastinating holiday shoppers is not a new strategy.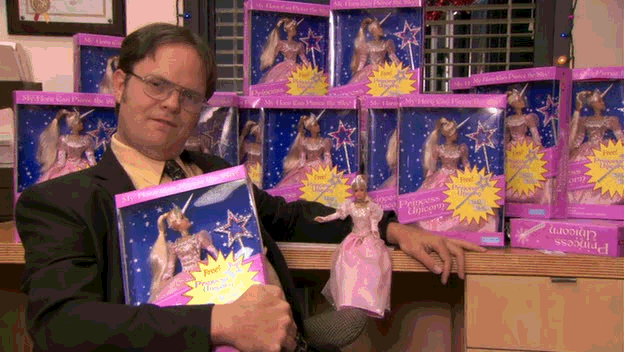 But one thing many traditional retailers do wrong is stress already nervous procrastinators.
If you want to win over last-minute shoppers, offer them a helping hand, instead.
While last-minute shoppers often turn to physical stores due to delivery concerns in this high season, it doesn't mean you can't target procrastinators with your emails.
Here are three seasonal email examples that capitalize on last-minute shoppers without playing dirty.
4. Put Procrastinators' Minds at Ease (BarkBox)
Known for their cute, puppy-filled emails, BarkBox proves that you can target last-minute shoppers while being helpful.
Last year, five days before Christmas, the company sent their subscribers this email with the reassuring subject line, "You Pupcrastinated. We got your back.":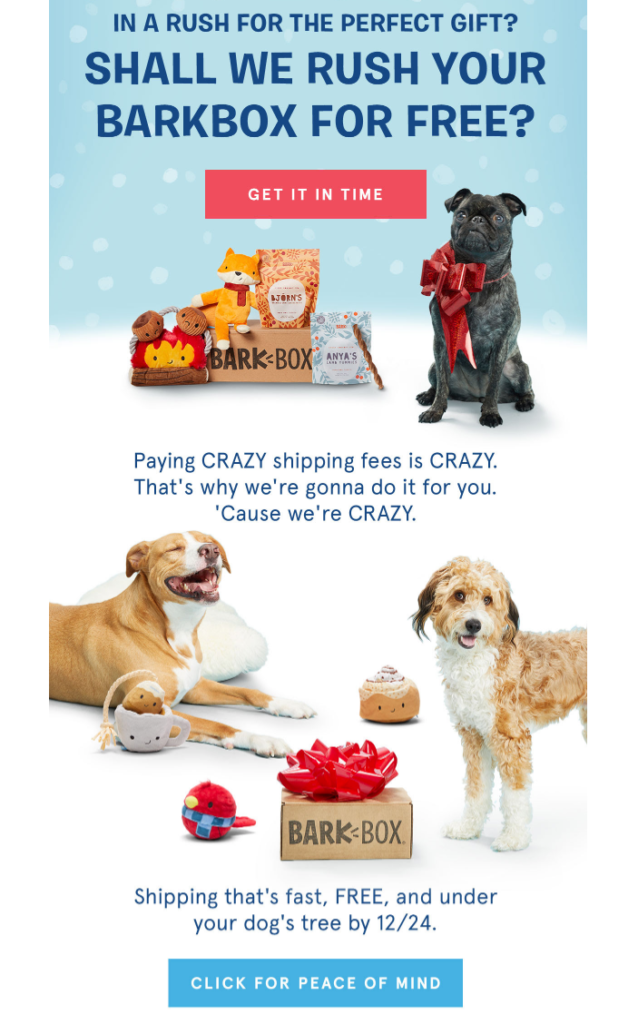 From top to bottom, BarkBox aims to comfort you, even if you've postponed buying Christmas gifts until now.
Instead of stressing you with urgency triggers, the company simply offers a fast shipping option so you can get your gifts on time.
While the first call-to-action (CTA) button—"Get It In Time"—focuses on the benefit of making a purchase, the second CTA— "Click For Peace of Mind"—powerfully communicates the emotional benefit of buying from BarkBox.
After all, we all want to have peace of mind, especially during the holidays.
With this email, BarkBox successfully relieves you and solves your gift-giving problems. In return, they increase their holiday revenue. Win-win.
5. Suggest Virtual Gifts (Brooklinen)
Not every online store has the budget or resources to offer rush shipping during the holiday season, that's a given.
But if you're selling virtual products, such as gift cards, last-minute shoppers will be your ideal buyers during this season.
Brooklinen knows this well. That's why, a few days before Christmas, they send the following email with the subject line "ATTN: procrastinators 🚨":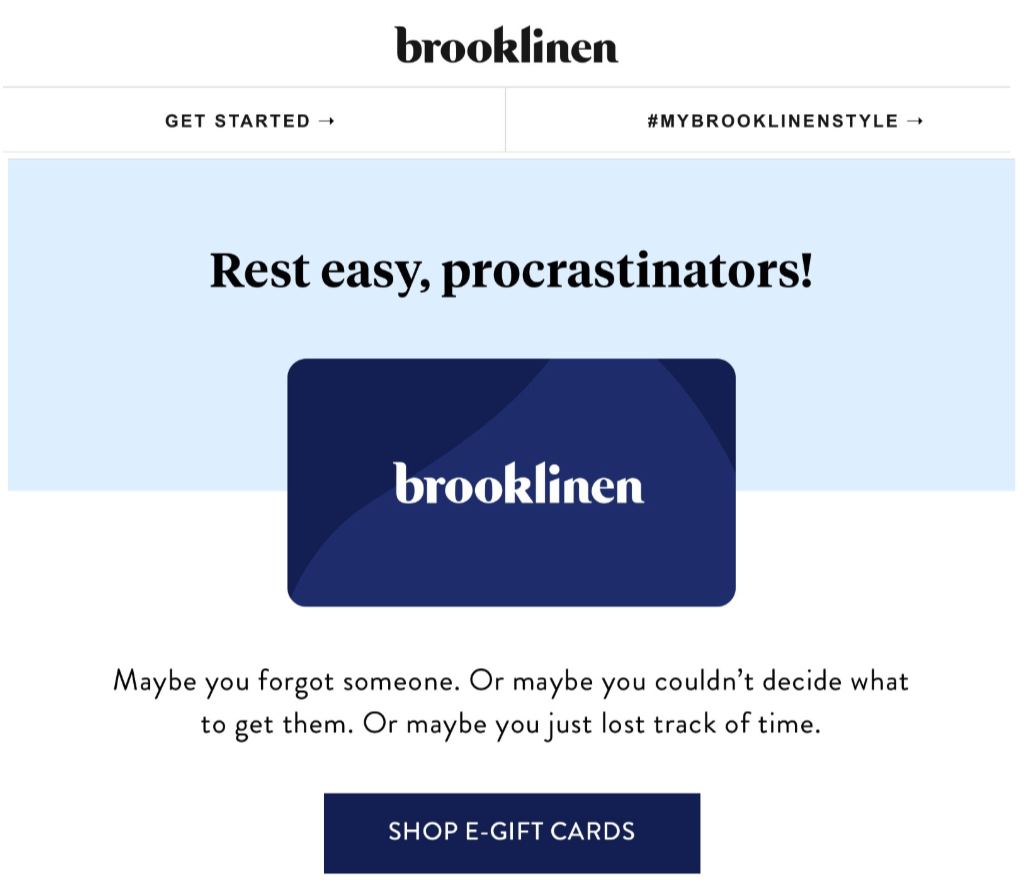 First, Brooklinen catches your attention by using the alert emoji and the word "procrastinator," in case you are one.
When you open the email, Brooklinen comforts you, similar to BarkBox. Instead of blaming you for being late, they even write down possible reasons why you haven't bought your presents yet.
And as a solution to your problem, they suggest you buy an e-gift card.
It's a simple email with a clear message, but it all comes down to how you approach last-minute shoppers in your copy.
6. Give More Options (Kate Spade)
While gift cards are the perfect option for late holiday shoppers, some companies find different ways to convert procrastinators.
Giving your stressed-out subscribers more options is one of those ways, and Kate Spade is well aware of that.
That's why, on Christmas Day, they send an email that looks like a holiday card, at first: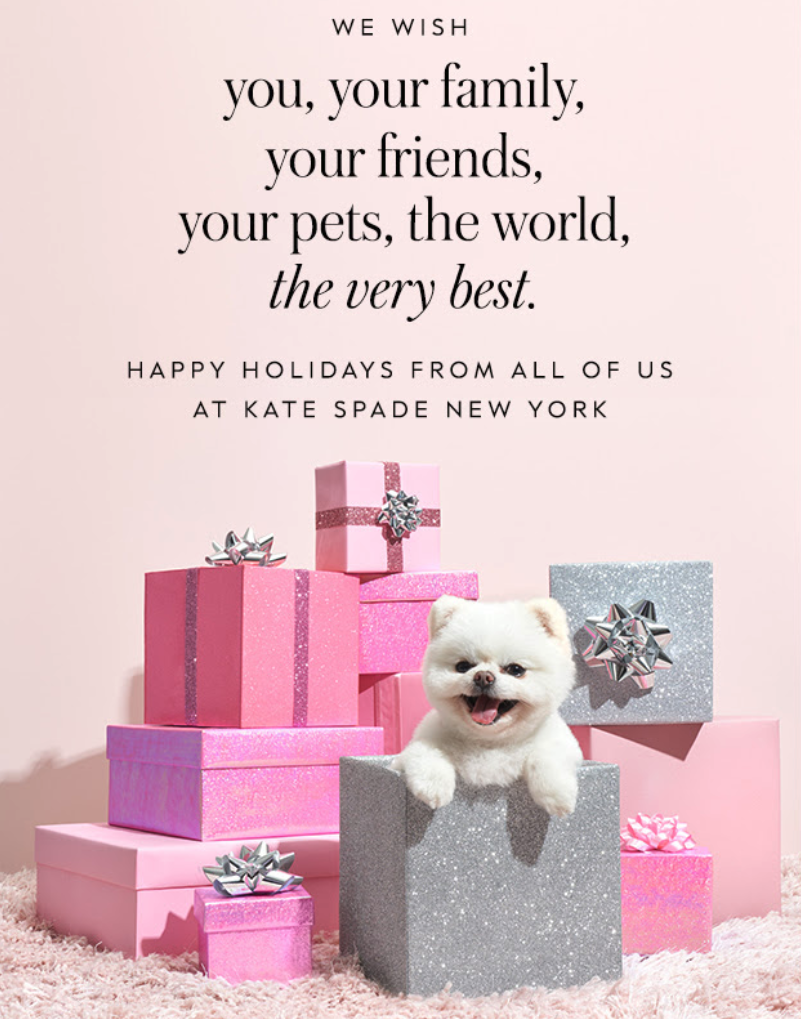 Once you read the company's holiday wishes and scroll down, you see this part of the email:
Going beyond gift cards, the company offers you three different ways to buy Christmas presents on Christmas Day.
If you're willing to go the extra mile to convert more of your procrastinating subscribers, you can invest in more options, as Kate Spade does.
Strategy #3: Know Your Holidays
Let's face it: If you're selling hardware online, Valentine's Day may not be your busiest marketing day.
While holidays are great excuses to appreciate subscribers and engage them with special campaigns, not all holidays will fit your brand.
Luckily, there are thousands of holidays you can celebrate all year round. All you need to do is find the ones that fit your niche and resonate with your customers.
Here are three brilliant examples of that.
7. Find a Reason to Celebrate (BarkBox)
Almost every brand runs Black Friday, Christmas, and New Year's campaigns. But once the holiday season is over, they run out of promotion ideas—unless they create their own holidays.
Celebrating the special days in your niche helps build better relations with customers and engage subscribers with relevant campaigns.
Just as BarkBox does: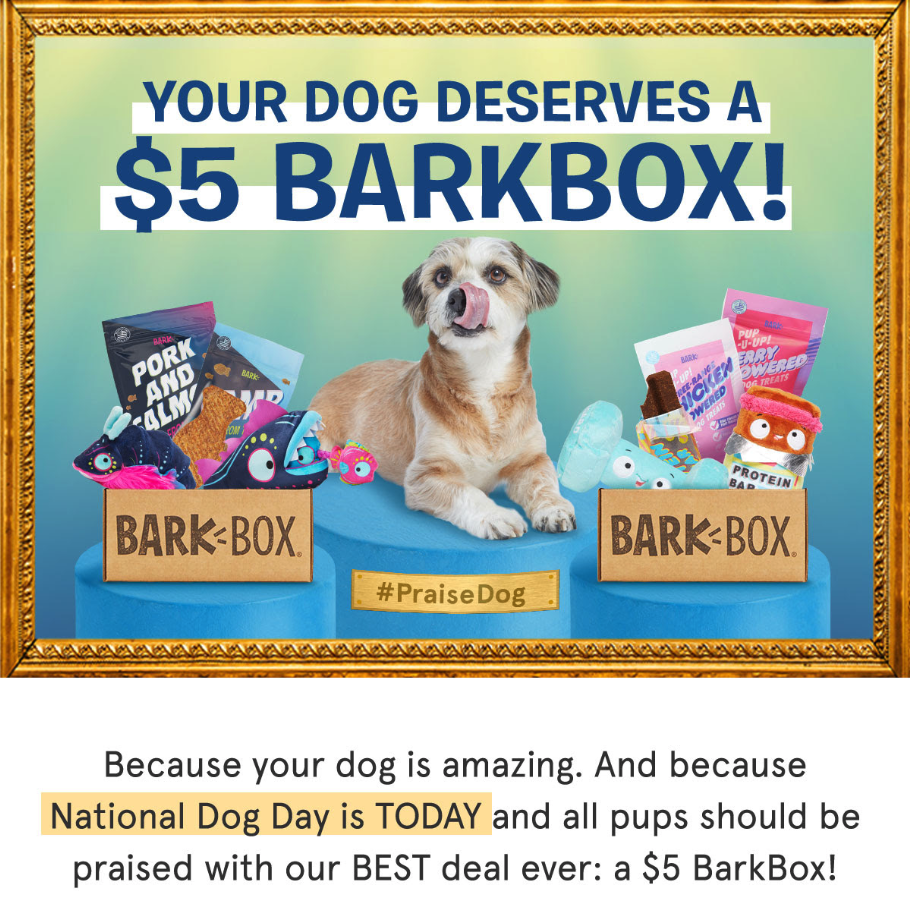 Given that BarkBox is a monthly subscription box for dogs, the choice of "National Dog Day" makes sense.
Going beyond a simple celebratory message, the company runs a special campaign for this day and reduces the price of its boxes to $5.
Known for their exceptional copywriting, BarkBox frames this email around praising your dog without coming across as salesy.
Their campaign isn't about the $5 subscription box anymore. It's about how your dog deserves a $5 box.
That's why they conclude the email with a hard-to-resist CTA button: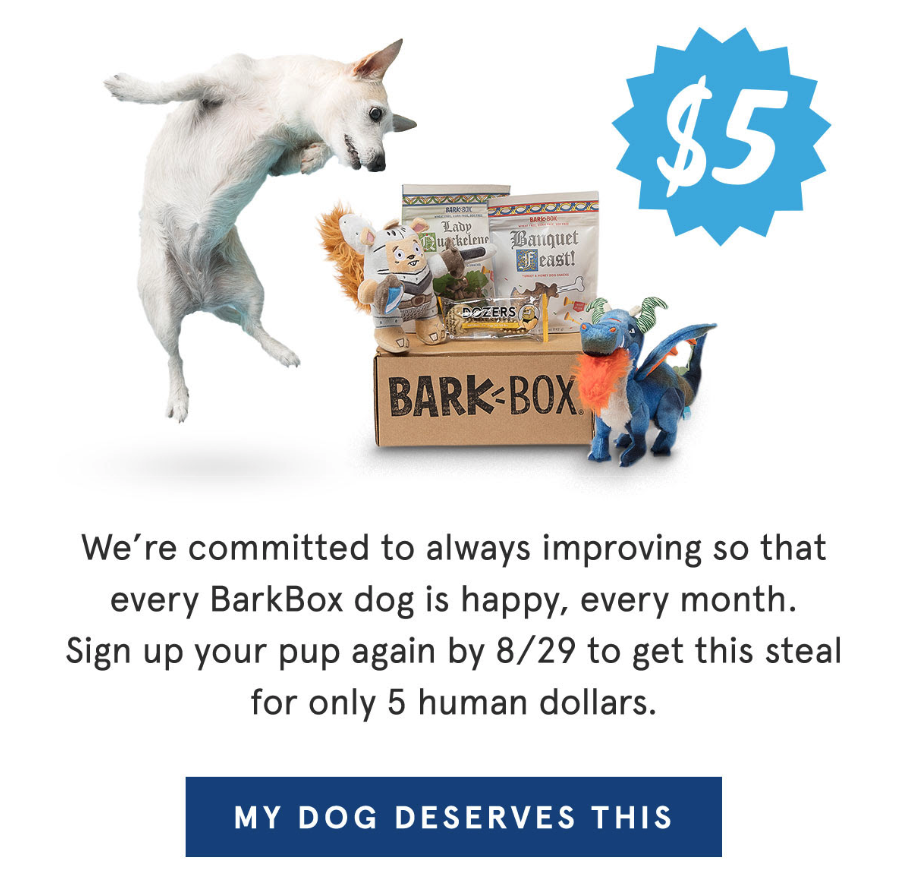 If you don't click this button, you would almost certainly feel guilty. After all, doesn't your dog deserve a $5 gift on National Dog Day?
8. Rebrand a Popular Holiday (Tattly)
You've heard of Halloween, but are you familiar with Tattlyween?
Tattly, the temporary tattoo retailer, is a company that knows how to have fun with their products. (Check out their 404 page if you haven't seen it yet.)
Halloween, in particular, is the perfect time for them to get creative while promoting their products.
Check this email they sent last year with the subject line "Tattlyween is back! 🎃":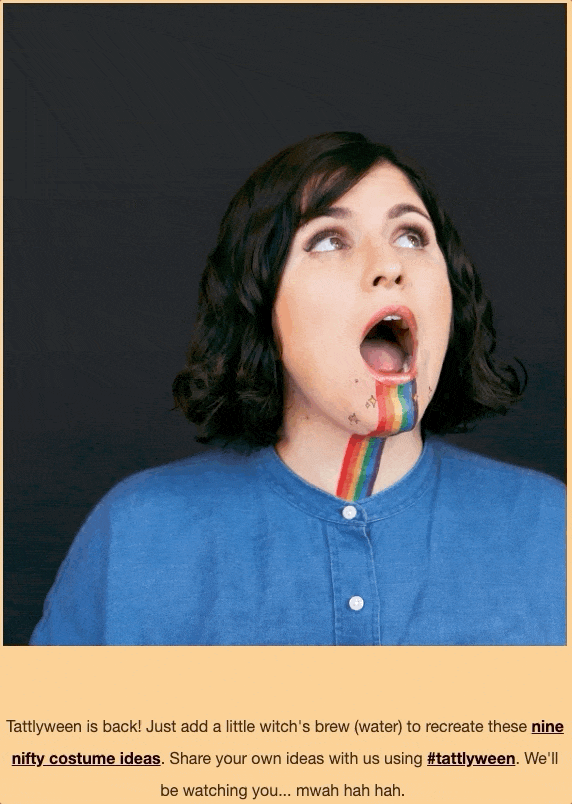 Although Tattly isn't a costume shop, they still come up with brilliant costume ideas you can recreate with their temporary tattoos.
Furthermore, the company invites its customers to use the hashtag "#tattlyween" and encourages user-generated content to later use in their marketing.
Finally, Tattly recommends their Halloween-themed products that are highly relevant for this season: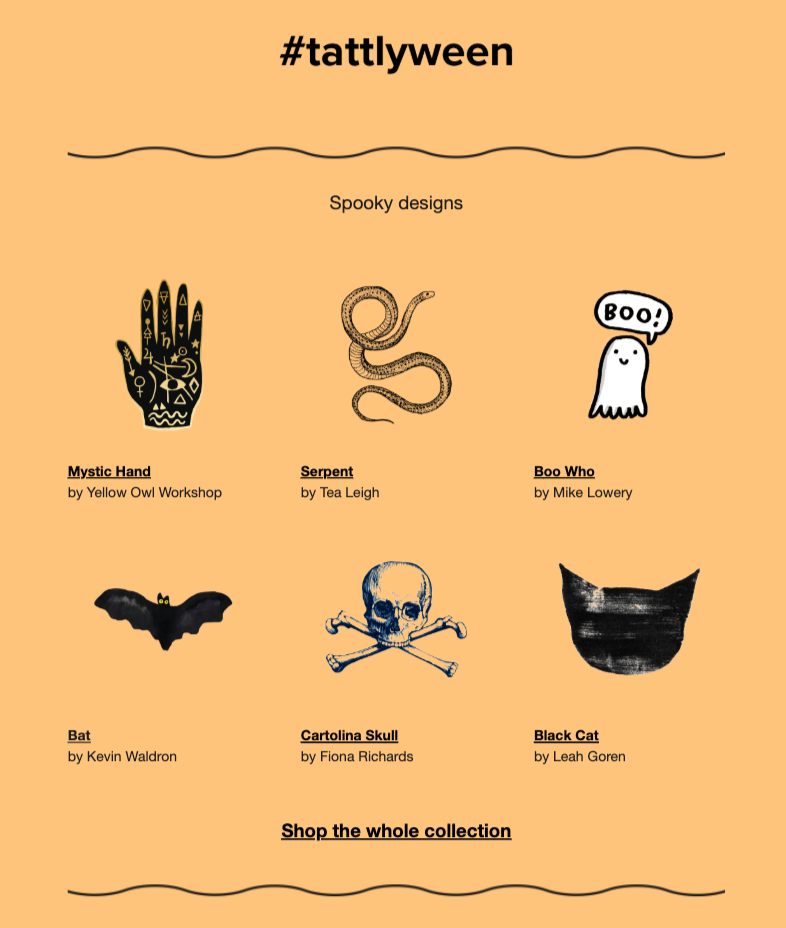 Tattly doesn't send a Halloween-themed email because everybody else is doing it. Instead, they own this holiday and rebrand it successfully.
Surely, it won't work for every brand and every holiday, but it proves that a little creativity goes a long way.
9. Know Your Season (Bombas)
Seasonal emails don't always have to cover holidays and celebrations.
Even if you're not celebrating any holiday, you likely know your peak times of the year.
If you're selling seasonal products online, such as Christmas trees, swimwear, or ski holidays, you need to own your season and make the most out of it.
Check this email Bombas sent me last November:

Bombas sells socks and they know that people wear socks (almost) all year round.
But they also know that a certain category of their products is a better fit for this season: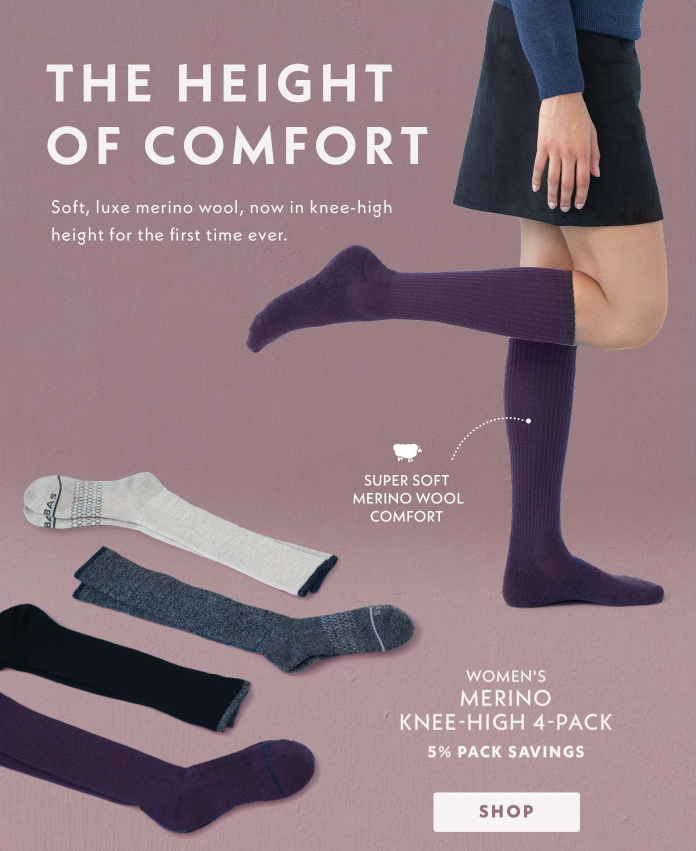 With winter around the corner, Bombas implements this thought in your mind: If you'll wear tall boots, you'll need tall socks.
And they immediately meet your demand by recommending their products as a solution: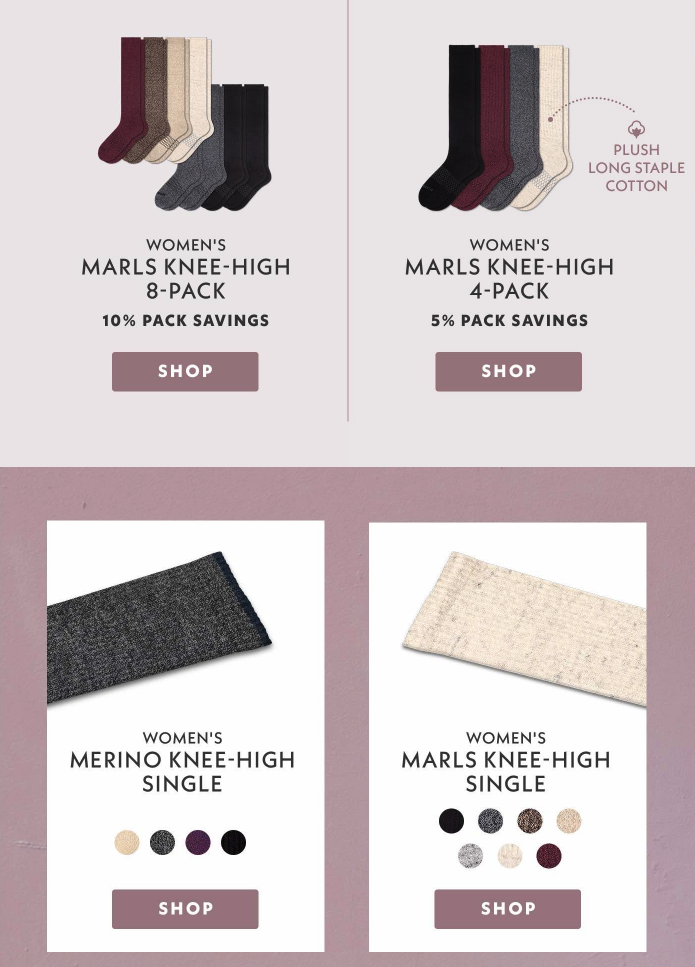 Notice how they categorize the items for your convenience, so you can start browsing from the section you're interested in.
Strategy #4: Stand Out with Your Subject Line
It's no secret that the holiday season is the busiest time of the year for marketers.
Unsurprisingly, your subscribers' holiday inboxes are as busy as your calendar.
While crafting the perfect subject line often takes more than a few ideas, here are three of them that'll inspire you this holiday season.
10. Use Emojis Cleverly (Dollar Shave Club)
While email marketers still debate over the effectiveness of emojis in subject lines, it's safe to say that, when used right, emojis help your emails get opened.
If you're looking for an alternative to the Christmas tree emoji that's overused during the holidays, then this strategy is for you.
One of the smartest emoji uses I've seen in the holiday season comes from Dollar Shave Club:

At first, this subject line may not mean a lot to you.
But you'll see how smart it is when you see the subject line in context:

While many brands compete over my attention during the holiday season, Dollar Shave Club beats them all with clever use of two simple emojis.
And here's the email that claims to put an end to your gift search process: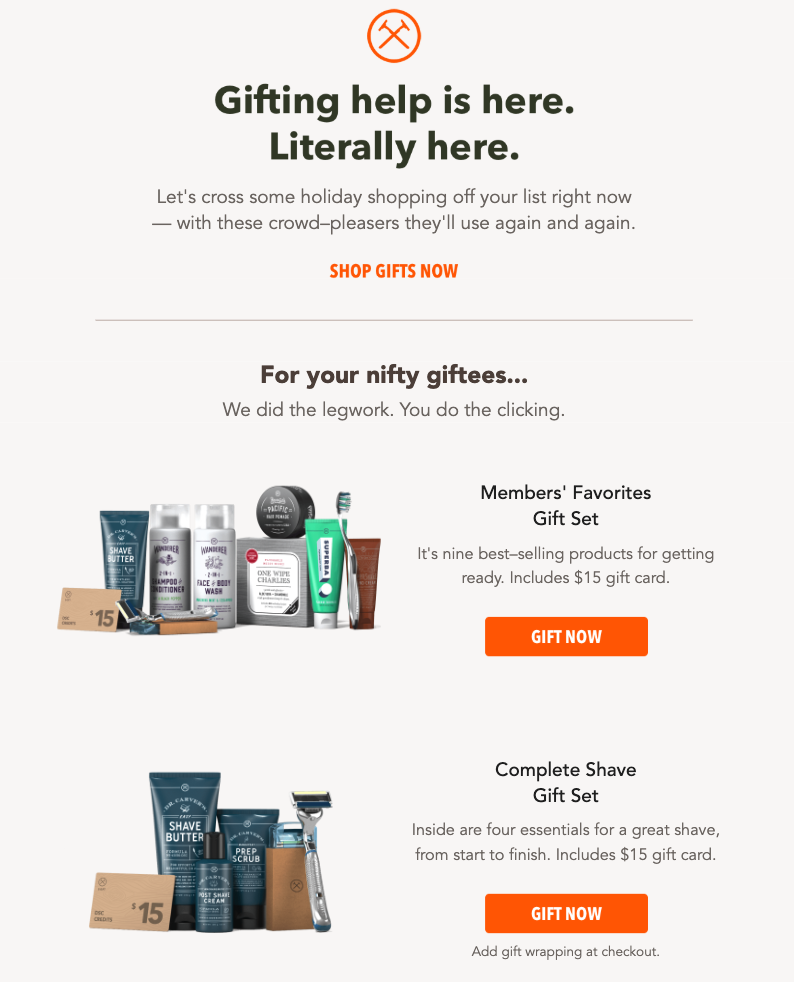 Following Strategy #1, Dollar Shave Club recommends several gift sets under different categories.
So, they not only make you want to open their email, but they also help you to click through to different options.
11. State the Obvious (Bean Box)
Although fancy words and big statements may sound tempting, consumers want to hear the truth.
If you want to stand out among embellished holiday subject lines, try being straightforward, like Bean Box does:

Mom can't drink flowers.
How can you disagree with this statement?
When you see this Mother's Day email in your inbox, you think that Bean Box has a valid point. Maybe you were considering buying your mom flowers, but now Bean Box makes you question your decision.
No matter what you're feeling, you'll likely end up opening the email, which looks like this: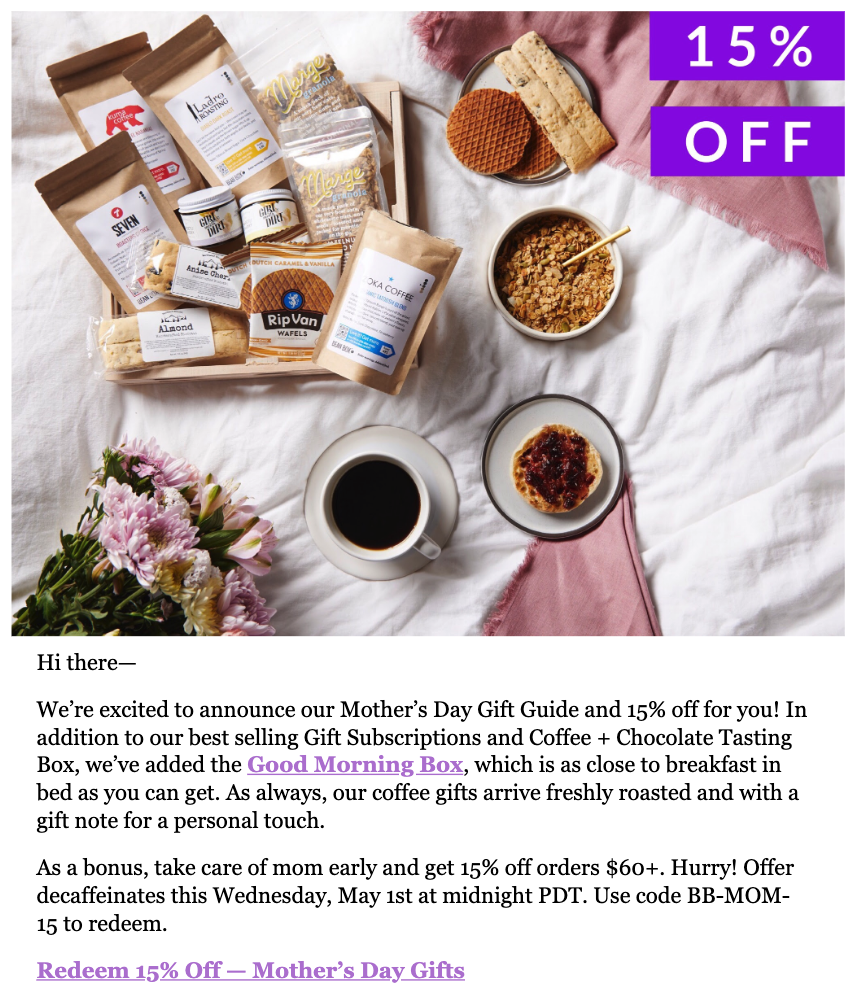 As one would expect, Bean Box recommends their products as an alternative to flowers on Mother's Day.
It's a simple subject line that states the obvious, and it does the job.
12. Tell the Impossible (Chubbies)
While stating the facts is one approach to standing out, saying something unconventional is another.
Challenge your subscribers' ideas and they'll be inclined to open your email to see what you're talking about.
Take a look at this example by Chubbies: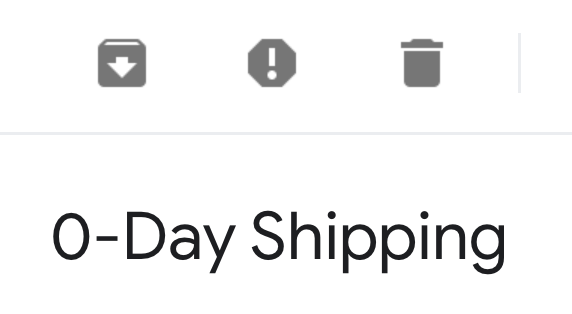 While same-day delivery is far from a dream for e-commerce giants like Amazon, getting it from Chubbies on December 23rd sounds too good to be true.
However, it's not the offer itself that's making this subject line stand out, it's how Chubbies frames it as something impossible by saying "0-Day Shipping."
Naturally, you get curious and open the email to see what they mean by 0-day shipping: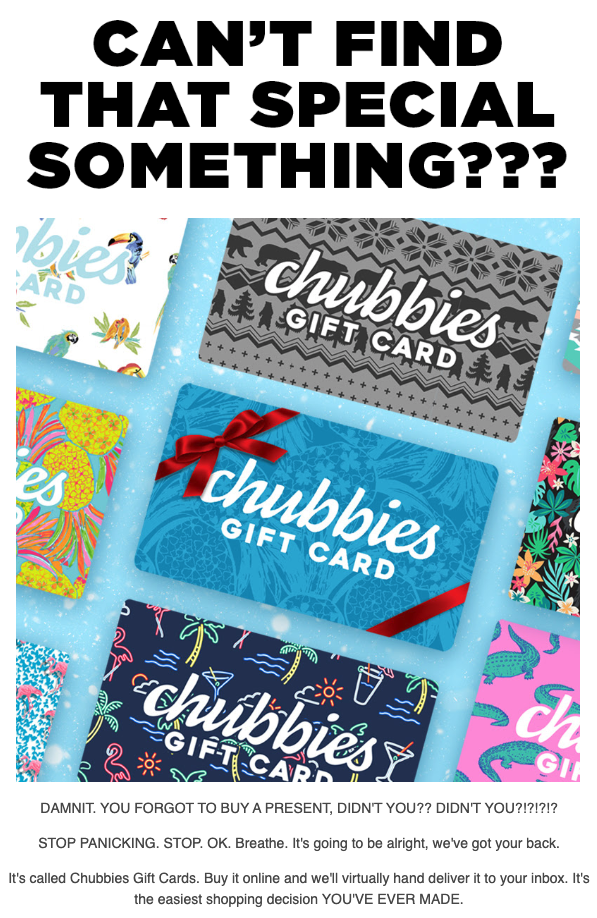 Following Strategy #2, Chubbies suggests you buy a gift card, in case you can't find the perfect gift.
The best part? Chubbies wasn't lying. Gift cards do come with 0-day shipping.
Editor's Note
Schedule last-minute emails in advance
Make sure to schedule your last-minute emails ahead of time according to your holiday shipping deadlines.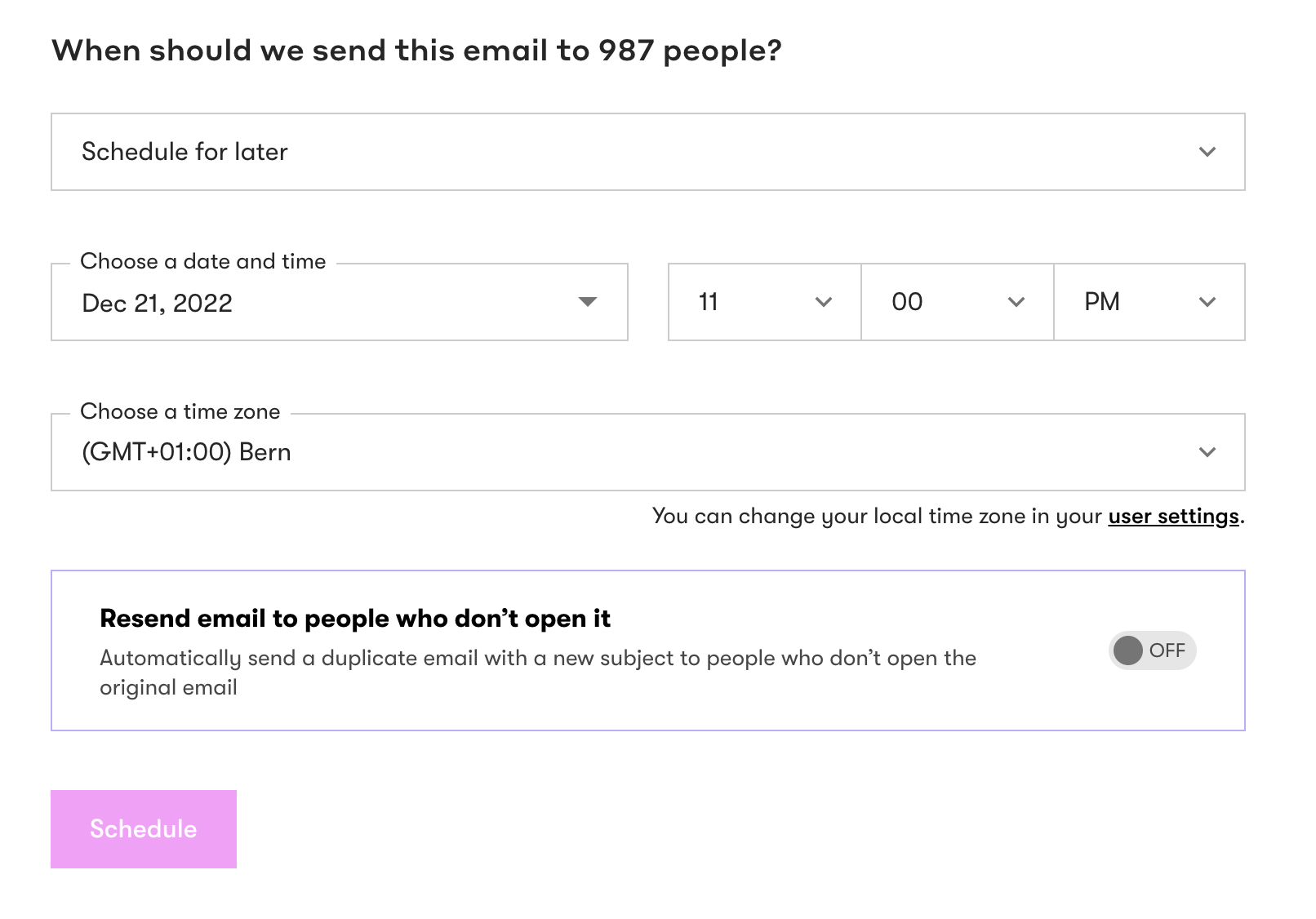 Seray Keskin
Product Marketing Manager, Drip
Strategy #5: Drive Urgency and Scarcity
We talk a lot about urgency and scarcity on our blog, namely here, here, and here, simply because they're effective tools to convert prospects into customers.
The holiday season is the perfect time to use these persuasion triggers because your campaigns are already bound by time limits.
Here are two ways you can drive urgency and scarcity in this season with highly relevant offers.
Whether it's a discount code, a freebie, or free shipping you're offering, you can add a time limit to increase its attractiveness.
Incorporating this strategy into seasonal emails, Vinomofo sends this email to their subscribers on Halloween: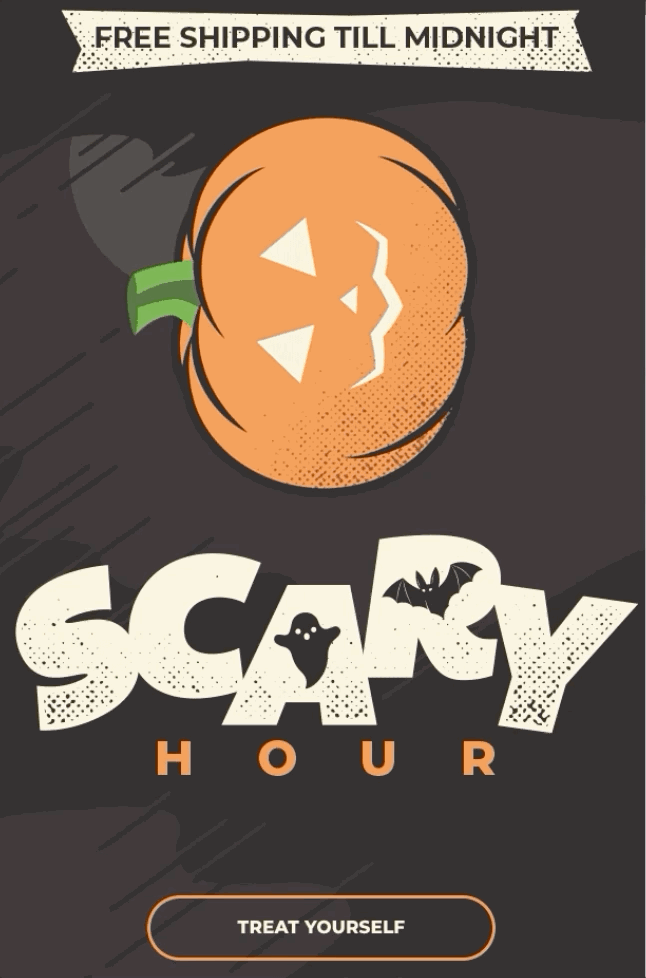 Sent with the personalized subject line "You should be scared, Seray. Free shipping ends midnight! 👻", Vinomofo successfully uses the Halloween theme in this email's design and copy.
It's a smart way to incorporate festivity into your limited-time holiday offers and to drive urgency without overwhelming your subscribers.
14. Promote Your Scarcity-Driven Sale (Poo~Pourri)
Known for their humorous tone, Poo~Pourri, on the other hand, uses Halloween to frame their scarcity-infused clearance sale.
Sent with the subject line "RIP sale 👻 (no tricks, just treats)", the company announces that they're running a sale for their soon-to-be-discontinued products: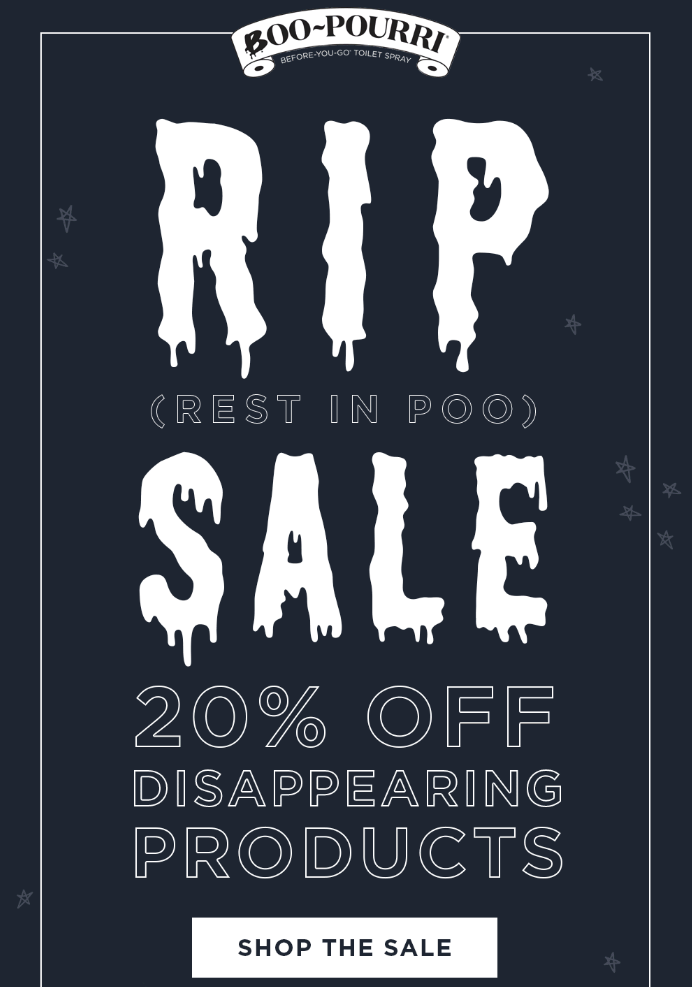 While doing that, Poo~Pourri uses Halloween-themed design elements and copy to make their campaign fit the season.
In the bottom part of the email, they explain why you should click through and shop the sale: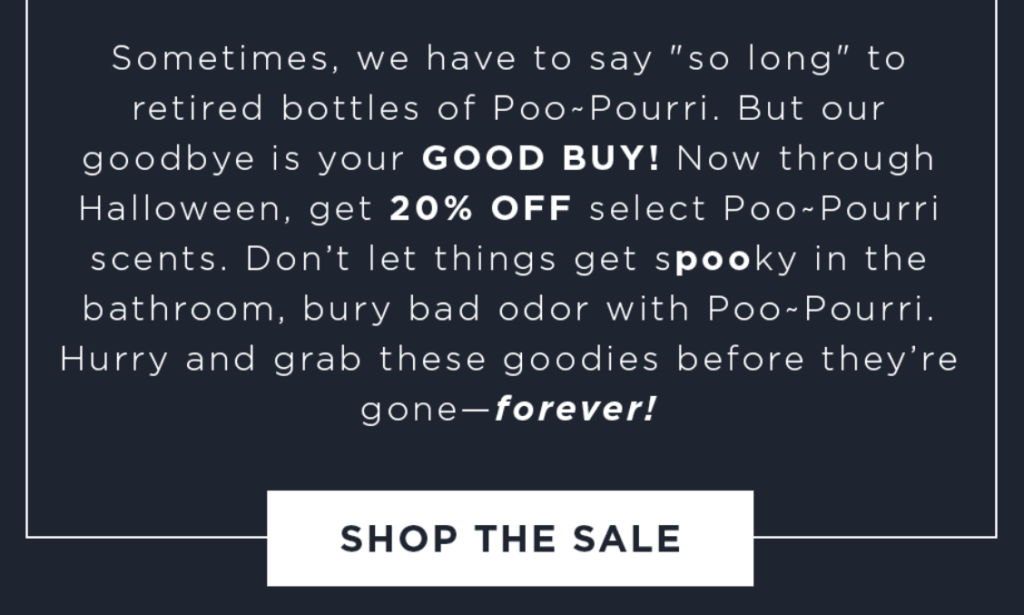 By explaining that some of their products will soon be gone forever, Poo~Pourri highlights scarcity and adds credibility to it.
Plus, they smartly use the holiday season to frame their sale.
Bonus Strategy: Make It Personal
Most seasonal emails look the same: A celebratory message followed by a discount code and a link to product pages. But some brands go above and beyond to personalize their emails.
Death Wish Coffee is one of those brands. Check this email they send on Mother's Day: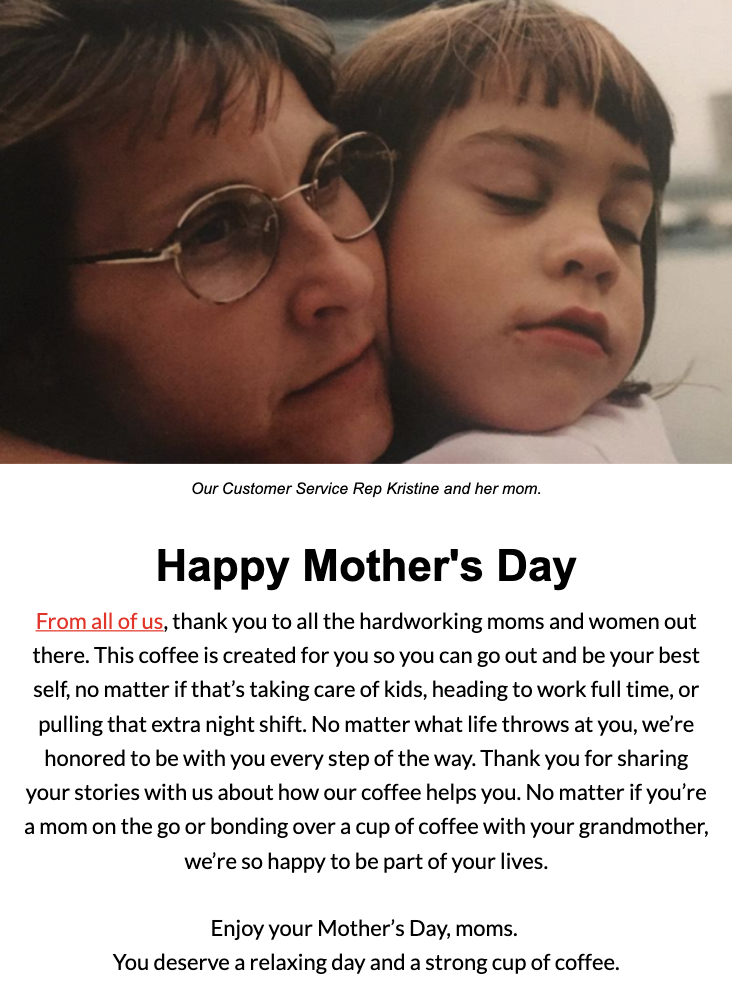 The email starts with a childhood picture of one of their employees and her mom and continues with a heartfelt Mother's Day message.
And as you scroll down, you see testimonials that contain customers' anecdotes about their mothers and the company's products: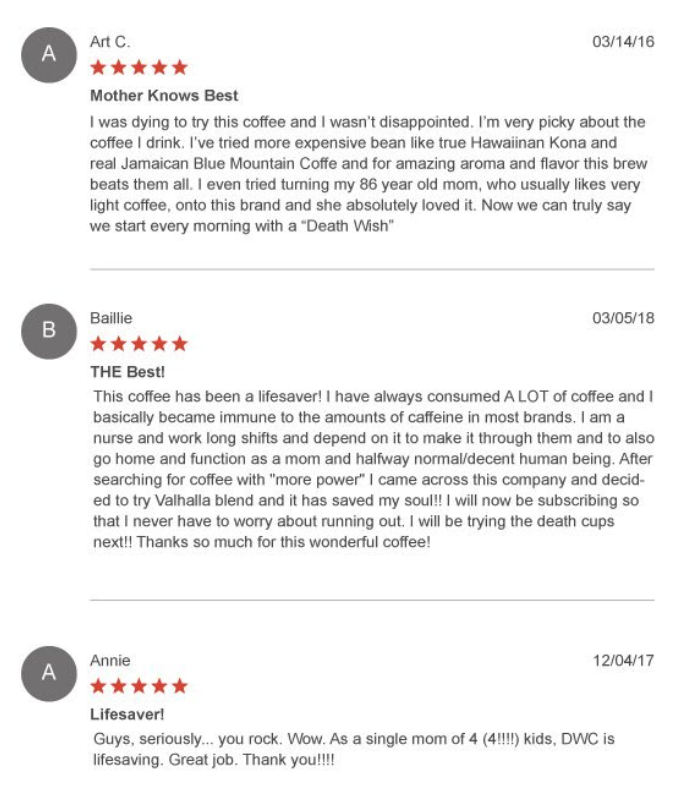 This email has no CTA buttons and it doesn't try to sell you anything. But it leaves you with a positive image of the company and keeps the brand top-of-mind.
Bonus Strategy: Be Mindful
Holidays are jolly times, but not for all of us.
Chubbies is aware of this. That's why, a week before Mother's Day, they send a short email that is far from the company's typical humorous style: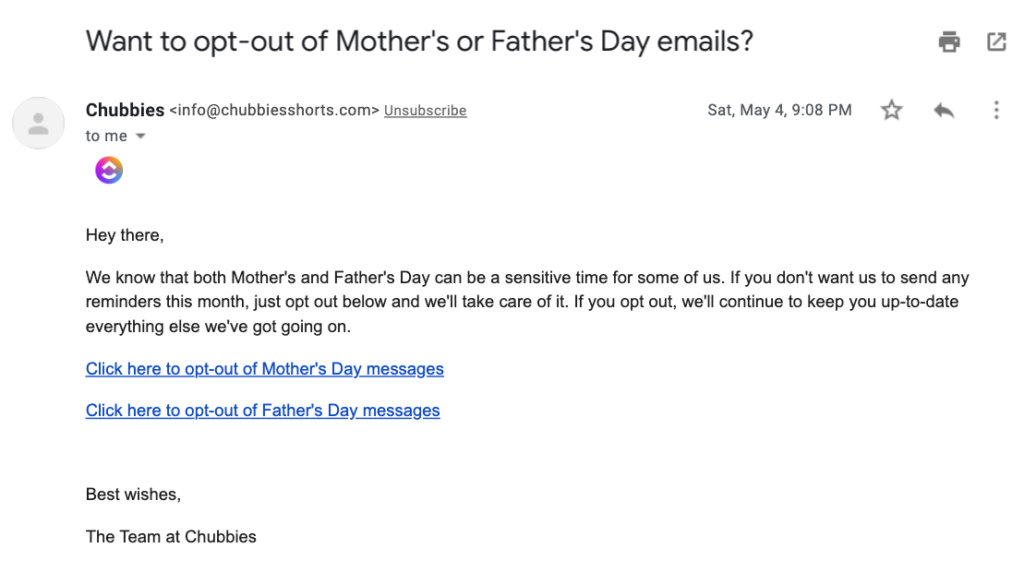 Knowing that these are sensitive times for some of their subscribers, Chubbies asks if you want to opt out of their Mother's Day and Father's Day emails.
It's a simple gesture, but it reminds us why some brands are so unique.
Conclusion
Holiday email marketing doesn't have to be about pumpkins and mistletoes.
No matter which holiday you're celebrating, there's always something you can do that'll give you a head start in the competition.
Take inspiration from these 16 best holiday email examples while crafting your next holiday email campaign and find out what works best for you.