Winter isn't for everyone. Some associate it with short, dark, and cold days; others focus on staying in and getting cozy. For e-tailers, however, it's a whole other story.
Although post-Christmas months are generally calm and still in terms of sales, not every online store is struggling. With the ecommerce holidays, you'll have plenty of opportunities to reach out to your customers.
Smart ecommerce marketers use the winter season to their advantage and engage their subscribers with well-written winter emails. To help you do the same, I've collected 11 of the best winter email examples I've seen this winter season.
Whether you want to promote your winter sales or seasonal products, these inspiring emails will help you get over the winter slump and increase your profits throughout the winter months.
Table of Contents
Part 1: Winter Sale Emails
Whether you're selling ski boots or swimwear, seasonal sales work for any business. While the former can benefit from a typical winter sale, the latter can easily leverage the winter season by re-engaging dormant customers with a stock clearance sale.
And no matter what type you choose, email marketing is, undoubtedly, the best channel to drive winter sales, and here are three e-tailers doing it right.
1. Abercrombie & Fitch
While many brands announce their winter sales with an ordinary promotional email garnished with ice and snowflakes, a handful of e-tailers add the "winter" to their sales.
Abercrombie & Fitch does that successfully by implementing the coziness theme in their sale email. Sent with the subject line "Evening forecast: completely cozy," the company, first, informs you about its winter sale in the email header.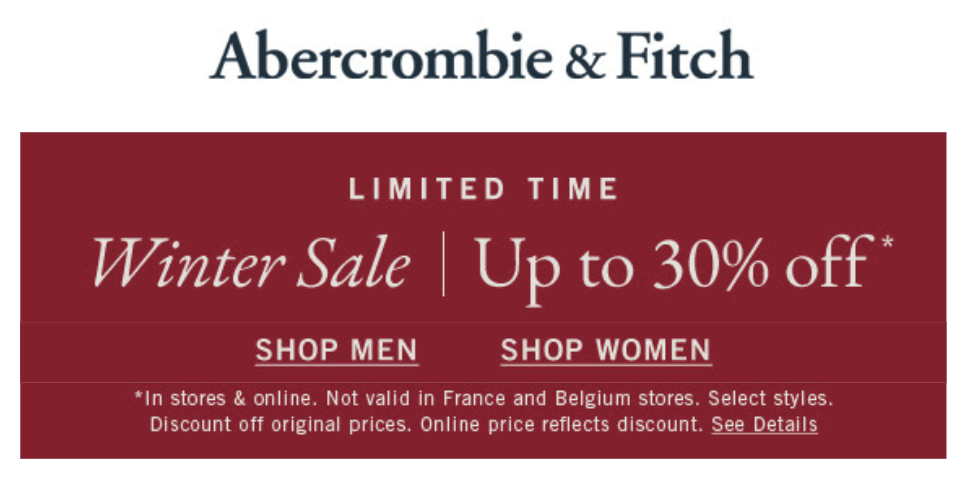 Rather than hard-selling, Abercrombie & Fitch focuses on coziness and staying in. They design their winter email in line with this theme and promote their highly relevant loungewear items.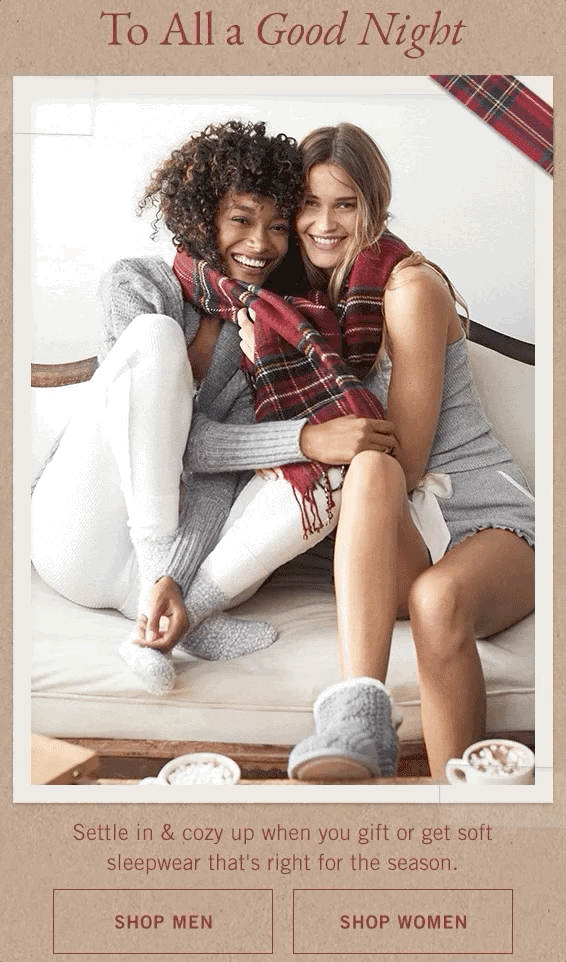 By using GIFs to portray different people and at-home scenes, the company evokes the feeling of comfort, while gently promoting its sleepwear line at the same time.
In the remainder of the email, the company recommends products from different categories, and cleverly uses GIFs to showcase more items in the email without taking up too much space: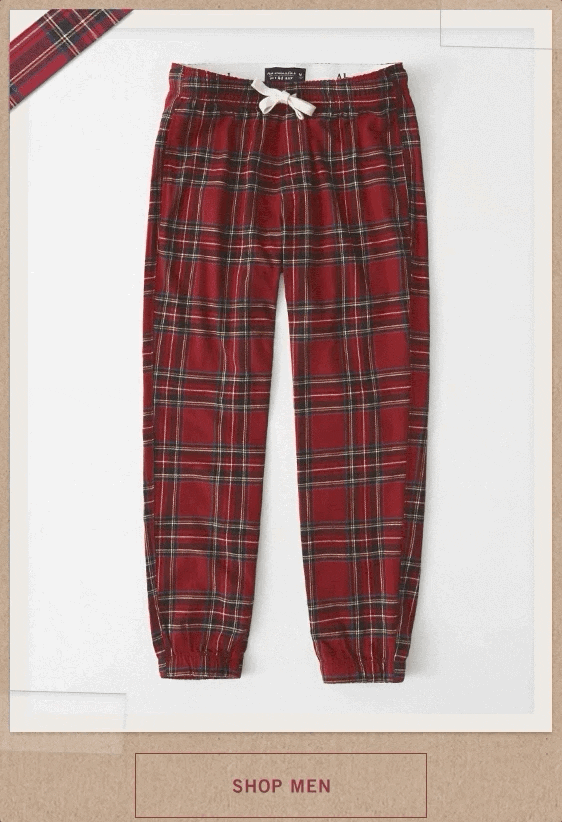 Three days later, they send an even simpler follow-up email with the subject line, "Too cold to go outside?":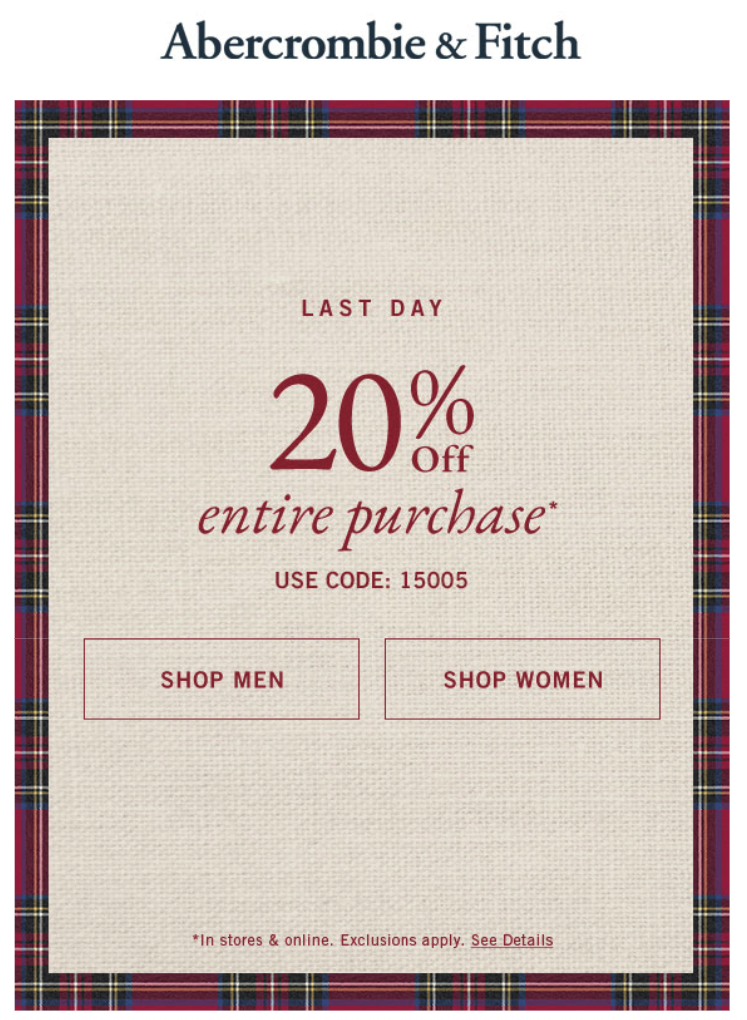 With it, the company maintains the same design pattern and drives urgency with the words "last day."
2. Banana Republic
While Abercrombie & Fitch invites you to check out their sale to get cozy, Banana Republic gives you another reason—and it's a compelling one.
With the subject line "40% off is happening now!" the company, first, grabs your attention by openly writing the discount amount and evoking immediacy with the word "now."
When you open the email, you learn the details of their winter sale:
With the pre-title "Cooler days ahead," Banana Republic gives you a valid reason to shop from its sale. And if that's not enough, the company makes its offer more attractive by featuring 400+ new arrivals.
What's more, Banana Republic recommends products in the rest of the email with the headline "Cozy up with new arrivals":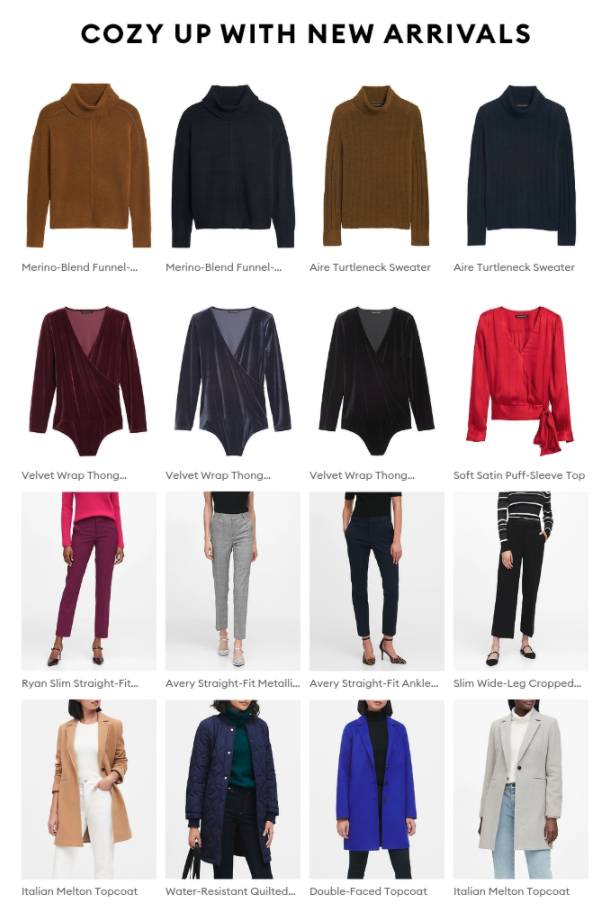 Although their products aren't particularly cozy (unlike Abercrombie & Fitch's sleepwear), the company displays products from its winter line and suggests you get prepared for the cooler days ahead.
3. Old Navy
While there are several ways to get your emails noticed in customers' inboxes, an effective tactic to create salience is to write unusually short or long email subject lines.
Old Navy knows this well, and that's why they use a long subject line to promote their winter sale:

Similar to Banana Republic, the company openly writes the discount amount and sets expectations about its sale campaign. When you open it, you see a long email in a newsletter format, where Old Navy promotes, first, its winter sale…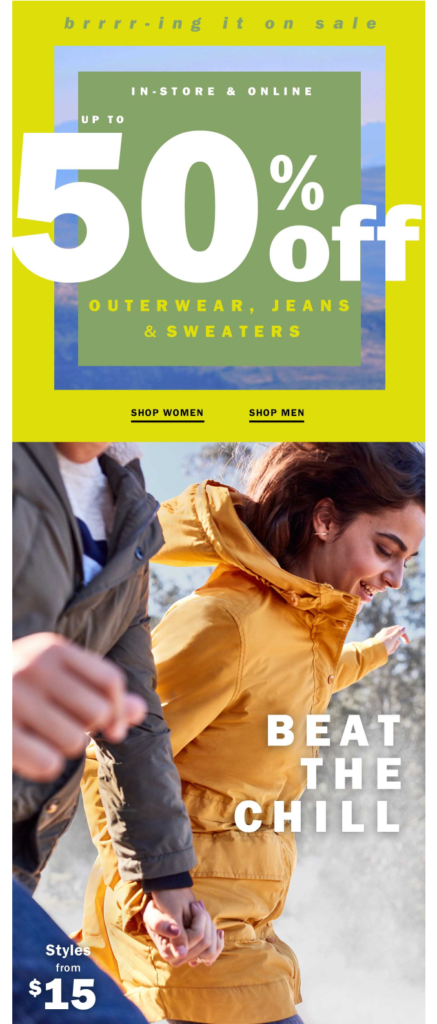 …as well as its clearance sale in the same email: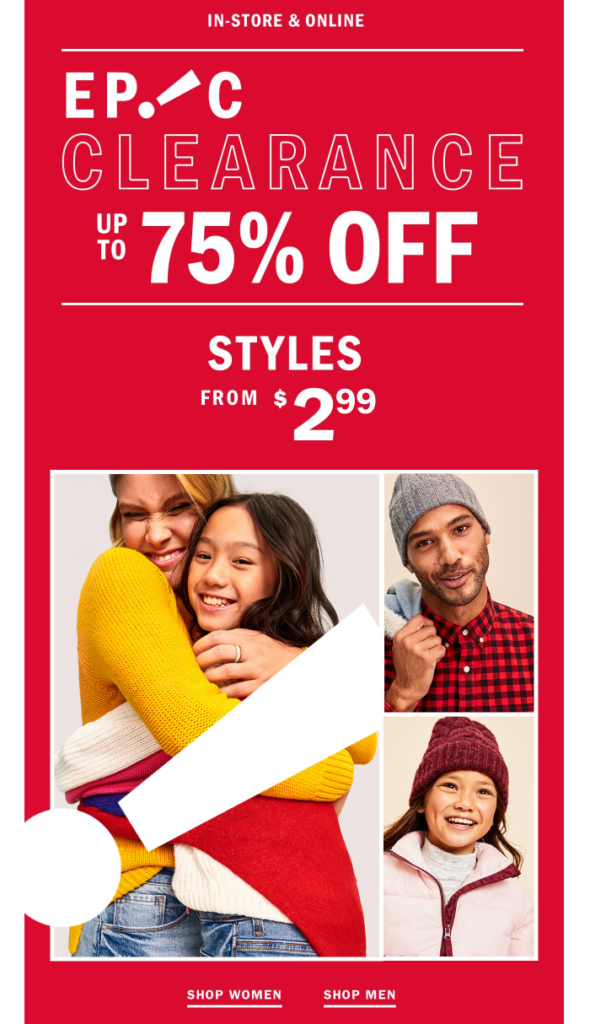 Although it's not necessarily a cozy, warm, typical winter email, Old Navy connects its sales to winter with the wordplay: "Brrrrr-ing it on sale."
Old Navy's winter sale email is an easy one to replicate, especially if you're selling adventure gear or sportswear.
If you're offering a wide range of products in your store, you can also try combining two sales in one email while you already got your subscribers' attention.
Part 2: Seasonal Product Promotion
Winter is an excellent time to take advantage of seasonal promotions. There's a holiday in nearly every month that you (and your shoppers) can use as a great excuse for deals.
Obviously, the holidays are a great time for discounts and themed sales — but don't forget January, which is a classic time for great New Year's promotions and discounts emails.
February newsletter ideas are easy, of course, with Valentine's Day and Black History Month to inspire you.
You don't always need to discount your products to sell more. But you should be promoting them throughout winter—especially if you're selling seasonal products.
Some products are directly and naturally related to winter, of course, so it's a no-brainer to frame them around the season. For others that aren't traditionally connected to the winter, though, there's still hope.
Simply build an association between your products and winter, and add a pinch of warmness and coziness. Here are four companies that do it well and how you can easily replicate them.
4. AllSaints
Coats, scarves, portable heaters, snow shovels, winter tires, Christmas trees…
While these are some of the products we can quickly associate with winter, AllSaints takes one in their niche and turns it into a winter must-have:

By asking, "Is it even winter without cashmere?" the company starts a conversation in your head and positions its cashmere line as an integral part of this season.
AllSaints, unsurprisingly, promotes its cashmere product category in this email as well: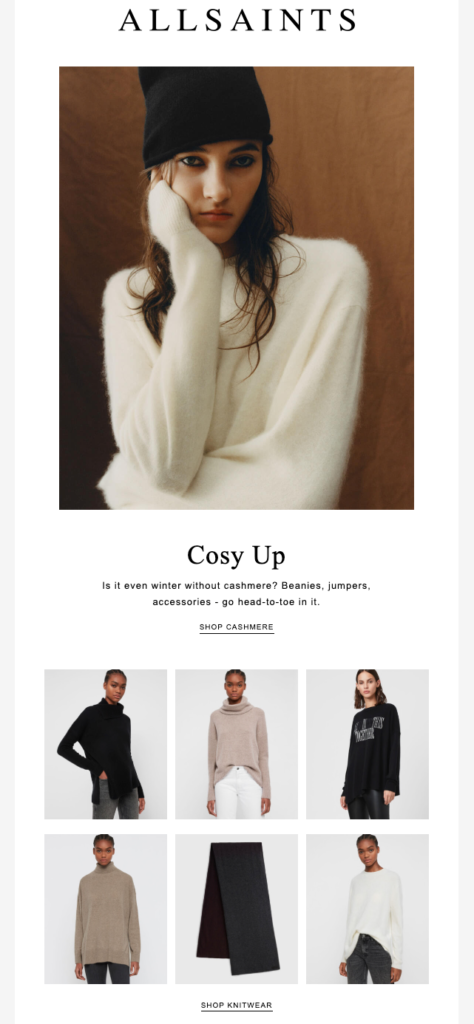 In line with the product they're promoting and the overall winter theme, AllSaints invites you to "cozy up" with its cashmere products.
It's a smart strategy to replicate, especially if your products aren't the first winter items that come to consumers' minds.
5. Forever 21
While curating winter products from a specific category, as in the above example, works just fine, brands like Forever 21 choose a different path.
Rather than collect random products in a newsletter, the company uses the power of social proof in its winter email. But first, take a look at their subject line:

Written in all caps with an emoji thrown in, Forever 21 builds salience with this almost-greedy subject line and stands out in your inbox.
When you open the email to learn more about the winter styles you need right now, this is what you see: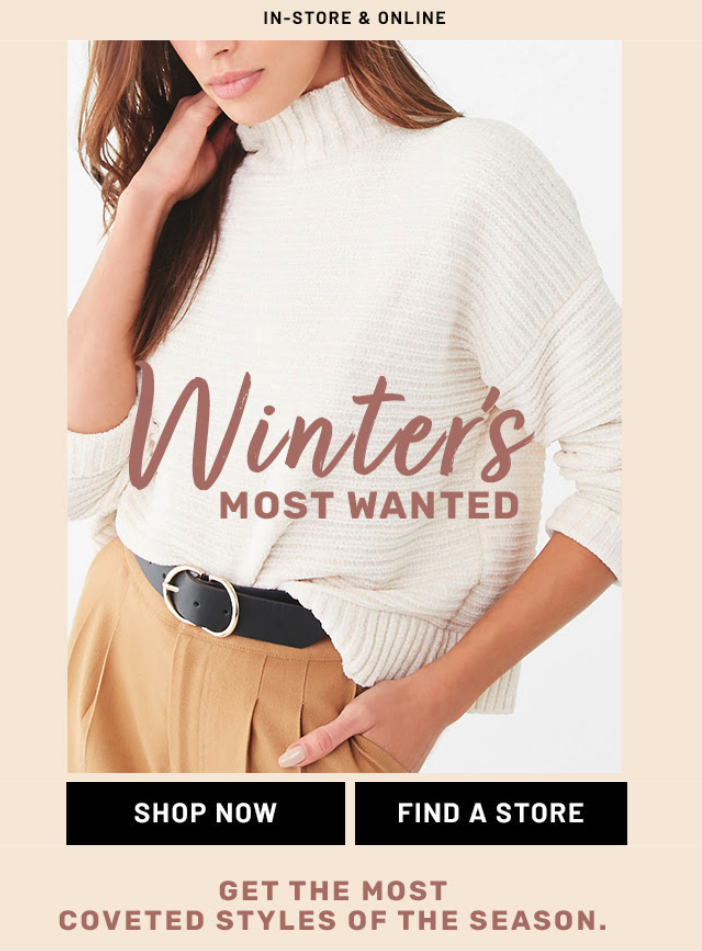 In it, Forever 21 brings its winter bestsellers together and adds social proof to them. What's more, by calling its products "most wanted" and "coveted," the company makes them even more attractive.
It's a smart strategy that almost any brand can use, especially in midwinter.
6. Elf Cosmetics
Winter can be hard on your hair, car, pet, or, basically, anything. If you're selling products that can solve customers' winter-related problems, make sure to use it in your winter emails—just like elf Cosmetics does:

Sent at the beginning of February, elf's subject line resembles a friendly reminder to take care of your skin against the adverse effects of winter.
In the email, the company simply promotes its nourishing product line (with a hint of social proof):
Although elf's products aren't necessarily attached to a specific season, they successfully find a way to connect them to winter in the form of a gentle reminder.
7. Lavish Alice
When it comes to seasonal product promotion, apparel stores have the obvious advantage of dividing their product lines based on seasons. Meaning, they know which products to promote each season.
Lavish Alice, however, isn't one of those stores. Despite being an apparel brand, Lavish Alice's going out dresses are hardly winter clothing. Yet, they find a clever twist in their winter emails:

Lavish Alice contrasts its products with your typical winter wardrobe full of dark colors and invites you to lighten it up with their products.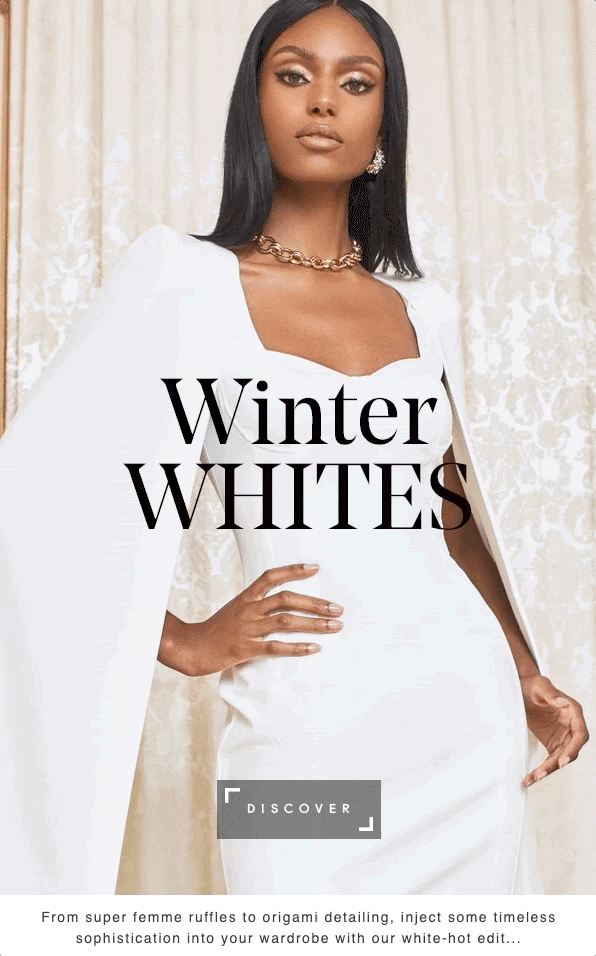 And in the email, they promote their white clothes (which isn't typically the most wintery color.) This way, Lavish Alice stands out among dark and warm apparel emails and lightens up your inbox.
It's a smart tactic to use if your products don't necessarily fit the winter theme.
Part 3: Anti-Winter Emails
One way to leverage winter is to promote your relevant products that fit well with the season, or that can help customers enjoy winter better.
Another way, which can work for almost any brand, is to take an anti-winter position. In other words, communicate how your products help customers combat the winter blues and bring some color back to their lives.
Here are four e-tailers that do this well.
8. Violet Grey
While many beauty companies claim to help with your skin issues brought on during winter, Violet Grey takes the opposite approach. In this email, they promise you the ultimate winter beauty hack:
Yet, unlike other companies, Violet Grey's solution isn't to use winter products.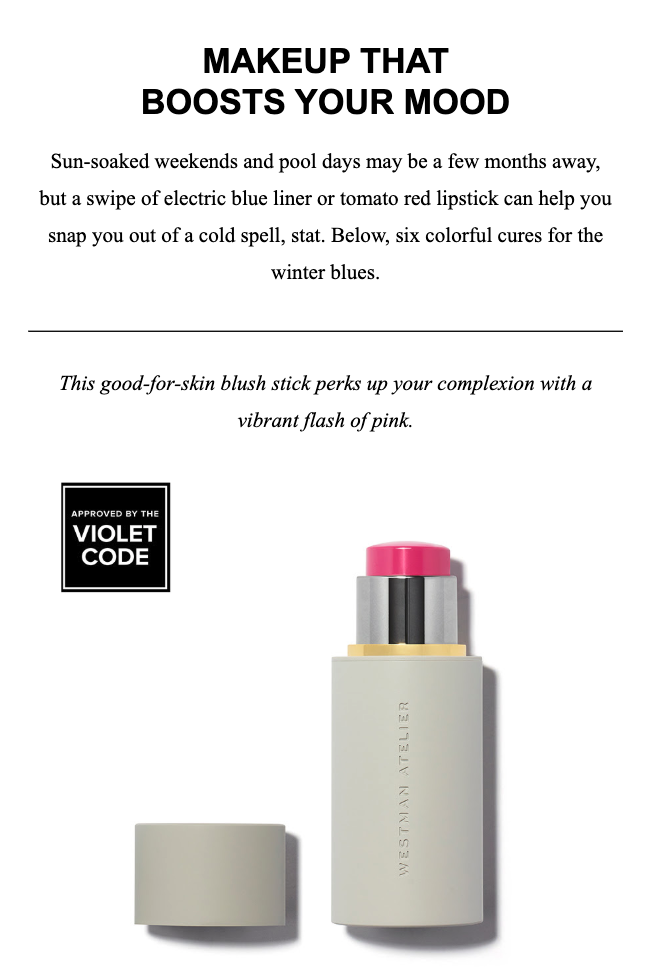 On the contrary, their solution to get through the winter is to use summery colors and products on your skin.
Violet Grey adds a twist to their winter emails by taking an anti-winter stance, recommending "colorful cures for the winter blues" and "makeup that boosts your mood."
It's a perfect example of how you can create demand for your summer products, even if it's not the "right season" for them.
9. J.Crew
Another company that wants to bring color to their subscribers' lives is J.Crew. Interestingly, they do this by showcasing their winter products—with a twist:

Similar to AllSaints, J.Crew sends an email to promote its cashmere line. Yet, unlike the former, J.Crew exclusively curates its colorful cashmere sweaters by calling them "winter pick-you-ups."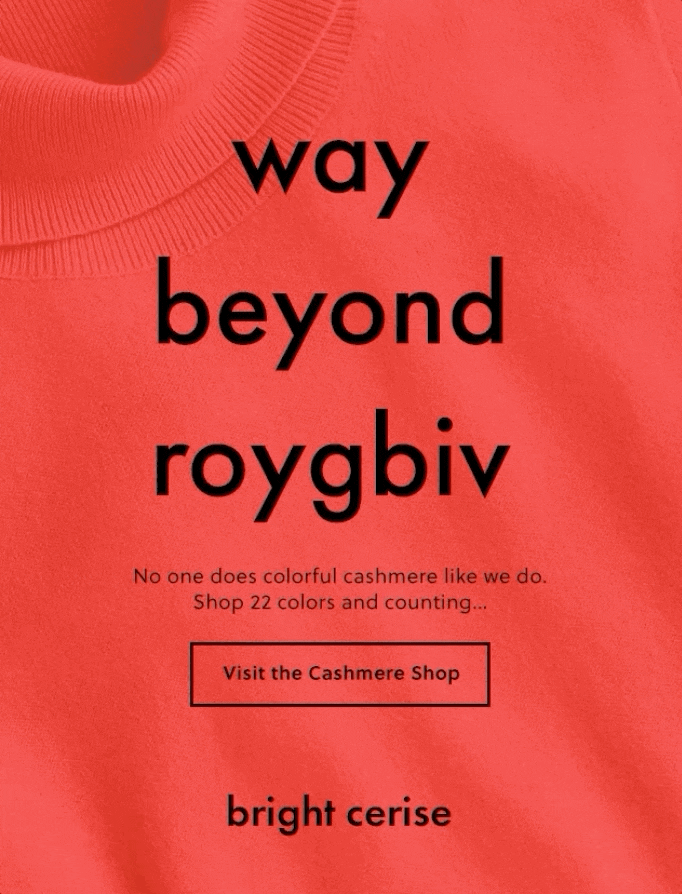 While J.Crew makes a bold move bringing cashmere and color together, you don't necessarily need to create a whole new product line to use this strategy.
Simply curate your less-wintery products in one email with the promise of bringing color to your customers' lives, and you too will stand out among dark, wintery newsletters.
10. Function of Beauty
If you claim to combat winter with your products, take inspiration from Function of Beauty, who takes an anti-winter position with great humor.

While their subject line looks like an ordinary promotional email, Function of Beauty surprises you with its fun email content: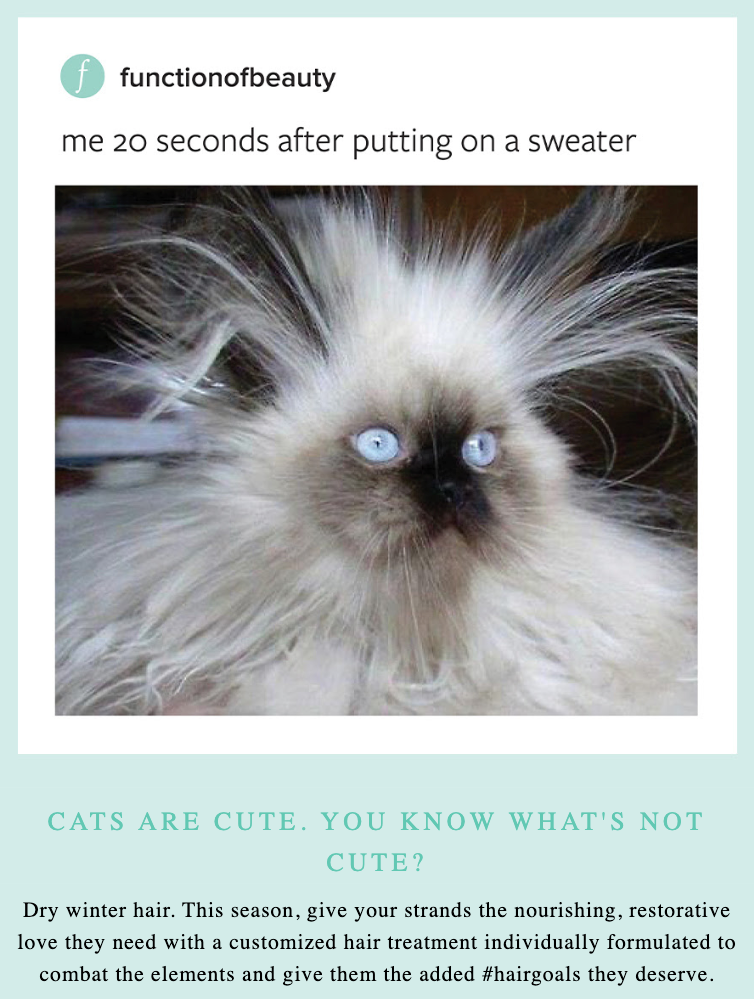 In this humorous email, Function of Beauty promises to combat three typical hair problems caused by the winter and offers specific solutions to each problem: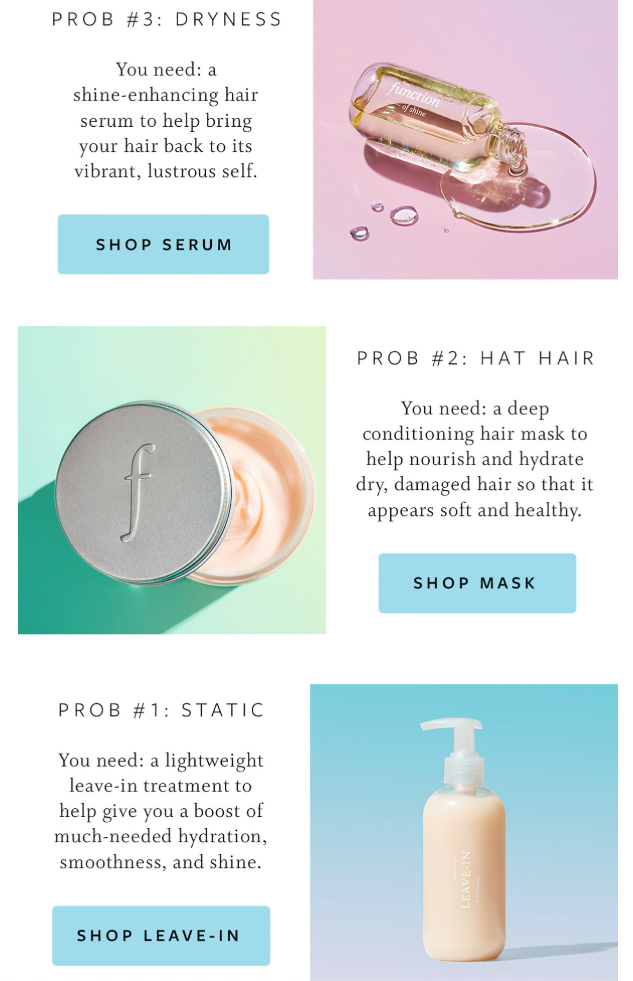 Although it doesn't carry the characteristics of a traditional winter email, this email cleverly positions the company's products as perfect solutions for the winter.
11. Bath & Body Works
Solving winter-related problems with your products is surely great, but customers can't feel their effects before using them.
If you want to spread some joy, and dissipate the dark winter clouds with your emails, take inspiration from Bath & Body Works. Even though they can't stop the winter for you, they can promise something just as good:

Bath & Body Works evokes your curiosity with an intriguing promise of ending the winter and makes you open the email almost immediately (especially if you've had enough of the winter.)
And when you open it, you find an extraordinary winter email: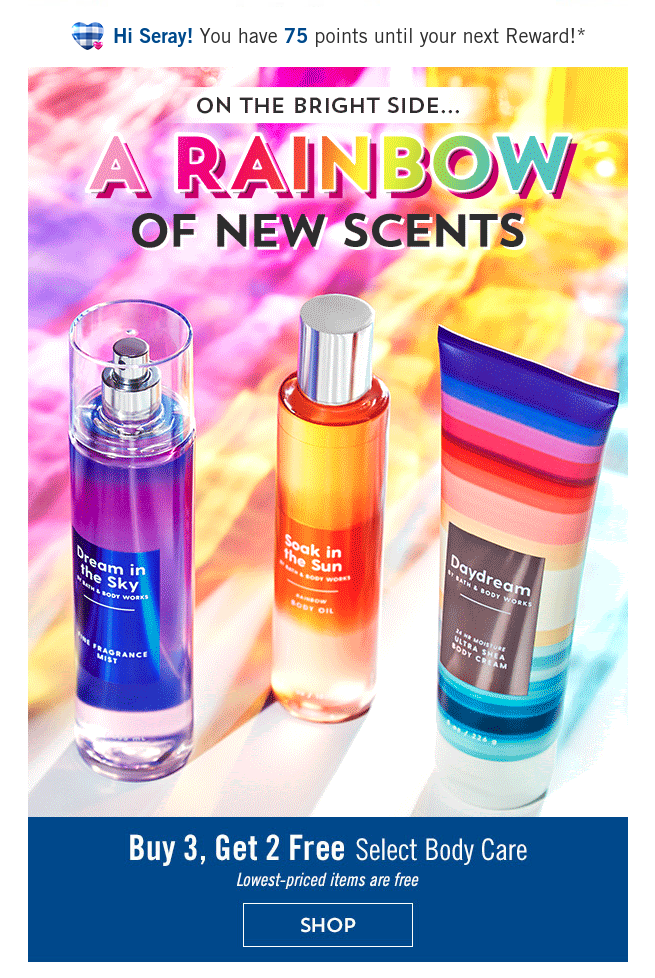 In it, Bath & Body Works goes all-in with colors. The company promotes its most colorful products in a long newsletter format and promises to bring you the spring: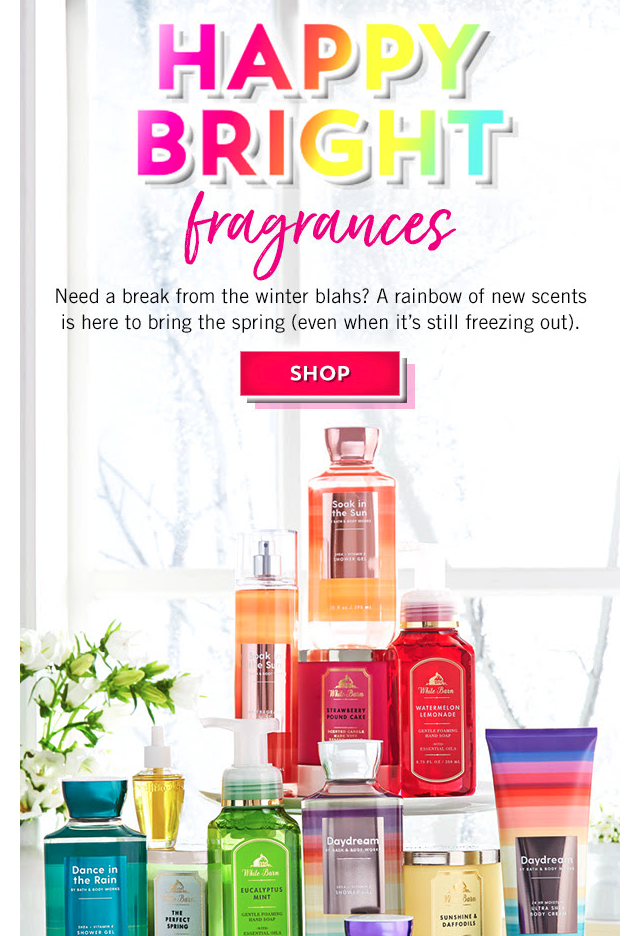 It's not an email you expect to get in the middle of January—and that's why Bath & Body Works' email sticks to your mind.
If you're tired of overused winter email templates (and long winters), bring the colors of the rainbow into your emails, as Bath & Body Works does.
Conclusion
If you've ever searched for winter email inspiration, you've likely seen the same email types with identical examples. While using winter patterns and themes in your emails is not bad; that wasn't what I wanted to share with you today.
I wanted to bring together 11 different examples of how you can write, design, and send winter emails that'll engage your subscribers—even if you're not an outerwear e-tailer.
Whether you want to promote your winter line, run a clearance sale for summer items, or send an early spring email that'll stand out in your subscribers' inboxes, you can take inspiration from these top brands.