The busiest shopping day of the year is around the corner.
According to the National Retail Federation, ecommerce holiday spending in last November and December exceeded $789 billion in the US only.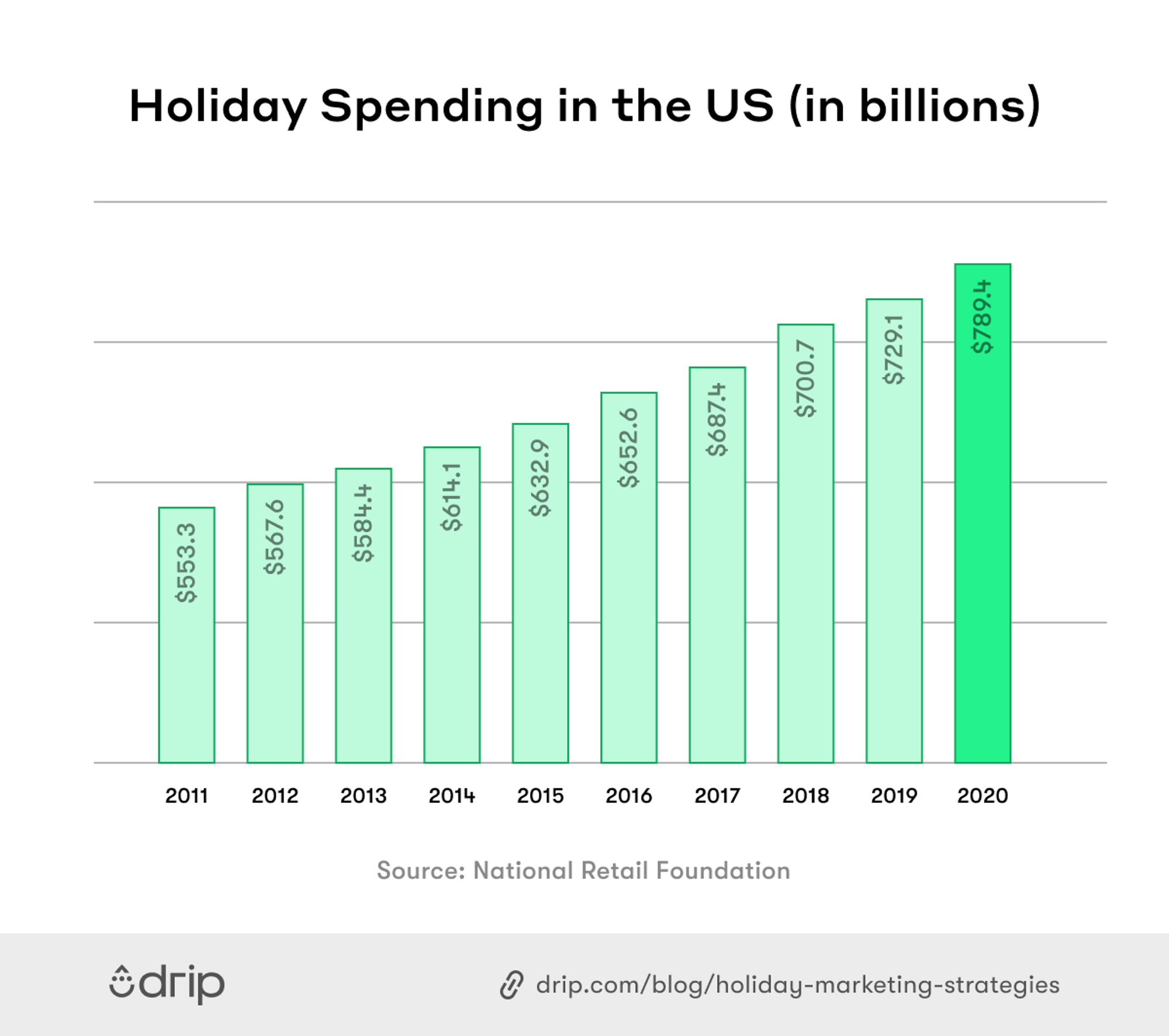 And this year, it's only expected to get busier.
In the aftermath of a global outbreak, more and more Black Friday shoppers now queue in virtual stores rather than physical stores.
This means a spike in online Black Friday traffic and a lot of potential revenue for e-commerce businesses of any size.
To help you get ready for Black Friday, I put together nine proven Black Friday marketing strategies you can use this year and beyond.
Black Friday Marketing Ideas
1. Build Your Black Friday Email List
I'm sure you know the effectiveness of email marketing in driving Black Friday sales. But for your email marketing to be fruitful, you need to grow your email list with subscribers that are interested in your upcoming offers.
A few weeks before the big shopping day, create an email popup targeting new visitors who are interested in your Black Friday deals, like in this example by Miinto: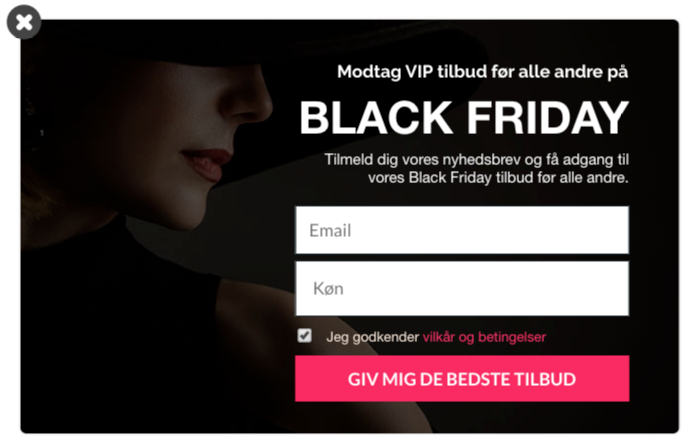 (Sign up for our newsletter and get access to our Black Friday offers before anyone else.)
Note the visual representation of exclusivity in the popup design and the benefit-driven call-to-action (CTA) button: "Give Me the Best Offers."
You can incentivize new signups even more by offering them an additional discount, free shipping, or a gift, depending on your budget: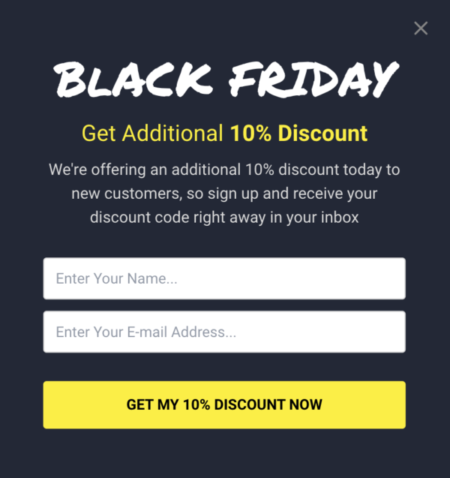 As Black Friday gets nearer, you can thank those subscribers with an extra discount or early access email, as Anthropologie does with the subject line "Early access is served."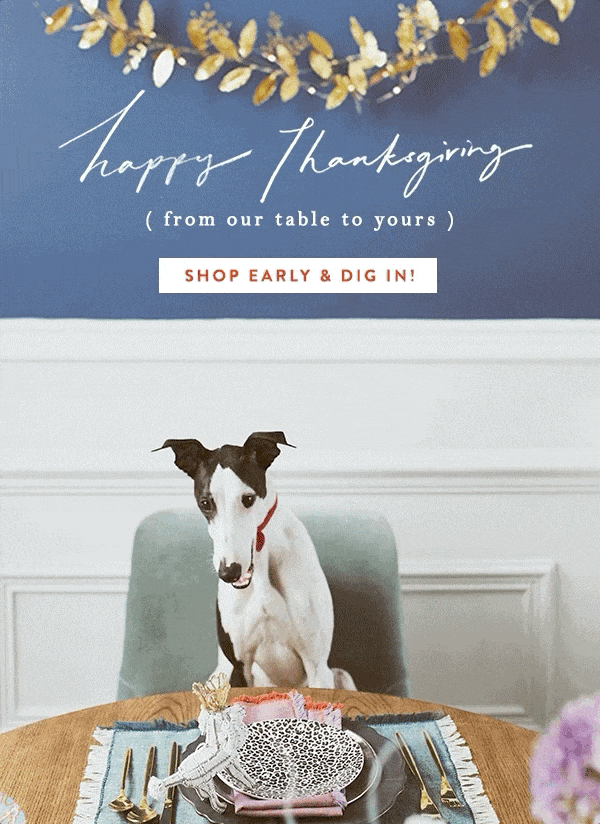 Leverage the time before Black Friday with an email popup and collect leads you can send promotional emails to—before, during, and after Black Friday.
2. Schedule Your Popups
If you're a reader of our blog, you've likely heard me say this twenty times, but I'll say it again: Popups are for more than collecting emails.
Whether you want to guide visitors to your best Black Friday offers, reduce cart abandonment, or give information about your delivery times, you can create a popup for each purpose and schedule them in advance.
Check this attention-grabbing popup example, where Amovens, the car-sharing service, informs visitors about its Black Friday offer: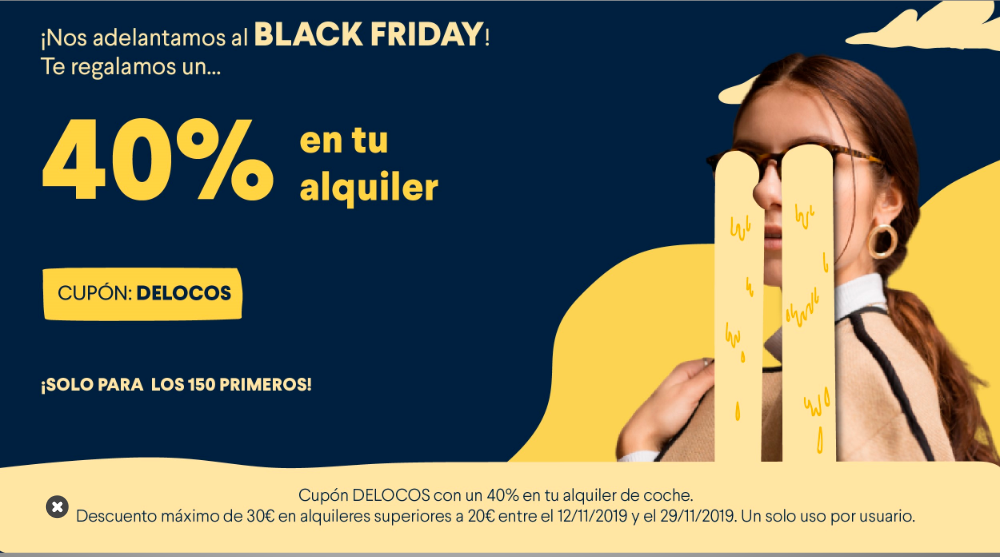 Shoppers have too many options and little patience on Black Friday. Make sure to convey your most important messages to the right people at the right time with multiple well-targeted popups.
3. Experiment with Timing

Thousands of online stores compete for prospects' attention on Black Friday. Unsurprisingly, consumers become numb during the shopping weekend after receiving the same type of marketing messages over and over again.
This year, try changing your timing—slightly or dramatically—so your messages don't get lost among a million other distractors.
How early or late should you be? That's up to you.
i. Act Early
Small or big—everyone's doing Black Friday.
Luckily, there are creative ways to catch your potential customers' attention before they are exhausted by e-commerce giants' Black Friday messages.
Acting early is one way of doing this and Wool and the Gang knows this strategy better than anyone: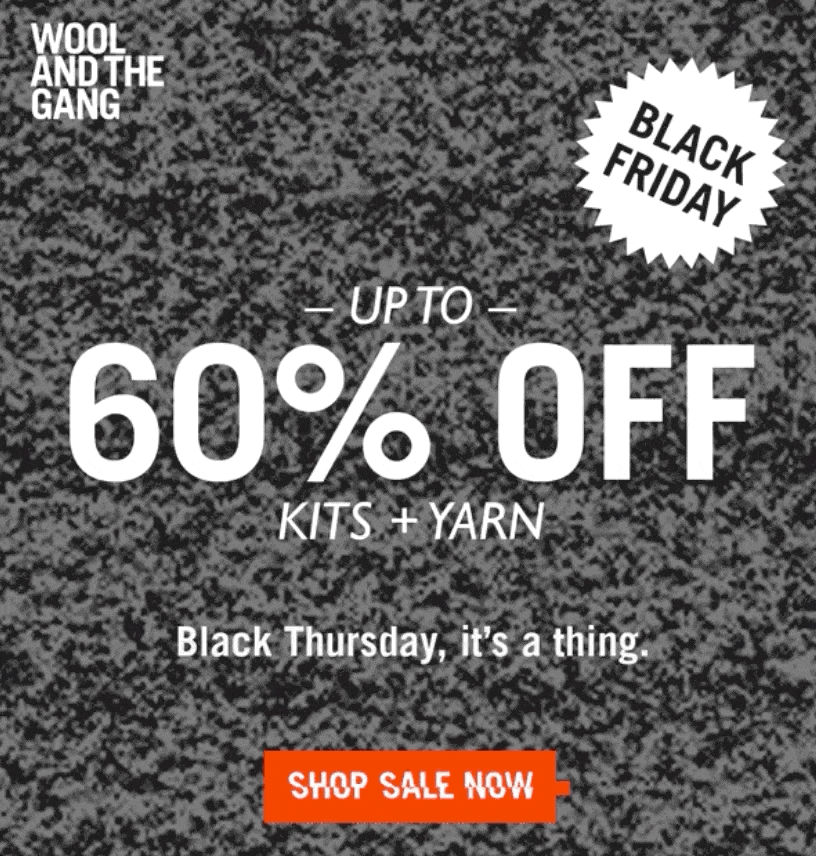 Instead of waiting for Friday, the company starts its sale already on Thursday and owns the day by calling it "Black Thursday."
This way, they have a headstart in their subscribers' inboxes (and wallets.)
Typically, Black Friday emails consist of a simple sale announcement and a scarcity-driven CTA. However, Wool and the Gang does something different in the remainder of this email: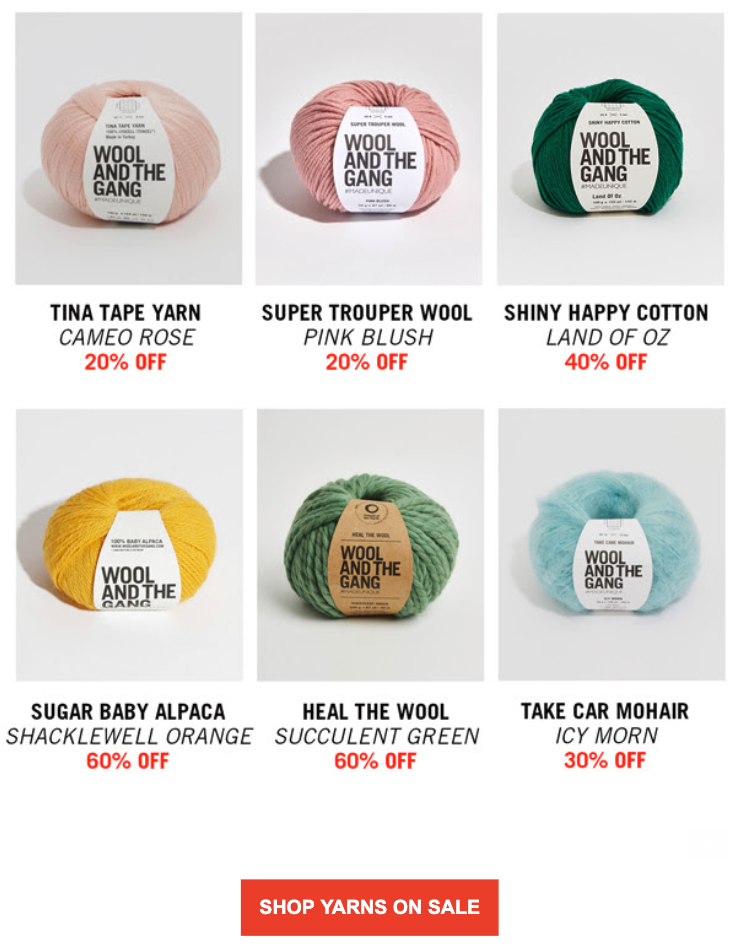 They recommend products that are on sale, so you know where to start shopping. It's a smart tactic that can help convert your subscribers who don't know what to buy.
Kate Spade is another Black Friday early bird:

Mailed by the sender name "kate spade surprise," the company announces its early Black Friday sale by triggering your impatience.
Most of us like surprises, especially if we'll gain something from it. Knowing this, Kate Spade runs a surprise sale before Black Friday so that you don't have to wait another day.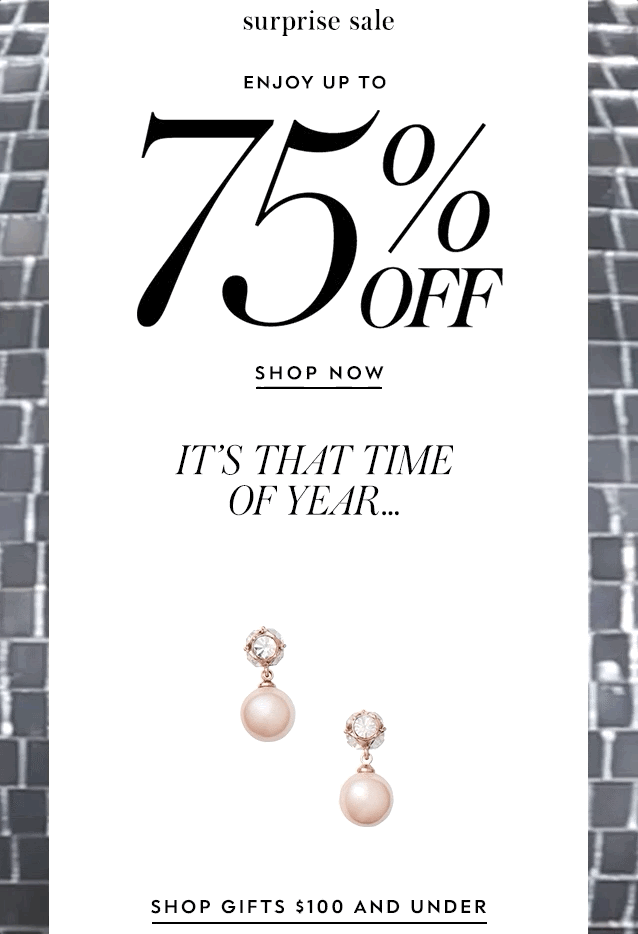 In this email, they use a GIF as a sneak peek at their discounted products.
With the value-driven CTA button "Shop Gifts $100 and Under," they aim to lure you to the site, where they can later cross-sell or upsell you with higher-priced items.
Knowing that Black Friday is a time when consumers are looking for a bargain, they focus on their more affordable products, instead of the bestsellers or limited editions.
ii. Act Late
Catching early birds is one Black Friday tactic to increase your holiday sales—and converting latecomers is another.
Since consumers associate the words "Black Friday" with unmissable offers, you can use them during the year to imply too-good-to-miss deals.
Check this email I received from Doggyloot in December: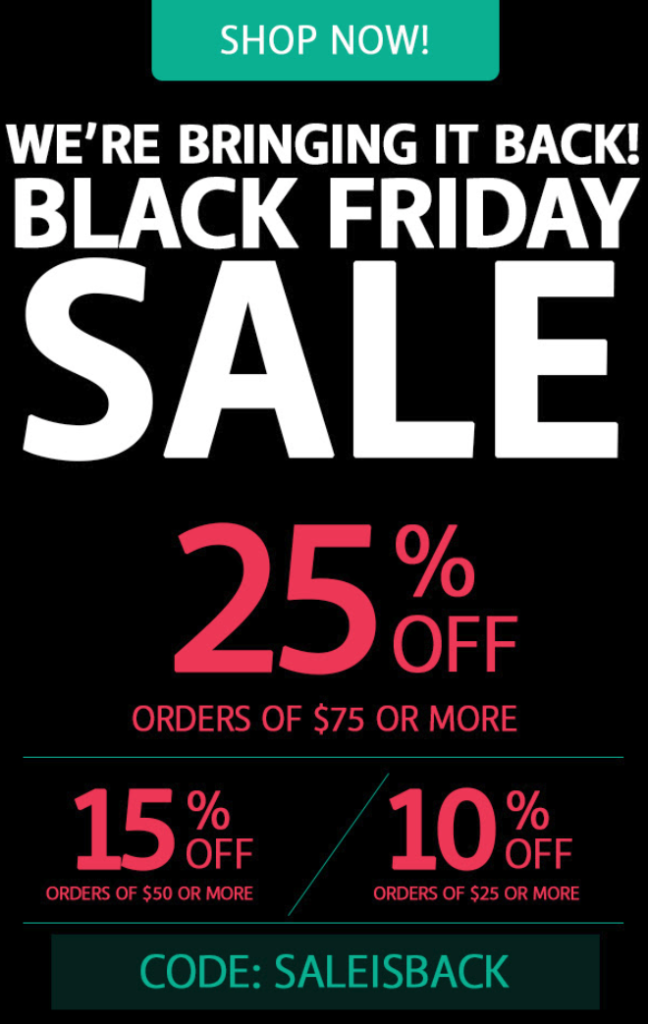 By claiming that they bring Black Friday back, they hint that great offers are awaiting their customers. Even though the company's offers don't go beyond 25%, they successfully create a perception of Black Friday.
If you're reading this outside of the typical Black Friday schedule or if you want to stand out among the competition, try running your own Black Friday by acting early or late.
4. Make Your Sale Memorable
Your online store may have the best deals and the fastest delivery options, but you won't be the only company making these claims.
While every single e-tailer is fighting over your prospects' attention, the competition gets even more fierce during Black Friday.
It's not easy for consumers either. They have to navigate through different stores, make comparisons, and create shopping lists so that they can buy their favorite items before they sell out.
This is a great opportunity for you to stand out and make your e-commerce site memorable on Black Friday.
See how Glossier does that in their Black Friday emails: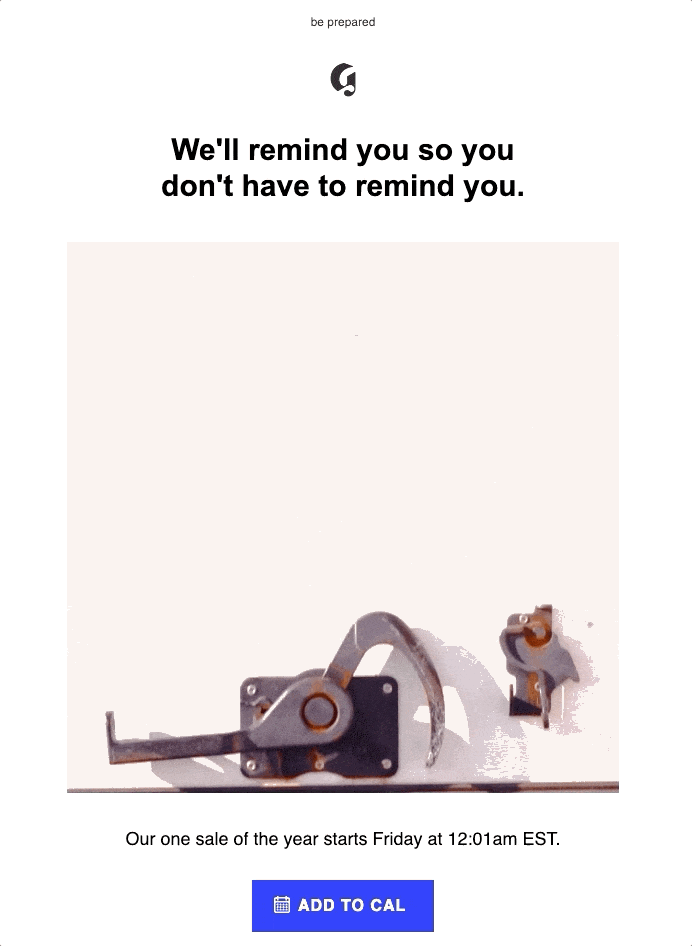 Sometime before Black Friday, they send their subscribers this email and help them to "be prepared."
In addition to writing down the big sale's beginning date and time, they give you the option to add the event to your calendar by clicking the "Add to Cal" button.
When you download the .ics file in the email and add the event to your calendar, this is what you see: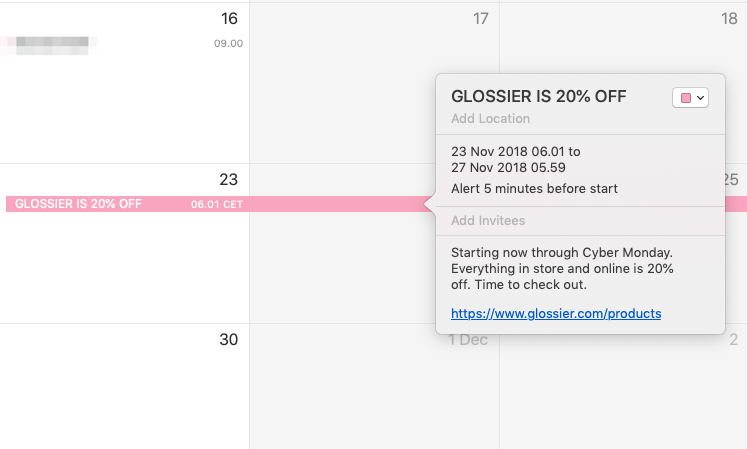 To make your Black Friday shopping experience even smoother, Glossier adds a link to their website so you don't have to think twice.
With this selfless-looking email, Glossier successfully stays top-of-mind during a busy shopping season, and no-doubt increases their email conversions.
It's a simple yet effective tactic that every business can easily implement in and out of Black Friday.
5. Use the Element of Surprise
Surprises are exciting, but they're also a powerful marketing tool when used right.
While every other online store kills the element of surprise by adding their Black Friday discounts to their subject lines, there are a handful of successful e-tailers that know the magic of surprises.
Those are the brands that stand out in busy Black Friday inboxes and get their emails opened. Happy Socks is one of their best examples:

Instead of telling that you'll receive X percent off, they tease their Black Friday offer by asking you to get excited because you're getting a discount.
Although numbers typically perform well in email subject lines, avoiding them is a smart strategy if you want to be different on Black Friday. That's why Happy Socks hides the discount amount they offer, which urges you to open their email…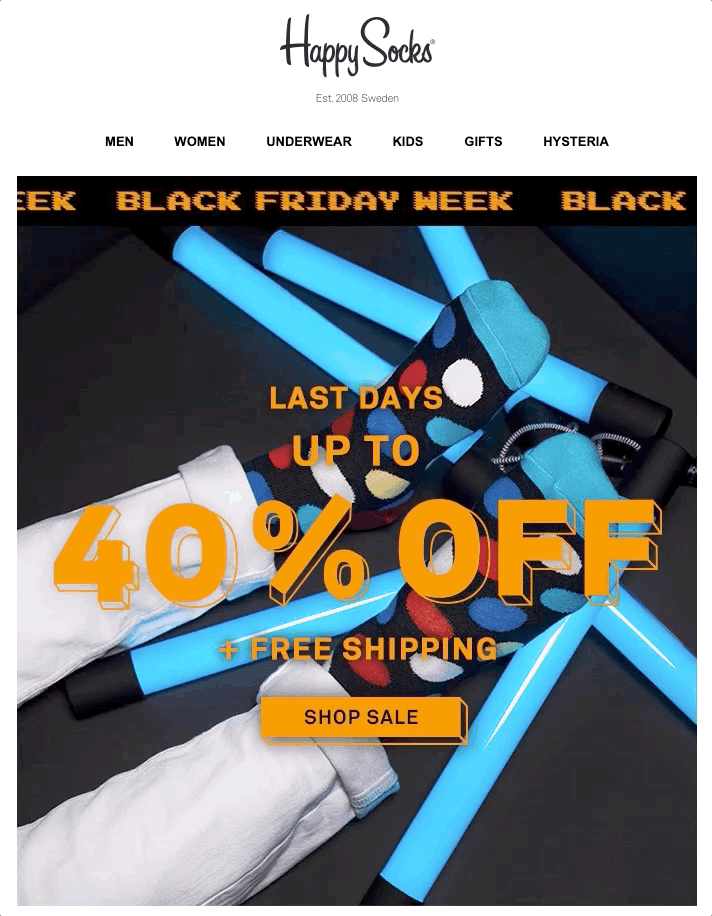 …and find out that you're getting 40% off (plus free shipping.)
Death Wish Coffee is another company that uses the element of surprise in their Black Friday emails, but they take it one step further:

They send their subscribers a curiosity-evoking email that reads "Here's your random gift code."
And this is what the email looks like:
The company sends you a random unique code that you can use during checkout to see how much it's worth and adds another layer of surprise.
In other words, you have to click through the email, add some products to your cart, and move to checkout to see your surprise gift.
This is a clever way to make your Black Friday offers more interesting. Plus, it will increase your email opens, and encourage more subscribers to visit your site and move to checkout.
6. Offer More Benefits
You might be thinking that Black Friday is only about discounting.
You're right to an extent. Consumers are expecting a compelling discount during the Black Friday weekend, but that's not all.
Black Friday is a good time to go beyond discounts and offer more benefits to your customers, such as free shipping, returns, or bonuses.
Estee Lauder knows this well and offers its Black Friday customers additional benefits:
They combine Black Friday deals with their loyalty program and give 2x more points for purchases made on this day.
It's a smart tactic to increase the number of your loyalty program members and Black Friday customers. (And it costs you zero dollars.)
Shinesty, on the other hand, incentivizes Black Friday purchases with free gifts: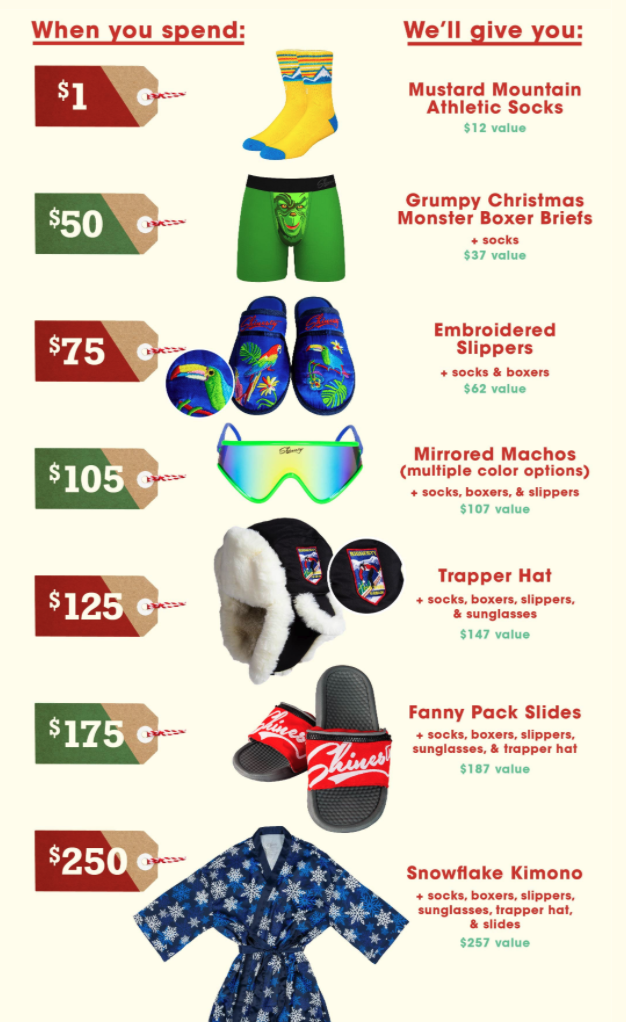 But rather than gifting every customer the same way, Shinesty cleverly offers you free products based on how much you spend. The company also makes its gifts more attractive by attaching a dollar value to them.
It's a brilliant tactic to increase average order value during Black Friday without hurting your profit margins.
7. Make Your Subject Line Stand Out
Black Friday is not a battle of discounting, it's a battle of attention.
If you want to win this battle, your first goal should be getting noticed in your subscribers' inboxes.
And you know by now that crafting well-written email subject lines is the first condition to it.
While a typical Black Friday inbox looks like this…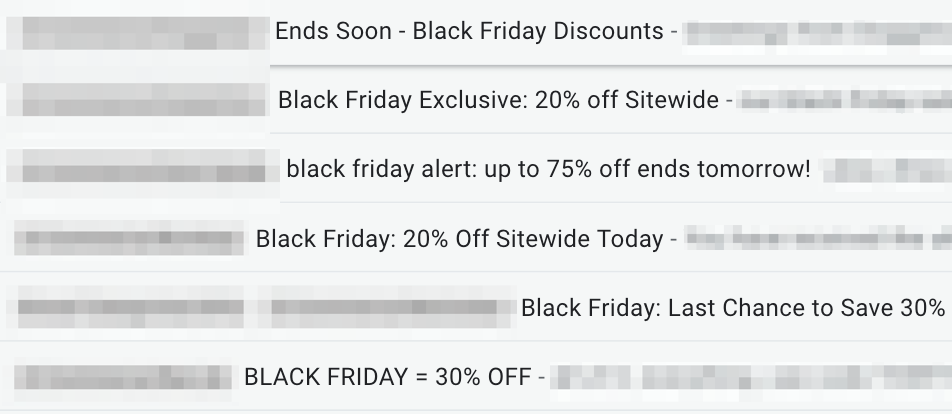 …smart e-tailers play the game at a whole other level.
Check this email Chubbies sent me last Black Friday: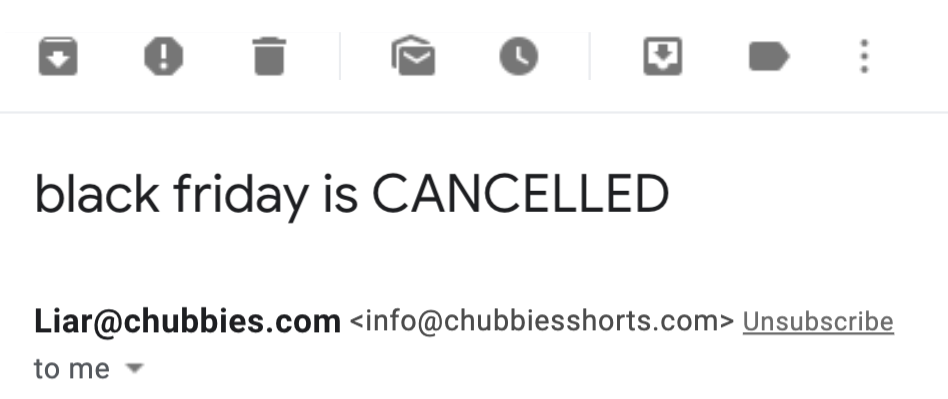 Known for their humorous tone, Chubbies sends an email that certainly stands out in your Black Friday inbox.
(Also, notice the hilarious sender address "liar@chubbies.com.")
If you're wondering how and why Chubbies canceled Black Friday, you have to open the email. (I certainly did, but more on that on Strategy #8.)
So far we've only talked about how you can promote your Black Friday offers. But what if you're not doing Black Friday?
Ironically, you can still capitalize on Black Friday, even if you're not running a Black Friday sale.
Check this email subject line by Away:

Positioning their products as superior to Black Friday, Away implies that they're canceling Black Friday, similar to Chubbies.
Knowing that their subscribers are expecting a sale announcement in their Black Friday email, they explain why they don't do Black Friday, instead: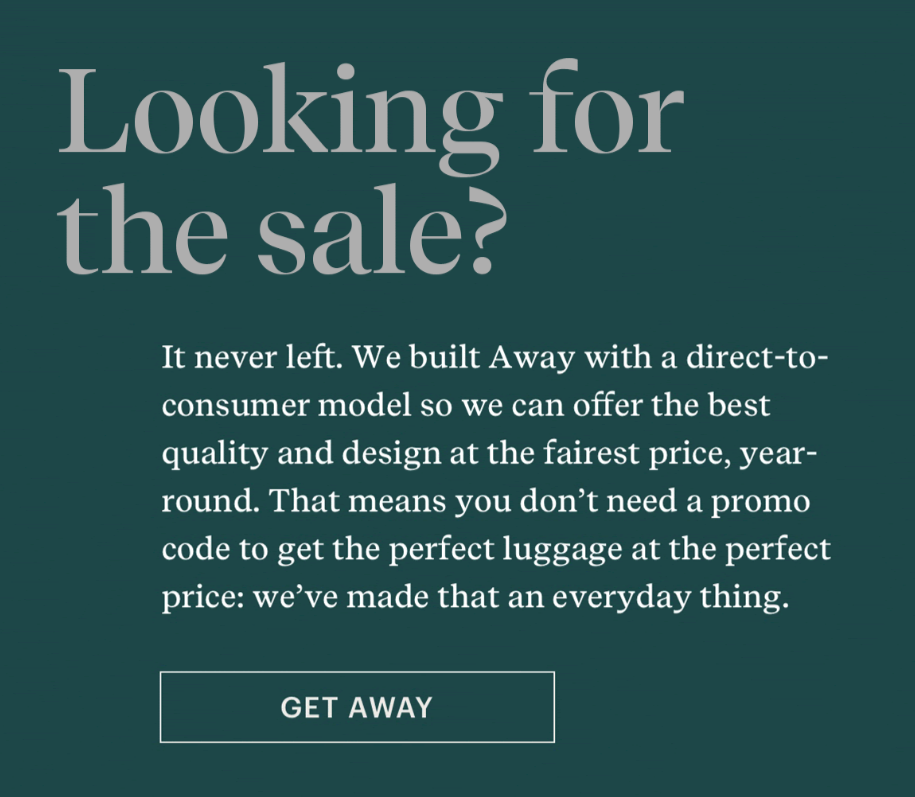 Explaining why they don't discount their products this weekend makes the company's hand stronger. Their prospects will now associate good prices with high quality, not only one day a year, but all the time.
It's a brilliant strategy and a curiosity-evoking subject line, whether or not you're running a Black Friday sale.
8. Redefine Black Friday
Almost every brand approaches Black Friday the same way these days: Discount your products, send a promotional email, and wait for the results.
But there's a reason why e-tailers like Chubbies win Black Friday: They go above and beyond to redefine Black Friday.
As a part of the long shopping weekend, Chubbies owns Cyber Monday and turns it into a branded day that they call "Thighber Monday."
Besides being fun and memorable, they offer customers gifts on this day. And they make sure to tease Thighber Monday at the bottom of their Black Friday emails: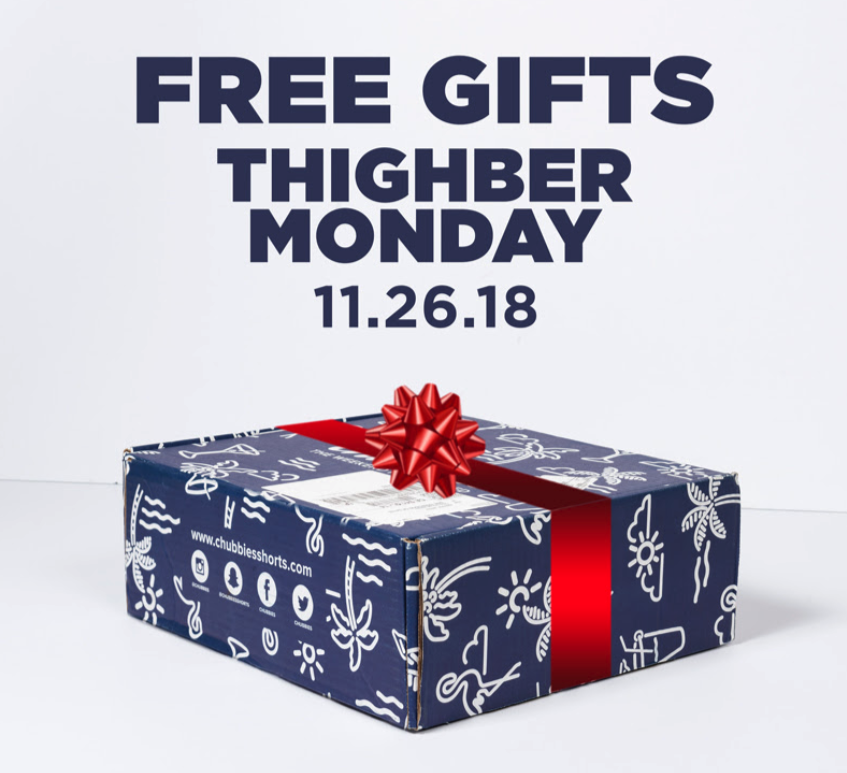 They even ask you to set your alarms for the big day: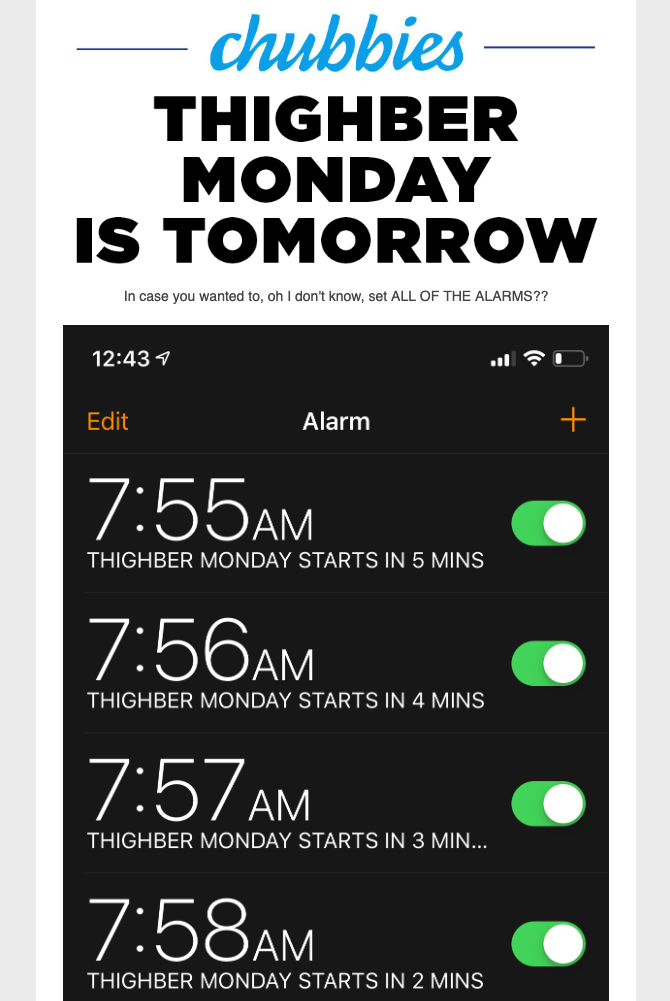 This way, Chubbies successfully sets expectations and creates excitement with a series of pre-Thighber Monday emails.
Even if your brand voice isn't as humorous as Chubbies', you can still turn Black Friday into your own holiday.
Take a look at this example by Cotton Bureau:

Using wordplay, the company adds a product focus to the big shopping day and evokes your curiosity.
When you wonder what Blank Friday is and open the email, this is what you see: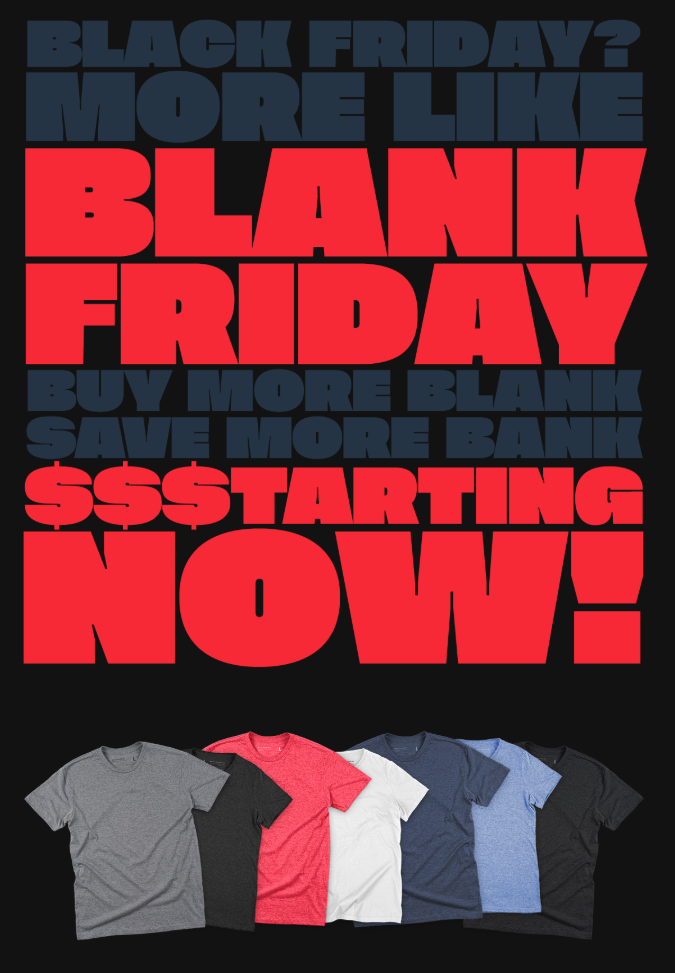 Cotton Bureau redefines Black Friday as Blank Friday to promote their discounted blank t-shirts. It's clever and attention-grabbing.
If you're in for a more radical change, you can move away from the extreme discounting approach towards social responsibility, just like Everlane does:
By creating a Black Friday Fund, Everlane redefines this greedy shopping madness as a day of good deeds.
In this email, the company explains that they donate their Black Friday profits into a fund to clean the oceans. And since one order equals one less pound of plastic, they subtly invite you to shop on their site—all for a good cause.
9. Tease Your Next Campaign
As I mentioned before, Black Friday starts long before the Friday. But it doesn't end on Friday either.
If you want to make the most out of the holiday shopping season, try teasing your next big shopping day when Black Friday ends.
You can already start promoting Cyber Monday, Christmas, or a local holiday and hint that a compelling offer is around the corner.
Check out the email Man Crates sends after Black Friday:

When Black Friday is over, the company teases its Cyber Monday sale with a funny tone.
This is how the email looks: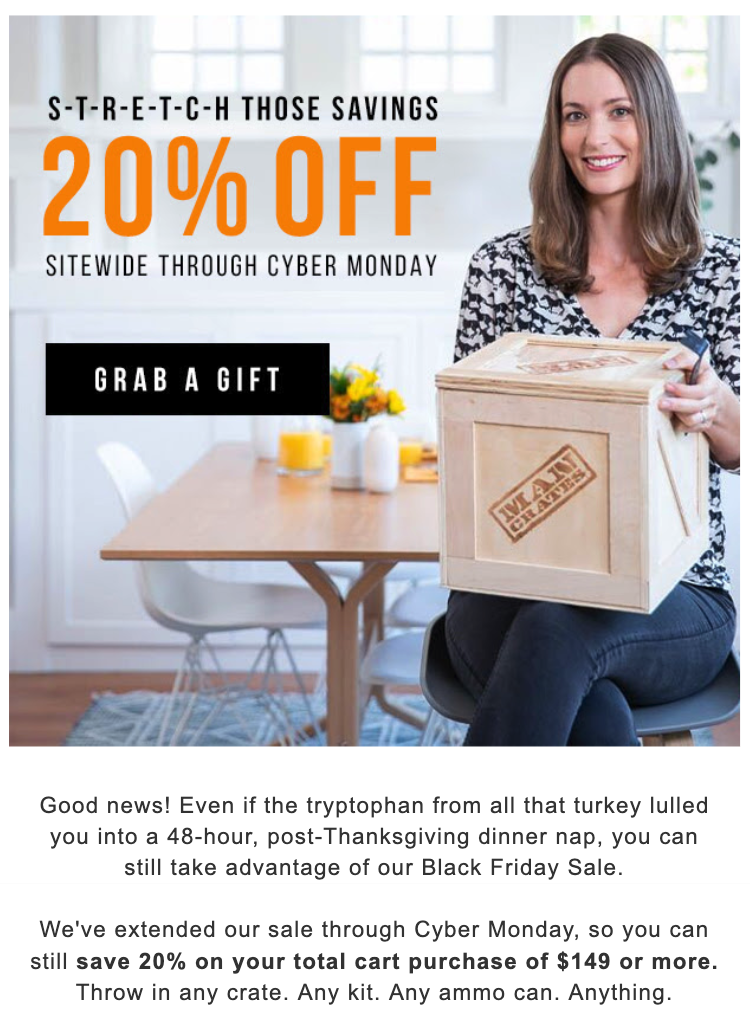 Man Crates lets you know that they extended their Black Friday sale into Cyber Monday, which is the online shopping day of the year.
This way, the company converts the prospects that they couldn't convince on Black Friday and increases their overall sales.
Another company that leverages the post-Black Friday period is Madsen Cycles: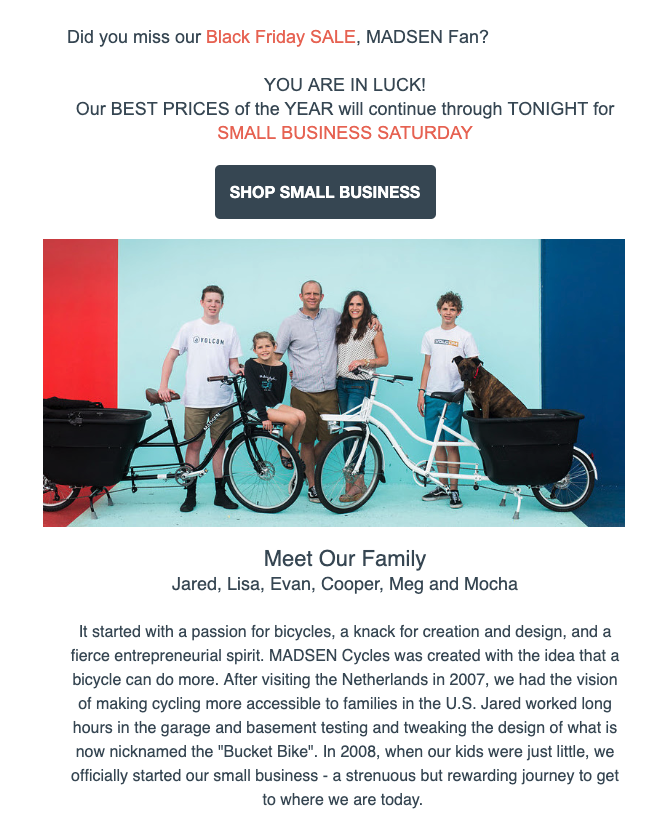 But instead of joining the Cyber Monday bandwagon, they celebrate Small Business Saturday, which fits their brand better.
And in this email, they inform you that even if you missed their Black Friday sale, you're in luck.
To show you the reason why they're doing a Small Business Saturday, they introduce you to their family and how they built their small business.
No matter what your next campaign is about, make sure to tease it after Black Friday, so you can convert the prospects who didn't buy from you at this time.
Be careful when extending your sale, though. If you overdo it, you'll lose credibility.
Conclusion
Whether you're looking for creative Black Friday campaign ideas or new angles to improve your Black Friday promotions, I hope you found some quick wins you can apply to your business this year.
Make sure to trigger urgency and scarcity with your Black Friday marketing, but don't drive your prospects into a panic like many e-tailers do. (We've already been through a lot this year…)