The holiday shopping season is a huge revenue opportunity for all e-tailers, regardless of their industry or size.
With online spending predicted to reach over $850 billion this year, the weeks leading up to Christmas are the perfect time to generate more revenue from your holiday marketing.
As the largest ecommerce holiday, you'll want to pull out all the stops. Unsurprisingly, email is the go-to channel for ecommerce marketers during this season, whether you want to:
Promote your Christmas sale;
Recommend gift ideas;
Target last-minute shoppers; or
Re-engage your email list after Christmas.
For the same reason, December is a hectic month in your subscribers' inboxes.
To help you stand out from the crowd and get more revenue from your holiday emails, I took a dive into my inbox and put together the seven best Christmas email examples I've seen.
7 Proven Christmas Email Examples
1. Anastasia Beverly Hills
All the waiting, counting down, and anticipation for Christmas isn't exclusive to children.
Many marketers use gamification during December to create a similar excitement around their offers.
Anastasia Beverly Hills is one of the e-tailers that choose this path. Borrowing from the concept of advent calendars, the beauty brand counts down to Christmas with a limited-time offer:
In the first email of its Christmas series, Anastasia sets expectations with the above subject line. Even before opening the email, you know that the company has something special planned for the next 12 days.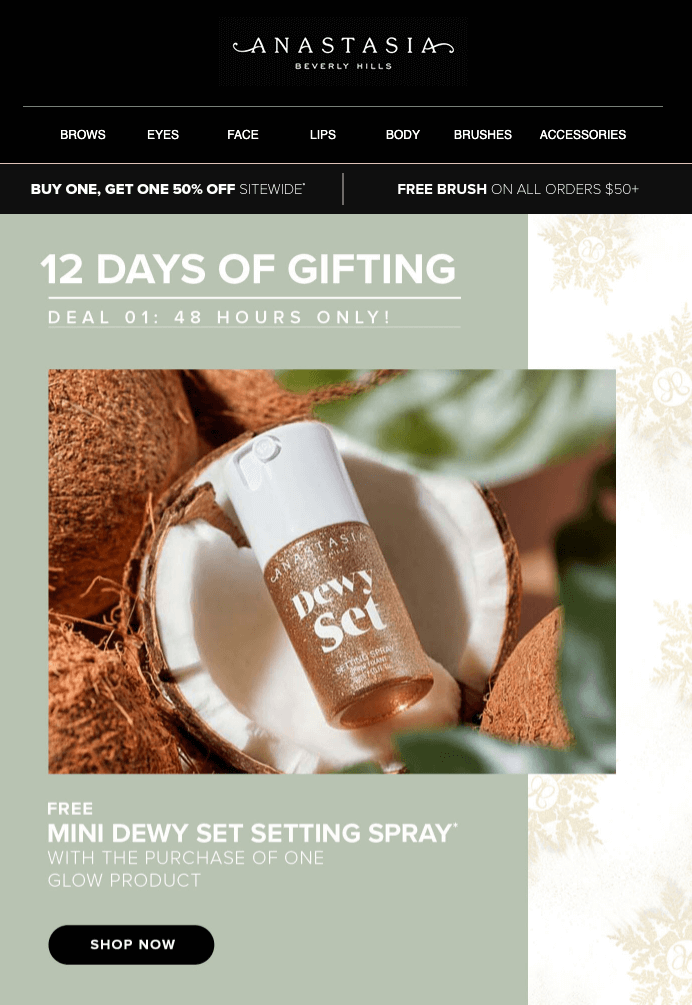 The email announces the beginning of "12 days of gifting" without further explanation. Anastasia doesn't need a long copy here because the concept is simple: 12 days of offers, with every deal valid for only 48 hours.
Two days later, you get another email from the company:

With a curiosity-triggering subject line, Anastasia invites you to unlock its second deal.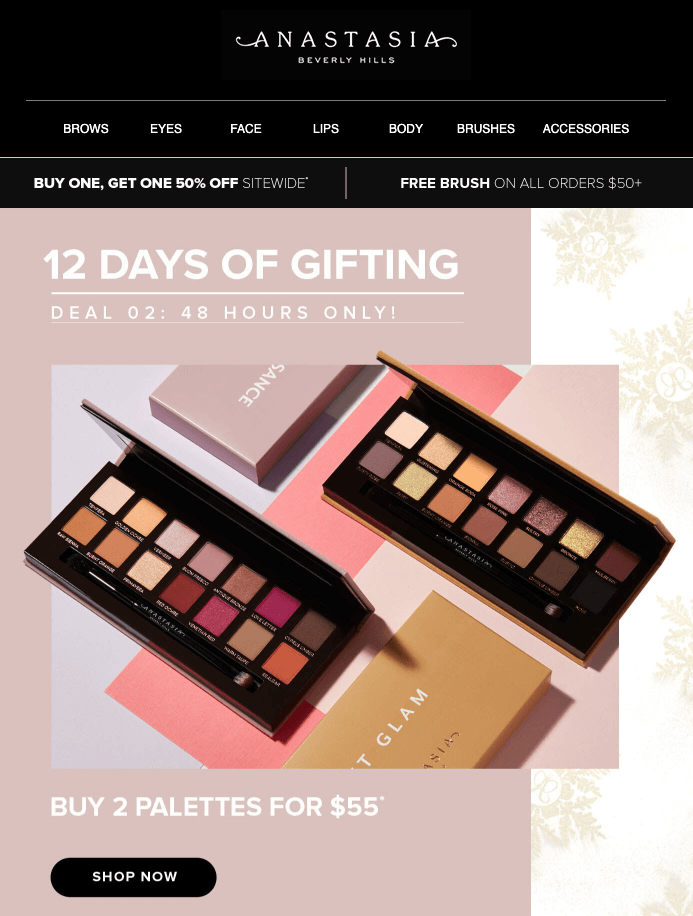 Following the same email design, Anastasia reveals its second offer, which is a bundle discount this time.
What's especially smart here is Anastasia's use of scarcity. Rather than discount all products at once, the company rolls out one offer at a time, making them exclusive and time-limited.
Shoppers know that if they want to grab a deal, it's now or never.
The simple email design, minimal copy, and clear call to action (CTA) buttons to buy help speed up the decision-making process, as well.
Anastasia's six-part email series is an excellent example of how you can use a popular Christmas concept to drive more sales from your emails.
2. Everlane
Gift shopping—a common theme in Christmas emails—is not a walk in the park.
If you can help shoppers find the best gifts for their loved ones in your store, you'll win customers' hearts (and loyalty).
Holiday gift guides—a concept I'll dive into in a moment—are only one option to inspire gift shoppers. A much simpler, yet effective, tactic is to recommend one-size-fits-all present ideas, as Everlane does in its Christmas email:

Everlane's subject line promises you a different type of gift guide and this is what you see when you open the email: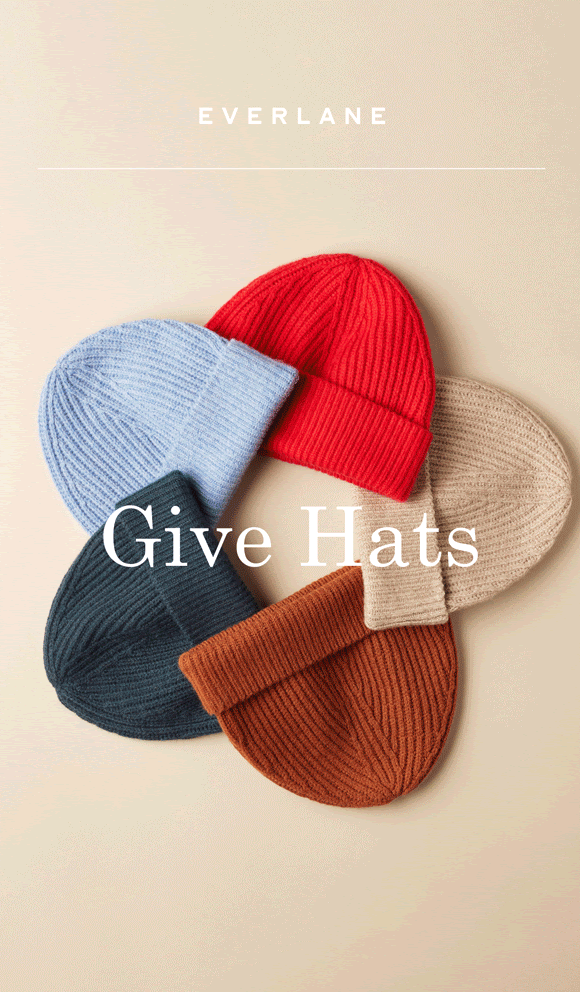 The company cleverly uses a GIF in the email to showcase multiple gift ideas in rotation allowing Everlane to promote its different product categories without taking up much space.
The brand's recommendations include products, such as hats and scarves, while at the same time, speak to feelings related to the use of its products, such as warmth.
A short piece of copy accompanies the GIF: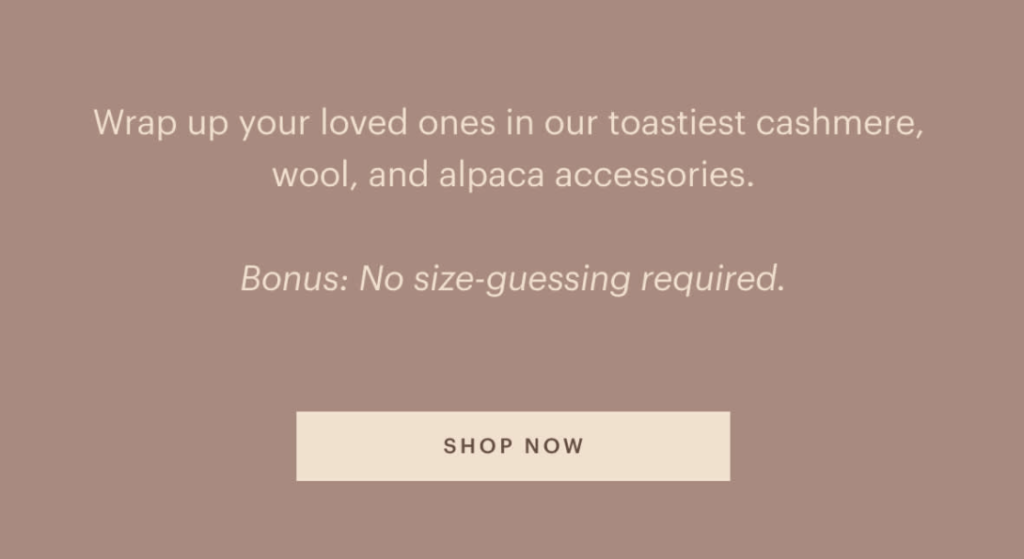 Once again, Everlane focuses on the act of gift-giving, rather than the products themselves by inviting you to "wrap up your loved ones" in warm accessories. Next, it reminds you of the benefit of gifting one-size products: no guessing needed.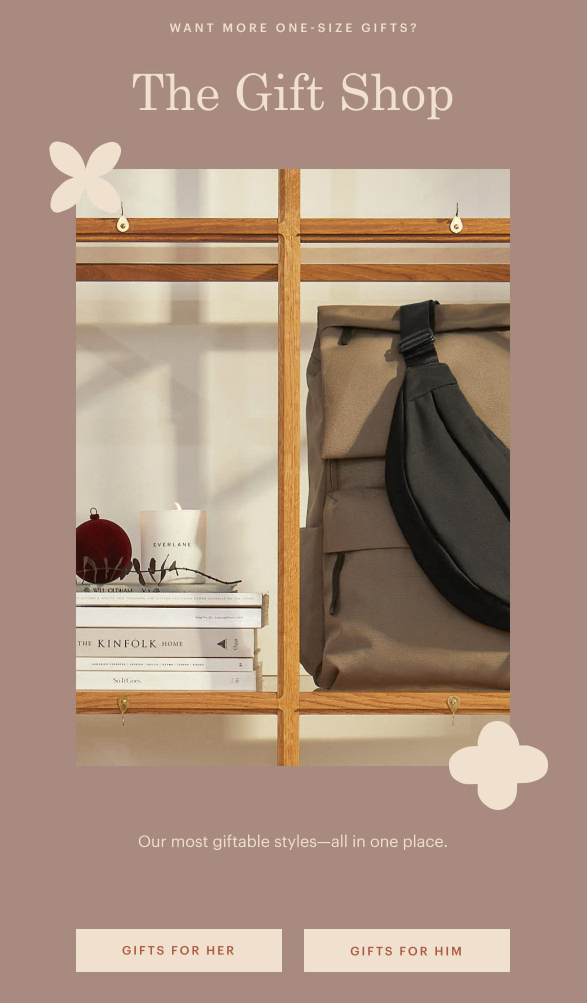 The final part of the email invites you back to the Everlane store to discover more one-size gifts, divided by gender for convenience.
Everlane's Christmas email is a brilliant example you can follow, especially if you're selling accessories, hobby materials, or anything else that doesn't require size-guessing.
3. Bliss
Promoting your one-size products is only one way you can help gift shoppers. Another, more thorough, strategy is to create mini gift guides in an email format.
Bliss is an e-tailer that executes this idea well in its Christmas emails.

Its subject line promises to make your holiday shopping experience easier than ever. When you open the email, you learn how: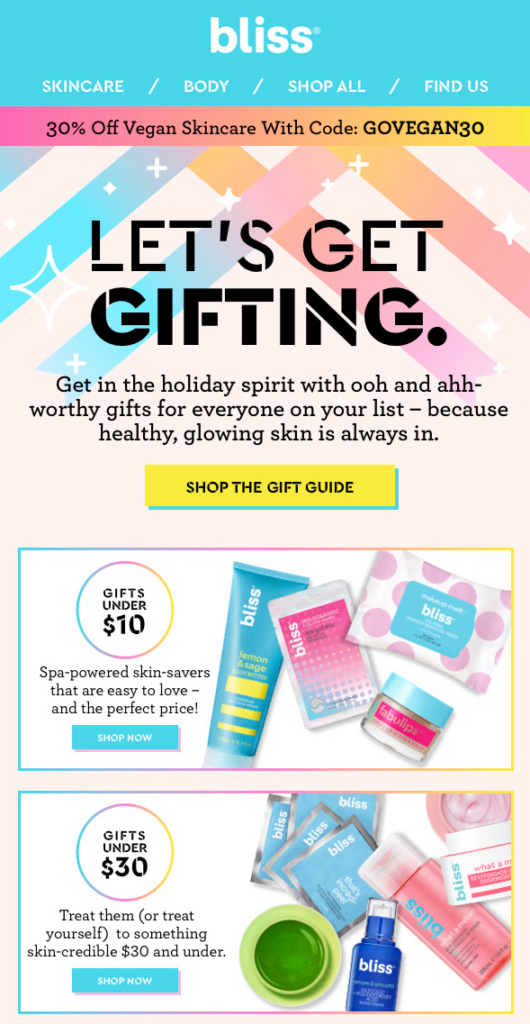 While there are many different ways you can categorize your gift guides, such as by gender, personality, or interests, Bliss chooses price in its email.
Given that gift shopping is a costly activity and budget is a big consideration for many shoppers, Bliss's price-based gift guide can come in handy for its customers.
Other than price ranges, Bliss's email also features its discounted products and travel-size items for those who want to grab a bargain.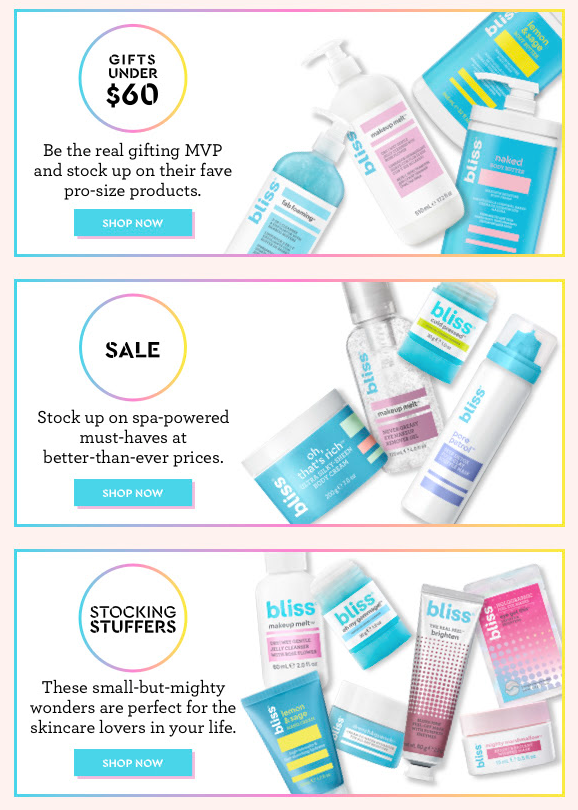 Next, the company curates even more product recommendations.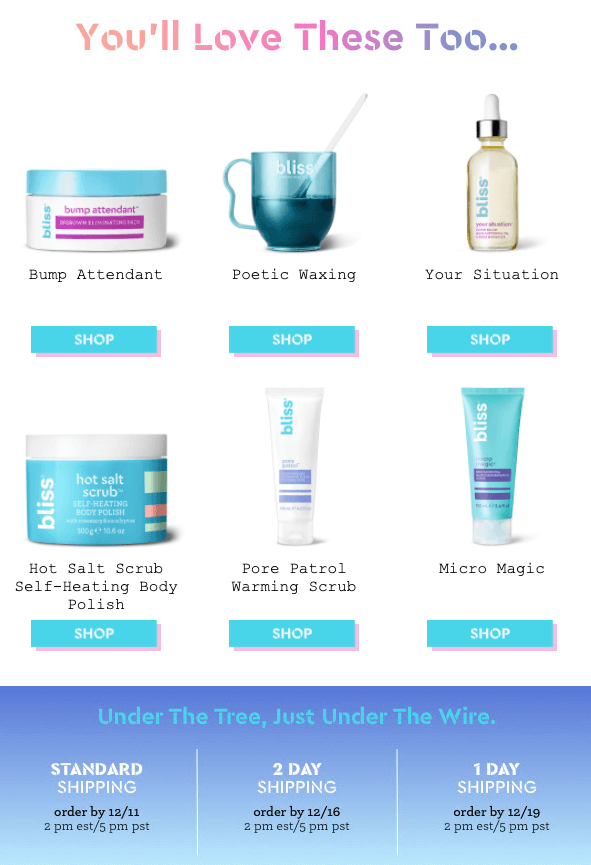 Last but not least, Bliss informs you about its different delivery options and deadlines for placing orders at the bottom of the email. Since Christmas shopping is a highly time-sensitive activity, Bliss makes sure that its customers know what to expect.
4. Wool and the Gang
Speaking of shipping deadlines before Christmas…
While some e-tailers make sure to include Christmas shipping details at the bottom of each email, others, like Wool and the Gang, send dedicated reminder emails to turn more subscribers into Christmas shoppers.

This is one of the emails you find in your inbox when it's almost time for Wool and the Gang to ship the last Christmas orders. It's a straightforward call to action that nudges people to place their orders right now.
The email itself looks quite Christmas-y: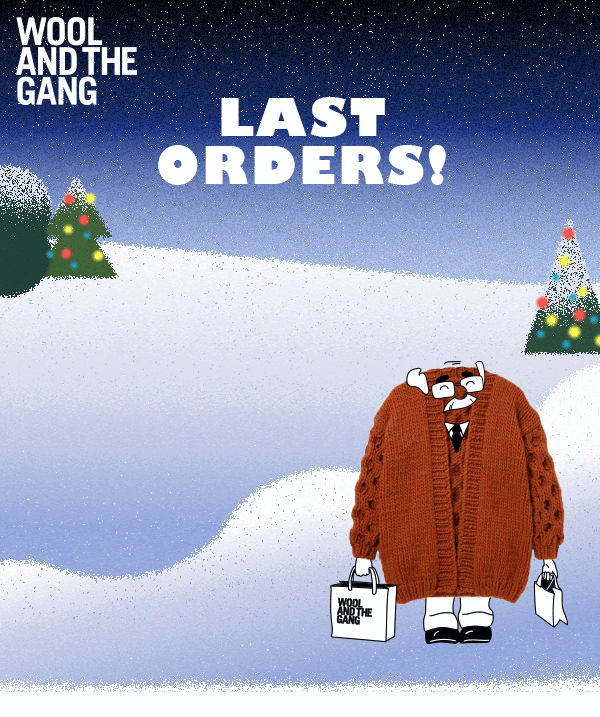 In the email, Wool and the Gang drives urgency without overwhelming potential customers. The animated GIF and lighthearted design help lighten the mood for what could otherwise be an overly salesy email.
The message is loud and clear, as well: if you want to get your gifts in time, place your order today. No fake scarcity or guilt trip—just logistical facts.
Wool and the Gang ends the email with minimal copy, giving specific details about the very last hour you can place your order:

This message leaves no room for confusion and sets shoppers' expectations before they place their order.
Wool and the Gang's reminder email is a great example of how you can use delivery as an excuse to drive more last-minute orders, without overdoing the urgency.
5. Allbirds
Even when it's too late to ship new orders, it's never too late for you to promote your store—if you offer digital products or have physical shops.
Allbirds favors the second option in this Christmas email:
The company knows that it's too late for shoppers to get their order delivered before Christmas, yet, many are likely still looking for the best gifts for their loved ones. That's why the brand invites last-minute shoppers to brick-and-mortar stores directly in its subject line.
This is what the email looks like: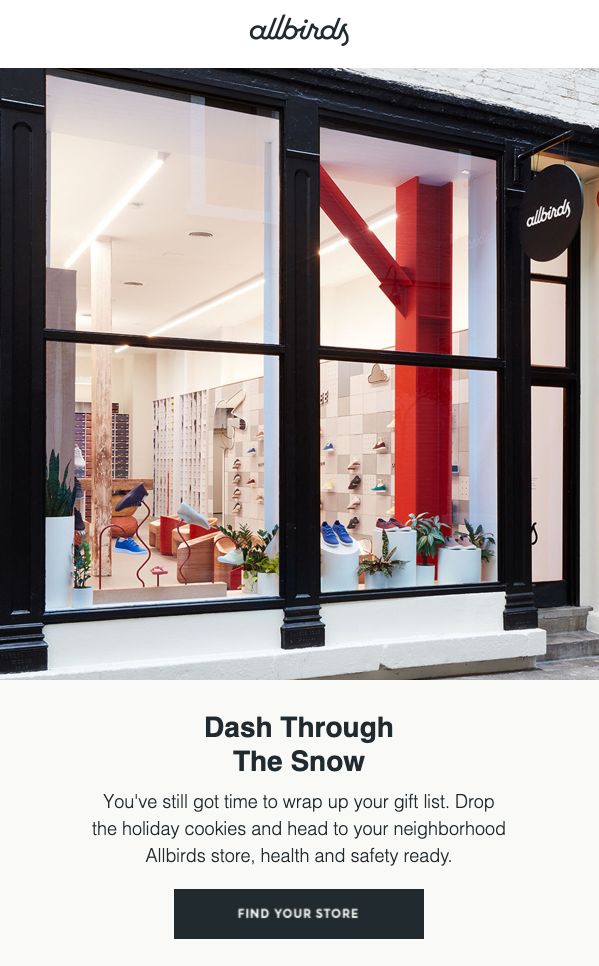 Notice how Allbirds eases your mind rather than blame you for being late. With the strong reminder ("you still have time"), the company invites you to a nearby store to wrap up your gift list.
The company also aims to reduce your anxiety, in case you're uncomfortable with offline shopping.
Knowing that visiting brick-and-mortar stores isn't an option for all shoppers, Allbirds ends the email with a virtual product alternative: gift cards.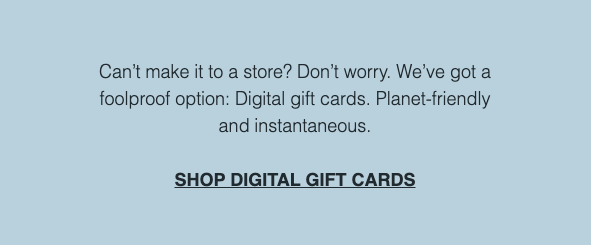 As Allbirds mentions in its email, gift cards are quick and eco-friendly alternatives for last-minute shoppers. If you're offering digital gift cards or virtual products in your store, make sure to mention that in your Christmas emails.
Or even better, send emails promoting your digital gift options when you're close to Christmas, as you'll see in my following example.
6. Function of Beauty
Let's be honest: gift cards don't always scream, "I put a lot of thought into your present."
That also explains why most marketing emails that promote gift cards are rather unexciting. Function of Beauty's emails, on the other hand, are the exception.

Sent with this friendly subject line, the beauty brand helps you out with its email if you forgot to buy gifts for someone on your list.
Function of Beauty's email design is particularly eye-catching: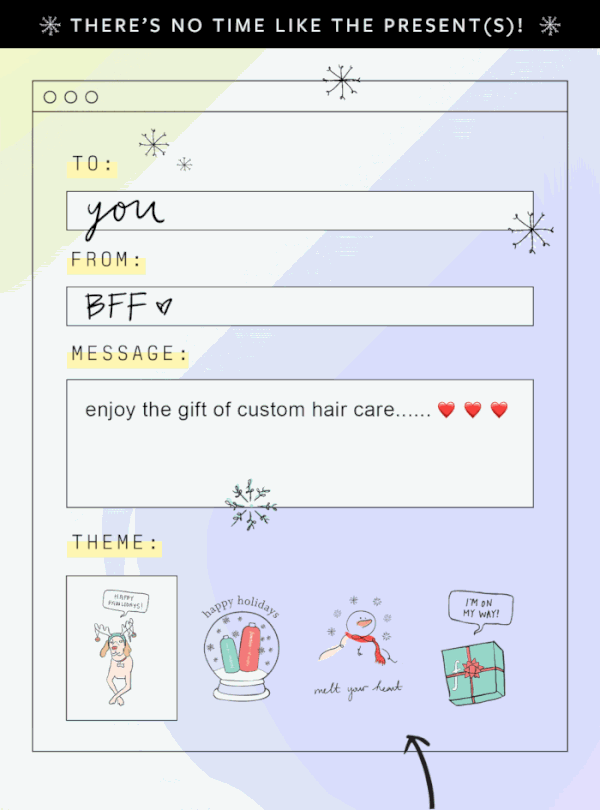 The company goes above and beyond to make its gift card option as visually appealing as possible. What's more, they explain the benefits of giving a gift card, such as convenience and flexibility, rather than focusing on it being a last resort.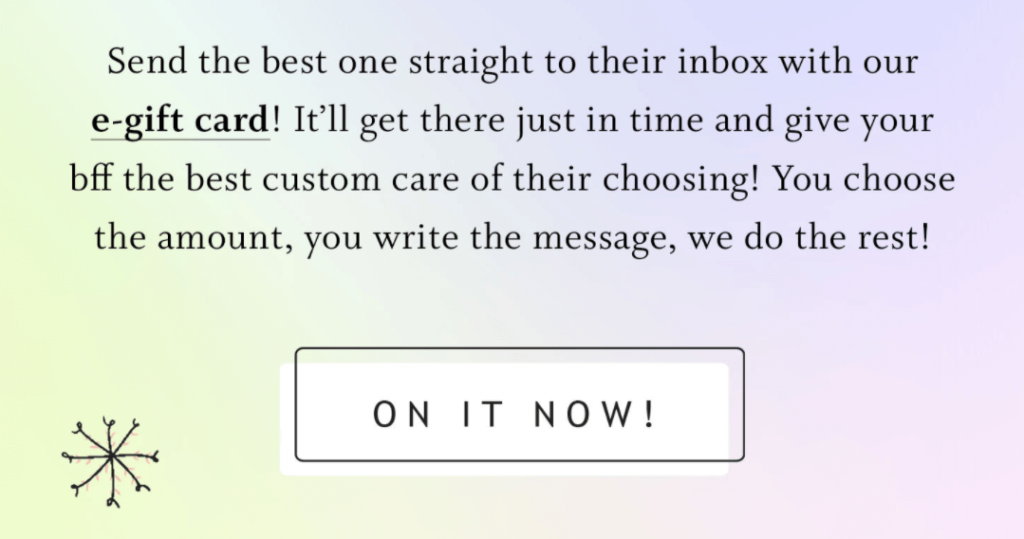 Even better, this isn't the only time Function of Beauty promotes its gift card option for Christmas. Check out this email they sent in a previous year, with the subject line "The gift that always arrives on time":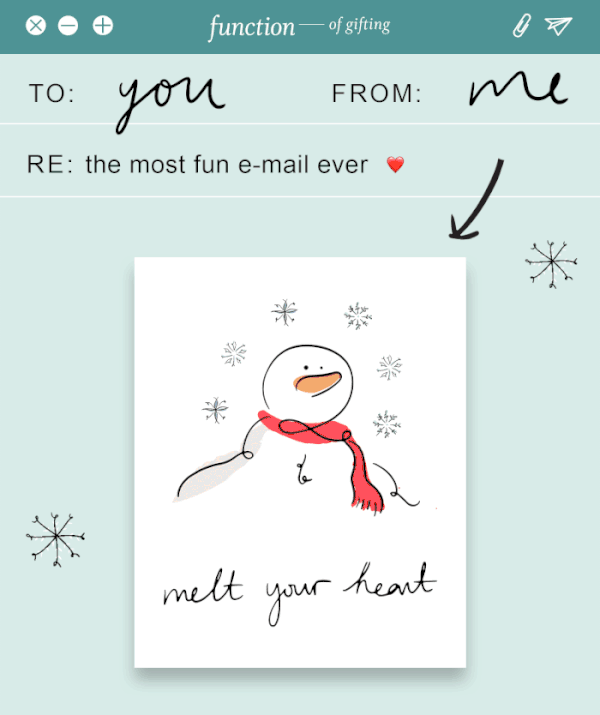 The company puts a lot of effort into visualizing an otherwise boring Christmas gift in its emails. Plus, in each email, it makes sure to explain how easy and beneficial it is to choose an e-gift card over any other gift option.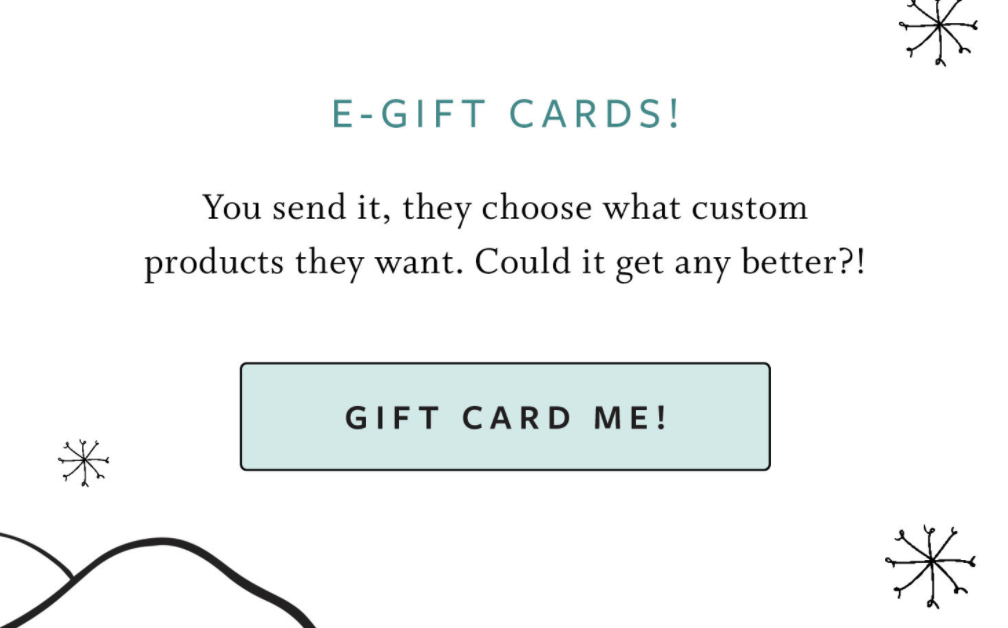 No matter what industry you're in, Function of Beauty's emails are the perfect example of how you can position your virtual gift cards as a smart present idea and make them more attractive to Christmas shoppers.
7. Frank Body
Most Christmas emails I mentioned in this post, and those in my personal inbox, belong to the period prior to Christmas.
In other words, Christmas is, unsurprisingly, a quieter time in terms of e-commerce email marketing. Although it may not be your typical promotion days, you can try competing for some of that holiday attention, as Frank Body does with its Christmas emails.
Check out this email Frank Body sends on Christmas Day with the subject line "Take off 20%: first in, best (un)dressed."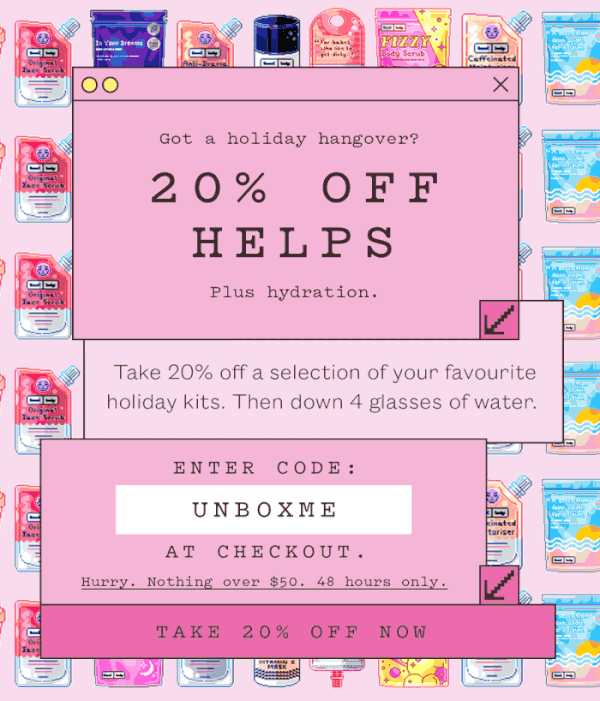 Frank Body's Christmas email includes a discount code and a friendly reminder to drink some water.
A 20 percent discount is a nice gift to find in your inbox in the middle of your holidays. Especially when it comes from a skincare brand promising to cure your "holiday hangover".
Since the offer is only valid for the next 48 hours, Frank Body soon follows up with another email. This time with a more straightforward subject: "20% off. That'll help the holiday hangover."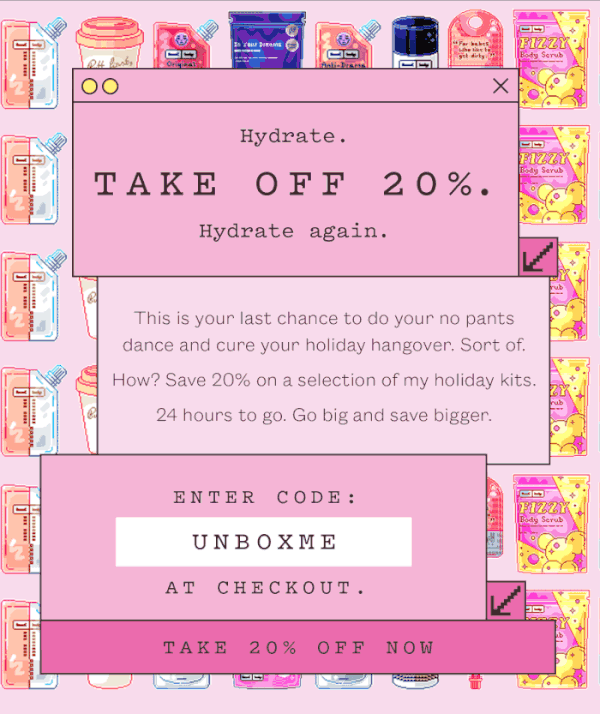 The follow-up email is a replica of the original email with minor copy updates. It's your last chance to "cure your holiday hangover" and save 20 percent on Frank Body products.
Granted, it's an unconventional Christmas email series, but if you're operating in a highly competitive niche, like skincare, you might want to have a headstart to the year, as Frank Body does.
If you want to follow Frank Body's example, consider running a small campaign where you offer a discount code to your subscribers and leverage this less busy time in your subscribers' inboxes.
Conclusion
There's no one-size-fits-all success formula for writing effective Christmas emails.
But these seven examples are a great place to start, whether you're looking to drive more traffic to your product pages, invite subscribers to shop in good time or run sales campaigns during Christmas.
No matter what objective you choose, refrain from sounding too salesy in your Christmas emails and focus on how you can make people's lives easier, instead.