Email marketing is the gift that keeps on giving.
According to the latest data from Campaign Monitor, email is more valuable than ever, delivering an ROI of $42 for every dollar spent—up from $38 in 2018.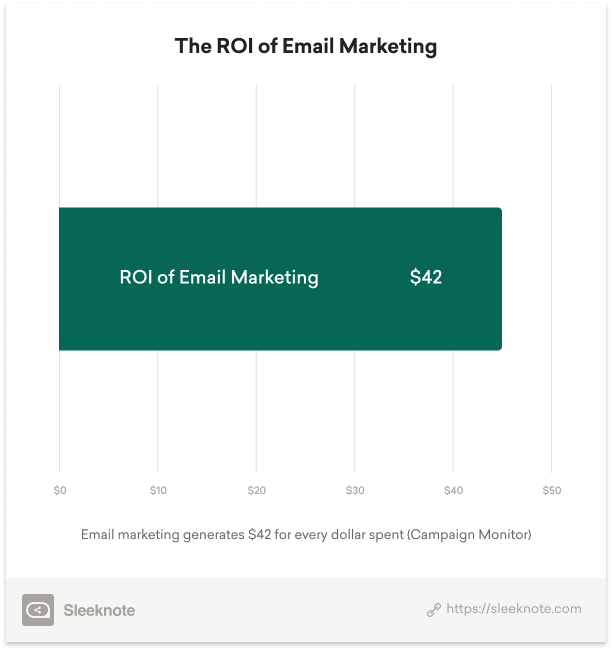 That's some serious bang for your buck.
However, there are a lot of emails out there. One-third of marketers send their customers three to five emails per week, and by 2022, the average person is expected to receive a startling 333 business and consumer emails a day.
So how do you cut through all that noise?
In part, email marketing success hinges on the quality of your subject lines. Timing plays a big part, too. But once you've actually convinced someone to open your email, it all comes down to the quality of your copywriting.
Are your readers switching off and bouncing, or are they engaging with your copy and clicking your links?
To help you achieve less of the former and more of the latter, here are seven incredible email copywriting examples to inspire you, plus my takeaways on what makes each one so effective.
Table of Contents
1. Life Elements
Once upon a time, attracting customers was all about selling a quality product at a reasonable price point. But that's no longer enough.
Today, consumers want to feel that the brands they love share their goals, concerns, and beliefs. This is particularly the case among younger demographics, with 83 percent of millennials saying it's important that the companies they buy from aligning with their own, personal values.
That makes sense. There's so much choice out there now, so if I'm going to spend my hard-earned money, I want to feel like it's going to a brand that's making the world a better place (or at least, not actively making it worse).
But how do you communicate your values if you're not a household name?
One way is to interweave your brand story into your marketing collateral. That way, shoppers who engage with your messaging will naturally learn more about who you are and what you stand for.
Life Elements, a natural body, and skincare brand gets this right in its email marketing:

Source: Really Good Emails
This email is so effective because the copy lures you in with an offer—15 percent off certain products—before going on to discuss the brand, why it was founded, and how its origins influence what it does today.
It refers to the founder by name, making it clear that Life Elements was born out of a personal passion for natural ingredients, rather than a cold, corporate desire to make a ton of money.

There's even a link through to a video that goes in-depth on the process of creating one of the brand's signature products.
Combined, it's an extremely effective demonstration of Life Elements' commitment to high-quality natural products.
2. Austin Eastciders
In the US, cider is an extremely seasonal product.
Just look at how search interest spikes every October: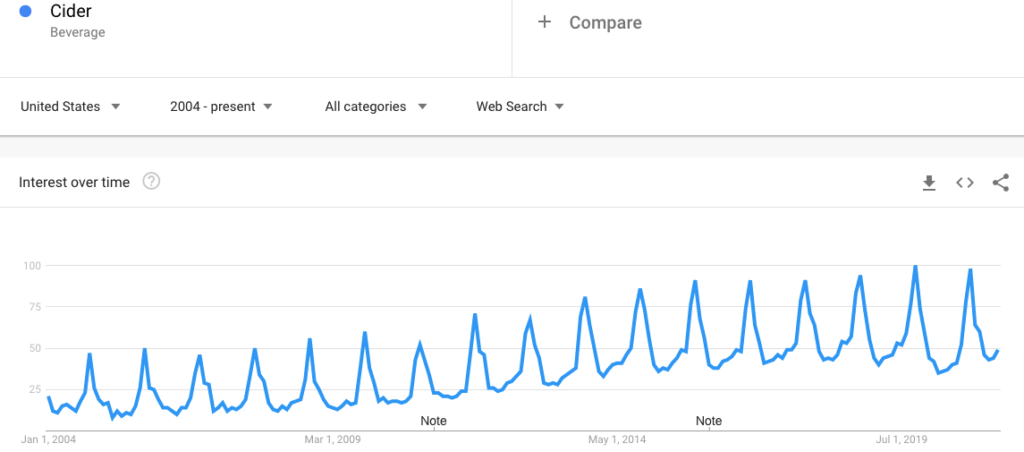 Source: Google Trends
This tells us two things:
Americans don't appreciate the simple pleasure of a cold glass of cider on a hot summer's day; and
Autumn is a fantastic time for cider brands in the US.
Unsurprisingly, Texas-based cider brand Austin Eastciders is well aware of this second trend, and uses it to its advantage in its email marketing: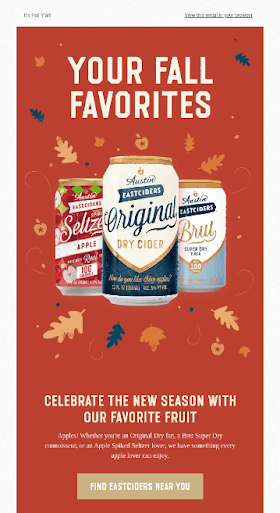 Source: Really Good Emails
Here, the brand immediately highlights the seasonal connection with the phrase "Your Fall Favorites".
It continues in the same vein by introducing the concept of celebrating autumn with apple cider, putting its product at the center of the narrative.
Not only that, but the introductory copy introduces the full Austin Eastciders product range, tempting you to sample them all.
3. Snowe
One of the most impactful copywriting tips to integrate into your email marketing is to reference the specific pain points experienced by your audience.
Snowe understands this and does it extremely effectively in this Father's Day email: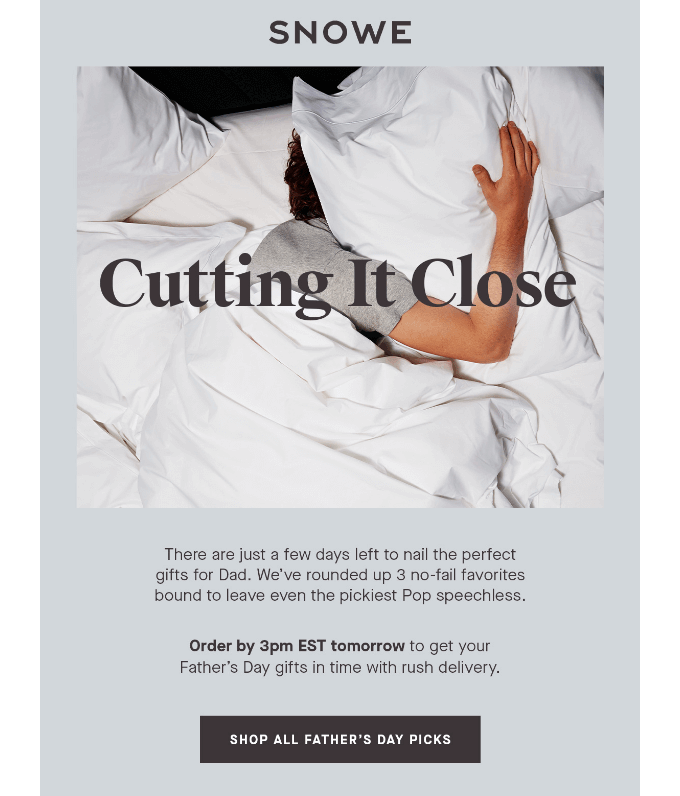 Source: Really Good Emails
To explain why this piece of email copywriting is so effective, I'm going to dive back into some Google Trends data.
The first things you need to know are that Snowe is an American brand, and that Father's Day in the US falls on the third Sunday in June.
Now, take a wild guess at when search interest for the term "Father's Day gift ideas" spikes in the US: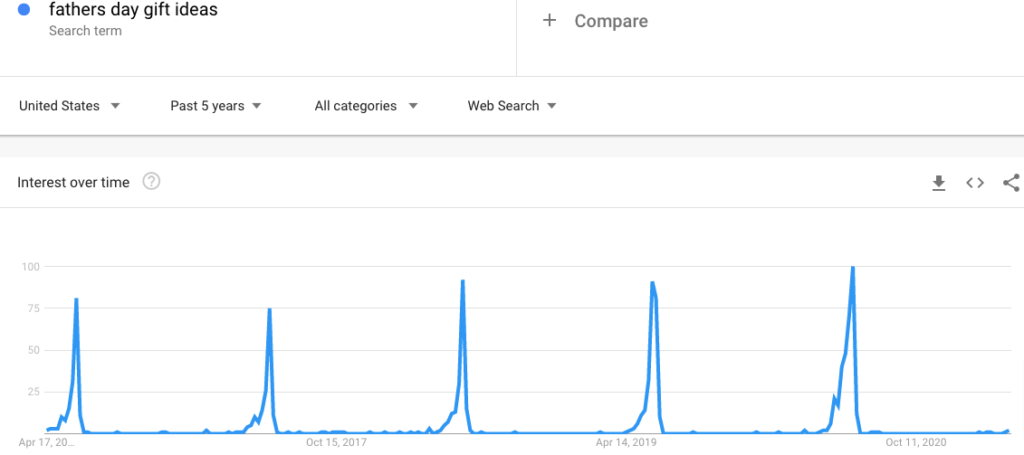 Source: Google Trends
That's right—in the week leading up to the third weekend in June. In other words, there are a lot of last-minute Father's Day shoppers out there.
That's exactly what Snowe references in the above email, opening with the phrase "Cutting It Close", before positioning Snowe products as a fantastic Father's Day present, and highlighting how fast they can be delivered.
If you're on a Father's Day gift deadline and you receive this email, that's a pretty compelling proposition. It addresses your concerns then provides a simple solution.
4. Allbirds
For obvious reasons, face masks have become a lot more popular over the last year. One study claims the pandemic could result in an astonishing 129 billion masks being used (and thrown out) every single month.
That's a whole lot of masks—and unsurprisingly, all that plastic presents a major risk to the environment. So much so that researchers at the University of Southern Denmark branded masks a "ticking plastic bomb" that presents a greater threat to the environment than plastic bags.
All of which brings me to this next email, from Allbirds.
Now, Allbirds isn't a personal protective equipment specialist. It makes sustainable footwear and clothing. But it clearly noticed an opportunity to produce a sustainable face mask made from non-damaging, natural ingredients: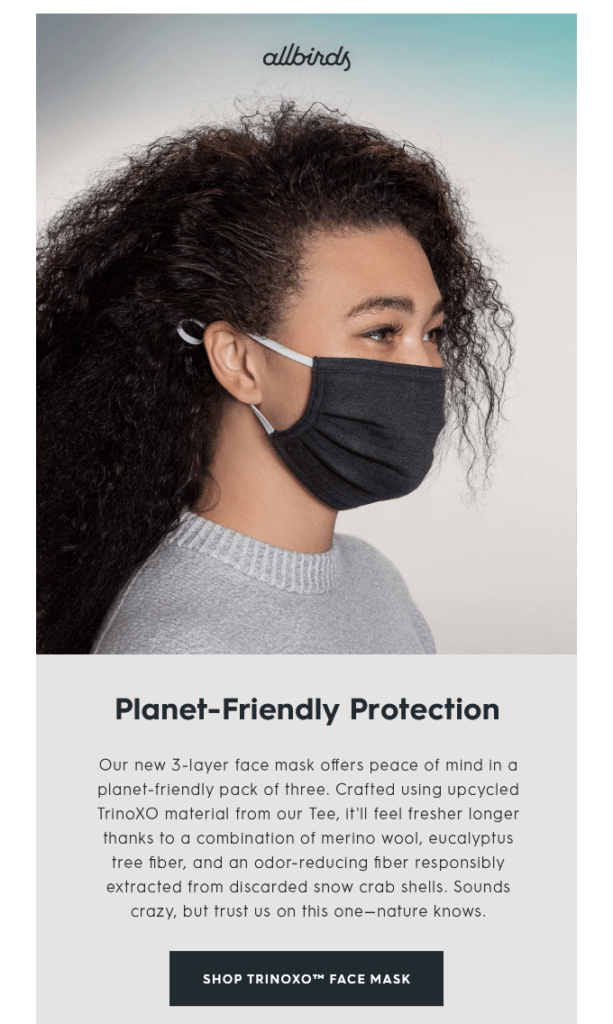 Source: Really Good Emails
The copywriting in this email is excellent, speaking directly to people who are looking for a "planet-friendly" face mask.
That's a big audience, considering the following stats:
In the UK, 45 percent of shoppers say they actively buy products that are environmentally and animal-friendly, while a further 41 percent keep these issues in mind when making a purchase.
In the US, nearly three-fifths of consumers say they're willing to change their shopping habits to lessen their impact on the environment, while almost four-fifths say sustainability is important for them.
By referencing the sustainable, natural, and upcycled materials used in its face mask, Allbirds offers an eco-friendly alternative to disposable plastic masks.
5. Sonos
Watching TV used to be something you'd do to pass a bit of time in the evening. Today, we have a lot more options at our disposal. We can flick on live television, access our favorite streaming service, or choose an on-demand movie.
In the mood for some music or a podcast instead? We can cook dinner or sit down with a book while broadcasting high-quality audio throughout our home.
These things are no longer compartmentalized—they're all "entertainment". The copywriting in this email from Sonos speaks to this: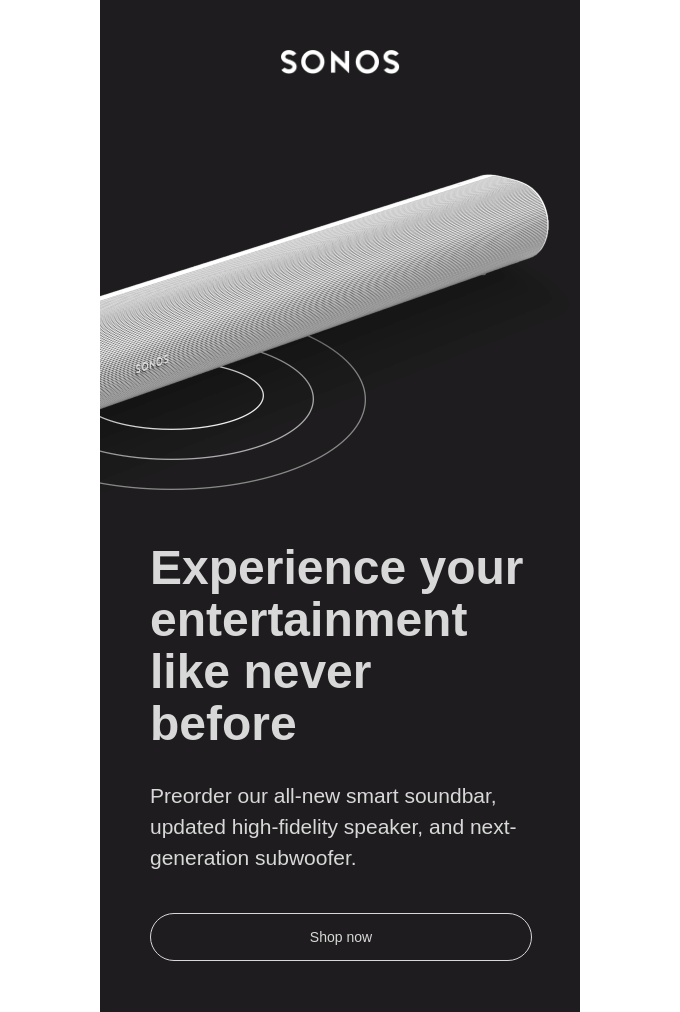 Source: Really Good Emails
It discusses entertainment as something to be "experienced", not just passively "watched" or "listened to". And it explains how Sonos products allow people to experience that entertainment "like never before".
That's a pretty compelling reason to pre-order those products.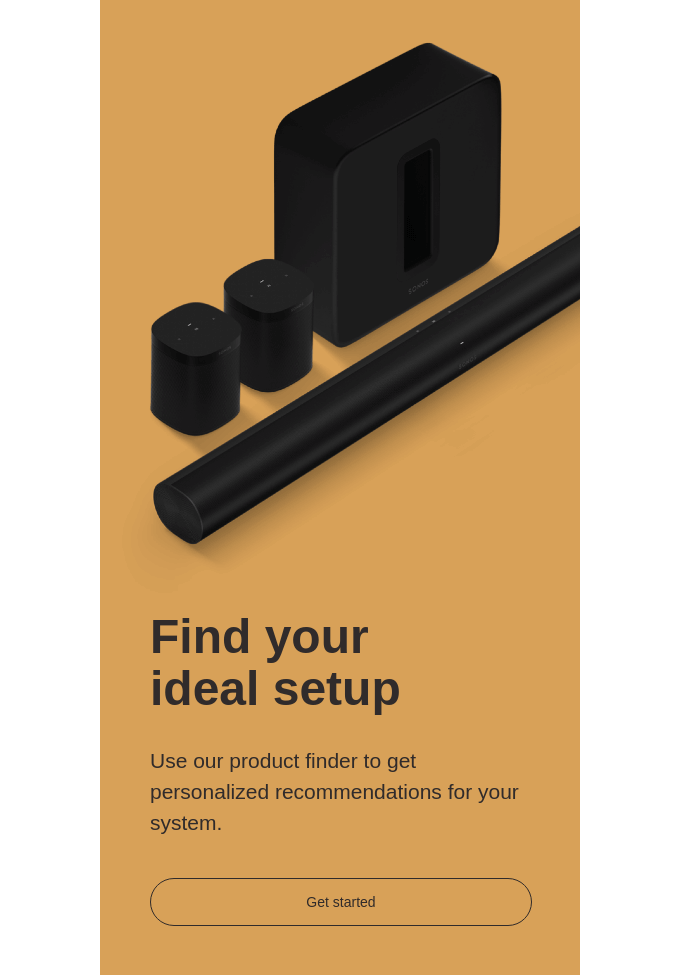 The "find your ideal setup" CTA works really well, too. You're not just browsing a catalog of products—you're getting personalized recommendations that fit your requirements. That's a powerful sell in a world where 61 percent of consumers expect brands to tailor experiences based on their preferences.
6. BAGGU
Remember all those stats I shared earlier about sustainability? Well, they're relevant to this example too.
BAGGU makes reusable totes—an eco-friendly alternative to picking up plastic bags every time you go to the store.
With sustainability becoming an ever-growing priority for consumers, search interest in tote bags has been steadily increasing since Google's records began in 2004: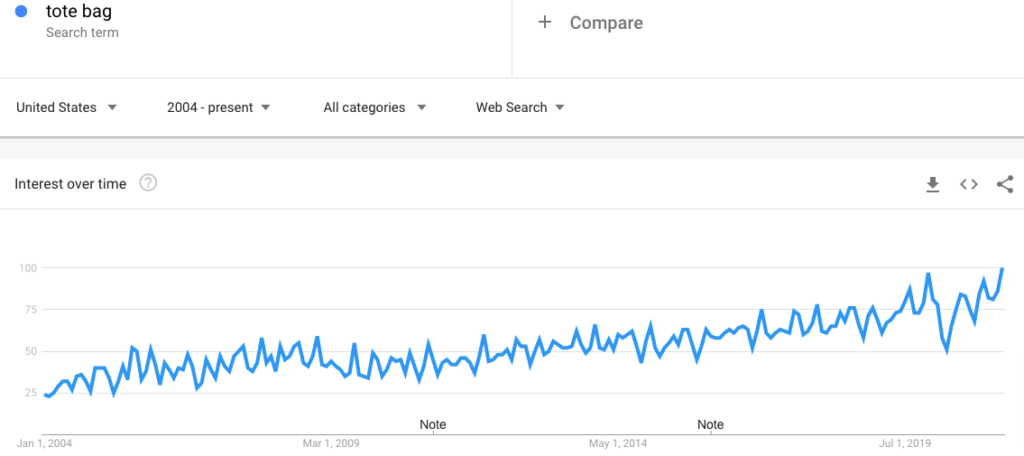 Source: Google Trends
BAGGU's email copywriting taps into this trend:

Source: Really Good Emails
Rather than simply urging customers to buy more bags, it offers practical advice on how to get more usage from the bags they've already bought. That's a big sustainability win.
Plus, there are some great pieces of phrasing around how BAGGU totes have "long, useful lives", and how proper care will help them "last for years".

By demonstrating how its products can be reused and kept fresh over time, BAGGU offers readers a legitimate reason to hit that "Shop Now" button—after all, they're doing a good thing by buying this product.
7. Brooks Running
Running is an activity that's attracted a growing audience in recent years.
Check out how global search interest in the term "running shoes" has been steadily increasing for more than a decade: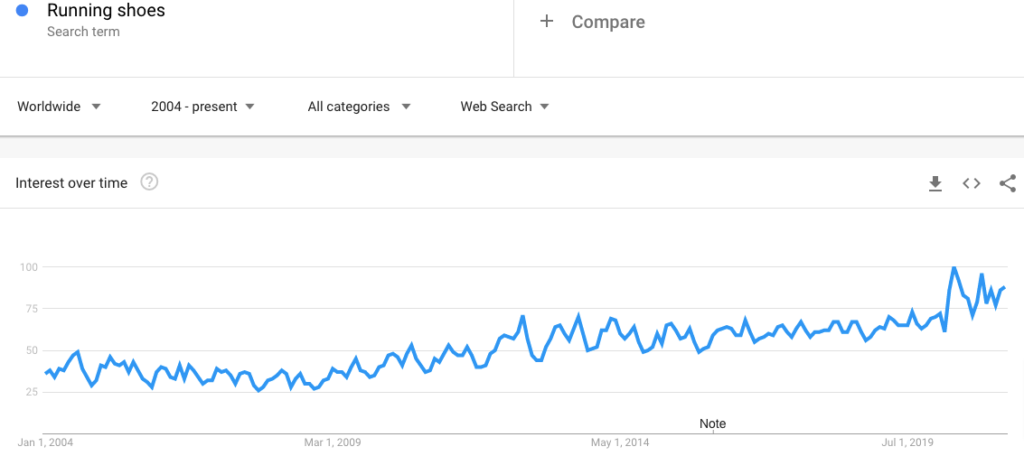 Source: Google Trends
However, even the most dedicated runner would admit there are some days when going for a run just doesn't seem very appealing. Days when it's hard work persuading yourself to get off the couch and brave the elements.
You might expect a company that sells running gear to gloss over this fact. After all, you wouldn't expect a car manufacturer to talk about how annoying driving can be, or a kitchenware brand to admit that sometimes, you just really want to order a takeaway.
However, running gear retailer Brooks doesn't shy away from this—in fact, it leans right in: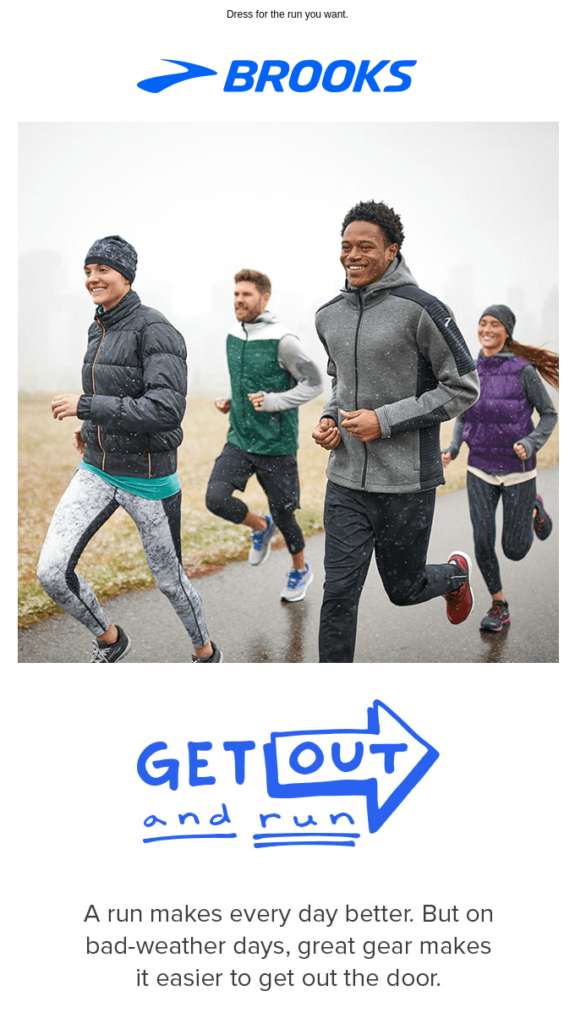 Source: Really Good Emails
The copy admits how bad weather can make going for a run seem a lot less appealing—but that quality running gear can make all the difference.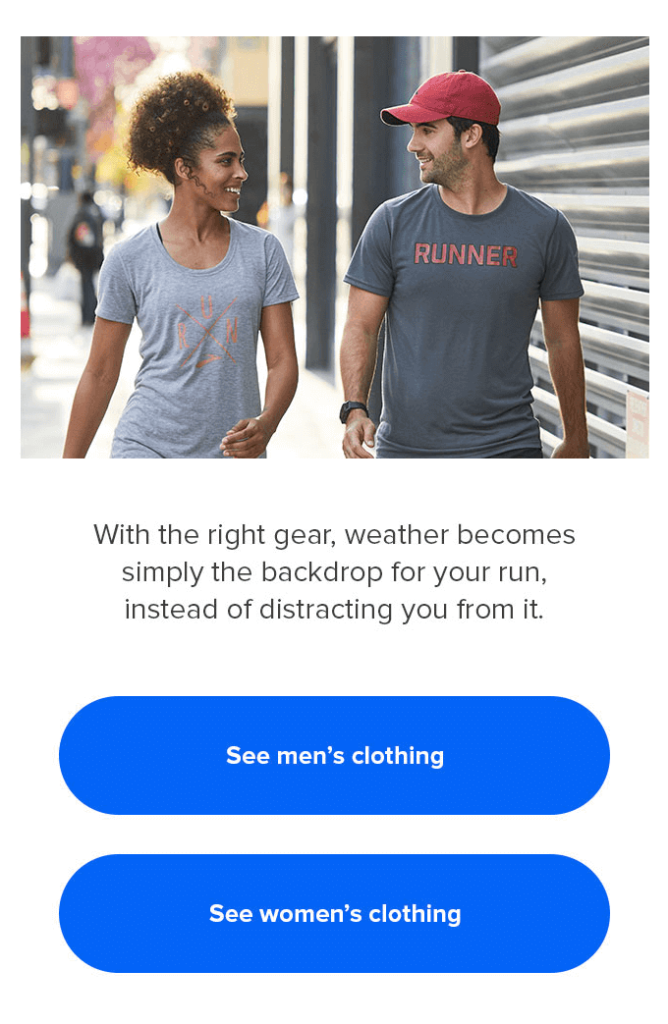 "With the right gear, weather becomes simply a backdrop for your run." That's a great bit of copywriting. It's basically saying: "Don't beat yourself up if you don't like running in the rain—you just haven't found the right gear yet."
Conclusion
All these examples are from the world of e-commerce, yet they're all different.
Some hone in on audience pain points. Some tap into trends, events, and seasonality. And some strive to tell the brand's story.
In other words, this shows us there's no shortcut or perfect formula to effective email copywriting. What works for one brand might not work for yours, and success will always depend on the specific outcomes you're looking to achieve.
That's why it pays to build a portfolio of ideas and examples.
Seen a fantastic email, or had a brilliant idea for a piece of persuasive email copy? File it away, then refer to it when you're working on your next campaign. I guarantee you'll collect a few gems along the way.