Marketing is most effective when it's not even clear that you're doing any.
Nowhere is this more clear than when a customer comes to you through a referral.
A satisfied customer recommends your product or service to a friend. And if they do, it's not because they're getting paid by the company that they're recommending. Or if they are, it's just a minor incentive.
That's why we trust our friends.
One study by Nielsen found that people are four times more likely to buy if they are referred by a friend.
According to research by Texas Tech, while 83% of consumers are happy to recommend their favorite products, only 29% actually do. Even if you have a good product, you're missing out on a huge portion of potential referrals if you're just waiting for referrals to come in naturally.
That's where referral marketing comes in.
Having a referral strategy helps you encourage your satisfied customers to take action and recommend your products to friends who might benefit from them.
In this port, I'll walk you through:
What referral marketing is specifically.
How it differs from other marketing strategies.
Examples of e-commerce companies using referral marketing.
How you can implement referral marketing step-by-step.
Let's get started
1. What is Referral Marketing? (And How Does it Differ From Affiliate Marketing?)
Referral marketing covers any marketing effort that encourages your past customers to naturally refer you new customers.
Affiliate marketing is similar in a lot of ways, but affiliates typically aren't customers of yours. More, they typically promote your product solely for the payout. It's an artificial recommendation, not a natural one.
With referral marketing, we're looking to focus on many sources of recommendations from many customers. You can still incentivize someone to make a referral, but that doesn't impact how trusted the recommendation is.
Many businesses are successful through affiliate marketing, and many are successful through referral marketing. Either can work, but it's normal to pick one or the other.
Does referral marketing work for e-commerce businesses?
When you first hear about referral programs, you'll hear about Uber, Airbnb, and other software or service-based businesses.
But that doesn't mean that e-commerce businesses can't be successful with referral marketing.
Ambassador found that the average referral marketing revenue in e-commerce and retail is about $155,000 per year.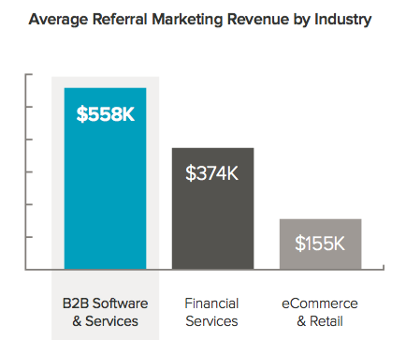 It's not as much as some other types of businesses, but it still shows that referral marketing can work well for e-commerce businesses.
2. When is Referral Marketing the Right Approach?
Why spend your time with referral marketing and not affiliate marketing, content marketing, paid advertising, etc.?
There are some unique benefits and disadvantages of referral marketing that can make it a good or bad choice for your business, depending on your goals.
Consider the whole picture when considering setting-up a referral marketing program.
There are four main benefits to referral marketing:
Referrals are trusted. The referrals come from actual customers, and are typically given to people the customer knows and trusts (it goes both ways). An impressive 14% of referral page visitors take an action, meaning that they are highly engaged and motivated.
Low initial and ongoing costs. The cost of buying or building a referral system is reasonably low. Once it's built, the only real costs are any incentives you reward referrers with.
Greater focus on giving more to current customers. Referral marketing allows you to invest more money in making current customers happier, leading to more referrals. With other marketing approaches, you have to use that investment to pay affiliates or to buy advertising.
Customers are usually connected with other potential customers already. In some markets, it's difficult to find your target audience and get your product in front of them. Most audiences are connected to each other, which means that your customers have direct access to other potential customers.
That said, no marketing strategy is perfect, and there are a few significant disadvantages of referral marketing:
Much of it is out of your control. Your customers will share their experiences in their own words, meaning that you can't craft a specific narrative or message. This can be good, but it may also undersell or misrepresent your business.
You're limited by the size of your customer base. If you have a low-volume business, you don't have many customers that can potentially refer new customers to you. Referral marketing doesn't work well for very small companies.
It takes time and can be hard to track. Unlike a paid advertising campaign where it's easy to see and analyze results immediately, it can take weeks or months for a referral to come in. It can be tricky to know what exactly prompted the referral and to optimize your program.
Takeaway: Referral marketing is a great choice if you have an established customer base that love your products, and don't have a large marketing budget.
However, referral marketing is not a good choice if you have a very small customer base and you need immediate results.
3. 6 E-Commerce Referral Marketing Examples
It's easy to find examples of successful referral marketing programs when it comes to SaaS and service-based businesses, but not so much for e-commerce businesses.
That's why I tracked down 6 examples, specifically for e-commerce.
1. Harry's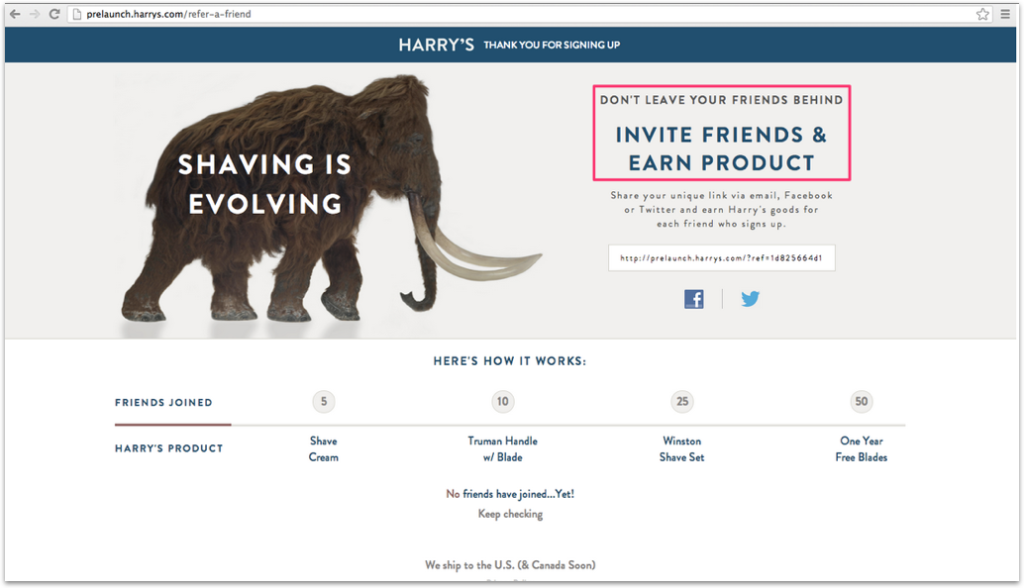 Part of Harry's pre-launch marketing campaign involved their referral marketing program.
Once someone signed up for the site, they were presented with a simple offer: Invite friends to signup, and get free products.
As users referred more and more friends (up to a maximum of 50), they received more valuable rewards. Almost like a game.
By the end of the pre-launch, over 65,000 friends signed up through invites, which accounted for 77% of all email leads.
2. GILT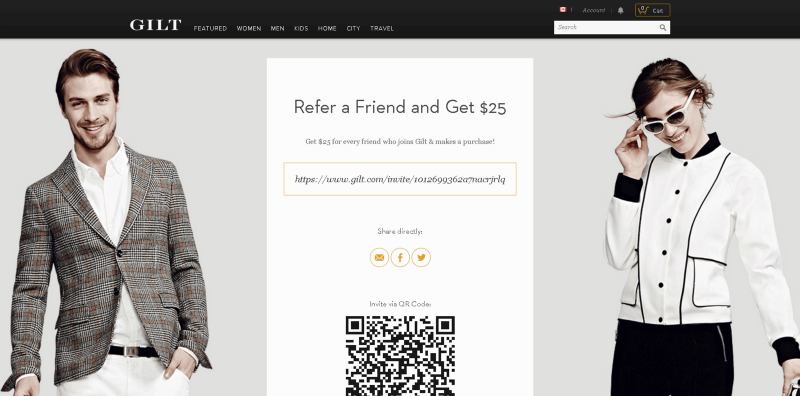 GILT isn't quite so public with their refer a friend program, but it's been running for a long time, so it's safe to assume that it's working.
They offer a $25 store credit for each referral that comes through a unique referral link.
3. Trendy Butler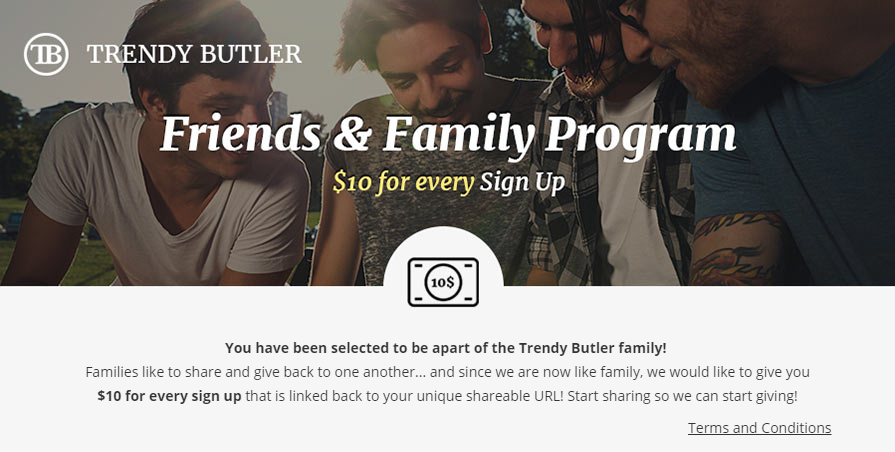 Trendy Butler is a male fashion business, who gives customers a unique link to invite friends with.
When someone signs up, the referrer gets $10 in credit.
4. The Clymb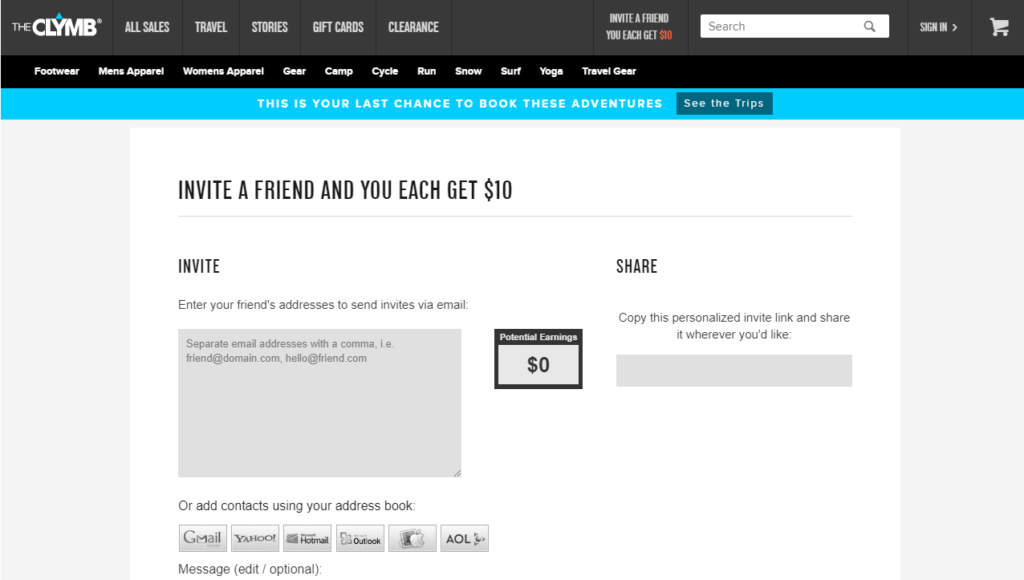 The Clymb is a large e-commerce site that sells all types of apparel.
Their incentive is double-sided. When a customer invites a friend, the new signup gets a $10 discount credit, and the referrer also gets a $10 credit.
Each user can access their invite page to copy their unique sign up link, or use the form on the page to automatically send an invite email to friends (that will contain the link).
5. MeUndies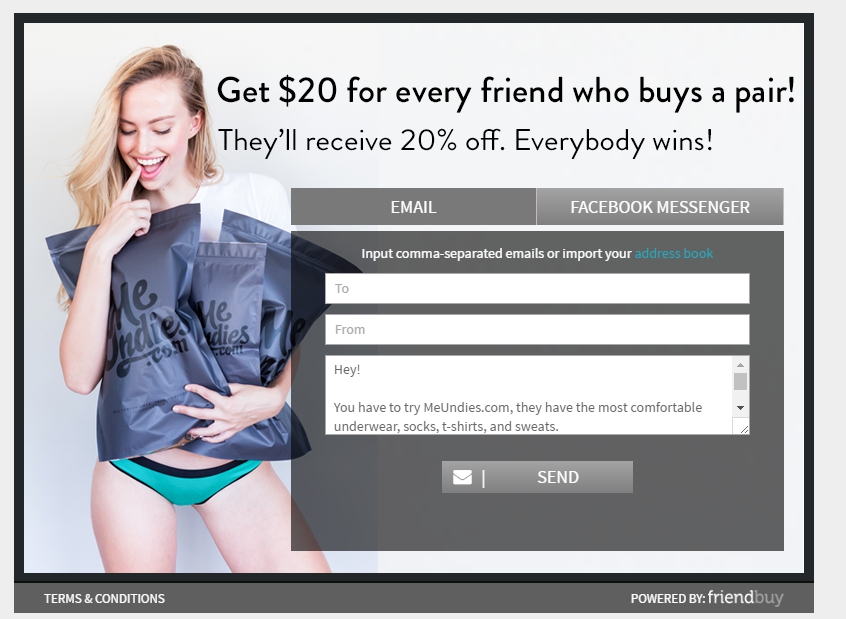 MeUndies sells underwear as you might have guessed.
When a customer refers someone, they get $20 in store credit. The person being invited also gets 20% off an order.
In order to have some control over the referral message, the MeUndies referral program requires customers to send an invite email through their platform.
The email box (see the image above) is pre-populated with a message that MeUndies is happy with, although it can be edited.
In order to stop people from essentially becoming affiliates, customers can only earn 25 store credits per year at most.
6. Amazon Prime (Discontinued)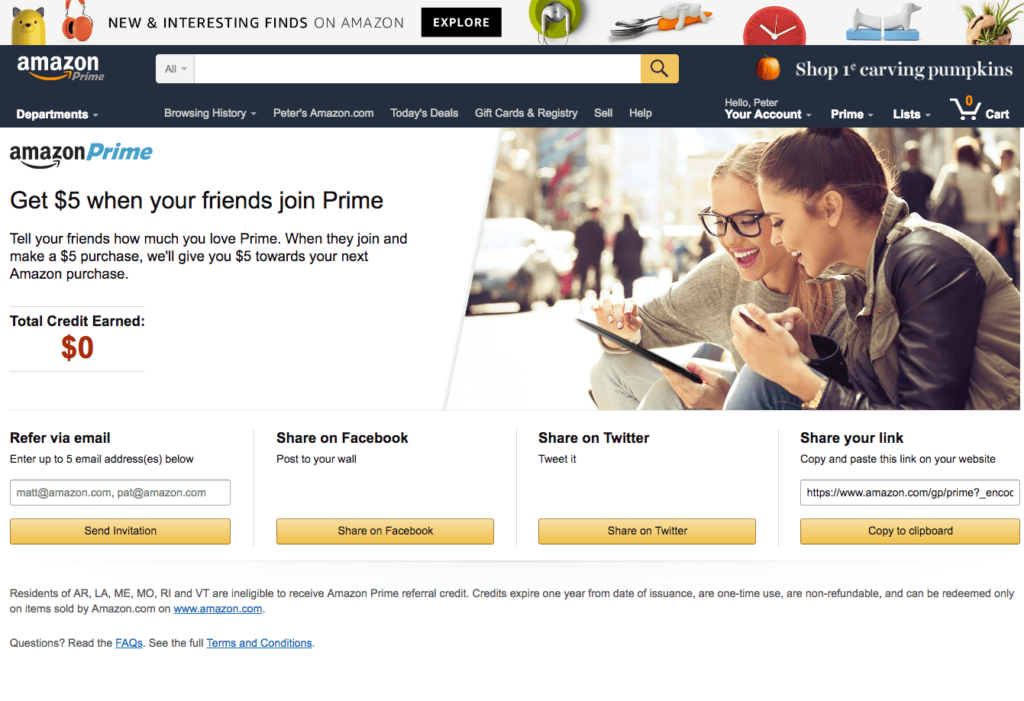 You may not have been aware of it, but Amazon Prime used to have a refer a friend program.
When they signed up and made a small purchase, the referrer got $5.
This example shows that referral marketing can be an effective tool to promote a specific program that you're trying to bring more attention to.
Everyone knows Amazon, so they don't need to use referral marketing. But not everyone knew what Amazon Prime was when it came out, so they used this program to encourage more active referrals.
4. How to Implement a Referral Marketing Strategy
You've decided you'd like to give referral marketing a go, so what now?
There are four main steps that you'll need to complete, that are a combination of planning and implementation.
I've gone into as much detail as possible, but a lot of the specifics will depend on what software you use, and how your website is built.
Step 1: Choose an Incentive
In almost all cases, you should have an incentive.
Some sort of reward for a customer who sends you new customers.
Even if someone's happy to recommend you, the incentive can motivate them to actively seek people they know that would like your product(s).
Incentives for e-commerce referral programs typically fall into one of just a few types:
Store credit
Discount
Products or samples
These types of incentives are great for your business, because it ensures that your cost comes back to you.
Give someone $20 in store credit, and they have to spend it on your site.
This is the main ongoing expense of a referral program, so you can choose how big of an incentive you'd like to provide.
Keep in mind that if you make the reward too big, it becomes a clear extrinsic reward. In other words, customers will refer others primarily for the reward.
Ideally, you want customers to refer you because they want to help support your business and share a good experience. That's intrinsic motivation.
Research has shown that intrinsic motivation is more effective than extrinsic motivation in most situations.
Besides choosing an incentive you can afford, there's one other aspect to decide on: distribution.
Will you give all of the incentive to the referrer, or do you want to give the new customer an incentive as well?
In the examples above, both The Clymb and MeUndies gave some sort of incentive to someone new signing up.
Step 2: Decide When You Will Introduce Your Referral Program?
If you ask a brand new customer for a referral, before they even try your product, you'll have a low rate of success.
You should wait until the customer has received their order, and have had an appropriate amount of time to try it.
Once they've had this time, there are three main platforms to promote your referral program through:
Email
User account on your website
Social media
Most businesses only ever care about email, as it's the most direct and reliable.
Not all customers use social media, and most customers will not login to their account on your website unless they're purchasing something. Even then, they may not see a small "referral" menu option.
With email, you can be sure that most customers will see that you have a referral program, and you can link to a page with more details if they're interested.
This is where you'll need to decide on how direct you'd like to be.
The most direct method is to send 1 or more emails that are all about your referral program.
For example, Vitasave sends one like this to all new customers about three weeks after their order is delivered: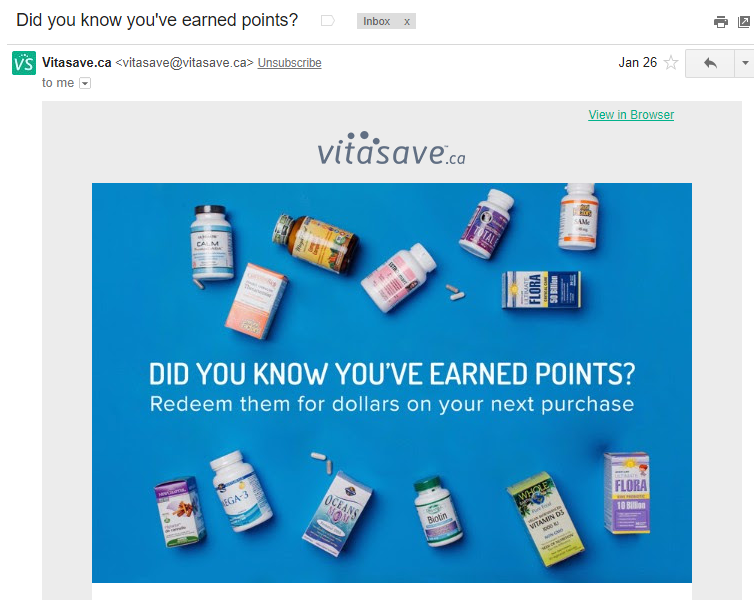 If you have good results with your referral program, it makes sense to highlight it like this.
An alternative is to mention it in your "welcome" email, like BoxyCharm does:

The advantage of this is that welcome emails have incredibly high open rates (around 50% average).
The disadvantage is that it's too early to ask for a referral. However, it can be a good introduction, as long as you follow up and mention your referral program later on.
Finally, if your referral program is just going to be a small part of your marketing strategy, you can be a bit more passive and include a small mention at the bottom of all the emails you send.
This is what Digital Ocean does:

At first, you'll want to split test different options and see which works best.
Step 3: Track Your Referrals
No matter what the incentive, you need to track results.
This is both for you and your customers.
The two main options for tracking are through:
Coupon codes
Unique sharing URLs
Coupon codes only work if you're planning on giving a discount to the new customer.
The more popular option, used in all the examples of the previous section, is to generate a unique sharing URL for each user.
You tack on a long unique string (usually a hash of a username) for each user. When someone visits your site, you store a cookie with that information, and record it at the time of the sale.
With that, you can attribute the referral to the right user.
If that sounds complicated, don't worry, I'll go over some tools to make it easy soon.
5. Online Referral Marketing Tools and Platforms
Let's take a high level view for a second.
Here's what you'll need for your referral program:
A user management system.
A way to generate unique referral URLs.
A way to attribute sales to the right customers.
A landing page explaining your referral program.
Some way of letting customers know about it (e.g. email).
This would take a long time if you built it from scratch, but your existing website probably has a lot of that already.
The parts you probably need help with are generating referral URLs, and letting customers know about it.
Luckily, there's many tools that do exactly that for you.
Here's a brief overview of the most popular ones. Most of these can be integrated with any website, no matter what CMS you use.
1. Genius Referrals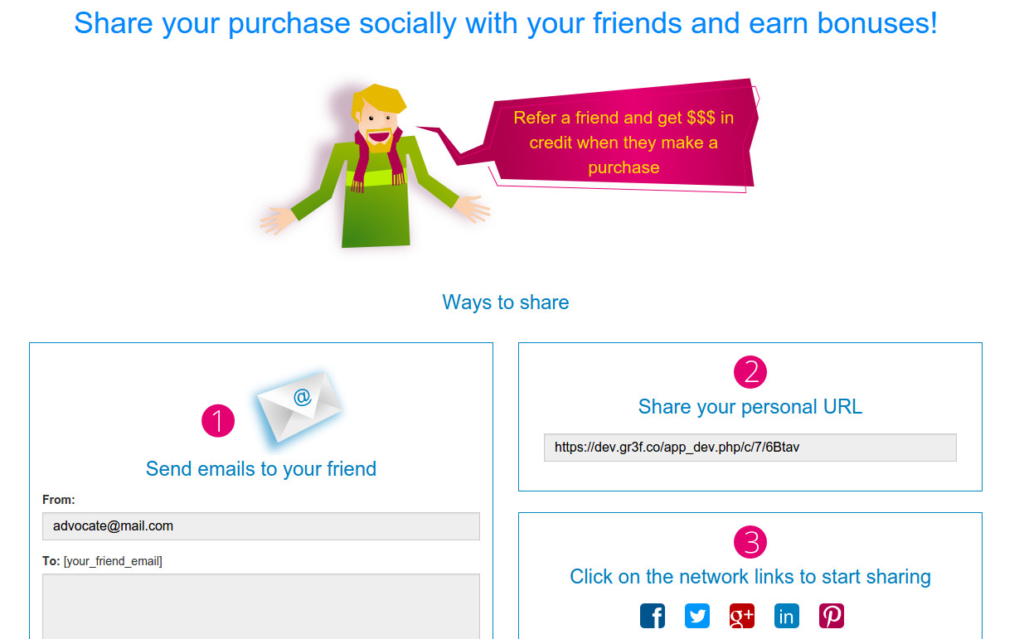 Genius Referrals is the budget option for referral software. It even has a very limited free plan to test it out.
It works with WordPress, Shopify, PrestaShop, or pretty much any website CMS.
It has a very specific focus on referrals, which is great for most people. It will let your customers refer others through email, social media, or custom URL. Genius Referrals takes care of all the tracking.
2. Referral Rock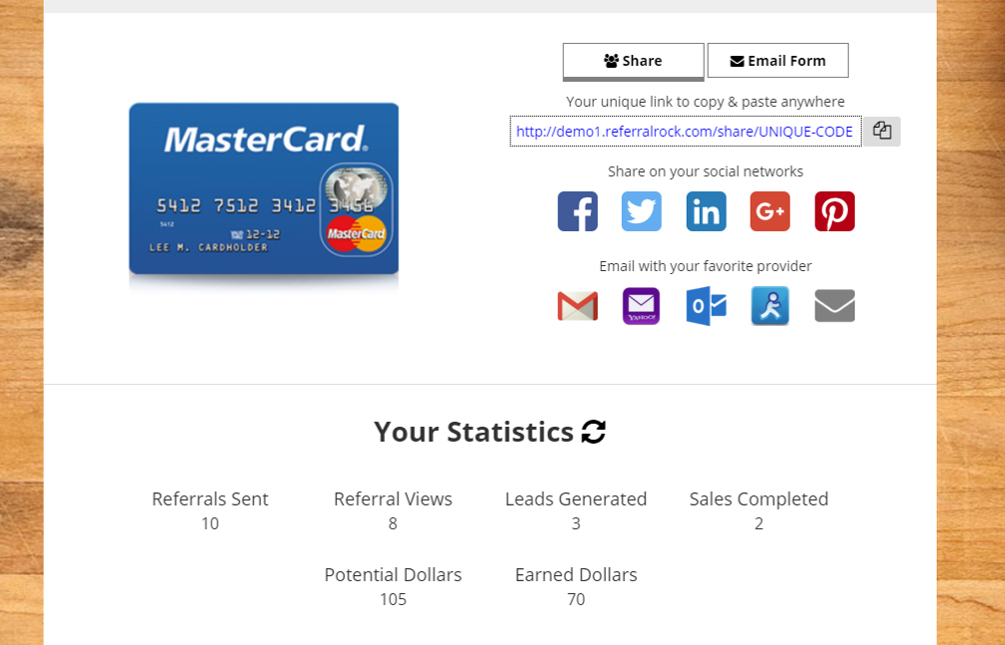 Referral Rock is a more expensive option, but comes with several advanced features.
On top of letting customers share by URL, email, or social media, it also gives you three ways to track conversions (more accurate metrics).
There's a lot of flexibility. Most notably, you can set up tiered rewards (the more they refer, the better the incentive).
It also comes with the ability to install a refer a friend widget on your site. You just paste in a few lines of code on any page you want it to be shown on (I recommend only user account pages).
Finally, Referral Rock can even handle reward distribution for you. That includes incentives like gift cards, coupons, or pre-paid visa cards.
Expensive, but powerful.
3. Shopify Apps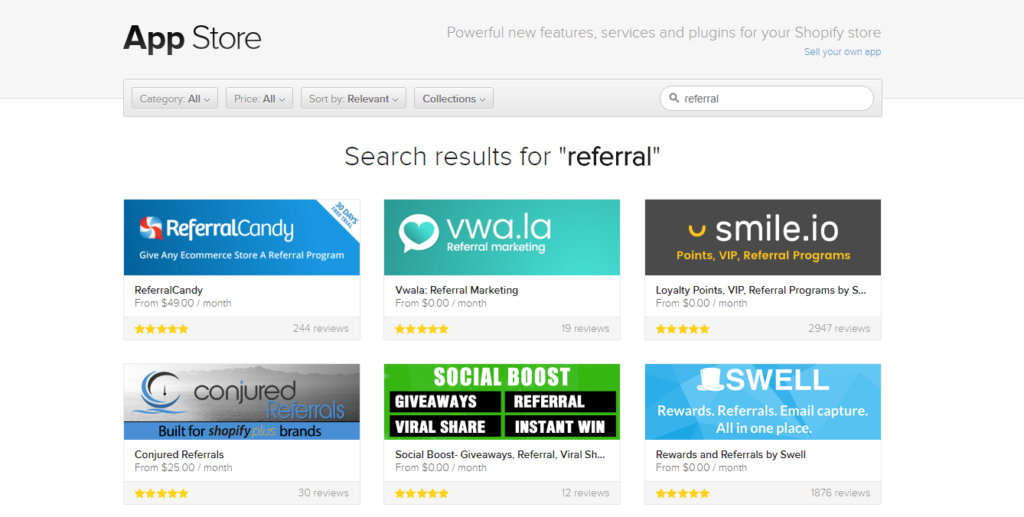 If you have a Shopify site, then it's very easy to get a referral program up and running.
There are several Shopify apps that will let you create a referral program. The paid ones like ReferralCandy are best, but there are even some free ones if you're really on a budget.
Conclusion
I hope I've convinced you that referral marketing is a great way to get new customers.
It's best when you truly have great products that customers love and will recommend them to people who trust them.
You should now have a good idea if it is a good fit for your business.
If you're going to give it a try, follow the three steps from earlier to plan your program, and then pick a referral marketing tool to implement your program.