Ask the average "civilian" what we marketers spend all our time doing and they'd probably say: drinking flat whites, dressing like hipsters, and coming up with whacky campaign ideas.
As we know, the reality is a little different. We don't spend nearly as long being "creative" as non-marketers would imagine.
Surveying 1,721 global senior brand marketers, PHD discovered that marketers today spend 57 percent more time on reporting tasks than we did a decade ago. Tasks like tracking performance, creating competitive analyses, and producing audience insights.
Inevitably, that means we're spending less time on producing and executing campaigns, which are now just the fourth and fifth most regularly carried-out tasks respectively.
So it's no wonder we often find ourselves scrambling around to come up with campaigns in time for a big product launch, sale, or seasonal event.
But don't fret, because I've rounded up seven killer last-minute marketing ideas to inspire your next campaign.
7 Effective Last-Minute Marketing Ideas
1. Use Quizzes to Drive Conversions (Dollar Shave Club)
According to IRP Commerce, the average e-commerce conversion rate across all markets stands at 1.74 percent.
So for all the fancy copywriting, eye-catching CTAs, and engaging visuals on the average e-commerce website, fewer than two in every 100 people who land on it will convert.
That's… kind of depressing.
Wouldn't it be fantastic if you could build an on-site tool that compelled visitors to effectively convert themselves? That's precisely what Dollar Shave Club (DSC) has done.
The second you arrive on the website, you're presented with a call to action for a quiz that recommends the perfect grooming products based on your specific requirements.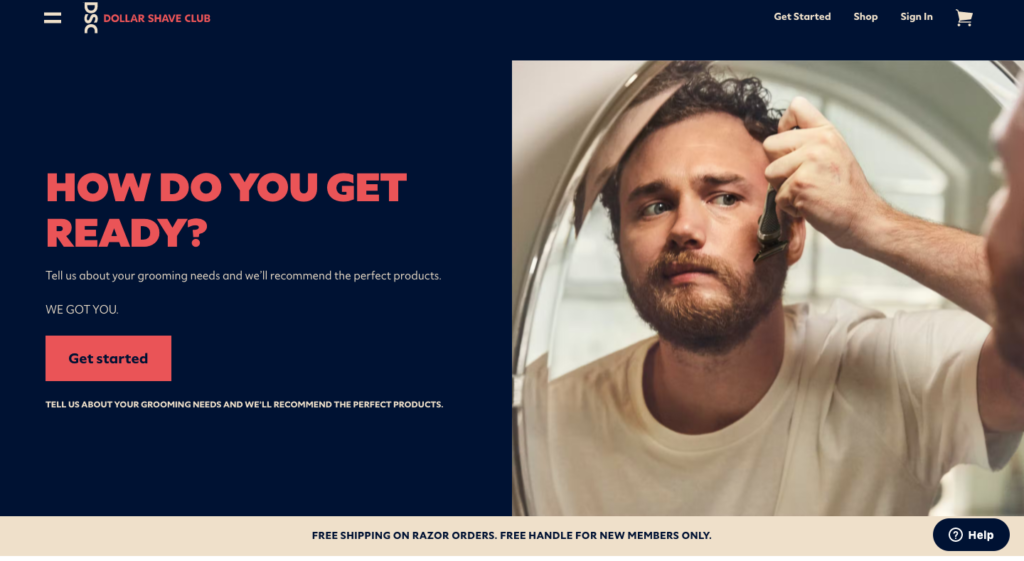 This isn't just a throwaway content marketing idea hidden away in the depths of Dollar Shave Clubs' blog; it's at the very top of a $1 billion company's homepage. Yet it's simple enough to execute something similar without a ton of planning.
To start with, it asks some simple questions about what and how often you shave. Then it introduces two key customer pain points: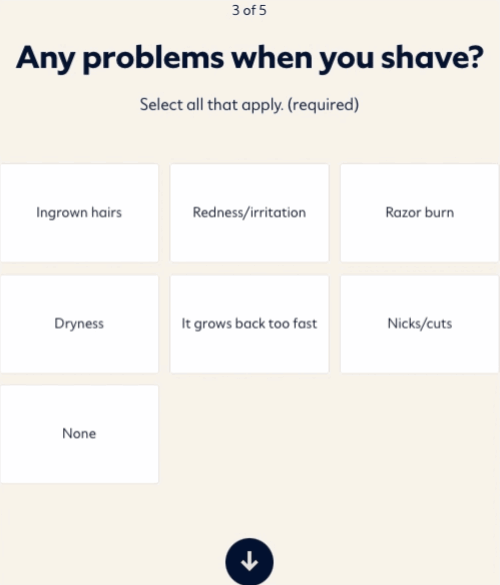 By asking about those pain points, DSC is subtly saying to the survey respondent: your shaving routine is causing you problems.
It asks one last question about whether you use soap, body wash, or neither, then presents you with a bunch of products to "help you look, feel, and smell your best".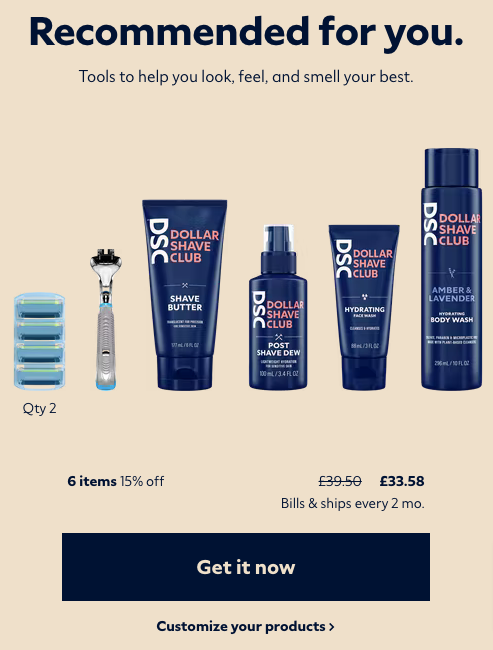 This works so well because the customer has effectively built this package themselves.
Not only that, but by asking them about the problems they experience during shaving, DSC has already planted the seed that something about their routine needs to change, which means they're one step closer to converting.
As a final sweetener, Dollar Shave Club points out customers can save 15 percent through product bundling. Best of all, this is a totally evergreen content strategy.
So any time you're desperate for a last-minute marketing idea, you can build your own product recommender quiz.
2. Leverage Exclusivity to Promote Sales (Glossier)
You've got a big, sitewide sale on the horizon. Get it right and you'll drive a ton of sales (and free up some much-needed space in your warehouse).
But if you get it wrong, all you'll do is slash your average order value and potentially weaken your brand.
It might mean you need to run another sale to hit your targets—and when discounts become too regular, they inevitably dissuade customers from buying when you aren't running a promotion.
So there's a lot riding on your next sale. But you can't figure out how to promote it, and the clock's ticking.
Now's the time to generate some attention and excitement by building an air of exclusivity around your sale. Skincare and beauty brand Glossier is a master of this approach.
In this example, it offers a 20 percent "friends of Glossier" discount that (supposedly) gives a select few customers the chance to earn big savings before the "official" sale launch: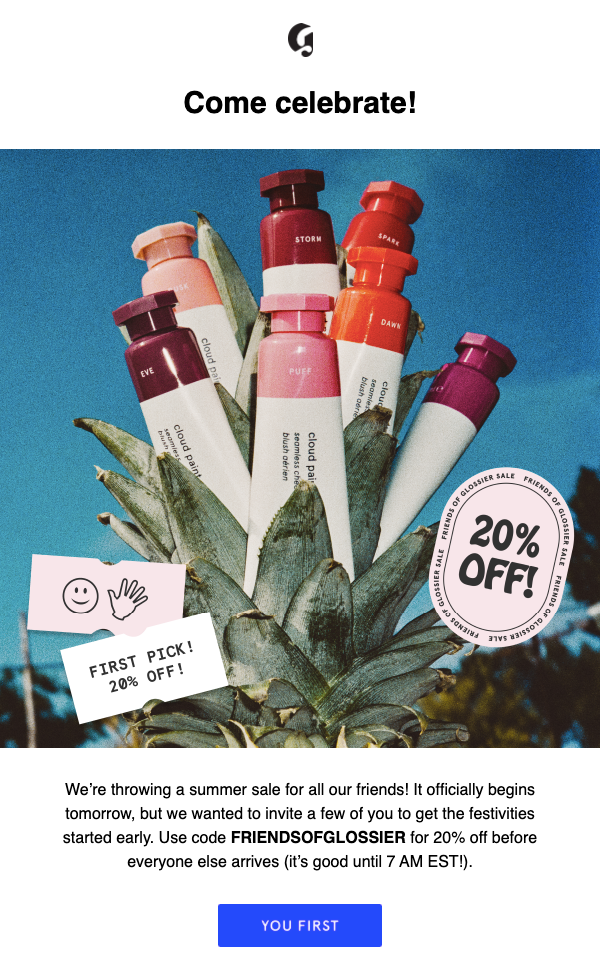 And it does the same thing in this next example, but hammers the offer home by adding: "Don't tell anyone."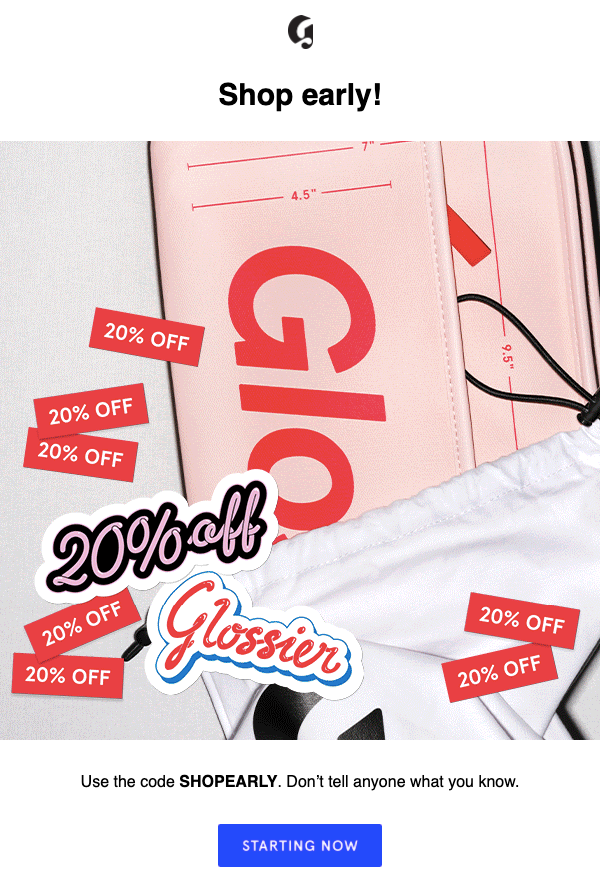 That's a fantastic way to convince customers that they're special and are being offered something out of the ordinary. Even though, in our heart of hearts, we probably know that every Glossier customer is being sent this exact same email.
3. Remind People How Amazing Your Products Are (Outdoor Voices)
There's never a bad time to tell previous and would-be customers about how much everyone loves your products. So any time you're struggling for a campaign idea, you could do a lot worse than sending some social proof emails.
According to Trustpilot, 89 percent of consumers read reviews before buying, so sharing a well-timed customer testimonial or case study could be all it takes to drive a bunch of impulse purchases.
Athletic apparel brand Outdoor Voices is no stranger to this tactic. In a single email, it promotes four products, each accompanied by its own customer testimonial. Those testimonials look something like this: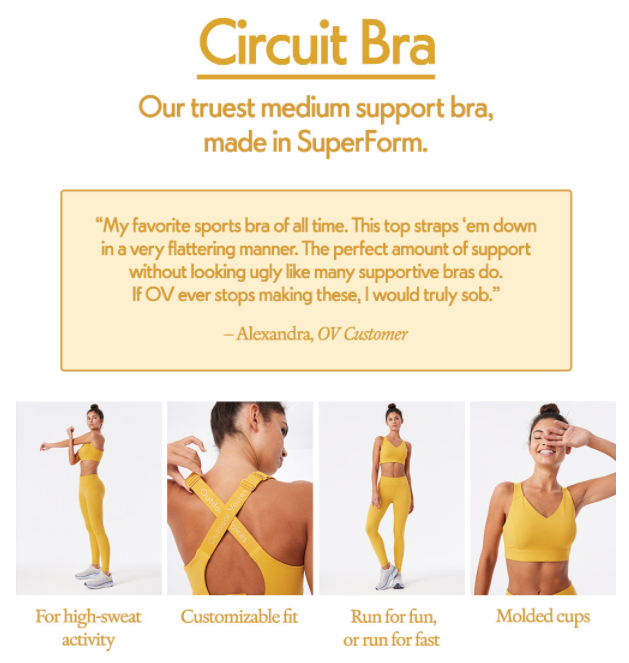 Now, I've never bought a support bra, but I imagine this testimonial speaks to the two biggest potential pain points:
Is it supportive?
Does it look good?
Of course, there's no way to tell whether testimonials like these are real, or simply an invention of the brand's marketing team. But, in this case, you can find this exact same testimonial hidden away in the reviews section for the Circuit Bra, along with a bunch of other five-star reviews.

If you are going to share some glowing testimonials, it definitely helps if customers can actually find those testimonials on your site. Otherwise, you risk looking untrustworthy.
4. Offer Personalized Product Recommendations (Mavi)
As marketers, we love creativity.
Left to our own devices, with no brief to fulfill or goals to hit, we'd probably come up with some pretty insane, boundary-pushing campaign ideas. But here in the real world, we're doing this to generate leads and/or drive sales.
So it's always a smart idea to place your products front and center in your e-commerce campaign planning.
Mavi shows us the benefits of this approach with an email marketing campaign that delivered personalized product recommendations to customers based on their recent browsing activity.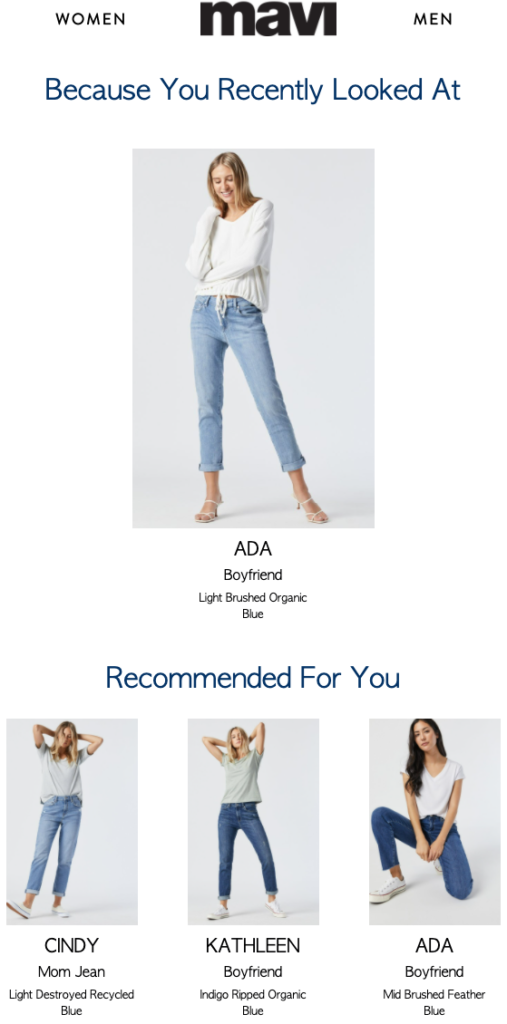 This is a smart approach because research shows that consumers are suckers for personalization. In fact:
61 percent of people expect brands to tailor experiences based on their preferences, according to Google.
Accenture discovered that 91 percent of consumers are more likely to shop with brands who recognize and remember them, and provide them with relevant offers and recommendations.
Mavi's example also demonstrates the power of leveraging first-party data—that is, information you own because you collected it directly from your customers.
When you've captured someone's email address, you can compel them to sign in each time they return to your site, then make it easy for them to find products you know they'll love—whether by tailoring the browsing experience or sending personalized recommendation emails.
No wonder a 2021 survey from marketing agency Merkle found that first-party data collection was a priority for 88 percent of marketers.
5. Use Your Employees' Expertise As a Marketing Tool (Anastasia Beverly Hills)
As an e-commerce business, you're worth more than the sum of your products. Whether you sell drill bits, bodycon dresses, or scented candles, you have an opportunity to stand out from your competitors by highlighting your in-house expertise.
Evidence shows that consumers actively want to hear from the people who actually make up your business. Research from Sprout Social discovered that 72 percent of consumers feel more connected to brands whose employees share information about the company on social media, with 37 percent saying they trust employees more than the brands they work for.
If you're smart, you can use this desire to hear from your employees as a value add. For example, cosmetics company Anastasia Beverly Hills used an online beauty masterclass with one of its pro artists as an incentive to drive sales.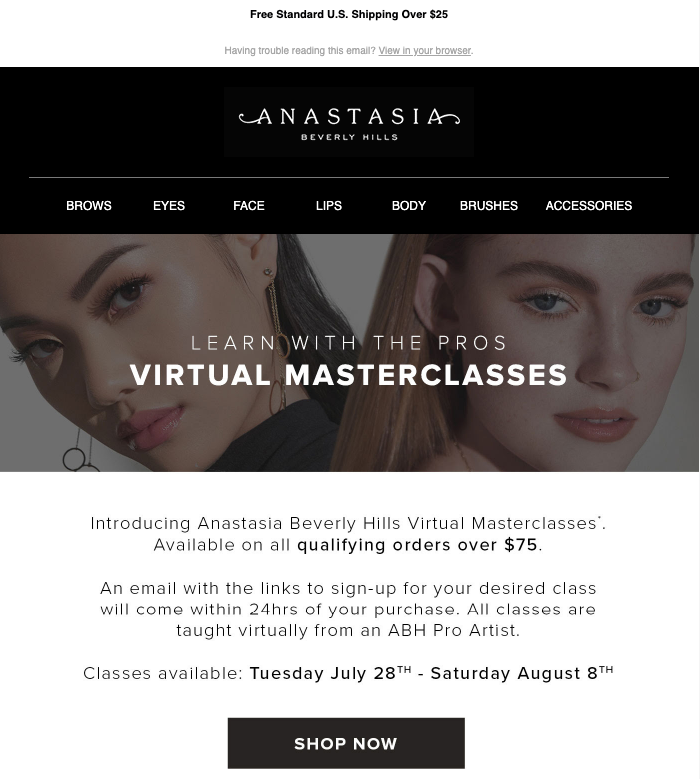 To be clear, those masterclasses aren't your classic top-of-the-funnel lead generation strategy—an opportunity to capture email addresses. Instead, they're being used as a bottom-of-the-funnel deal closer.
It's not even a case of "buy anything and get a free masterclass"—this tactic was specifically used to drive orders of $75+. So the brand is effectively using content as a free gift on high-value purchases.
From personal styling sessions to discussions of interior design trends, this same approach can be leveraged by brands across a wide range of e-commerce niches.
6. Promote End-of-Line Stock (Function of Beauty)
There's no big sales event on the horizon. You're not planning a product launch or introducing an exciting new incentive. So what on earth are you meant to talk about in your marketing?
You can't just say nothing, because then you risk people forgetting about you. One smart approach when you've got nothing specific to promote is to drum up some interest in end-of-line products—items that are on the cusp of being discontinued.
At the moment, those products are doing little more than eating up valuable space in your warehouses, which is actively costing you money. That gives you free rein to launch an aggressive discount or a quirky marketing campaign to drum up interest.
Alternatively, you can take the same approach as Function of Beauty and use the product's impending departure from your store inventory as a selling point.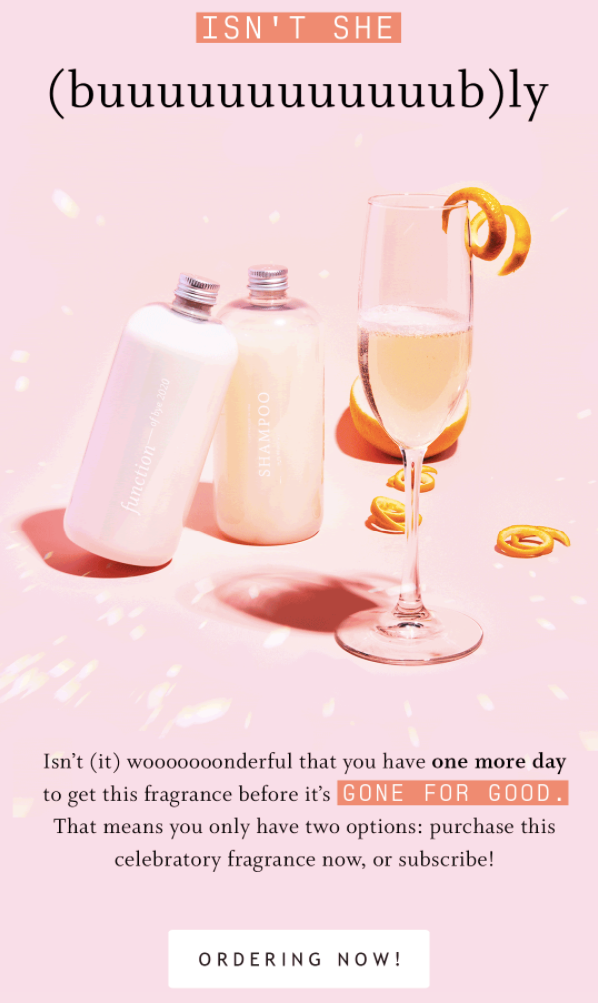 That's right: rather than positioning this as an old product that's outlived its shelf life, Function of Beauty describes it as a highly sought-after product that won't be available for much longer.
All of which gives the customer a feeling of FOMO: If I don't act fast, I'm going to miss out.
7. Grow Your Email List With Popups (Kensie)
An email is worth a whole lot more than the sum of its characters. Every email you capture is an invitation from your website visitors to reach out to them with targeted communications and offers.
Sure, I'm biased, but in my experience, the most effective way to do that is to add popups to your website. Just like womenswear brand Kensie does here: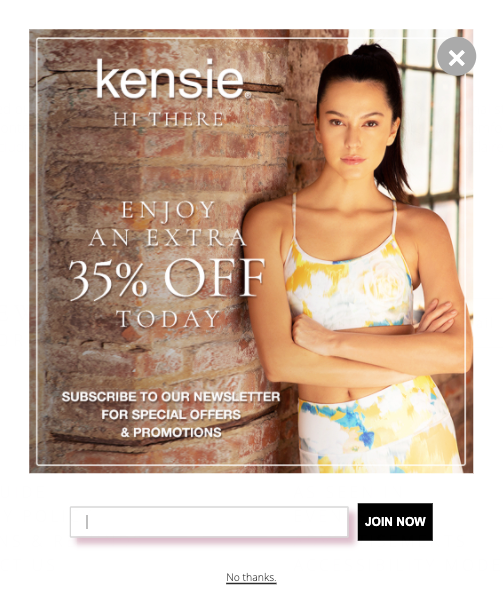 There are a few reasons why I like this simple popup:
It offers an aggressive discount. Only you know if you can afford to offer a 35 percent discount in exchange for an email address, but if email is a key part of your e-commerce marketing strategy, it might be worth the short-term hit to your margins.
It succinctly spells out what you're getting. Subscribe for special offers and promotions—there's no mystery here. That means there's less chance of people unsubscribing because they didn't know what to expect from your newsletter.
It incorporates an image. As our analysis of 1+ billion popups revealed, popups with images 84 percent better than popups without images.
Obviously, Drip offers onsite marketing tools, so we know all about using popups for everything from lead generation to customer retention. If you want to learn more, be sure to check out our wealth of resources on website popups.
Conclusion
When deadlines are tight and resource is low, simplicity is a marketer's best friend.
Fact is, you don't have to come up with the next "A Diamond is Forever" or "Just Do It". You just need to find an angle that helps you achieve your marketing and business goals.
And nine times out of ten, those goals are going to involve selling more products.
Whether you're sharing customer testimonials, offering personalized product recommendations, or promoting a limited-time offer, keep your eyes on the bottom line and you won't go far wrong.