Imagine a friend comes over to help you put together flat-pack furniture. You're grateful for their assistance, but you say to them, "While you're here, can you just take a look at…"
Well, your e-commerce customers are just like that friend. Meaning, you want to get the most out of them while you have their time.
In other words, when you have them, there, in your hands, you should do your darndest to get them to spend more. Because increasing your average order value (AOV) means you can increase your profits—without having to lure in a bunch of new customers.
So, today I'm going to share with you 11 lesser-known strategies for increasing your AOV…
How to Increase Your Average Order Value
1. Offer a Monogramming Service
People are willing to spend more on custom or personalized products.
They work particularly well as gifts and you will see sales rise around the holidays.
This kind of thing is big business.
By 2021, the global personalized gift market is predicted to reach USD 31.63 billion.
You can get in on the action by offering the option of a monogramming service at an added cost.
Luxury fashion brand, Burberry, does this for many of their items:

Note that they market this service for gifts that are, "Designed by Burberry, personalized by you."
To increase your AOV, offer personalization as a specialist service or as an add-on at the checkout stage.
You could also offer custom designs or custom features to up the average spend.
For instance, most sportswear companies, such as Converse, now sell custom sneakers at a higher cost: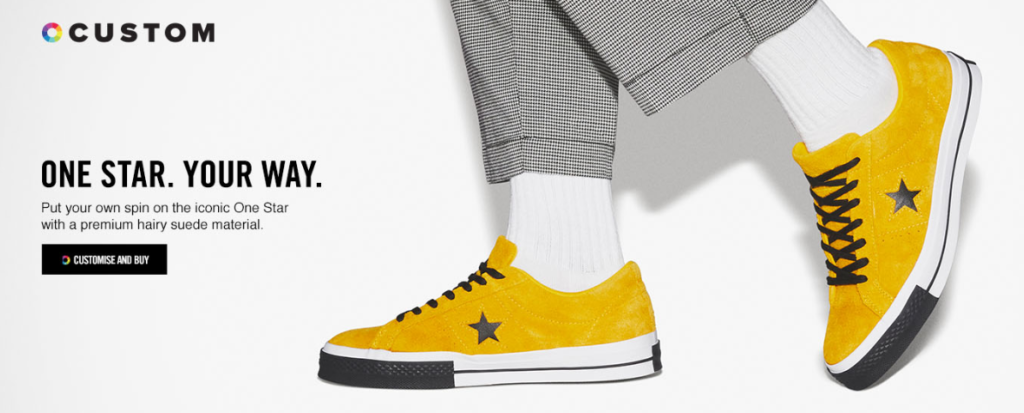 Customers want the option of personalization with a monogramming service or similar.
That's why the market is worth so much.
So, why not give customers what they want and increase AOV while you're at it?
2. Create a Personal Shopper Bot
When you go into a brick and mortar store, sales assistants always approach you.
It can be a bit annoying. But, let's be honest, sometimes you genuinely need some assistance.
The same is true for online stores. In e-commerce, sales assistants are available via live chat. The great thing about live chat is that customers are 4.6 times more likely to convert after live chat support. And they spend 60% more on average.
That is a huge potential increase in average order value.
You can use AI for live chat by offering a customer service bot or, even better, through a personal shopping assistant in an onsite campaign.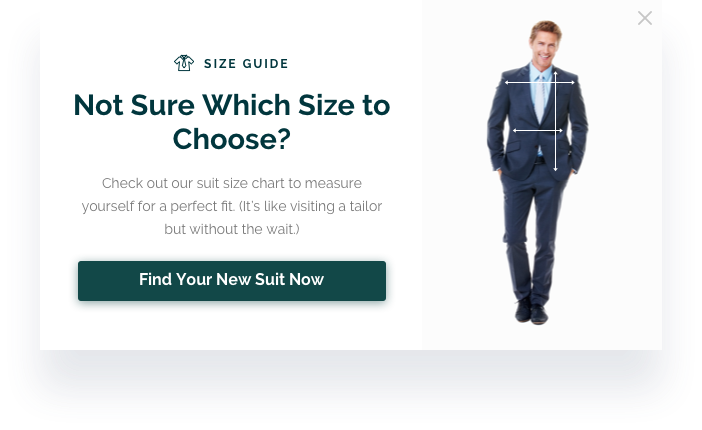 Outdoor clothing brand, The North Face, has a bot to help customers find the perfect jacket: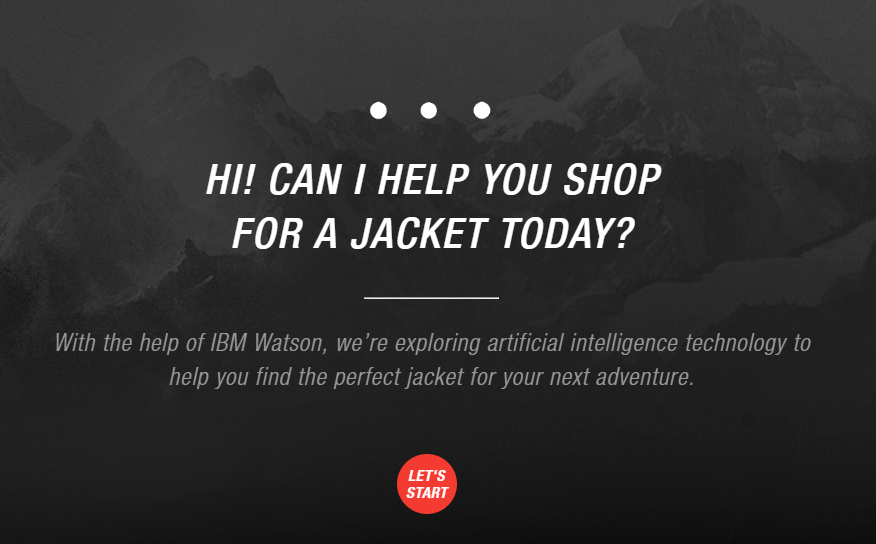 You could create a similar bot that genuinely helps customers. And at the same time recommend upsells and cross-sells to increase AOV.
3. Offer a Minimum Spend Discount
Pretty much every e-commerce store offers free shipping nowadays. I'm not saying you shouldn't offer free shipping. That would be silly. But it's less of an incentive for customers to increase their spend as it's so ubiquitous.
You should try something a little different like offering a minimum spend discount, too.
For instance, you get half off pizzas with a minimum spend at Papa John's every Tuesday:

Big name retailers are also fans of the minimum spend discount.
British e-commerce store, Very, for instance, offers 10% off when you spend £100 or more in their home and garden section:

An even better method is to feature your discount in a promotional campaign. It's a non-invasive but constant reminder to make a higher purchase. And an excellent way to get customers to purchase more products on average.
4. Display Free Shipping Progress
You know by now how important free shipping is. Fifty-seven percent of shoppers cancel their orders if shipping costs are too expensive.
But how do you get people to take advantage of your free shipping offer and up your AOV…
Don't just say customers get free shipping when they spend X amount. Instead, show them just how close they are to your free shipping threshold.
Here's an example from Barnes & Nobles' online store: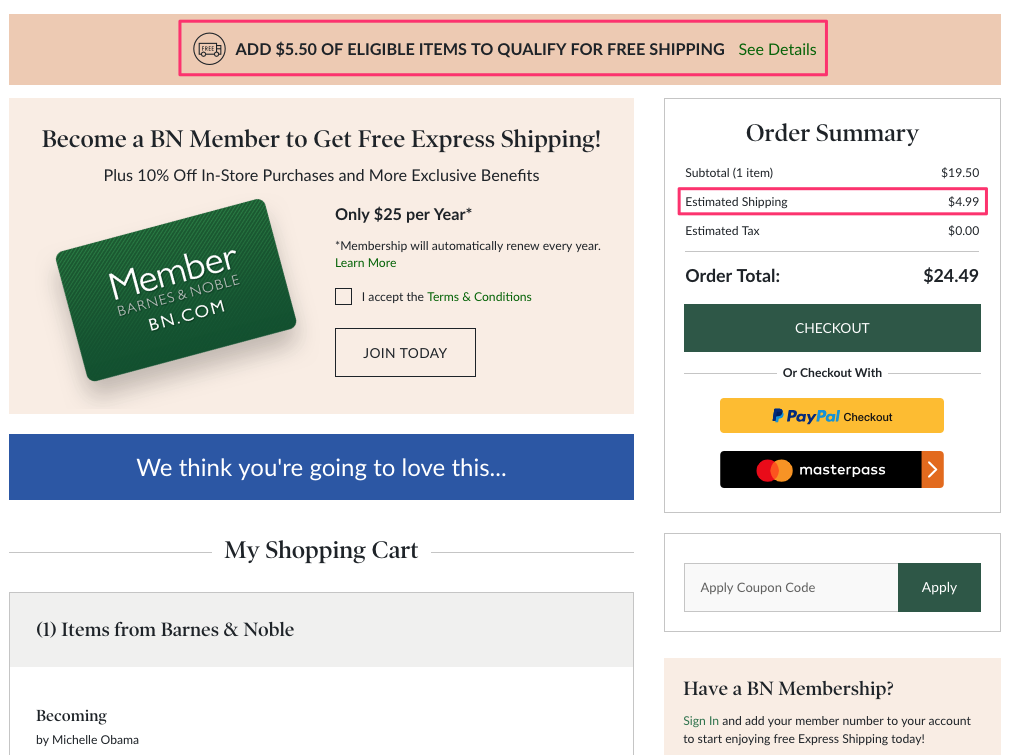 Shipping is $4.99. But I only need to add $5.50 to get free shipping. So, I might as well make another purchase while I'm here.
That's the customer thought process.
Show customers exactly how much more they need to spend and they will more than likely add further items to their cart.
5. Offer a Free Gift When Customers Spend More
This is another way to incentivize a higher AOV. It's unique, because how many businesses give out freebies? Very few. And customers dig a freebie. Free gifts are one of the most popular holiday promotions among shoppers:

Customers want value for money. Hence, a free gift makes them feel like they are getting a good deal … even if they spend more.
MyProtein runs promotions where they offer a free gift in exchange for a minimum spend: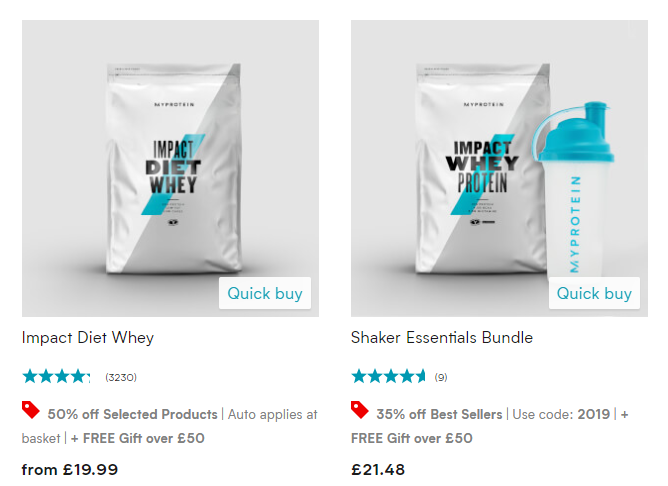 They provide free gifts on top of other promotions. Which makes the deal super appealing.
6. Create a Tier-Based Loyalty Program
Generic loyalty programs are already fantastic for boosting your AOV. Most businesses see an AOV increase of 13.71% from their loyalty program customers. A rewards system helps you form a relationship with customers. Thus, encouraging them to return and spend more.
Tier-based loyalty programs add extra exclusivity and encourage an even greater spend. Everybody wants to be a VIP, sauntering through velvet ropes, after all.
Luxury retailer, Nordstrom, has a special loyalty program called The Nordy Club. (Source)
Customers earn status based on how much they spend. As their status goes up they reap more and more benefits. Benefits include things like invites to events, vouchers and early access to products.
You could do the same by rewarding customers that spend the most at your online store.
The easiest way to do this would be to offer bronze, silver and gold status to loyalty program customers. Doing so guarantees an increase in average order value because it gamifies the shopping experience, inviting customers to move up to the next level.
Editor's Note
Online retailers MeUndies have mastered using "ascension ladders" in their marketing. To learn more, read "Strategy #2: Create an Ascension Ladder to Increase Retention" from 9 Strategies MeUndies Used to Grow 1,583% in 3 Years (Case Study).

Sam Thomas Davies
Head of Content, Drip
7. Create a Cashback Program
What's better than earning loyalty points? Earning cold, hard cash.
Kohl's Reward Program is extra: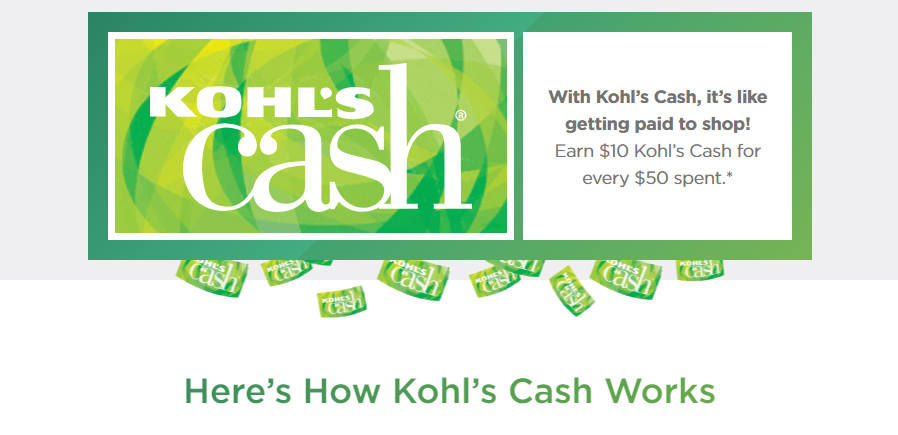 Earning $10 for every $50 you spend is mighty appealing.
Kohl's CMO, Greg Revelle, says,
Our hope is that the new Kohl's Rewards program will allow us to do three things: connect with new customers in a different way, deepen the relationship with customers and simplify Kohl's value proposition.
Obviously, they hope to increase average order value, too, but they can't just come out and say it.
You can steal Kohl's idea and create a digital wallet, in which loyal customers can store their cashback rewards. There are many types of loyalty program out there. You just need to consider which is most likely to increase average order value.
8. Provide Finance Options for Expensive Items
Not everybody can afford that flashy piece of tech or a brand new sofa. They might want such an item but can't pay for it off the bat. But providing the chance to pay in installments can increase sales by 40%.
By offering financing options, you can increase your average order value over time.
Apple does this for items such as their Apple Watches: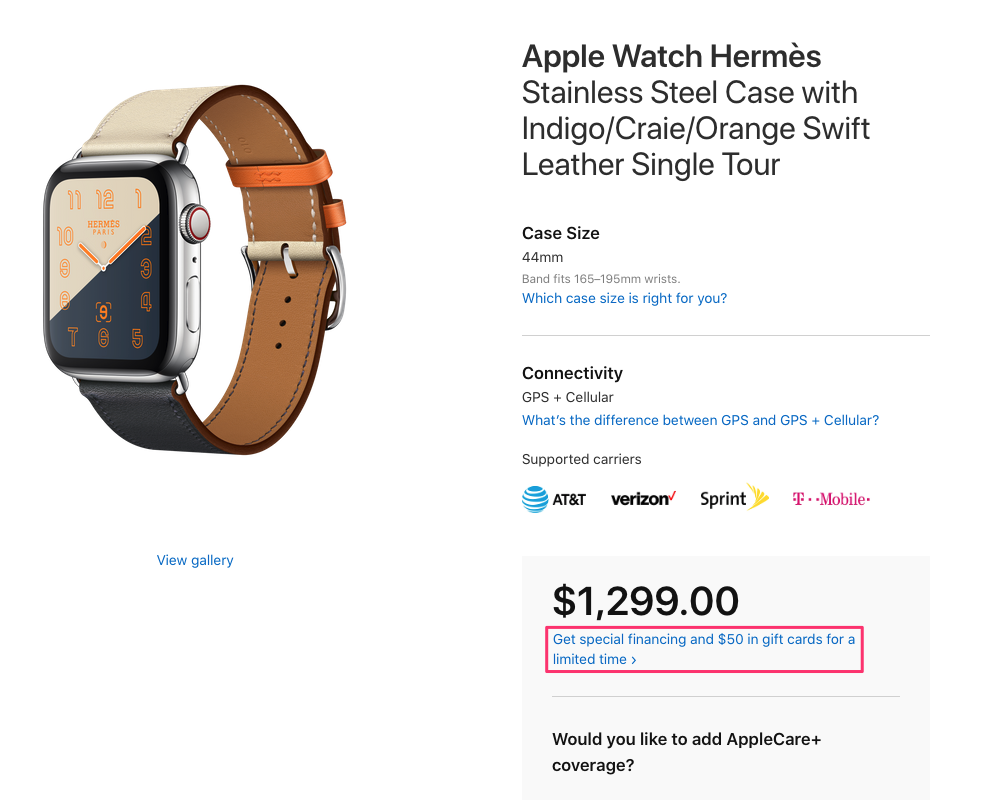 They combine financing options with further selling tactics. Offering $50 in gift cards makes the proposal enticing. And they add a sense of urgency to the deal by offering it for a limited time. Clearly, Apple knows what they're doing.
And you can do the same by suggesting installment plans on your more expensive items.
9. Sell Small Add-Ons that Amount to More Revenue
How do you get people to purchase more items from your store?
As you already know, you have to target impulse buyers with cross-sells. And cross-selling is a big deal.
Did you know that Amazon generates 35% of its revenue through its recommendation engine?
Crazy.
But you don't always have to recommend high-ticket items to your customers. Instead, tempt them with small add-ons.
The Perfume Shop, for instance, let's you add gift wrapping to your order for just £1-£1.50: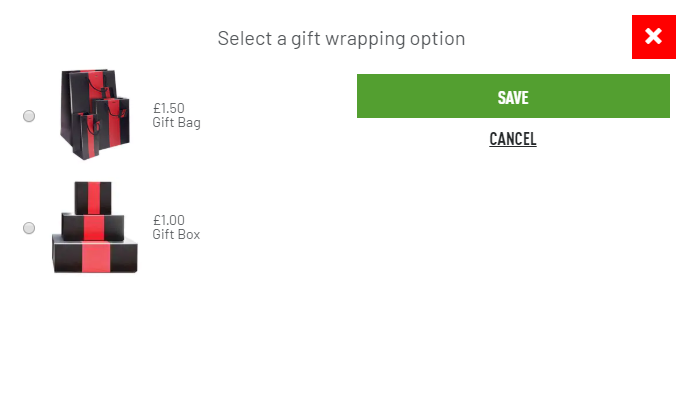 Because the deal is so cheap, it's likely to attract a lot of customers.
If you sell furniture, you could recommend an accompanying care kit. Or, if you sell shoes, you could recommend shoe polish and so on. Naturally, extras like these increase average order value. And collectively, each additional purchase can add up to big revenue.
10. Bundle Products into "Starter Packs"
This is slicker than your average cross-sell. Naturally, bundles give customers the opportunity to purchase your products at a lower price than buying them individually.
Putting together a "starter pack" is even better. It introduces people to your brand and is the first step in building customer loyalty. And just as important, it encourages customers to increase their spend from the get-go.
See how this Spanish food store, The Tapas Lunch Co., offers a paella starter pack that even includes a free gift: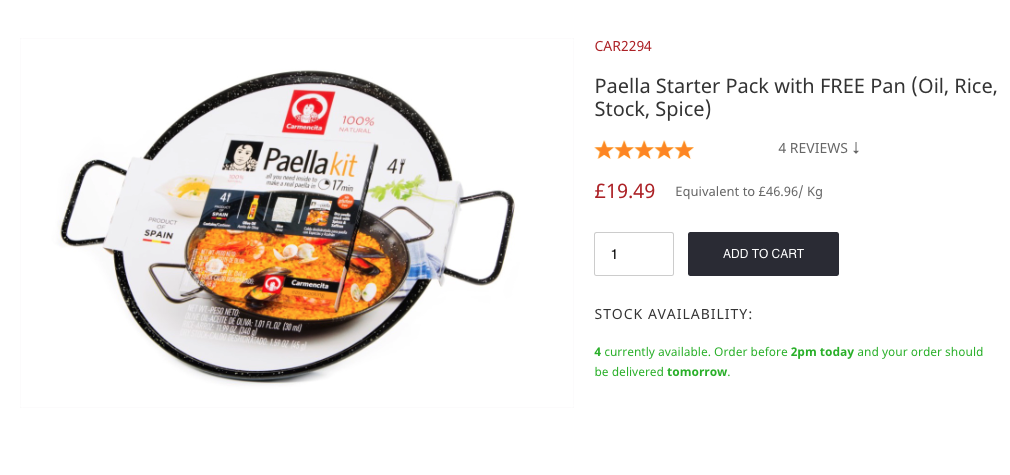 You can get creative with this idea and build different types of cross-sell packages. Your existing customers, for instance, don't need a starter pack. But they may want a more advanced pack that provides them with upgrades on their previous purchases.
Thus, you are able to target individuals at different stages of the customer lifecycle.
11. Recommend a Matching Product for Their Partner
Single people avert your eyes…
Because it's about to get really cute up in here.
Why use one e-commerce selling tactic when you can use two?
MeUndies combines cross-selling with emotional selling via their matching pairs program: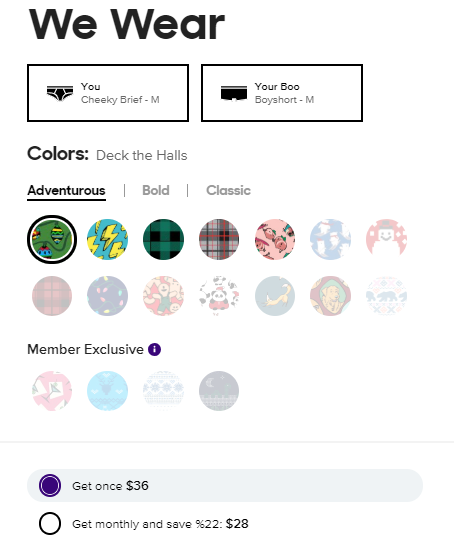 They even go in for the upsell by providing a subscription service. That's smart. And emotional e-commerce can increase repeat purchases by 80% and customer retention by 58%.
You can emulate MeUndies' unique proposition by recommending complementary products for loved ones, such as partners or even the whole family.
Go in for the emotional sell to win big.
Conclusion
Increasing your average order value is vital for revenue growth. Forget the trials and tribulations of trying to attract new customers…
And get customers to spend more with you while you have them there on a platter.
Traditional tactics such as upsells, cross-sells and free shipping etc. work beautifully. But in a competitive environment, you need to take advantage of more unique strategies to give you the edge.
Now the question is, which AOV-boosting strategy are you going to try first?
Pick at least one that appeals to you and put it into practice.