Around 30,000 new products are launched each year. Unfortunately, 95 percent of them fail.
I'm not saying this to freak you out. I just wanted to put some perspective on how important it is to effectively reach your audience. Educate them when you're unveiling a new product. After all, inadequate consumer education is one of the fatal flaws e-commerce brands make, according to The Harvard Business Review.
You need to 1) get the word out at volume. 2) Help customers grasp how your product works, the features, benefits, and so on. Hands down one of the best channels to do this is email.
When done right, this allows you to:
Reach an already dialed in audience
Let customers know when you're launching a new product
Generate buzz for the release
Fill readers in on key details
Show them the value
To get an idea of how to do this successfully. Let's look at some next-level product launch email examples and see exactly what it is they did right.
6 Product Launch Emails to Inspire Your Own
1. Willo
Electric toothbrushes have been around for a while. But Willo takes the concept to new heights. It's "an automated oral care robot designed to replace the toothbrush and give everyone a dynamically consistent clean."
Willo uses cutting-edge technology to not just simplify toothbrushing but ensure a much deeper clean than what traditional oral care products can offer. And this product launch email does an excellent job of succinctly getting this message across.
Here's the first thing a reader sees when they open it.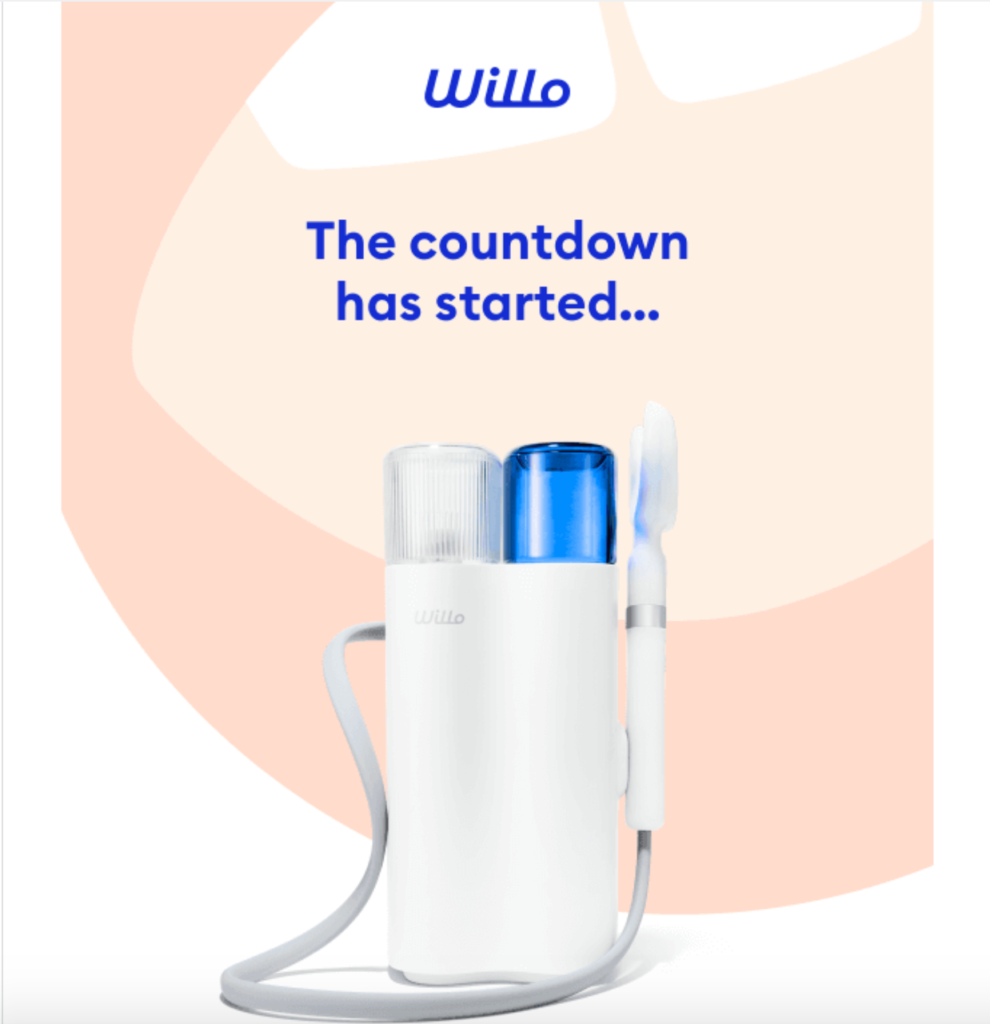 There's super simple yet eye-catching copy that says, "The countdown has started…" along with a picture of Willo. This instantly grabs a reader's attention and gets them to take notice.
It piques their interest and creates a nice build up that makes many people want to scroll down to learn more. When they do, they see this.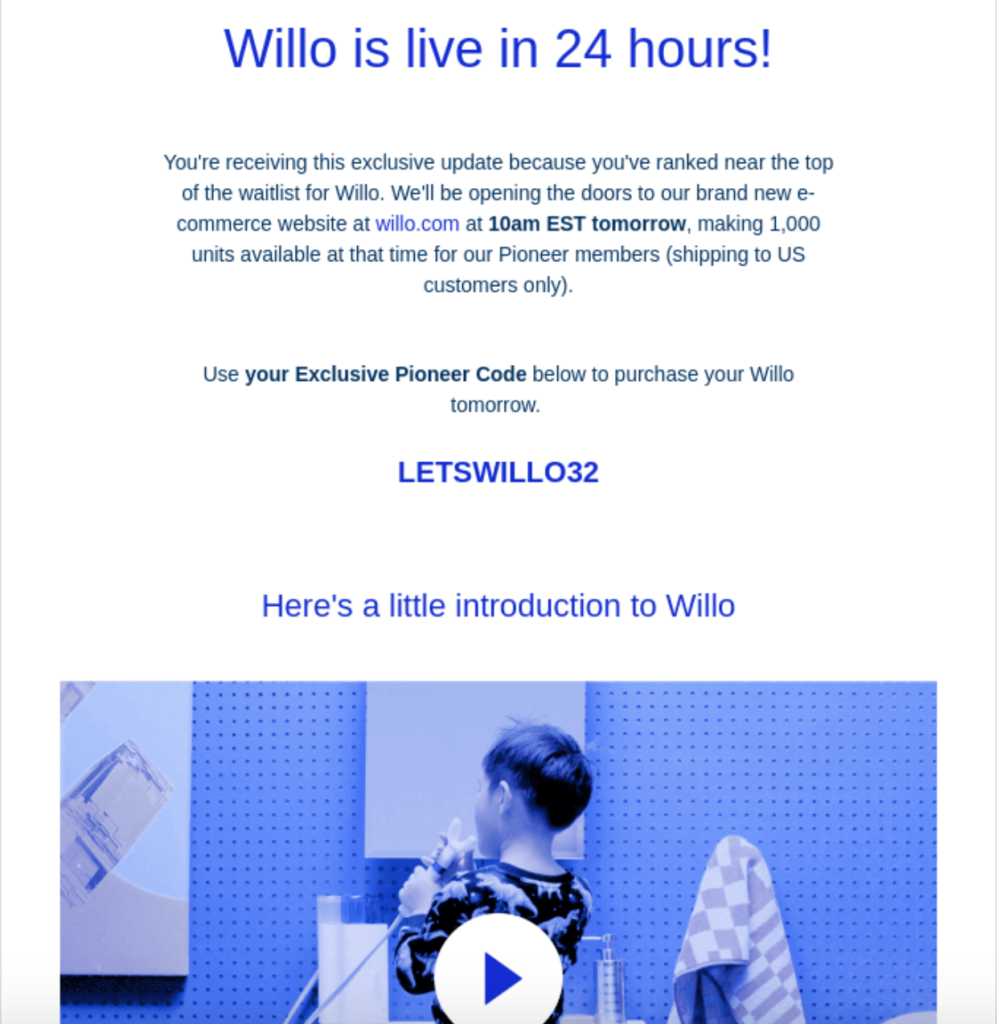 Willo lets readers know the product will be live in 24 hours and they've been chosen to receive an exclusive update. And that's good.
"People like things that are exclusive," explains Zach Heller of Business 2 Community. "They want what others covet. They want things that signal to the world that they are one of a select few. It's in our nature as consumers."
Willo also lets readers know when their e-commerce site will officially be opening and that 1,000 units will be available to their "Pioneer members." Below that, Willo offers an "Exclusive Pioneer Code," which allows readers to make their purchase.
And at the bottom of the email, there's a brief video that offers a nice intro to the product.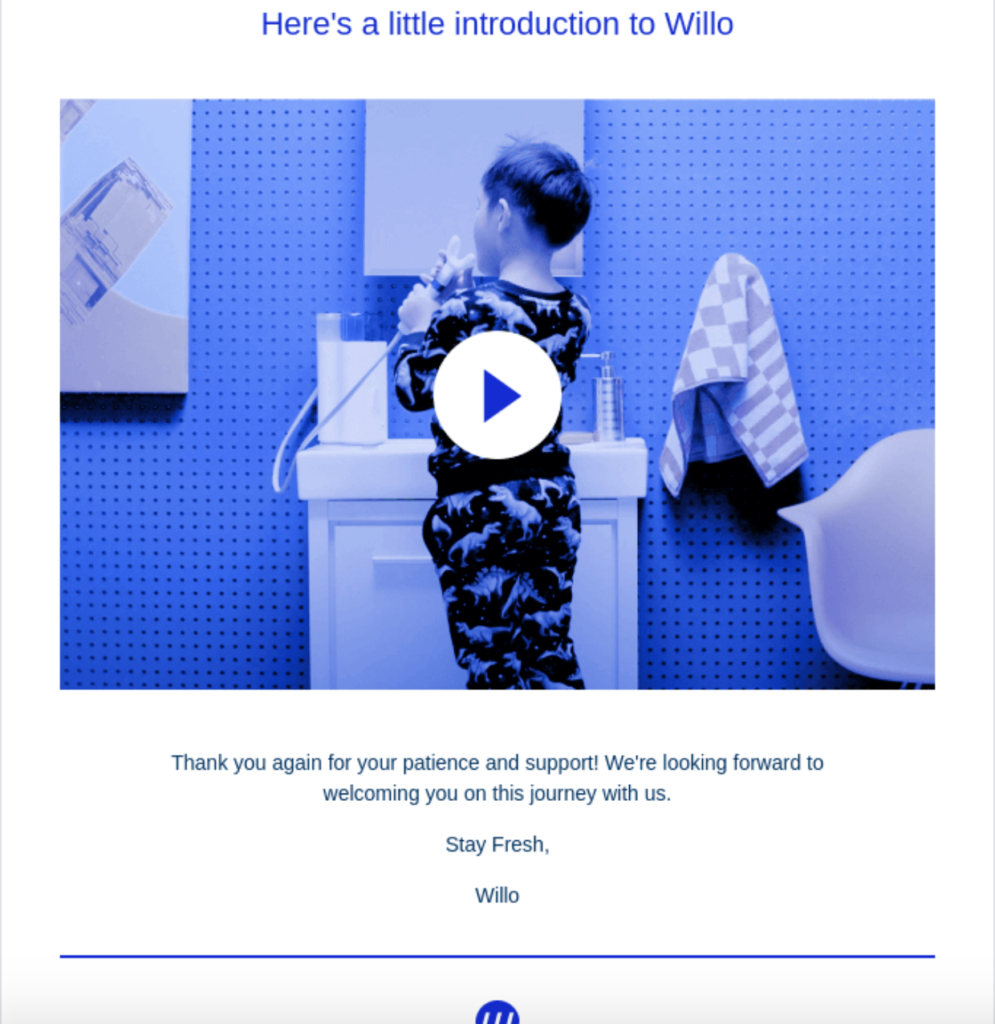 In just over two minutes, Willo provides a fairly detailed overview that helps readers understand the ins and outs and know exactly what separates this product from the competition.
You can check it out for yourself here.
So, in this product launch email example, Willo effectively gets the word out and provides readers with the critical information they need without rambling on about it. The email looks great visually, and with minimal cognitive exertion, it gets leads up-to-speed, prompting many people to buy.
If you're unsure what kind of email copy or subject line would convert the best for your next launch, try using a workflow that split-tests different versions.
Want to make a workflow like this?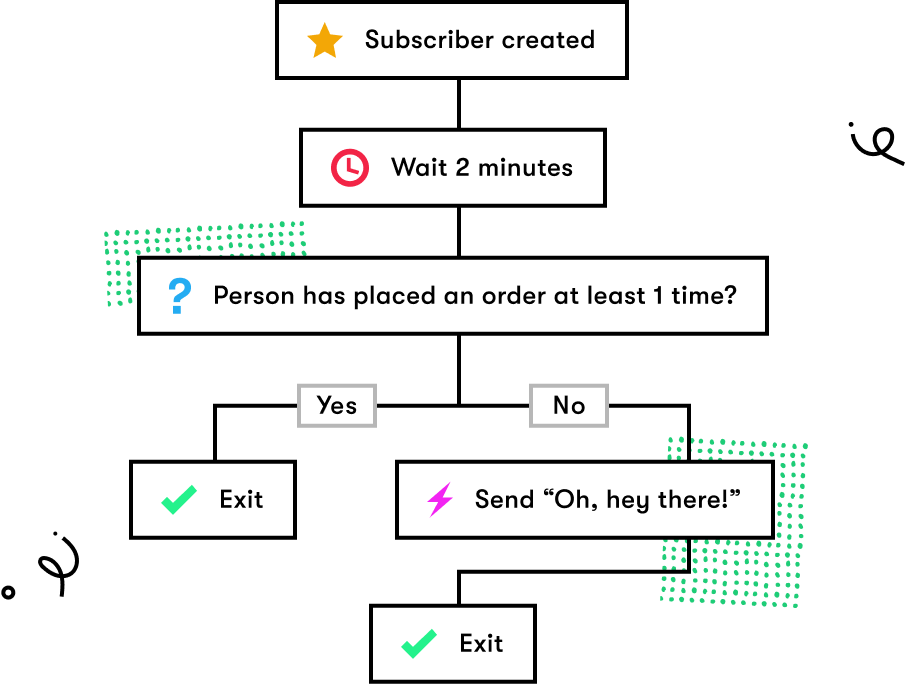 Hit the ground running with our pre-built workflows.
2. Burberry
Burberry is a luxury British fashion brand with a reputation for sleek, chic style. One of the main reasons their customers love them is because they consistently put out new collections, which are always unique and ultra fashionable. Case in point, the TB Summer Monogram Collection.
"A journey from reality to fantasy, the campaign blends real-life capture with a dreamlike digital world inspired by geometric skateparks and swimming pools."
If you check out the collection on their website, you'll quickly see how innovative it is. And Burberry does a fantastic job of conveying the vibe on this product launch email example.
It starts off with this beautiful image of a model wearing one of the swimsuits from the collection perched on top of geometric cubes.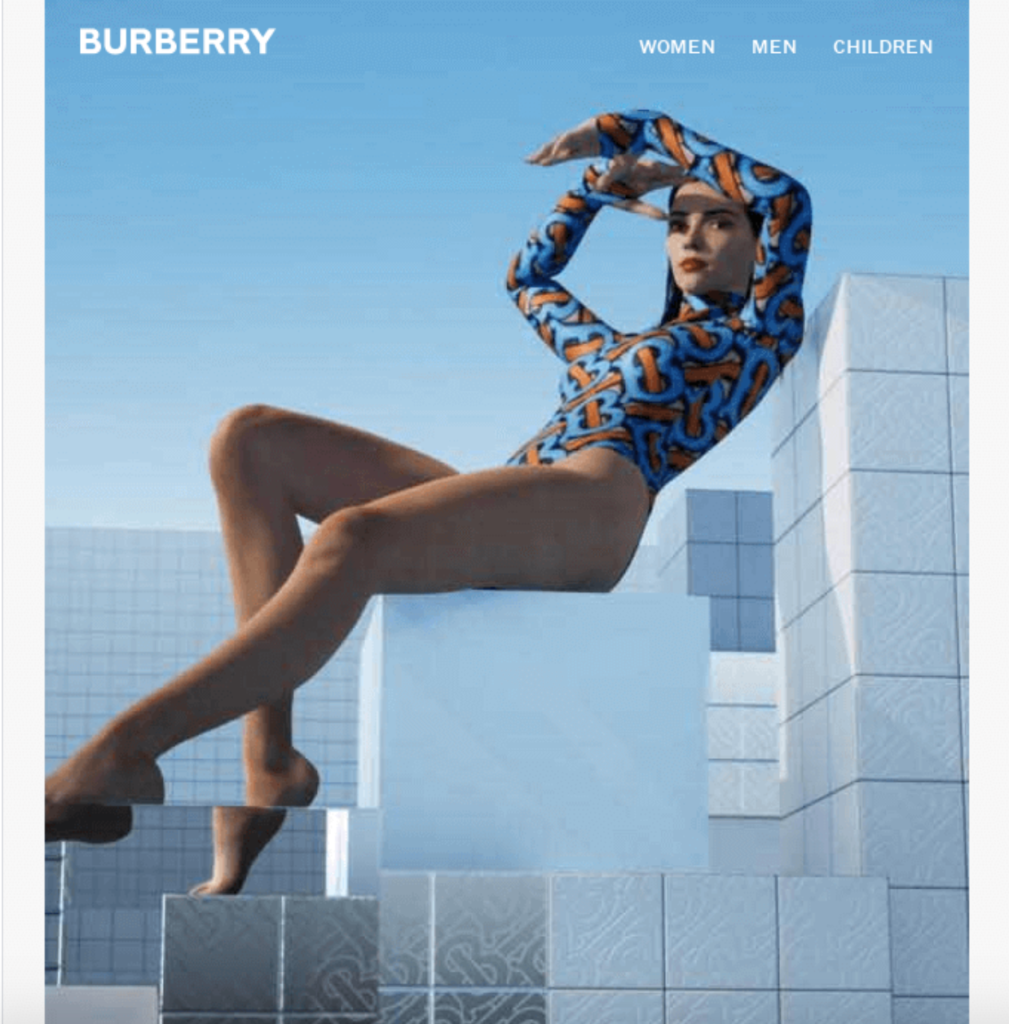 It's a definite attention-grabber and does a great job of showcasing Burberry's newest products. Just below that, the brand gives readers a quick rundown on the launch, featuring concise copy to fill them in on the details.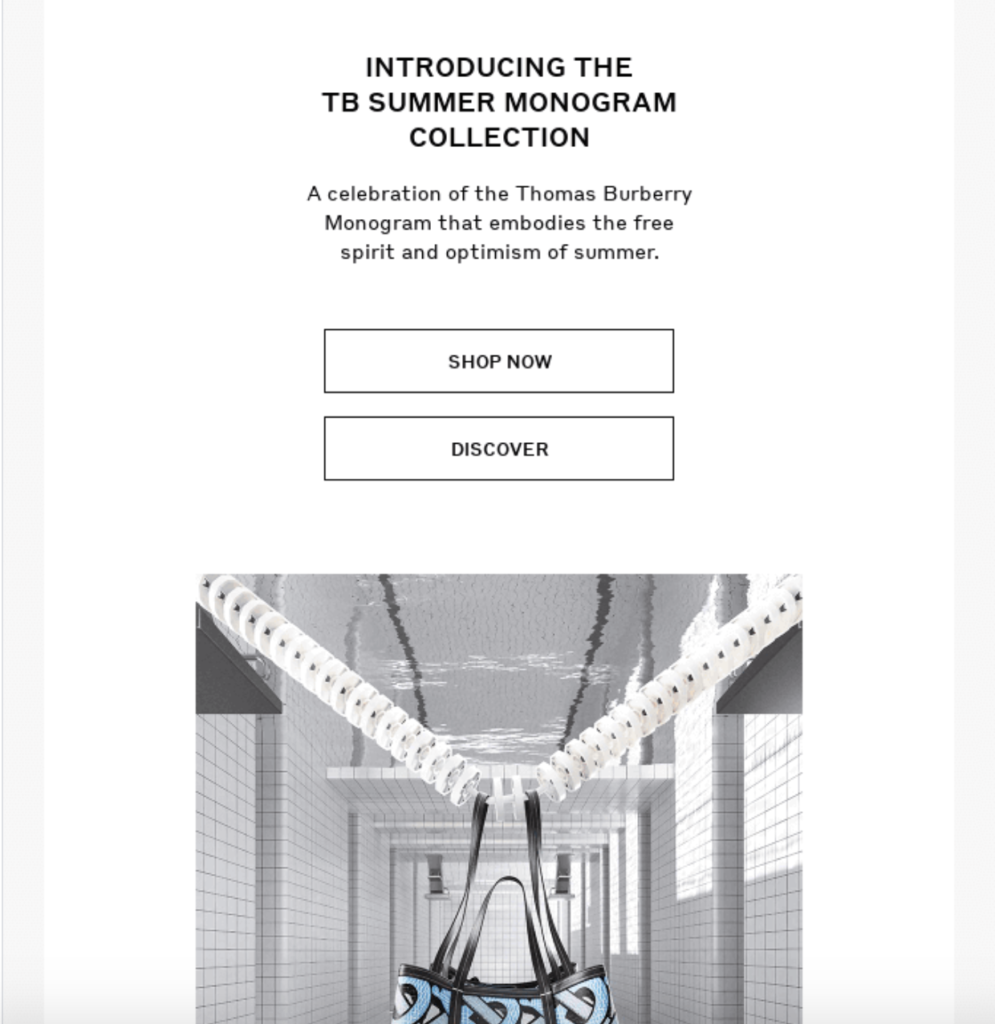 Burberry also uses two dead simple CTAs to instantly move readers from the email to their website.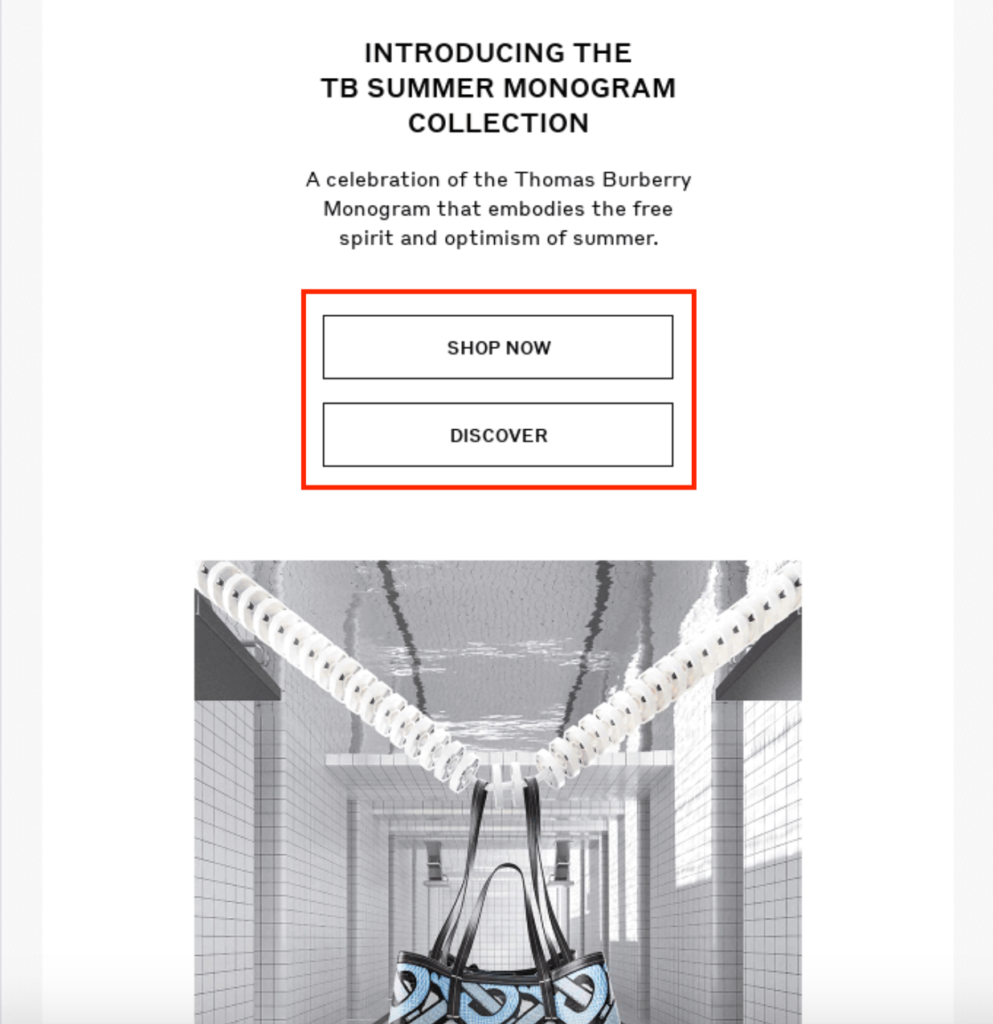 Below that, readers can take a close look at one of the most popular items from the new product line—the TB Monogram print handbag, while selecting the exact style they prefer.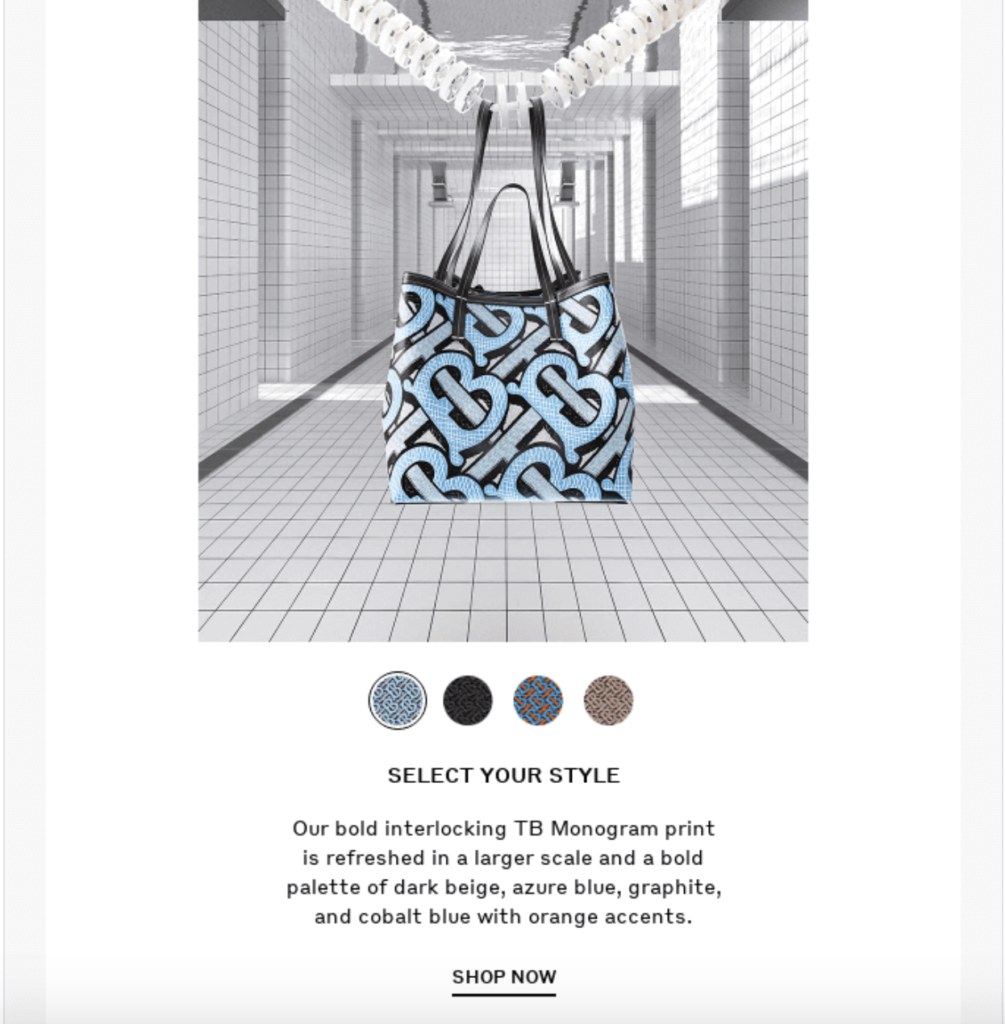 And at the bottom, readers can discover more where Burberry directs them to men's bags, sunglasses, and women's bags.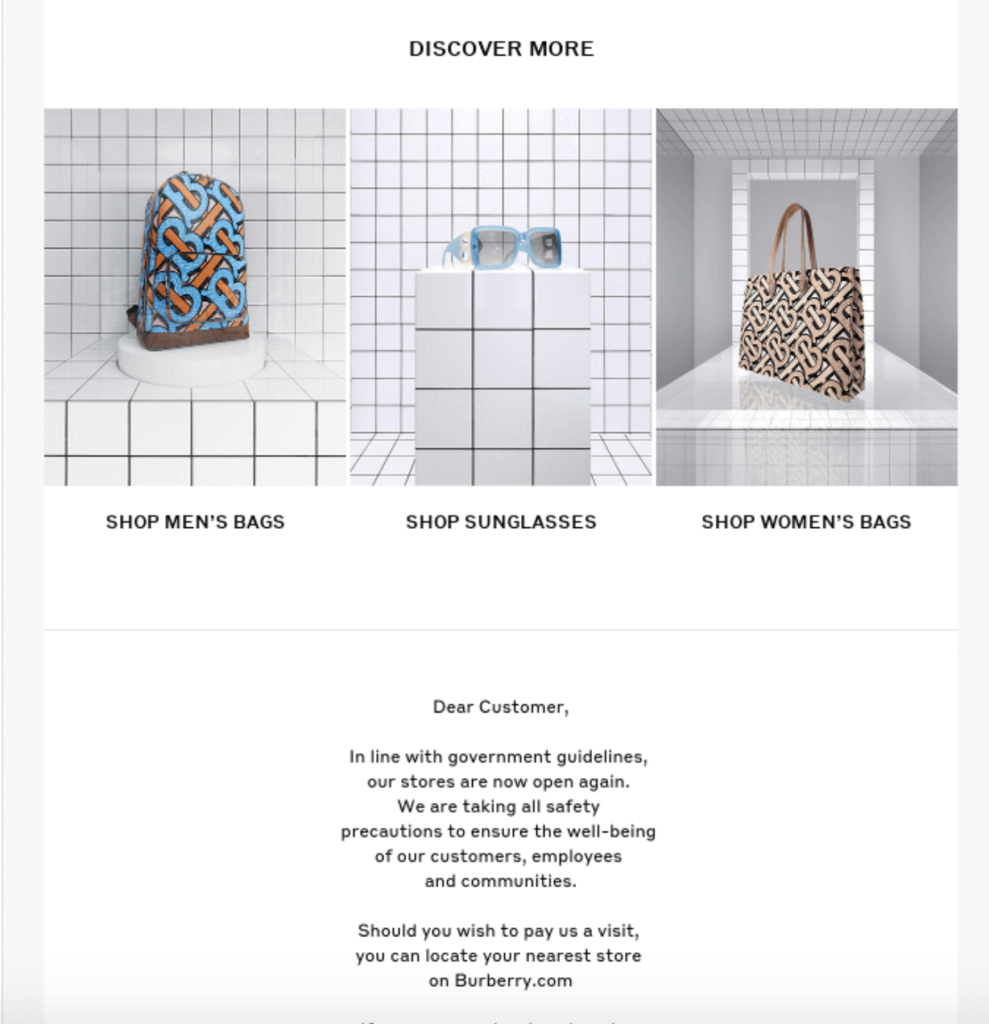 This email is very straightforward, and with little effort readers can figure out what's going on and why they should be interested. I love the clean, elegant design, which meshes perfectly with Burberry's sophisticated branding.
I also love how they condense all of the essential information down into an easily digestible format. So, there's much to be learned from this product launch email example.
3. Dims.
Dims. is an e-commerce brand that sells "contemporary furnishings from the world's top emergent designers." Their products have a natural, modern, minimalist aesthetic that I personally love.
Besides their killer product line, a big part of Dims. success has been their marketing. And this email featuring the launch of a new product, the "Word Table Light" is a great example of that.
It's heavy on the imagery and light on the copy — a formula that tends to work well. Here's the first thing readers see after opening it.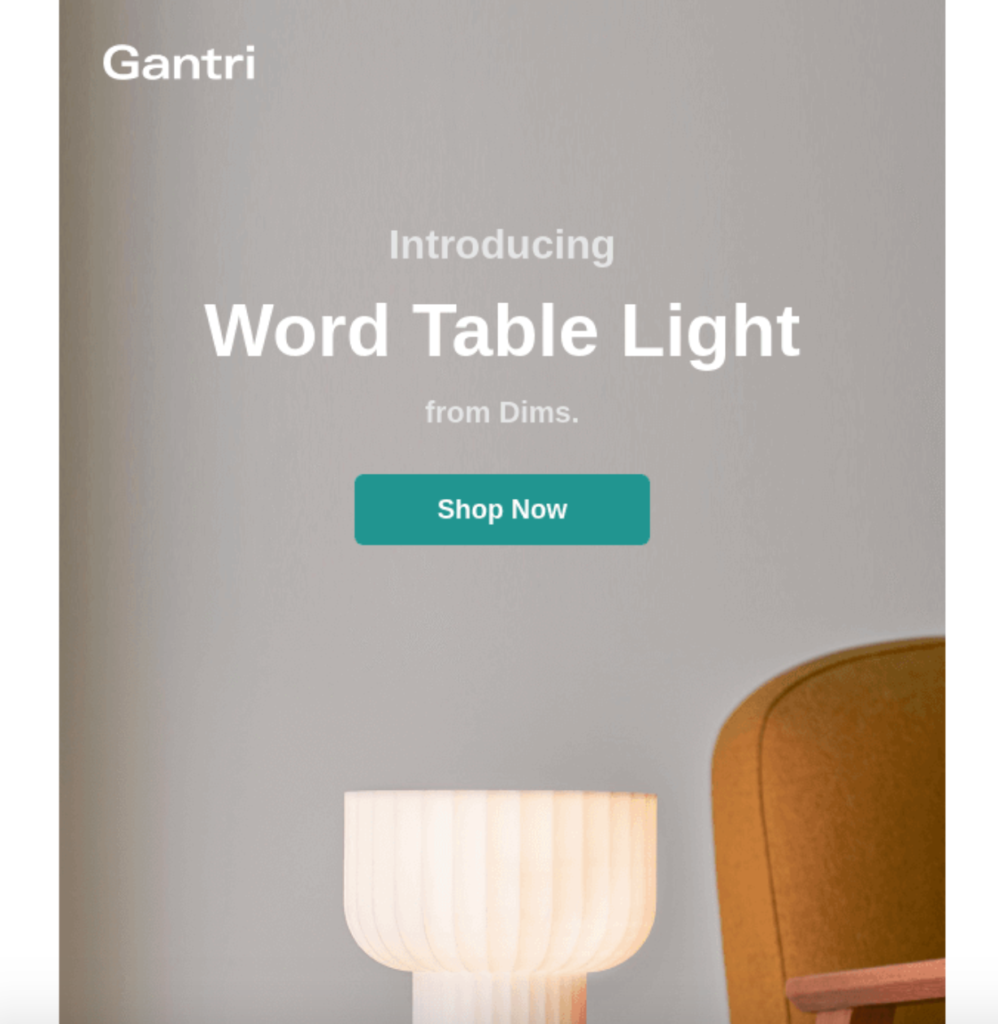 There's an uber simple header saying, "Introducing Word Table Light from Dims," followed by a clear-cut CTA of "Shop Now." That's about as straightforward as it gets, and it conveys the absolute essentials to readers with just a glance.
Scroll down just a bit, and readers then see the full size of the product.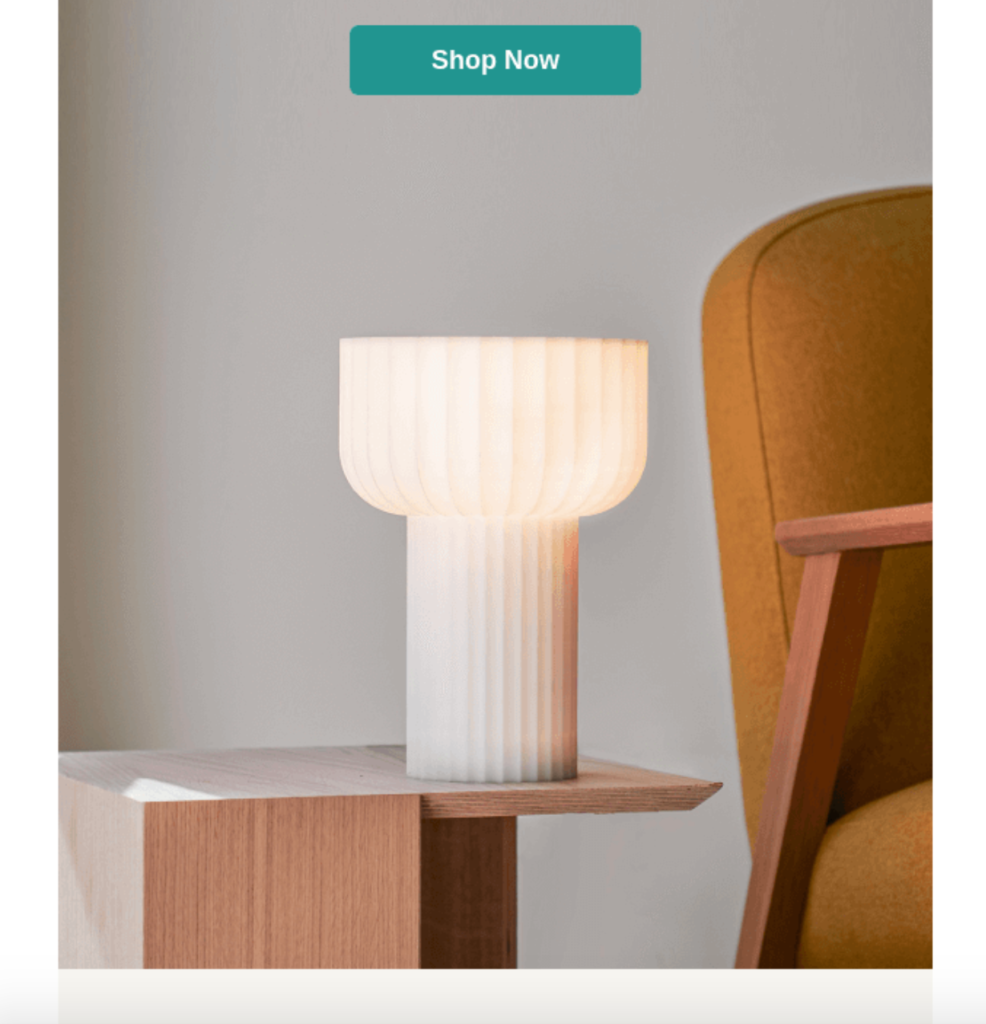 Then, Dims. features another great looking image of the Word Table Light in a dark room, giving readers a feel for the atmospheric vibe it creates.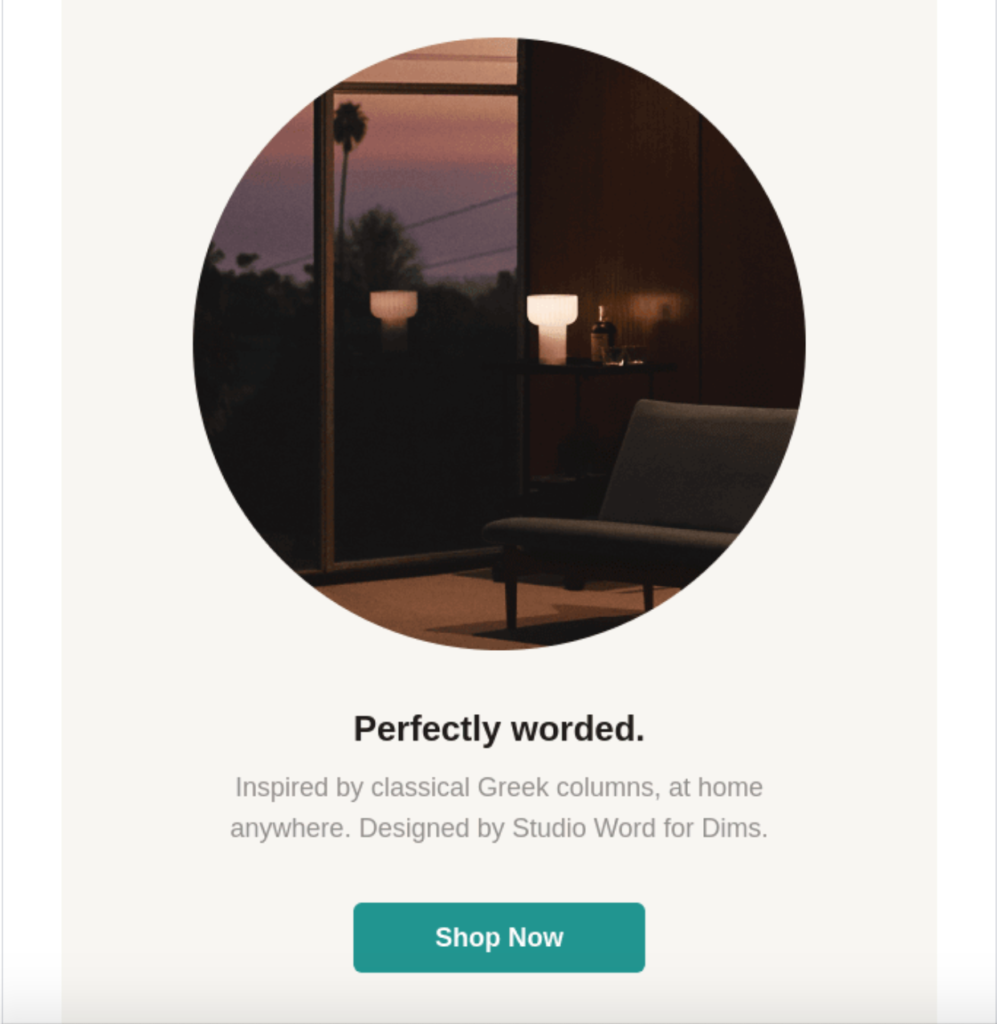 This is followed by some more concise copy, which elaborates on the product and an additional CTA that leads to the same page. Dims. throws in a couple of more images in rooms with different levels of lighting…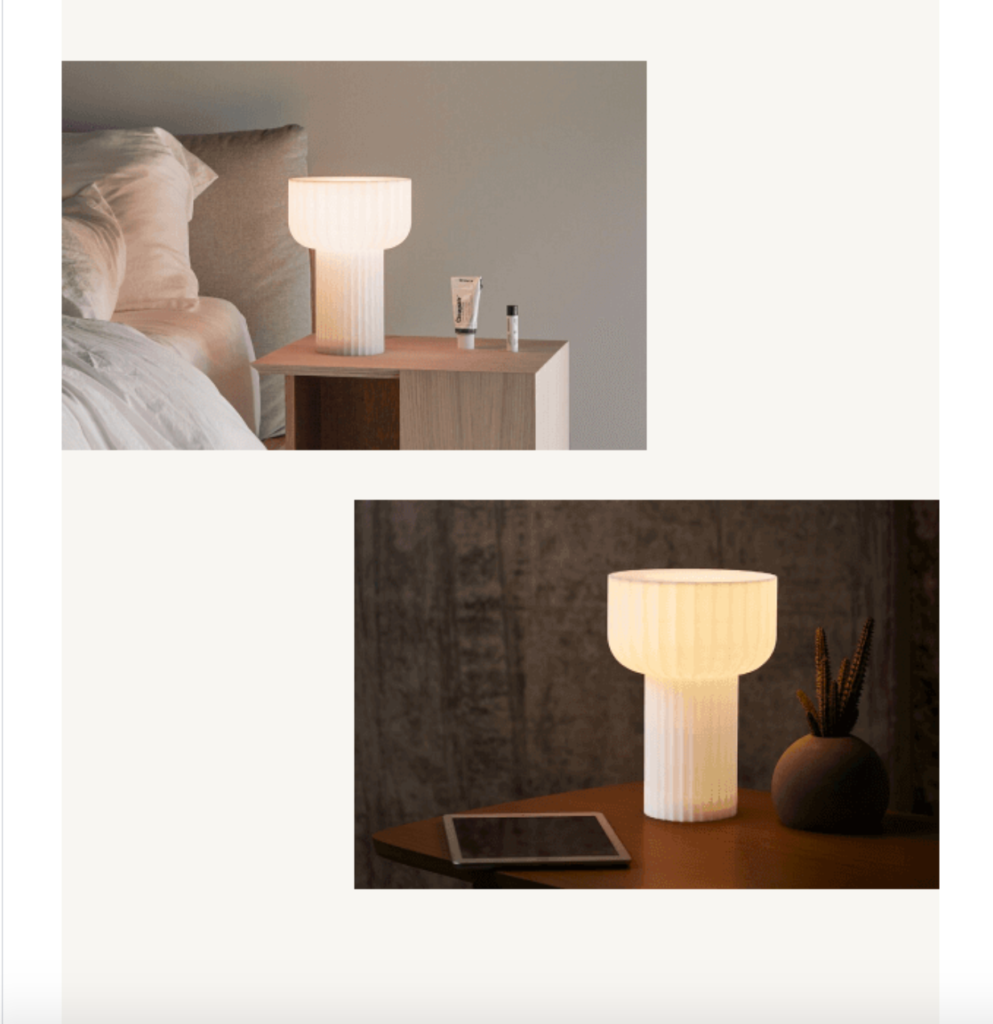 …and the email wraps up with some brief information about the company and what their UVP is, along with a link where readers can learn more.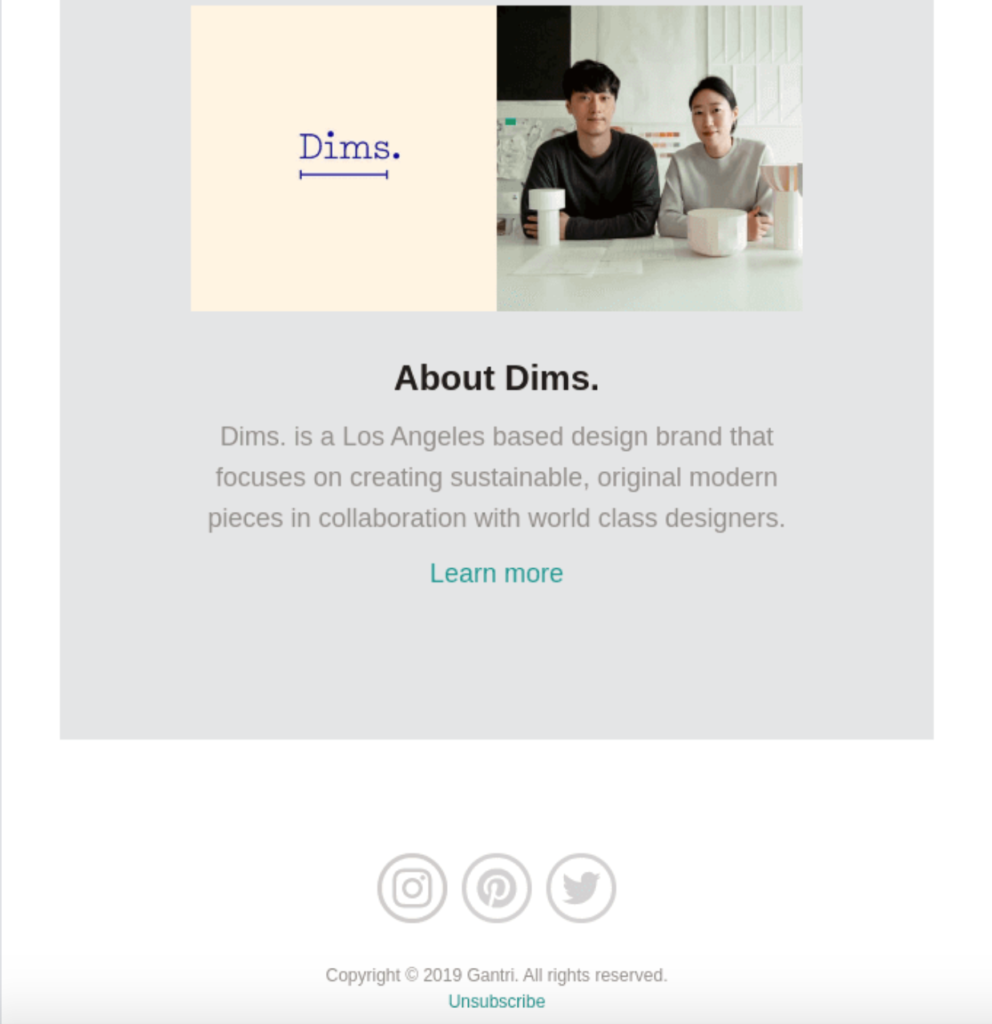 Like I mentioned before, an integral part of crafting a solid product launch email is helping customers understand your product. In some cases like Willo where there's a lot to unpack, that means including an explainer video.
Other times, when a product is fairly self-explanatory, like this table light is from Dims., the best way to do that is to simply feature a handful of pictures like they did here.
At the end of the day, the objective is to help readers connect the dots and compel them to want to learn more. So, figure out the best way to go about that, and structure your product launch email accordingly.
4. Burrow
Here's a brand that makes "clever, uncompromising furniture and other nice things fit for modern life at home." In this email, Burrow gives readers the skinny on the unveiling of their newest product, the "Nomad Sectional."
It starts off with a bang with this header and a stunning image of the Nomad.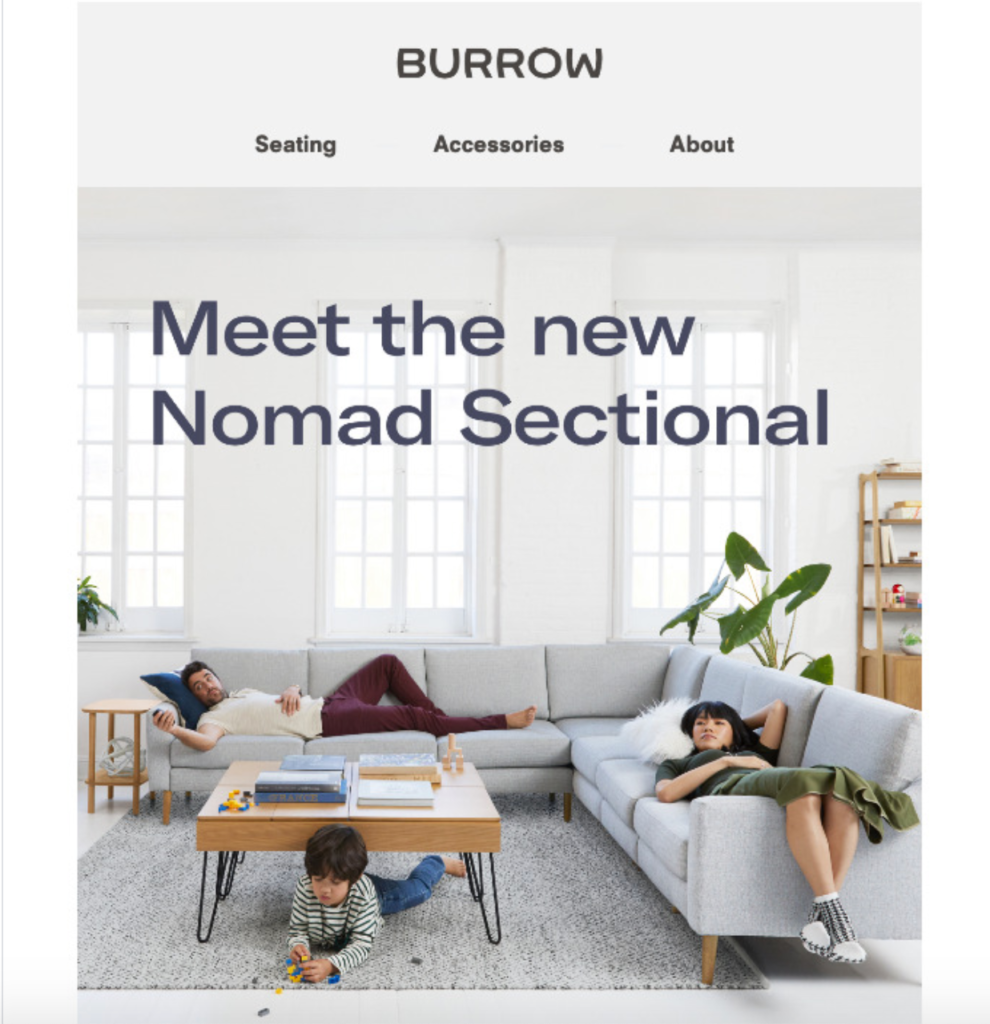 So, with a quick glance, readers know what's up and can tell what the product looks like and how big it is. Directly below that, Burrow whips up some sharp copy and highlights their new product's UVP.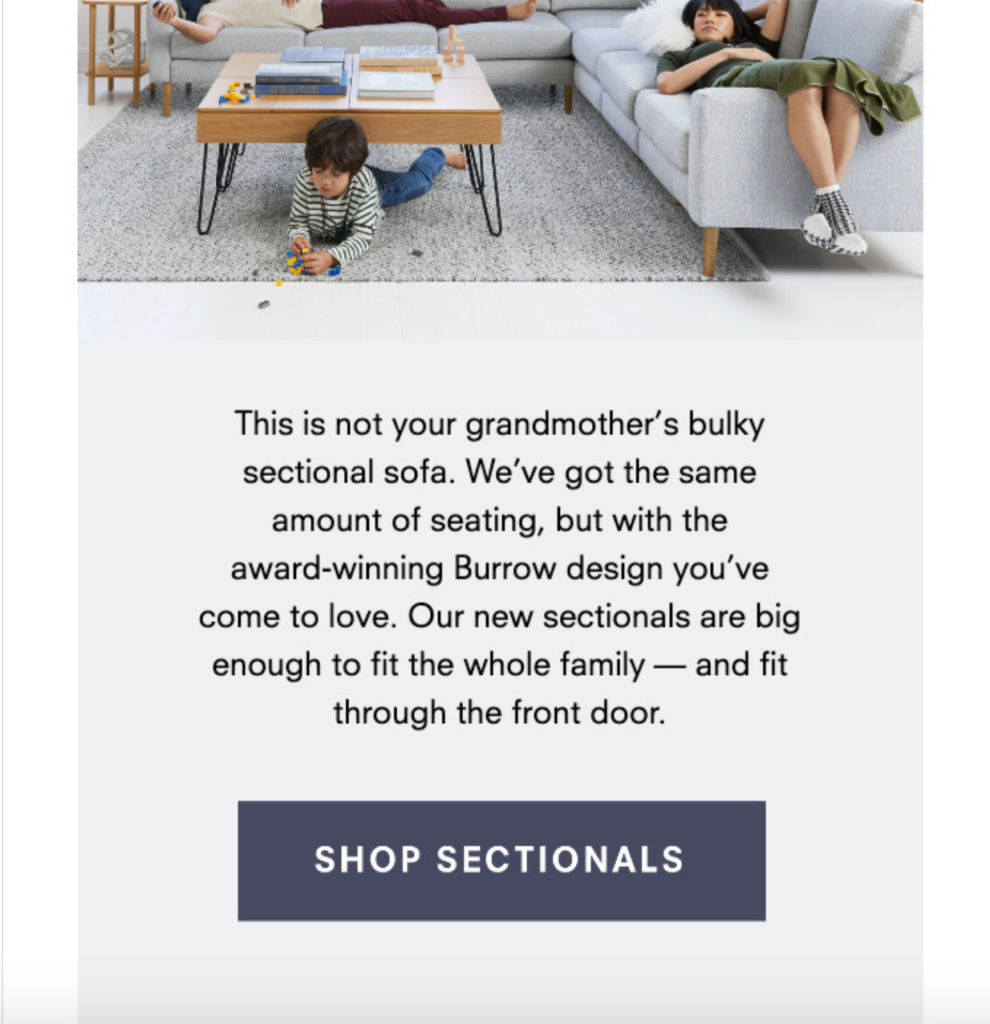 The Nomad Sectional has an award-winning design and is big enough to fit the whole family. But it's "not your grandmother's bulky sectional sofa," — a line I thought was extremely witty.
The CTA is well-placed.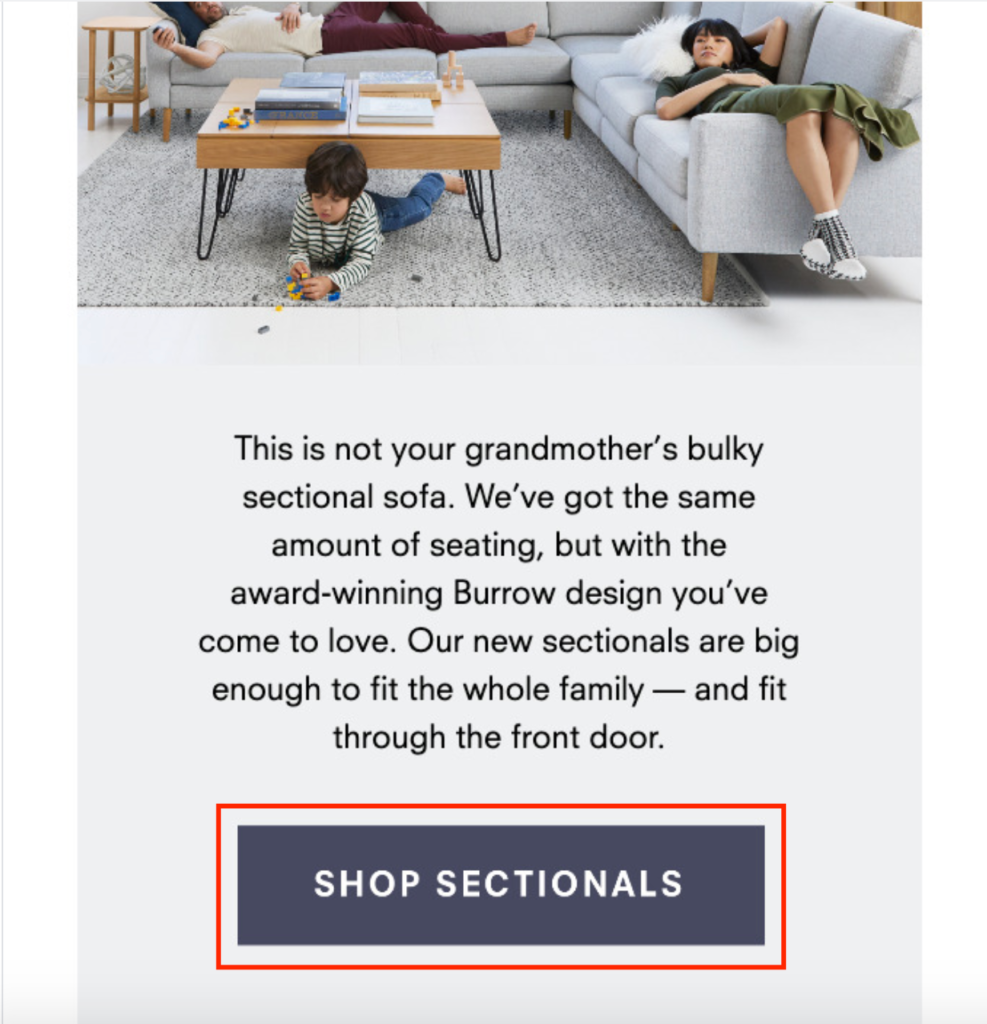 And Burrow lets readers know that the Nomad Sectional is totally customizable.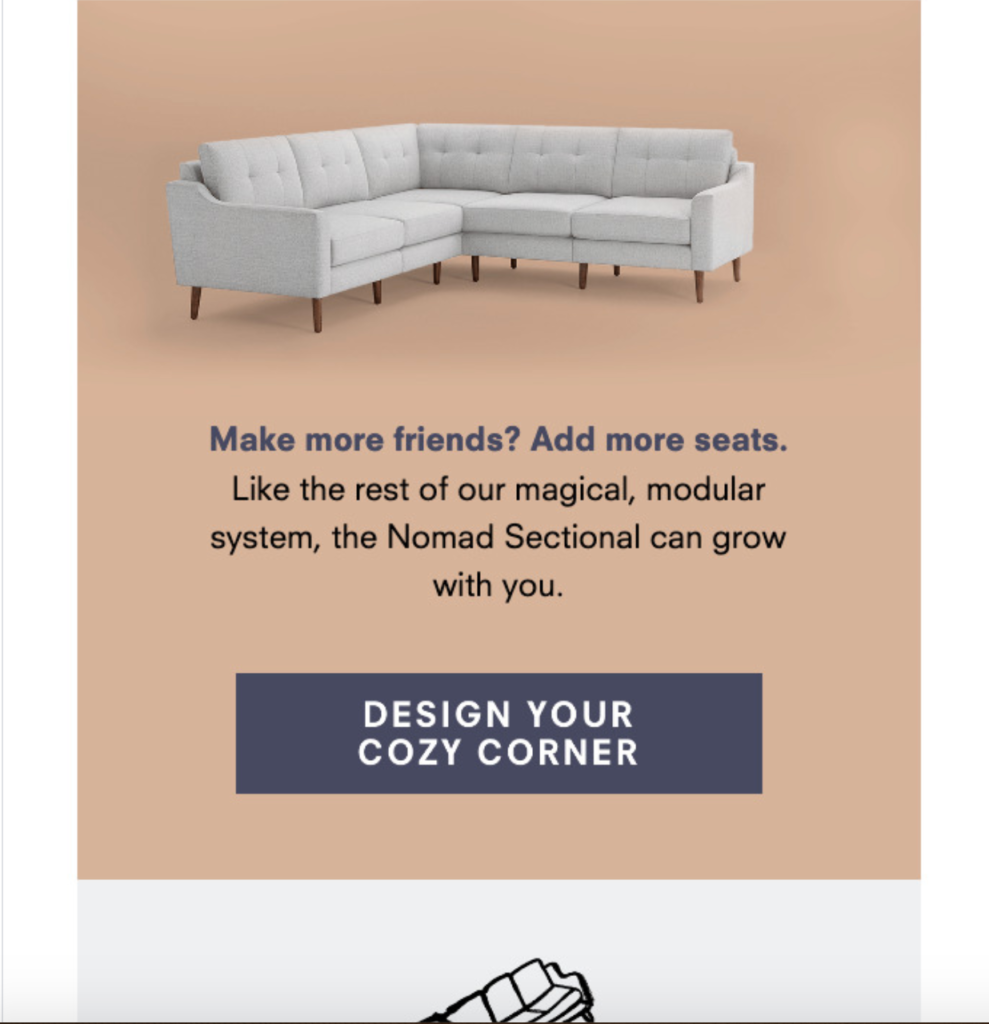 In fact, customers can design their own cozy corner and ensure their couch has ample seating.
Below that, Burrow dives even deeper into their UVP, explaining that they offer free, one-week shipping on every order so customers don't have to deal with hassle of borrowing a truck.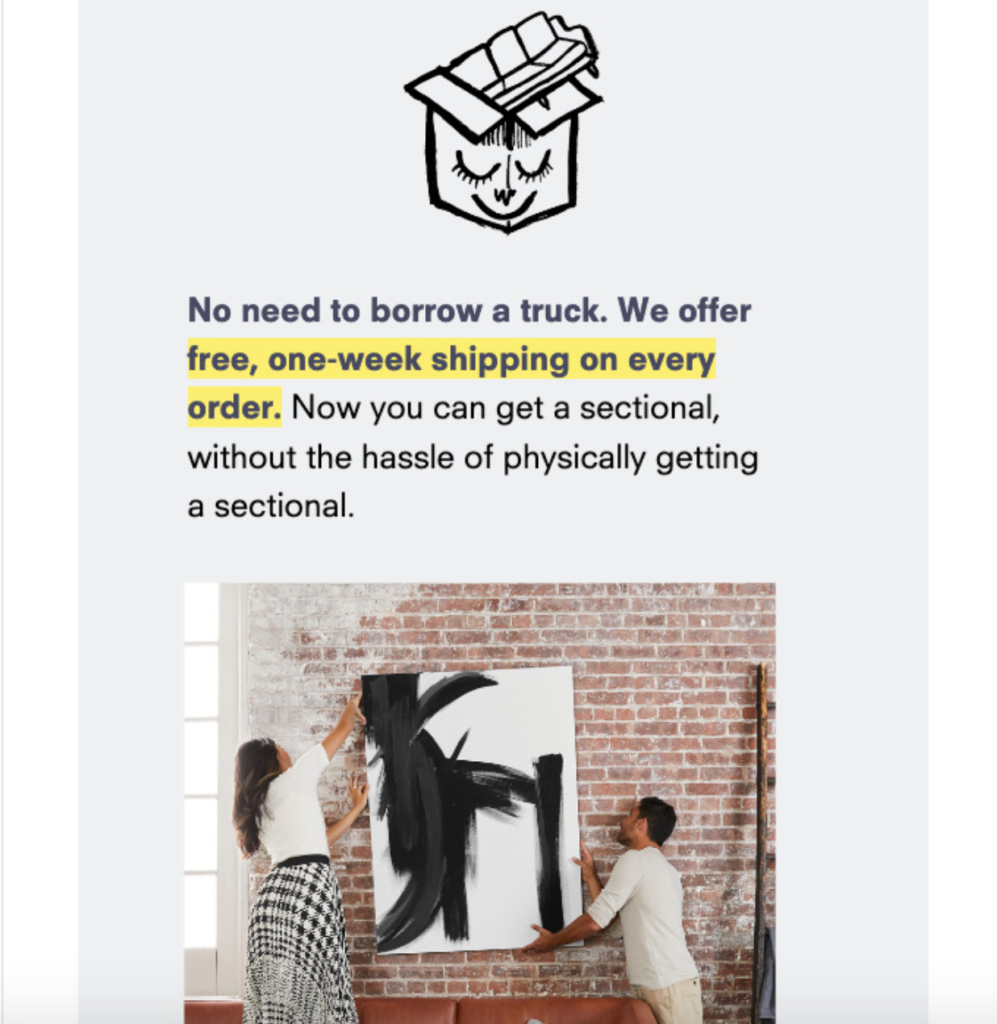 I know that's a huge selling point for me. And to cap it off, Burrow also mentions that their sectionals can easily be disassembled for customers who plan on moving.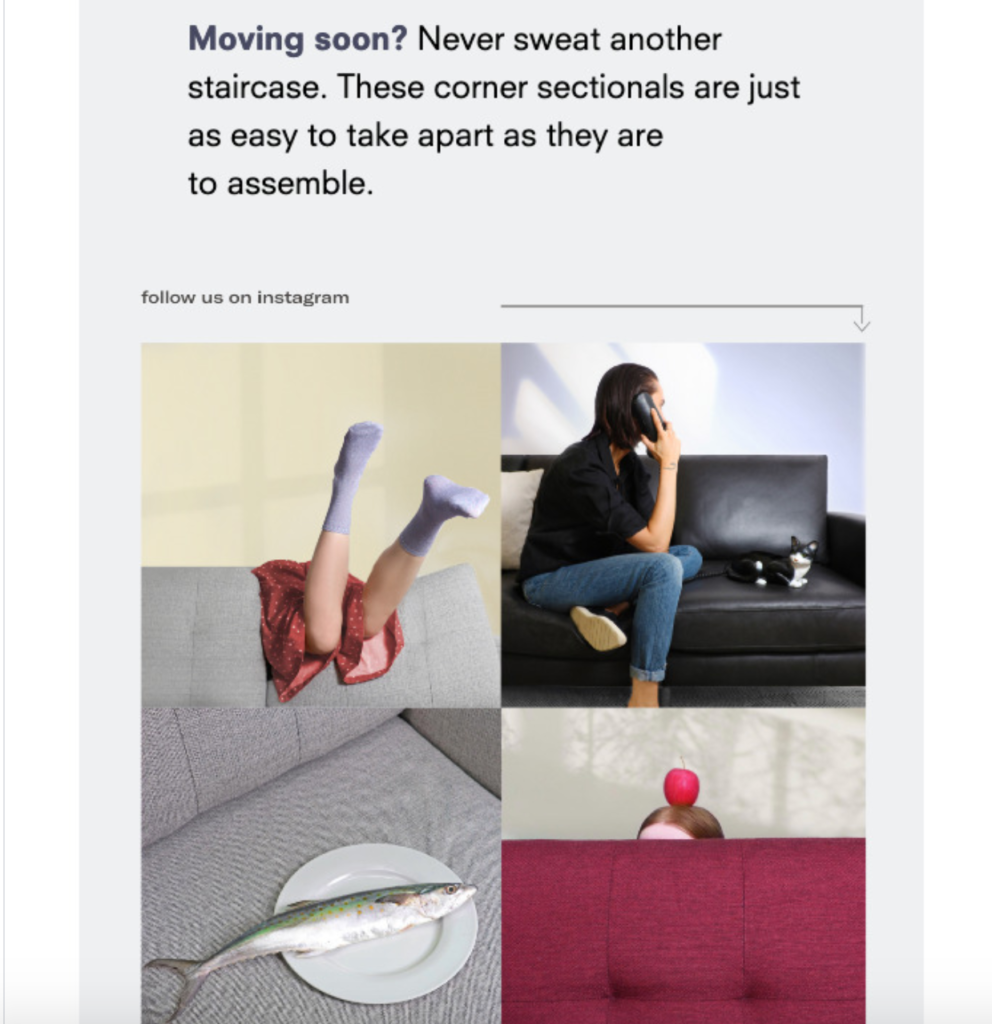 Here Burrow is stacking up value upon value and shows why the Nomad Sectional is more than "just another couch."
5. GoPro
I think most people are familiar with GoPro by now. They're one of the leaders in action cameras and are used by countless vloggers to capture epic video footage.
One of their main strengths is their branding. They've managed to create massive brand equity and become the gold standard in their industry. They even have a staggering 17.7 million Instagram followers, and counting.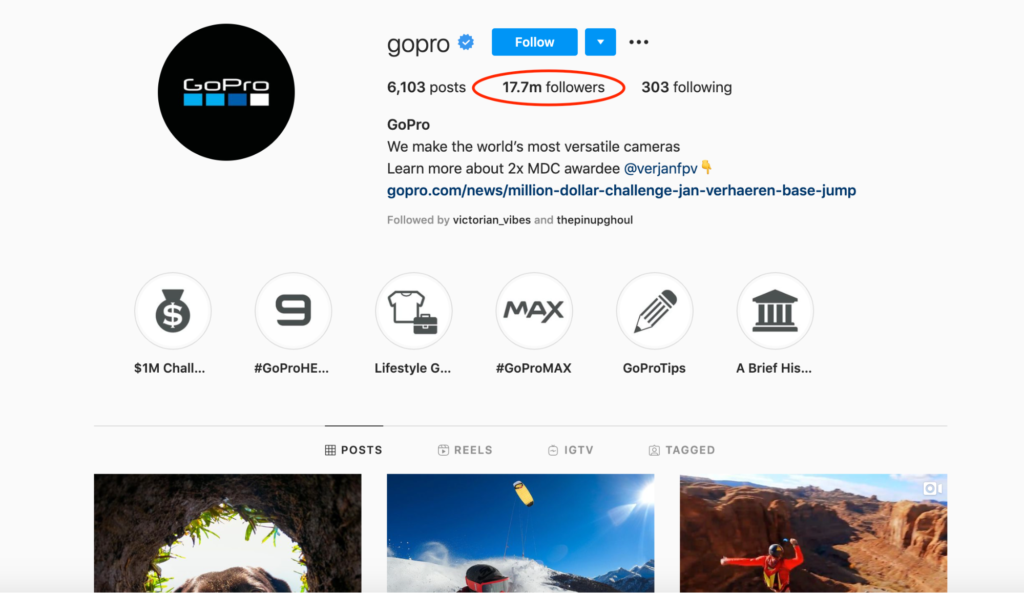 This product launch email featuring what (at the time) was their latest product, the GoPro 8, contains all of the vital elements readers are looking for but boils it down into content that's insanely easy to absorb.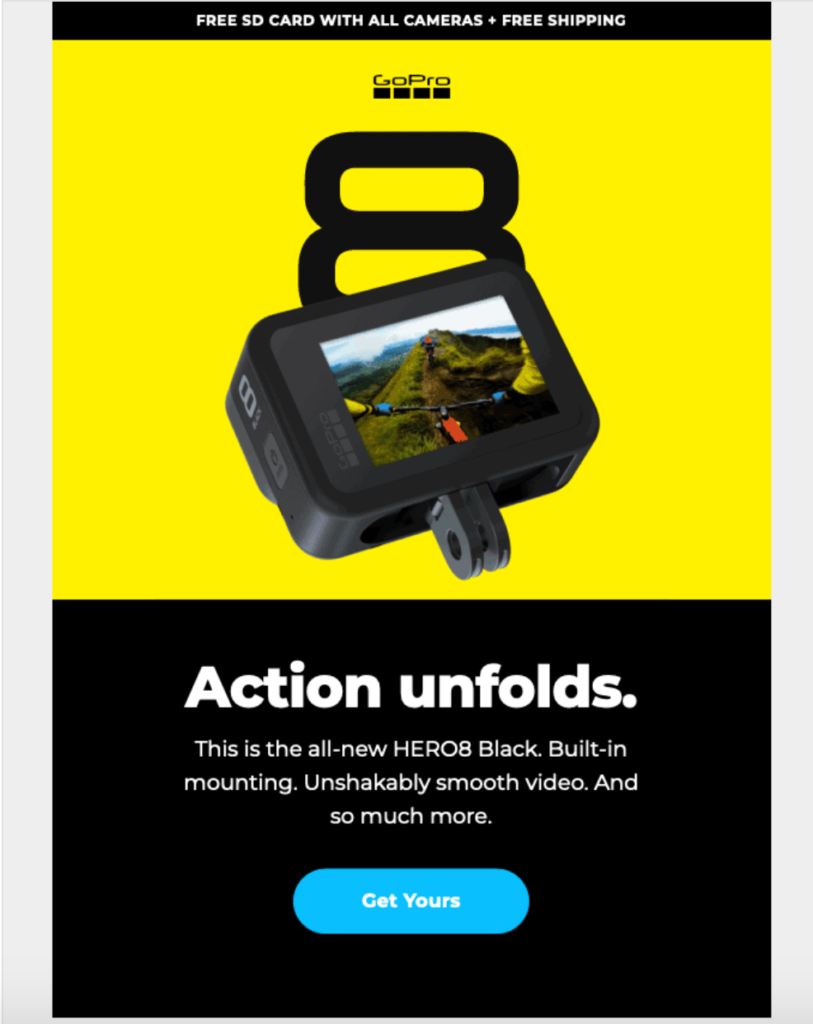 Readers can literally see everything without having to scroll whatsoever. It starts off with the GoPro logo at the top, along with a sleek looking image of the product and the number 8 so readers can instantly put it all together.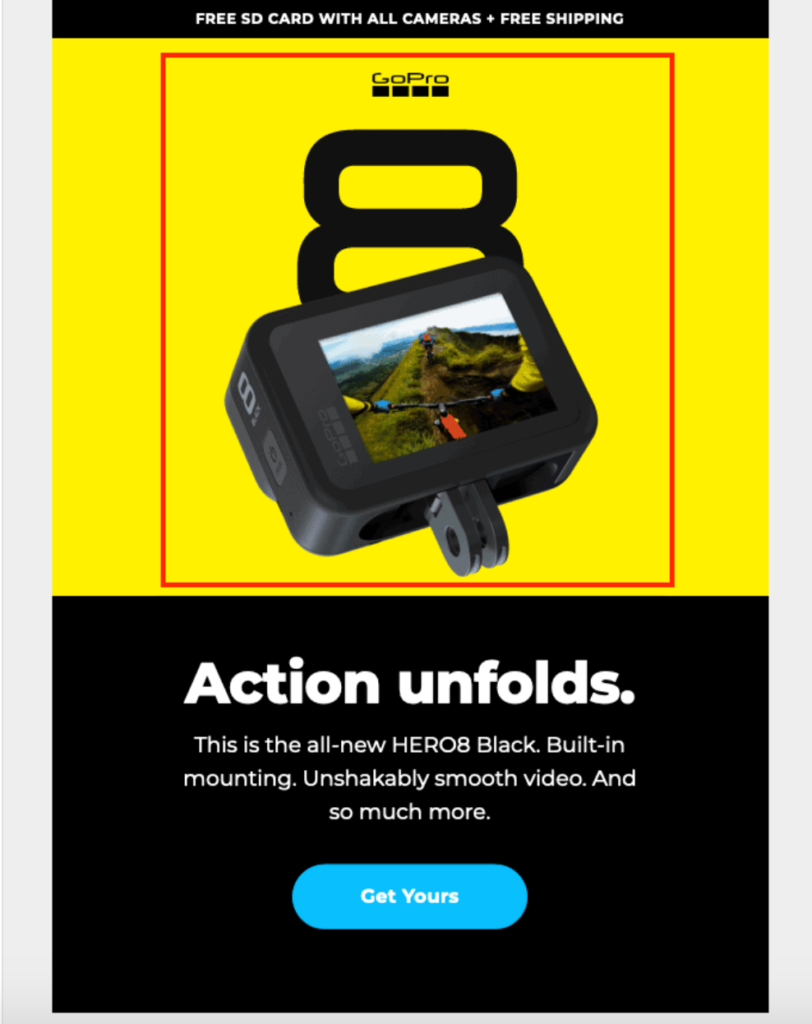 This is followed by hyper-concise copy that doesn't mince words.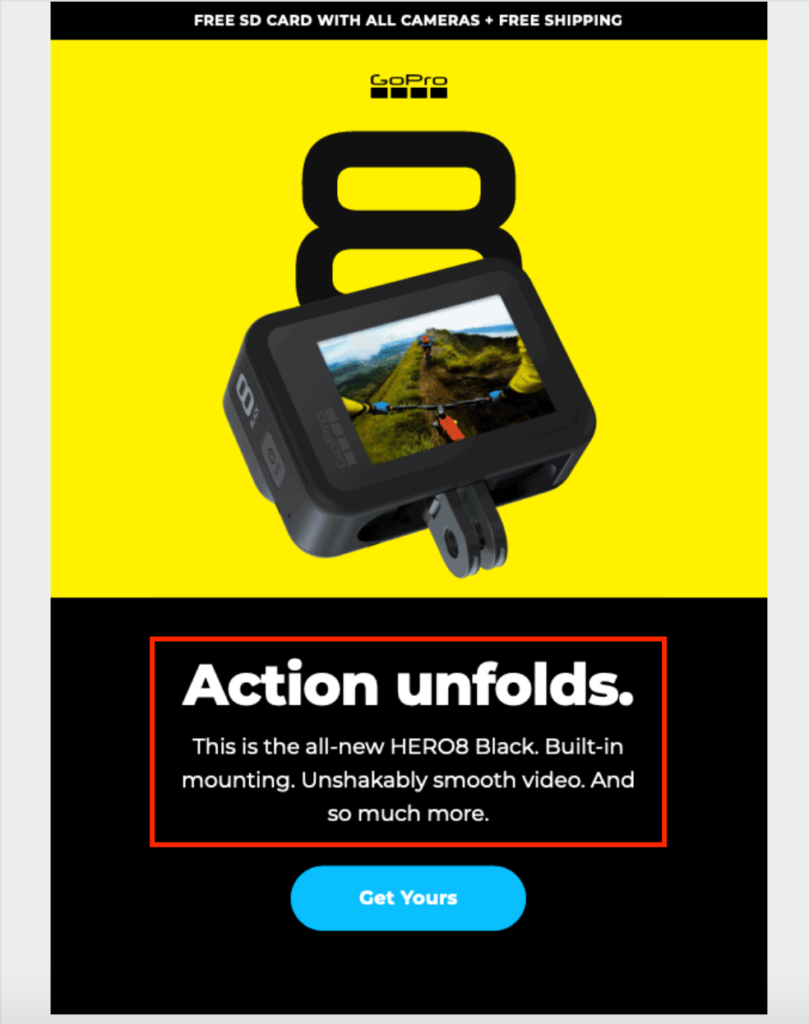 It gets straight to the point, while giving readers a brief overview of the UVP, which is "Built in mounting. Unshakably smooth video. And so much more." Then, there's a crystal clear CTA of "Get Yours."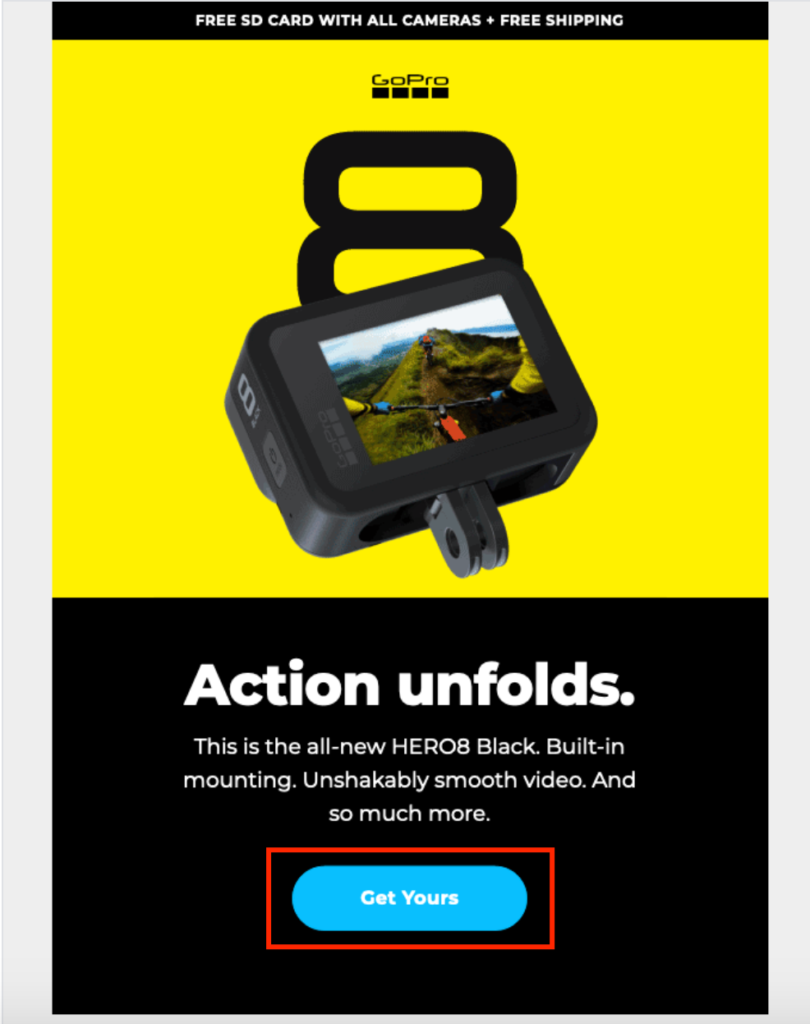 There's no beating around the bush or long-winded spiels here. GoPro simply dives right in and gets the word out about their most recent product, providing readers with the essential information they need to know. And to find out the full enchilada, all they have to do is click-through.
So, if you're looking to achieve simplicity, this is one of the best product launch email examples to base your formula off of.
6. Apple AirPods Pro
I generally try to find examples from smaller brands because they tend to be more relatable. But this final one from Apple was so good that I couldn't resist.
It was for the initial launch of their wireless Bluetooth earbuds, which were released back in October of 2019. As you would expect, the aesthetics are face-meltingly gorgeous. It starts off with a closeup of the AirPods Pro.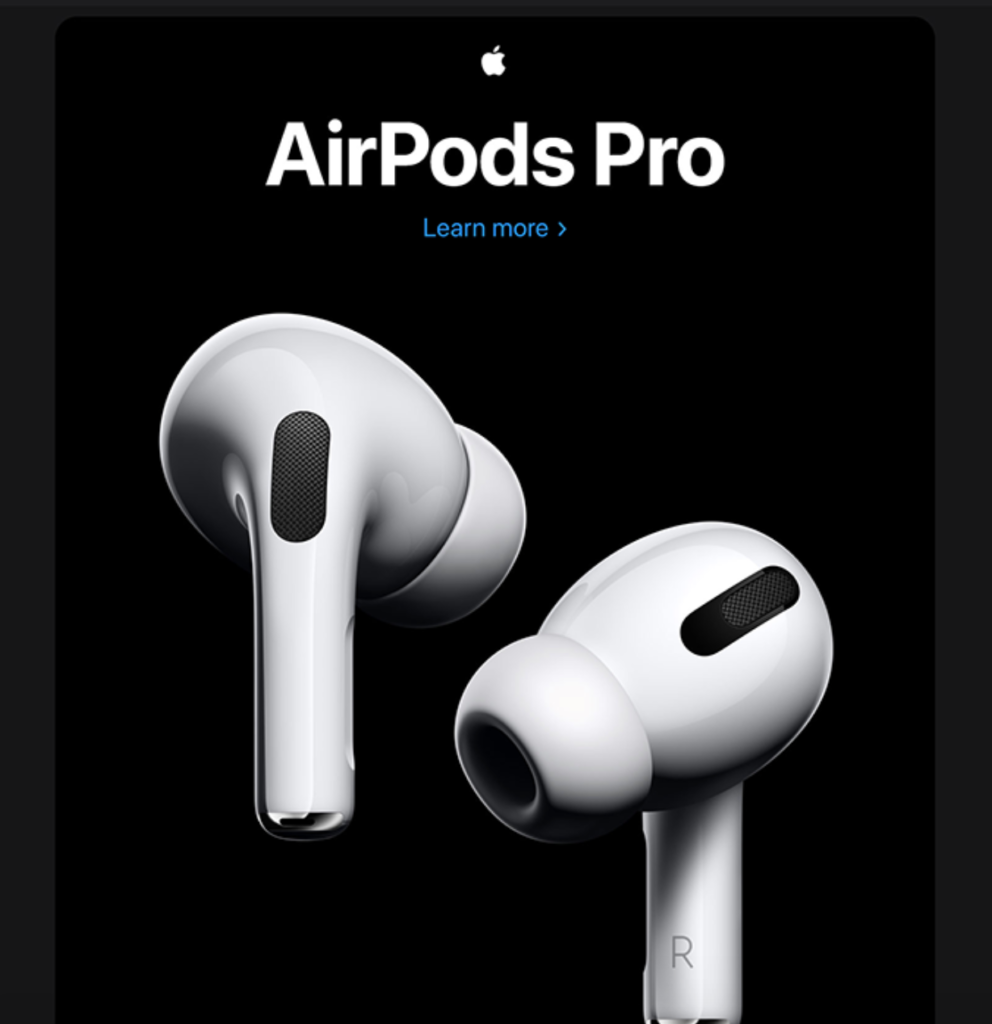 Then it quickly launches into what makes them different from other products on the market. Apple starts off with silky smooth copywriting in the headline saying, "Magic like you've never heard."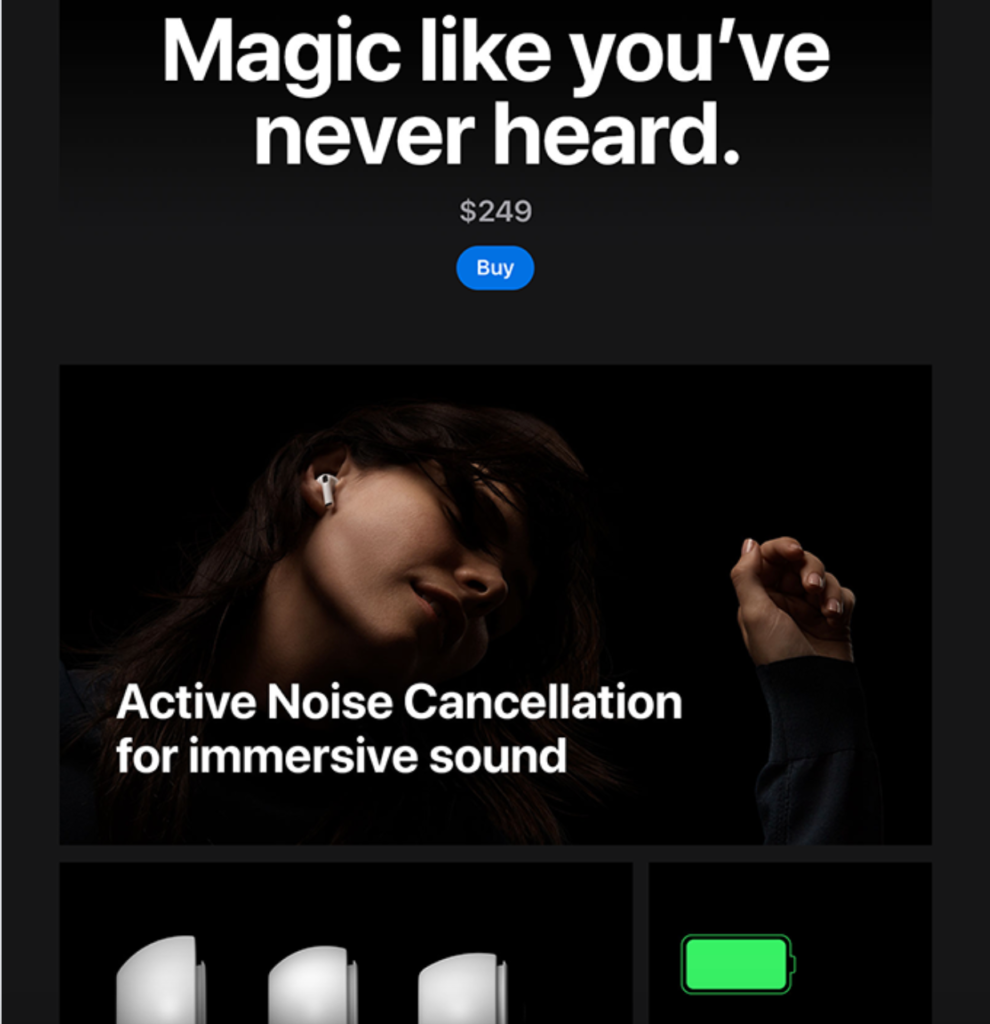 And then touches on the key selling points like "Active Noise cancellation for immersive sound"…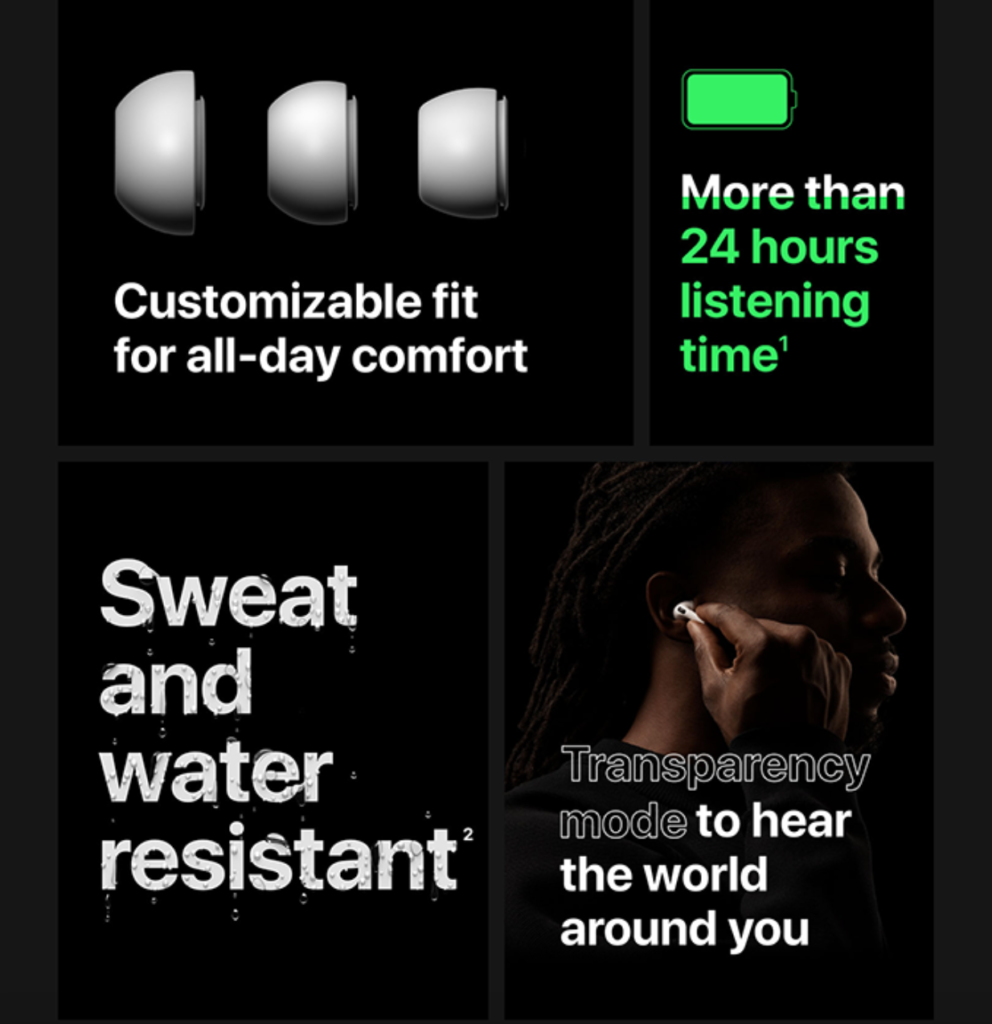 …customizable fit, a 24 hour+ listening time, sweat and water resistance, and transparency mode. And at the bottom, Apple points out that AirPods Pro are effortless to set up and come with a wireless charging case.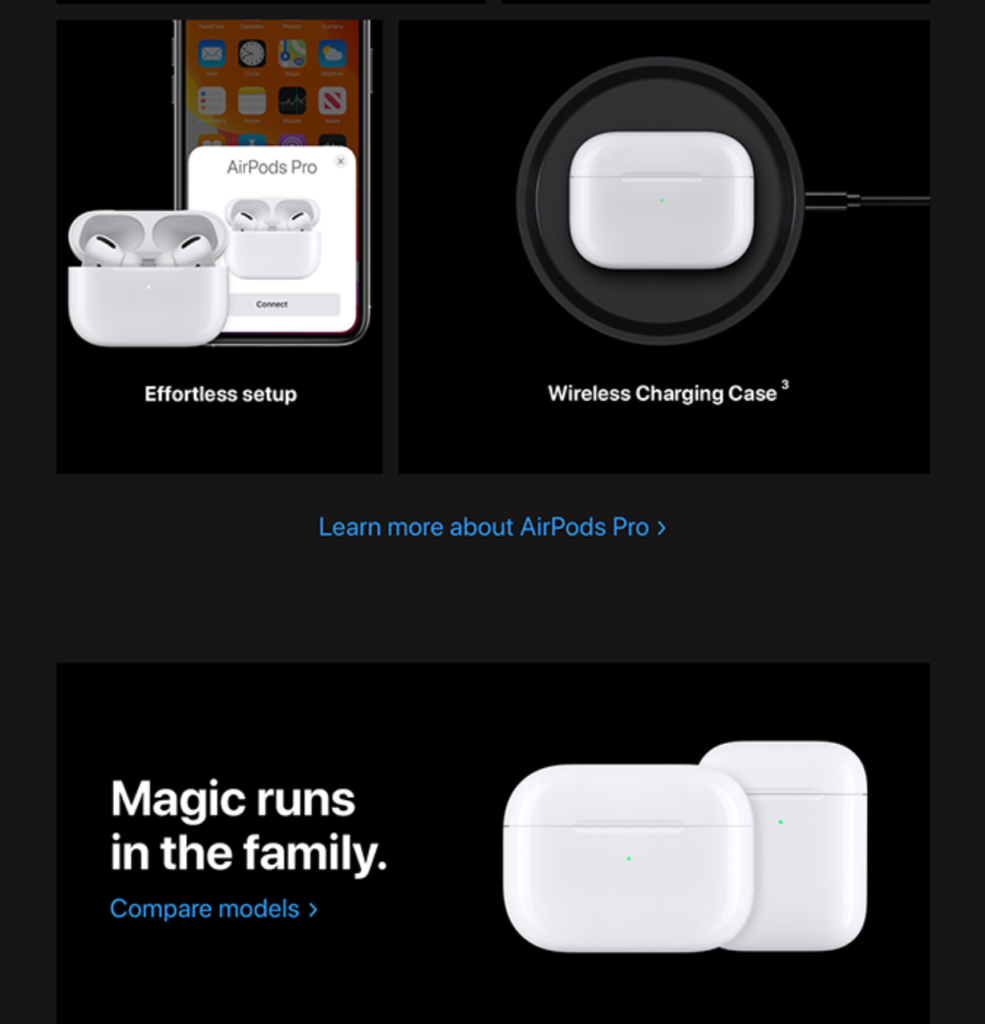 In terms of CTAs, they're strategically peppered throughout here…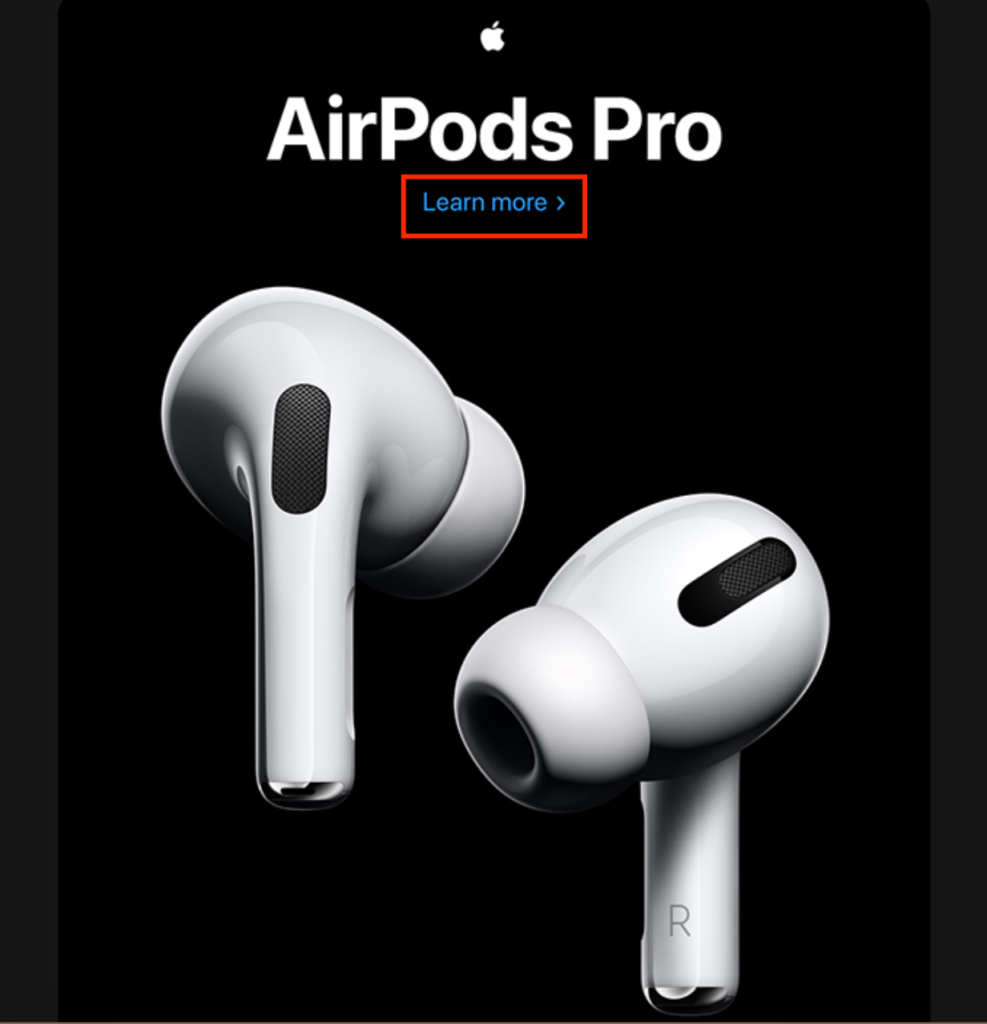 …here…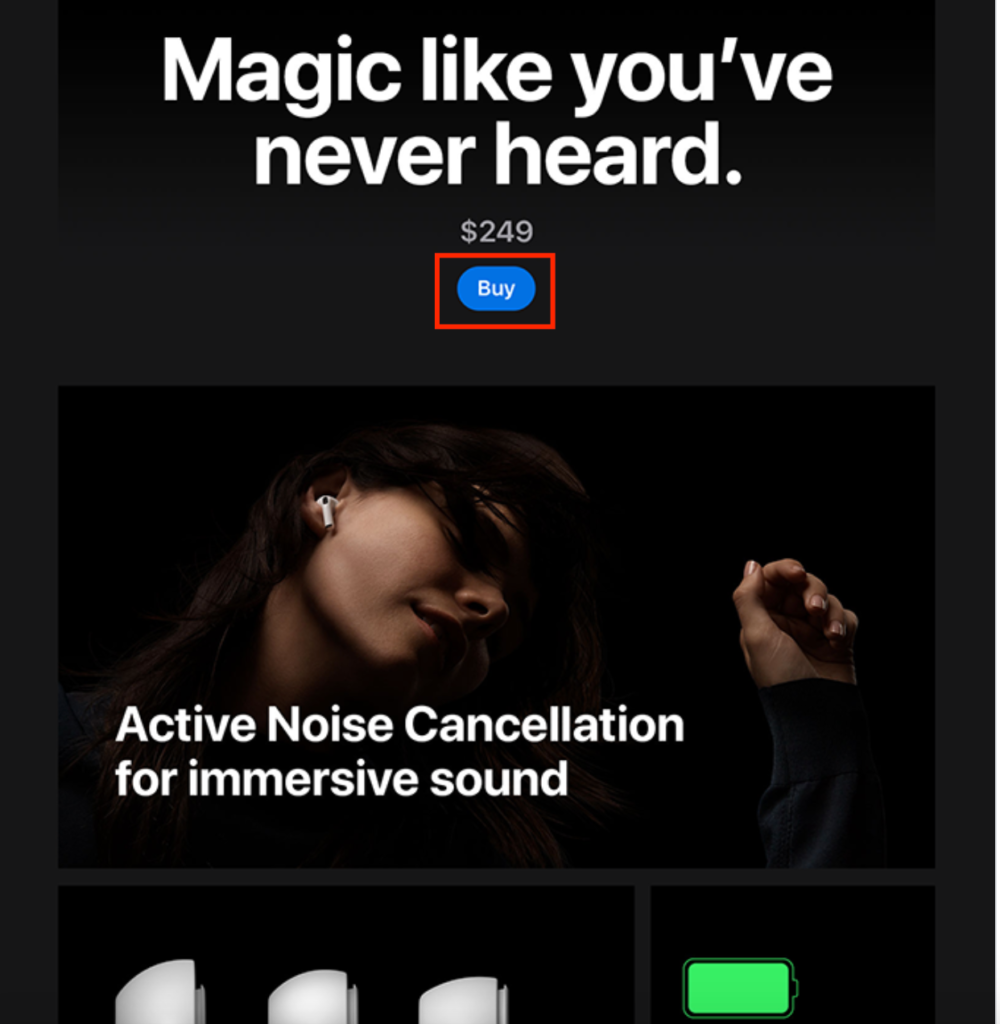 …and here, seamlessly directing readers to their offers.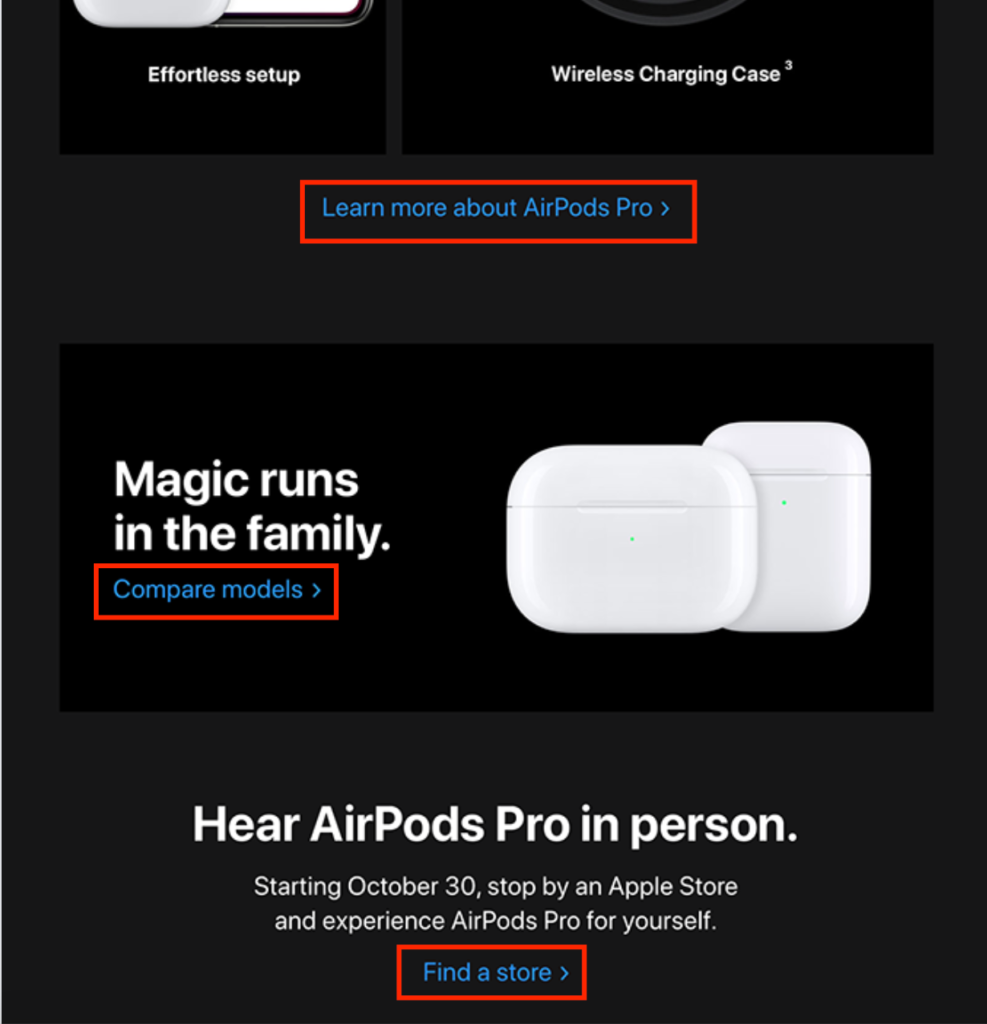 When it comes to crafting a rock solid product launch email that fires on all cylinders and compels readers to take action, it doesn't get much better than this example. I especially love how they broke down the main selling points into a bulleted format alongside crisp images.
Conclusion
A product launch is an incredibly exciting time when you finally unveil what you've been working so long and hard on to the world. But to ensure it hits its mark, it's vital to put plenty of thought into how to go about marketing your new product.
Email is by far one of the best ways to go about this and gives you the opportunity to reach an engaged audience. Borrowing ideas from these product launch email examples should help you get the creative ball rolling to ensure your own marketing is lights out.
Just remember to focus heavily on consumer education and convey key information as succinctly as possible, and you should be golden.
Which of these product launch email examples did you find most captivating?