Accounting for more than $3.5 trillion sales worldwide, e-commerce continues to grow year after year. With lower barriers to entry, it's hardly a game of few anymore.
With new competition added every day, it's only those who go the extra mile for their customers that manage to stand out in the crowd. And, unsurprisingly, it's the same brands who succeed at turning their visitors into first-time buyers and customers into brand evangelists—regardless of the competition.
What's their secret to achieving more revenue and higher conversions every year? That's what we looked into. As a result, we found 13 effective e-commerce marketing strategies any e-tailer can use to improve their conversions in 2021 and beyond.
In this post, you'll learn how to:
Optimize an underutilized page to get more customers (hint: it doesn't involve thank you pages);
Create a smart abandoned cart email flow;
Nudge on-the-fence visitors at the right time;
And more.
But before we begin, a disclaimer: not every visitor that lands on your homepage will magically turn into a loyal customer. That's the bad news.
The good news is you can nudge prospects to move down your sales funnel by using the right strategies at the right time.
Here's how to do that.
E-Commerce Marketing Strategies 101
Part 1: ToFu Strategies
Top-of-the-funnel (ToFu) leads are prospects that show interest in your brand but aren't ready to engage with you yet.
Although the precise definition depends on the length of your buyer's journey and lead scoring, new email signups or first-time website visitors are typically at the ToFu stage of your funnel.
It takes time and effort convincing ToFu leads to move down your sales funnel and, eventually, convert into customers.
Here are four high-converting e-commerce marketing strategies that work like a charm on ToFu stage prospects.
1. Collect Super-Targeted Leads with Quizzes
Getting personal details during signup, without hurting conversion rates, is a challenge for many marketers. You need to give prospects a compelling reason to share more information, besides their email address.
One way to do that is with lead generation quizzes.
Taking several forms, ranging from "Which Starbucks drink are you?" to personal style finders, lead generation quizzes are one of the best ways of collecting segmented ToFu leads.
One of my favorite quiz examples comes from Care/of, the vitamin subscription service: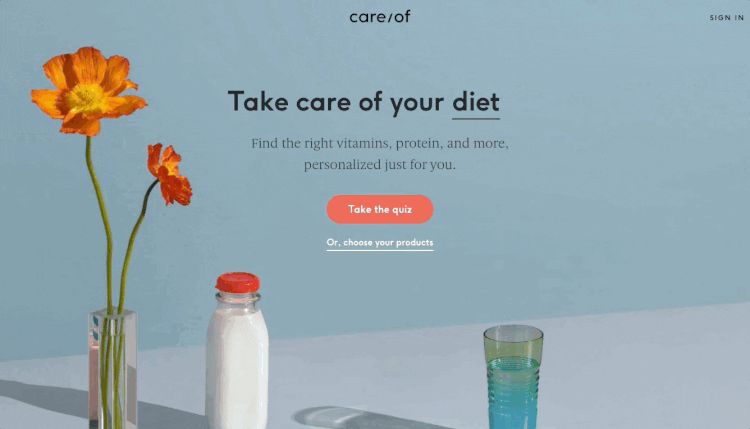 When you visit the company's homepage, Care/of, first, invites you to take their quiz with a direct call-to-action (CTA).
Notice the first question Care/of asks you in this quiz (after your first name):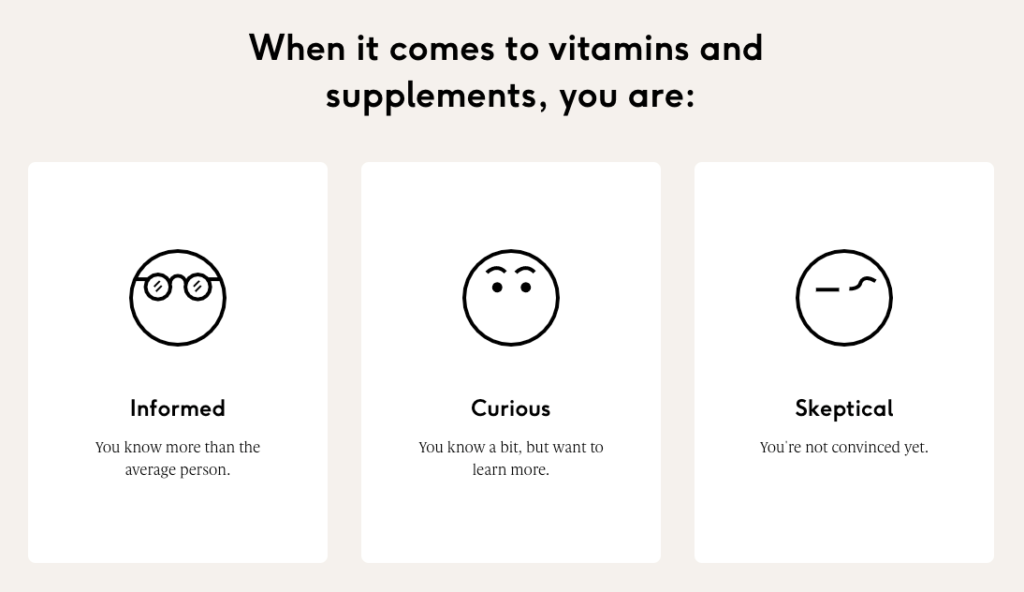 By asking how knowledgeable and convinced you are about their product line, Care/of assesses where you are in your buyer's journey, and adjusts your results accordingly.
If you say you're skeptical about vitamins, you see this screen…

…whereas they greet informed prospects with this message:

After answering a few questions about your age, location, preferences, and goals, Care/of asks for your email in the middle of the quiz.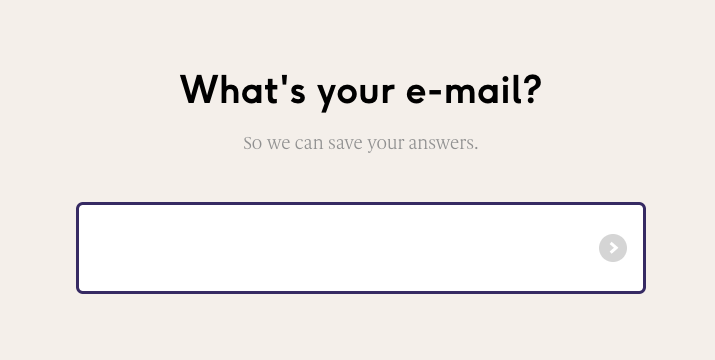 Notice how they give you a valid reason to submit your email address by saying, "So we can save your answers."
Since you're almost halfway through the questions, you do as they say, without much thinking.
Once you complete this comprehensive quiz, Care/of directs you to a personalized landing page with your name, results, and research-backed product recommendations.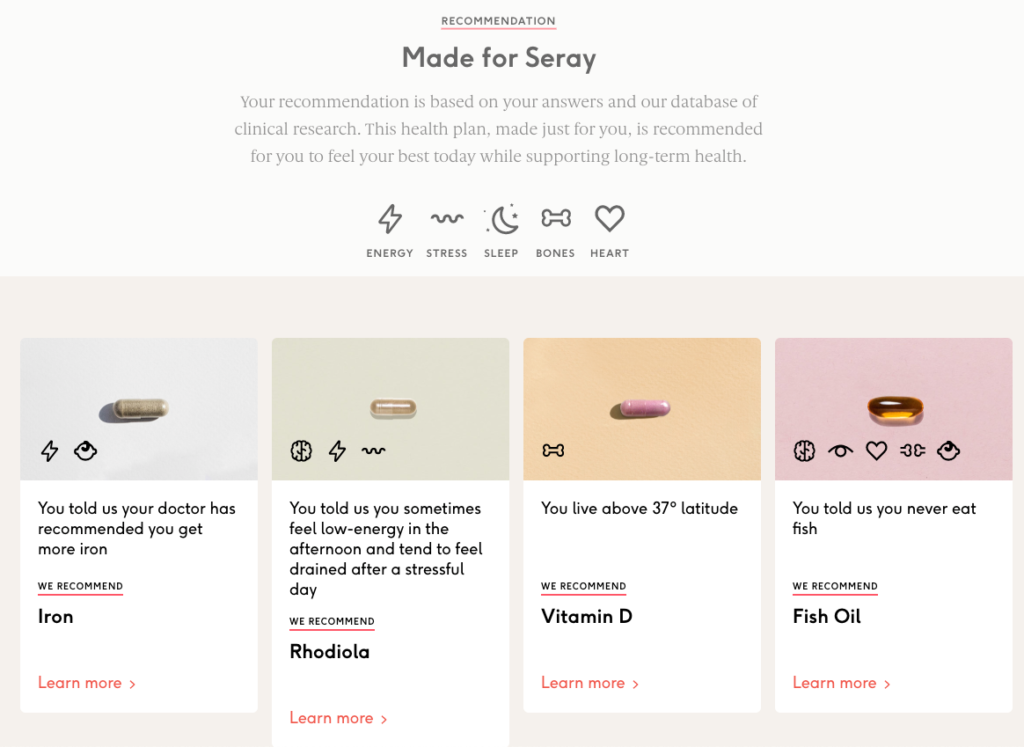 On it, Care/of explains which supplements you should take, along with reasons, rather than hard-selling you if you're not ready to buy.
Now that the company knows a lot about you, they can remarket to you with paid ads and email marketing, using highly personalized recommendations and incentives.
Action Items
Use a third-party service, such as Typeform, to create quizzes that are relevant and interesting for ToFu prospects.
Give users a valid reason to submit their email address.
Follow up on your new, segmented leads with highly targeted email campaigns.
2. Offer Gift Guides (Year Round)
The holiday shopping season is the perfect opportunity to boost e-commerce sales and promote giftable products. With Black Friday, Cyber Monday, and Christmas, the holiday season is a highly profitable period for e-commerce marketers.
Many online stores create holiday gift guides for Christmas, New Year's, or Valentine's Day to suggest relevant gift ideas to their visitors. But why stop there while every day is a good day to give gifts?
Instead of waiting for highly competitive shopping days, you can suggest gift ideas all year round and guide your visitors into making meaningful purchases.
Check out this on-site gift guide example by Ban.do: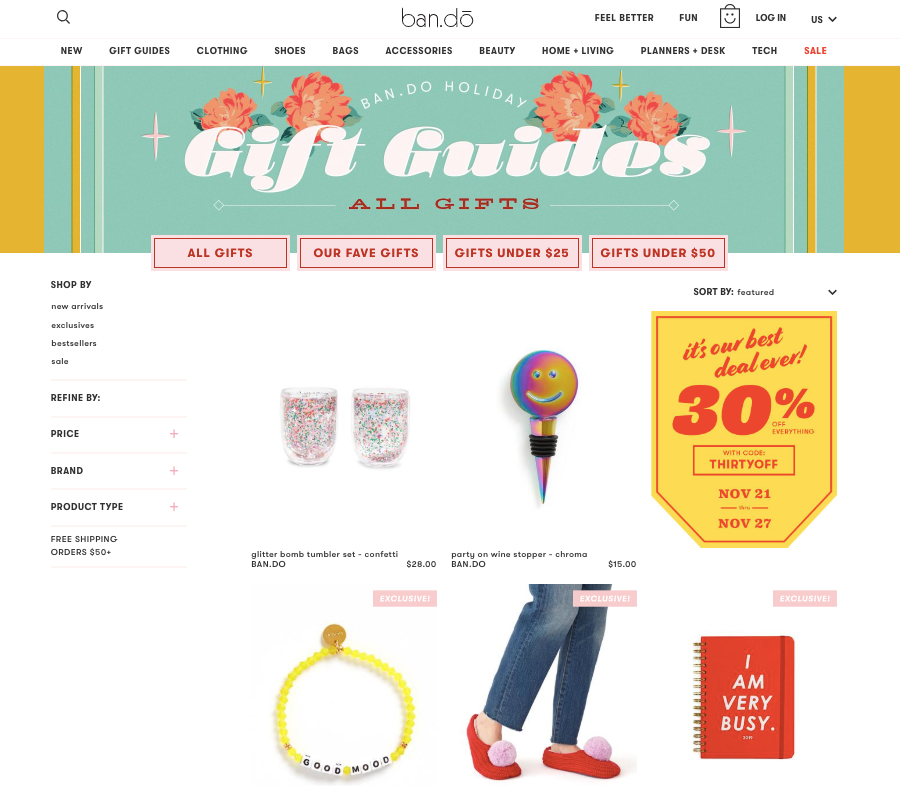 Notice how the company categorizes different gift options by "our faves, gifts under $25, gifts under $50." Ban.do also lets you refine your choices using the filters on the left and find the perfect gift you've been looking for.
This is a great gift guide example because it's easy-to-navigate, and it helps visitors with their gift search.
Email marketing is another channel you can use to distribute your gift guides all year round.
Take inspiration from Tattly: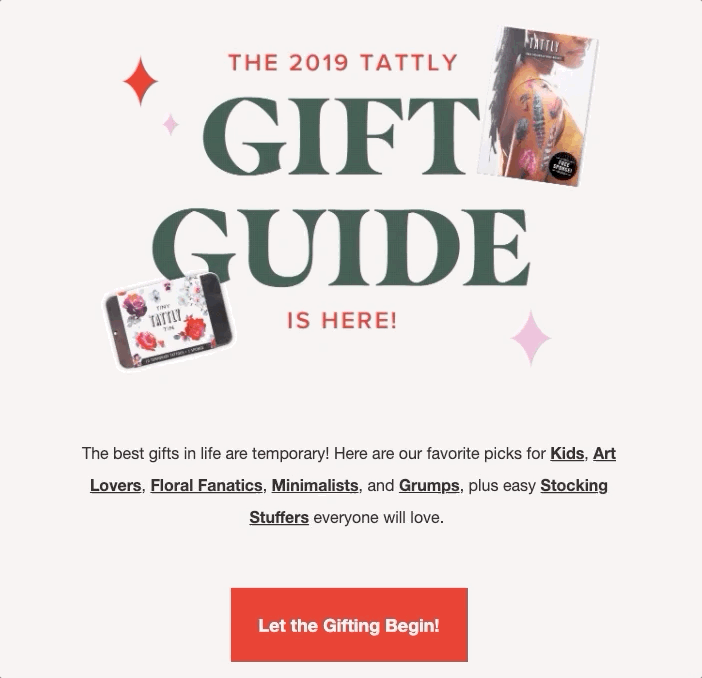 The company sends out its holiday gift guide via an email that leads you to its website.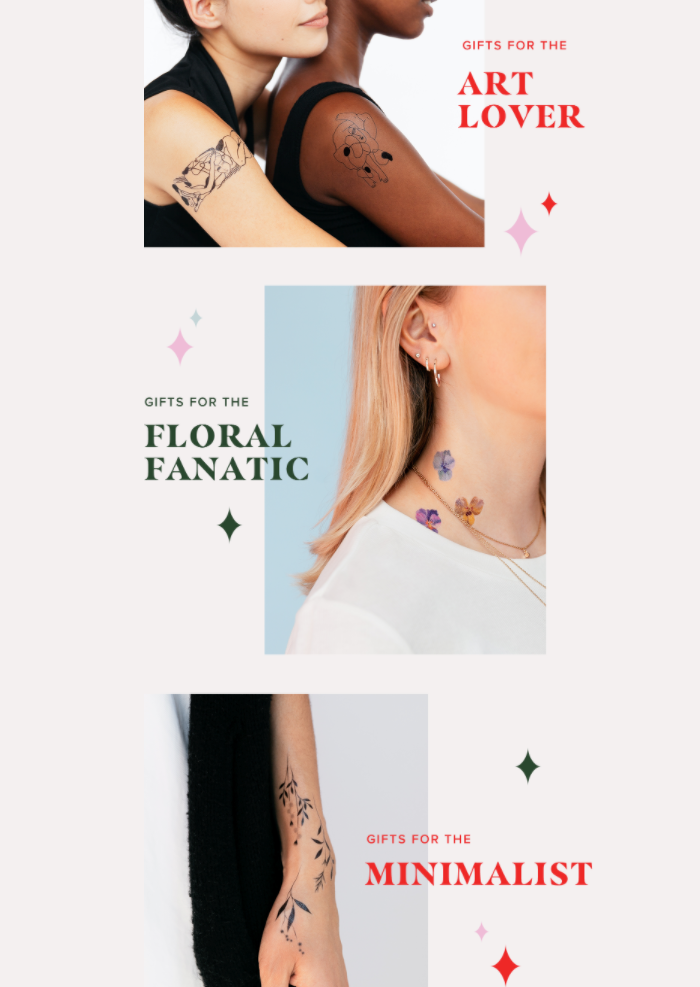 When you scroll further down in the email, you can see how they categorize their gift guides and know what to expect.
If you want to take it one step further, you can make excuses to celebrate the little things in life and create your own holidays. It's a good way to bond with your future (and existing) customers and promote your products throughout the year.
Action Items
Create specific, relevant, and easy-to-sort gift guides on your website.
Add filters and categories for easier navigation.
Support your gift guides with emails to create excitement.
3. Convert Empty Shopping Carts
In an ideal scenario, prospects would likely land on your homepage, click a category, and from there, go to a product page before moving onto checkout.
But in the real world, the buyer's journey isn't linear.
When a ToFu stage prospect ends up on an under-optimized page, such as 404 pages a sold-out product page, it often becomes the endpoint of their journey.
Few e-commerce brands consider this, but Vinomofo is an exception.
When you click the shopping cart icon and go to your basket page without adding any items, this is what you see: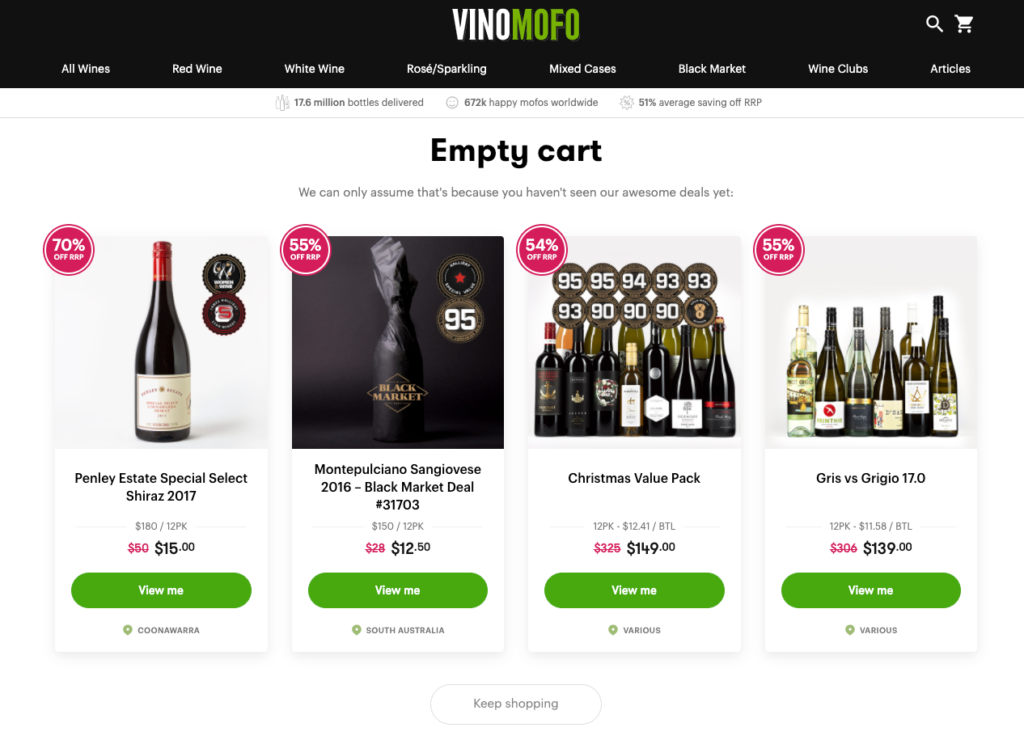 The company greets you with an assertive message that reads, "We can only assume that's because you haven't seen our awesome deals yet" and recommends products that are currently on sale.
Also, notice how they create social proof by highlighting the number of customers they have and the number of bottles they sold.
Following the recommendations comes a CTA button that takes you back to their homepage, in case you're looking for something other than these deals.
It's a brilliant strategy for guiding visitors in the right direction and bringing otherwise-lost ToFu leads back on track.
If you want to convert empty carts without completely overdoing your checkout process, you can create a product recommendation popup that shows on your cart URL:
Action Items
Write humorous or assertive empty cart page copy.
Add social proof by mentioning your happy customers or, even better, include customer testimonials.
Create a website popup showcasing your most popular products and show it to visitors with empty carts.
4. Turn One-Time Purchases into Subscriptions
You're likely familiar with the effectiveness of upselling and what it can do for your revenue.
Many online stores already use upselling and cross-selling to boost their average order value, but only a few experiments with finding new ways to maximize it further.
MeUndies is an exception.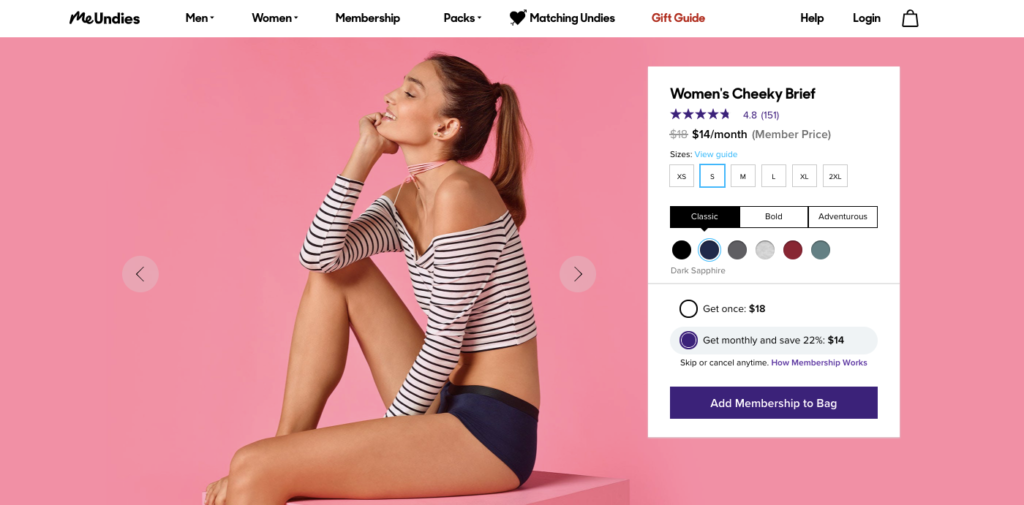 If you visit one of their product pages, you see two pricing options: regular price and member price.
Here's how it looks more closely: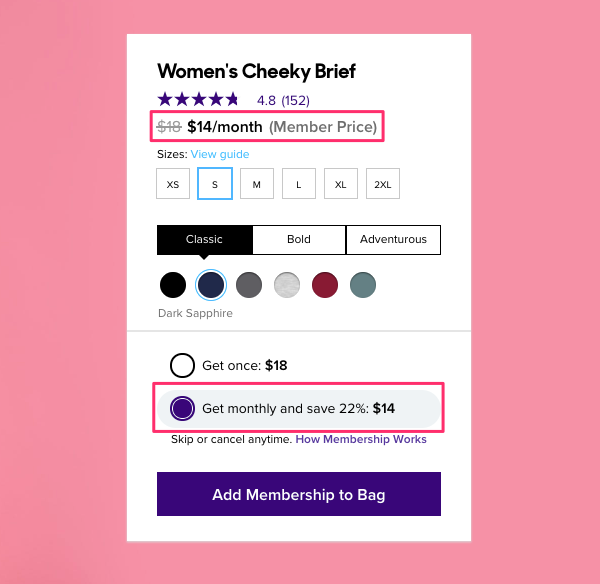 When you're about to buy one of its products, MeUndies offers you a membership upgrade and a better price. While doing that, they highlight the obvious benefit of membership (save 22%) and contrast it with a one-time purchase ($14/month).
If you're not a MeUndies subscriber, you pass on an exclusive member price, and that sounds too good to overlook.
Another brilliant example comes from Beardbrand: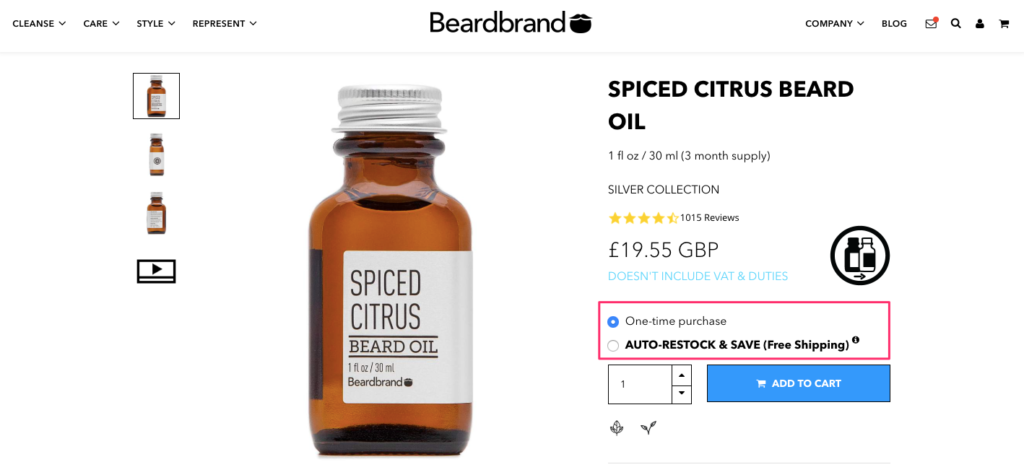 When you visit a Beardbrand product page, you see two options: one-time purchase vs. auto-restock & save. (Notice how the second option is bolded and capitalized.)
Upgrading to a Beardbrand subscription not only means saving money but also includes free shipping. Tempting, isn't it?
Action Items
Display the benefits of membership on product pages clearly.
Show price comparisons to members and non-members.
Make the subscription option stand out in your design.
Part 2: MoFu Strategies
Middle-of-the-funnel (MoFu) prospects are users that engage with your emails or products but haven't made a purchase yet.
In other words, MoFu leads took a step towards you, and now it's your turn to make a move.
At this stage of the funnel, you need to stay top-of-mind of your prospects and remove any obstacles that are stopping them from making a purchase. A special offer on an abandoned cart or a wishlist item can help nudge MoFu leads further.
Here are four outstanding Mo-Fu strategies.
5. Stay Top-of-Mind
If you're running sales campaigns, you're likely sending out promotional emails to inform as many subscribers as possible.
In addition to their communicative purpose, sales promotion emails also help you activate mid-funnel prospects that have purchase intent, by providing them with compelling incentives. Plus, they help you stay top-of-mind of your subscribers.
One foolproof way to make your sales campaigns memorable, especially during busy times like Black Friday or Christmas, is to send out calendar invite emails.
Here's how Glossier does that successfully: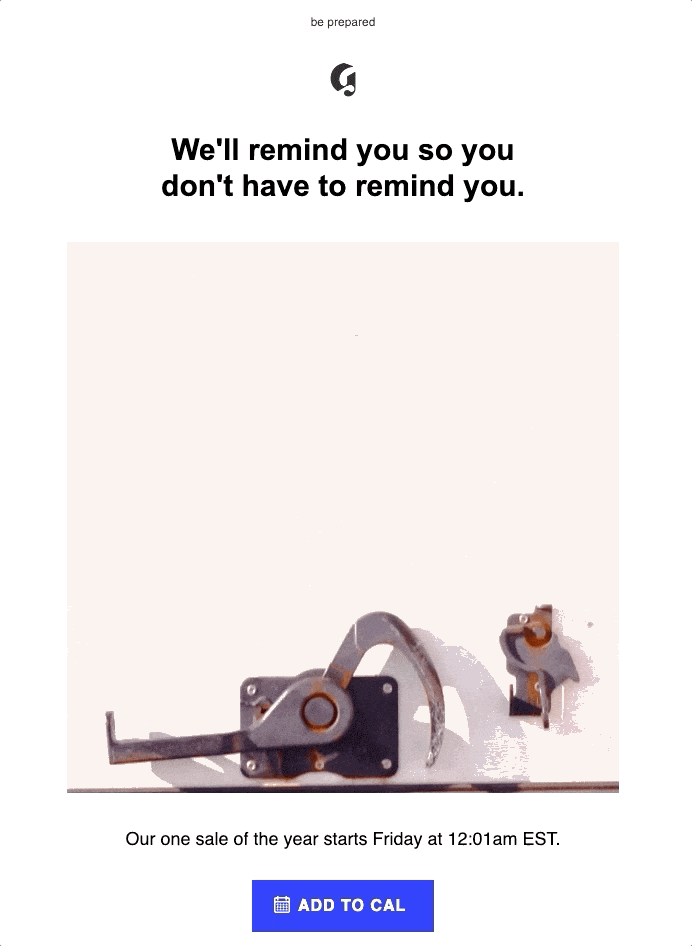 A few hours before Black Friday, Glossier sends this email to its subscribers, asking them to be prepared for the big sale. Rather than only write "be prepared," the company also gives you the option to download its event invite and save the date to your calendar.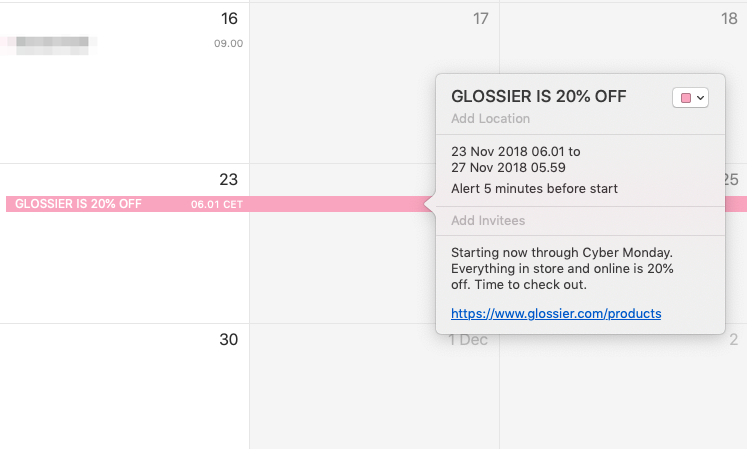 This way, Glossier finds a way to sneak into its MoFu leads' minds, calendars, and wallets during a hectic shopping season.
The best part? It's super easy to replicate for your business and works all year round.
Action Items
A few days before your next sales campaign, write a simple announcement email and attach a .ics file.
Frame your email copy around exclusivity and thank subscribers for being on your email list.
Remember to include a description and a website link in your calendar event.
6. Convert Wishlists with Discounts
How many times did you add something to your wishlist and never look at it again?
I've done it several times. Unless I miraculously get a random urge to buy my wishlist items, I simply forget about their existence.
As an e-commerce marketer, you can't ignore your prospects' wishlists because they have a high potential to convert. The name itself suggests that your visitors wish to buy those items. And if they abandon their lists without completing the purchase, they must be missing something—like a gentle nudge or an incentive.
One way to reactivate forgotten list items is to send wishlist reminder emails. You need to display wishlist items with a clear and simple design and add a powerful CTA to help your visitors re-consider the purchase.
But how do you encourage visitors to create wishlists in the first place?
Look at how Chairish does it: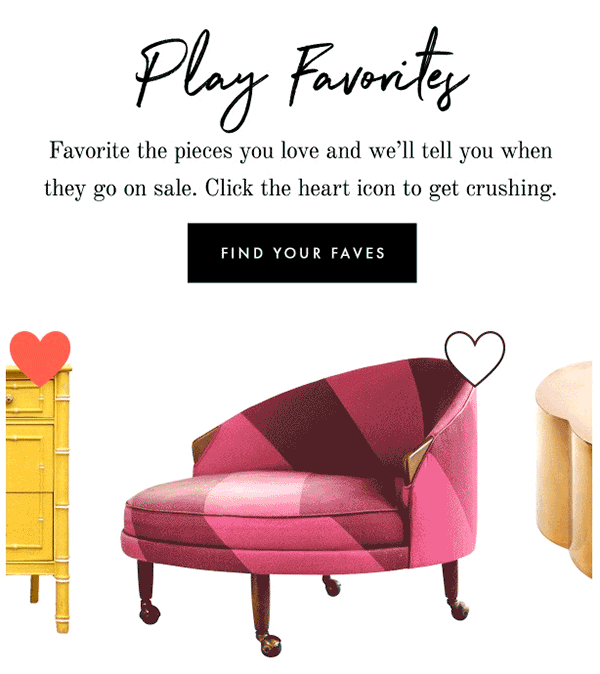 Shortly after creating an account on the Chairish website, I received this welcome email asking me to find my favorites. My motivation? Getting notified of when my favorite items go on sale.
Like this: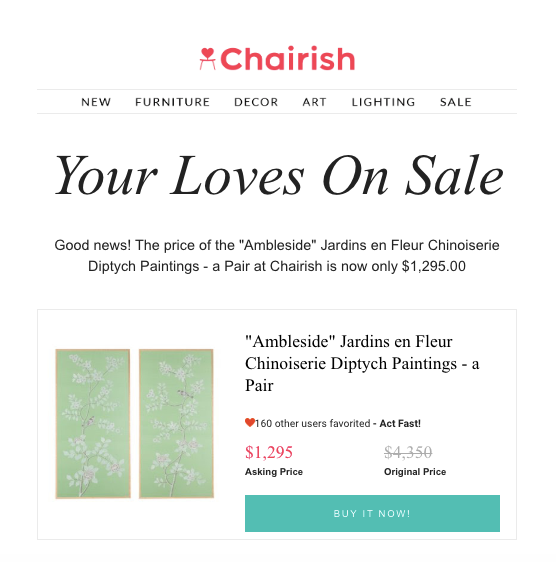 I now have a good reason to start a wishlist and am more likely to buy my favorites when they are on sale.
If you're willing to discount your products, you can create a special code that applies to your subscribers' wishlist items. This way, you'll create a feeling of exclusivity and increase your chances of converting idle wishlist items into sales.
Action Items
Encourage subscribers to create wishlists on your online store.
Remind them occasionally about their wishlist items.
Add an exclusive wishlist discount code to increase conversions.
7. Recommend Products Based on Abandoned Cart Items
If a visitor abandons their cart without making a purchase, it's your responsibility to follow up and offer solutions to your potential customers.
At this stage, abandoned cart emails are the perfect opportunity to trigger a purchasing decision and recover otherwise-lost sales. A complicated checkout process or a simple distraction might easily cause cart abandonment, but what if the product isn't right?
That's why Birchbox sends cart abandonment emails (with a twist):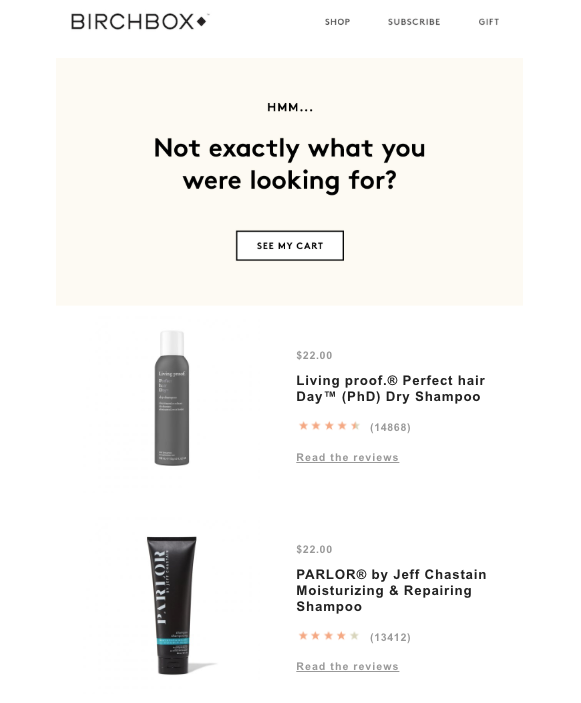 Birchbox reminds me of my abandoned items and tries to solve the problem that may be lying behind my cart abandonment.
Maybe, in their eyes, this wasn't exactly what I was looking for…
So, the email continues: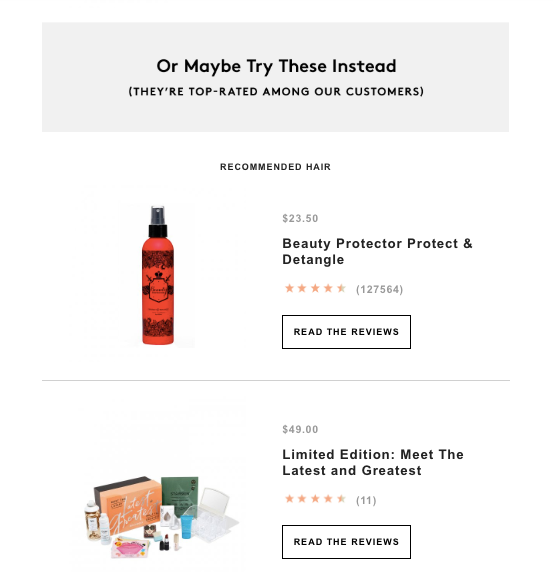 That's why the company offers me similar products that I might like more. More, they use social proof multiple times to make the recommendation stronger.
Notice how they include product ratings and reviews under each item. That's a well-thought use of customer feedback in emails, which I'll return to in a moment.
Action Items
Add a product recommendation section to your abandoned cart emails.
Recommend relevant and/or top-rated products.
Support your recommendations with customer feedback.
8. Recover Lost Sales with an Abandoned Cart Email Flow
If you've ever written an abandoned cart email, you likely know the struggle: you want to convince prospects to complete their purchase, but you don't want to sound too salesy. After all, failing to nudge MoFu leads towards the bottom of the funnel will likely result in them leaving, never to return.
Luckily, Tuft & Needle has the perfect solution for you. Rather than promote the items you abandoned earlier, they get to the root of your problem with a three-part abandoned cart email flow.
When you abandon your cart on their website, Tuft & Needle sends you, first, this email with the subject line "The Spookiest Bed Time Story Ever…"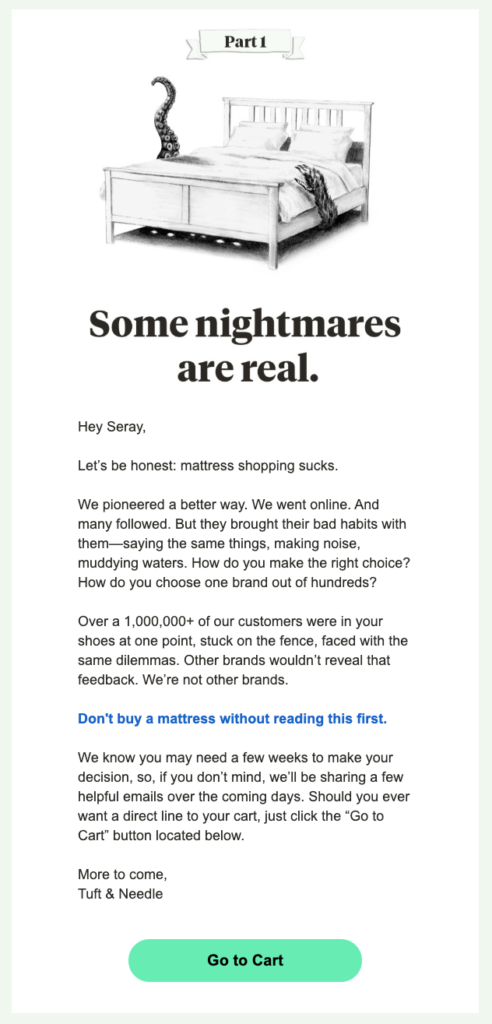 In Part One of their email flow, Tuft & Needle agrees with prospects on one critical issue: mattress shopping sucks. After this honest statement, the company positions itself as the leading mattress e-tailer and warns you by saying, "Don't buy a mattress without reading this first."
When you click the hyperlink, you land on a page where Tuft & Needle handles your objections and supports its claims with customer testimonials.
The second part of the flow arrives a few days later with the intriguing subject, "What Are You Paying For?"

In it, Tuft & Needle, again, takes a consumer standpoint to mattress shopping and highlights its fair pricing.
Clicking the sentence, "We made this page to prove we have nothing to hide" takes you to another landing page, on which the company compares itself with its direct competitors, such as Casper.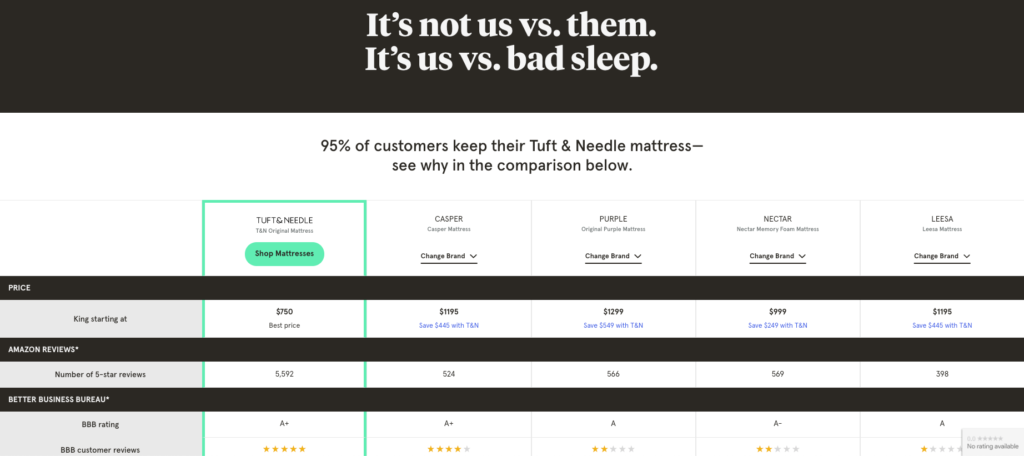 As the final part of this well-thought flow, you get this email with the subject line, "You Should Sleep on Big Decisions," which is hard to disagree with: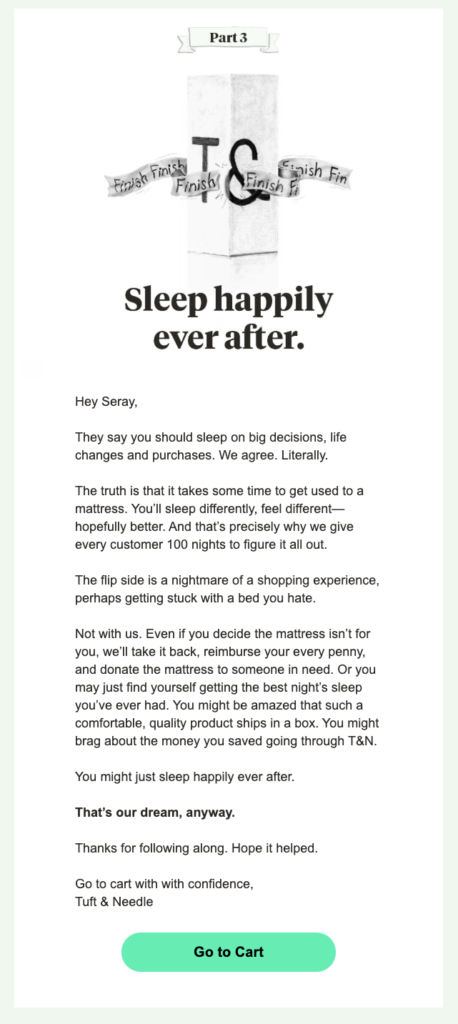 Maintaining its understanding tone, Tuft & Needle makes a final attempt to persuade you by focusing on their 100-nights satisfaction guarantee.
While doing all these, notice that the company always keeps the CTA, "Go to Cart" at the bottom of the email, in case they already persuaded you.
Even if prospects don't buy the abandoned product, with these three emails, Tuft & Needle nurtures MoFu leads and prepares them for the next stage.
It's an exceptional abandoned cart email flow, demonstrating how you can sell without being salesy.
Action Items
Handle any possible objections in prospects' minds, whether they're about pricing, product quality, or delivery options.
Focus on how different you are to your competitors.
Resolve any questions by reminding your satisfaction guarantee.
Part 3: BoFu Strategies
Bottom-of-the-funnel (BoFu) is the last stage of your sales funnel, where prospects are ready to become first-time buyers or repeat customers. At this stage, you need to make the process easier for your prospects leads and nudge them towards buying with the right incentives at the right time.
Here are five solid, yet underused strategies you can use to support your BoFu efforts.
9. Use Customer Testimonials in Email
Customer testimonials are huge drivers of e-commerce sales. When used right, they add social proof to your business and help visitors overcome objections.
Many e-commerce brands display their customer reviews on homepages, landing pages, or product pages. But it's only exceptional brands that incorporate testimonials in their email marketing.
Here's an example by Brooklinen: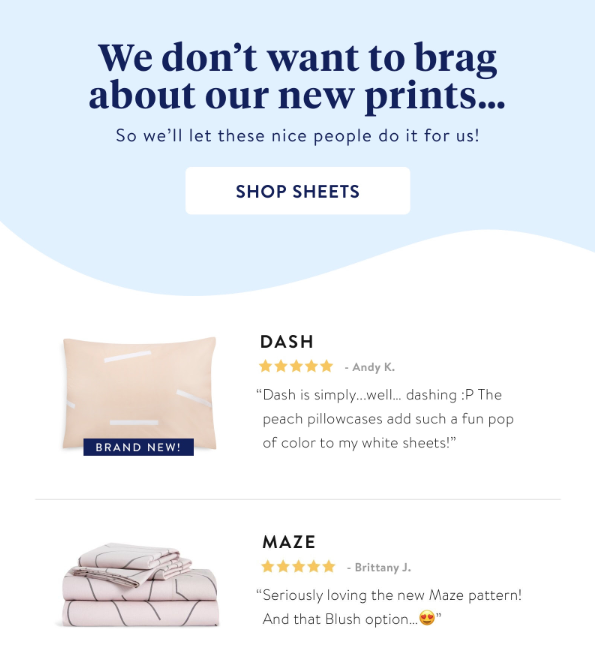 Knowing the persuasive impact of testimonials, Brooklinen dedicates this email to display their top customer reviews. Another clever way of using customer testimonials in email marketing is to integrate it into your promotional emails.
Here's how Firebox does that: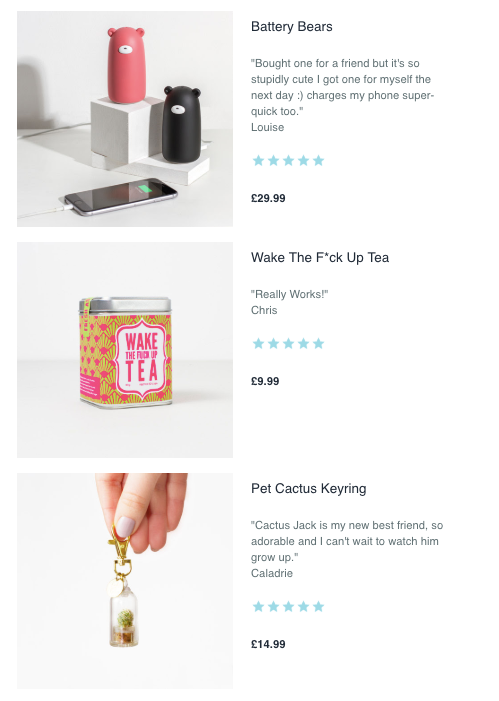 Rather than writing long descriptions, Firebox uses customer reviews to let the products speak for themselves. After all, who else can describe a product better than an actual user?
Violet Grey takes it even one step further and carries customer testimonials to their subject lines:

This way, the company creates social proof even before you open the email. What's more, by using a strong statement, they evoke your curiosity and make you want to see the product immediately.
Similar to Brooklinen, you can handpick your favorite testimonials about your product, service, or company, and send out occasional emails to spread the love. And if you don't have a large backlog of customer reviews yet, you can try including a few examples in your promotional emails.
Action Items
Pick 5 to 10 customer testimonials from your website.
Add customer feedback and ratings to your promotional emails.
Include product image, product link, and price information.
10. Convince On-the-Fence Prospects
Not all bottom-funnel prospects stand at an equal distance to your checkout. Some might have concerns about your delivery options, whereas others might need a payment reminder.
At this stage, you should identify possible obstacles to buying and remove them with timely intervention.
When you begin your subscription process on Barkbox, you walk through a few steps, asking information about your dog and its preferences. Before you choose a plan and proceed to checkout, you see this page: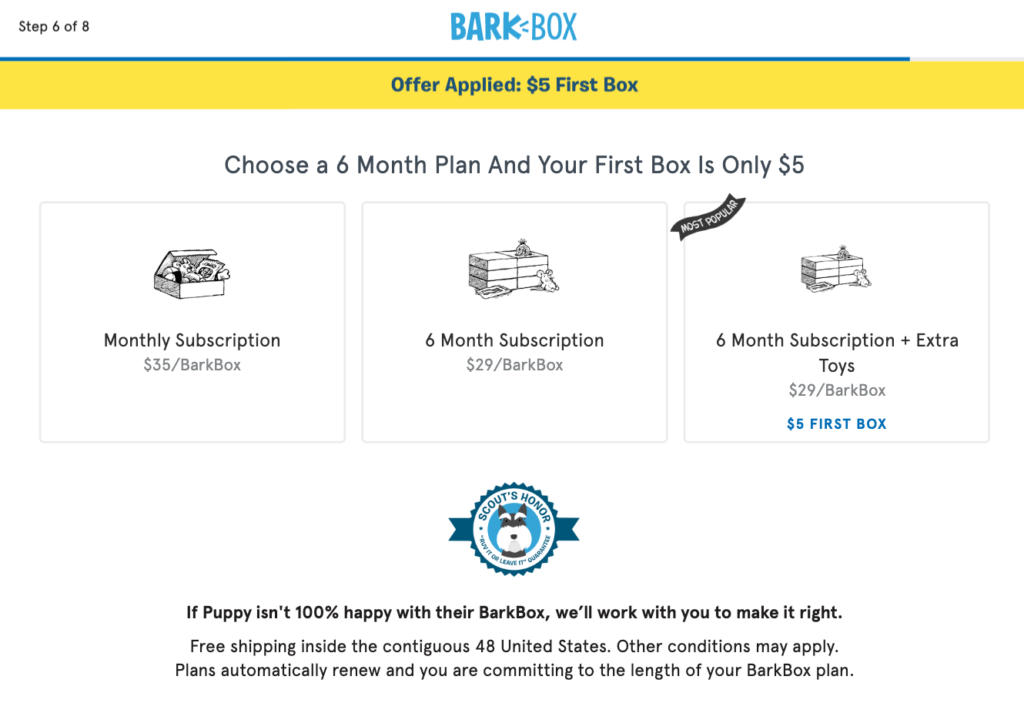 On it, Barkbox reminds you of their satisfaction guarantee, which they call "Scout's Honor—Ruv it or leave it guarantee." And below their guarantee icon, they use a dynamic text that's updated with your dog's name to create a personal feeling.
After you choose a plan and move onto checkout, Barkbox keeps highlighting their guarantee: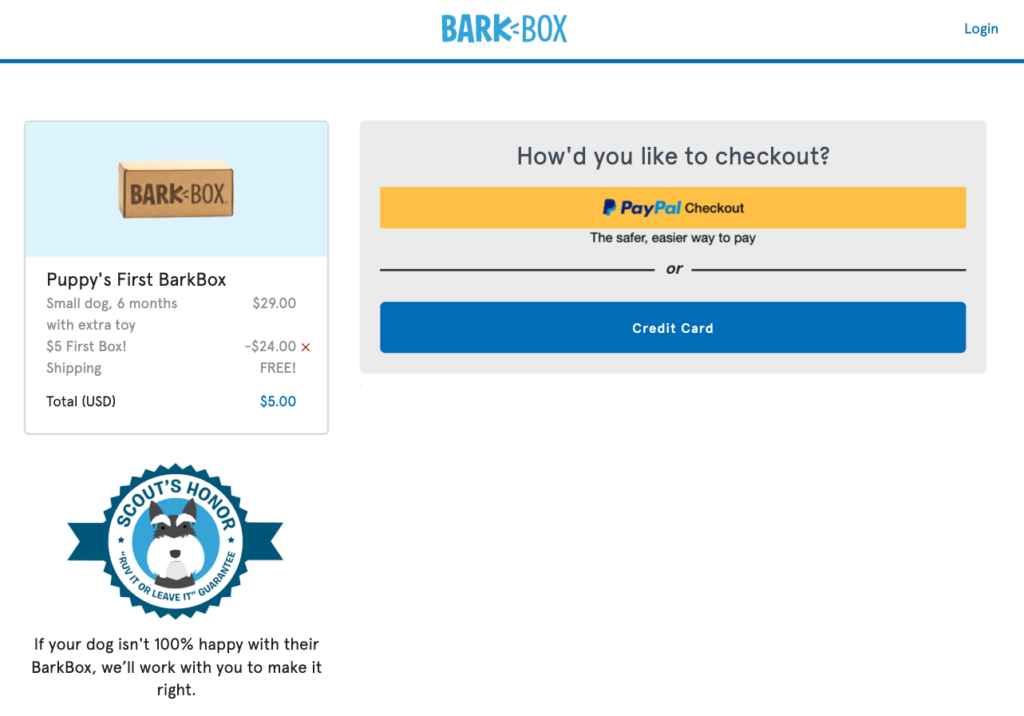 Knowing where frictions in the buyer's journey typically occur, Barkbox removes a big obstacle to buying and gently nudges on-the-fence prospects.
While returns and refunds are common concerns among online shoppers, limited payment options can be another obstacle to completing a purchase.
With a timely website popup that shows only on cart pages, you can inform prospects about your payment options and help them make a quick decision—just like Kings & Queens does: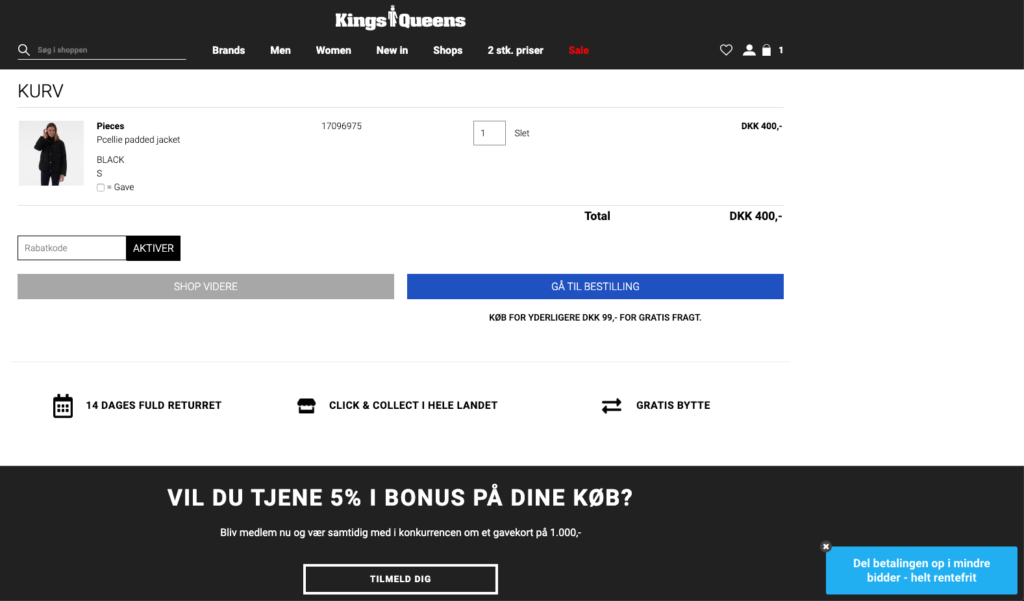 When a bottom-funnel prospect visits their basket page, first, they see this non-intrusive campaign teaser that reads, "Split your payment into smaller bits—with no interest."
And only if they click the teaser, this campaign shows informing them about Kings & Queens' installment plan payment option: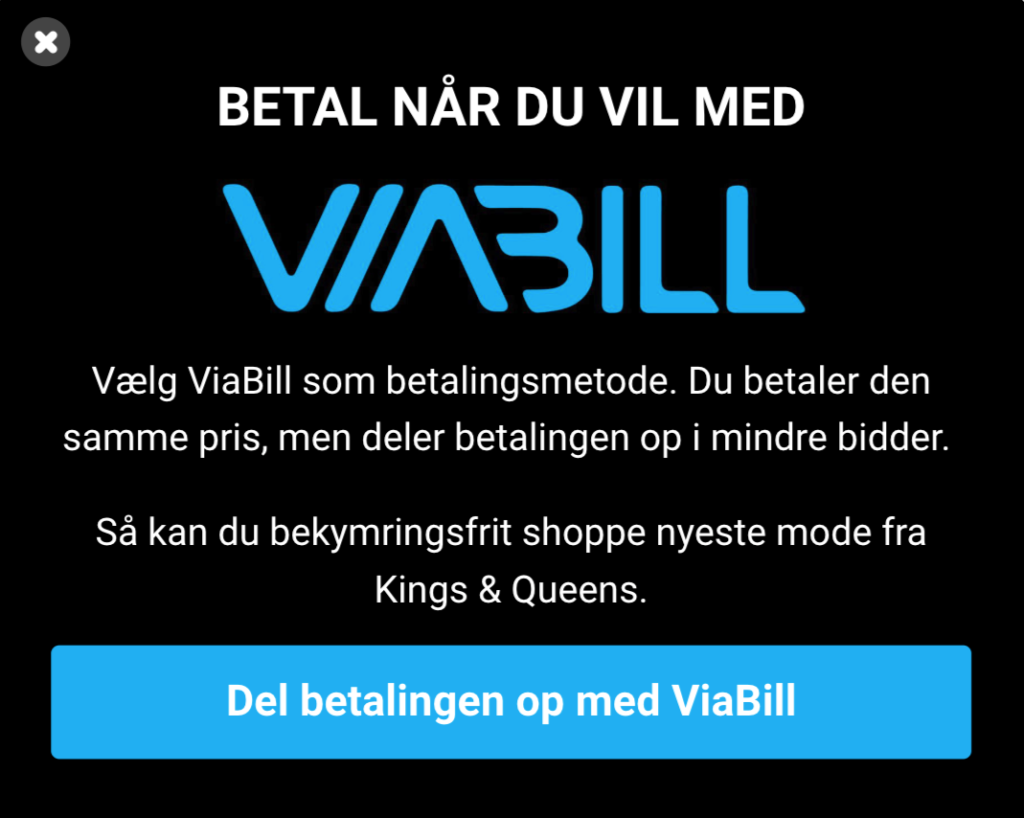 With this campaign that is triggered at the right time, the company increased its ViaBill transactions by 69.68% in three months.
Both are brilliant strategies to convert on-the-fence BoFu prospects into customers without compromising user experience.
Action Items
Remind visitors of your satisfaction guarantee during checkout.
Create a popup about your payment options that only shows on checkout pages.
11. Convert Customers with Sold Out Products
For online shoppers, sold-out product pages mean one thing: frustration.
For smart marketers, on the other hand, sold-out products are a goldmine waiting to be tapped.
Many online stores remove the disappointment of selling out with out-of-stock notifications. It's a great way to collect valuable leads and increase your chances of converting leads to customers, when the item is back in stock.
What I suggest, however, is going one step further. Instead of sending customers back home empty-handed, try guiding them in a different direction.
Bestsellers is the perfect place to get frustrated visitors back on track. This way, you'll ease visitors' frustration and improve your sold-out-page conversions.
ASOS uses a similar approach in its mobile app: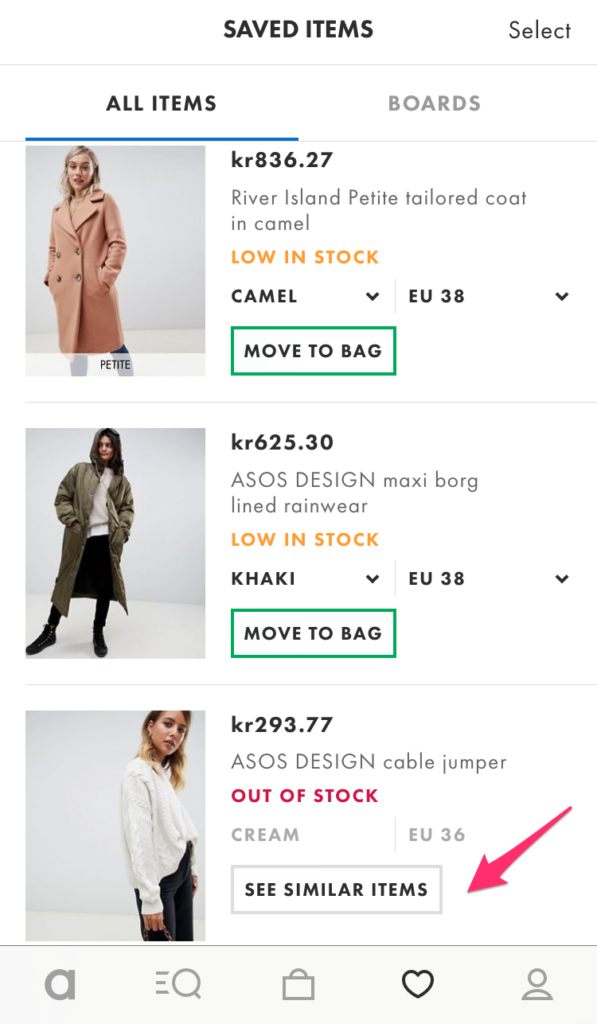 When an item in my wishlist goes out of stock, the "Move to Bag" button changes to "See Similar Items."
ASOS doesn't use an out-of-stock alert system, but the company found a way to keep customers engaged on sold-out product pages and increase their likelihood to convert.
Action Items
Recommend visitors similar or top-rated items on sold-out product pages.
Guide customers in a new direction when items on their wishlists sell out.
12. Combine FOMO with Free Shipping
It's no secret that free shipping is a highly effective incentive for completing a purchase. According to one study, 93% of online shoppers buy more items, when there's a free shipping option. More, free shipping not only encourage visitors to complete the purchase—but it also helps you sell more.
By triggering prospects' fear-of-missing-out (FOMO), you can nudge them to spend more and qualify for free shipping.
Take a look at how ASOS uses this strategy during checkout: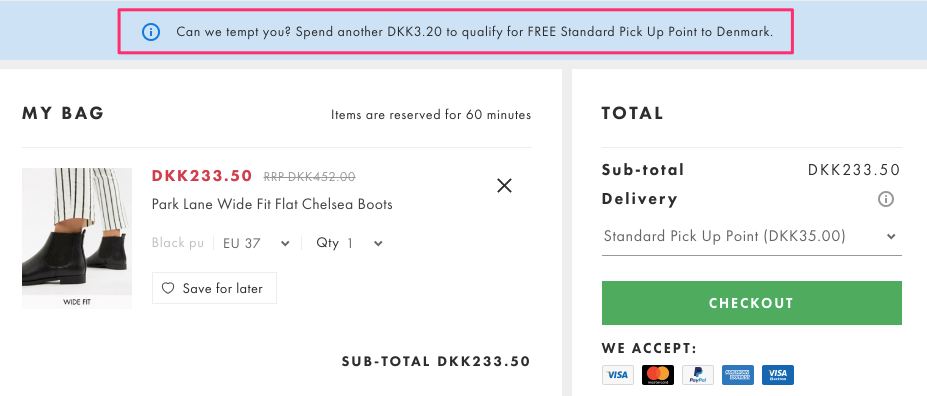 Right when I was about to place my order, I got this gentle free shipping reminder. And naturally, I spent 3,20 Danish Crowns (which is less than 50 cents) to get free shipping. (In fact, I spent even more.)
It's because ASOS triggered my FOMO, and I didn't want to miss out on free shipping over 50 cents.
If you want to nudge your bottom-funnel prospects to spend more, you can recommend products they can quickly add to their carts:
Action Items
Remind customers that they'll miss out on free shipping unless they spend more.
Be clear about minimum amount requirements by saying something like: "You're only $X away from free shipping!"
13. Ask for Referrals at the Right Time
In the ideal world of word-of-mouth marketing, your happy customers would automatically bring you new prospects that only heard the best things about your brand.
But that's not how it is in real life.
With well-timed emails and the right incentives, you can encourage referrals and make your BoFu prospects bring you targeted ToFu leads.
Beardbrand knows the power of referral marketing. That's why a few days after placing an order, they send you this email with the subject line "Your friends will thank you":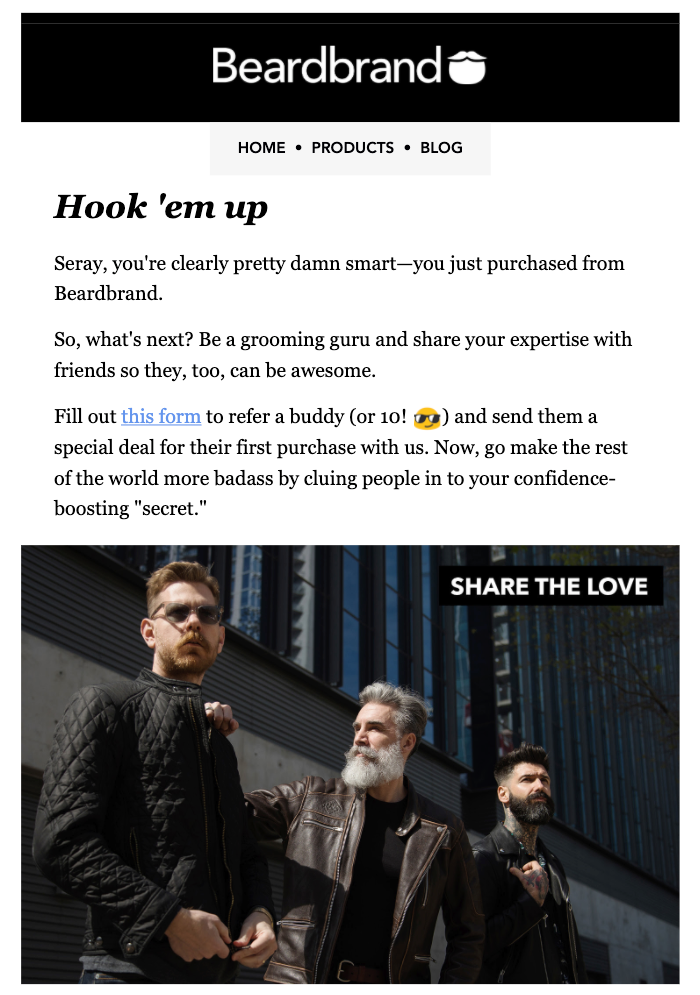 With it, the company, first, confirms your decision to buy a Beardbrand product. Next, they offer you the opportunity to become a "grooming guru" and impress your friends.
When you refer, "a buddy," your friend gets a special deal for their first order, and you become an expert in their eyes. Win. Win.
Shortly after I filled out Beardbrand's referral form, Rikke got this email: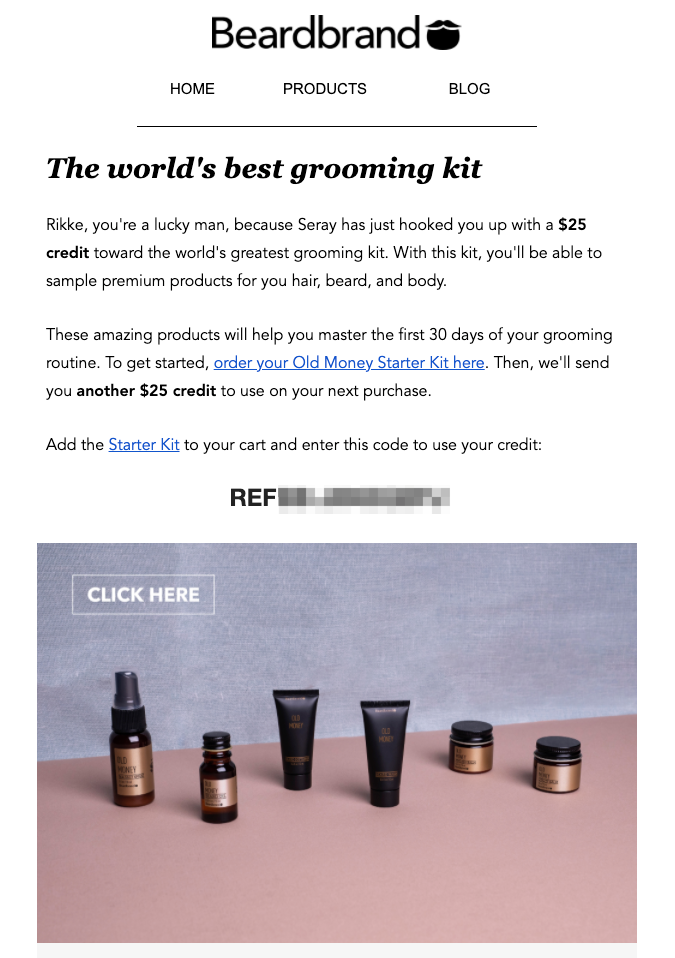 In it, Beardbrand offers her 25$ worth of store credit (because she's, to her surprise, a lucky man.) But the discount code only applies to their starter kit. If Rikke buys the starter kit, Beardbrand will offer her another $25 credit, and she'll be hooked.
This is a smart referral marketing strategy because it gives new prospects not only an incentive but also a place to use it.
Action Items
Send out a referral email a few days after a customer receives their order.
Write the benefit of referral for both parties clearly.
Provide your new prospects a unique discount code that only applies to certain products.
Conclusion
You don't need a complete website makeover to boost your sales and increase conversions in 2020 and beyond.
With minor improvements, you can enhance your marketing efforts for each stage of your sales funnel.
If you need some fresh ideas for e-commerce marketing success, give these lesser-known strategies a chance and find out what works best for you.