If you're like most marketers, you're always looking out for ways to get new customers and boost revenue (without breaking your budget).
But in doing so, you risk overlooking your existing customers.
According to a study by GetResponse, there's a 32 percent chance your first-time customers will buy from you again. But that's not all. Second time customers are 53 percent more likely to place a third order. And by the time they've placed their tenth order, they're 83 percent more likely to buy again.
Repeat purchases rarely happen by chance, though. That's why you need to actively encourage your customers to buy from you again and again.
To help you do that, I've found 9 of the best customer retention emails we've received. And in this post, I'll share why they work and how you can model them for your email marketing.
Customer Retention Emails 101
Upselling is nothing new.
Many online retailers use upselling to increase the average order value for new and returning customers. But how one approaches upselling varies from business to business.
One brand that has created a powerful upselling strategy is MeUndies.
They've created a continuity program, or an ascension ladder, if you will, by offering a paid membership.

Here's an example of a recent email promoting their membership:
One way they're able to increase their click-through rate is by offering "Member-Exclusive Prints," which, of course, triggers scarcity due to their limited availability.
Creating an ascension ladder and inviting customers to "ascend" to higher levels through email increases retention for a few reasons.
First, it saves customers money in the long-term. Second, it increases brand advocacy. With higher spending comes greater loyalty, and that, in turn, reducing the likelihood they'll switch to a competitor.
Takeaway
Consider a membership model to increase your customers' lifetime value (LTV). Then, promote your membership via email and invite new and returning customers to become brand loyalists.
2. The Birthday Email
If you're anything like me, you LOVE birthdays, because, let's be honest, it's all about receiving presents.
People love gifts, whether they're from friends or otherwise, so adding a surprise to a birthday email is a powerful retention incentive to use to your advantage.
Take this example from Kikki.K: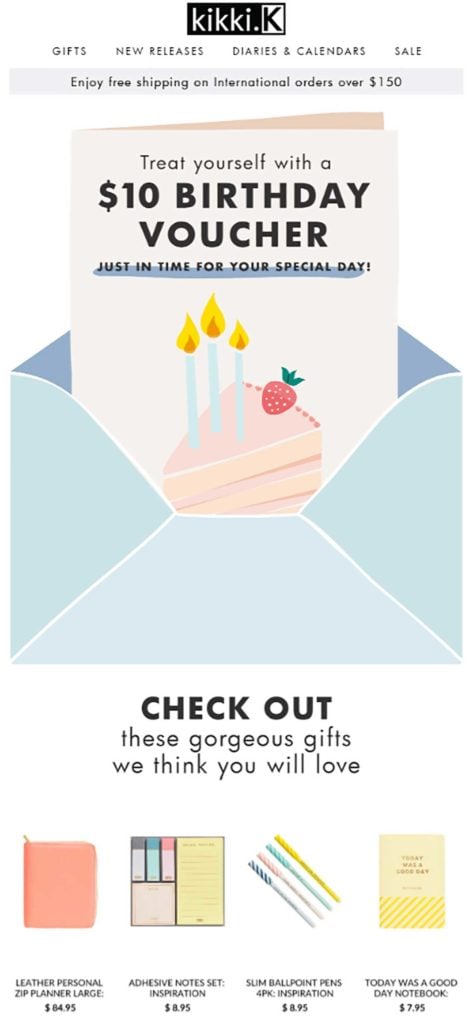 To make their customers' birthday even more special, Kikki.K offers a $10 birthday voucher and personalized product recommendations.
But that's not the only reason they do it.
Think about it for a moment. One of the most common gifts to give on birthdays is money. Would you not rather spend your birthday money on a brand that acknowledges the celebration AND offers suggestions on what to spend that money on?
I know I would.
The birthday email is becoming more common, but that doesn't mean it's becoming less effective. It's still a pleasant surprise in your customer's inbox, and it's the type of email that your customers remember.
Takeaway
Let your customers know you appreciate them on their special day. You don't have to make grand gestures or even offer discounts. But keep in mind that most people accept even the smallest gestures with gratitude.
3. The Special Occasions Email
A big part of retaining existing customers is ensuring your brand stays top of mind…
…And that means reaching out to buyers regularly with relevant, personalized content.
One way to do that is to send emails on special occasions like Valentine's Day, Father's Day, Mother's Day, and more.
A week before Mother's Day, I got this email from Happy Socks: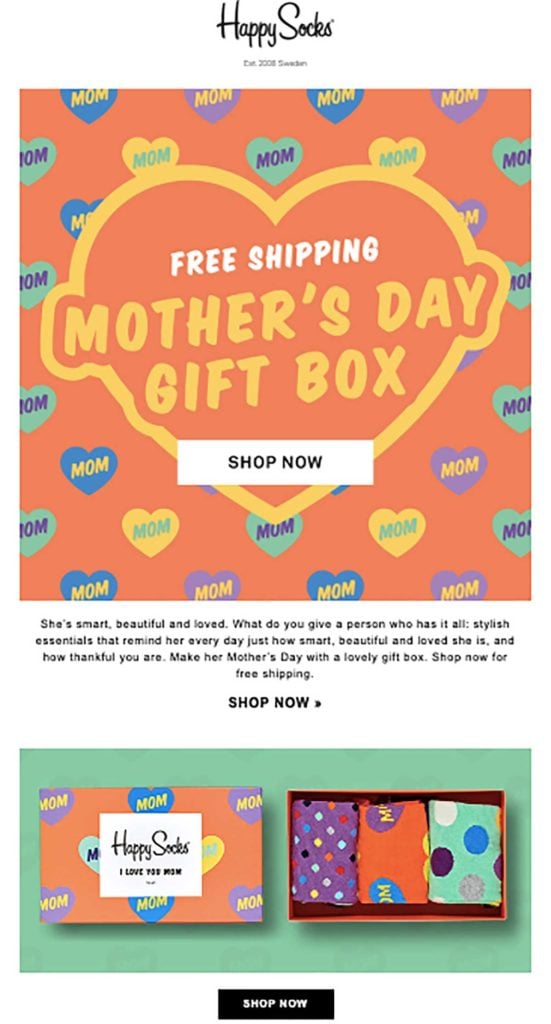 There are a few reasons this email works well:
It's relevant. Happy Socks sent the email about a week before Mother's Day to ensure potential buyers had time to order and receive the product in time for Mother's Day.
It's eye-catching. They included moving images with bold colors and patterns.
It gives value. Happy Socks offered free shipping, which worked as an added incentive for prospects to buy.
It's exclusive. Notice how Happy Socks had designed products specifically for this occasion? This added to the product's exclusivity and acted as another incentive to buy.
You can use this type of email for all kinds of occasions. Heck, you can even create your own brand-specific occasions and celebrate them with your audience. (I'm still trying to get the Drip team on board with National Drip Puppy Day.)
Takeaway
Use the special occasions email to remind your audience that you're still here and offer value that's relevant to a specific occasion.
4. The Scheduled Reminder Email
The reminder email is essentially a special occasions email. But I think it deserves its own category based on a unique example I came across when writing my post on Man Crates.
It's not the email itself that's groundbreaking. Rather, it's the basis from which it's sent.
How often have you forgotten an anniversary or a birthday and had to rush out to find a last-minute gift? I know I have. But as a business, you don't know when to remind your audience of these occasions—unless you ask: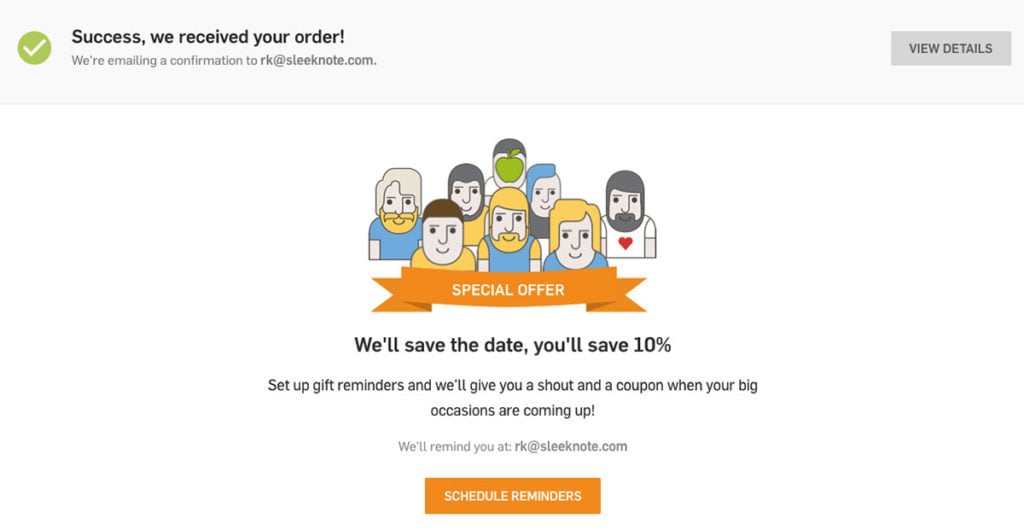 Using a 10% discount as an incentive, Man Crates invites customers to create reminders for special occasions on their thank you page. It's a great way to use reciprocity. Give something; get something. Then, when it's time, Man Crates deliver on their promise and send you a reminder email.
Here's the subject line:

Followed by the body: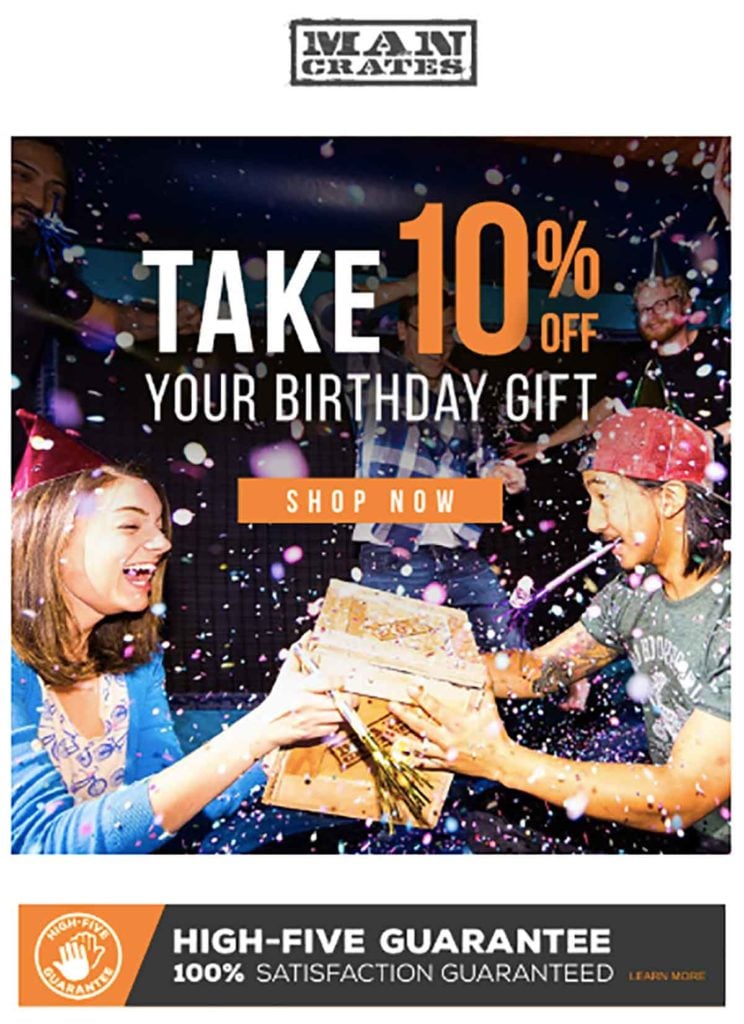 It's simple, yet effective, and best of all, easy to apply to your business.
Takeaway
Ask customers to set reminders for any type of occasion where they would be interested in buying from you. Then, add an extra incentive (such as a discount) to your reminder email. Even if they don't buy, you will keep your brand top of mind.
5. The Anniversary Email
Who doesn't like a good celebration? I know I do. Celebrating anniversaries can help build stronger relationships with customers and give them a reason to stay with you.
One of the reasons anniversary emails work so well is that they're unexpected. It's rare to see businesses celebrate their customers' anniversaries, which makes them stand out more in the inbox. And if they're well-written, they put a smile on your customers' faces and get them to take action in your email.
I recently got this email from Chubbies, celebrating that it was exactly two years ago I joined the Chubbies family: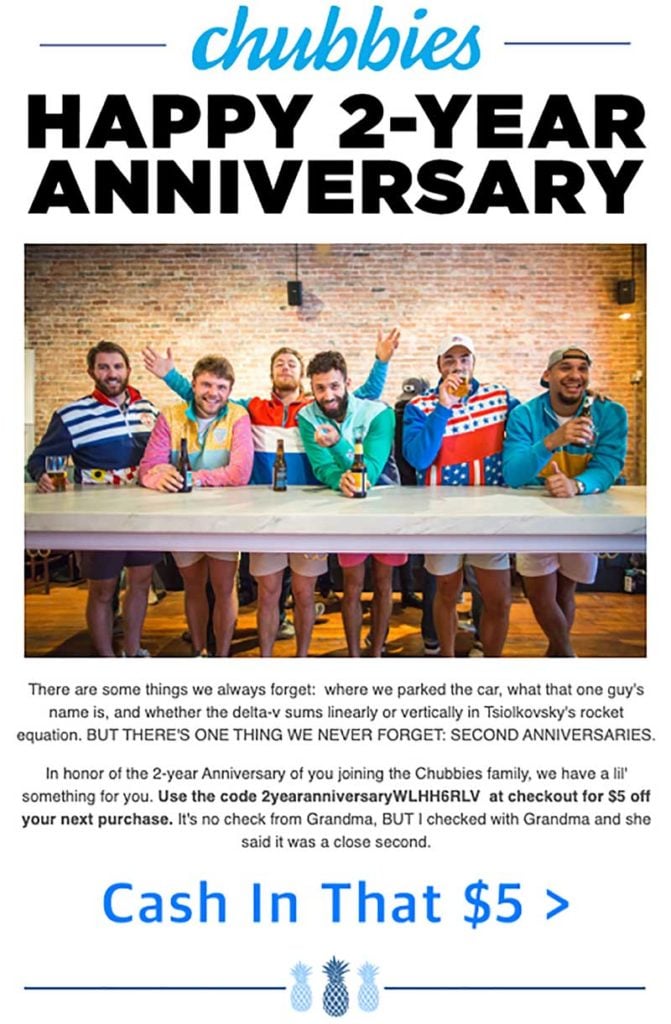 Reading this email put a huge smile on my face for multiple reasons:
They wished me a happy anniversary and piqued my interest right away;
They included a photo that supported the message and increased the "party-feeling" in the email;
They included a small reward of $5 to spend on my next purchase.
It might be a small token of appreciation, but in this case, the thought meant something.
The rare and unique emails are those you will remember.
Takeaway
Think about what anniversaries you can celebrate with your audience. It could be one year of being subscribed to an email list, a month of using your product, or a third thing. Make your audience feel special and celebrate with them whenever you can.
6. The Reminder Email (with a Twist)
The reminder email is a great retention email because it encourages customers to buy again without feeling pressured.
After a customer buys something, you can recommend additional products to help them get the full product experience.
For example, if a customer buys a new TV, you can suggest adding surround sound speakers to make the most out of their new TV.
Or, if you sell experiences, you can do as Tripadvisor does and suggest other experiences in the area the customer might like.
To borrow a personal example, I recently visited my sister in Hawaii and booked a helicopter tour on Maui.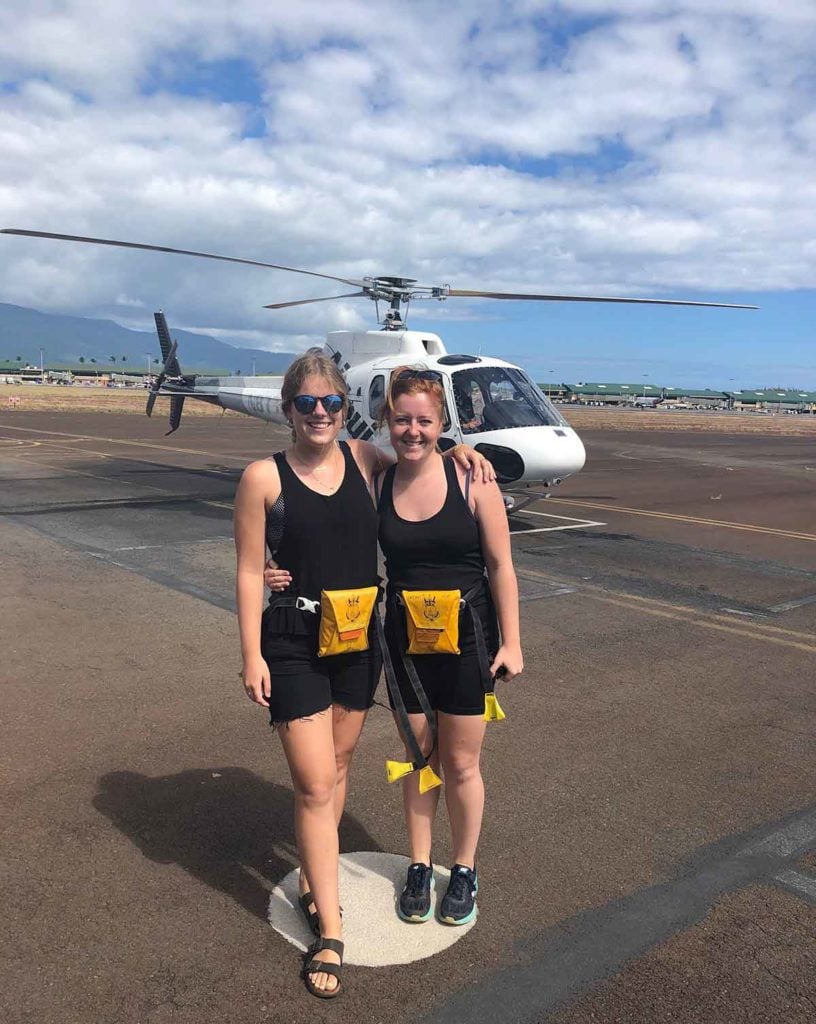 A few days before the planned helicopter tour, I received this email: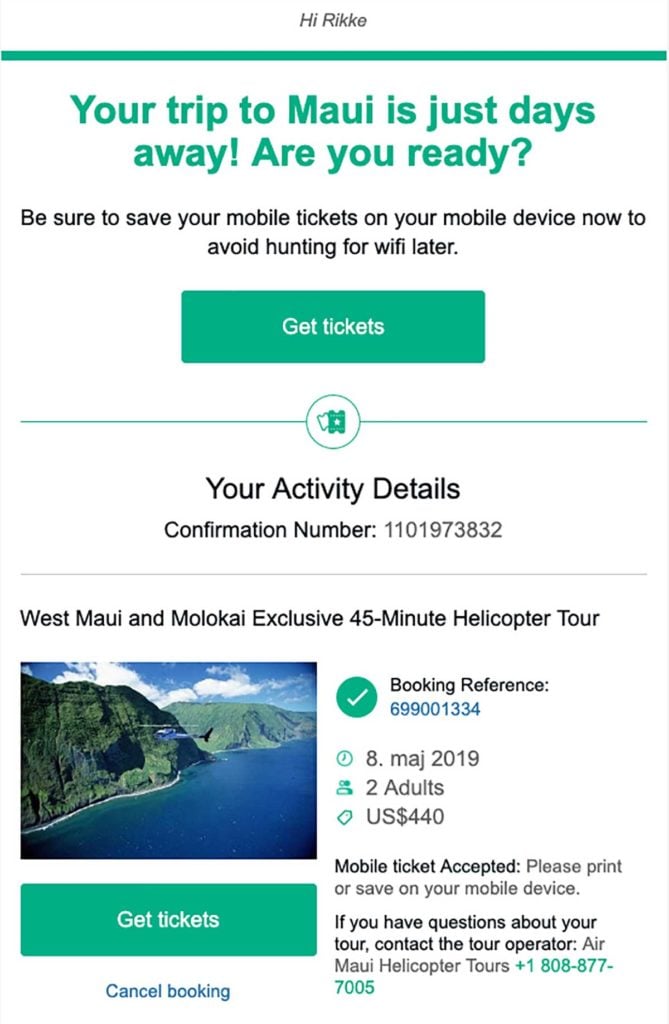 But that's not all. Part of the email included recommendations for other experiences on Maui based on what other people had booked in addition to the helicopter tour: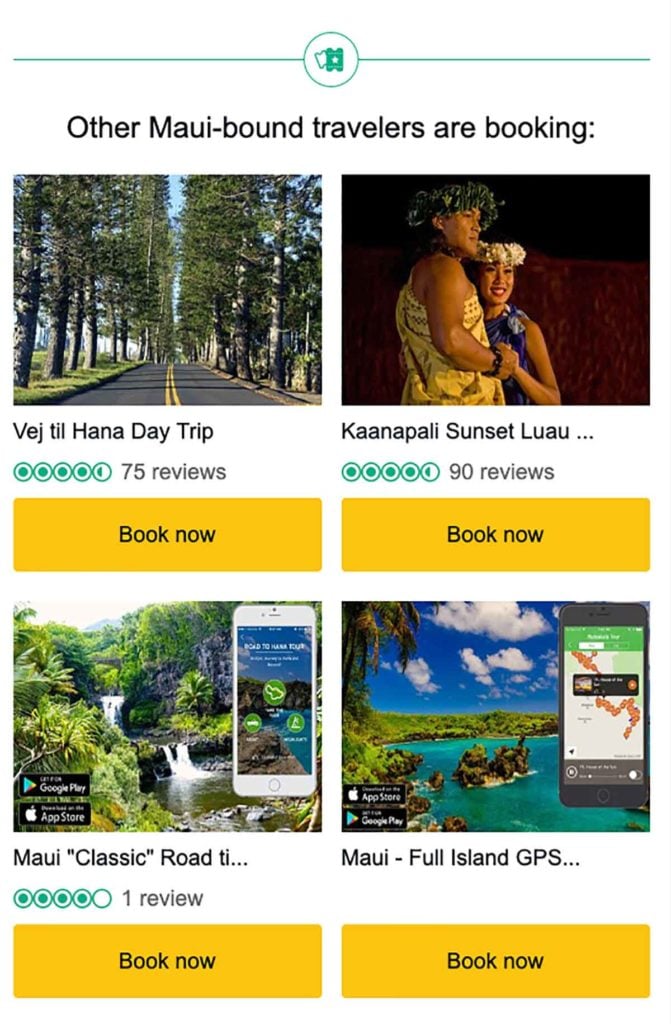 Recommending relevant products that complement recent purchases is a great way to boost revenue and invite customers to come back to your store.
Takeaway
Tempt customers with other products that go well with past purchases to give them a better experience.
7. The Feedback Email
The feedback email is an essential part of any retention strategy.
The goal is to ask customers for feedback on their recent purchases to keep them engaged—and promote your best products. It's a no-brainer.
Here's an example I stumbled upon when researching my article on Sunski: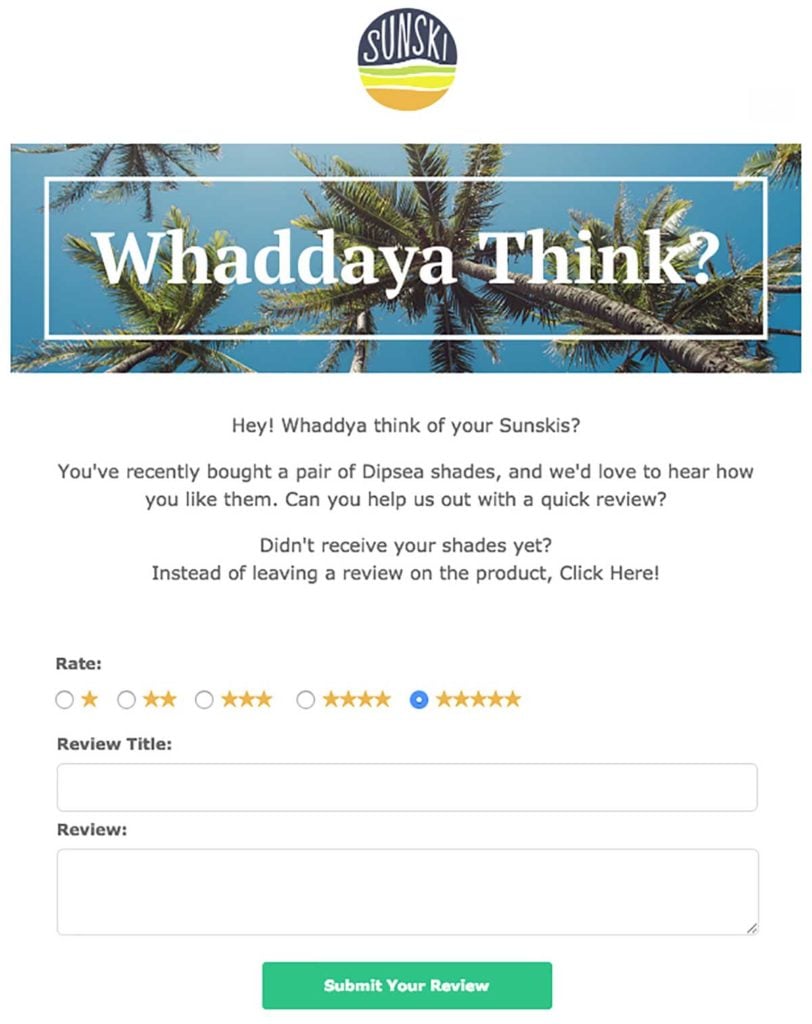 Sunski uses radio buttons to make it easy for customers to rate the product. From there, customers can expand on their ratings by writing a review below.
When scheduling a feedback email, send it a few days after a customer has received their purchase. Doing so gives customers enough time to try the product as their purchase is still fresh in their minds.
Furthermore, when you ask for feedback, you invite your customers to think about the product they bought from you–even if they don't submit any feedback.
Doing so keeps your brand top of mind for longer, making it more likely these customers will return to your site and buy again (if they were satisfied with the product, of course).
And if your customers submit reviews, they automatically become brand advocates because they're adding their stamp of approval of your product for the world to see.
Takeaway
Invite customers to review their purchase after they've received and used it. Then, repurpose the best reviews in your marketing for social proof.
Automate your product review emails with a post-purchase workflow that is sent at the perfect time.
Want to make a workflow like this?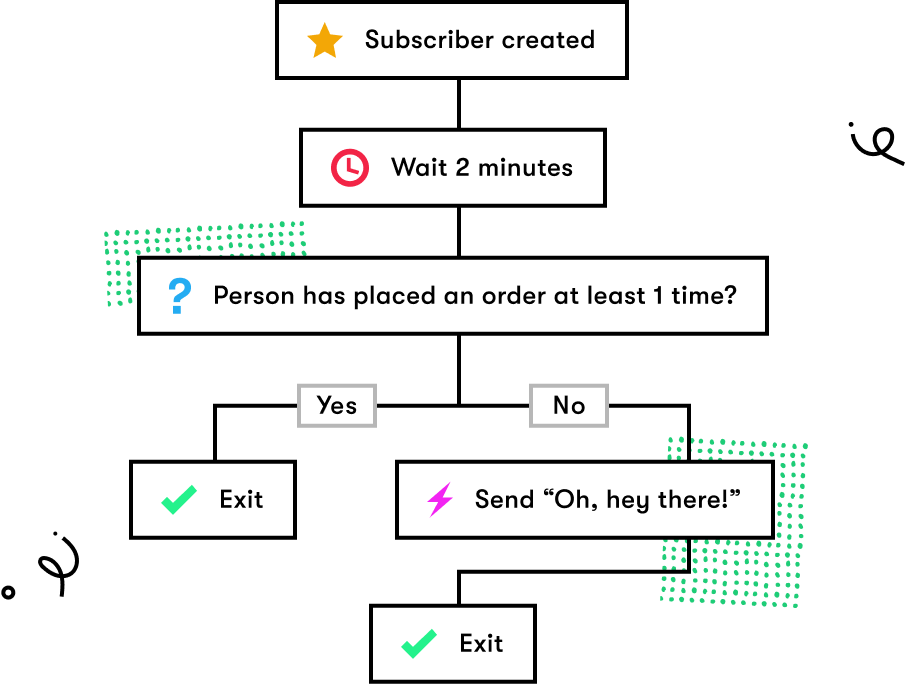 Hit the ground running with our pre-built workflows.
8. The Thank You Email
A thank you or a thumbs up, without any hidden agendas can work wonders when it comes to retaining your customers.
Let's give it a try: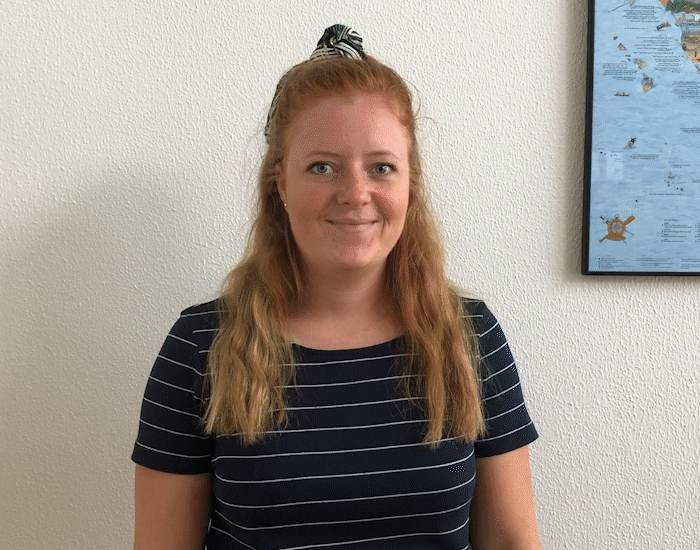 Made you feel pretty good, huh?
A thumbs up or a pat on the back makes us smile—and that's exactly the reaction you want from your customers.
The most effective emails are those that evoke feelings in the receiver.
So, why not email your customers telling them how awesome they are?
Here's how Ban.do does it: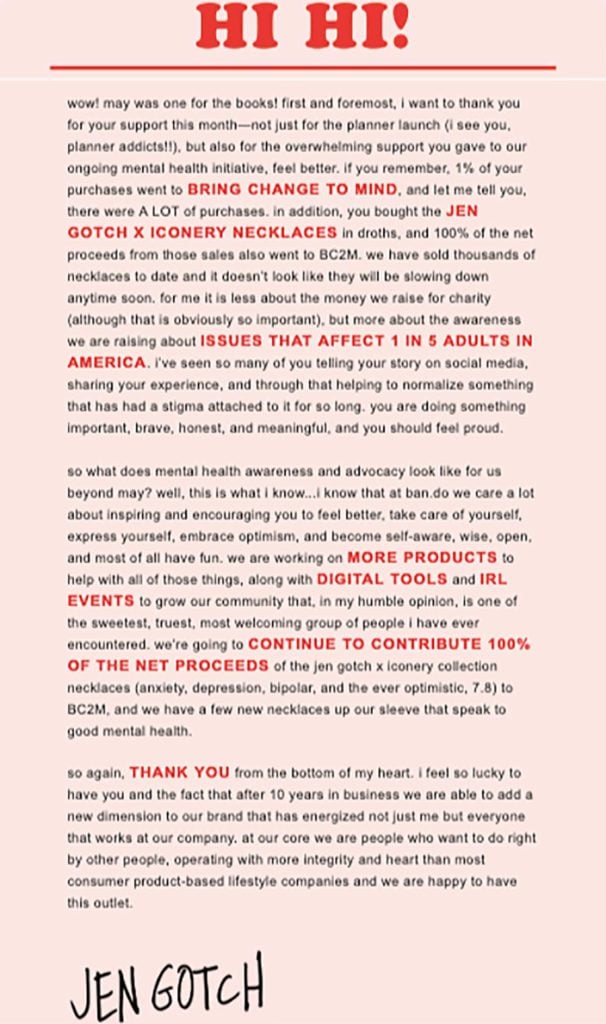 There's no call-to-action or hidden agenda. Just a thank you to customers for buying and supporting their mission.
Takeaway
Remember to thank your customers every once in a while. They're the reason your business is alive, after all. Make them feel good about your brand, and they're yours for life. (Okay, that might be an exaggeration, but you get my point.)
9. The Win-Back Email
Disengaged customers are an inevitable reality for marketers.
Customers who previously bought from before disappear for one reason or another. They lose interest, forget about your business, or worse, move on to a competitor.
But not all is lost.
This is where the win-back email comes into play.
With it, you can remind customers of why they chose your business, to begin with, and, hopefully, convince them to return.
Brooklinen, for example, gives its customers three reasons to return to their site:
Urgency;
Customer satisfaction; and
Great quality for low prices.
And if, as a former customer, Brooklinen don't convince you, the second half of the email might do: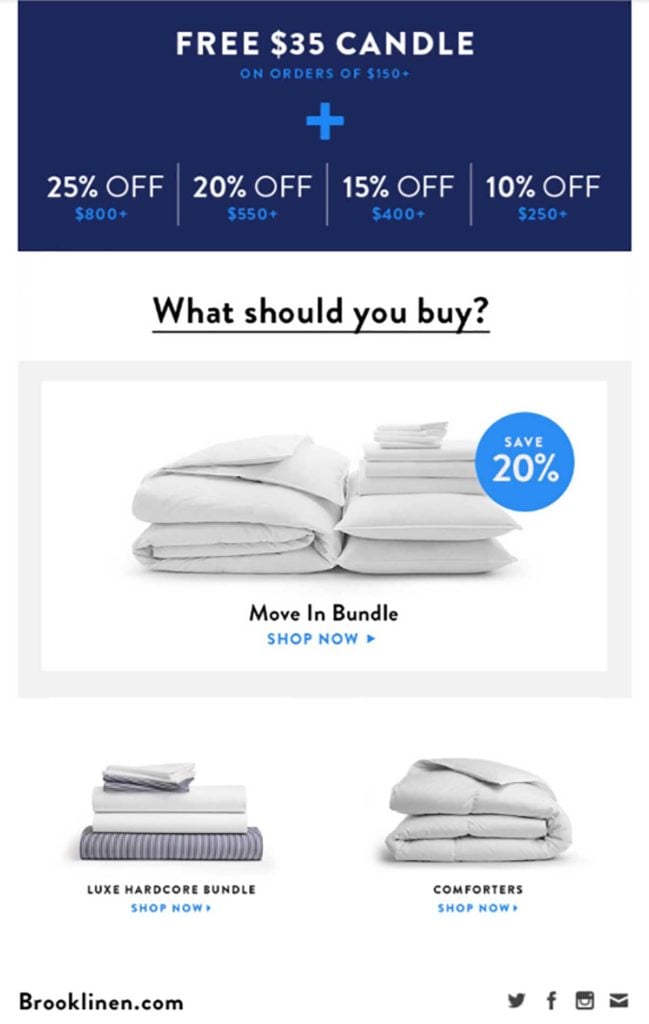 They offer a gift with your order and give you product suggestions to help you choose what to buy.
What more could you want?
Takeaway
Identify "at-risk" customers who haven't bought from you in a long time. Send them an email and remind them of your business values and give them an incentive to return to your site.
Conclusion
Yes, acquiring new customers is important. But so, too, is continuing to nurture existing buyers.
I've given you nine customer retention strategies. Not all will be relevant to your business. And that's okay. But those that are will remind existing customers that you're worth committing to.
And that's only a good thing.