People love playing online games. In 2018, 67 percent of Americans played them, with 90 percent of games being played on smartphones, tablets or both.
That's over two-thirds of the population.
Online games are fun, relaxing and offer several cognitive benefits including improved coordination, memory, and problem-solving skills.
So it's easy to see why there's such a push for developing gamification marketing strategies for many modern brands.
"Eighty-seven percent of North American retailers are planning to use gamification to engage customers in the next five years, and 70 percent of the top 2,000 companies are using it right now."
Integrating games into a website, app or online community can increase customer participation and engagement, build brand loyalty and create a more enjoyable user experience.
Put all of this together, and it's almost guaranteed to have a positive impact on your brand, where you can expect a boost in conversions, sales and repeat business.
For this post, I'm going to cover six of the top e-commerce gamification marketing strategies at the moment. Ones that are vetted and have proven to get results.
I'll also provide concrete examples so you can put the same formulas into action with your campaign.
So let's jump right in.
Table of Contents
1. Loyalty Apps
Reaching shoppers through apps rather than through the mobile web is crucial these days.
After all, research has found that 90 percent of mobile time is spent in apps, and only 10 percent is spent on the Internet.
So it stands to reason that building an app and creating a loyalty program is an effective way to appeal to consumers.
Cosmetics and beauty supply company, Sephora is a great example of a company that has experienced great success with this tactic.
After downloading their app, customers have access to a ton of great deals that reward loyalty and repeat purchases.
For starters, they receive personalized product recommendations based on their preferences and prior purchases.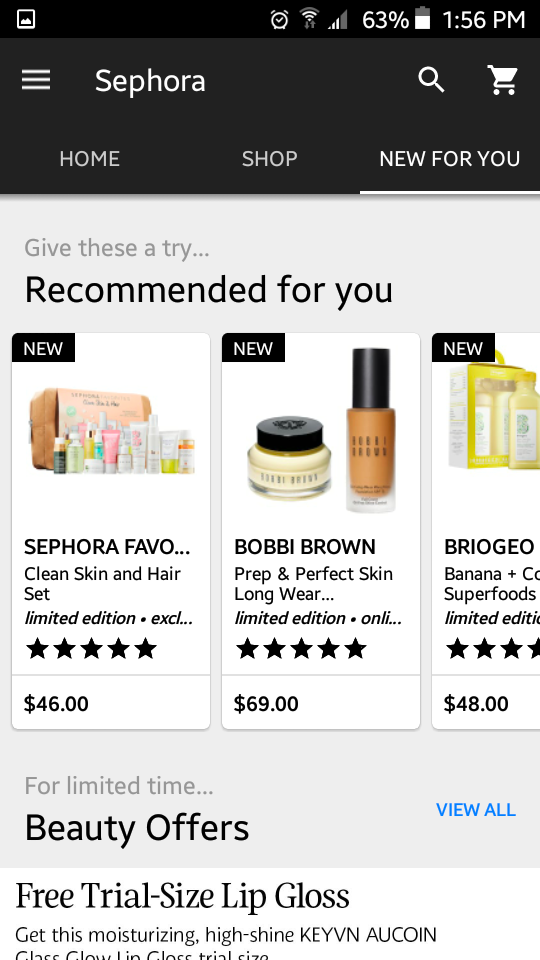 They can sign up for the Beauty Insider program where they receive points, gifts, savings and other perks for being loyal customers.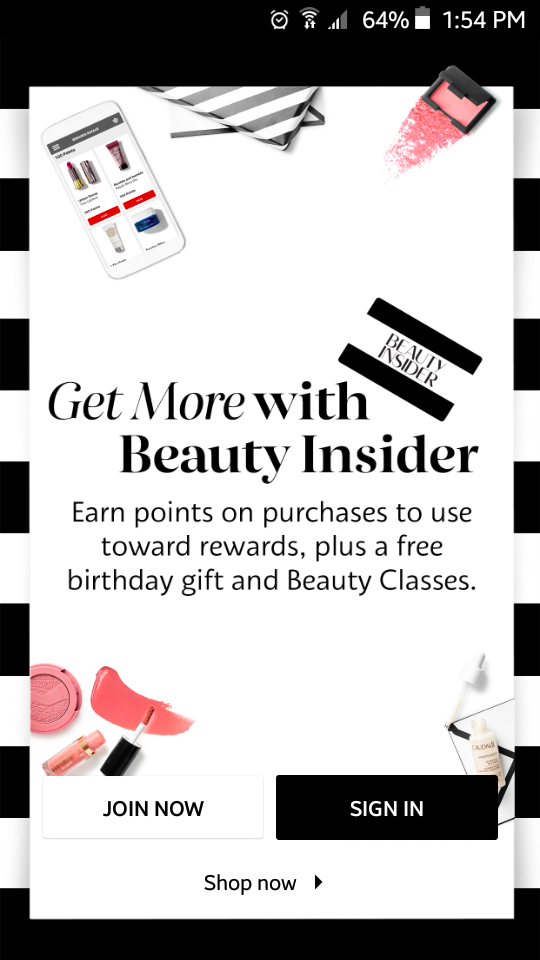 Here's a quick rundown of some of the rewards Sephora offers.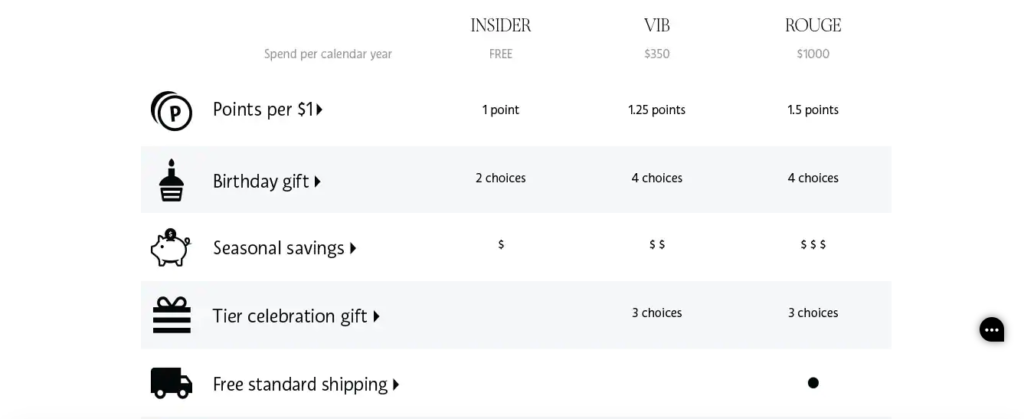 And by signing up for the Beauty Insider program, they can also participate in the Rewards Bazaar where they can grab new rewards every Tuesday and Thursday at 9 am.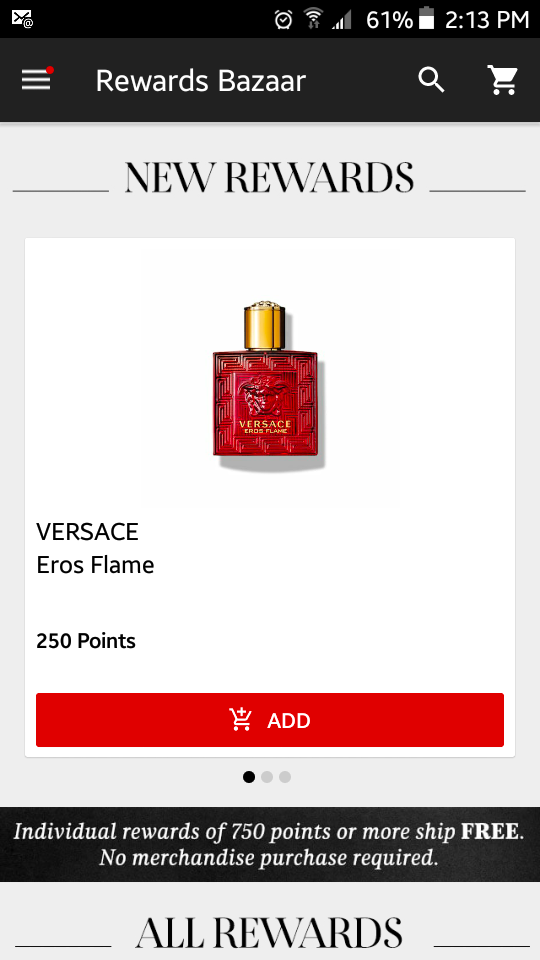 It's quite comprehensive and something they've had huge success with.
By implementing gamification into their in-app experience, it's created a fun way for customers to interact and engage, while being rewarded for their loyalty.
What's impressive is the fact that Sephora's Beauty Insider program had more than 17 million loyal members as of late 2018, and those members accounted for roughly 80 percent of Sephora's total sales.
This goes to show just how big of an impact a loyalty app can have for your business.
2. Scavenger Hunts
There's something about scavenger hunts that many people find infinitely appealing.
I remember doing nature scavenger hunts in summer camp growing up, where the first one to find all of the plants on a list would get a prize.
It was a fun way to learn about nature and brought out the competitive spirit in everyone.
And it also happens to be a concept that spills over perfectly into sales and is a strategy that many brands have put to good use.
For instance, McDonald's is well known for its Monopoly contest where participants earned prizes for finding certain board pieces.
And more recently, Mountain Dew ran their 50 States, 50 Labels contest where participants could earn $100 for finding labels on bottles from all 50 states.
One idea that you can use for your e-commerce store is having a scavenger hunt where shoppers look for a hidden symbol within your site.
The first 25 or so shoppers who find it, get a cool prize or some type of discount.
This is a technique that footwear and accessories company, Aldo used a while back.
Shoppers had to look through their website for a hidden symbol, which was the "A" seen here.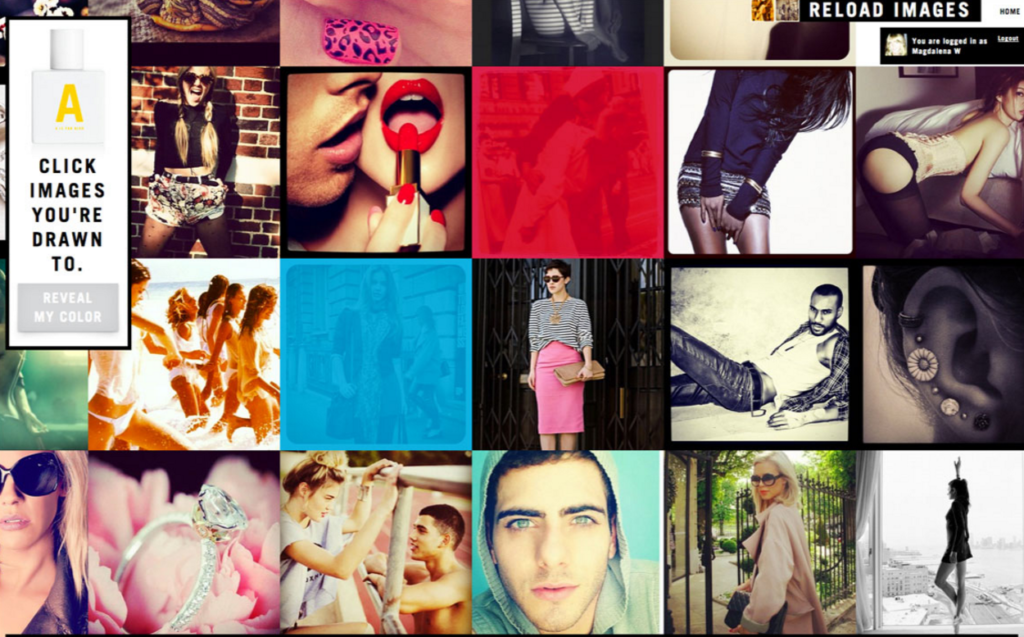 And also here.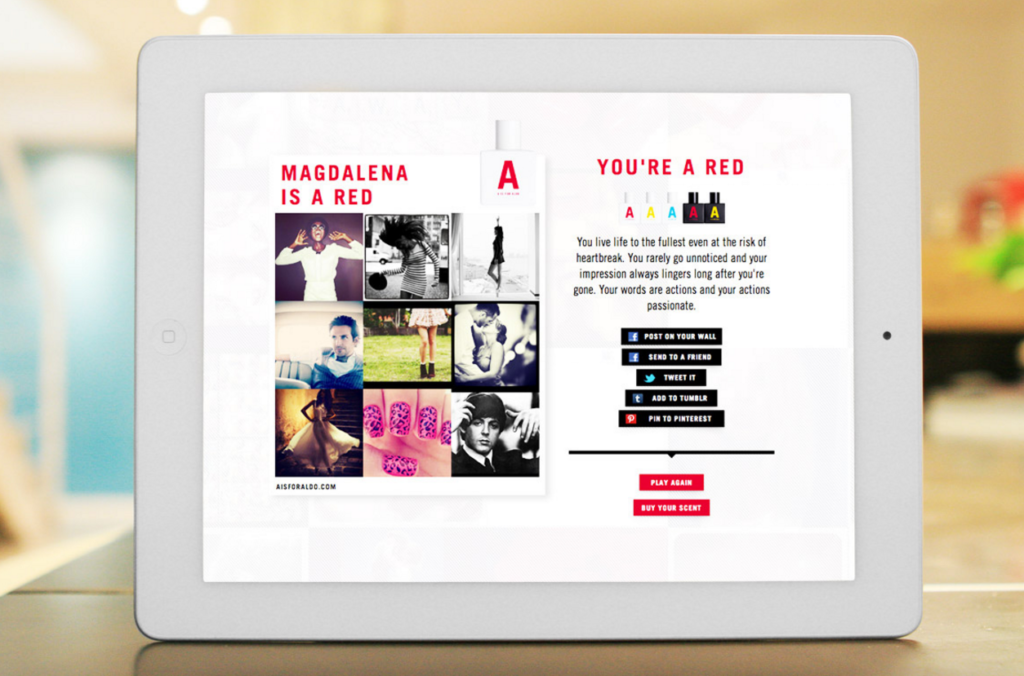 It was a fun way to bring attention to their brand and encouraged a lot of shoppers to fully explore their site in detail.
I could only imagine that this had a positive impact on engagement and resulted in increased sales throughout the contest.
And it's something that can also work well for you.
3. Points-Based Rewards
Another popular strategy that's used by many brands involves awarding points for performing actions like spending a certain amount of money.
Once customers accumulate enough points, they can redeem them to get free products or discounts.
This is a concept that's been around for a long time—take airline miles for example—but has a new twist that involves gamification.
For instance, makeup and beauty supply company, e.l.f. Cosmetics has a rewards program called Beauty Squad where customers receive points every time they make a purchase, as well as a free product on their birthday and other perks.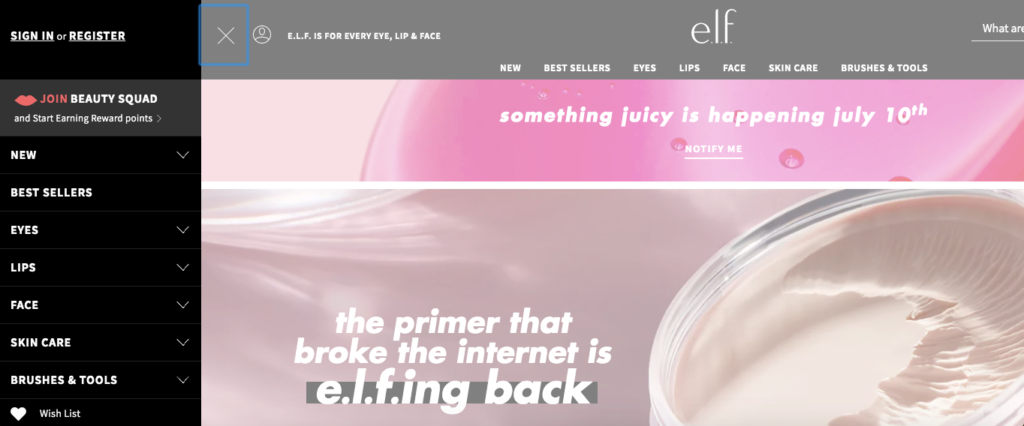 This page explains the full details.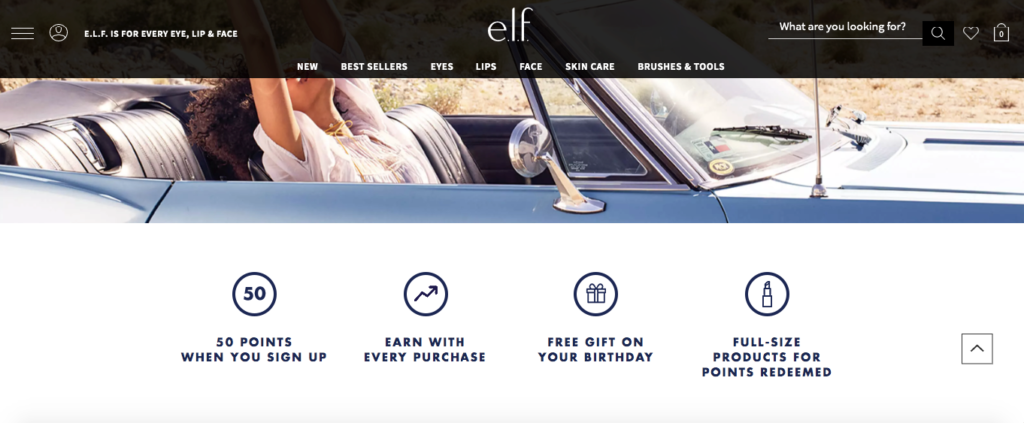 The more points customers accumulate, the better the rewards they have access to.
This section on their site breaks it all down in detail.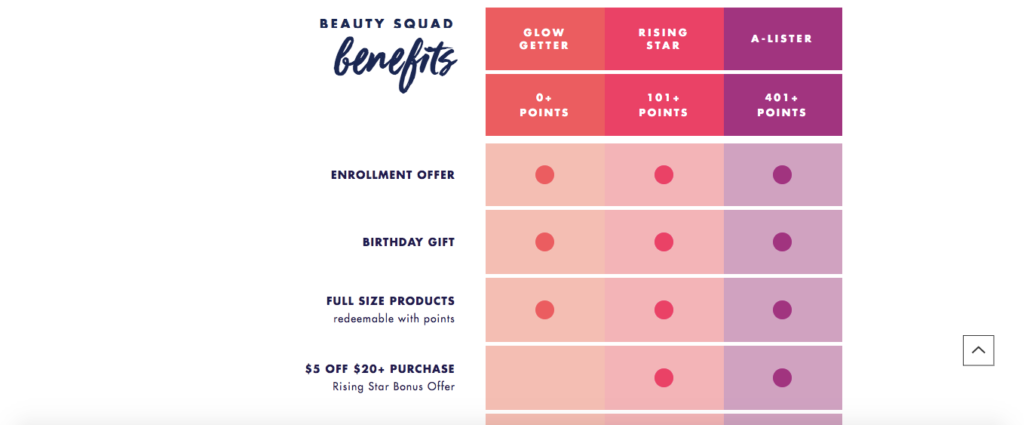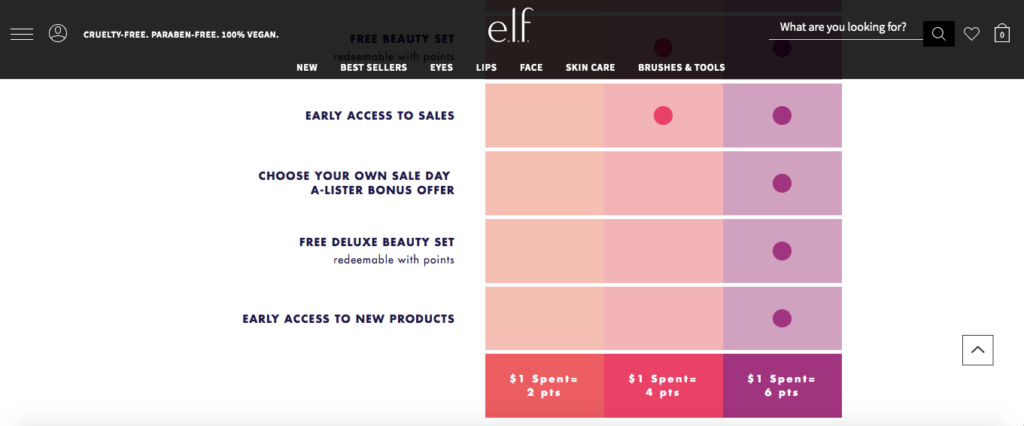 e.l.f. Cosmetics keep their customers updated on how much progress they've made by showing them how many points they have at any given time.
Here it shows that a customer has 314 points, which means they can cash them in to get a free beauty set.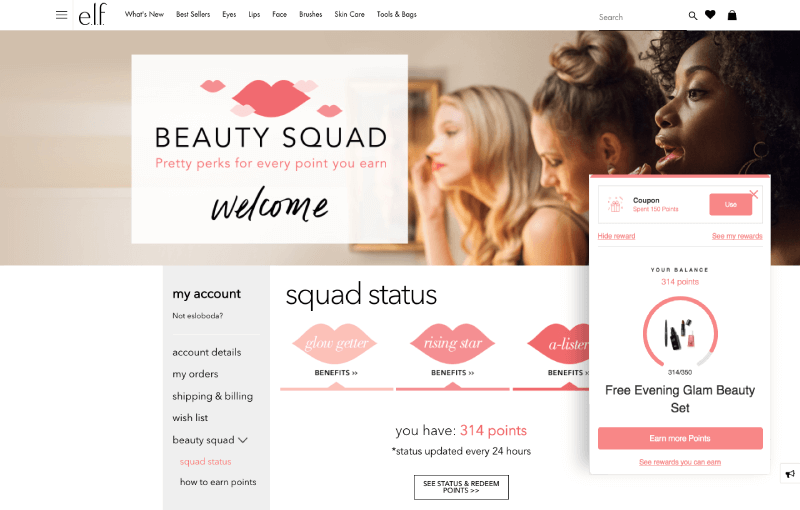 Or, they can hold onto their points and earn something of higher value like their free deluxe beauty set.
This approach basically makes a game out of shopping and creates a fun customer experience that motivates many people to keep buying and routinely check their points.
The best part is that it encourages repeat business and instills brand loyalty.
And it's a fairly simple gamification strategy to implement.
You just need to develop a points-based system where you determine how many points a customer receives for each dollar spent and which products or discounts they earn for redeeming them.
4. Personalization Gamification
I'm sure I don't need to tell you how much modern e-commerce shoppers love personalization.
It factors in heavily to piquing their interest and motivating them to buy.
Research has even found, "91 percent of consumers are more likely to shop with brands who provide relevant offers and recommendations, and 80 percent of customers are more likely to purchase a product or service from a brand who provides personalized experiences."
So it only makes sense for brands to mix personalization with gamification.
It's a combination that many e-commerce shoppers simply can't resist.
And that's exactly what women's workout clothing company, Fabletics does on their website.
On it, shoppers can sign up for their VIP member exclusive and receive a huge discount on two leggings—a $99 value for only $24.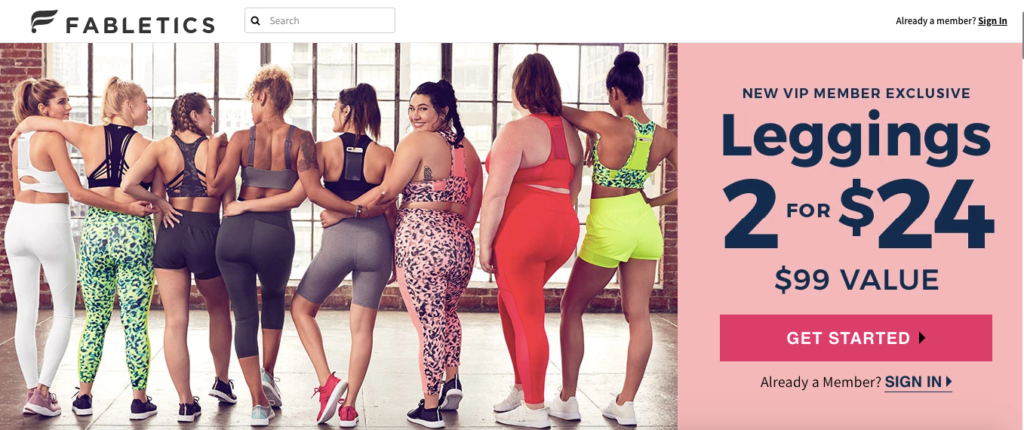 But here's where gamification comes into the equation.
When signing up, shoppers take a quick lifestyle quiz to get personalized outfit picks for their workouts.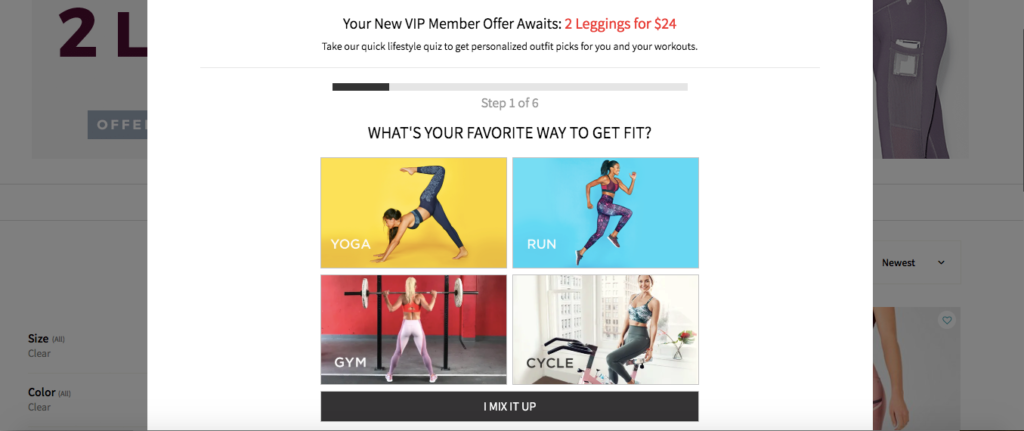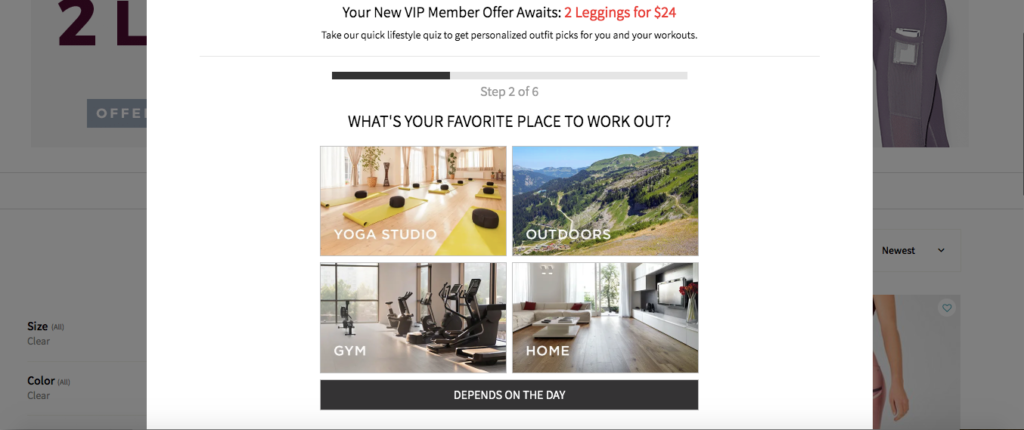 They move through six simple questions, and they're ready to redeem their prize.
Fabletics even throws in a spin to win wheel for an additional discount of up to 50 percent off everything.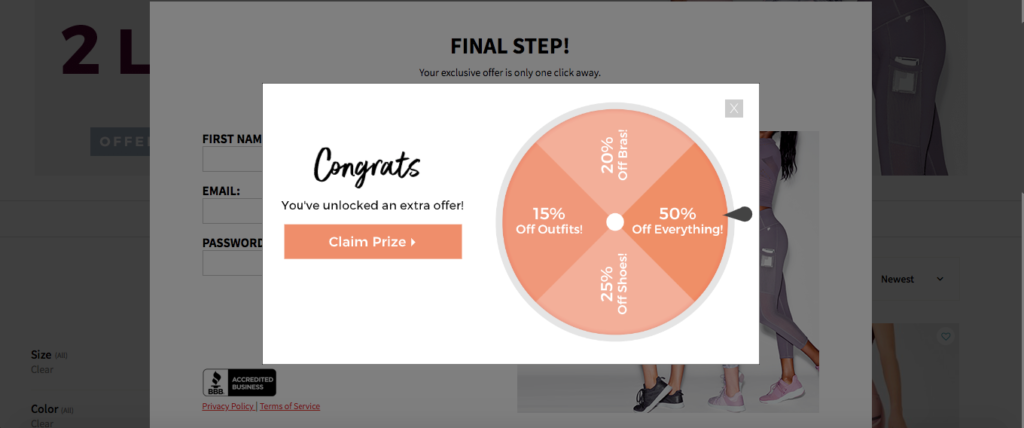 So they're using gamification on multiple levels here.
It's a quick, easy and fun way for shoppers to fill Fabletics in on their preferences so they'll know what type of offers to send their customers.
This is a win-win because customers receive highly targeted, individualized offers just for them, while Fabletics increases their revenue by matching customers with personalized products.
So if you're looking for an effective way to rev up your personalization efforts while making it fun for shoppers to provide their personal preferences, this is a great strategy to use.
5. Referral Contests
There's a ton of data that illustrates the power of referral marketing.
For instance, "92 percent of consumers trust referrals from people they know," and "people are four times more likely to buy when referred by a friend."
It's proven and it's potent.
So working gamification into referral marketing is a no-brainer.
That's something outdoor gear company, Huckberry has pulled off flawlessly.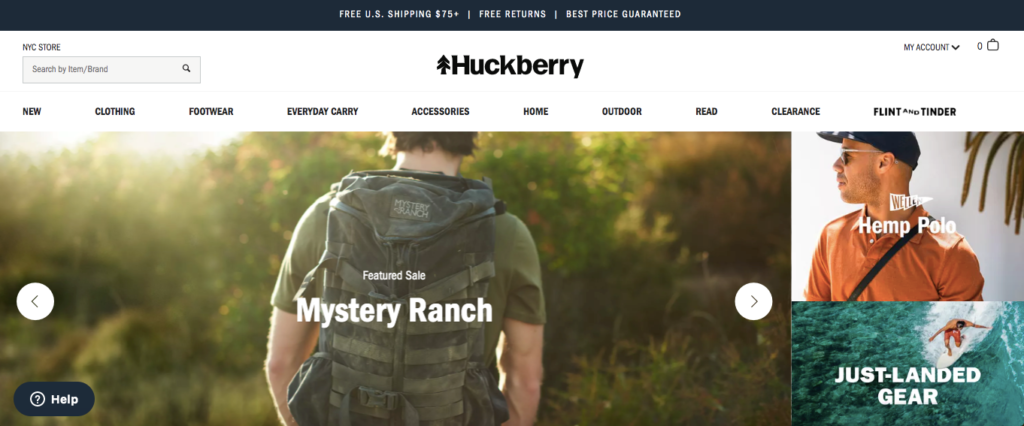 Take, for instance, their referral contest a few years back that awarded customers a $10 reward for each person they referred.
They also gave $1,000 to the customer who referred the most number of people during the campaign, a $500 credit to the second-place winner and a $250 credit to the third-place winner.
That's a pretty good incentive.
To get the word out, they sent an email to all of their subscribers letting them know the details.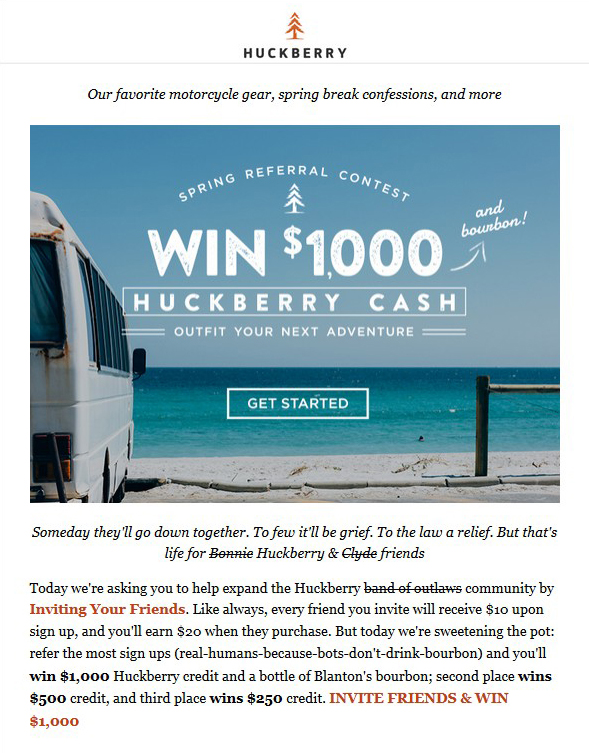 The customers who were interested and clicked over got a full rundown of the contest rules and prizes.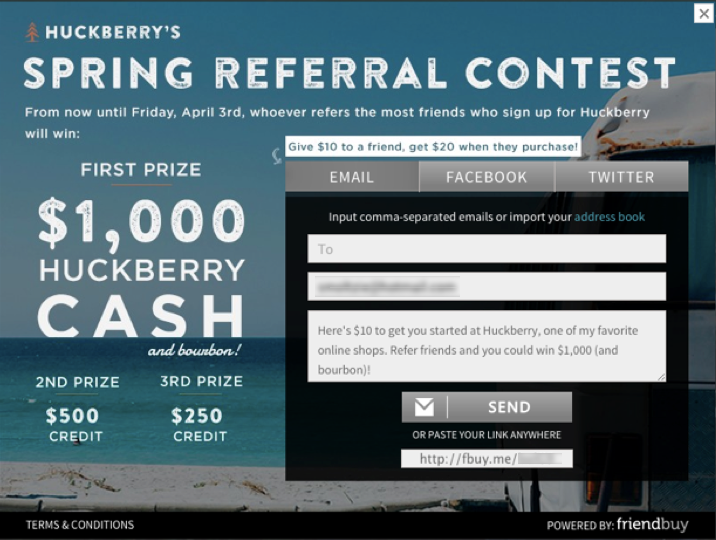 So with a relatively small investment—$1,750 plus $10 for each referral—Huckberry was able to reel in a ton of new customers and build up their brand.
And because shoppers were referred by friends and family, the conversion rate was likely much higher than it would be if they found Huckberry on their own.
If your goal is to generate qualified referrals and a lot of them, this one of the best gamification marketing strategies you can use.
6. Progress Indicator
Although I would only consider this final strategy a minor form of gamification, it still has the potential to increase conversions, specifically when it comes to reducing shopping cart abandonment.
Here's a nice example from the unusual gift curation company, Firebox.
Whenever you're checking out, you see a progress indicator that includes five steps:
Welcome
Address
Delivery
Payment
Done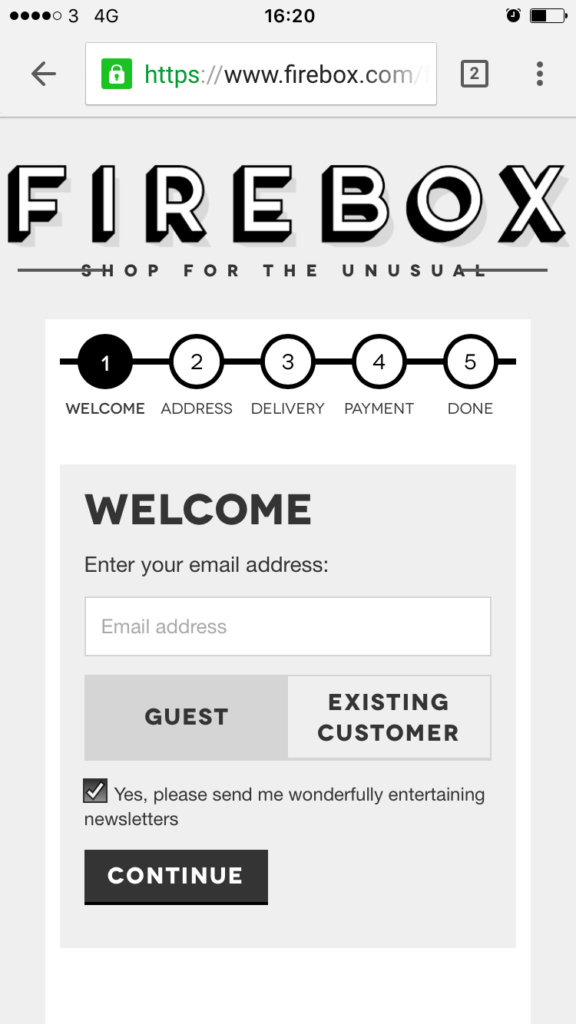 It's a nice way to show how far shoppers have made it in their customer path and how far they have left to go.
Some e-commerce brands even offer shoppers a trophy upon completing all of the steps.
And this can have an incredibly positive impact when it comes to lowering shopping cart abandonment.
Econsultancy explains, "20 percent of people said their main reason for basket abandonment was that the checkout process was too long and confusing."
They also point out that "27 percent of basket abandoners leave due to time restraints."
But adding a progress indicator resolves this issue and lets shoppers know exactly how far along they are in the process.
I know that I love this feature when I'm online shopping and find the experience far less frustrating than trying to guess how many steps I need to complete.
I also know that I've abandoned numerous shopping carts when they fail to include the progress indicator.
So this is a strategy worth using and one that has the potential to dramatically increase revenue.
Conclusion
People have a natural propensity to play.
It's an integral part of who we are and a fundamental part of the human experience.
And I can't think of too many people who don't enjoy unwinding and indulging in the carefree fun that games provide.
So why not integrate gamification into marketing?
Not only does it provide a way to lighten up the customer experience and make it more rewarding, but it can also have a tremendous impact on your bottom line.
And with studies finding that e-commerce brands experienced a 41 percent increase in customer engagement, a 22 percent increase in brand loyalty and a 15 percent increase in brand awareness after using gamification marketing strategies, it's hard to argue about its potency.
Borrowing from the strategies mentioned here should help you implement proven formulas that customers are responsive to.
So when it's all said and done, you can win over more customers and take your brand to the next level.