According to research by RaptMedia, 63% of consumers say they'd think more positively of a brand if it gave them content that was more valuable, interesting or relevant.
It's difficult for businesses to send relevant emails to their audience because you can't always be sure that every single person on your segmented list will find your email relevant.
But there's one email that's more relevant than most:
The follow-up email.
This type of email is sent whenever a prospect or customer has engaged in a conversation with you or taken a certain action of engagement on your website.
Just because they completed their purchase or didn't buy at all, they shouldn't be left alone.
In fact, 68% of US online shoppers engage with live chat features and even more engage with businesses through call and email.
But what many businesses fail to realize, is the massive potential the follow-up email has as an extension of your conversation.
Follow-up emails work because they are highly relevant to the individual recipient, and they have the potential to not only generate tons of revenue, but also to improve the user experience, and keep your business top of mind.
There are many different types of follow-up emails you can use, and in this post, I'll take you through the best of the best in terms of email design and show you how to use them to your advantage.
Now, I know marketers are not fans of the word manual, but sometimes a little manual labor is necessary.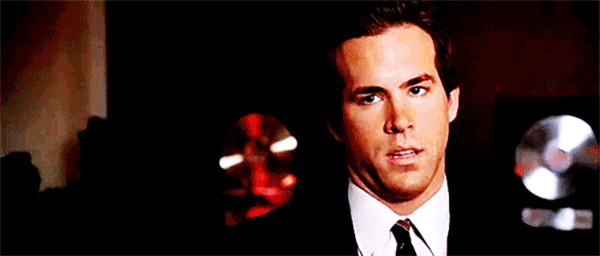 We focus so much on automating everything that we sometimes forget the power of a handwritten message, or in this case—a handwritten email.
Manual follow-up emails are not that time-consuming and they can have a great effect on your conversion rate and customer satisfaction.
You can even create message templates for your manual emails to increase efficiency (I'll explain later so keep reading).
So, what types of personal handwritten emails should you send?
It depends on the individual prospect you've been in touch with and what your conversation was about.
Let's take a look at a few examples.
i. The "Need More Options" Email
If a prospect is in doubt and not sure what exactly they're looking for, providing additional product recommendations can be effective.
Let me show you how it can be done.
I recently engaged in a live chat on ASOS because I needed to find a pair of shoes for my cousin's wedding.
I gave the customer service agent a description of what I was looking for and sent her a picture of the dress I was wearing. She then gave me a few options matching my requirements.
I wasn't completely sold on her suggestions so I said I needed some time to think about it.
I then received this email from her moments later: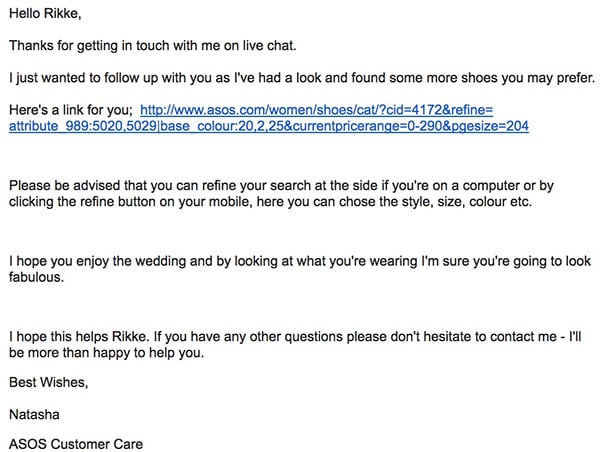 Amazing right?
She offers further suggestions, and even compliments my choice of clothes.
Needless to say, I ended up buying TWO pairs of shoes because I was astonished by the level of customer service I received (my shopaholic tendencies shouldn't come as a surprise anymore).
Look at your follow-up emails as an extension of the conversation you just had, and build on what you talked about to make the sale.
ii. The "Need More Information" Email
Sometimes prospects need a little more information before making a purchase decision.
This is particularly relevant with more expensive and complex products such as electronics, furniture, and so on.
You might not have all the information about a product available during a call or live chat, so you can offer to send the information by email.
That way you get an email address (read: a new lead for your campaigns), and the prospect has the information handy at all times.
Here's an example from Bonobos: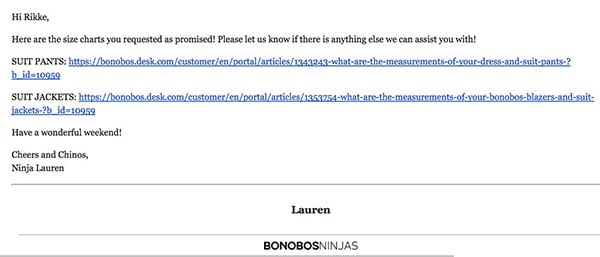 During a recent live chat with them, we talked about how to find the right size (I was looking for a new suit for my better half, and wasn't sure of the size), and I wanted to have the information handy for when I got a chance to take measures and find the right size.
You should also offer your prospects to send them a transcript of your live chat, in case they need the information you provided for later.
With this type of follow-up email, you can create a template to save you time.
For instance:
Hi [NAME],
Here's the information you requested:
[INFORMATION GOES HERE]
Hope this helps, and please let me know if there's anything else I can help you with.
Have a great day!"
If you send additional information to help a prospect make a decision, don't forget to follow up to make sure they make a decision and buy.
iii. The "Don't Go Just Yet" Email
One important rule in marketing is to not give up.
In the words of Chumbawamba: "I get knocked down, but I get up again."
(I really love that tune!)
Just because you didn't make a sale during live chat or your call, doesn't mean your chance is lost.
There are many reasons people don't buy during the first contact (in fact, very few do), so try to figure out what that reason is and address that in your email.
Maybe they didn't have time, or the price wasn't right.
Here's an example from Madsen Cycles: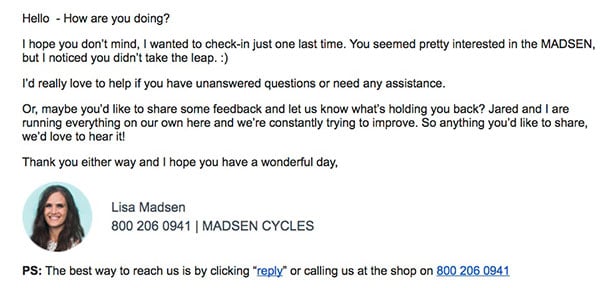 Instead of asking visitors to buy, they ask what prevented them from buying.
That way they can start a dialogue with prospects and perhaps make the sale after all by eliminating the concerns that prevented them from buying in the first place.
If you've had a call with them, they will have already given you an indication of why they're not ready to buy yet.
Most of the above email can be templatized so you only need to make a small adjustment before sending.
2. Trigger-Based Follow-Up Emails
Now that you've got the hang of manual emails, we can move on to what you love …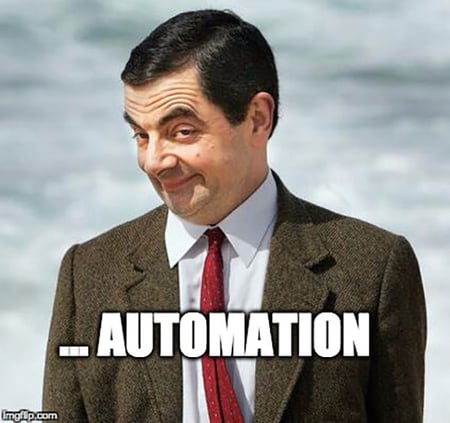 Trigger-based emails are sent whenever a user has triggered a certain action, such as abandoning their cart, clicked a certain link, or any other type of trigger.
So what type of triggers should you follow up on?
Let's see…
i. The "What Did We Do Wrong?" Email
You always want to collect feedback from your prospects, to gather useful insights on how to improve.
If you're not sending manual messages to prospects after they've been in contact with you, you should at the very least ask for their feedback.
It's not so much about what you did wrong, but more about how you can improve.
Here's an example from Nordstrom who I recently had a live chat conversation with: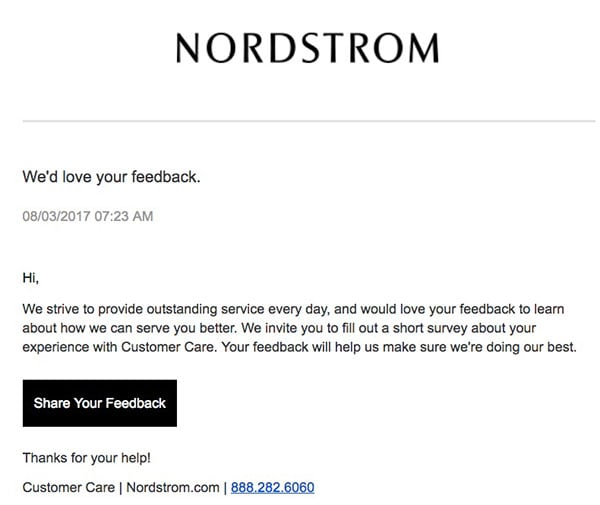 Don't create long surveys even though it might seem like a good idea to get TONS of information—because it's not. No one has time to answer a 30-minute survey, so make it easy for people to give their feedback.
ii. The "Did You Forget Something?" Email
We can't do a post on follow-up emails and not include abandoned cart emails.
According to Shopify, 67.45% people put items in their online shopping cart only to leave it without completing their purchase.
That's why it's important to follow up on abandoned carts and encourage people to return to their cart and complete their purchase.
Here's how Herman Miller does that: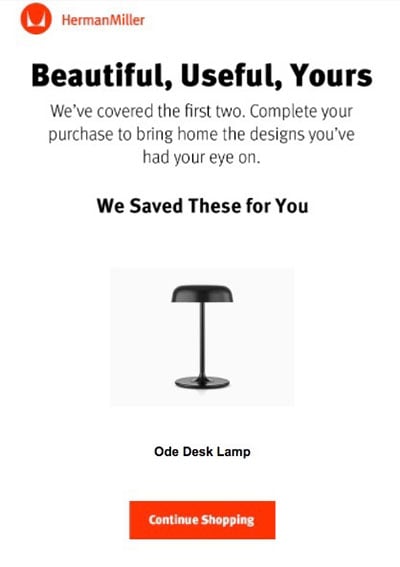 What's smart about this email is the way they start with three words, and then use those as steps to encourage prospects to take that final action that will make the product theirs.
Want to make a workflow like this?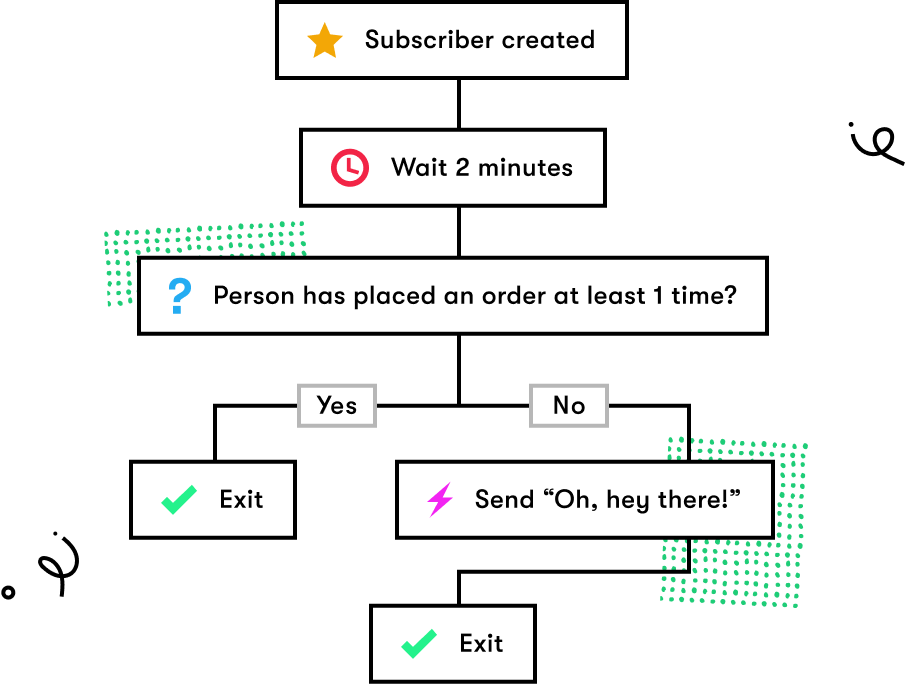 Hit the ground running with our pre-built workflows.
3. Time-Based Follow-Up Emails
Following up once isn't always enough.
That's why it's a good idea to set up scheduled and time-based follow-up emails.
Here are three situations where the time-based follow-up email can be used to get prospects reactivated.
i. The "Did You Forget About Me?" Email
A common experience among marketers is unanswered emails.
We send so many emails and only a fraction of them are answered to our annoyance.
While we can't force people to answer our emails, we can encourage them by sending a follow-up email.
For instance, if you've sent out an email asking for people's opinion on a new product or a survey, and only a small percentage has responded, you should send a follow-up email and try to get more people to respond.
Just because people didn't respond the first time, doesn't necessarily mean they didn't want to, it just means something prevented them from doing it.
Send them a friendly reminder that you could really use their help, and remember to exclude the people who've already responded.
As a rule of thumb, you should always follow up at least three times before giving up.
Here's an example from The Website Group: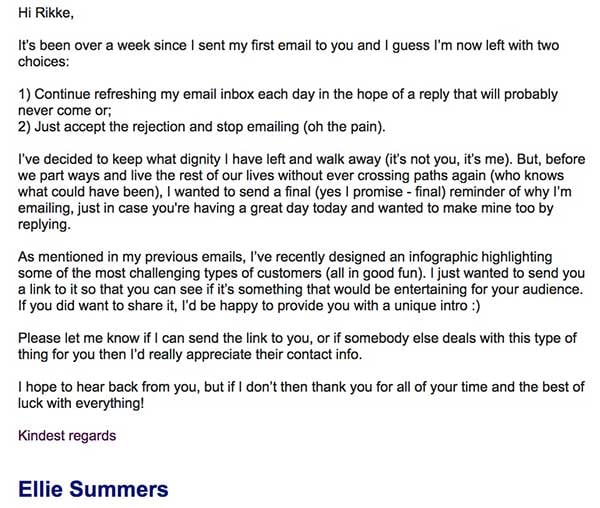 This email was the fourth and last follow-up email I received because I hadn't responded to the first three emails.
I was really impressed with the writing style in all the emails (you know how I love a good laugh), and, of course, I ended up answering this last follow-up email.
You can automate all your follow-up emails and schedule them to go out x amount of days after your previous email.
ii. The "I'm Begging You to Come Back" Email
We hate losing potential customers (who doesn't?), so just because you sent an abandoned cart email that wasn't opened or clicked, doesn't mean you should give up.
(Remember the magic number three)
Following up on abandoned cart emails is just as important as following up on everything else.
Here's how Beardbrand follows up on abandoned carts…
Email 1 (The personal outreach):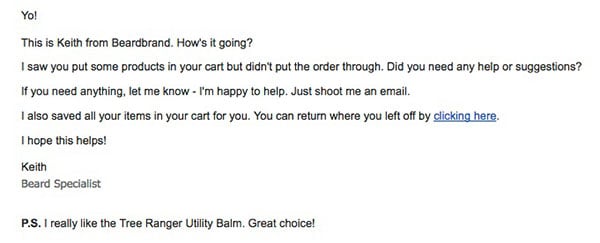 Email 2 (including scarcity):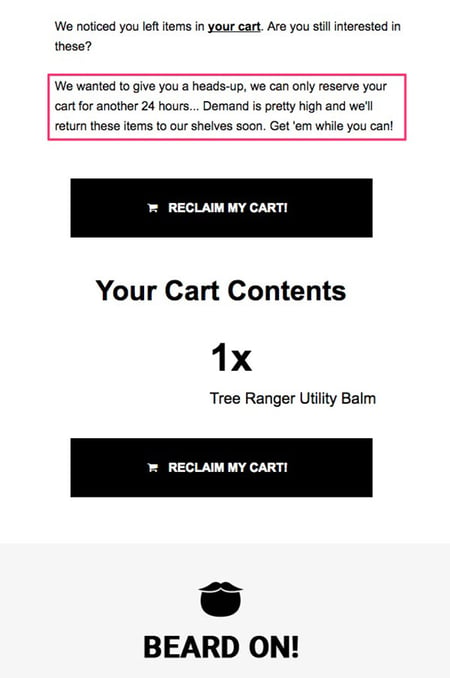 Email 3 (Last chance):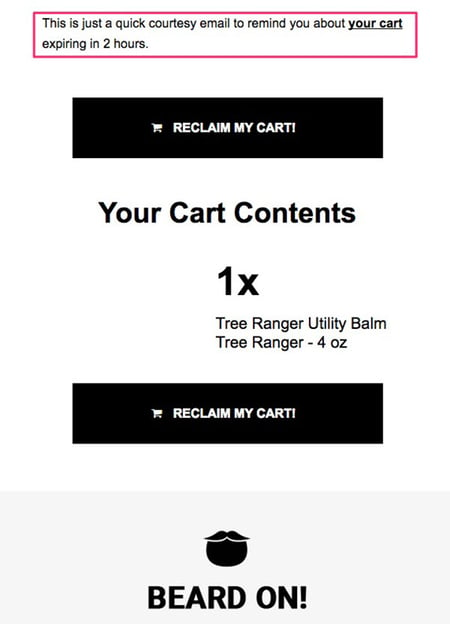 Using scarcity in your follow-up emails can trigger your readers to take action because you're tapping into their fear of missing out.
You can also try offering a discount to give them that final push towards completing their purchase.
iv. The "Yay! You Bought Something" Email
Lastly, you shouldn't forget to follow up with new customers.
You want to reward people for becoming customers, to keep them coming back to buy more.
Send them a simple thank you email after they've purchased something, to let them know you appreciate them or send them bonus information about their new purchase.
This is especially effective in the travel industry. If a customer has bought a trip, you should send them a guide to the destination and help them make the most of their trip (so they'll buy from you again next time).
Here's an email I got after purchasing a trip to Costa Rica with G Adventures: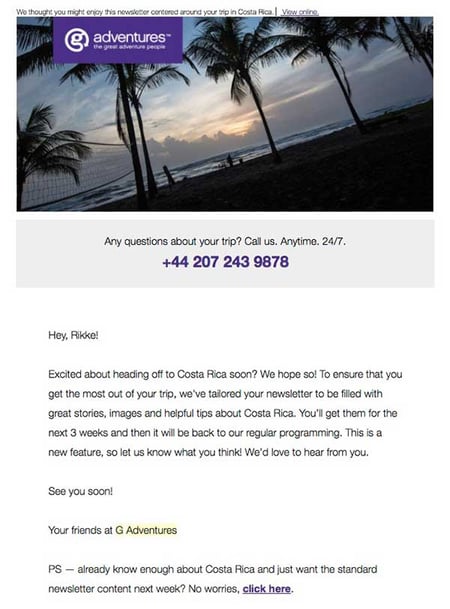 Notice how they also mention that I'll be receiving more emails like this during my trip, so I know that I should be checking my inbox for tips while I'm there.
You can also follow up with recent customers and encourage them to take further action.
Perhaps you have an app you can promote or a loyalty program you would like them to join?
People are more likely to accept these inquiries after they've made a purchase.
You can also do like Amazon, and ask for feedback on customer's recent purchase: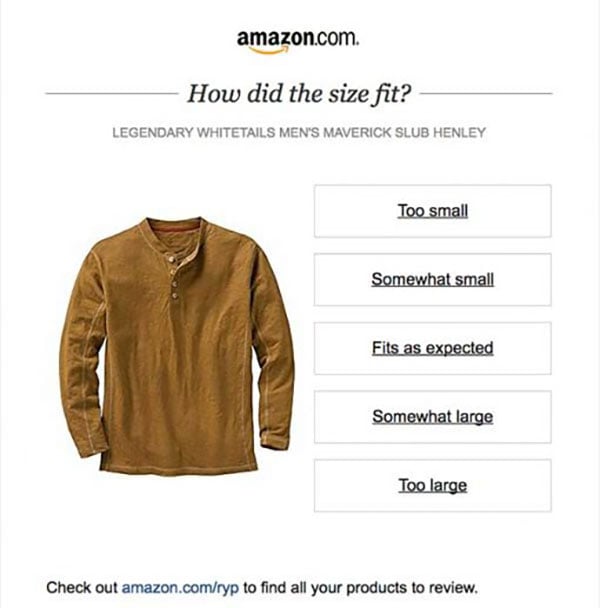 Source: ReallyGoodEmails
The purpose of following up with customers is not only to boost sales and get feedback but also to keep your brand top of mind.
Conclusion
Crafting effective follow-up emails takes time and consideration, but I promise it's time well spent.
Follow-up emails require finding a balance between sending enough emails to stay top of mind, and not sending too many so your readers will unsubscribe.
The most important thing to remember when sending follow-up emails is that they must be highly relevant.
Take a look at your customer journey and identify the places where you're "giving up" on customers and prospect, and incorporate a few follow-up emails to help them get back on track.