For some of us, the holiday season is a long-awaited chance to take our foot off the gas, unwind with friends and family, and consume our body weight in roasted meats.
But relaxation is the last thing in retailers' minds.
Often, the holidays can make or break the whole retail year.
Across all verticals, Q4 accounts for 26.8 percent of total annual retail sales—not substantially more than an average quarter.
However, in some sectors, the ecommerce holiday quarter has far greater significance. For instance, it represents 34.9 percent of hobby, toy, and game sales; 34.7 percent of jewelry sales; and 31.1 percent of electronics sales.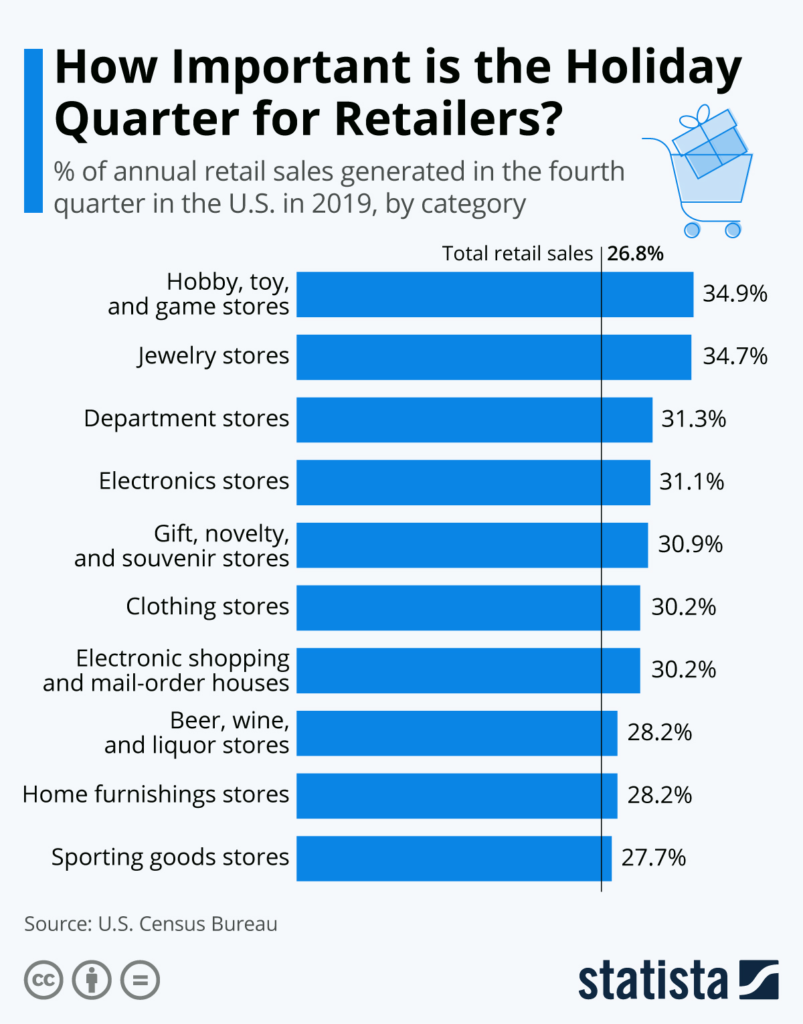 If the festive period is a "big deal" to your business, you need to be aware of consumer trends.
So to help you out, I've put together this bumper list of 19 key holiday shopping statistics.
19 Key Holiday Shopping Statistics
1. Global Online Holiday Spending Is Expected to Hit $910 Billion This Season (Adobe Analytics)
Online spending will hit $910 billion this holiday season, up 11 percent year on year, according to the Adobe Digital Economy Index.
In the US alone, online holiday sales from November 1st to December 31st are expected to reach a record $207 billion, representing a 10 percent upturn from 2020.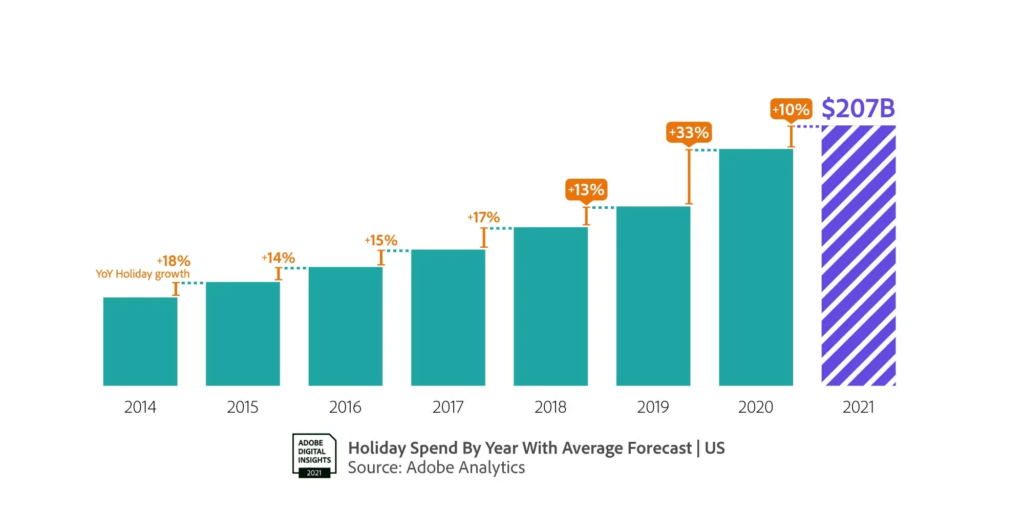 What's more, Adobe predicts online spending for the full year will pass the $4 trillion mark, representing a new milestone for ecommerce.
It's a strong return that highlights how the pandemic has transformed online shopping from a convenience to an essential service.
2. 29 Percent of Holiday Shoppers Plan to Spend More Than Last Year (NPD)
Shoppers are feeling more confident about their holiday spending this year, according to an NPD survey of US consumers.
More than a quarter expect to spend more than they did last year during the holiday season, while just one in seven is planning to spend less.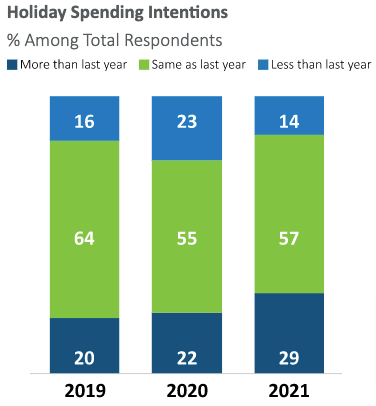 The average consumer plans to spend $785, significantly more than in 2020, and higher even than pre-pandemic levels.
Increased spending is anticipated across all categories, including products that align with consumers' growing interest in getting out and about more—think apparel, accessories, footwear, and beauty products.
3. Nearly 2 Million More People Than Last Year Are Expected to Shop From Thanksgiving Day Through Cyber Monday (National Retail Federation)
Two-thirds of US consumers planned to shop during the Thanksgiving weekend (November 25th-29th), according to the National Retail Federation.
That's equivalent to 158.3 million people, up from 156.6 million in 2020 (but still below the 165.3 million who shopped during Thanksgiving 2019).
Breaking the weekend down day by day, the survey found:
30.6 million plan to shop either in-store or online on Thanksgiving Day;
108 million on Black Friday;
58.1 million on Small Business Saturday;
31.2 million on Sunday; and
62.8 million on Cyber Monday.
Disclaimer: Those figures add up to more than the total number of shoppers because some consumers plan to shop across multiple days.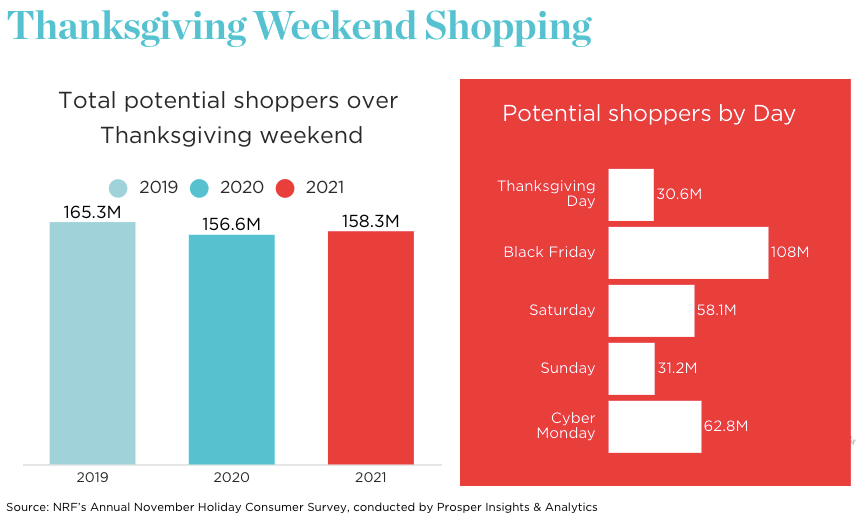 4. 46 Percent of Shoppers Started Their Holiday Shopping Earlier Than Usual in 2021 (National Retail Federation)
Does it feel like the holiday season comes around earlier every year?
Data shows it's not just your imagination.
According to the National Retail Federation, 61 percent of consumers surveyed in early November had already started their holiday shopping, up from 59 percent last year and just 51 percent a decade ago.
Almost half of those surveyed said they started their shopping earlier this year. And while the majority of spending is still to be done, more than one-quarter of total holiday shopping had been completed by early November.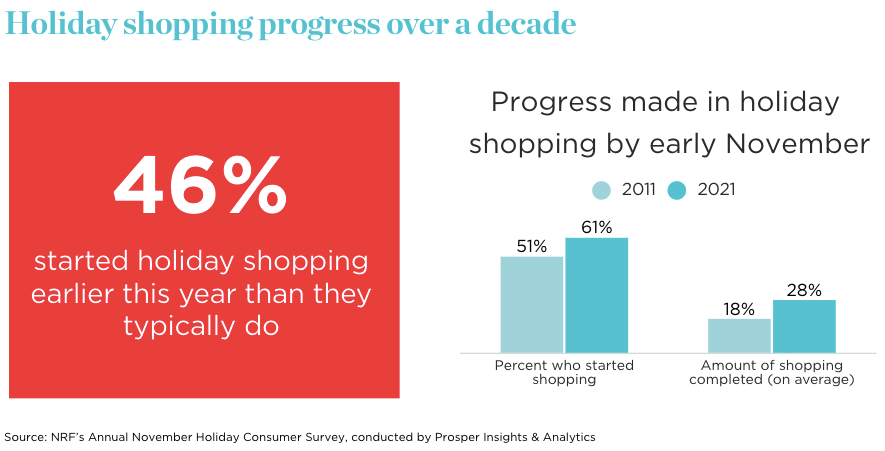 5. Concerns About Availability Are the Number One Reason for Consumers to Start Holiday Shopping Early (McKinsey)
Why are so many people starting their festive shopping earlier than ever? Is it some kind of collective psychosis?
According to McKinsey, there are actually many reasons fueling the trend.
Among those who expected to start shopping earlier this year, the ongoing supply chain crisis was a key motivator:
51 percent said they were concerned about a potential lack of availability.
45 percent were worried about slow shipping times.
What's more, 44 percent started shopping earlier to mitigate "unexpected challenges" related to the pandemic.
But it's not all doom and gloom, with 29 percent getting a headstart on their shopping simply because they wanted to do "something fun right now".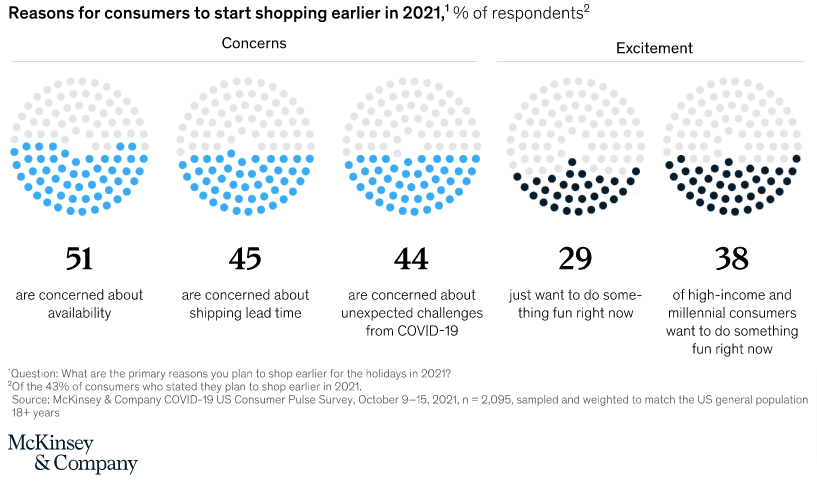 6. 85 Percent of Consumers Will Include Online Shopping in Their Holiday Plans (NPD)
Unsurprisingly, online is becoming an increasingly important channel for holiday shopping.
According to NPD, 85 percent of consumers plan to include online shopping in their holiday plans, up from 80 percent in 2020.
Meanwhile, the proportion of people who plan to shop exclusively in brick-and-mortar stores has dropped from 20 percent in 2019 to 14 percent today.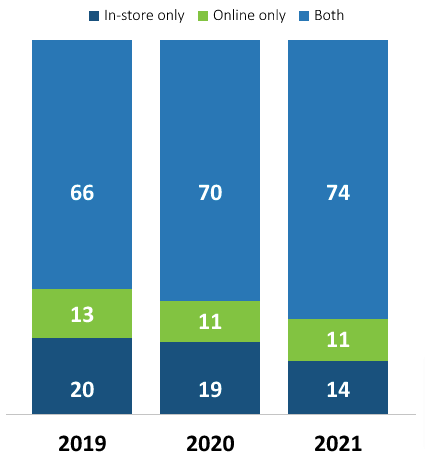 7. 47 Percent of Consumers Say Free Shipping Would Influence Where They Buy Gifts (NPD)
Fulfillment continues to be a major driver of consumer spending, with almost half of those surveyed by NPD citing free shipping as an influence on where they choose to shop for holiday presents.
What's more, 49 percent of holiday shoppers say they're planning to do more online shopping this year because it allows them to ship directly to family and friends.
8. Product Quality Will Be the Most Important Factor in Choosing Between Brands (Salesforce)
No one doubts that price is important, but it's not the biggest differentiator as far as consumers are concerned, according to a global Salesforce Insights Survey of 11,738 respondents.
Instead, it discovered that product quality is the number one factor, cited by 65 percent of shoppers.
Discounts came in second with 57 percent, followed by availability (39 percent)—again demonstrating how consumers are worried about supply chain issues.
9. Out-Of-Stock Messages Have Risen 172 Percent On Pre-Pandemic Levels Going Into the Holiday Season (Adobe Analytics)
It seems all those supply chain concerns are well placed, with research from Adobe Analytics revealing that the prevalence of out-of-stock messages has surged by an eye-watering 172 percent since January 2020.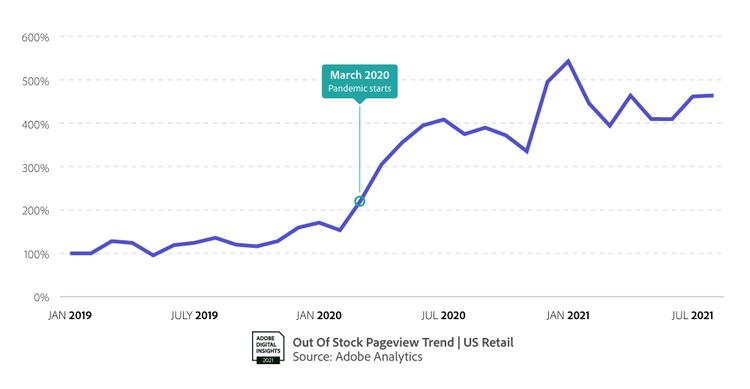 With ports crowded, deliveries disrupted, and overseas manufacturing delayed, Adobe expects the current challenges to prevailing throughout the holiday season, and even worsen for certain products.
Adobe tracks 18 retail categories, with the highest out-of-stock levels currently seen in apparel, followed by sporting goods, baby products, and electronics.
10. 70 Percent of Shoppers Faced With Out-of-Stock Products Have Switched Retailers or Brands Instead (McKinsey)
All those stock shortages are a big problem for retailers because the vast majority of shoppers aren't inclined to stick around if you can't give them what they want right now.
McKinsey found that three in five consumers have faced issues with out-of-stock products in the last three months. Of those, just 13 percent waited for the item to come back in stock.
In contrast, around 70 percent opted for a different brand or bought from a different retailer.
You might think you've built a loyal customer base, but it seems that doesn't count for much if you're struggling with stock issues.
11. Smartphone-Driven Shopping Will Grow by Just 5 Percent Year on Year (Adobe Analytics)
We've been hearing about the year of mobile for at least a decade now.
Sure, mobile is an important retail channel, especially for product discovery. But data from Adobe Analytics indicates that smartphone-based shopping is starting to flatline.
This holiday season, smartphones are expected to generate $86 billion in revenue, representing 42 percent of all online holiday spending. That's an upturn of just five percent year on year.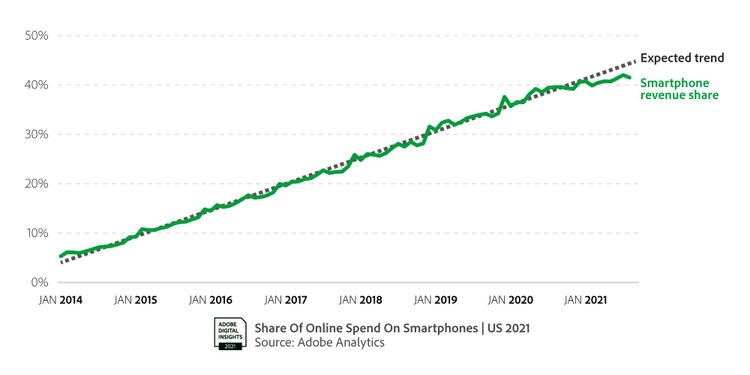 With consumers spending more time at home—and therefore in front of their desktops—throughout the pandemic, perhaps we shouldn't be surprised that mobile has hit a ceiling.
Will this trend reverse as more of us return to the office? We'll have to wait and see.
12. 45 Percent of Online Shoppers Would Like to Access Virtual Showrooms During the Holiday Season (LivePerson / eMarketer)
Consumers are increasingly interested in digital shopping experiences that extend way beyond simply clicking through to a category page full of products.
Almost half of the Internet users in Australia, the UK, and the US say they'd like to participate in virtual showrooms, while a similar proportion wants to view products in augmented or virtual reality, according to research from LivePerson.
Furthermore, one in three want to give Livestream shopping a try and more than a quarter are interested in remote video consultations with personal shoppers.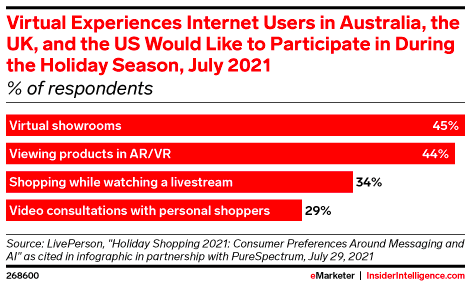 Source: eMarketer
13. Brick-and-Mortar Stores Edge Out Search Engines as the Top Place to Start Researching Holiday Gifts (Criteo)
While digital channels are becoming an increasingly important part of the holiday shopping experience, when it comes to researching gifts, physical stores are still the go-to option.
According to Criteo, 46 percent of consumers plan to start looking for gifts in brick-and-mortar shops, while 45 percent will do so via search engines, 31 percent on retail websites or apps, and 25 percent through brand sites or apps.
Despite the growth of online marketplaces, the survey also revealed that retailers remain a key source of shopping inspiration.
More than seven in 10 consumers plan to use a retail touchpoint—whether physical stores, retail websites, or brand sites—to start their gift shopping.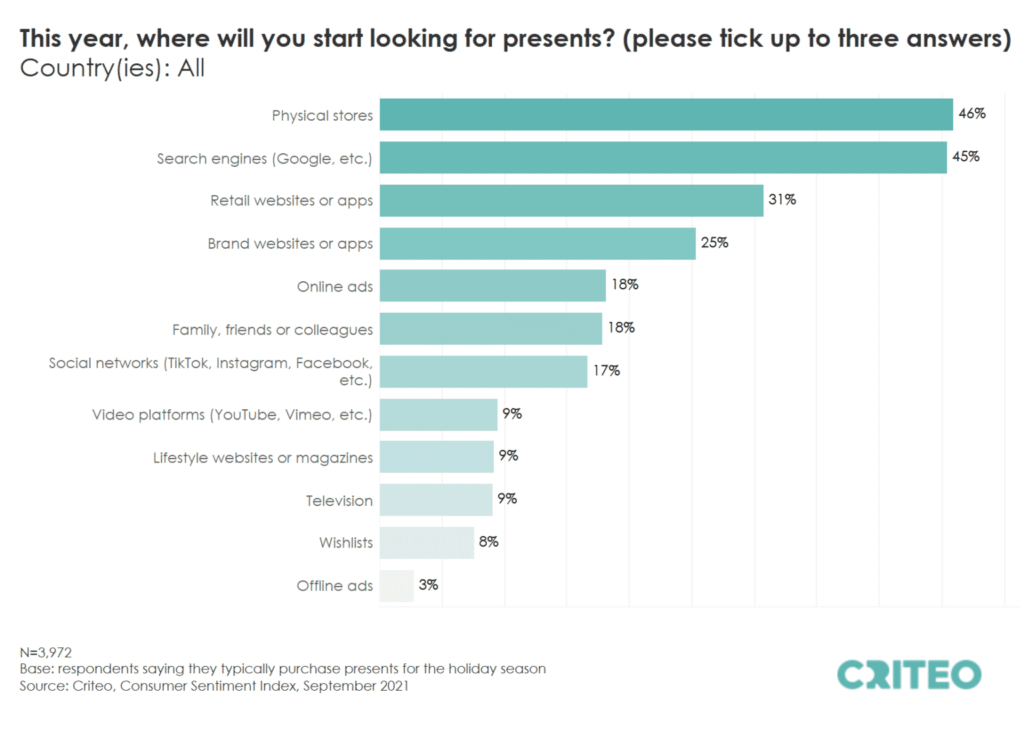 14. 58 Percent of Consumers Say Social Media Will Influence Their Holiday Buying Decisions (McKinsey)
Brick-and-mortar stores might be the top source of inspiration, but research from McKinsey shows that social media will influence buying decisions for 58 percent of consumers.
Among those shoppers, the most influential social platforms are:
Facebook (67 percent)
YouTube (57 percent)
Instagram (52 percent)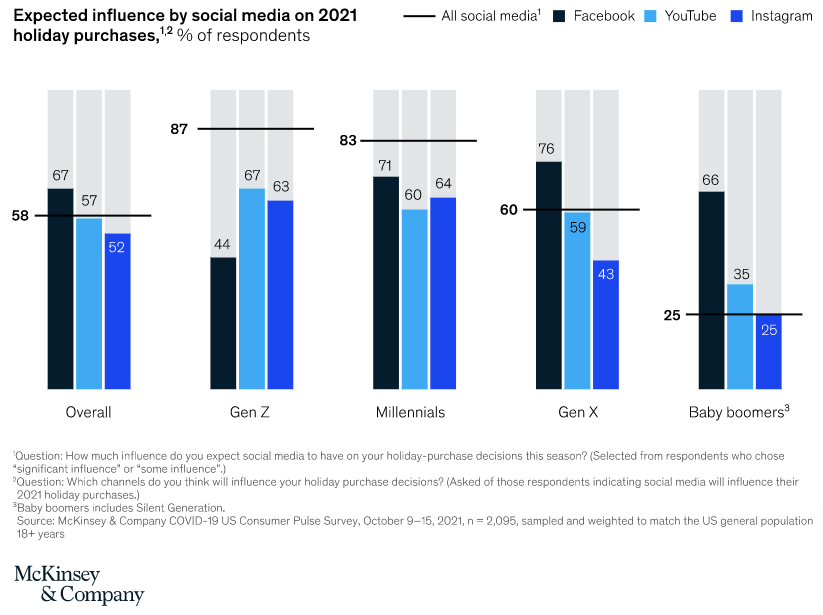 Unsurprisingly, different demographics are inspired by different channels.
For instance, 87 percent of Gen Z expect to find gift inspiration on social media, with YouTube, Instagram, and TikTok cited as their favored sources.
15. Consumers Will Spend $12 Million Every Minute During the Peak Hour of Cyber Monday (Adobe Analytics)
We all know people go into a kind of buying frenzy during Cyber Weekend. Figures from Adobe demonstrate the scale of that frenzy.
It predicts that consumers will spend more than $12 million every minute during the peak shopping hour of Cyber Monday, from 8:00-9:00 pm Pacific Time.
The ecommerce "golden hours"—extending from 7:00-11:00 pm PT on Cyber Monday—is expected to generate almost $3 billion in online sales in just four hours, 50 percent more than the typical full-day total in August 2021.
16. Cyber Monday is the Holiday Shopping Day With the Highest Conversion Rate (Adobe / Statista)
Sticking with the Cyber Weekend theme, Adobe also discovered that Cyber Monday enjoys a higher ecommerce conversion rate than any other key holiday shopping date.
In 2020, Cyber Monday saw a conversion rate of 7.2 percent on desktop and 3.31 percent on mobile, both higher than the figures seen on other major online shopping days.
Cyber Monday's closest challenger was Black Friday, with desktop and mobile conversion rates of 6.82 percent and 3.05 percent respectively.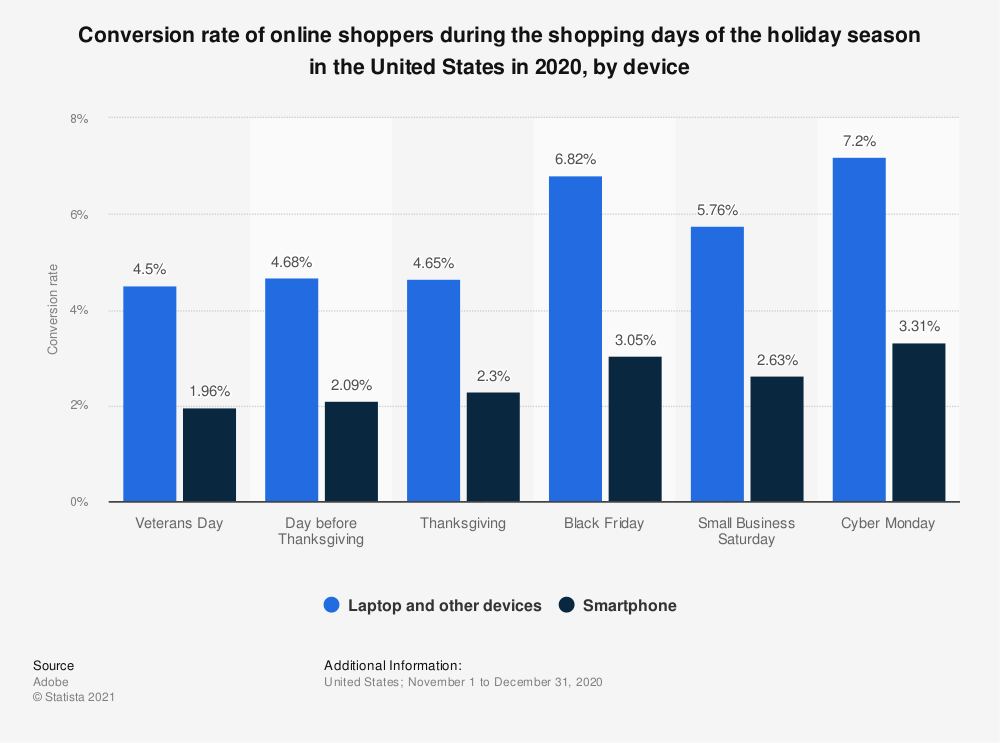 Source: Statista
17. Luxury Handbags Are the Product Category With the Highest Year-on-Year Growth In Early Holiday Shopping (Salesforce)
Now, let's take a look at some of the product categories expected to thrive during the 2021 holiday season.
According to Salesforce, the categories to see the highest year-on-year growth in the early weeks of the holiday shopping period include:
Luxury Handbags (+59 percent)
Furniture (+44 percent)
Footwear (+37 percent)
18. One-Third of Shoppers Plan to Buy Home Products as Holiday Gifts (NPD)
Spending so much time at home over the past year-and-a-half has forced us to become more house-proud, so it's no surprise that home products are also expected to be popular this holiday season.
Per NPD, 31 percent of consumers are planning to buy home products as gifts this year.
Joe Derochowski, NPD vice president and industry advisor for the home category, expects top household gifts to include:
Robotic vacuums
Air fryers
Single-serve brewing systems
Massaging appliances
Electric toothbrushes
19. Online Grocery & Beverage Sales Saw the Highest Growth of Any Category During the 2020 Holiday Season (Rakuten Intelligence / Statista)
Last year, groceries and beverages saw higher growth than any other ecommerce product category in the US, with holiday sales rocketing by 216 percent year on year.
That's not surprising: with the pandemic still in full swing, many consumers had to move online to make essential purchases.
Health, fitness, and nutrition took the second spot on the list, with sales growing by 116 percent year on year, followed by home improvement products (+85 percent).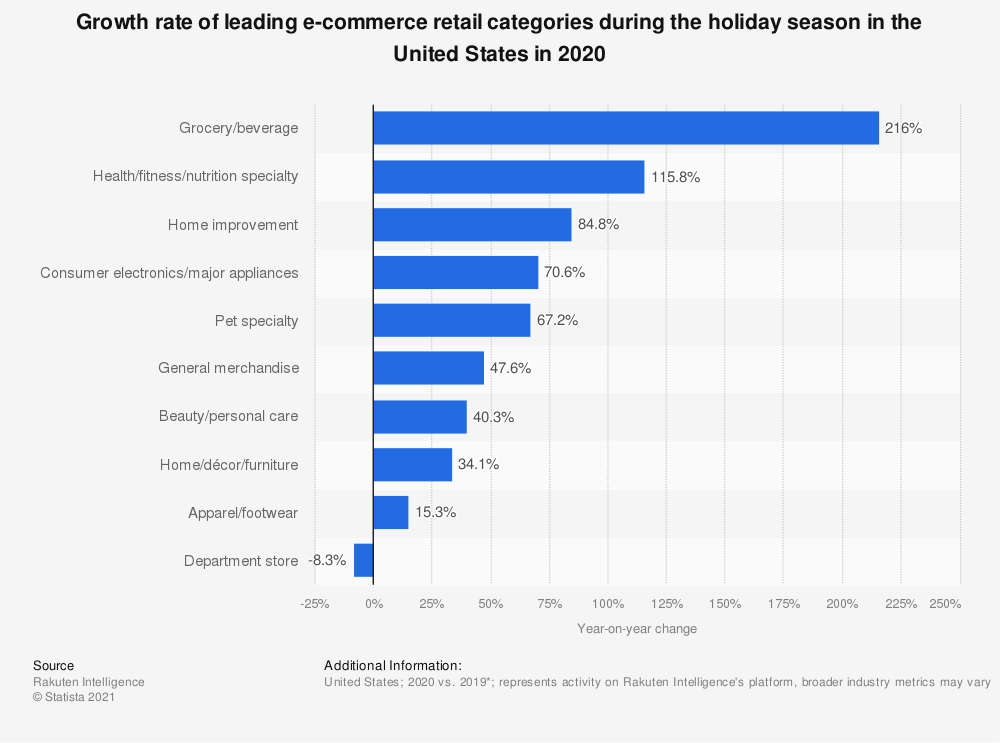 Conclusion
The 2023 holiday season looks to be one of the divided fortunes.
On one hand, retailers are poised to benefit from restored consumer confidence as the pandemic slowly winds down.
On the other, they face major challenges in delivering on consumer demand, with the supply chain crunch causing issues with stock availability and fulfillment.
Rise above those concerns and you'll be celebrating a very happy new year.