After your sales peak on Black Friday, and the extended weekend that follows, it becomes a challenge to keep potential customers interested in your new offers.
You need to re-activate your email list and convince your returning visitors to shop again. Luckily, holidays are always a great excuse to shop, be it for Christmas gifts or items to realize new year resolutions.
Since online gift shopping becomes more important this year than ever, the stay-at-home holiday season can be your moment to shine.
To help you engage your potential buyers on the days leading up to Christmas and New Year, I gathered seven of the best ecommerce holiday marketing strategies I've seen this year.
Take inspiration from top e-commerce brands and see how you, too, can sell more with creative holiday campaigns.
Table of Contents
1. Grow Your Holiday Email List
First things first.
You know you need to send targeted holiday emails to turn your list into buyers. But for that to happen, you need relevant and interested subscribers.
That's where holiday popups come into play.
With targeted email popups that you schedule in advance, you can get subscribers for your holiday email list on autopilot. That's exactly what Miinto, a Danish fashion retailer, does on its website.
When you visit the company's website, first, you see a teaser that reads "Save 10% More". When you click the teaser (or spend a few seconds on the page,) this popup shows: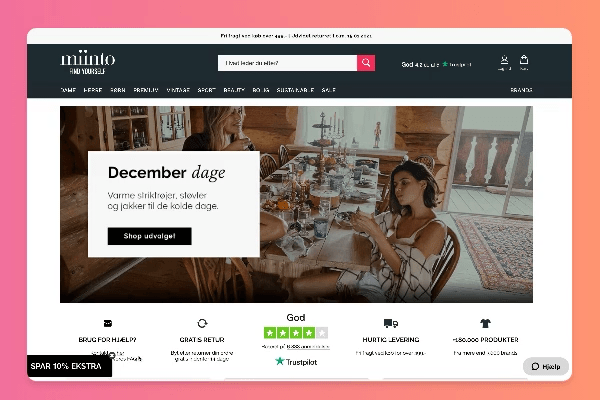 With it, Miinto invites you to join its email list and get a discount code, simply because "they're in Christmas mood." It's a valid excuse to re-engage shoppers after Black Friday.
Another company that uses email popups before the holidays is Merrild. The coffee company runs a Christmas giveaway, surprisingly, on its B2B website.
Similar to Miinto, Merrild uses a teaser to ensure browsing experience and, then, shows a Christmas-themed email popup: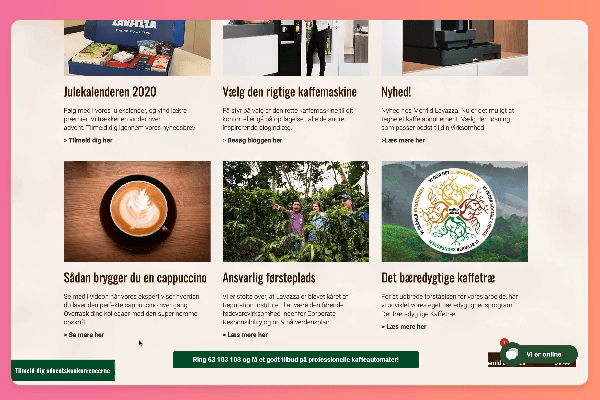 With this popup, Merrild invites visitors to submit their name, email, and company name, to get a chance to win delicious coffee products. Why? Because they're in the Christmas spirit, too.
2. Offer Gift Ideas
'Tis the season to shop for gifts.
With a limited budget and a long list of presents to buy, though, gift shopping isn't always easy.
This is the time for you to step up and inspire potential customers with holiday gift guides. With relevant gift guides, you can help prospects make better buying decisions and prove why your products are the best gift options for anyone on their list.
Some brands, like Birchbox, go all in and dedicate a landing page to their holiday shop: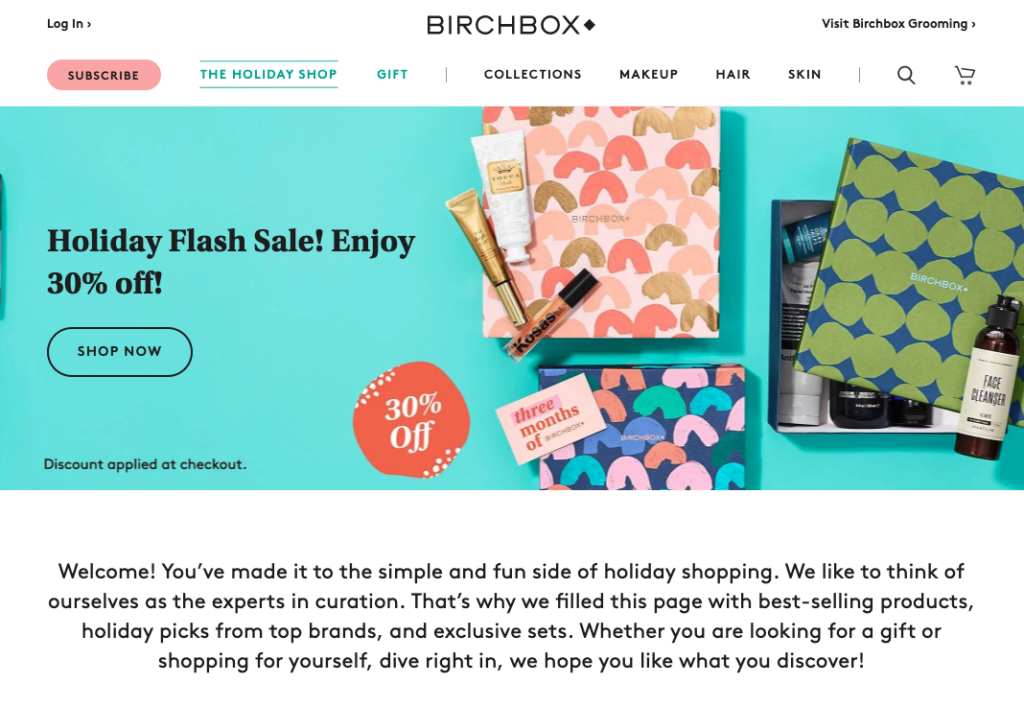 After positioning themselves as the experts in curation, the company suggests several gift options, divided by price: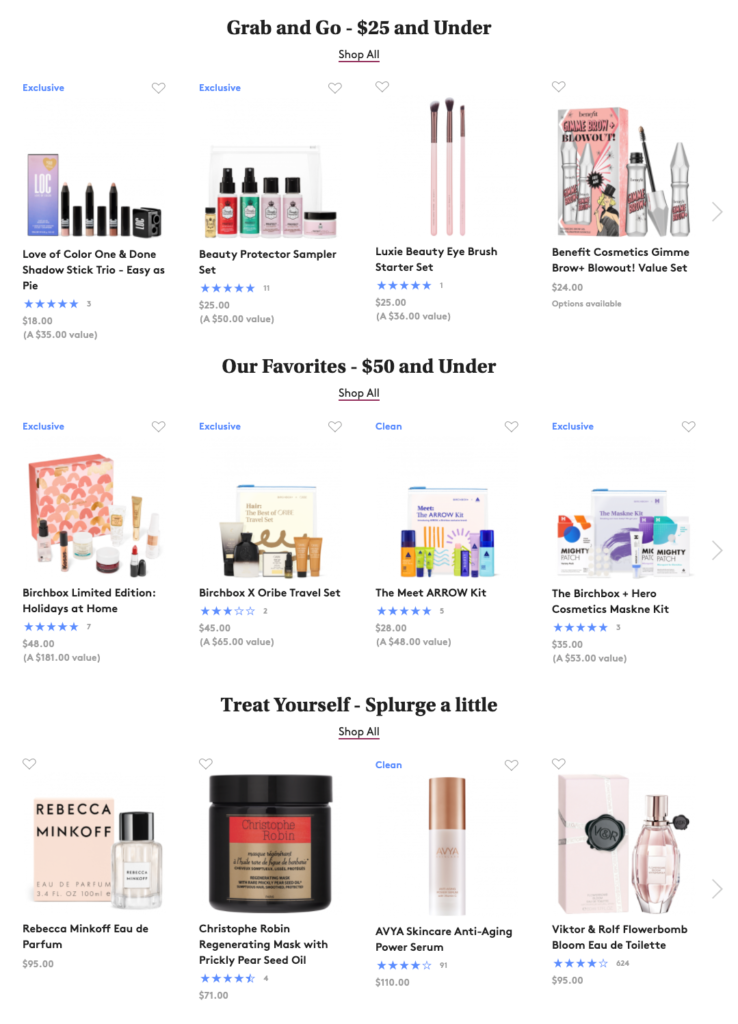 Notice how Birchbox frames the last category: "treat yourself" rather than "over $50".
Birchbox also distributes its holiday gift guide via email, with the subject line "Perfectly packaged & ready to gift":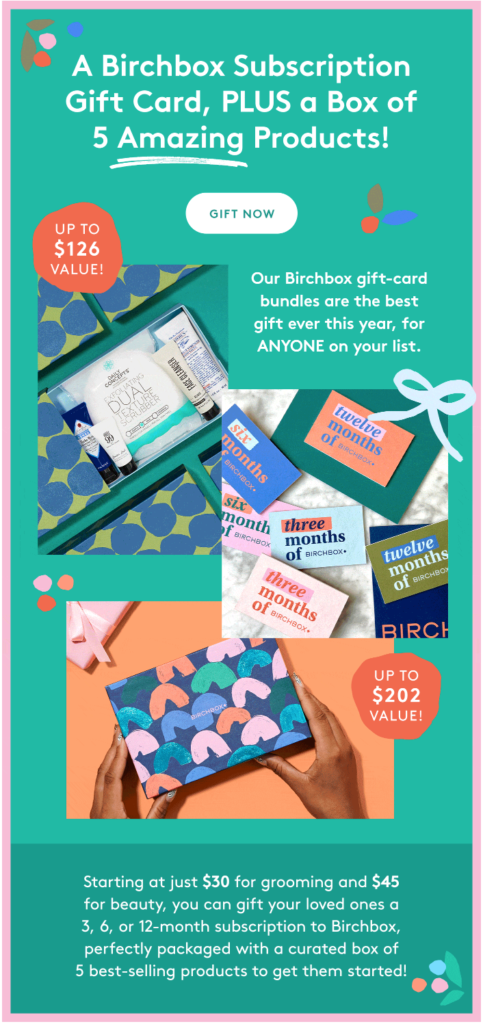 This way, the company positions its subscription service as the most reasonable gift option "for anyone on your list this year."
While 2020 hit travel companies hard, retailers of travel accessories, such as Away, were caught up in the crisis too. That's why, Away focuses on a positive outlook for 2021 in its gift guide email, sent with the subject line "Give them something to look forward to":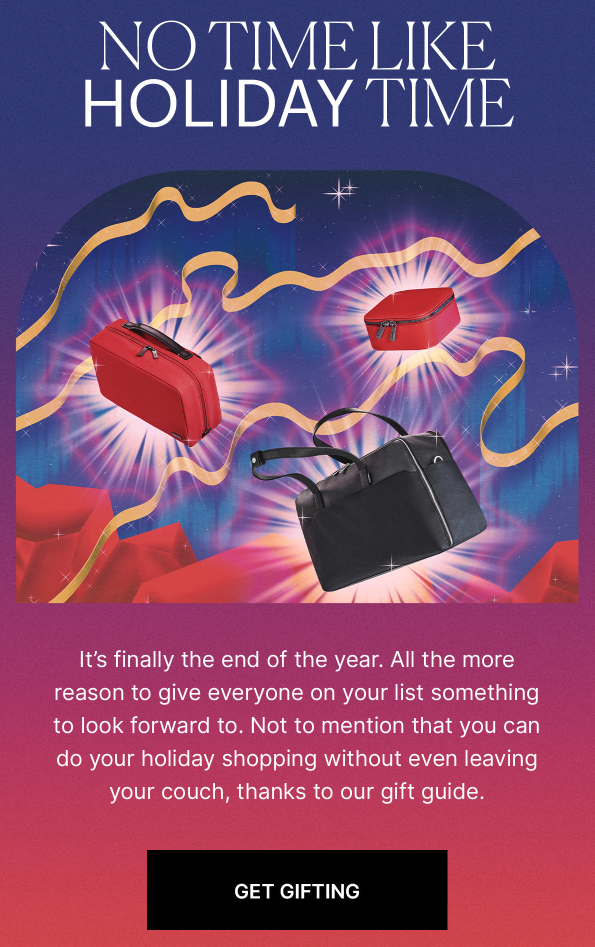 Away's message is brilliant. They don't ask you to gift suitcases, but to gift the hope to travel again in the new year.
Next, they recommend gifts based on personality type to make your decision easier:
It's a brilliant copywriting angle, while the whole world is in a dark and gloomy mood before the holidays.
If you don't have time to create extensive gift guides, copy Bellroy's strategy instead. Take a look at this email sent with the subject line "Bestselling gifts, no guesswork."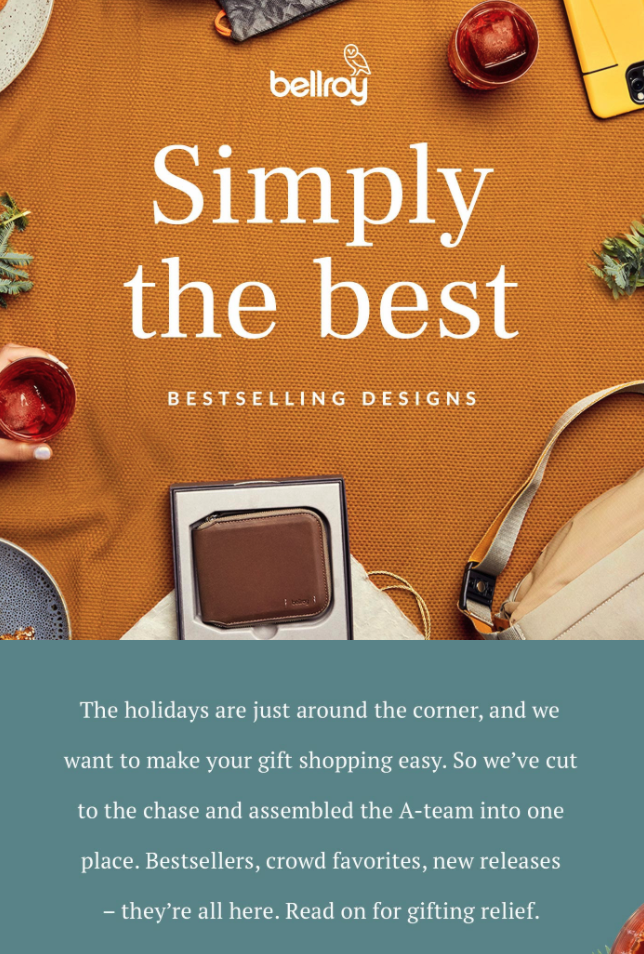 With strong confidence in its products, Bellroy simply recommends its bestsellers as no-brainer gift options. It's easy to replicate as a last-minute solution, especially if you only have a few product categories in your store.
3. Use Gift Finder Quizzes
While a simple gift guide or curated products, like the above, works wonders, you can go a step further to help prospective customers find the best gifts possible.
One effective way to do so is to personalize your gift guides based on the reader's responses. In other words, use gift finder quizzes.
On-site quizzes can serve different purposes, from lead generation to product recommendations and gift discovery.
Gift finder quizzes can convince prospects to buy your recommendations because it's the customers themselves who answer questions, thus, making it easier for them to believe in the results.
Rituals uses such a gift finder quiz on its website, where they invite visitors to find the ideal gift for anyone—in two minutes: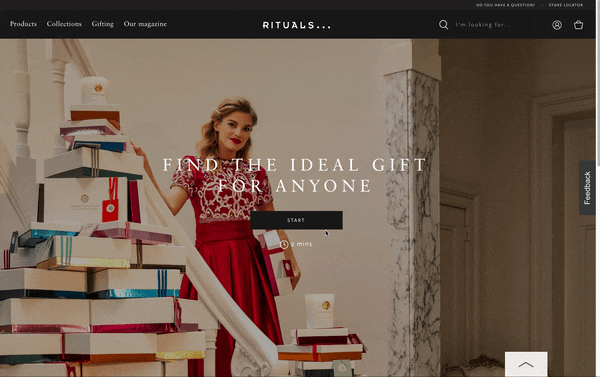 After you fill out gender, personality, and price range, you get the bestselling Rituals products, suitable for the person you want to buy gifts for: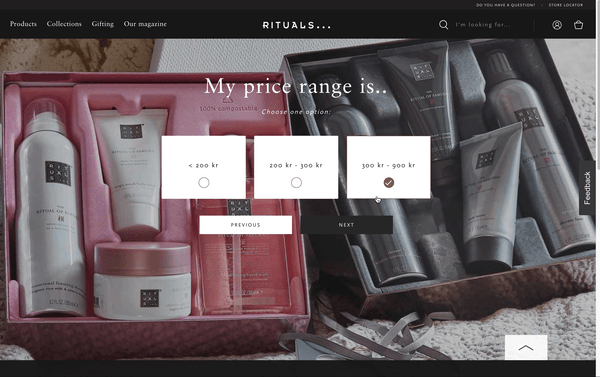 If you don't have the time (or resources) to create a full-blown gift finder quiz, Estee Lauder has a quicker solution for you. The company creates a simple gift chart and sends it to subscribers via email: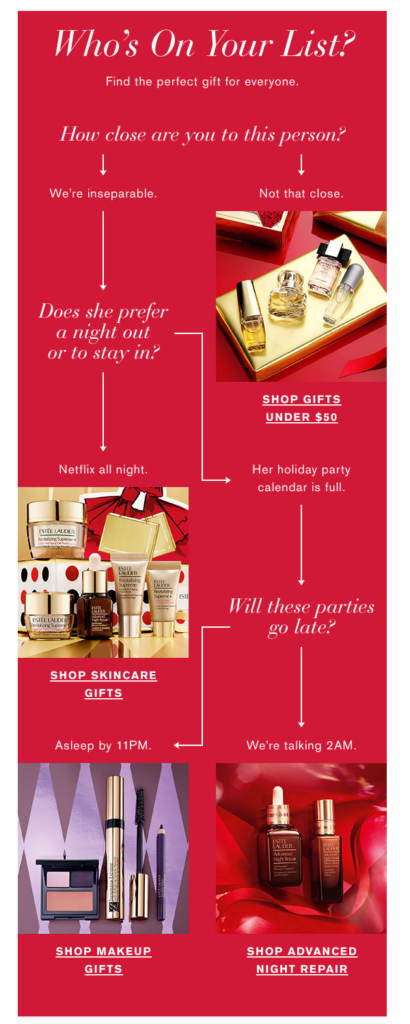 It's a brilliant alternative to complex gift guides, and you can easily create one by using your products today.
4. Run Surprise Deals
Many brands run advent offers or daily deals during December—both online and offline. Combining the element of surprise and the excitement of waiting, this type of deal is ideal for the holiday season.
But you don't necessarily have to offer a new benefit every day for an entire month. Try running surprise deals for a weekend, ten days, or randomly (to make it a true surprise.)
Anastasia Beverly Hills runs this type of holiday campaign, which they call "12 Days of Gifting":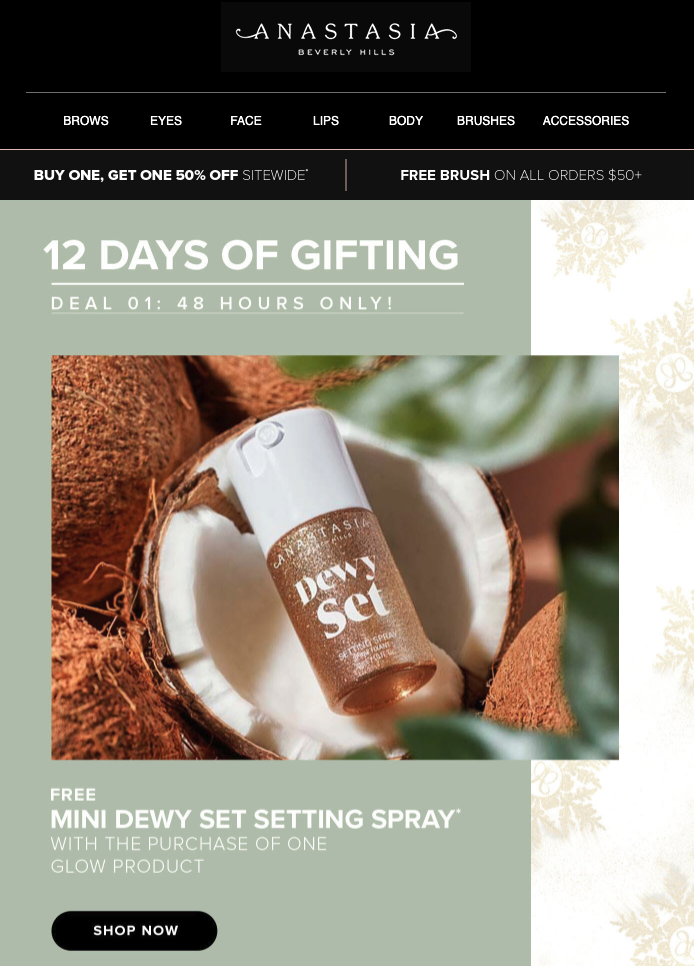 Dropping an email every second day, Anastasia Beverly Hills introduces a new limited-time offer each time, ranging from discounts to free gifts and samples.
While Anastasia Beverly Hills sets expectations in advance, Bean Box prefers mystery offers sent at random times before the holidays: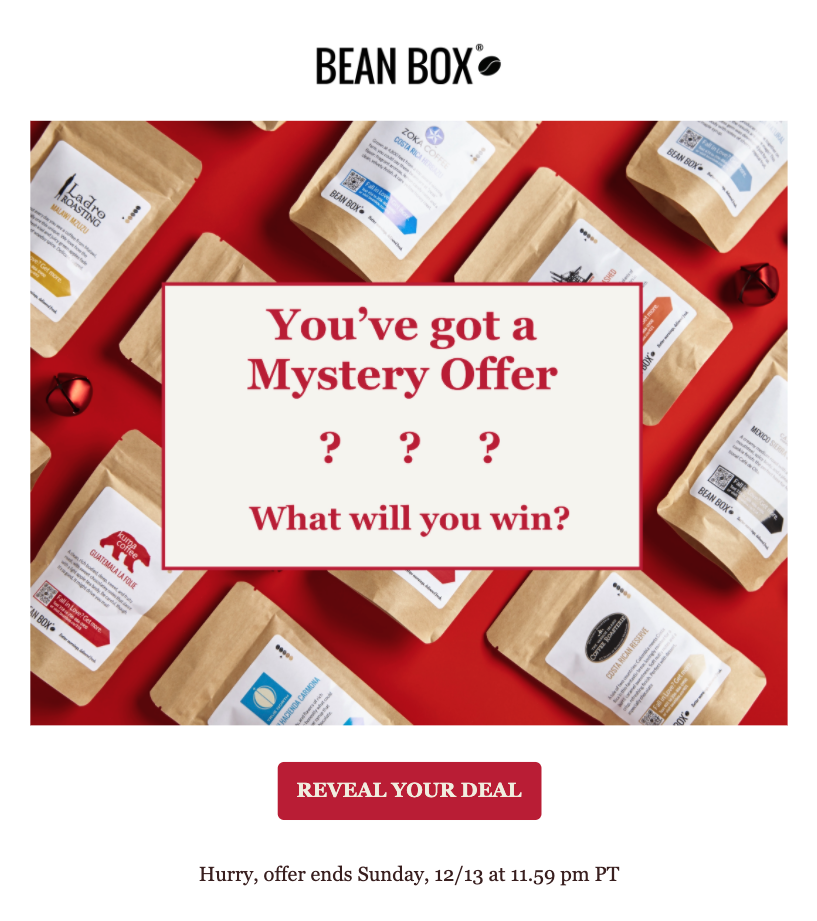 By using the element of surprise in the email, Bean Box evokes your curiosity and makes you click through the email to reveal your deal.
The call to action button takes you to the company's website, where they automatically apply a promo code to your cart: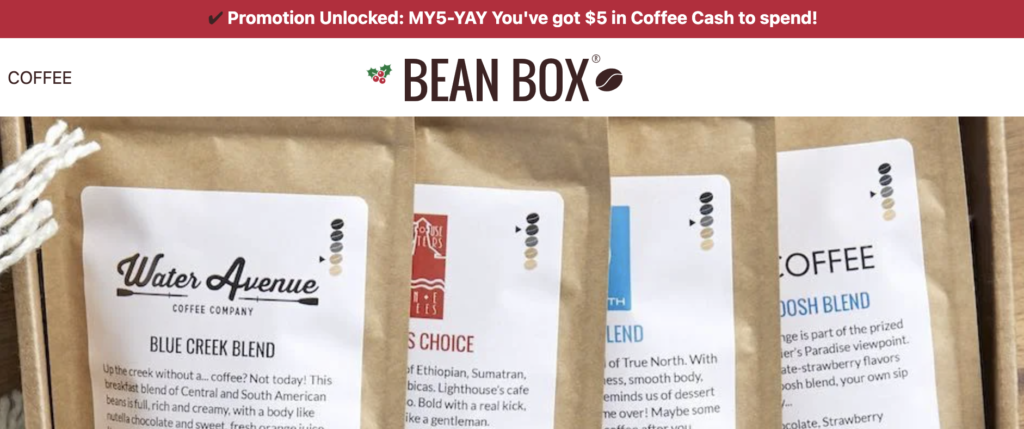 Bean Box's holiday mystery deal is $5 store credit, which will certainly make you spend more. And it's a clever incentive to kick things off for potential customers.
5. Promise On-Time Delivery
…provided you can keep your promise, of course.
As Christmas gets nearer, delivery becomes the single most urgent question in gift shoppers' minds.
If you have an ironclad delivery policy before the holiday season, make sure to highlight it in your emails and across your website. This way, you can reassure potential buyers that their gifts will arrive on time if they shop from your store.
Plus, you can use on-time delivery to drive urgency, as long as you don't overdo it.
Check out this subject line by Billie that recently landed on my inbox:

It's a brilliant subject line, raising a common concern and relieving the reader. This is what the email looks like: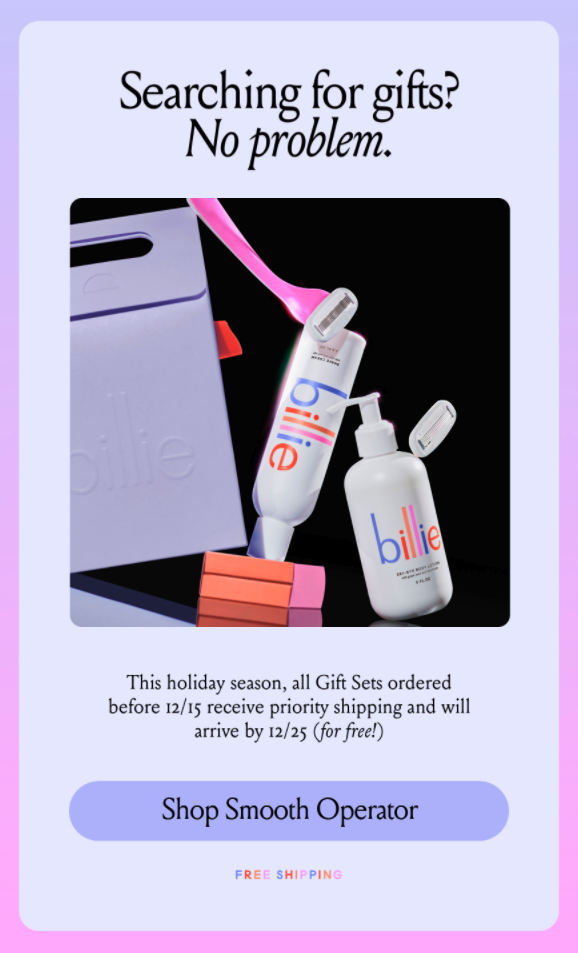 Similarly, in the email, Billie puts you at ease with its on-time delivery promise and gift options that'll end your search for gifts. Cleverly enough, Billie offers free priority shipping for gift set purchases to leverage the holiday shopping season to its fullest potential.
Bombas is another brand that uses on-time delivery as an incentive to shop from them. Check out this email they send with the subject line "Holiday Shipping Ends Soon":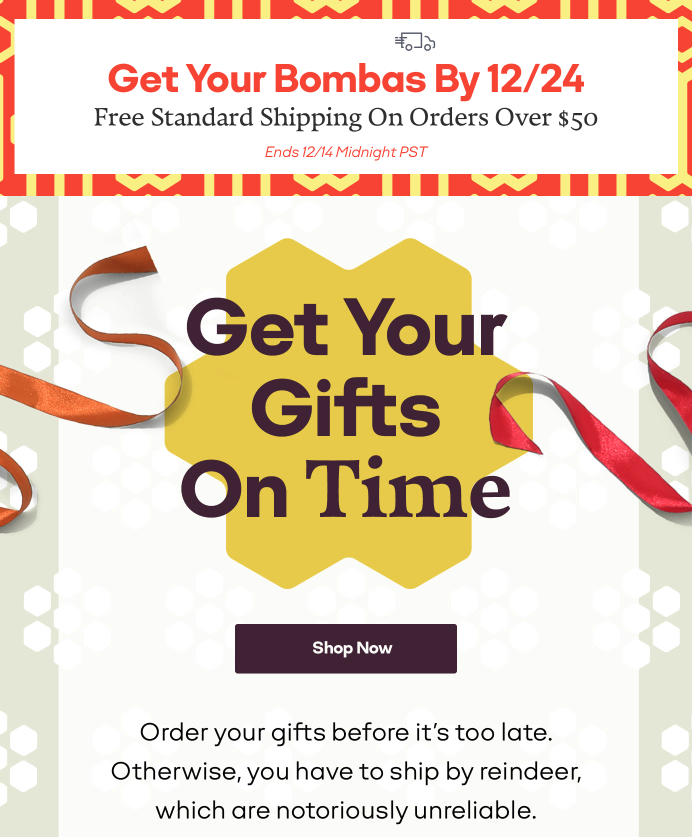 With it, Bombas gently reminds you that the holiday delivery window is closing soon and invites you to shop before it's too late (with a dash of humor.) This way, the company successfully drives urgency without sounding too salesy.
6. Offer Additional Benefits
Although gift guides, discounts, mystery offers, and fast shipping are powerful incentives, chances are, your competition is offering similar benefits too.
What's more, they're likely sending promotional emails similar to yours to get hold of holiday shoppers before you do.
Any extra incentive you can offer before the holidays helps you jump ahead of the competition, whether it's a discount code on a future purchase, same-day delivery, or 2x loyalty program rewards.
An attractive benefit for holiday gift shoppers is free gift wrapping and Charlotte Tilbury is one of the few brands that leverage this incentive:

Charlotte Tilbury cleverly mentions free gift wrapping in its subject line, as well as in the email itself after they promote gift options: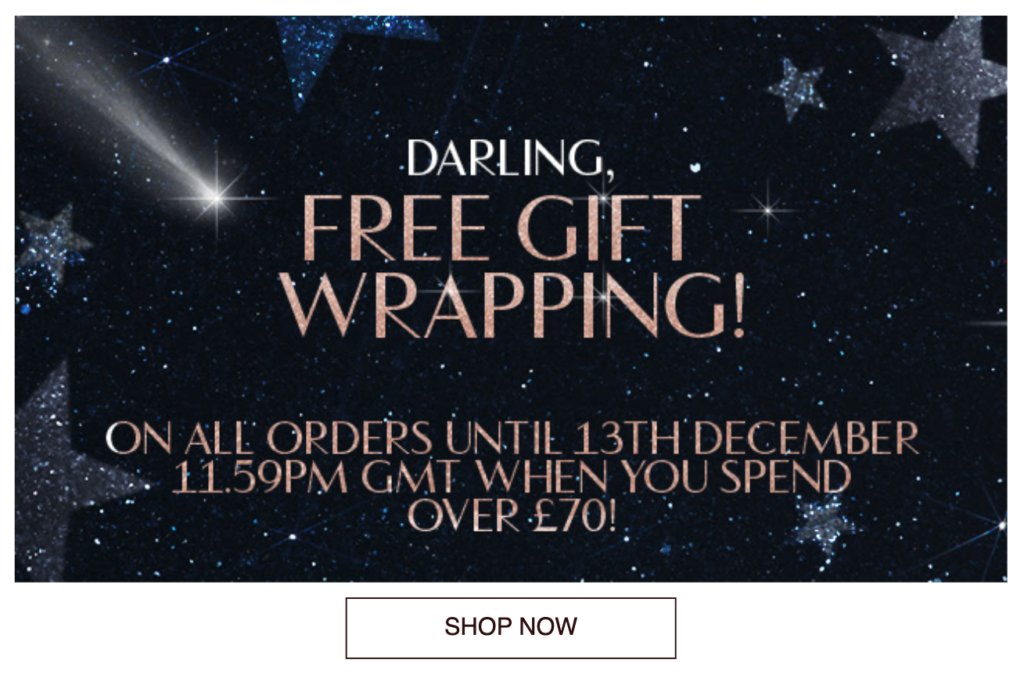 When you open the email, you find out that free gift wrapping is available for others over £70. This way, the company uses this additional benefit to take you to a higher price point.
Framebridge takes a similar approach in its holiday email, where they promote its personalized gifts: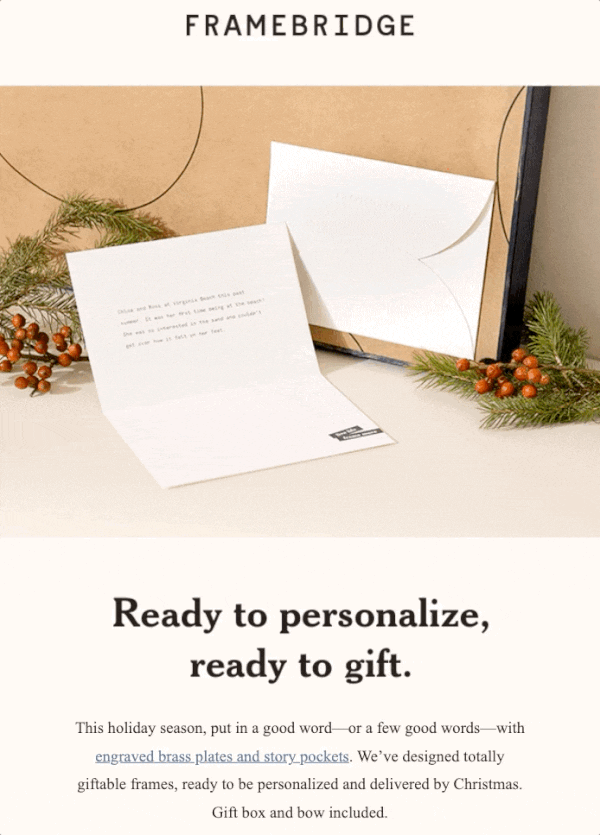 After explaining why you should buy a personalized gift for your loved ones, Framebridge adds: Gift box and bow included.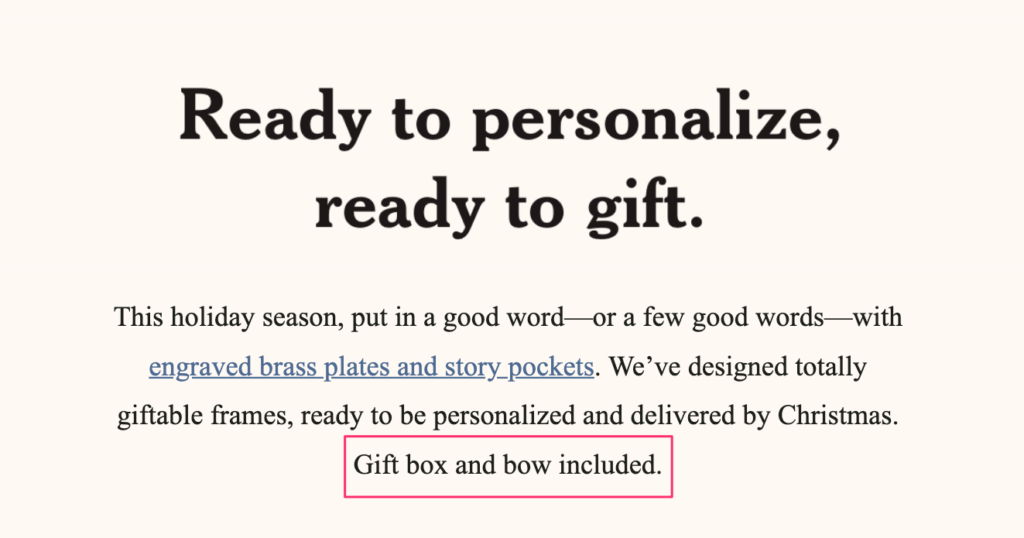 It's a small addition that can be highly persuasive on prospects looking for items ready-to-gift without much effort.
7. Catch Last-Minute Shoppers
If you only have time to apply one of these holiday marketing strategies to your brand, I'd say, go with this one. Because with this strategy, you can keep attracting new customers on autopilot—even during Christmas.
That is the good old trick of catching last-minute shoppers with digital products, such as gift cards, virtual gifts, or giftable online items.
The key to turning procrastinators into buyers is to put their minds at ease rather than stress them out even more. And that's exactly what Frank and Oak does with this subject line:

"Just when you thought it was too late," Frank and Oak comes to the rescue with this email:
In it, Frank and Oak plays with the cliché of giving gift cards and invites you to play it safe. And the company adds: it's the perfect last-minute gift that should make your loved ones happy every month.
Function of Beauty follows the same path, but with a more direct subject line:

Speaking directly to last-minute shoppers, Function of Beauty sends this holiday email with great design: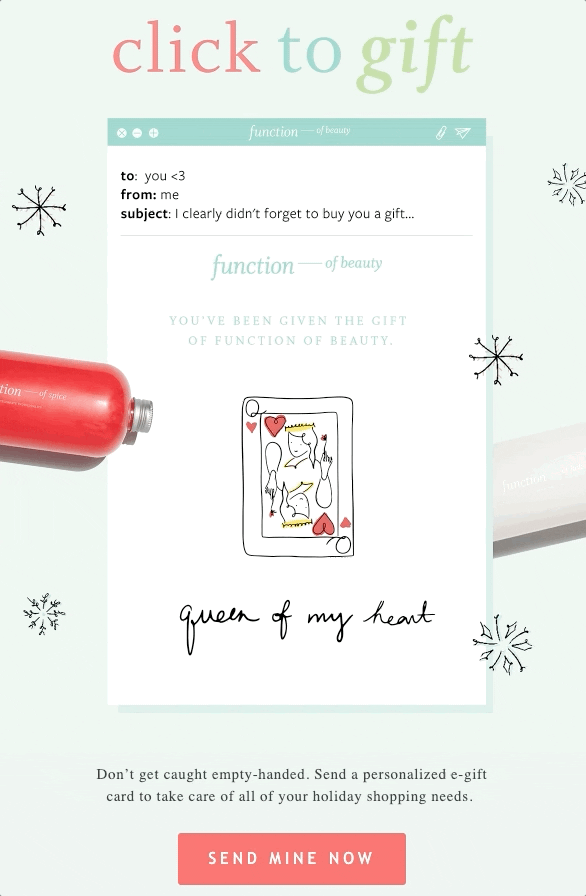 Written in Function of Beauty's humorous style, this email adds a fun twist to the conventionally boring act of buying gift cards. After all, it's better than getting caught "empty-handed," and you can personalize your e-gift card to make it less generic.
Conclusion
These were seven of my favorite holiday marketing strategies and how you can apply them to your brand this holiday season and beyond.
Whether you're looking for a last-minute boost to your holiday campaigns or already started thinking about next year, take inspiration from these brands that nail holiday marketing year after year.
Happy holidays from the Drip family! 💜