"Popups are ugly, intrusive, and useless." If you hear someone say this, it only means one thing: they're using popups the wrong way.
When used right, popups help you reach different conversion goals—whether you're an e-commerce giant aiming for better customer loyalty or a SaaS start-up looking to increase free trials.
By creating one unique popup for each conversion goal, you can build, grow, and scale your business without spending a fortune on customer acquisition or, worse, annoying your visitors to the point where they don't return to your site again.
To help you with that, I'll take each of these goals, introduce two proven ideas to achieve them, and show how you can use popups to grow your business—whether you're running an e-commerce site, a SaaS business, or a B2B company.
Use your own popup builder to apply these ideas while you're reading. If you're not using one already, start a free trial account, and play along with me.
Table of Contents
Goal 1: Collect Email Addresses
If you're like most marketers, you're likely spending time and resources trying to drive traffic to your site. However, you also know that most of your traffic won't translate into sales right away.
That's where email popups come in.
With a persuasive email popup, you can turn first-time visitors into subscribers, and convince them to buy from you through email marketing.
Here are two proven methods you can use for that goal, regardless of industry.
1. Run a Giveaway
Giveaways are among marketers' favorite tools for a good reason. They help you collect leads interested in your products and services (given that your prize is relevant to your brand.)
What's more, giveaways are popular because they're proven, cost-effective ways of collecting emails on your site in no time.
Giveaways with attractive prizes give first-time visitors a compelling reason to submit their email address without breaking the bank for you. Plus, they work for every business type and industry.
Say, you're an e-commerce manager, wanting to grow your email list. You could host an on-site giveaway, promising a top-selling product or a gift card to be redeemed on your store, and promote it with a popup.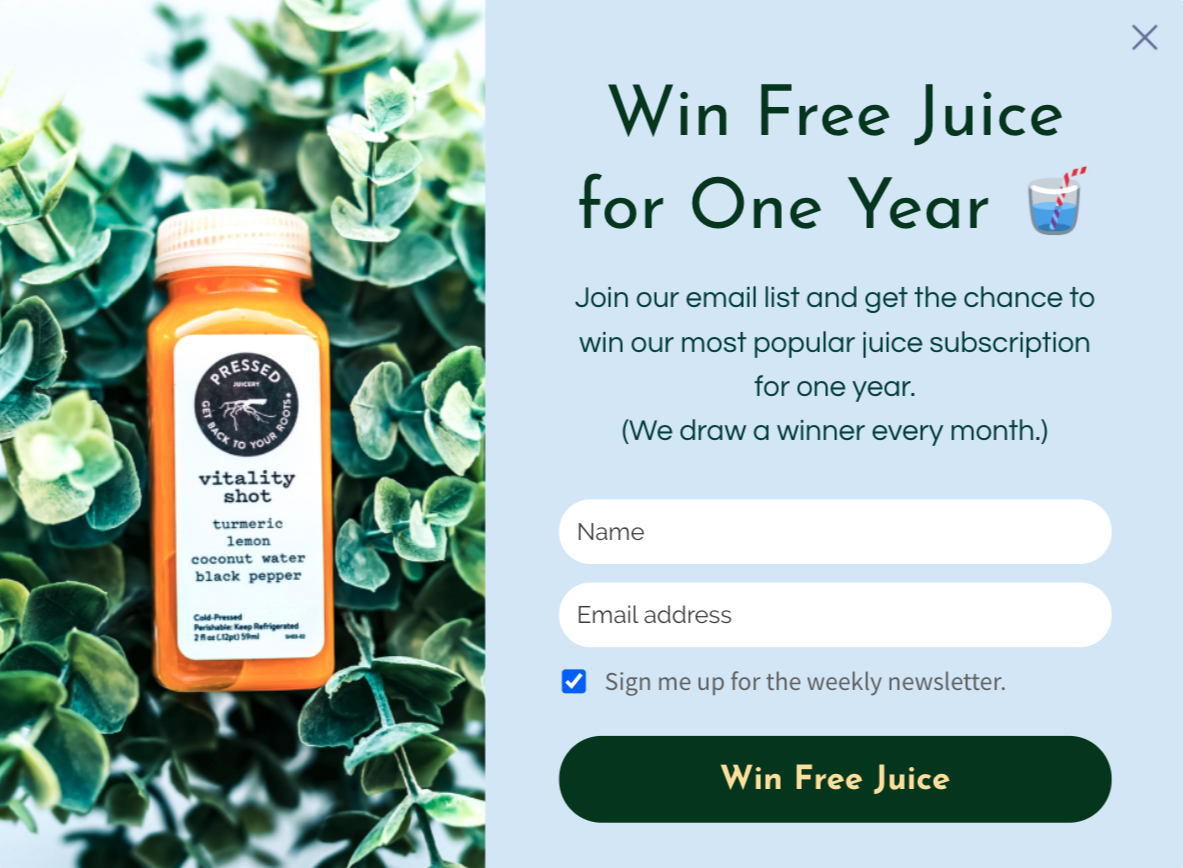 NEW
Like what you see? Load this high-converting template in our editor and customize it to the look and feel of your business.
Try it out
If you're a SaaS marketer, on the other hand, you could offer the winner a free license for one year or a 2-hour workshop, free of charge.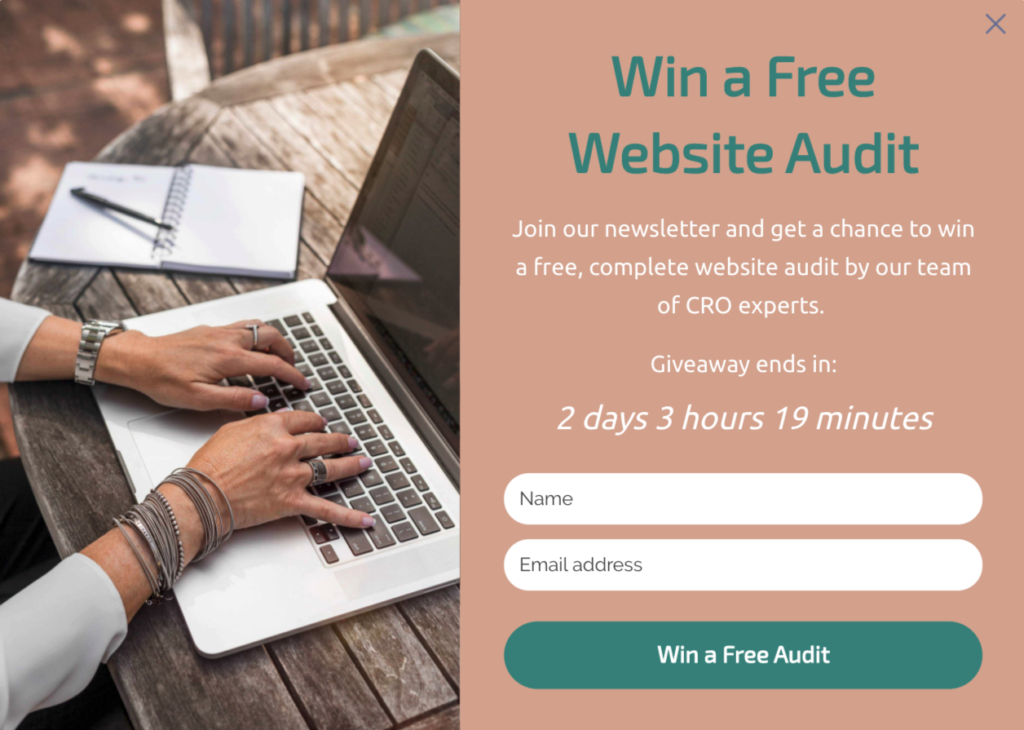 Make sure to write clearly when your giveaway ends, and remember to get consent if you're adding participants to your newsletter.
Pro Tip:
Nobody wants to be disturbed the moment they land on a website. Using a timed trigger, you can set your popup to show after a visitor spends eight seconds on your site. (Hint: our data suggests that eight is the magical number.)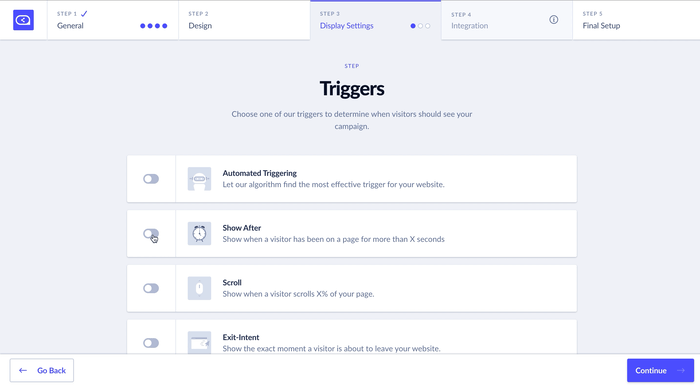 2. Offer a Lead Magnet
One trap many marketers fall into is welcoming new visitors with an overly salesy popup. Keep in mind that at this stage, the visitor likely doesn't know or even care about you. That's why they immediately reach for the close button, or worse, leave your website.
In this stage of the buyer's journey, prospects have a problem in mind, and they're looking for a solution online, be it the prettiest summer dress or the most user-friendly email service provider.
Using a valuable lead magnet, you can offer your new visitors the answer as a free resource. Lead magnets not only show your expertise in the area, but they also open up opportunities for incorporating product marketing into your resources.
In e-commerce, lead magnets can come in any form: a free guide on skincare, a PDF file packed with decoration tips, a short blog post on how to wear transitional jackets. Here's an example: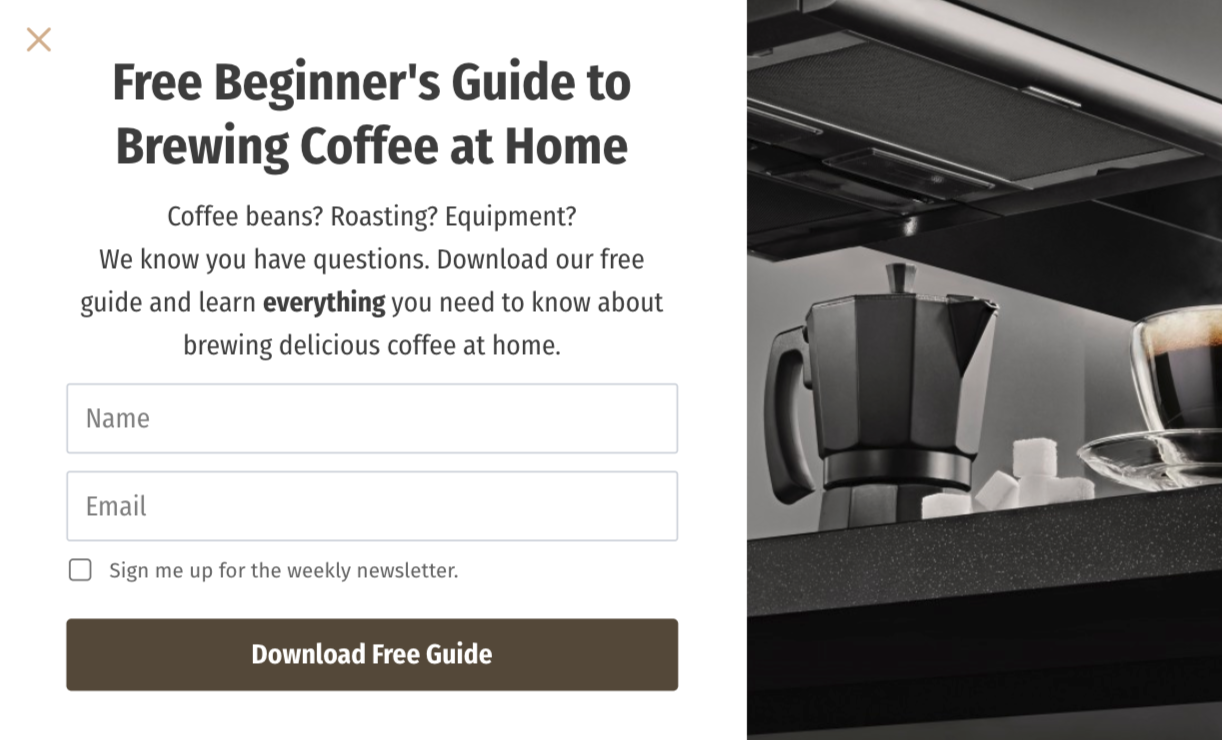 NEW
Like what you see? Load this high-converting template in our editor and customize it to the look and feel of your business.
Try it out
For SaaS or B2B companies, whitepapers, eBooks, free guides, and email courses work like a charm. Take this example from our website: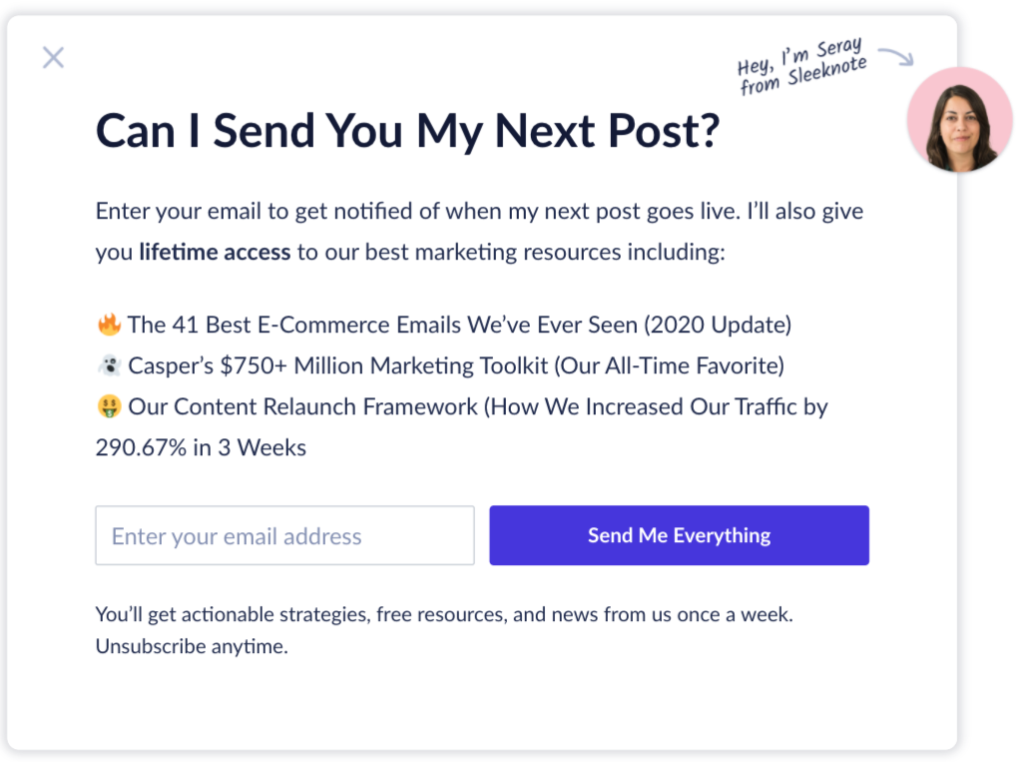 The bottom line is, you don't necessarily need a blog or YouTube channel to create relevant content around the problems your brand is solving. Make sure to stay helpful to your prospects, whether or not they buy from you, and present it with a well-designed email popup.
Pro Tip:
Whichever strategy you choose, remember to hide your email popup from existing subscribers. Otherwise, you'll annoy them by asking the same question over and over again. (One that they've already said yes to.)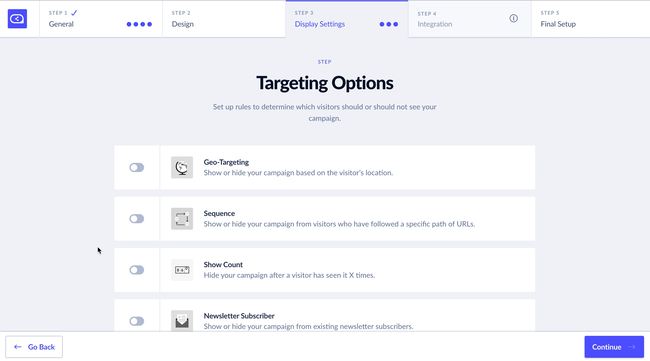 Goal 2: Guide Visitors to Better Buying Decisions
It's a struggle familiar to all online businesses: You want to assist your website visitors the best way possible, but you also know it's tough recreating the face-to-face experience. For that purpose, you might a live chat box to your site, then a "contact us" plugin, and a survey extension on top.
The problem is, while trying to help your visitors, you often end up overwhelming them with too many messages, coupled with bad timing.
Here are two smarter ways to guide your visitors to better buying decisions by showing them the popups they need, at the perfect time.
3. Offer Help When Needed
Whether you're running an online store or a B2B business, you should give your visitors a helping hand, especially if your products are complicated or have a longer buying cycle.
When you offer prospects help and act as their personalized shopping assistant, you improve the user experience and increase visitors' likelihood of purchasing your products or services.
In e-commerce, a helpful popup is typically a size guide, relevant product recommendations, or contact information.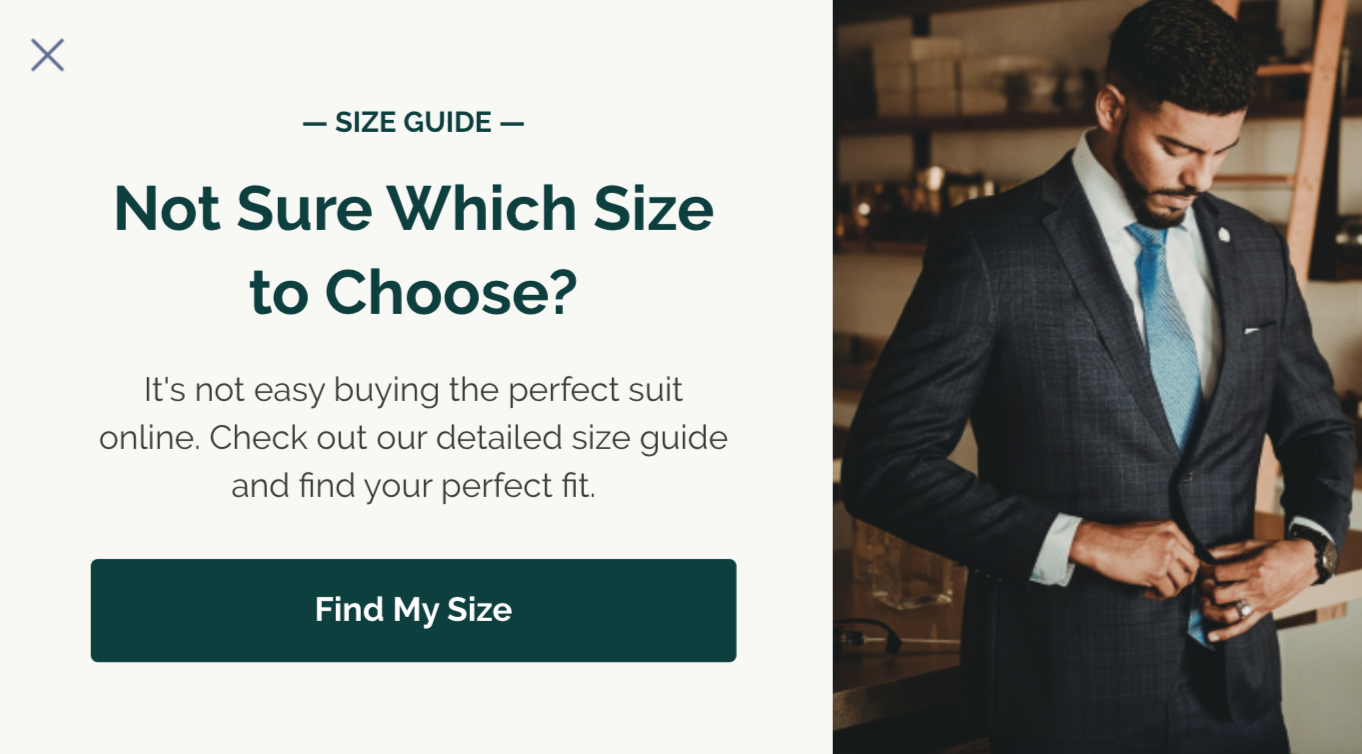 NEW
Like what you see? Load this high-converting template in our editor and customize it to the look and feel of your business.
Try it out
For SaaS companies, popups that send visitors to relevant Help Center articles, in-depth resources, or contact forms help new visitors find their way around your site.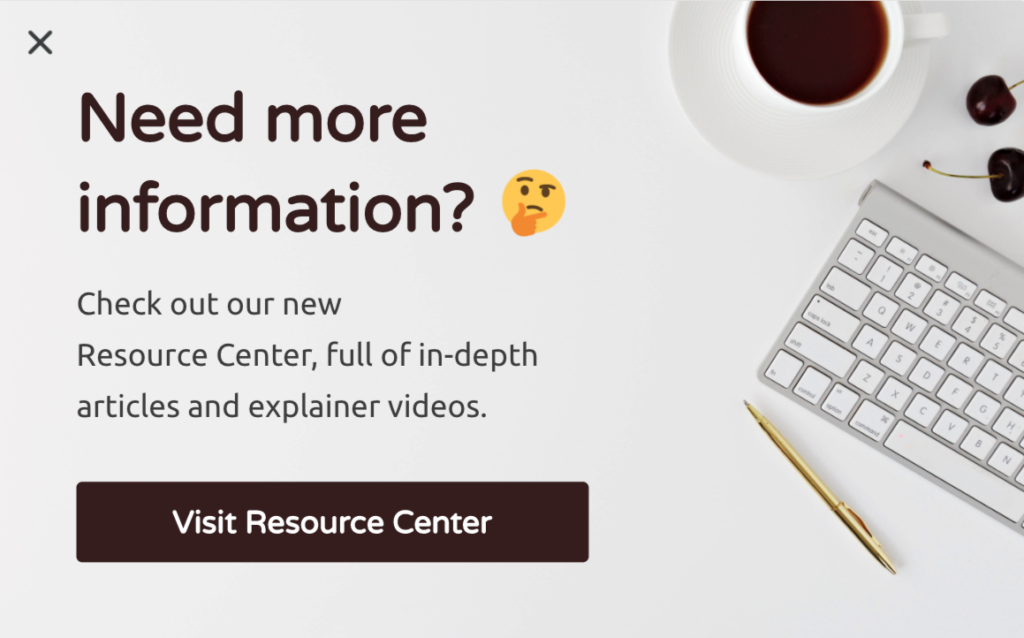 Regardless of your business type or method of preference, make sure that your popup shows only to visitors that need help.
For example, you can show it when a visitor spends a long time on your pages, views your FAQ articles and returns to a product page, or visits a certain number of pages in one session. Show your popups at these times, and you'll be helpful without hurting the user experience.
Pro Tip:
If you want to show your popup after a visitor has seen, for example, three pages on your site, you can set up a targeting option that works only when the visitor fulfills this condition.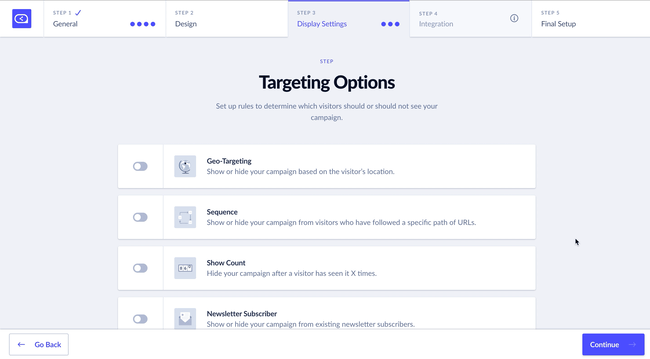 4. Welcome and Wow Returning Visitors
While first-time visitors need educating, guiding, and nurturing, your returning visitors expect you to recognize and welcome them the right way.
Since returning visitors or subscribers are at a different stage of your sales funnel, you can't show them a generic popup that applies to other visitor segments.
Therefore, the big idea is to welcome returning visitors with exclusive copy and convert them into customers with a compelling incentive.
In e-commerce, such an incentive can be a discount code exclusive to subscribers…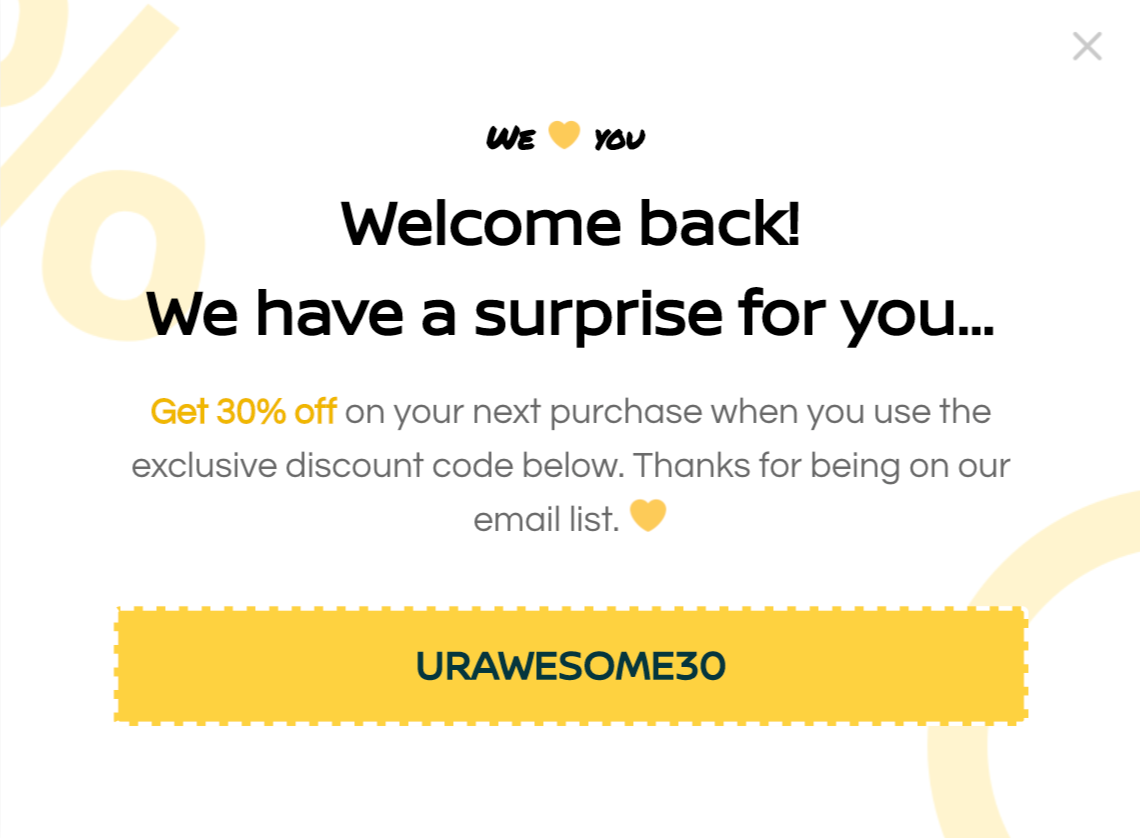 NEW
Like what you see? Load this high-converting template in our editor and customize it to the look and feel of your business.
Try it out
…while for a SaaS company, the focus could be to upgrade free trials to paying customers with a special offer: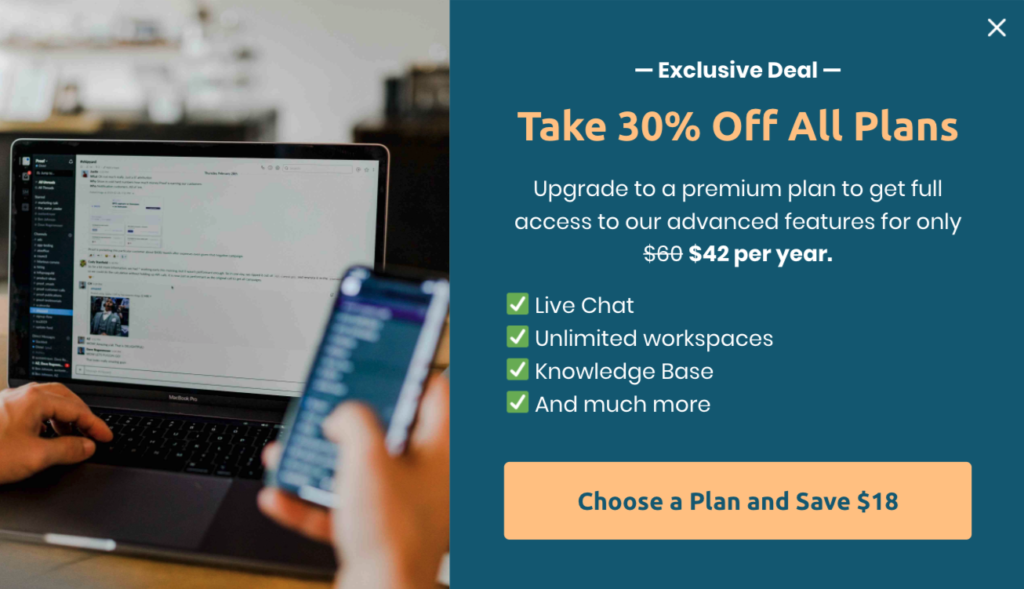 Whatever segment you want to target (existing subscribers, logged-in customers, or all returning visitors,) set your popup to show only to those visitors, and remember to highlight exclusivity in your popup copy.
Pro Tip:
If you want your popup to show to only returning subscribers, add an identifier to the end of your newsletter URLs, and then, turn on the "Newsletter Subscriber" condition.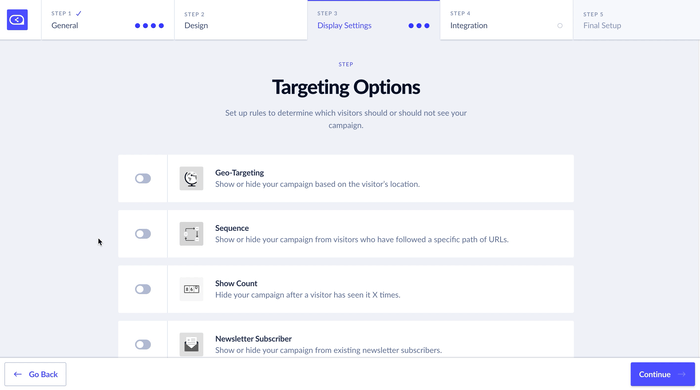 Goal 3: Increase Your Sales
Whether in the form of software subscriptions, consultancy hours, or physical goods, your end goal with using popups is likely to sell more of your products and services.
Many marketers, however, struggle with creating promotional popups that don't sound too salesy or annoy their visitors.
That's why I've chosen two effective ways of using popups to increase your sales without disturbing your visitors or hurting your conversions.
5. Offer Limited-Time Deals
The first big idea here is to offer visitors special deals, be it discounts, free shipping, or product bundles, but only for a limited time.
By using limited-time offers in your popups, you can highlight the scarcity of the offer, and therefore, drive urgency to your sales.
This way, you can make prospects take action more quickly and increase your sales without hurting profits by, for example, discounting for a long time.
If you're an e-commerce marketer, you can create a free shipping code that works for the weekend only and drive urgency in your popup, like this: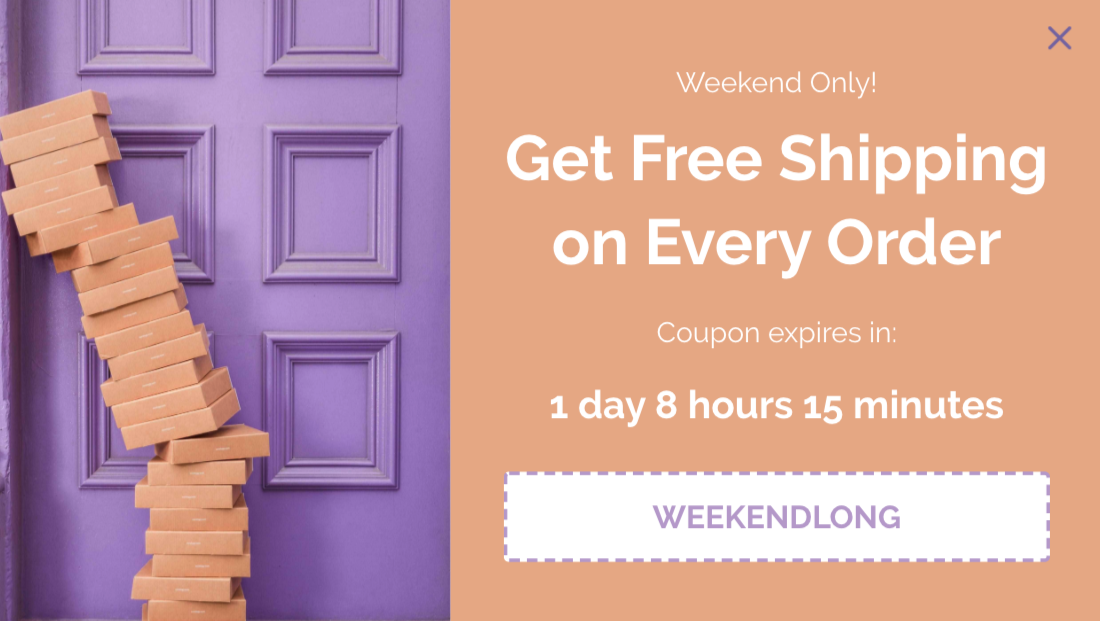 NEW
Like what you see? Load this high-converting template in our editor and customize it to the look and feel of your business.
Try it out
A SaaS or B2B company, on the other hand, can offer a small discount on all its plans for Black Friday only.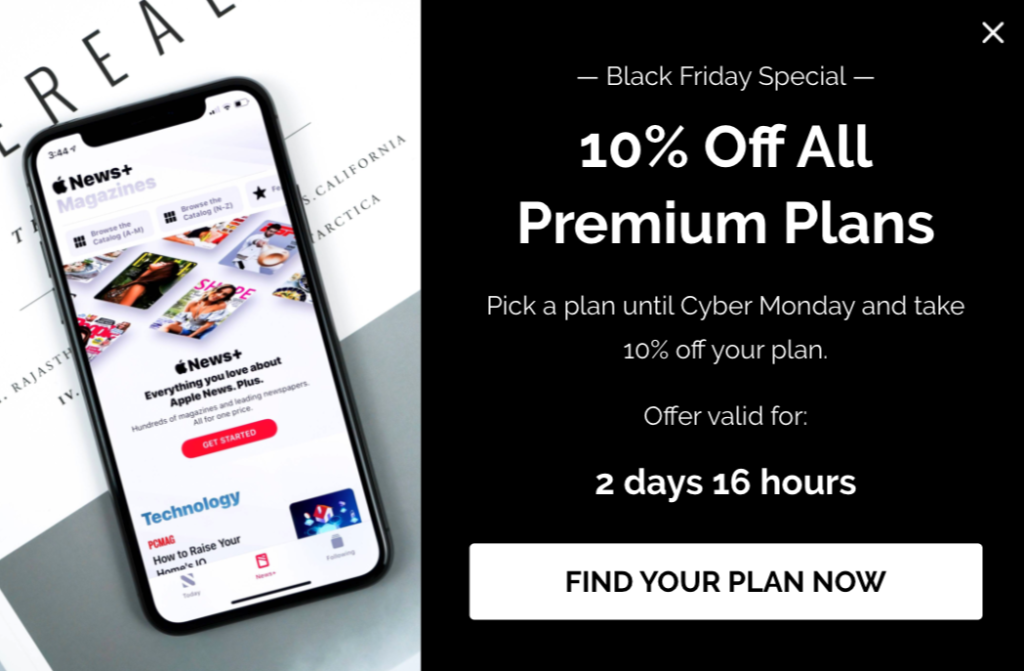 Make sure to clearly write why and how your offer is bound by time and use persuasion triggers in moderation. (In other words, don't overwhelm the visitor with too many urgency factors.)
Pro Tip:
Use a countdown timer in your popup to add scarcity to your offer and nudge visitors to buy from you.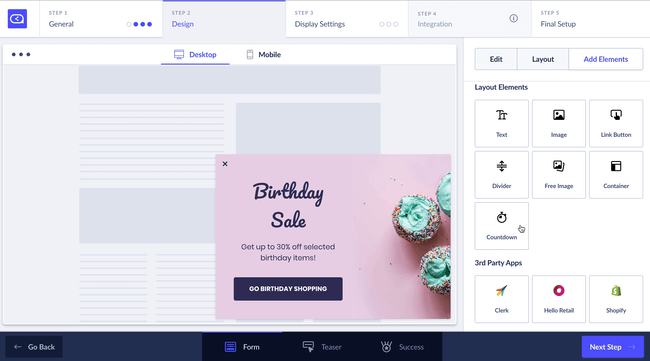 6. Upsell and Cross-Sell
Upselling, cross-selling, foot-in-the-door, commitment and consistency… All terms aside, you likely know this principle: ask your visitors to make a bigger commitment once they made the first one.
Be it adding another item to their basket or upgrading to a larger plan, customers will more likely say yes to your second request, but only if you ask them at the right time, in the right way.
By guiding visitors to different options with product recommendation popups, for example, you can help them find what they're looking for, and increase their average order value at the same time.
Here's an e-commerce popup example you can copy for that goal: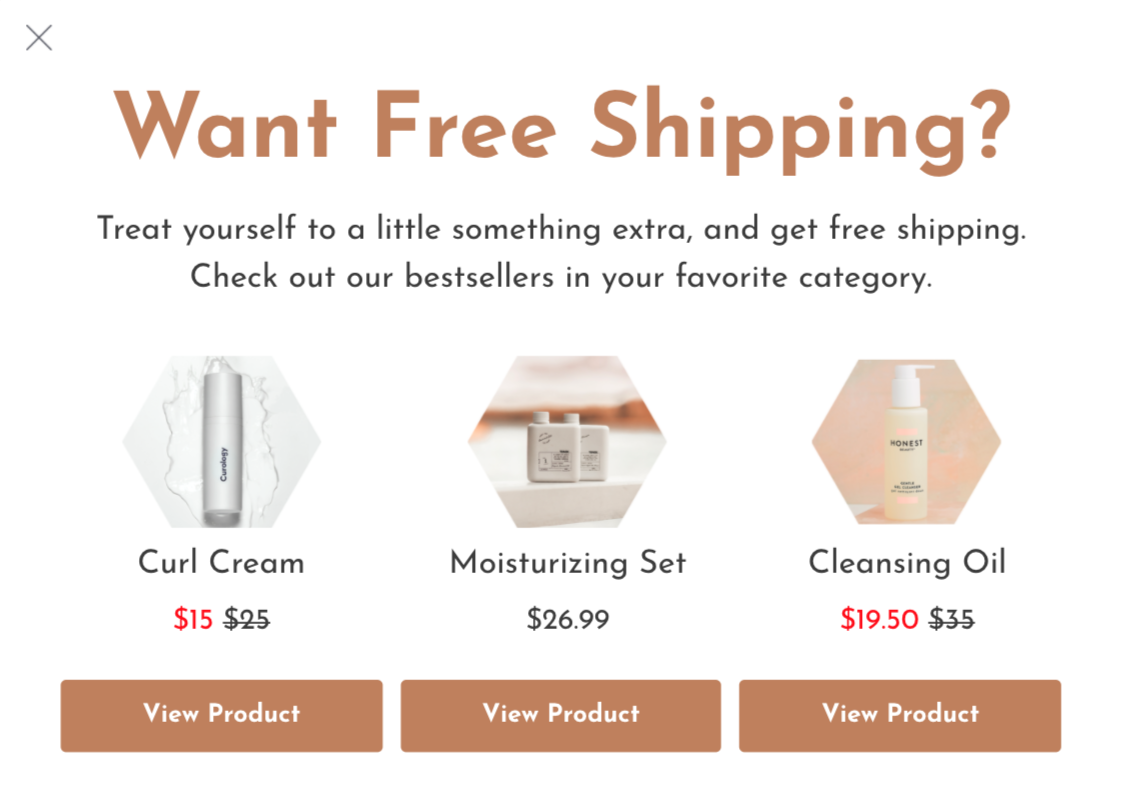 NEW
Like what you see? Load this high-converting template in our editor and customize it to the look and feel of your business.
Try it out
If you're a SaaS marketer, your goal can be to upgrade free accounts to paying customers, and the perfect moment to nudge them with a popup is when they log in to their account: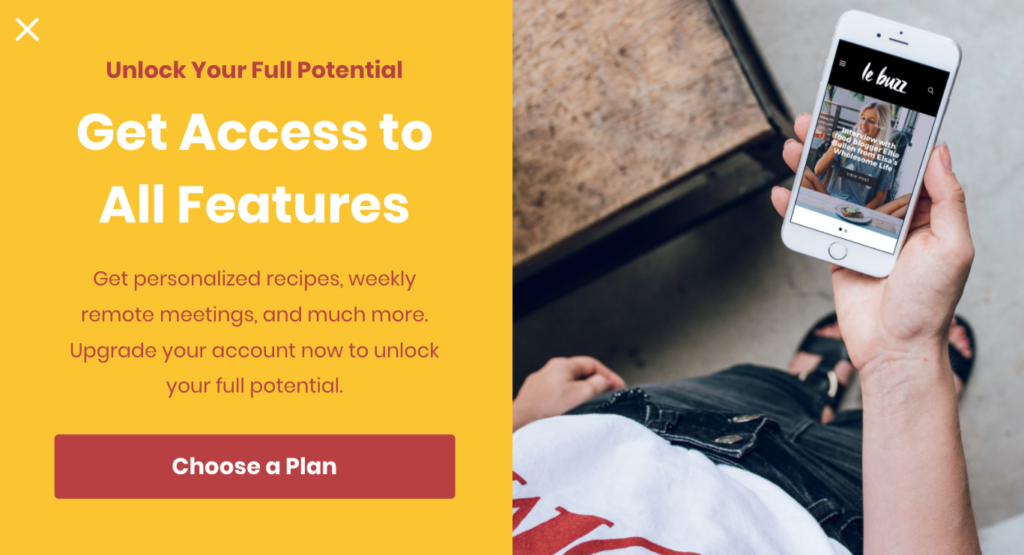 The key is to find the perfect time to show your upsell and cross-sell popups in both cases. And my suggestion is to detect the moment they take a certain action (adding an item to the basket, viewing 50 percent of a video, or logging in) and show a targeted popup after that.
Pro Tip:
With our SiteData condition, you can show each visitor a personalized popup based on their cart items, basket value, search queries, login status, and much more. Simply put, if you're collecting the visitor data, we can use it to show a popup. (Read more about SiteData here.)
Goal 4: Connect With Visitors
Whether they're first-time visitors, potential prospects, or brand loyalists, you know that you need to stay in touch with your visitors.
This doesn't only mean that you should regularly ask for feedback and learn about potential areas for improvement. It also means that you need to be there when visitors have a question or concern in mind.
Next are two ways to connect with your visitors through popups without distracting them from your website.
7. Invite Prospects to Contact You
When used right, a contact popup can act as an attentive salesperson who answers visitors' questions and helps them pick the right products.
That's why you should, at all times, make it clear on your site how and where visitors can contact you. But, the problem with this approach is that not all businesses offer 24/7 customer service.
When you ask visitors to call you on a number when your support team is already home, you'll only disappoint them, or worse, make them move on to a competitor.
So, the big idea that works for every business type is, create two contact popups that show at different times.
Take this example. During office hours, you can use a popup that invites visitors to call your support team: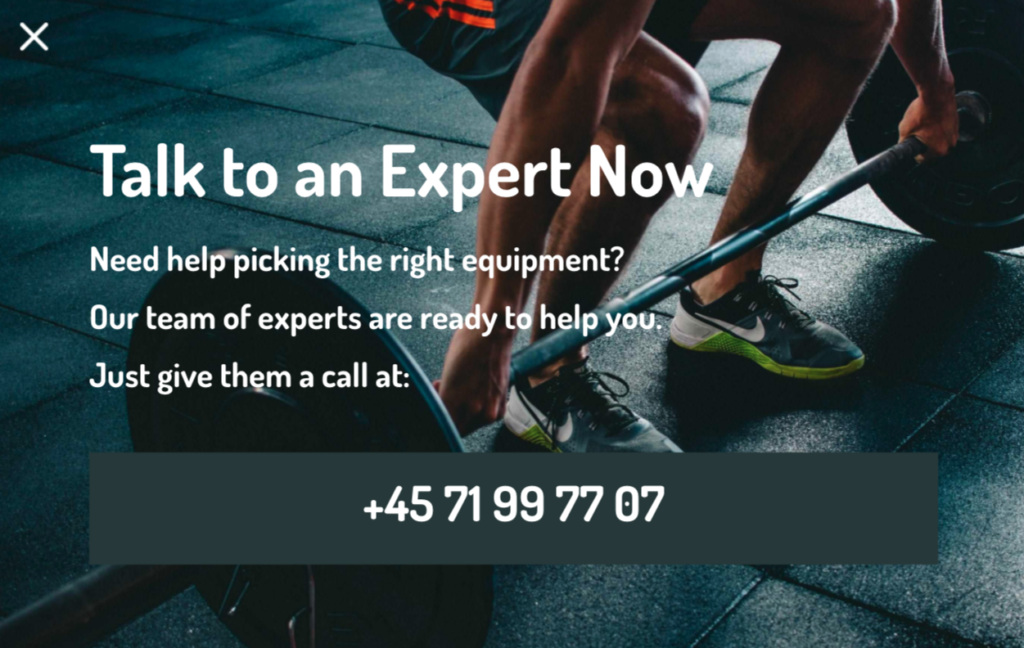 When your support team is out of office (and on weekends,) you can show a popup that collects visitors' questions, instead: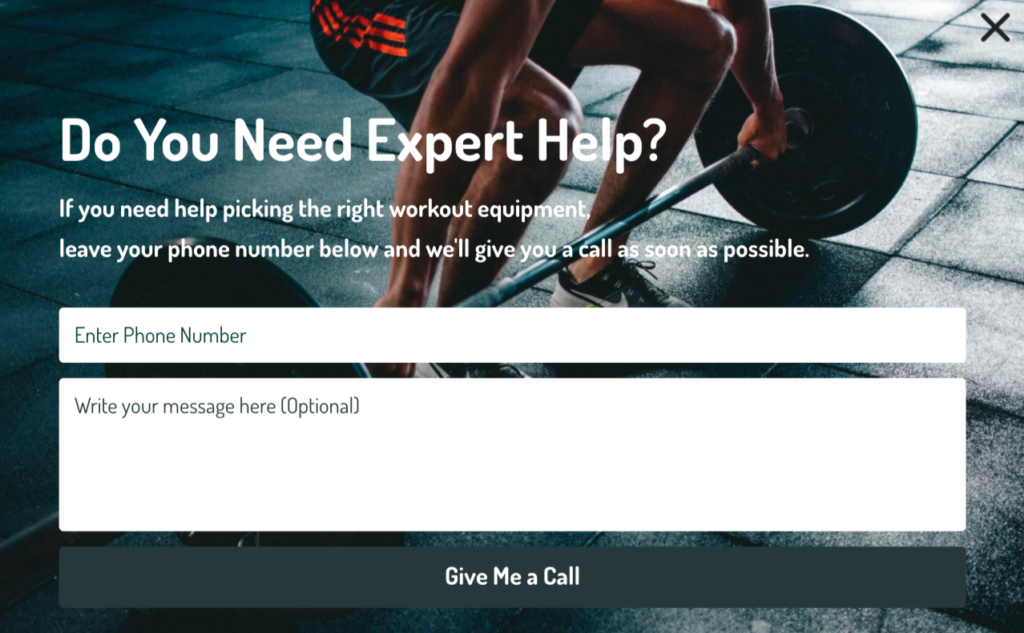 This way, visitors can always know the best way to contact you, and you can remove any obstacles to buying without increasing your customer support costs.
Pro Tip:
Set up a repeating schedule to automatically activate and deactivate your popups ahead of time. (Bonus: send new inquiries automatically to your Support or Sales teams with our Zapier integration.)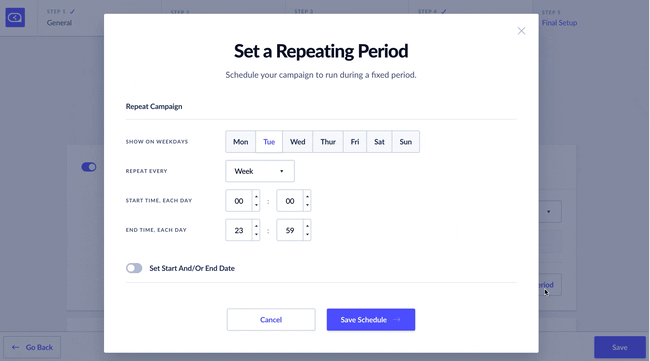 8. Collect Valuable Feedback
You know that it's important to collect insights from your visitors, subscribers, and customers to improve your business. But, if you're like most marketers, you likely struggle with when and whom to ask your questions.
My suggestion is to use popups that show at the right time, and to one segment of visitors (returning subscribers, one-time buyers, and so on.)
Instead of hiding your surveys on your website and expecting people to find it, you can turn it into an ongoing, automated process with timely popups.
If you're running an online store, try asking your questions after customers complete their purchase: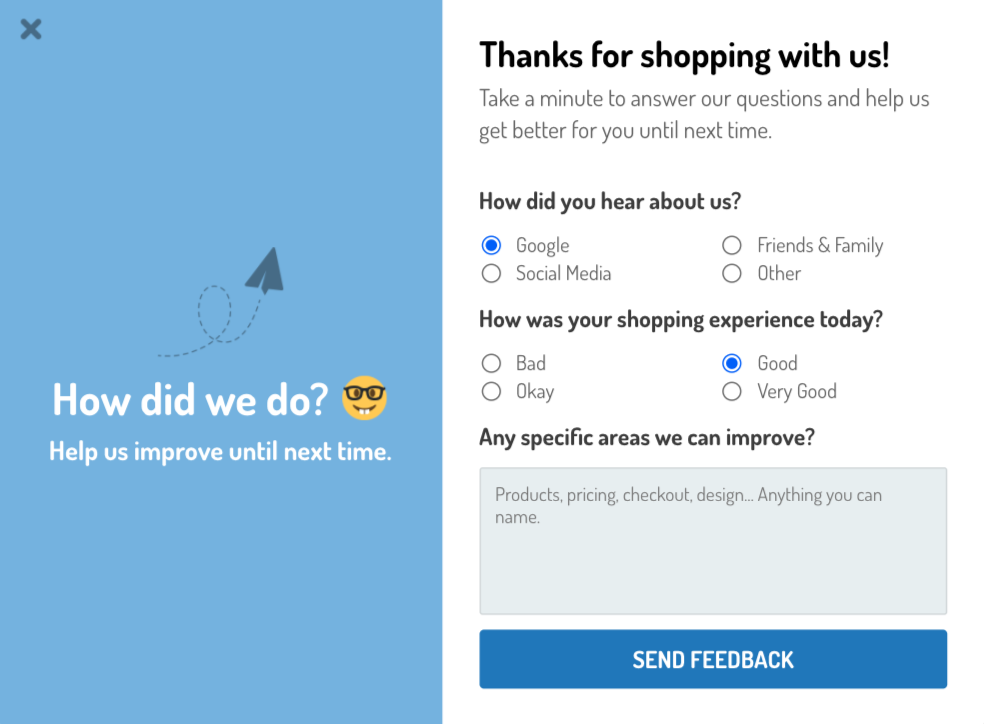 NEW
Like what you see? Load this high-converting template in our editor and customize it to the look and feel of your business.
Try it out
At this point, the customer already knows about you and is likely excited about their recent buy, so they'll be willing to give you valuable feedback that, for example, a first-time visitor can't provide.
SaaS companies, on the other hand, can ask for feedback after a free trial period ends, collect product insights, or understand (and even prevent) churn: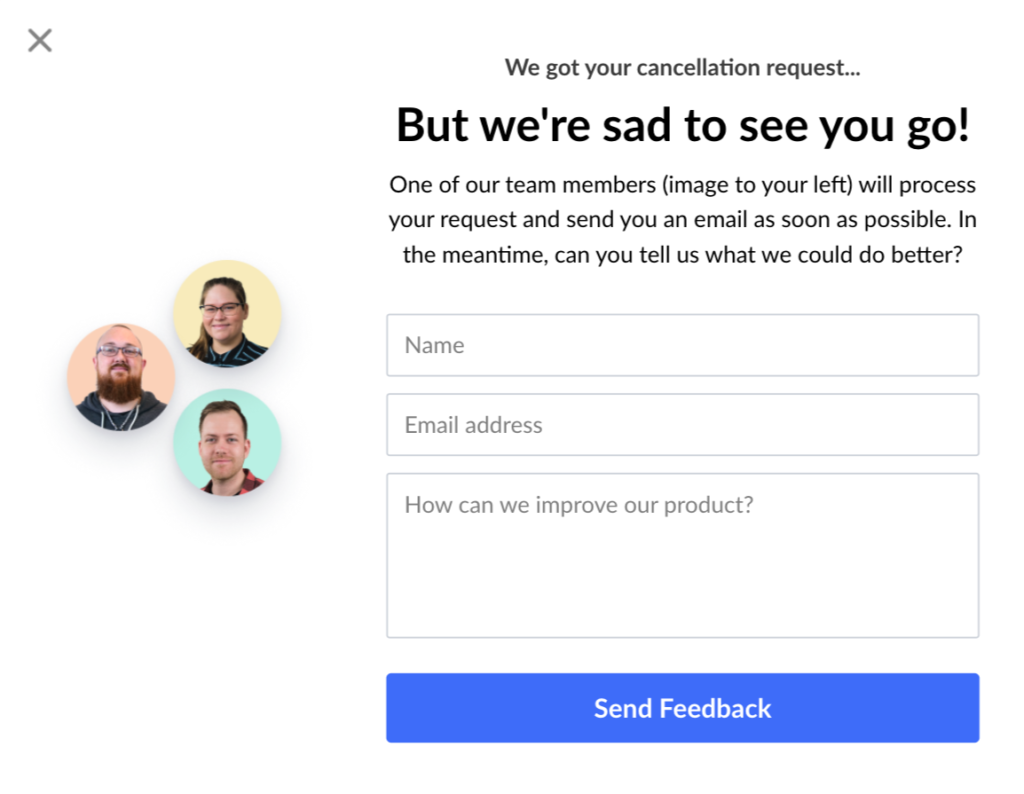 What's more, you can set up an automation to send product insights to your Product team, or pass them on to Sales, so they can follow up with the customer with an irresistible offer.
Conclusion
Regardless of your business type, industry, or company size, there are endless ways to grow your business with targeted popups.
The key is to make one unique, personalized popup for each marketing goal and meet your visitors where they are in their buyer's journey.
If you learn better by doing, start a 7-day free trial, and apply as many or as few of these strategies to your business within minutes.
Remember to share your results with me in the comments below. 🙂