Email open rates are on the decline. According to one report, the average open rate dropped to 22.1 percent in 2019 (a decrease of 8% compared to 2018).
That's the bad news.
The good news is, for nonprofits, open rates are the highest they've ever been at 25.18 percent.
If, then, you're an employee for a nonprofit organization, there are ample opportunities to drive more donations with email.
In this post, I'll share seven nonprofits email examples you can use to ask for donations, directly or otherwise.
7 Nonprofit Email Examples
1. Ask Subscribers to Give Thanks
The International Rescue Committee (IRC) is a nonprofit that helps people whose lives and livelihoods are shattered by conflict and disaster to survive, recover, and regain control of their future.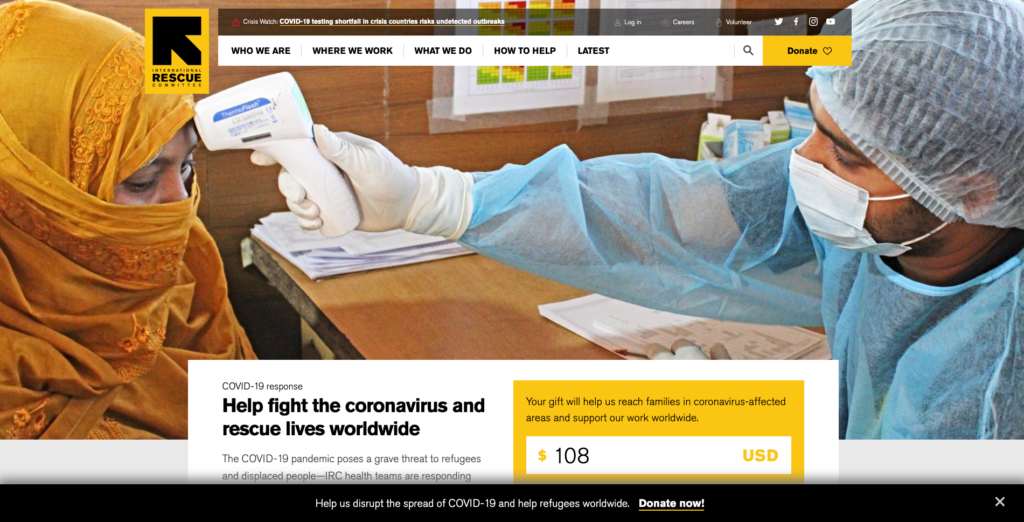 In one recent email, the IRC invited me to thank health workers in Syria by sending a card.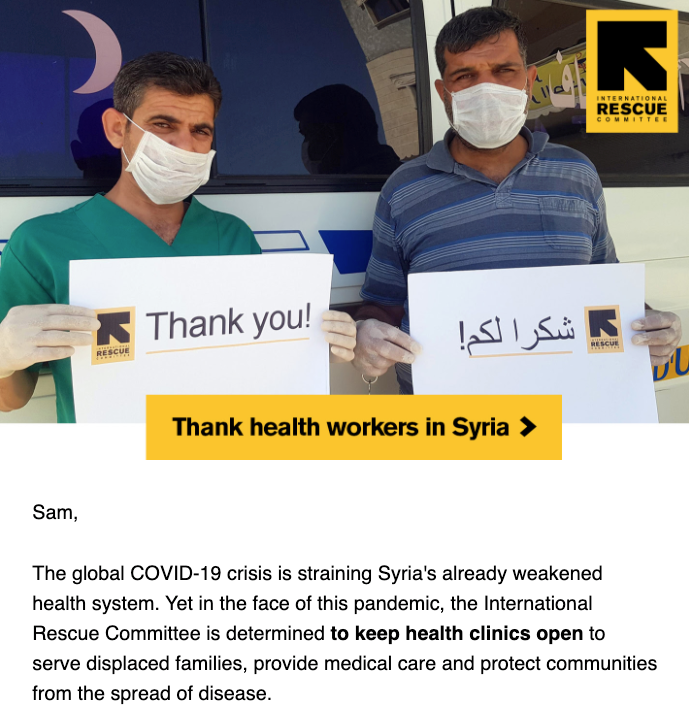 In that email was a call-to-action (CTA) framed in several different ways, such as "Thank health workers in Syria," to "Send a card."

When I clicked "Send a card," the IRC took me to a page on their website where I could add my note of thanks and support.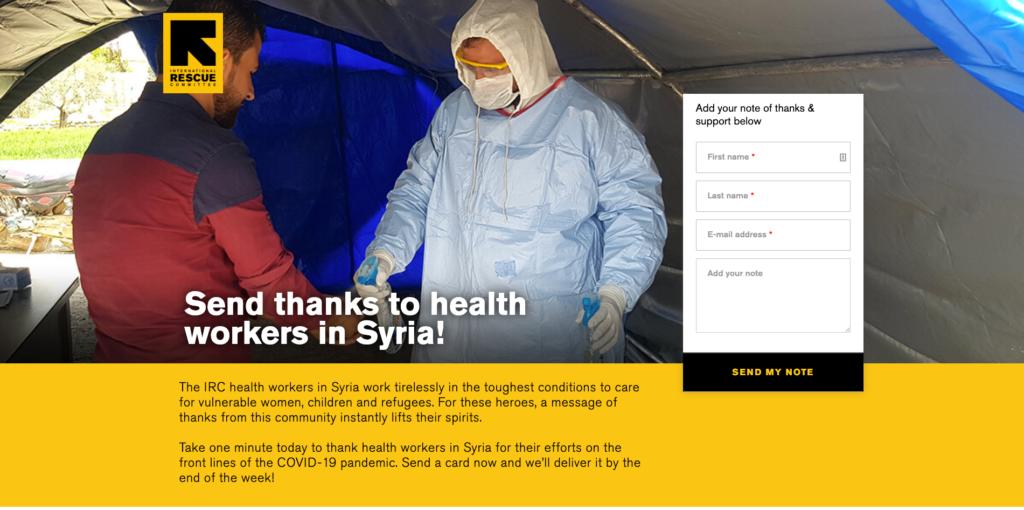 But here's where it gets interesting. After entering my name, email, and note, the nonprofit took me to a second page, where I could give a tax-deductible "gift."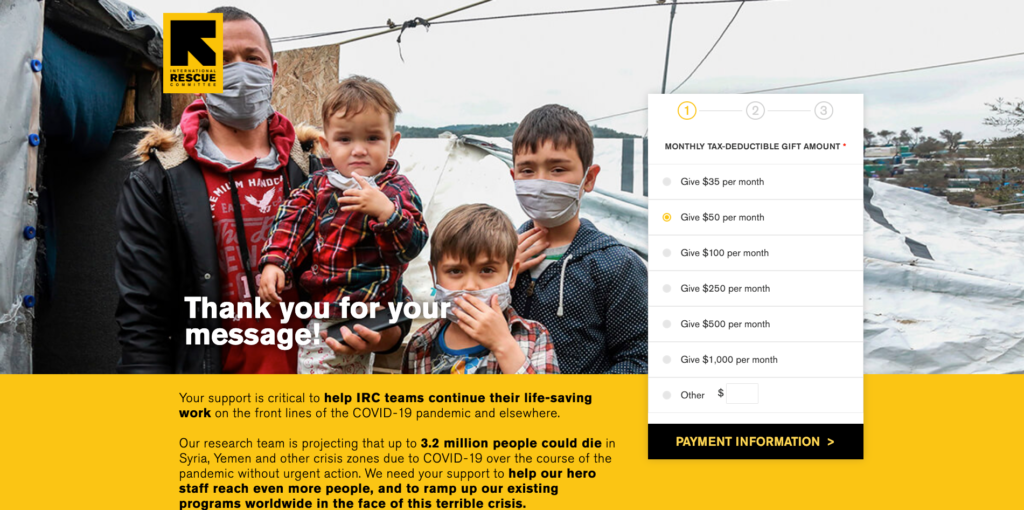 Note the progress bar. This wasn't on the previous page.
While a percentage of visitors are likely to leave at this stage, a decent percentage will still donate. Why? Because the IRC is using the foot-in-the-door technique.
In short, the foot-in-the-door technique is when you get someone to comply with a large request by first asking them to comply with a smaller request.
The IRC first asks you to click through in an email. Then, they invite you to add a note of thanks and support. After, they ask for a donation. There's sunk cost at this stage. You're more likely to give than if the IRC asked outright from the start.
Our research of 10+ billion popup sessions found similar results. When looking at multistep popups, we saw popups with a second step, see a staggering 76 percent of its subscribers input more information.
Bottom line? Ask subscribers to give thanks to a cause related to your organization. Then, invite them to give. A decent percentage will follow through.
2. Offer Gift Matching
If you've read my post on nonprofit popup examples, you'll know that a great way to drive more donations is by offering gift matching. This is when a nonprofit leverages corporate sponsors or philanthropists to "match" a donor's contribution.
The Alzheimer's Association exemplifies gift matching nicely. In one recent email, the nonprofit offered to match donations up to $450,000, but only for a limited time.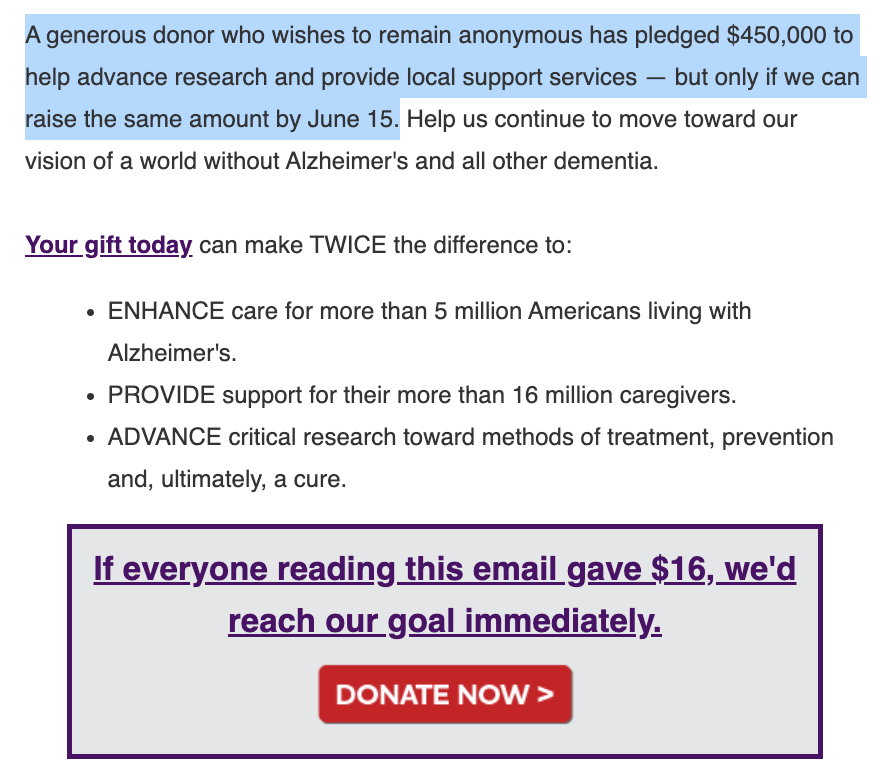 Here, the nonprofit expertly:
Frames the donation as a gift. A donation is about you. A gift, by contrast, is about someone else. The lesson is clear: avoid appealing to the reader's wallet; instead, appeal to their emotions.
Uses bullets to convey where the donation will go. Rather than asking for a donation outright, the Alzheimer's Association prefaces its request by overcoming a common objection: Where does my donation go?
Anchors a suggested donation. This not only nudges potential donors to give more, but it also removes the number of choices they have to make.
If you wanted to build an email like this further, you could create an onsite campaign that targeted visitors coming from that specific campaign.
Let's use the Alzheimer's Association email as an example. If a reader clicked through in the email, the nonprofit took them to a donation page.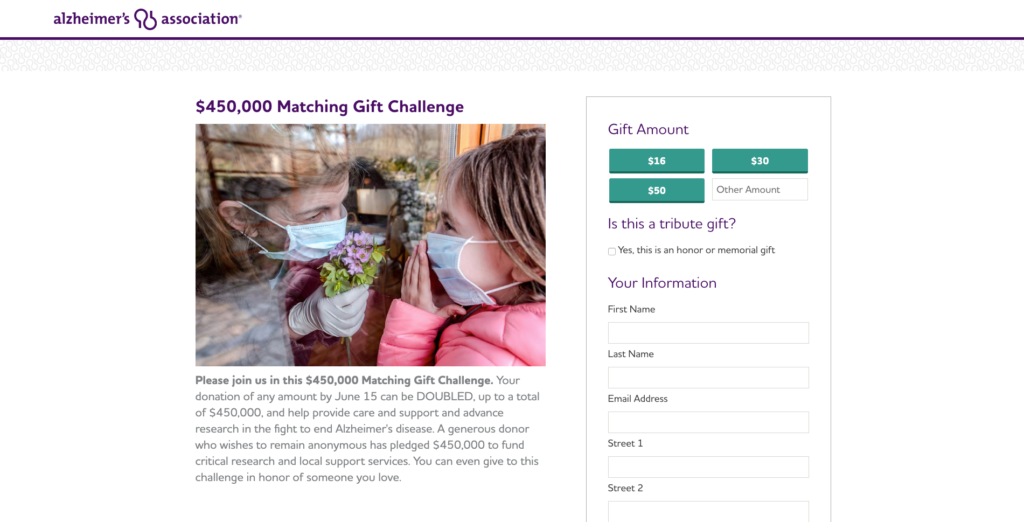 However, there was nothing to prompt them further if they bounced. What the nonprofit could have done was make an exit-intent popup, reiterating the email's message.
Here's an example, courtesy of Seray: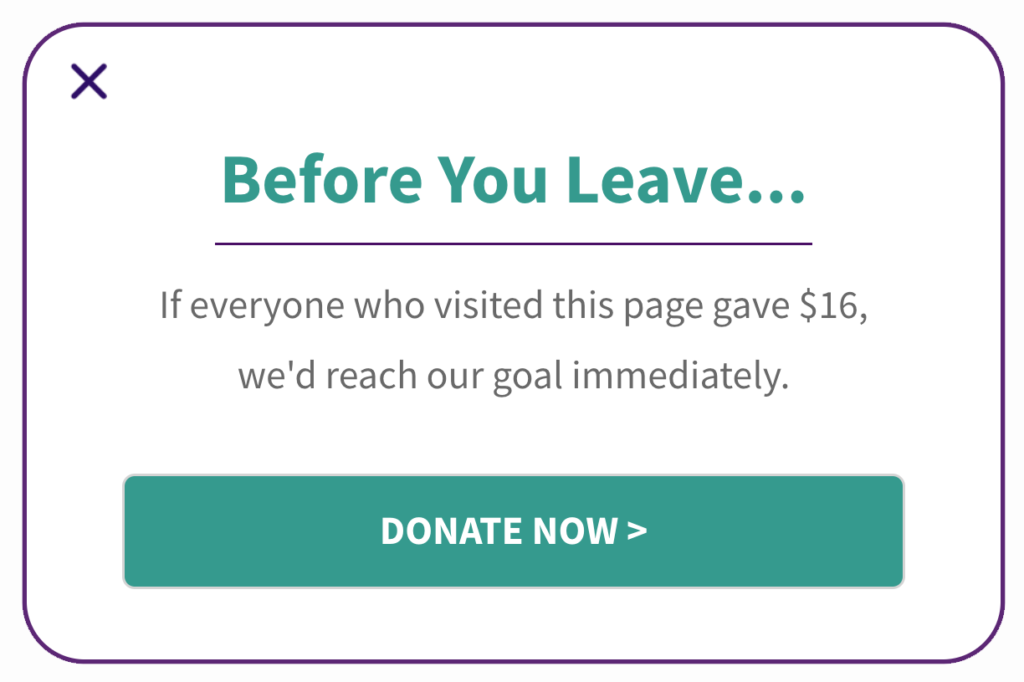 You can't always offer gift matching; that's part of the appeal, of course. But when you can, make sure to go all out and use every tool at your disposal, popup included.
3. Incentivize Donations
Whether it's a free product or even a discount, people love freebies. It makes perfect sense, then, that nonprofits sometimes activate potential donors with gifts.
The Human Rights Campaign (HRC) is one such example.
After signing up for its emails, the nonprofit offered me a free tee-shirt if I donated. The kicker, of course, was that the freebie was available for one day only.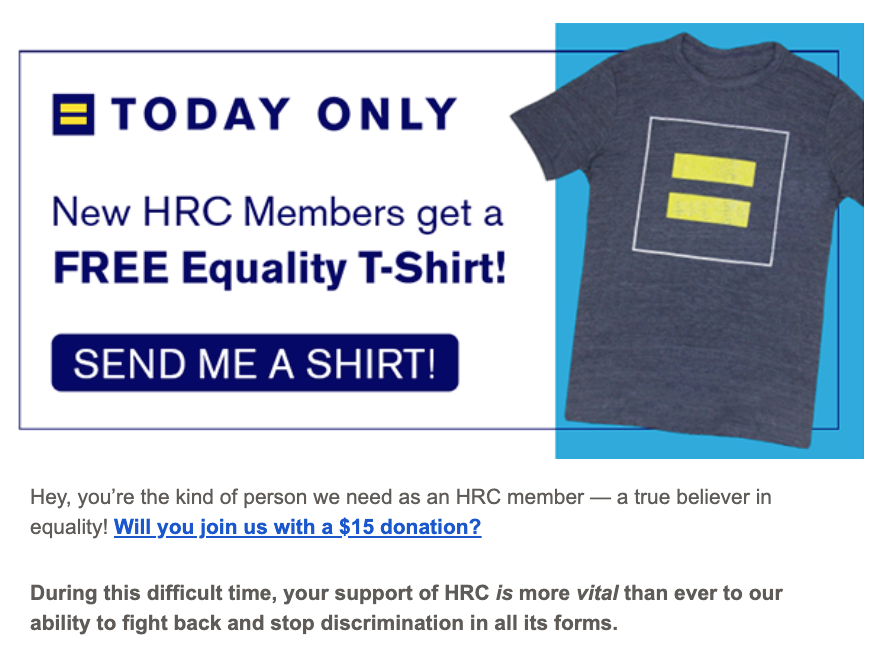 When I clicked the image, I landed on a donations page with a headline that read, "Join by MIDNIGHT," reiterating to the urgency outlined in the email.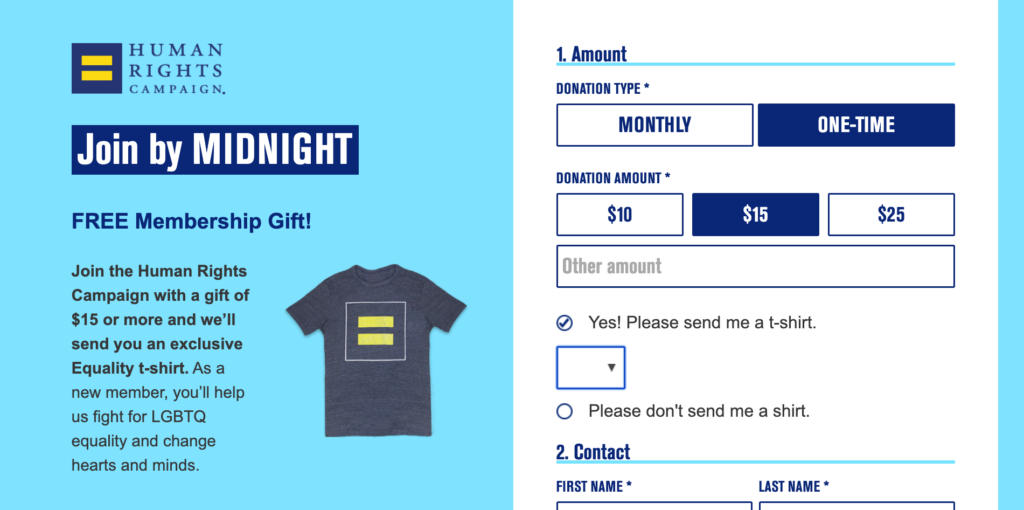 The pièce de résistance, though, was the checkbox at the bottom of the order form, offering to automatically renew my subscription annually at the time of donation.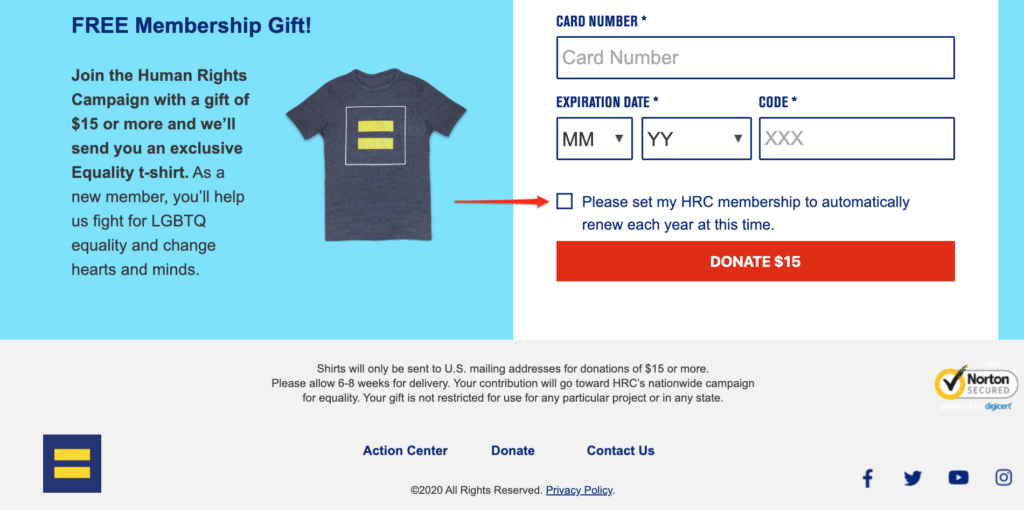 Like the IRC asking subscribers to give thanks and then asking for a donation, incentivizing donations can feel like bait-and-switch if misused.
It's important, then, that, when offering freebies, be sure to mention that the freebie comes with donations above a certain amount. Failing to do so will risk leaving a bad taste in your subscribers' mouth, and even hurt your nonprofit's reputation.
4. Gift on Someone's Behalf
One challenge that befalls many shoppers come holiday season is not knowing what to buy loved ones. But for charities looking to boost seasonal donations, it might be the perfect solution.
The St Baldricks Foundation describes itself as "a charity committed to supporting the most promising research to find cures for childhood cancers and give survivors long and healthy lives."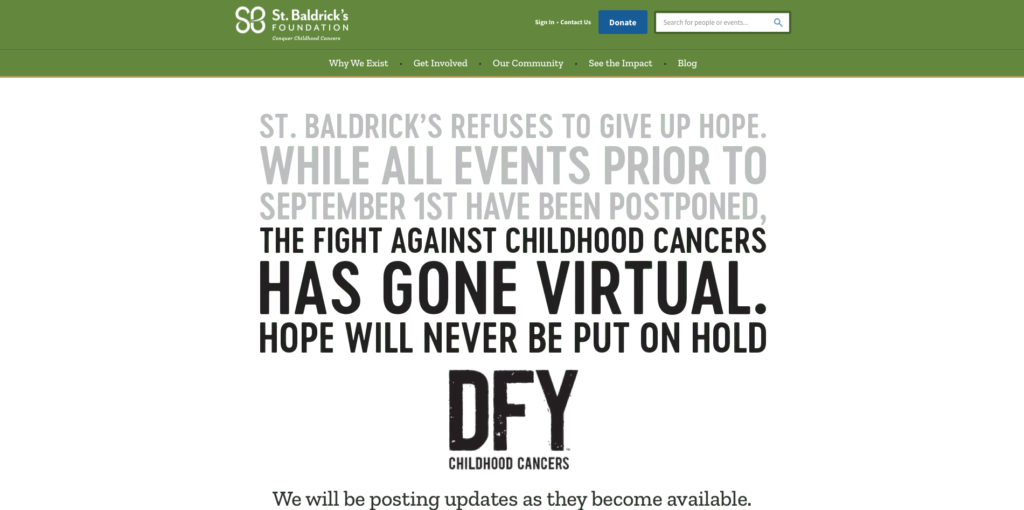 In one recent email, the nonprofit offered subscribers a chance to send a mother's day card hand-drawn by one of the charity's ambassadors, Avery, a cancer survivor.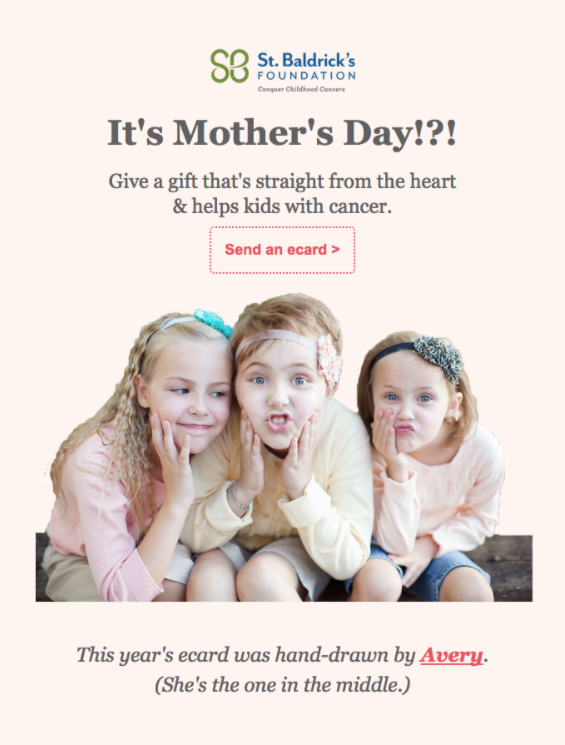 After choosing to "send an ecard," subscribers were taken to a page inviting them to "give the gift of childhood cancer research" by sending an ecard that let their mother know how much they meant to them.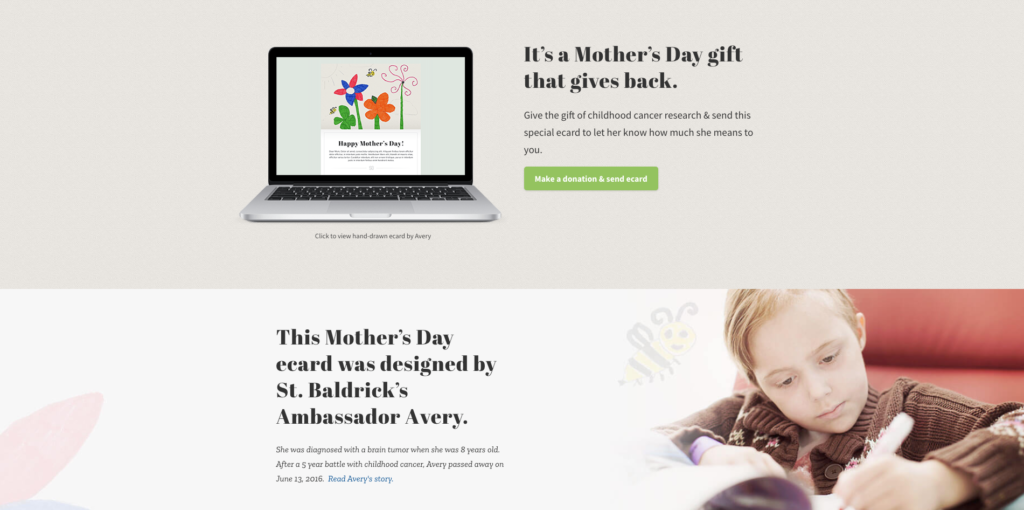 When subscribers clicked the CTA, "Make a donation & send ecard," they were taken to a donation page where they could make a one time or monthly contribution.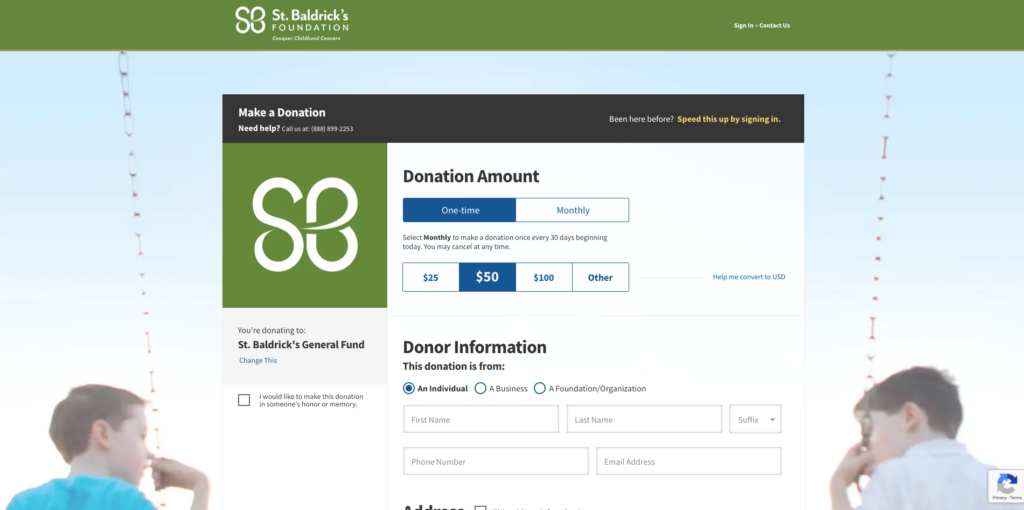 As with giving thanks or gift matching, inviting subscribers to donate on someone's behalf shifts the onus from the subscriber to someone else, and in doing so, makes it easier for the subscriber to donate.
5. Tell a Story
Who are you more likely to give money to? Abdi, a three-year-old starving orphan living, in war-torn Yemen, or a malnourished family living in identical conditions?
If you answered the former, you're not alone. Due to what's known as the identifiable victim effect, we're more likely to donate to a cause with a single, identifiable victim than we are a large group of the same need.
One nonprofit that leverages the identifiable victim effect through expertly told stories is Save the Children, an organization that saves and improves children's lives around the world.
In one recent email, the nonprofit told a story about Waleed, an eight-year-old who suffered partial blindness due to an airstrike. (Note the specificity.)

The email weaves masterful storytelling with hard-hitting realism before inviting the reader to donate to ensure the nonprofit is able to help children like Waleed moving forward.

When I clicked the CTA, the nonprofit took me to, you guessed it, a donations page, where I could make a one time or monthly contribution.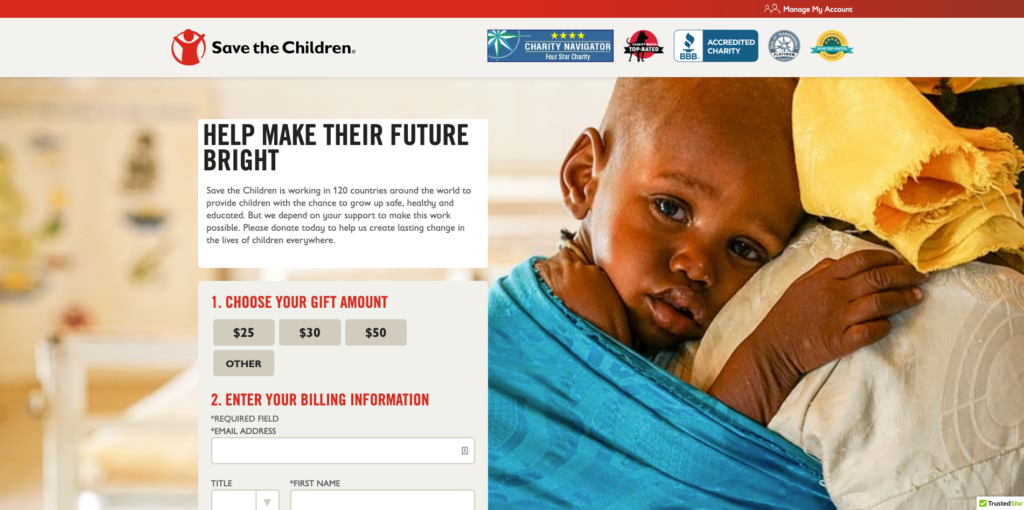 If you wanted to build on this email further, you could create a dedicated landing page and popup (similar to the above example), reiterating the email's message.
I don't think I'm alone when I say it would have been nice to see Waleed, the boy mentioned in the email, on the landing page as a reminder of why I chose to donate, to begin with.
6. Give Donations Context
Unlike other industries, nonprofits have fewer objections they need to overcome or raise to begin with. There is one objection, however, that comes up regardless of size, reputation, or importance:
Where does my donation go?
Donors want to know what percentage of their giving will go to support the mission of the nonprofit, as opposed to administrative expenses. And rightfully so.
To overcome that objection, some nonprofits, such as Help for Heroes, not only mention where a donor's gift will go but also how much is needed.
In this email example, the nonprofit suggests three possible donations, based on how much the donor can afford to give and where they want it to go.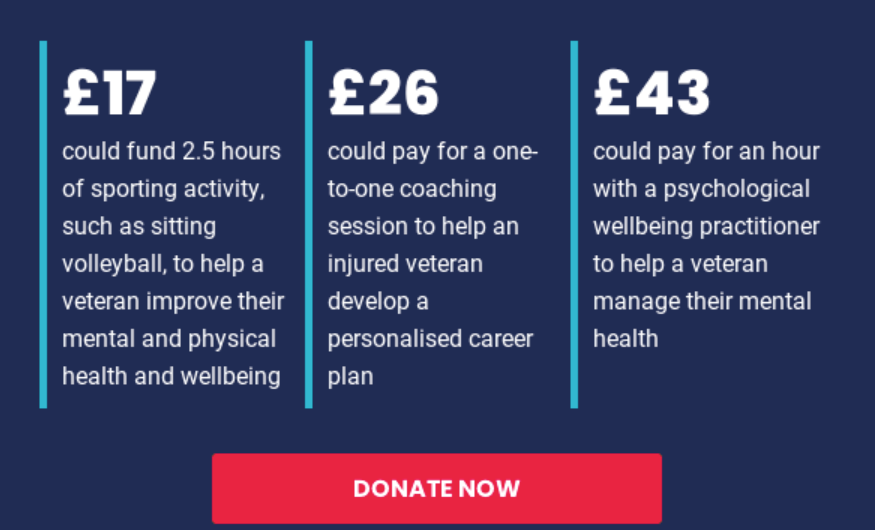 Source: ReallyGoodEmails
Giving donations context is better suited for emails that ask for donations directly. However, it's still worth experimenting with for other emails, especially if a donor's gift can be used in a myriad of ways.
7. Recruit Volunteers
Most of the email examples we've covered so far deal with driving more donations. However, for some nonprofits, asking for volunteers is as important.
Patagonia Action Works is one such example.
In one email I found, the nonprofit invited subscribers to put their skills to use and volunteer.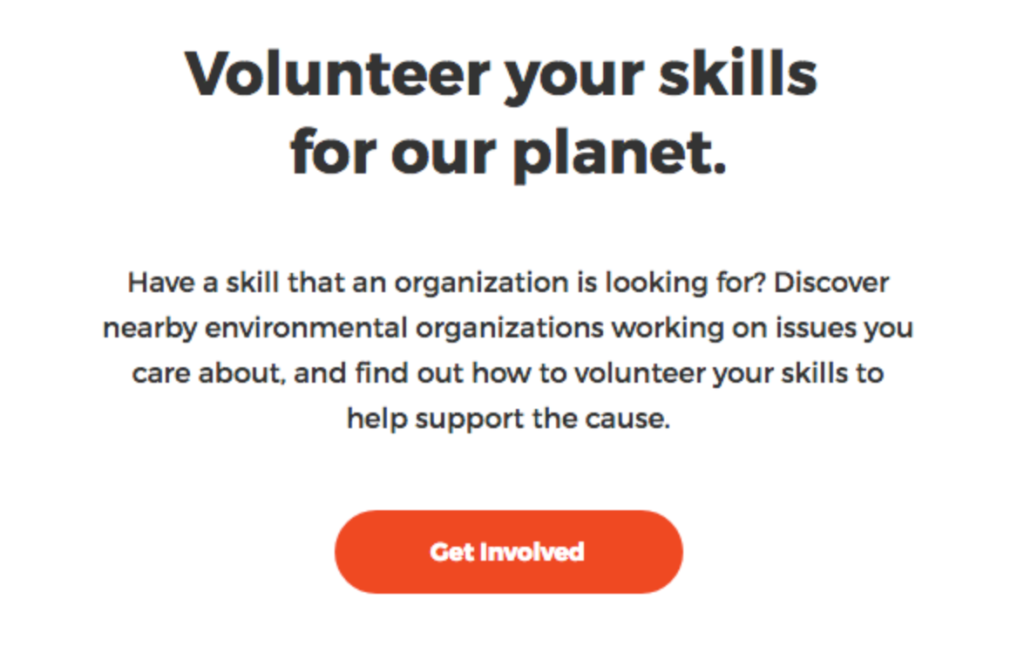 When subscribers chose to "get involved," they were taken to a page where they could learn more about helping out.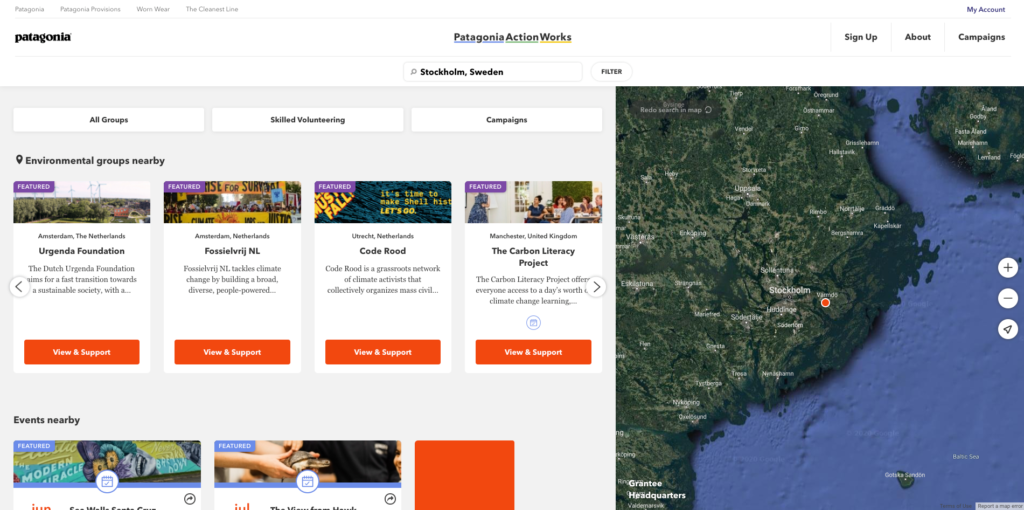 What I liked most, though, was the range of choice the nonprofit affords its readers. Rather than inviting the reader to submit a form, it allows them to filter their preferences by issue and then learn more.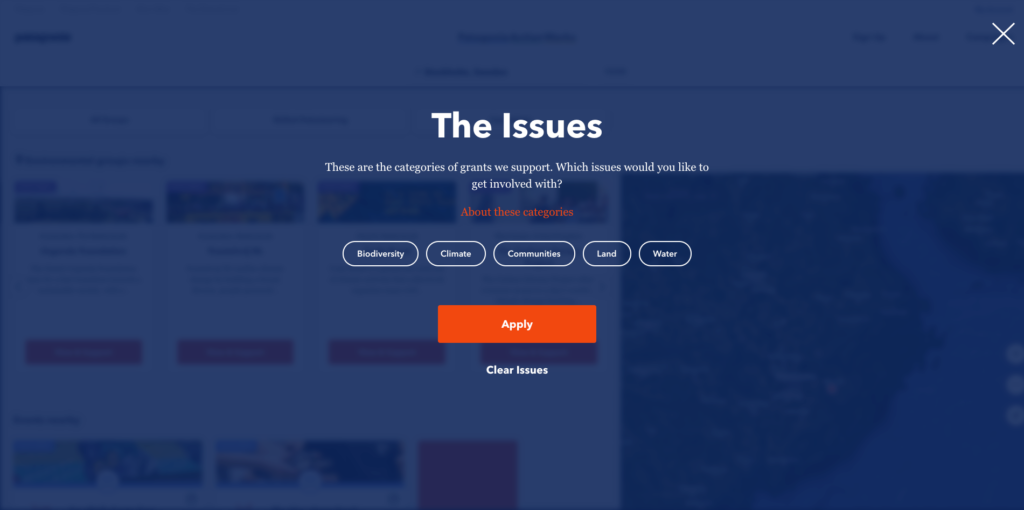 Granted, the range of choice varies from one organization to another, but it's still a nice afterthought.
If you wanted to build on this email further, you could make a popup inviting returning visitors to get involved, as Mencap does on its homepage.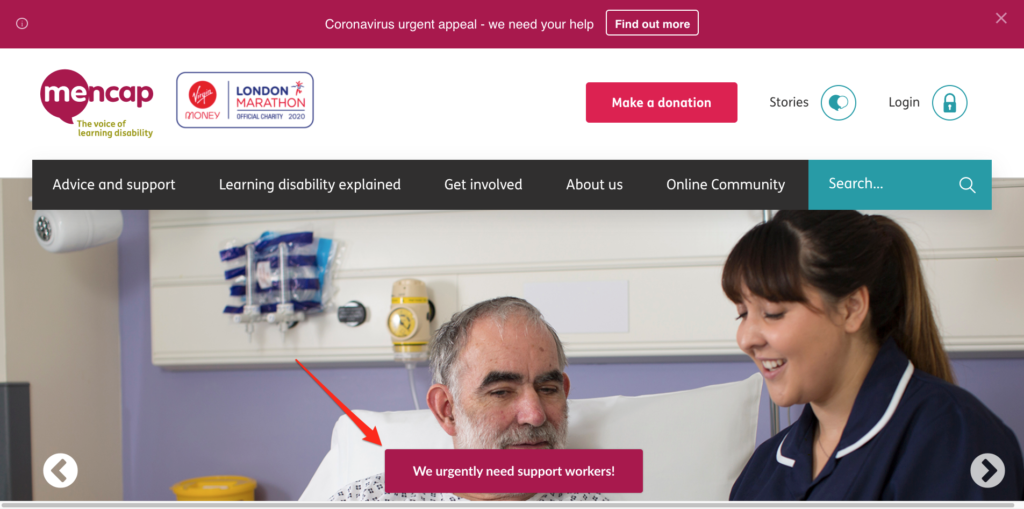 Conclusion
Whether asking for donations or recruiting volunteers, email marketing can benefit nonprofits as much, if not more, than for-profit organizations.
In this post, I've shared seven brands that are using email to their fullest potential. If you model their efforts and adapt for your nonprofit, you, too, can enjoy similar results.