Giveaways are among e-commerce marketers' favorite tools for a good reason. When done right, an e-commerce giveaway can help grow your email list with quality subscribers and increase sales.
When it comes to promoting your giveaway on the right channels, email marketing is a no-brainer.
To help you craft better giveaway emails, I took a deep dive into my inbox and gathered the seven best giveaway email examples I've seen.
While doing that, I've also seen hundreds of emails promising "a trip to Bali" in my inbox. Funnily enough, I can't remember any of these companies at the moment because their giveaways were so irrelevant to their brand.
If you want to use giveaways as a long-term, sustainable solution, go with smaller prizes that are relevant to your store, rather than costly giveaways, attracting freebie-seekers.
Then, you can regularly engage your email list and give subscribers a reason to shop from you—again and again.
Here are seven giveaway email examples that do this right, and how you, too, can run an effective giveaway without breaking the bank.
7 Giveaway Email Examples from Real Brands
1. Prose's Order-to-Win Email
Although marketers primarily work with giveaways to collect email addresses, that's not their only use case.
Effective giveaways, like Prose's, can also help turn subscribers into customers, and this email is an excellent example of that.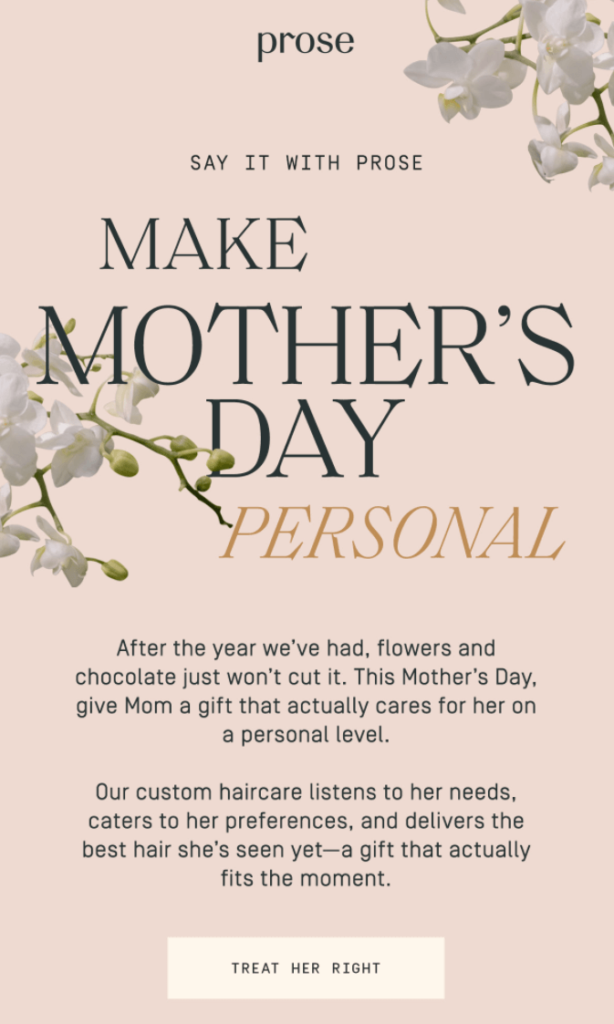 In this email sent with the subject line "Win gifts from us, Lunya, Haus & more!" Prose, first, invites you to shop for Mother's Day gifts. To do that, the company opens the email with a relatable copy suggesting you buy your mom a personal, custom gift this year instead of flowers and chocolates.
Next, Prose introduces its giveaway by framing it around Mother's Day:

The prize is straightforward: a gift basket you can win for your mom (or yourself.) But by partnering up with other brands, Prose increases the gift's perceived value even more.
The email copy "Win all this for you" subtly speaks to your ego. After all, there's no harm in gifting yourself for Mother's Day, whether you're shopping for mom or not.
Prose's instructions are clear as well. To join the giveaway, you need to place an order by the deadline.
Prose doesn't leave things to chance either. Instead, the brand follows up a few days later to ensure that you're not missing out on the offer: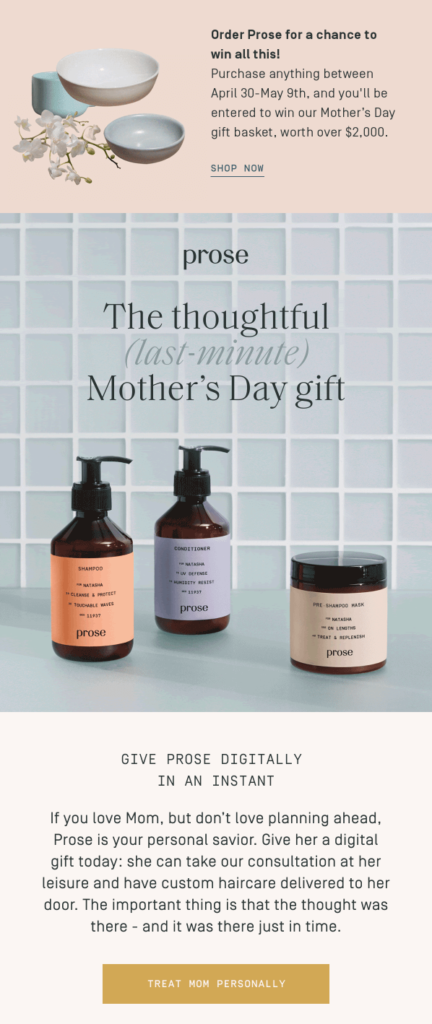 With an urgency-driven subject line that reads "Last Day: Enter for a chance to win our gift basket!" Prose reminds you that there's still time to enter its giveaway.
Knowing that it's too late to shop for physical Mother's Day gifts, the company recommends a digital option in the remainder of the email.
Positioned as a "thoughtful last-minute gift," Prose gives you the option to buy mom a digital consultation that she can take on Mother's Day (not that her products are necessarily delivered on this day.)
This is a brilliant way to target last-minute gift shoppers and best of all, Prose's giveaway is effortless to participate. Customers don't need to do anything extra to get a chance to win (other than spending some money on the Prose shop.)
This giveaway also gives Prose a great opportunity to prevent cart abandonment and upsell during checkout, provided they use popups and email reminders.
2. L'Occitane's No-Purchase-Necessary Email
While Prose's email aims to nudge on-the-fence prospects to buy, L'Occitane takes this strategy one step further with its giveaway.
Take a look at this email the company sends with the compelling subject line "Special Announcement: Win Your Order Is BACK":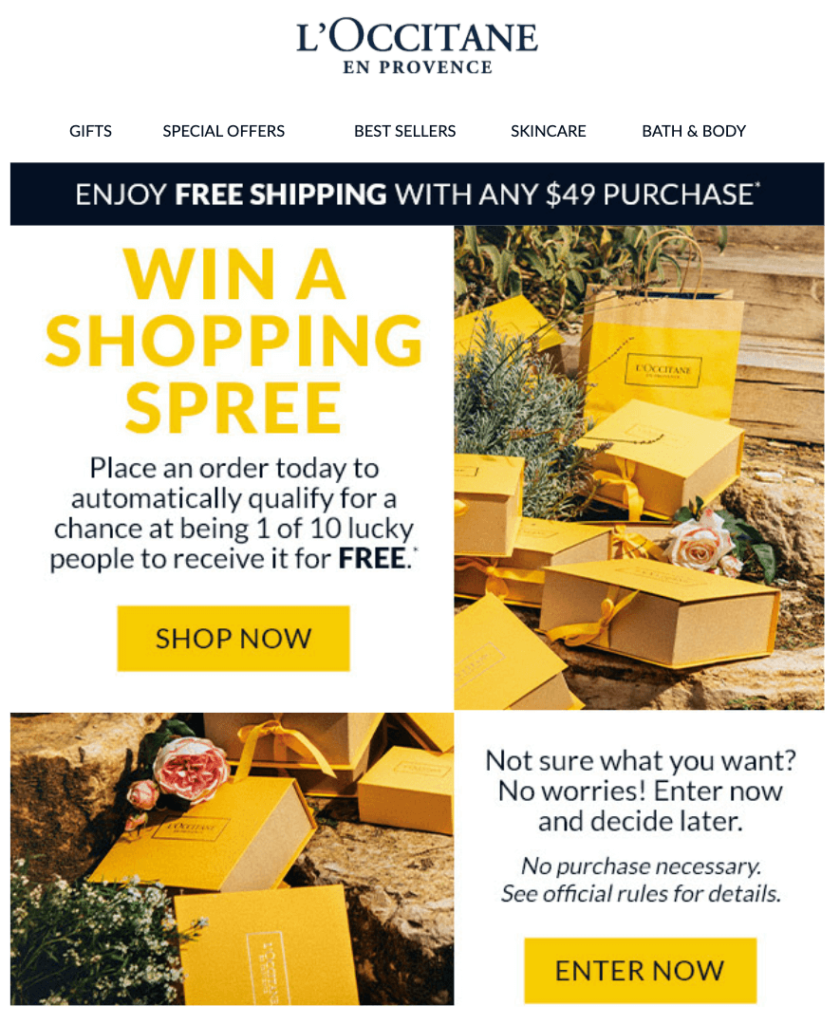 At first glance, the company's offer resembles Prose's giveaway: place an order today and join the sweepstakes. However, rather than select a standalone gift, L'Occitane offers you the chance to win a previous order.
So if you were thinking of joining L'Occitane's giveaway, you might even spend more than usual since there's a chance you'll win it all back. Genius.
Even better, L'Occitane doesn't want to miss out on people who aren't ready to buy today either. If you're unsure what to buy, you can still enter the giveaway and decide later.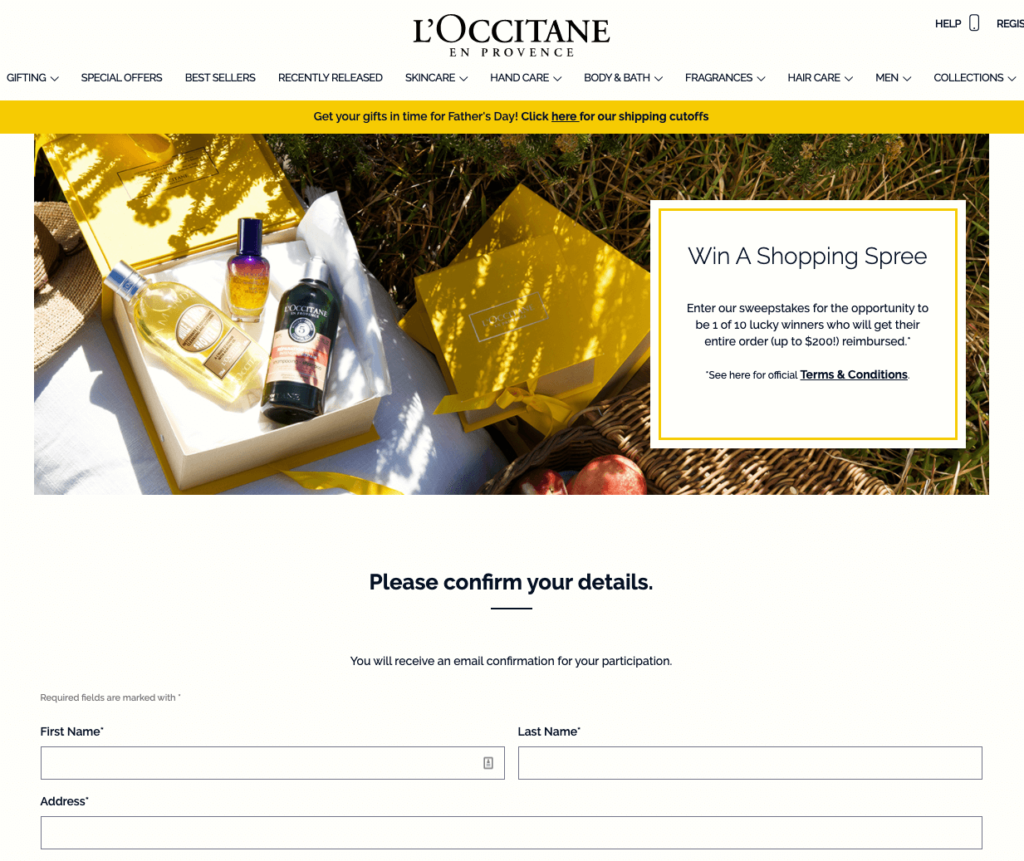 All you have to do is fill out a short form on L'Occitane's website and if you win, you can get a future order (up to $2,000) reimbursed.
Now you're engaged, excited to win, and probably already thinking about what to buy from L'Occitane next.
L'Occitane, meanwhile, gets to enrich its leads, collect more information about its subscribers (such as city and zip code,) and target you with reminder emails to place an order.
Bottom line: L'Occitane's giveaway email is the perfect example of leveraging a limited-time offer in the best way possible. The deadline to shop drives urgency, but it doesn't neglect top-funnel prospects who aren't ready to buy, either.
3. Vinomofo's Birthday Giveaway Email
Many e-commerce brands use birthdays, customer anniversaries, and milestones as an excuse to offer small discounts.
Vinomofo, on the other hand, goes all-in on its birthday and throws daily giveaways for an entire week.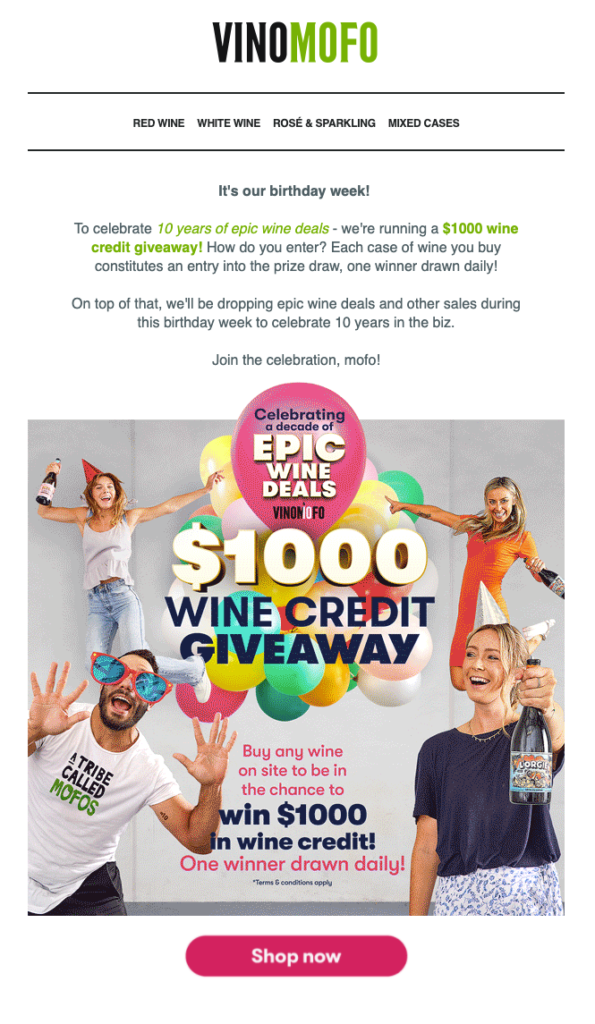 Similar to the previous two examples, Vinomofo's giveaway requires you to place an order to enter the giveaway. But the company does a few things differently.
First of all, Vinomofo gives you more than one chance to win a prize. With one winner drawn every day, your chances are high—as long as you place an order.
Secondly, Vinomofo's prize is an attractive $1,000 store credit. Nothing fancy or complicated. Winners will likely return to Vinomofo's store, spend their credit, if not more on its products again. It's a smart gift to guarantee loyal repeat customers.
Finally, in the following emails Vinomofo sends the same week, they make sure to remind you that the giveaway is still going on—but with a twist: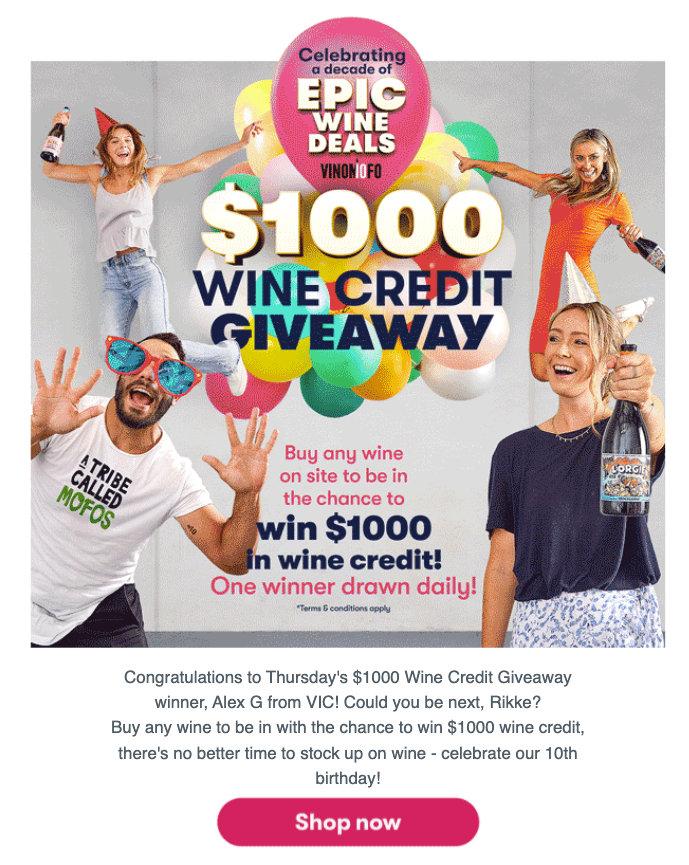 After announcing the previous day's winner, they ask a personal question directed at you: "Could you be next, Rikke?" It's a persuasive copywriting technique that invites the recipient to the conversation and makes them think, "Why not?"
If you want to follow Vinomofo's brilliant example (and do even more), create a popup that targets returning subscribers and addresses them by their first name:
4. Charlotte Tilbury's Loyalty Quiz Email
So far, you've seen three giveaway examples that are ridiculously easy to join, with minimum to no effort needed.
However, if you can afford to ask your audience to take action to enter your giveaway, make sure to use your engaged customer base to your advantage.
Take a look at this exclusive giveaway example by Charlotte Tilbury: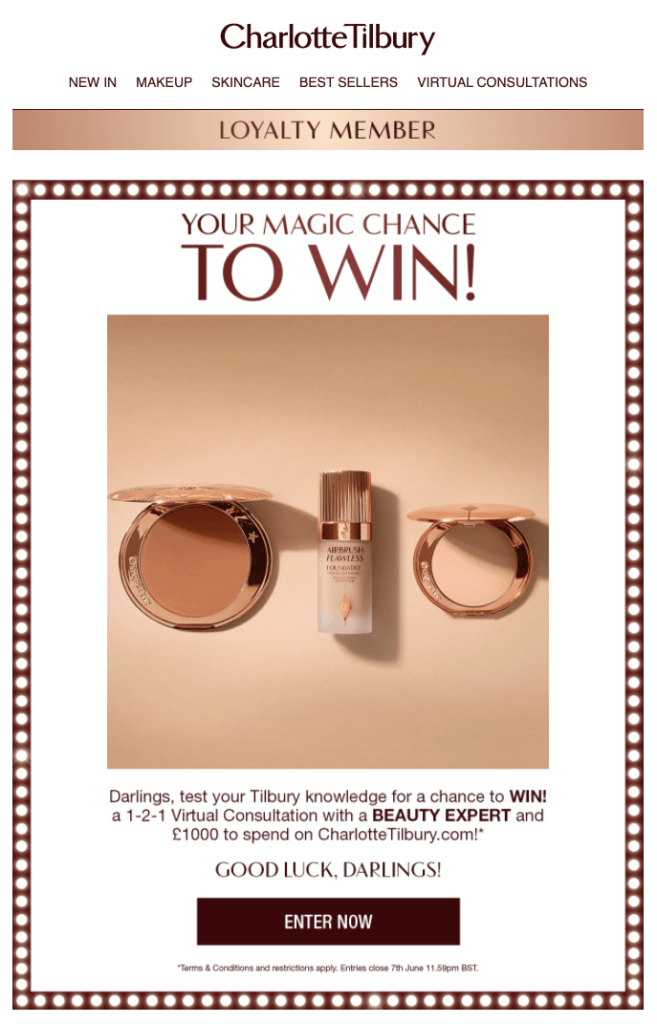 The first thing you see in Charlotte Tilbury's giveaway email is the pre-title "Loyalty Member," which immediately sets the tone for the offer.
This is no ordinary giveaway; it's for loyalty members, and it comes at a price. If you want to win exclusive gifts from the brand, you need to test your knowledge of the brand.
When you click the email's call to action, Charlotte Tilbury takes you to a landing page, where you're asked a single qualifying question: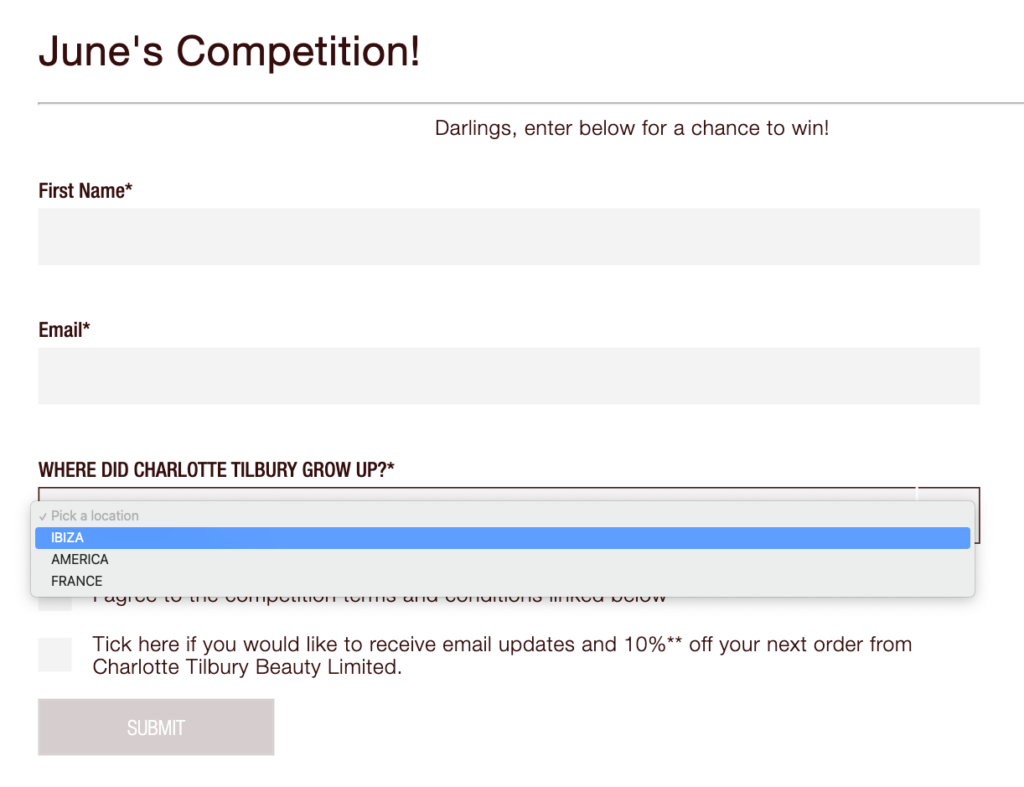 Where did Charlotte Tilbury grow up?
A quick Google search gives you the answer. But if you're into makeup and her brand, you could easily answer the question without help too.
In exchange for taking this simple customer loyalty quiz, you can win store credit and a virtual consultation with a beauty expert.
What's fascinating about this giveaway email is how much it aligns with the brand's tone of voice and mimics its founder. Charlotte Tilbury calls you a darling, wishes you good luck, and expects you to know her well in return. Fair enough.
Even if you don't have a personal brand, you can apply this strategy to your company with a few tweaks.
If you want to qualify your giveaway participants, try asking a simple question about your logo, product lines, or anything related to your niche that's easy to find on Google.
This gives participants a sense of accomplishment and makes them feel more involved in your brand. Plus, they'll remember you next time they're shopping. (Just like I'll never forget Charlotte Tilbury's childhood neighborhood.)
5. Crate & Barrel Competition Email
Although they're easy to run, low-effort giveaway campaigns aren't the only way to go.
If you have a highly engaged customer base, you can ask them to take an extra step to join the giveaway, and photo contests are the most common examples of that.
In this giveaway email, Crate & Barrel, first, features its bestsellers, reviews, and customer photos to create social proof:
Then, the company asks you to keep reading to learn how to get your photos featured and potentially win a $1,000 gift card.
When you scroll further, Crate & Barrel explains its good old photo competition and how you can enter: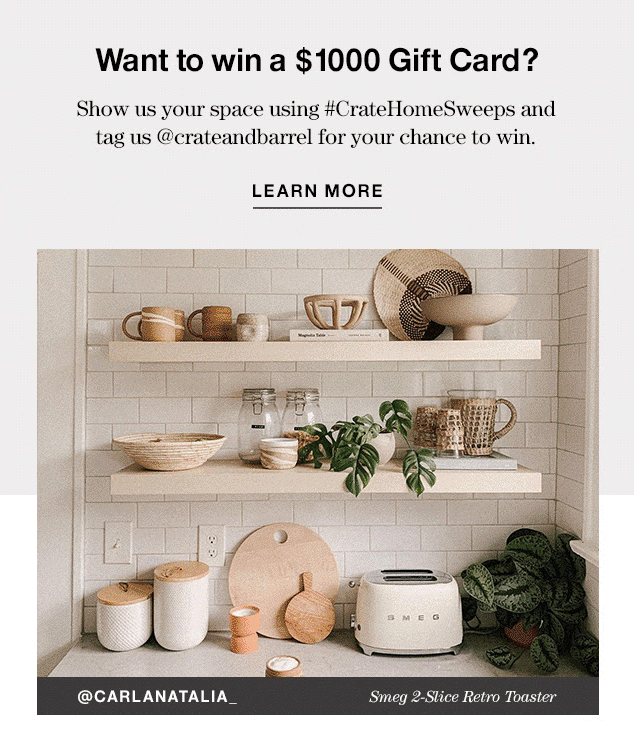 By asking for photo submissions to enter, Crate & Barrel collects user-generated content that they can use in its marketing. (And if you're wondering, they do use it.)
In fact, Crate & Barrel has a dedicated landing page for curated user submissions: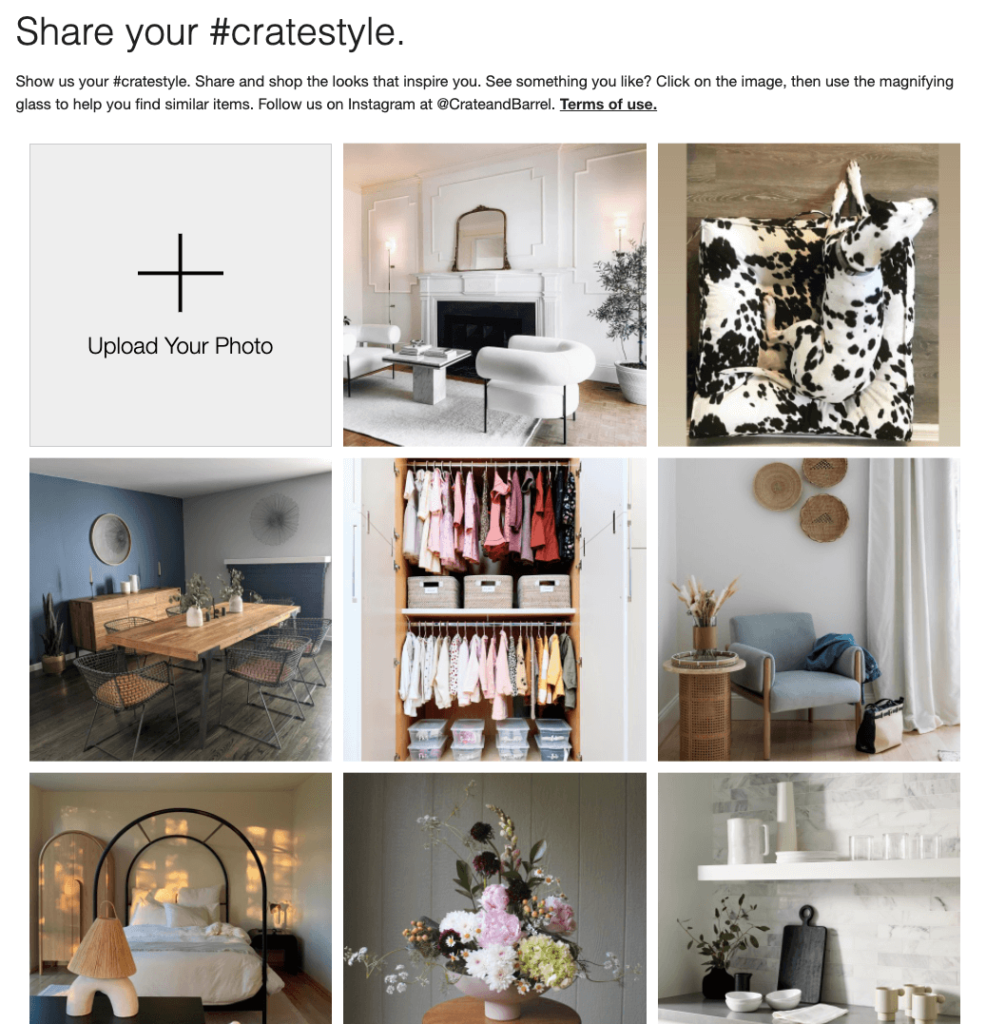 Each photo shows the company's products in use to help shoppers better visualize these products in their home settings.
Most interestingly, when you click one of the photos, a modal pops up featuring a link to the product used in the photo: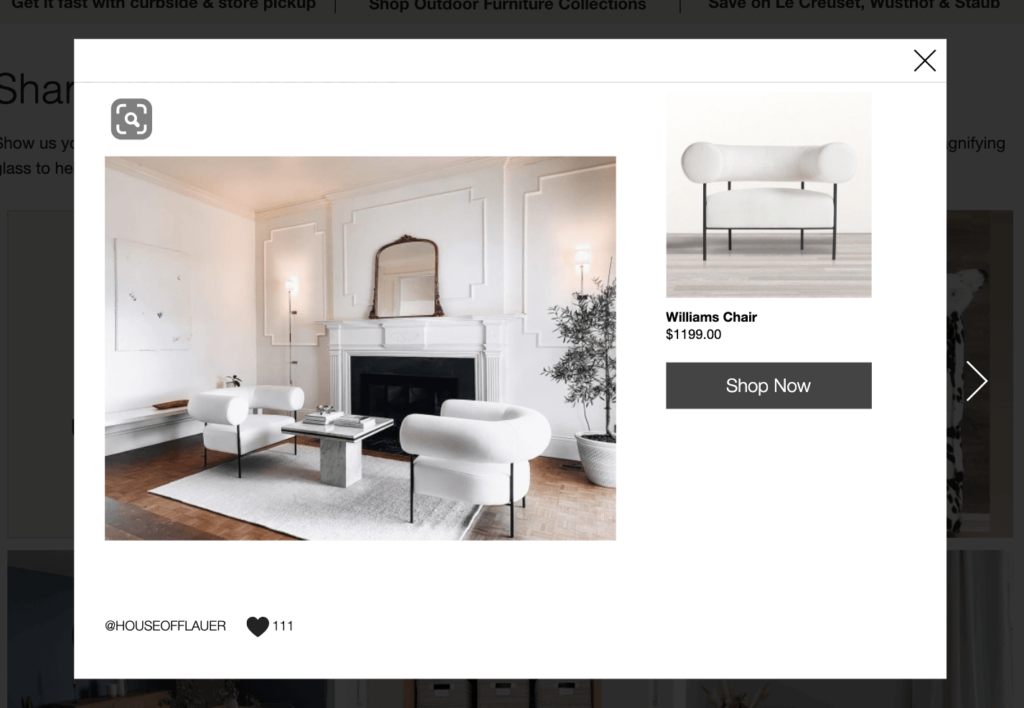 Visitors can easily click through and buy the products that catch their attention.
Crate & Barrel's giveaway has a high-effort entry for participants, but if your brand has a strong social media presence, Instagrammable products, or an engaged audience, you should try this strategy.
6. 4ocean's Guess-the-Weight Email
Win your order, share a photo, tell your favorite product… These are the typical e-commerce giveaway campaigns you see every day.
4ocean, the environmentally-friendly accessories company, puts a unique spin on typical giveaways: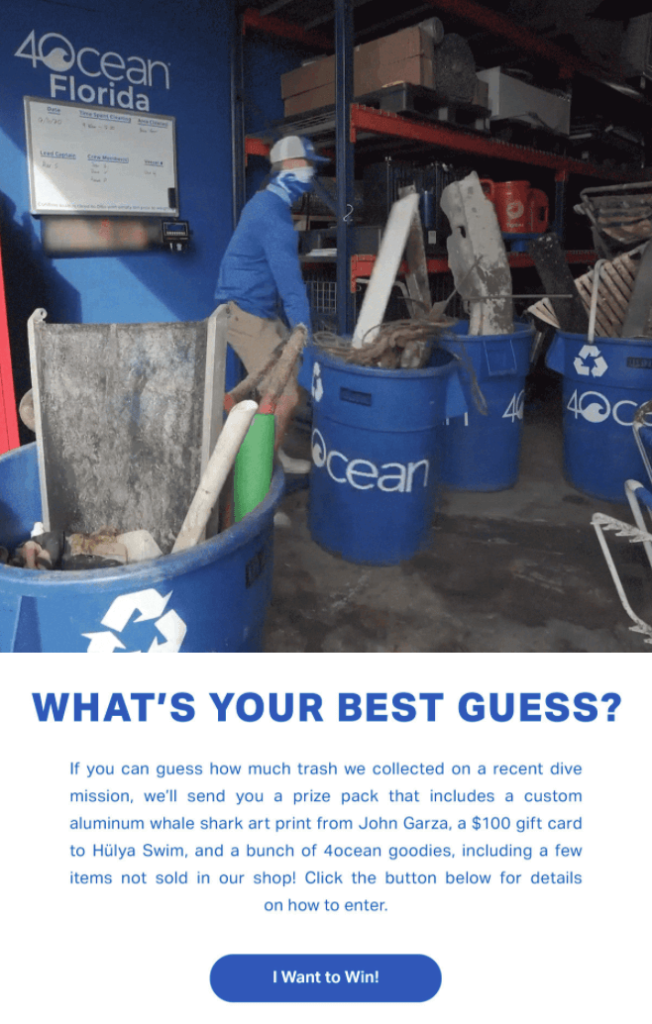 4ocean's value proposition is built entirely on ending the ocean plastic crisis. In this giveaway, they're asking subscribers to guess the amount of trash they collected on a recent ocean cleaning mission.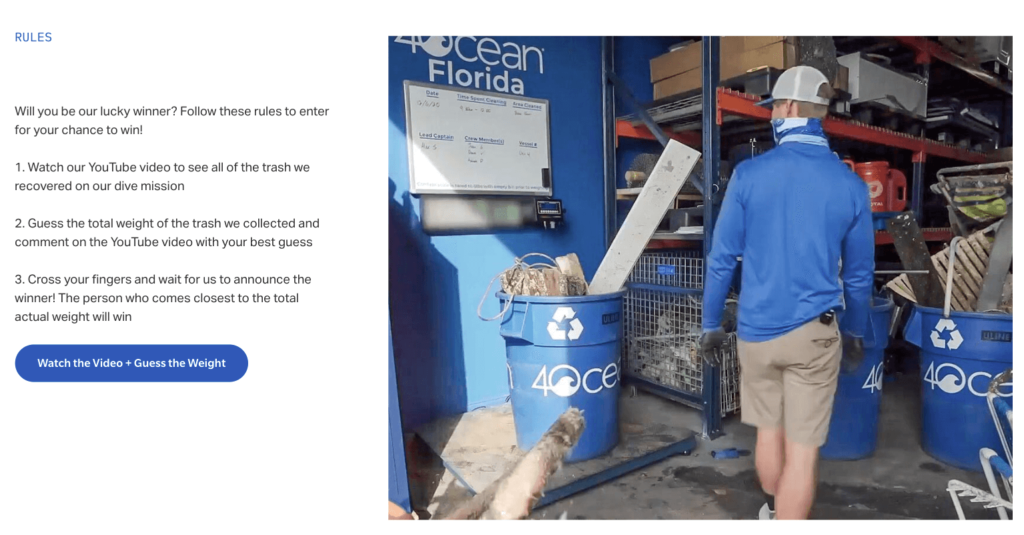 Joining the giveaway is simple: you watch a 10-minute video of 4ocean's mission and leave your best guess as a comment under the video.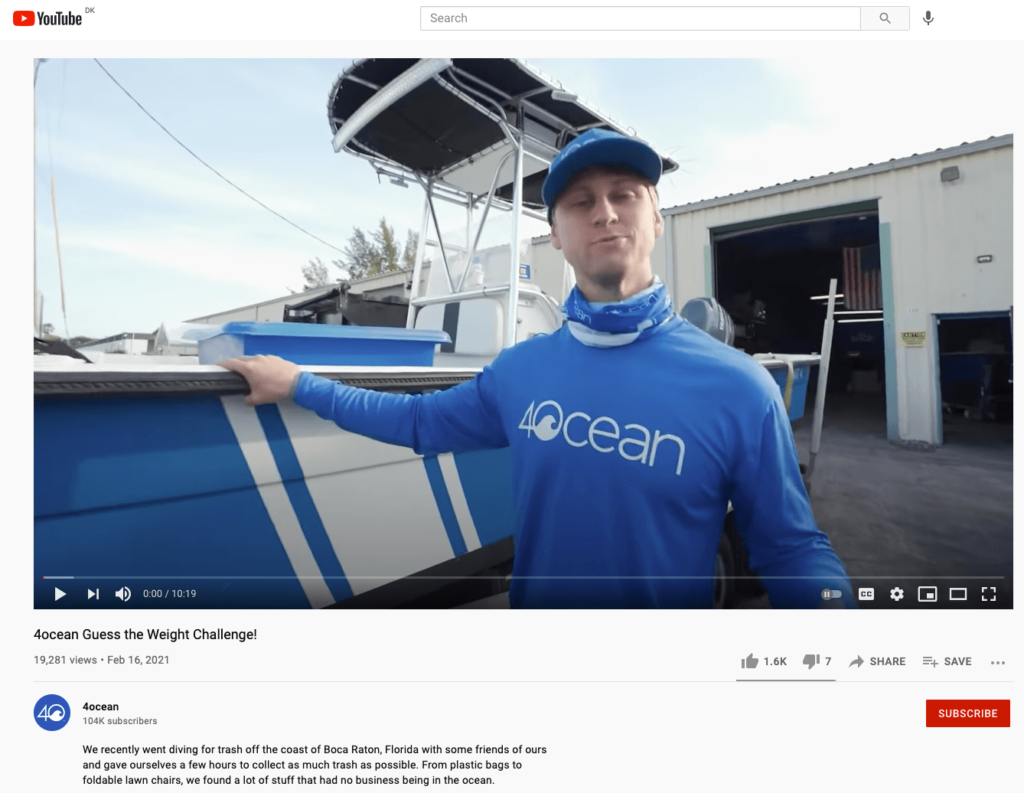 There's no hidden product placement or mention of any offers. You don't need to sign up or place an order for entry either. This is a pure branding project for 4ocean and it's a successful one.
With this giveaway, 4ocean makes you watch a full video of its team cleaning up the ocean, which you might have otherwise overlooked. Now you likely appreciate the brand more and consider buying one of their recycled products—more than ever before.
How can you apply this strategy to your business even if you're not as involved in a cause as 4ocean?
Model from the company's guess-the-weight competition and ask participants to guess, for example, the number of products you shipped yesterday, how many pre-orders you received, and so on. It adds a playful twist to your brand and hints at social proof.
7. Recess's Feel-Good Giveaway Email
While 4ocean does something extraordinary for the environment, Recess, in this example, aims to make you, as an individual, feel better in these challenging times.
They send this email at the peak of staying-at-home months with the subject line "hard times call for easy giveaways":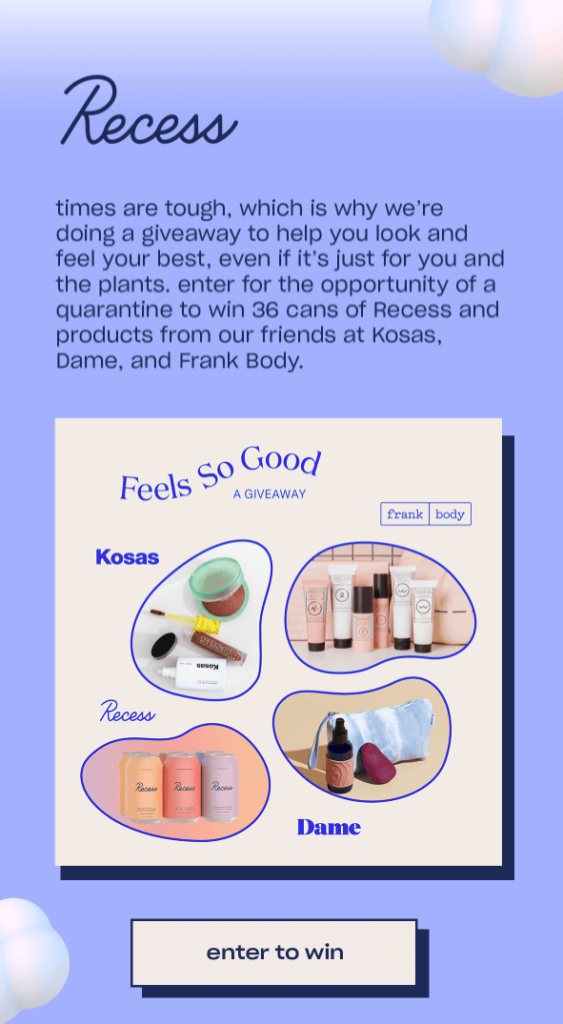 In it, Recess explains why it's running the giveaway and how it could help you look and feel better during these times. In what they call "the opportunity of a quarantine," you have the chance to win products from the company and its partner brands.
The copywriting in this giveaway email makes you feel like Recess performs an act of kindness by offering you all these gifts. It's a one-click entry that requires no orders or other conditions.
Things get even more interesting in the second part of the email: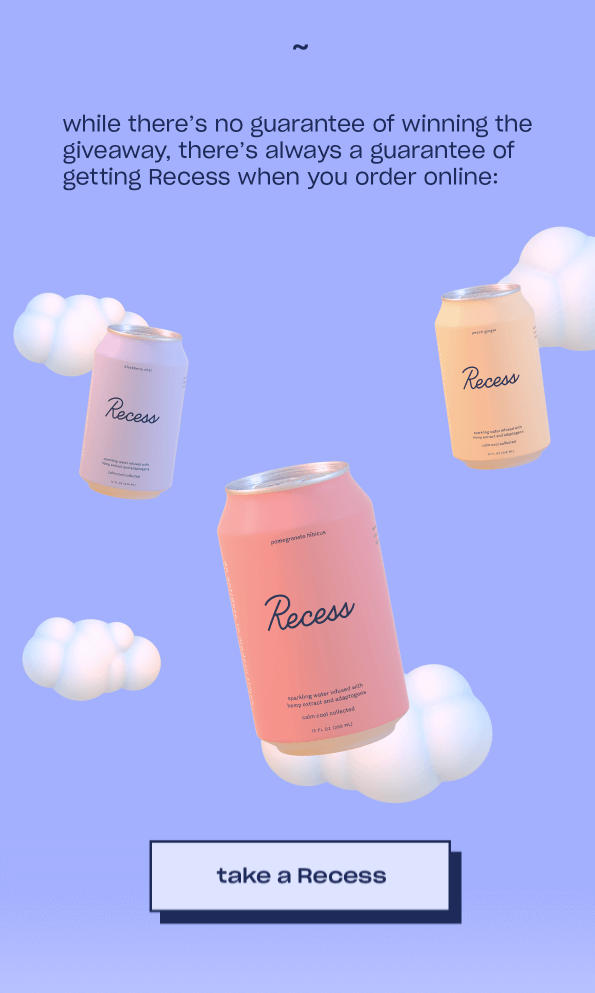 Here, Recess makes a solid argument by saying that they can't guarantee if you'll win the giveaway or not. However, it's 100% sure that you'll get their products—if you order them.
It's hard to disagree with this statement.
This little addition to Recess's giveaway email is a brilliant way to promote your products to subscribers who opened your email and are interested in your products.
Use this angle in your emails to sell to engaged email subscribers without asking them to place an order to enter your giveaway.
Conclusion
Contrary to popular belief, giveaways aren't only for growing your email list or social media followers.
When used right, giveaways help engage your email list and nudge them to buy from you.
With well-written giveaway emails, you can do that and much more.
Give clear instructions in your email, make it easy for people to join, and keep your prize relevant to your brand.
Follow these principles and you'll see a difference in your numbers next time you run a giveaway.