Spring is my absolute favorite season. Colors begin coming back to our lives; the sun starts feeling warmer. There's simply more joy in the air.
For many consumers, spring is also a time to declutter and break old habits. It's a time for change and new beginnings.
Just as people imitate nature in this season, good marketing imitates life. Our favorite e-commerce brands successfully translate the characteristics of spring into their marketing, and email is, undoubtedly, the first place to look at.
Surely, a colorful email design can sometimes do the trick for you, but there's much more you can do to improve your emails in this season.
To help you with that, I've gathered nine spring email examples from exceptional brands that go the extra mile (and how you can copy them easily this spring and onwards).
Table of Contents
1. Prose
We often associate spring with change—both on a material and personal level. Many of us try to rid ourselves of unused items in our living spaces, declutter our office desktops, or break the old, unhelpful habits.
Spring cleaning is a typical reflection of this kind of urge to have a fresh start. While people are busy spring cleaning, companies that help their customers with that are the real winners.
For brands like Bed Bath & Beyond, this is an easy email task because they can literally help you spring clean:
For others, however, this challenge can be overcome with a little creativity. And Prose is one of those companies. Offering customized haircare products, Prose knows that it's not just your house that could use a spring cleaning.
Check this email they send with the subject line "Spring-clean your haircare":
In this email, Prose gives you two reasons to buy into the idea of custom haircare and shop their products:
You'll stop using dirty formulas that aren't good for your hair; and
You'll clean up your shelf.
Prose's email successfully acts on the spring cleaning angle because they find the perfect connection between their value proposition and their prospects' needs during this season.
Takeaway
If you want to follow Prose's example, think about the ways your products help build better habits or improve your customers' lives—this spring and beyond.
2. Legacybox
Seasonal products, such as outdoor equipment or gardening tools, have the obvious advantage during the spring season. However, you don't necessarily need to be selling picnicware to craft high-converting spring emails. For some products, spring is unconventionally a great fit.
For example, Legacybox, an e-tailer digitizing photos and videos, may not be the first company that comes to your mind when you think of spring, but take a look at this email they recently sent me: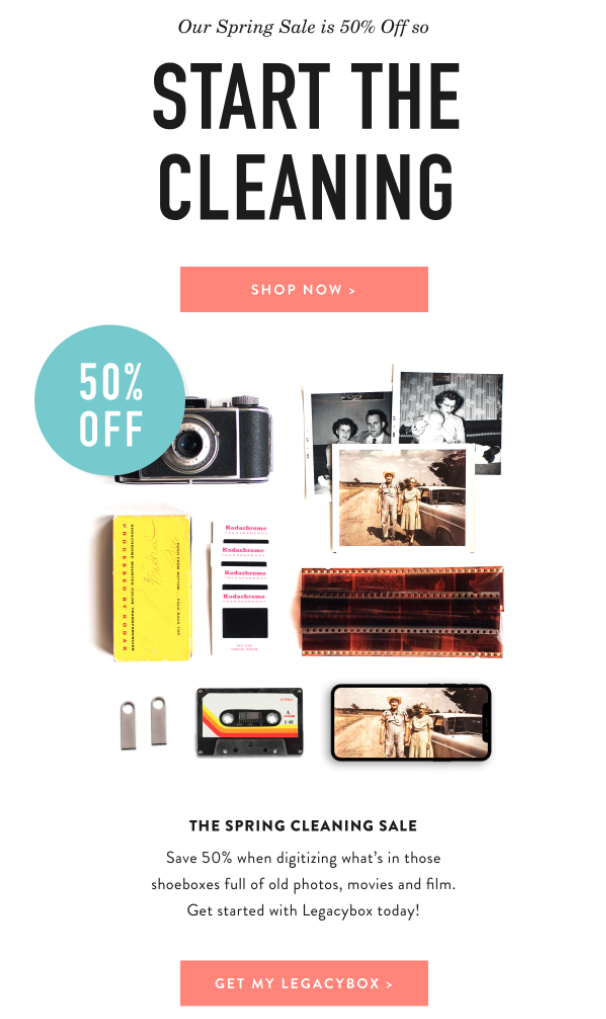 The company uses the subject line "It's here! You've waited all year for this" to create anticipation and invite you to start the cleaning.
Legacybox's products aren't seasonal, nor are they limited in stocks. But, by building a connection between spring and digitizing "what's in those shoeboxes," Legacybox asks you to act now.
Takeaway
If you're selling all-year-round products, as Legacybox does, find the time of the year that's the best fit for the use of your products, and run a promotional email campaign throughout that season.
3. Forever 21
When do your products go out of season?
When do they go back in again?
When should you promote which product category?
It's safe to assume that apparel brands don't have a hard time answering the questions above.
While our inboxes are filled with new arrivals and collection launches during the season change, how you write spring emails for fashion becomes even more important. As seasons transition, there's no better excuse to run clearance sales and destock your winter inventory.
Forever 21 does that right: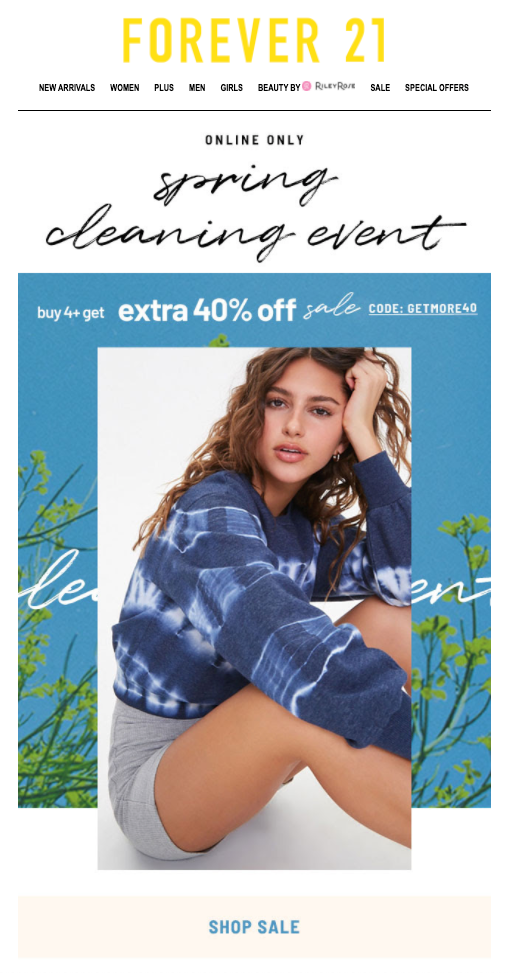 Sent with the subject line "😘Lucky You. We decided to do this…", Forever 21 invites you to their online spring cleaning event. To increase your average order value, the company also offers extra discounts when you buy more than four items.
Immediately after recommending products in the next section, Forever 21 cleverly promotes their new arrivals: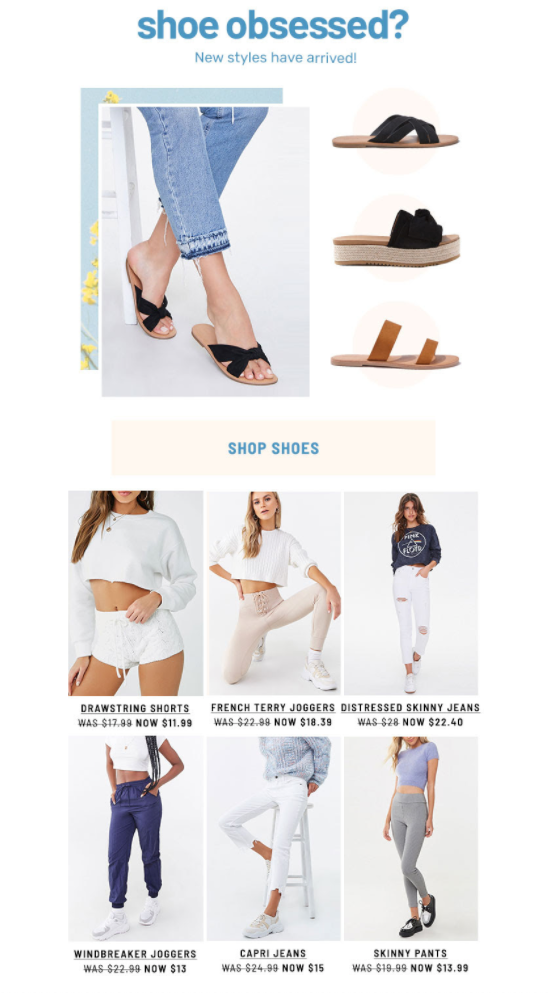 (And, after introducing their newly-arrived spring shoes, they go back to their discounted products.)
Forever 21 finds the recipe for great spring sales emails by combining sales promotion with its new arrivals—two birds with one stone.
Takeaway
If you have seasonal product lines, send emails that promote your discounted items from the old season and new arrivals from the current season at the same time.
4. MAC Cosmetics
If you're not a big fan of discounting your products, I get you. Maybe you're worried that discounting will lower your products' perceived value, or you simply can't afford it.
The good news is, you don't need to offer discounts to leverage the spring theme in your emails, as MAC Cosmetics knows well: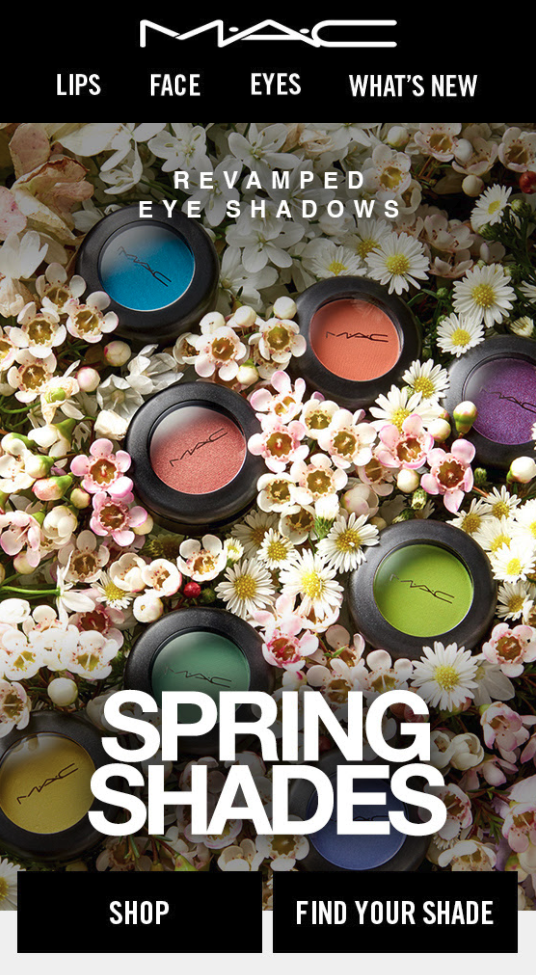 Accompanied by the subject line "Spring for it. Revamped shadows, new shades!", MAC's email easily stands in your inbox with its highly spring-y design and wordplay.
While smartly using bright-colored eyeshadows in their product photography, MAC promotes its seasonally-relevant products in this email.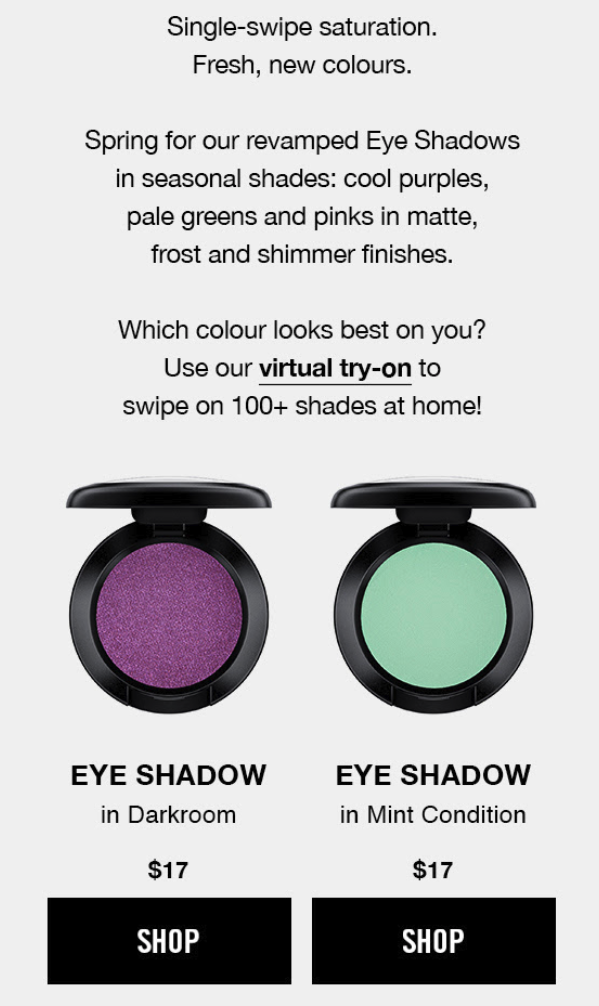 What's more, the company invites you to their website to virtually try these shades on your eyes to find out which ones look the best on you. This way, MAC removes an important obstacle to online shopping and makes the decision easier for you.
Takeaway
Curate your colorful products in an email, regardless of their seasonality.
5. Too Faced
While MAC's tactic is a quick win, you can apply to your brand already today, this email example is for those who want to go the extra mile.
Recently, I got this email from Too Faced with the subject line "Invite Spring Color Inside":
Decorated with flowers and pastel colors, Too Faced's email screams spring. More interestingly, clicking the call-to-action (CTA) button "Shop Spring" takes you to a landing page, featuring the company's springtime products.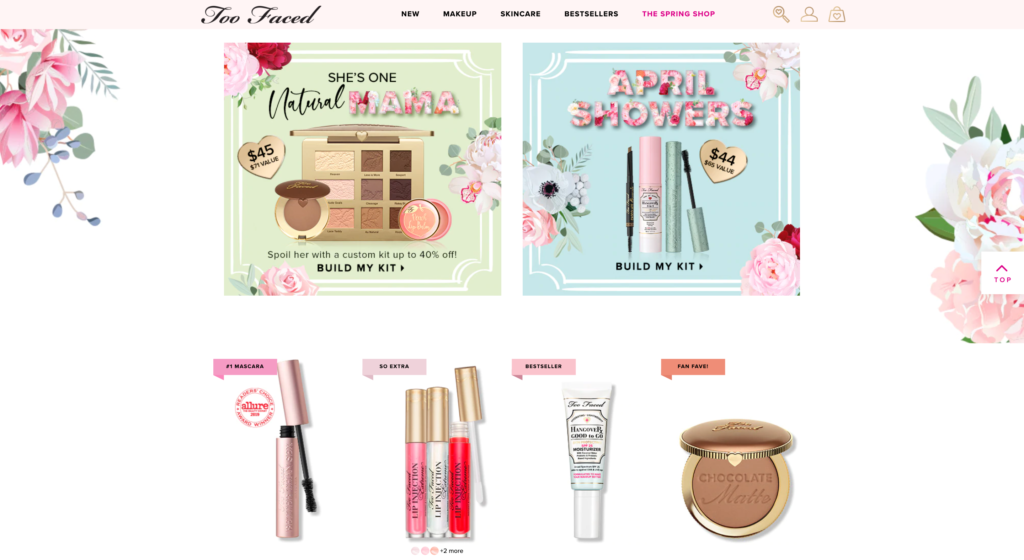 This special "pop-up store" on the Too Faced webshop is, in fact, a curation of their seasonally-relevant products. Yet, both on this landing page and in the remainder of the email, Too Faced successfully evokes your spring senses.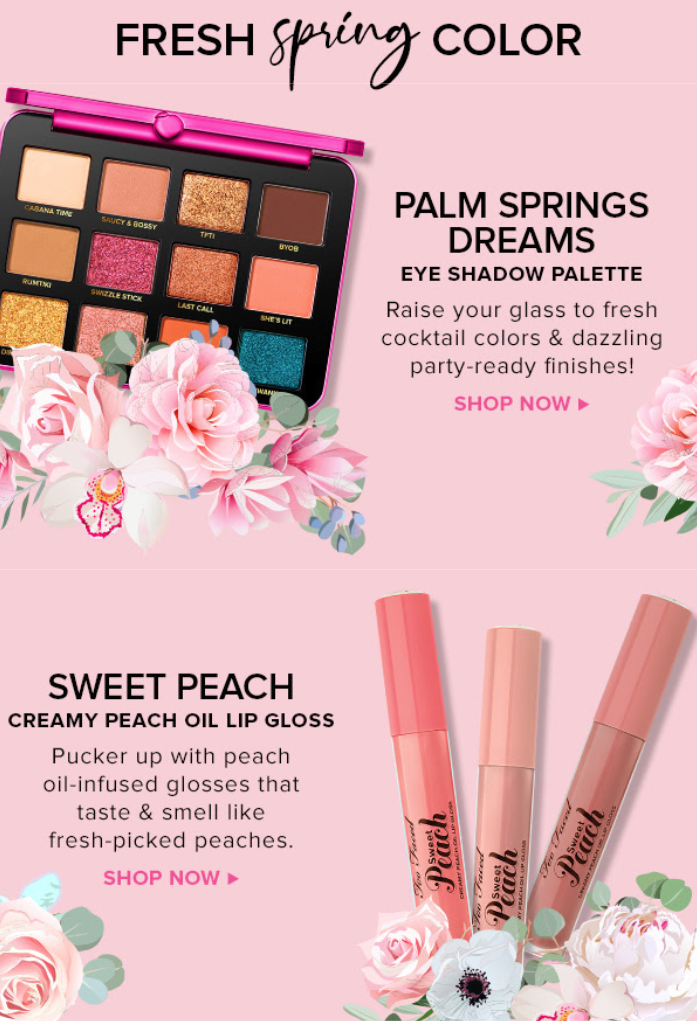 Takeaway
Create a new, temporary category page in your store and curate your spring-related products.
6. Away
Thanksgiving, Christmas, New Year, Valentine's Day… Winter and fall have the biggest share of ecommerce holidays.
Although spring isn't traditionally the most festive time of the year, you can easily benefit from the special days in spring, such as Mother's Day. That's what Away does with their Mother's Day email: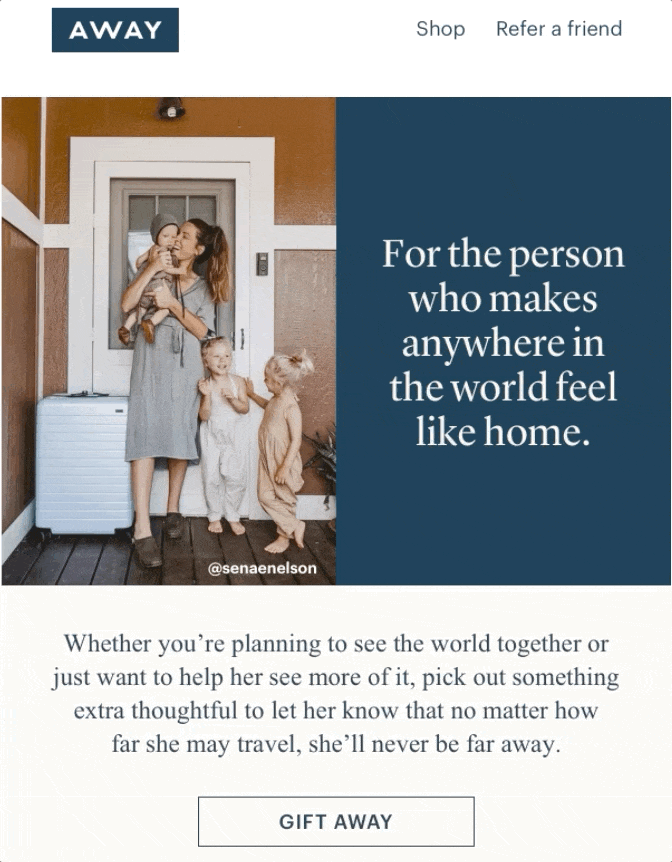 In this email, with the subject line, "Every mom wants to get Away," the company uses some of their affiliates' family-themed Instagram photos, showcasing the company's products.
While adding social proof to the email, this way, Away brilliantly ties Mother's Day to their products (which aren't your typical Mother's Day gifts.)
The use of real people instead of product images and the well-written touching copy make Away's non-traditional spring email a success.
Takeaway
Frame your products as gift ideas for Mother's or Father's Day, and display them with real humans. If you don't have any customer photos, your employees are the perfect place to start.
7. Paperless Post
While the peak holiday season falls in autumn and winter, spring is actually full of other holidays—depending on where you are in the world and who you're selling to.
Knowing this well, Paperless Post, the online invitation company, catches their subscribers off-guard with this email sent on April 6th, with a subject line "Here come the holidays."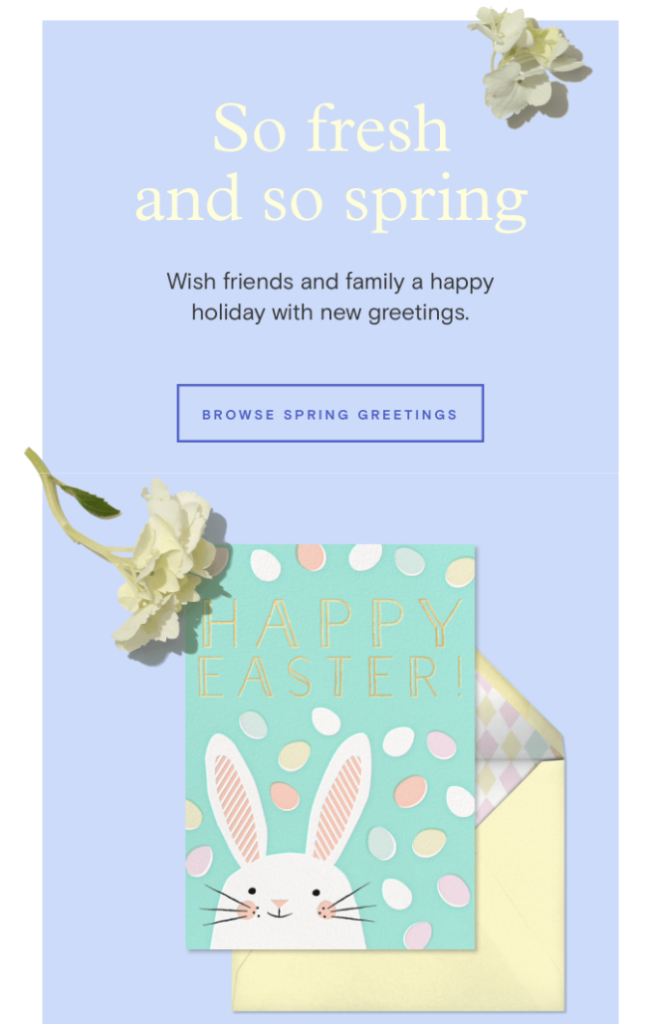 When you open this well-designed, pastel-colored email, you see that the company is promoting its Easter-themed greeting cards. What's more, as you scroll down, Paperless Post also features their Passover greetings…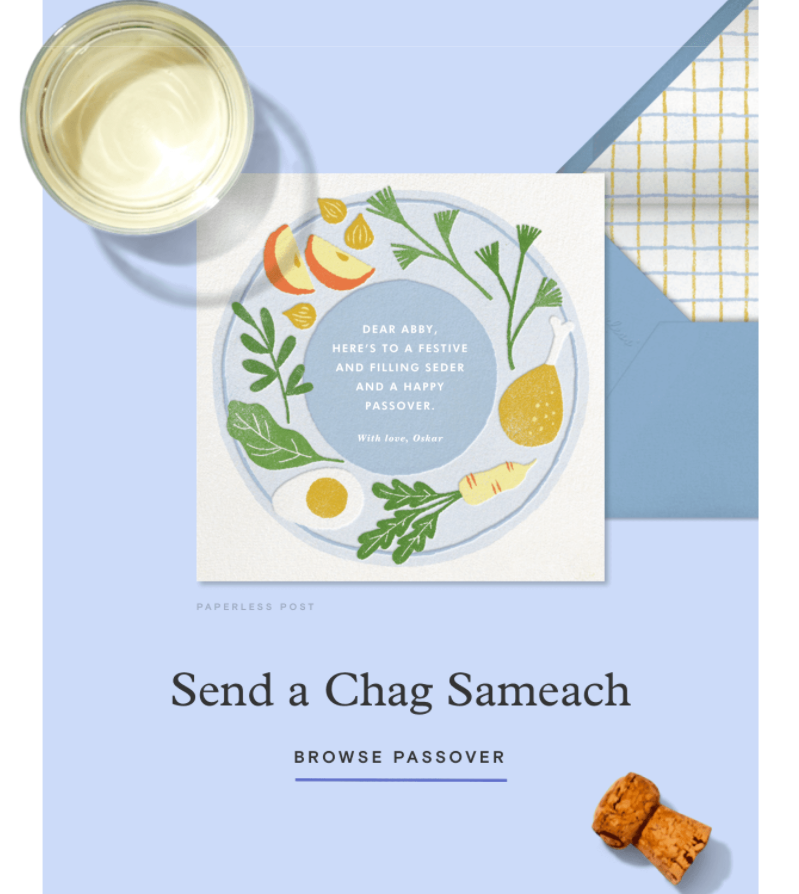 … as well as their Ramadan cards in the same email: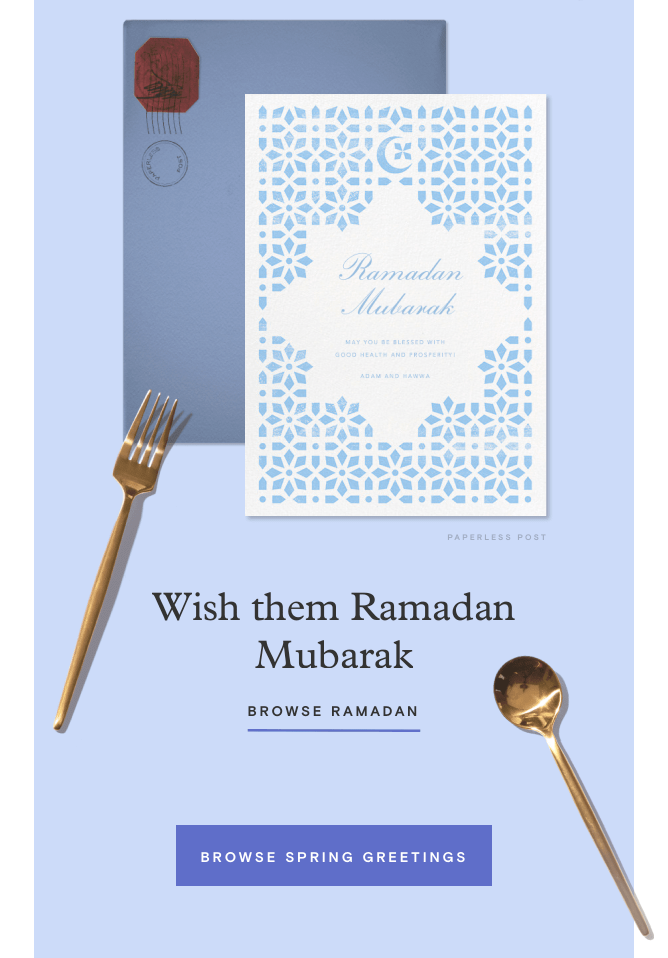 Not only does Paperless Post appear more inclusive with this email, but they also diversify their product range and appeal to a wider audience. What if you're not celebrating any of these springtime holidays, then? Paperless Post covers you, too.
Take a look at this section at the bottom of the email:
The company invites you to check in with your loved ones and send them a casual greeting card, just to show that you're thinking about them during tough times.
Takeaway
Think about the spring holidays your customers may be celebrating and how your products can fit this holiday season.
8. Tattly
Promoting your products in relation to a seasonal holiday or a special day is only one option. Although this approach helps you reach a broader audience with a single email campaign, it's bound by time and culture.
On the other hand, if you give your subscribers enough reasons to gift your products, you'll create your own special occasions.
Let me clarify my point with this clever spring email example from Tattly, the temporary tattoo retailer: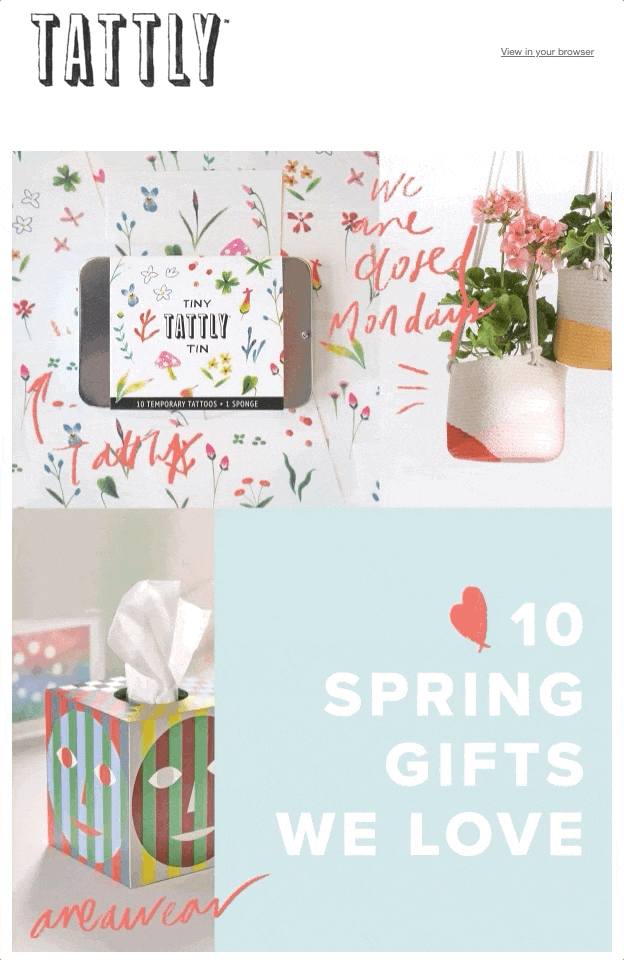 In this colorful yet simple email. Tattly curates a list of their favorite spring gift ideas, featuring products from both fellow small businesses and their own store.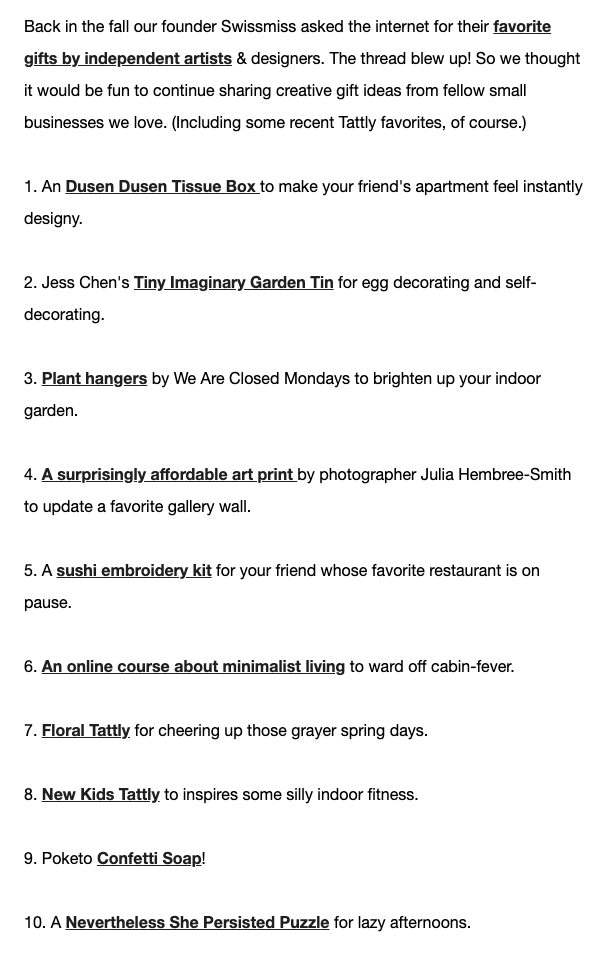 With links to each store and product page featured, Tattly compiles this list of creative gift ideas along with how and why you can gift them.
In addition to showing goodwill by supporting small businesses in tough times and celebrating staying at home, Tattly also keeps their brand top-of-mind in this season. Plus, they remind you that you don't always need an excuse to gift your loved ones.
Takeaway
Put together a list of why we should thank our loved ones this season and offer relevant gift ideas for each occasion.
9. Joybird
Most emails I came across while researching for this article capitalized on the warmth and joy of spring, using bright colors and happy occasions. But is that really all there is to spring?

Joybird doesn't think so. Check out this email they send with the subject line "Pairs well with a rainy spring day + cup of tea ☕":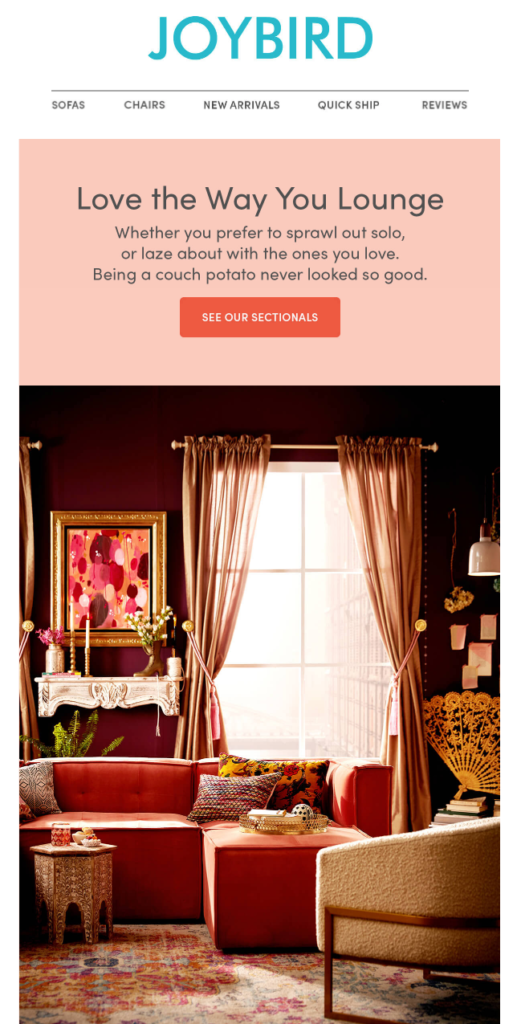 By spotting an underused spring angle, Joybird talks about rainy days, a warm cup of tea, and getting comfortable at home, rather than fresh starts and vivid colors.
As a custom furniture retailer, this angle makes perfect sense for Joybird. Moreover, it stands out as a memorable spring email among hundreds of overly sunny marketing emails.
Takeaway
If your products aren't necessarily relevant for the spring, use a similar approach and talk about the darker, rainy days of the season, instead.
Conclusion
Whether you're selling winter jackets, swimwear, or annual planners, you can still write and send high-converting spring emails your subscribers will love.
Remember to stay seasonally-relevant in your emails and help your customers with whatever they might be focusing on this season. And if you're reading in the southern hemisphere, you better start preparing for the new season with my favorite winter email examples.