Let me do some extremely simple math to illustrate the power of referral marketing:
Say you've got 10,000 contacts on your email list.
According to the Survey Center on American Life, 53 percent of Americans have between three and nine close friends, while 13 percent have 10+.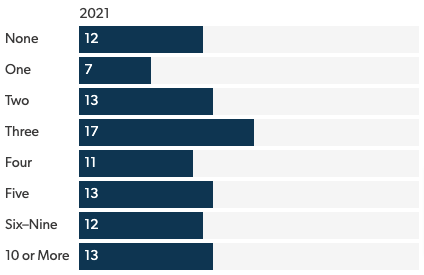 So assuming those 10,000 (imaginary) names on your marketing list are "average" Americans, they could have a network of 90,000+ close friends. And that's before we even factor in family members.
Wouldn't it be fantastic if you could share your best products and promotions with that huge, extended audience?
With referral marketing, you can.
And because referred customers are more loyal, have higher lifetime values, and generate higher profit margins than "regular" customers, you can afford to sweeten the deal, incentivizing your existing audience to recommend your brand to friends and family.
That's where the humble referral email comes in.
In this article, I'll give some practical tips and best practices for successful referral marketing, then share some of my favorite referral email template examples.
Let's get into it…
2 Types of Referral Emails to Try
There are two main types of referral marketing email:
Mass referral emails
Personalized referral email
Let's compare and contrast these two distinct referral email formats…
| | |
| --- | --- |
| Mass referral emails | Personal referral emails |
| Sent to broad audience segments or your whole email list. | Sent to niche audience segments or individual customers. |
| Promote generic benefits of your referral program. | Highlight specific referral program benefits likely to resonate with niche audiences. |
| Only include basic personalization, such as the recipient's name. | Reference the customer's relationship with your brand (e.g. how long they've been a customer) |
| Generic tone to appeal to everyone on your marketing list (even those yet to make their first purchase). | Warm, appreciative tone designed to make the customer feel valued. |
| Best for promoting your referral program to the largest possible audience. | Best for inviting high-value customers to refer friends and family. |
To be clear, neither referral email format is "better" than the other. Both have a key part to play in boosting the profile of your referral program, but you need to understand how (and when) to use each.
6 Referral Email Best Practices for Ecommerce
Without an effective promotional strategy, your referral program is doomed to failure. Get it right by following these referral email best practices…
1. Target the Right Audiences
Just like any marketing campaign, crafting a successful referral email is all about reaching the right audience.
If you're sending a mass referral email, this tip doesn't really apply—your only goal is to promote your program to as many people as possible. But it's essential for personal referral email campaigns.
In reality, only a comparatively small proportion of your audience will feel comfortable recommending you to their friends and family. That's hardly surprising.
Unless you feel passionate about a brand and love its products, why would you put your neck on the line?
But there's one audience segment full of people who are highly likely to take advantage of your referral program: your most loyal customers.
According to KPMG, 86 percent of loyal customers are happy to recommend brands to their nearest and dearest.
So your job is to figure out who they are. They could be customers who:
Have kept buying from you over the longest period
Generate the highest average order values
Purchase from you most frequently
Show the highest

lifetime value
Or maybe it's a combination of all those metrics.
Pro tip: To truly nail your audience targeting, you need dynamic segmentation capabilities. With Drip, segments update automatically and in real time. So you can add individual customers to your referral program sequence as soon as they hit a certain lifetime value or purchase amount (or fulfill any other criteria).
2. Write Compelling Subject Lines
You want your referral email to reach as many eyes as possible. Because it doesn't matter how enticing your referral offer is if no one knows it exists.
That means nailing your subject lines, given that nearly half of email recipients consider them when deciding whether to open any given email.
Crafting a high-performing subject line requires a solid understanding of your brand and audience (and plenty of A/B testing), so we can't tell you exactly what to write. But in general, consider these best practices:
Keep it short and sweet.

Most people open emails on iPhone or Gmail, so aim for subject line lengths of between 41 characters (iPhone portrait view character limit) and 70 characters (Gmail character limit).
Go beyond basic personalization.

A personalized subject line shouldn't just include the recipient's first name. Consider their location, browsing behavior, and purchase habits to craft

truly

personal messaging.
Use actionable language.

Treat your subject line like a CTA by incorporating trigger words like "Get", "Shop", and "Find".
Build urgency.

Give your audience a reason to click

right now

by adding urgency-related messaging to your subject line, such as mentioning a limited-time promotion.
Add complementary preview text.

Take full advantage of inbox real estate by writing

preview text

that follows—and enhances—the messaging in your subject line.
Want more advice? Check out our roundup 180+ proven email subject lines across different industries and themes.
3. Offer an Attractive Incentive
Once someone's opened your referral email, you need to win them over with a compelling offer that prompts them to take action. Most referral incentives comprise two distinct elements:
Referrer reward:

A discount, cashback offer, or some other reward for the referrer (i.e. the existing customer who recommends you to their friends and family) when the person they refer makes a purchase.
Referred customer reward.

The promotion that the referrer shares with friends and family, such as a percentage discount for their first purchase.
As with subject lines, there's no such thing as the "perfect" referral incentive—what works for one brand won't necessarily perform for another.
Broadly speaking, it all depends on your product and price point. If you sell lower-priced products, a fixed cash discount sounds more attractive, while a percentage discount often works best for higher-ticket items.
4. Keep Your Email Simple and Concise
Above all else, your referral offer should be easy to understand. Because if it seems too unachievable or complex, no one's going to take part.
If you can't communicate the key elements—the rewards on offer to both the referrer and the referred customer, and any terms and conditions that apply—in a couple of bullet points, your promotion is almost certainly too complicated.
5. Leverage Scarcity and Urgency
As we've already noted, urgency can be a key tool for promoting your referral program—especially when combined with another factor, scarcity. While they're often used together, they're actually quite different:
Urgency involves imposing a deadline on the customer's action (e.g. "Get 10 percent off for 24 hours"), whereas scarcity is about limiting the availability of a product or discount (e.g. "Buy our new limited-edition product, only 50 available").
In the context of a referral program, that might mean:
Limiting the number of people who can join your program ("Only 100 spaces available").
Asking people to take advantage of your referral offer by a specific date ("Refer a friend in the next 48 hours and you both get $100 cashback").
Like with anything else in the marketing world, finding the offer that resonates best with your audience requires a bunch of testing, so don't be afraid to experiment with different promotions and messaging.
6. Get Your Timing Right
Timing is everything when it comes to running a successful referral email campaign.
I'm not just talking about finding the best time to send emails (although that's still important). Instead, it's about targeting people at the right stage of the customer journey. For instance, you might share your referral email with customers who've just:
Made their first purchase
Received delivery of their first order
Written their first review
Placed a set number or cash value of orders within a given time period
You should also consider promoting your referral program during busy shopping periods when people are most likely to be making purchases, such as around BFCM.
13 Referral Email Examples
Now that we've covered the theory behind a successful referral email, let's look at some real-world examples…
1. Casper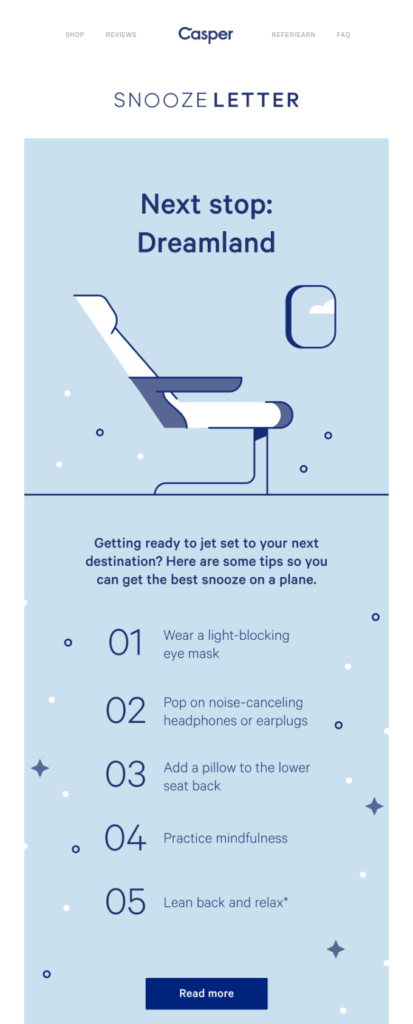 Source: ReallyGoodEmails
Casper often uses its newsletter—or "snoozeletter"—to prompt its customers to refer a friend.
Now, Casper mattresses are a big-ticket product. Prices start around the €300 mark and climb as high as €1,200+. That makes its referral scheme pretty attractive, with 10 percent off for new customers, plus a $75 Amazon gift card for the referrer.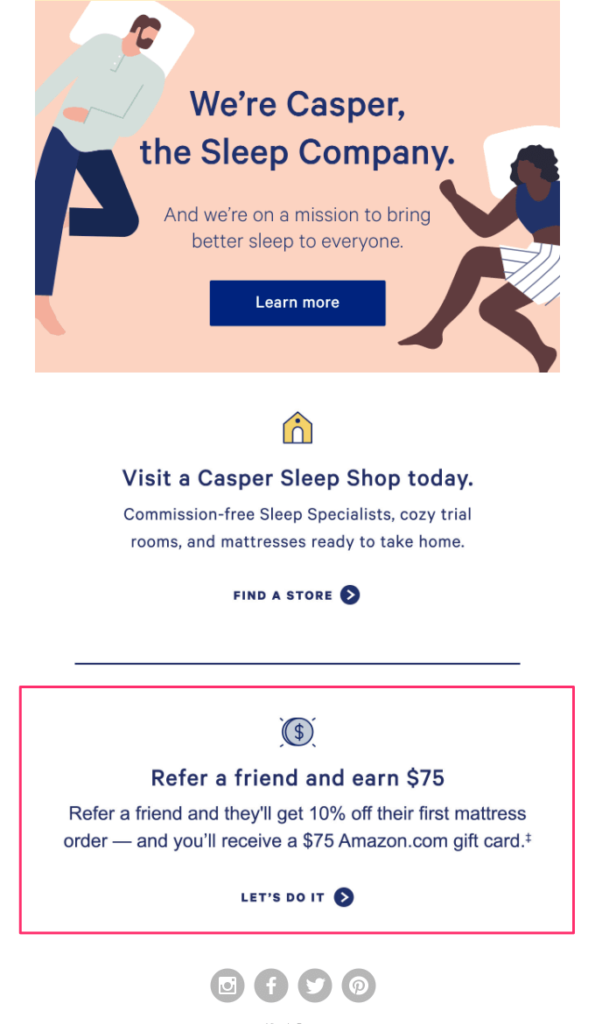 It's nice that Casper doesn't go in for the hard sell here by positioning the referral offer right at the bottom of the email, rather than making it the main focus of the whole email.
Imagine you signed up for the snooze letter and received this email. If you've scrolled all the way to the bottom, it stands to reason that you're pretty engaged with the brand—which means there's a good chance you'll be happy to recommend Casper to your friends.
All you need is a gentle nudge in the right direction.
2. MeUndies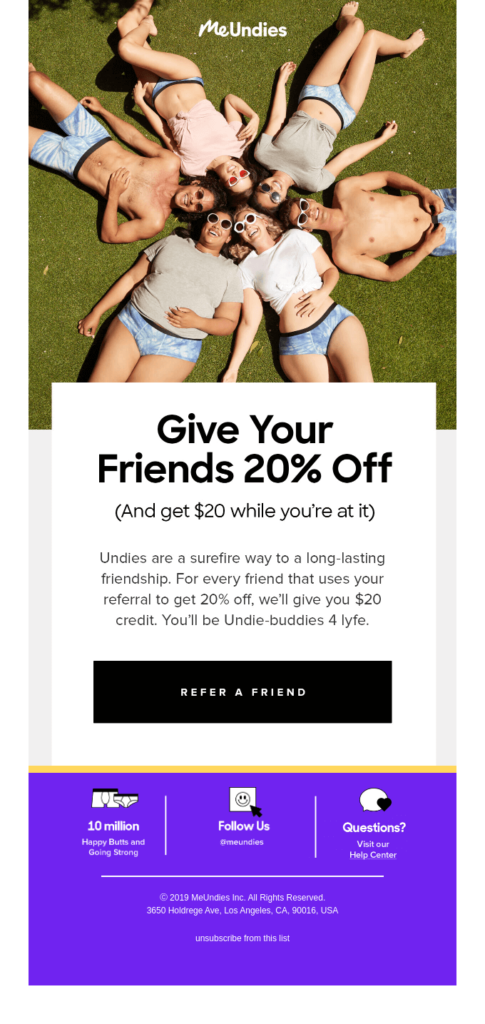 Source: ReallyGoodEmails
We're big fans of MeUndies here at Drip—so much so that we spent a month digging into the brand's marketing strategy.
So it's no surprise to us that this referral email is so strong.
In some ways, it's the opposite of the previous example from Casper.
For one thing, it's solely dedicated to winning referrals, rather than hiding the referral offer away at the bottom of a newsletter. For another, it's promoting a much lower-ticket item.
Despite this, MeUndies has still managed to craft a compelling offer that gives people a genuine reason to refer—in this case, 20 percent off for the new customer, plus $20 credit for the referrer.
3. Italic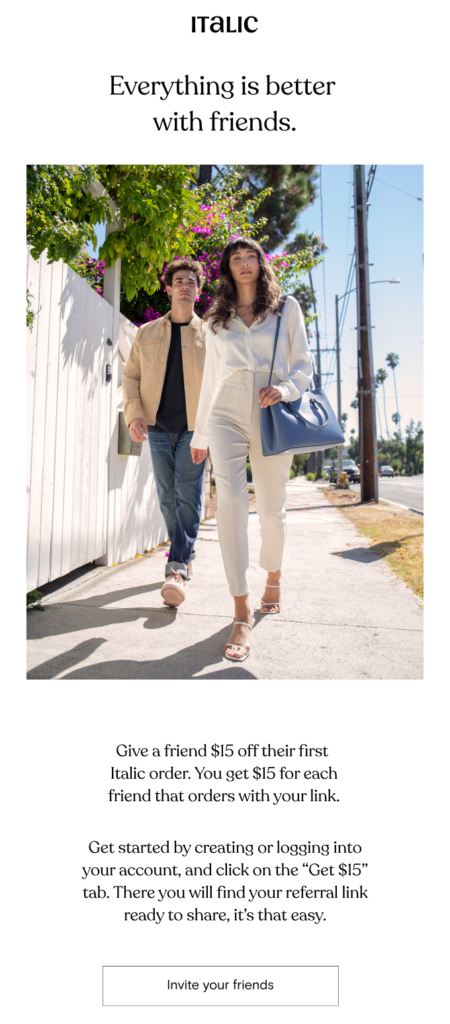 Source: ReallyGoodEmails
Discounts and special offers play a big part in driving referrals.
In fact, according to Mention Me, they're the fourth-biggest reason people decide to refer brands—behind only brand trustworthiness, great customer service, and free delivery and returns.
However, getting your special offer right isn't as easy as it sounds.
If it's too complex, no one will engage with it. If it's too generous, it'll eat into your margins and damage your profits. And if it's too stingy, no one will care.
Simplicity is often key to an effective referral offer, and Italic clearly understands this. It's all about the number 15—refer a friend and they get $15 off, plus you get $15 for everyone who places an order with your link.
4. Equal Parts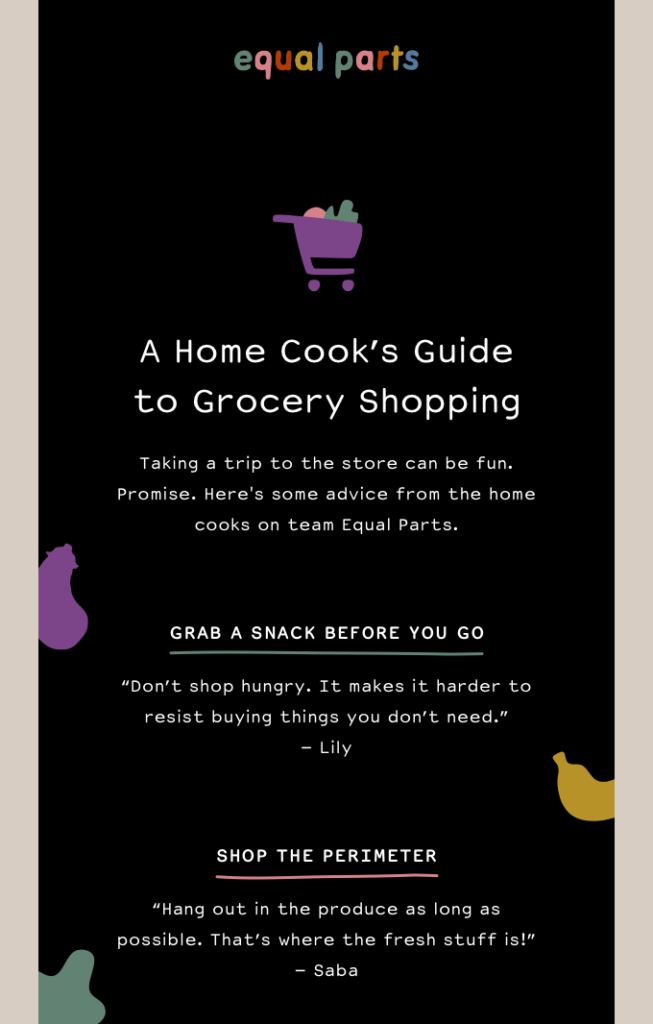 Source: ReallyGoodEmails
This one's all about the soft sell.
Equal Parts makes non-stick, non-toxic cookware designed to make the activity of cooking at home more enjoyable.
To that end, it offers regular tips, tricks, and insights on how to have fun in the kitchen, including things like leveling up your grocery shopping.
After offering a bunch of practical advice, Equal Parts slips in a referral message, prompting readers to spread the word.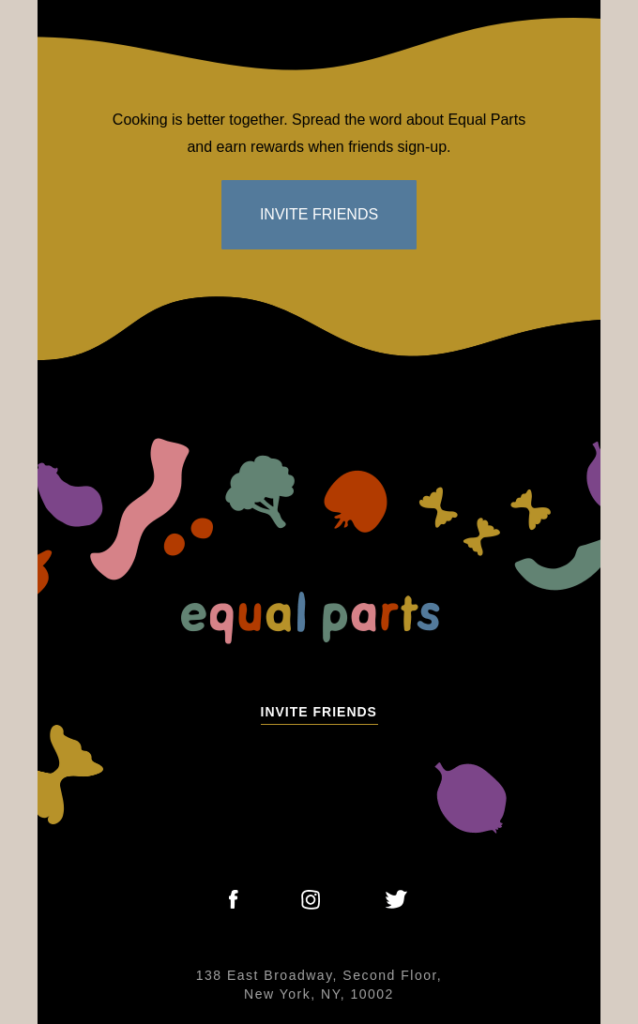 Although this referral email mentions how referrers can earn rewards when their friends sign up, this is really more about building advocacy through value. The implicit message here is: "If you enjoy our content and products, why won't you let other people in on the secret?"
5. On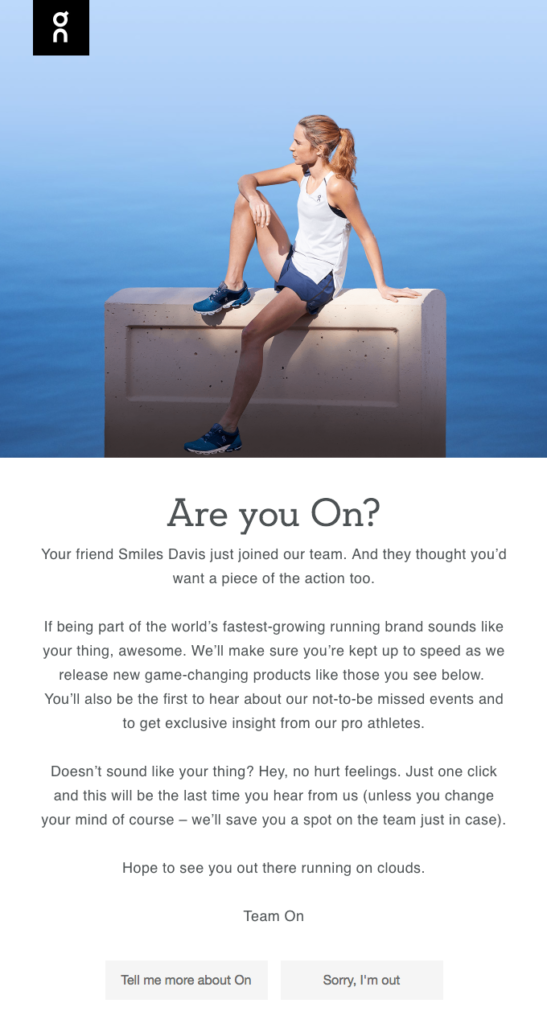 Source: ReallyGoodEmails
Okay, so you've got a referral.
That's good—any number of referrals is better than none, after all—but it doesn't guarantee anything. You still need to make effective use of it.
Swiss performance running shoe and clothing brand On demonstrates how to get it right by reaching out to a newly-referred customer and asking if they want to find out more.
Why's this approach so smart?
Because it's like a double opt-in. On is saying: "You've been referred by your friend, but do you actually want to keep hearing from us?"
That way, the retailer manages to build trust from potential new customers, while simultaneously explaining a little about the brand and what it stands for.
6. Saje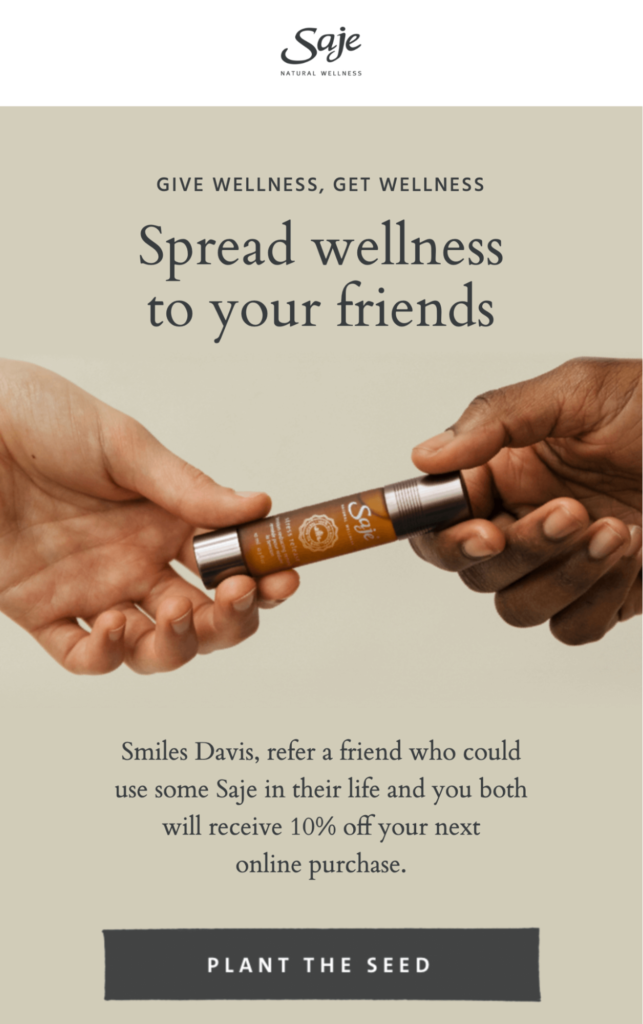 Source: ReallyGoodEmails
As any writer will tell you, an effective referral email doesn't just rely on a catchy offer and snappy visuals. Copy plays a huge part, too.
Essential oils and skin care products brand Saje gets it right here with a simple, impactful message crafted to resonate with its target audience: "Spread wellness to your friends."
In this way, Saje is asking its customers to promote a lifestyle, not a product. You're not referring a friend to buy some new skin serum or a face mask; you're referring the entire concept of wellness.
That's a much more engaging proposition than saying: "If you persuade your friends to buy our products, we'll give you a discount code."
7. Maude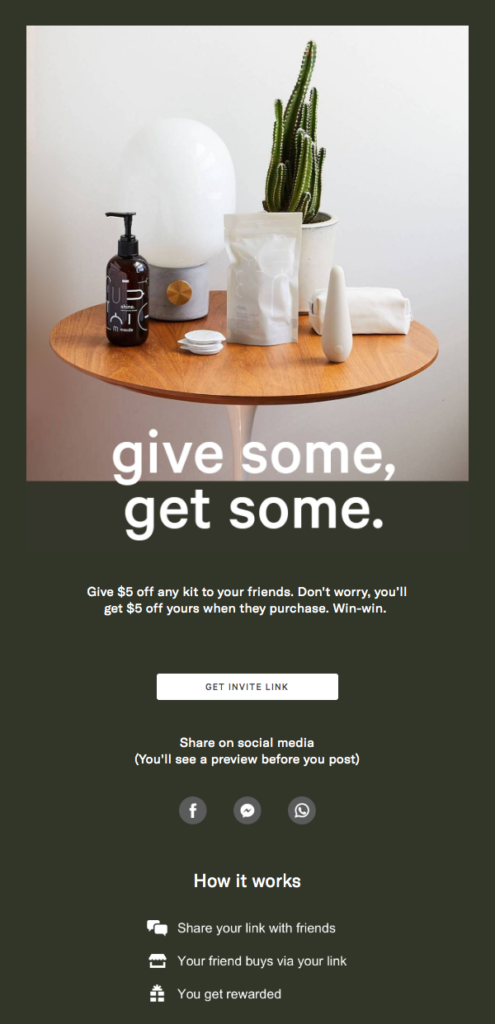 Source: ReallyGoodEmails
Maude describes itself as a modern sexual wellness startup. It sells things like personal massagers and body oils. A big selling point is the subtle nature of its packaging, which keeps things discreet and minimalist.
The company clearly understands its customers might not be too keen on blindly sharing a referral link on Facebook. With that in mind, it stresses that referrers will be shown a preview of their referral post before it gets shared.
That's super important because trust is a big deal to referrers (remember, according to that Mention Me study, it's the single biggest factor in whether someone refers a brand).
8. Outdoor Voices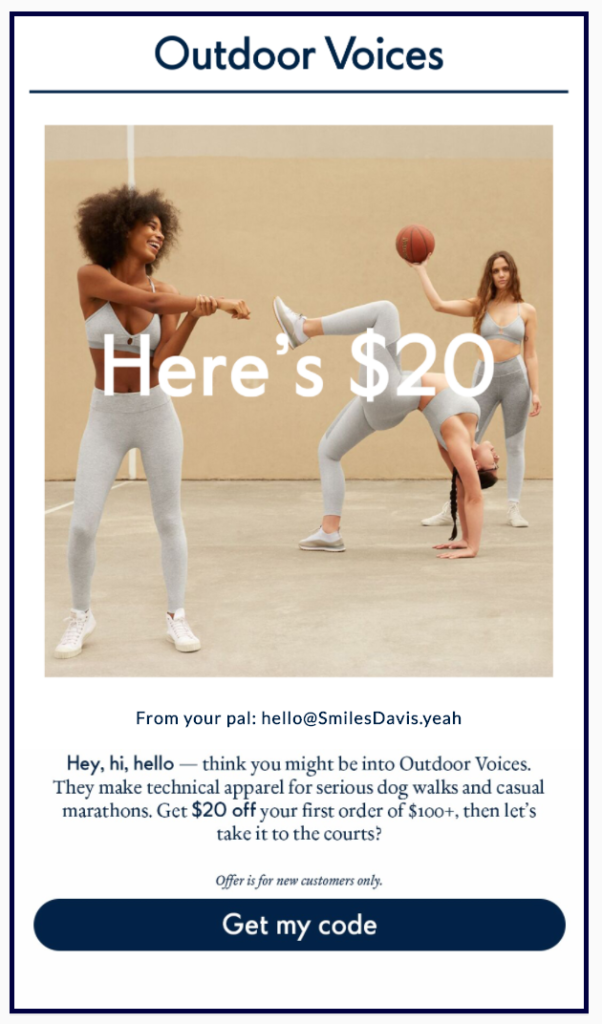 Source: ReallyGoodEmails
I've already highlighted how important it is for brands to make the most of the referrals they receive from customers.
Fail to reach out in the right way and that referral loses all its value. Outdoor Voices understands this, so it follows up referrals with a succinct email.
Firstly, it stresses who the referral came from, thereby highlighting that this isn't just some random marketing spam.
Next, it clearly explains what it's about—technical apparel for serious dog walks and casual marathons. In other words, it makes a quality product, but it doesn't take itself too seriously.
Finally, it sets out the terms of its referral program—spend $100 or more and get $20 off.
That's a lot of information to communicate, yet Outdoor Voices gets the job done in fewer than 50 words.
9. Postable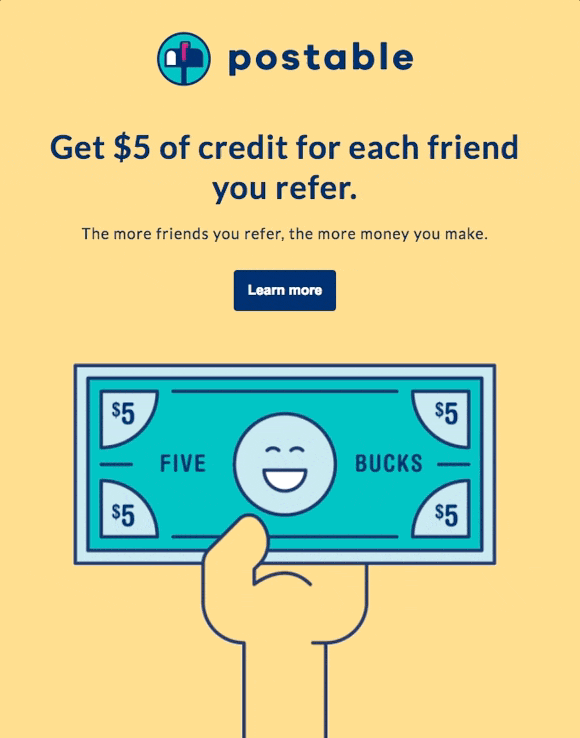 Source: ReallyGoodEmails
Remember when I said simplicity holds the key to an effective referral email?
Postable does it better than most—by explaining its referral program in fewer than 20 words.
Plus, the visuals are striking and cheery, which is important for a brand that makes designer greeting cards and invitations.
Challenge yourself to do the same. Explain your referral scheme, then edit it down to the bare bones.
If you can't communicate your offer in about the same number of words as Postable, it's too complex.
10. Bombas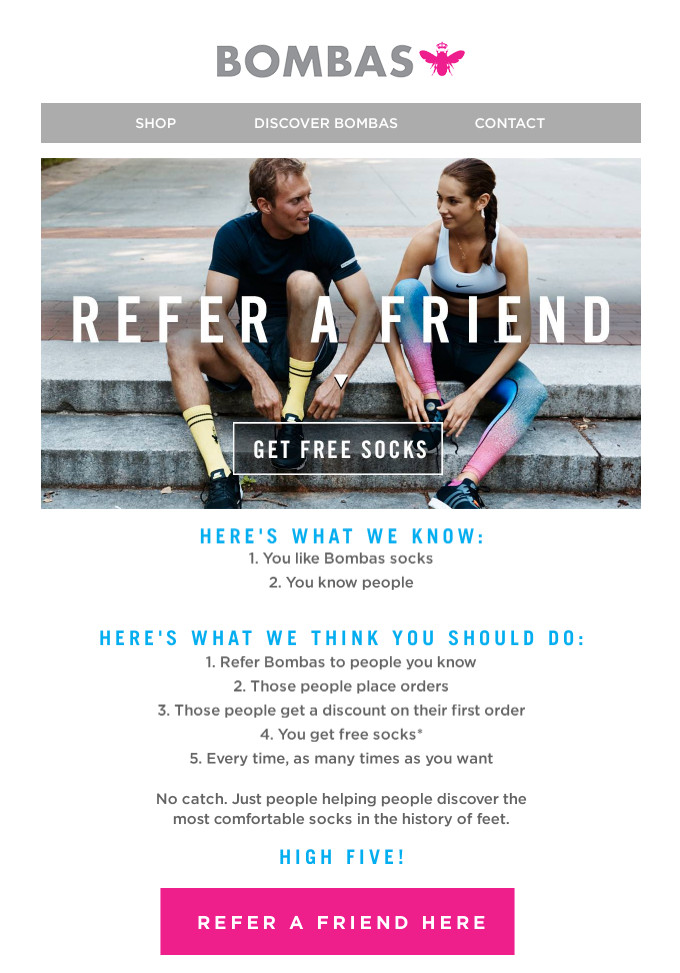 Source: ReallyGoodEmails
As you've seen from this article, a lot of e-commerce brands prefer to give away a little detail about their referral program in the original email, before directing customers toward a landing page to learn more.
There's logic to this approach. It means your referral emails are less cluttered, which can make your message more impactful and easier to digest.
However, it's not the only approach. Bombas takes things in the other direction by setting out, in easy-to-understand steps, exactly what its referral offer entails.
No need to click through to the website to fully understand the proposition—it's all right there in black and white (and blue).
What's more, rather than offering a discount on future orders, Bombas goes with something even more compelling: a totally free product.
If you've already ordered a pair of Bombas socks, there's a good chance you like the brand and would love to get more pairs for free. That's exactly what this referral email promises.
11. Goby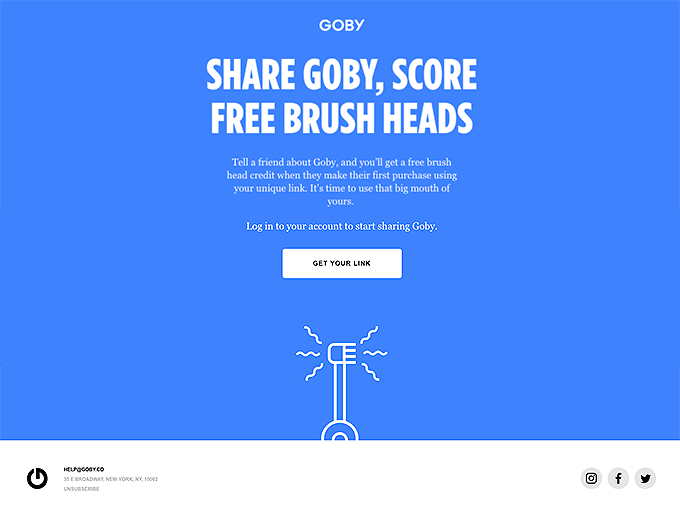 Source: ReallyGoodEmails
Goby sells electric toothbrushes and accessories.
If you've ever owned an electric toothbrush, you'll know they're hardly a regular purchase. Once you've bought one, you'll likely stick with it for several years.
However, the brush heads need replacing every three months or so at least, and that's where Goby's referral offer comes in.
This email demonstrates the benefits of psychology in crafting an effective referral proposition.
Those brush heads aren't exactly expensive. They cost $6 apiece. Now, ask yourself which of these options sounds most attractive:
Refer a friend and get $6; or
Refer a friend and get this free product.
Even though the value is the same, option two takes it every time.
12. Brooklinen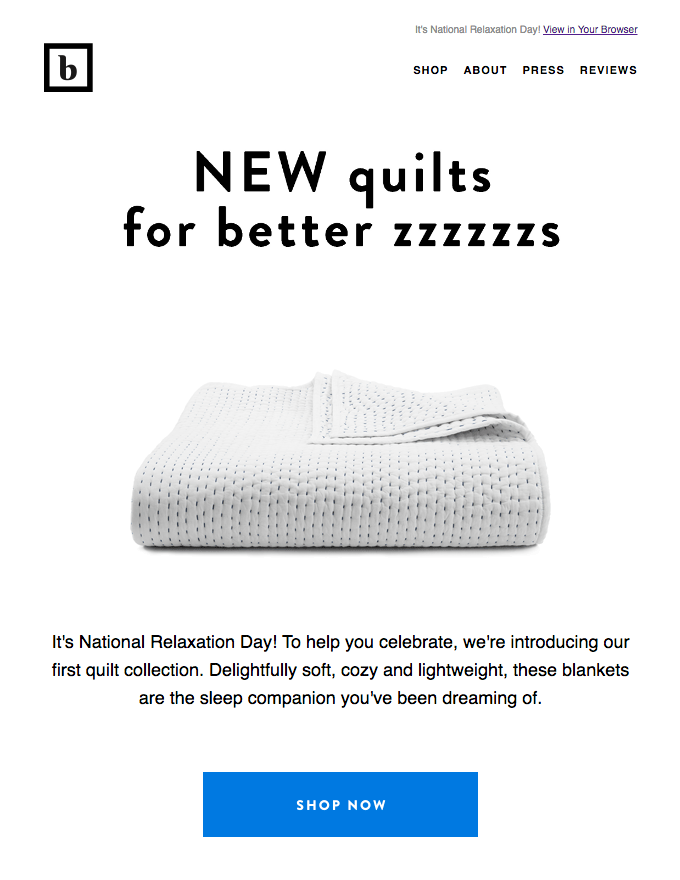 Source: ReallyGoodEmails
A timely offer can make your ecommerce referral email a lot more compelling.
Brooklinen demonstrates this with an email sent on National Relaxation Day (it's August 15th, in case you want to add it to your diary).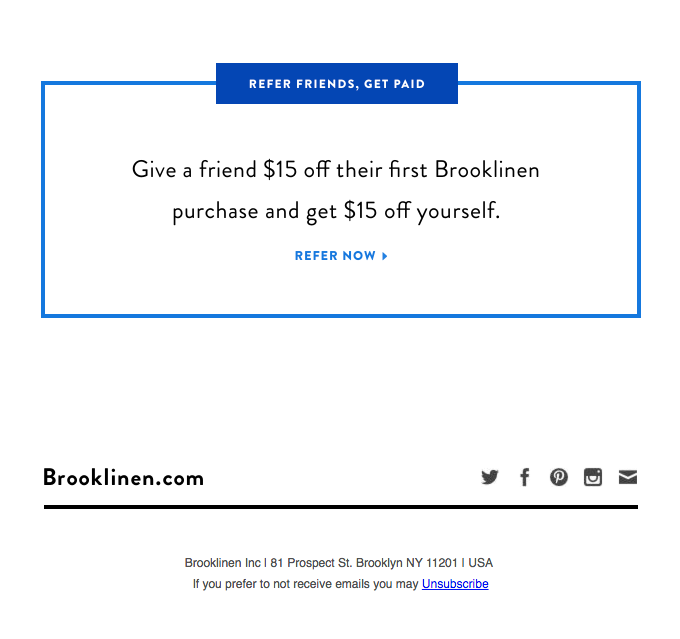 Relaxation and new bed linen? That sounds like a match made in heaven. This well-timed referral email gives customers a reason to refer their friends right now.
13. Harry's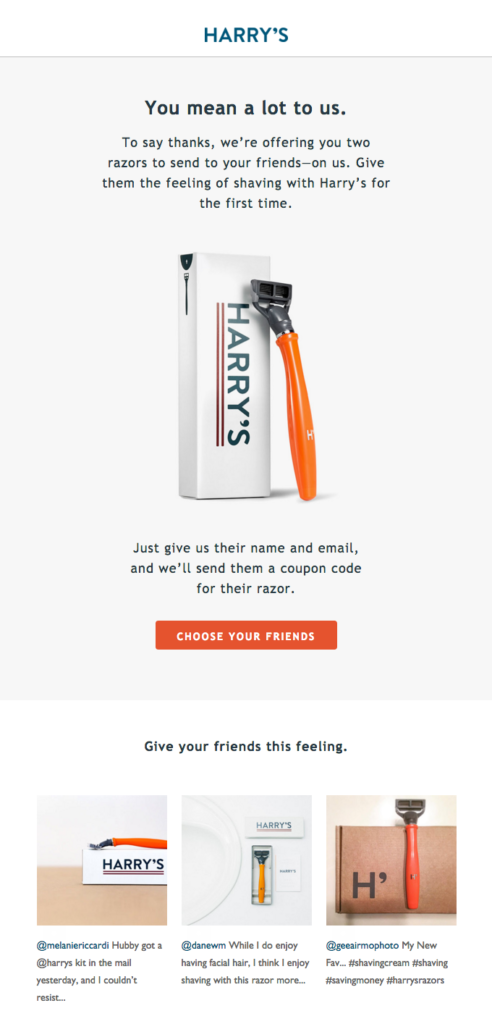 Source: ReallyGoodEmails
The majority of these e-commerce referral emails have been a kind of "you scratch my back, I'll scratch yours" arrangement.
You refer a new customer to us, and we'll reward you with this discount or offer (and the person you refer might get some money off, too).
As we've discussed before, Harry's isn't afraid to do things differently.
Rather than offering something to the referrer, it promises to send free razors to two friends. That way, the referrer gets to feel like they're sending a gift, rather than trying to persuade their friend to buy a product.
3 Referral Email Templates You Can Steal
We've seen how other brands are doing it. Now, here are three referral email templates to inspire your own referral campaigns…
1. The New Customer Referral Email
For many customers, the best opportunity to ask for a referral is when they first purchase from you. They're excited about their new product, and they haven't been distracted by the next shiny, new thing (yet).
Use this copy as a jumping-off point:
Subject line: Spread the love 👩‍❤️‍👩 (and get rewarded)

Hi [first name],

Thanks for your first order—we hope you love your [product name/type] as much as we do!

Think your friends and family would love one, too?

Send them the link below and they'll get [referred customer reward].

Plus you'll get [referrer reward] when they place an order.
2. The Loyal Customer Referral Email
Remember, loyal customers are the most likely to recommend your brand and products, so they're an obvious target audience for referral campaigns.
Turn loyal customers into brand advocates with this referral email template:
Subject line: [First name], you're invited to our referral program 🤗

We love that you love products like [product name of last purchase].

As one of our most loyal customers, we want to invite you to our referral program. It's simple:


Refer friends and family using this link
They get [referred customer reward]
When they buy, you get [referrer reward]
3. The Urgency-Inducing Referral Email
Creating a feeling of urgency helps you drive referrals right now. Here's how to do it…
Subject line: Refer a friend in the next 48 hours for $100 cashback 🤑

Refer your friends and family in the next 48 hours to $100 cashback on your next order!

Here's how:


Refer friends and family using this link
They get [referred customer reward]
When they buy, you get [referrer reward]
So what are you waiting for?
Conclusion
Effective email marketing holds the key to promoting your referral program.
That's why you need Drip.
Our marketing automation platform makes it easy to build on-brand emails that stand out (and convert) in every inbox.
Start with one of 50+ professionally-designed email templates, customize to your heart's content with our simple point-and-click editor, and run your campaigns on autopilot with our visual workflow builder.
See it all for yourself by signing up for your free 14-day trial!