It's just like they tell you: first impressions matter. Regardless of whether your new subscribers are complete newbies or if they're already fans of your products, your welcome email is probably their first real taste of your brand and voice.
It's one email with a whole lot of work to do. Forget just providing a first-timer discount, your welcome email's job is to introduce them to your brand, set expectations of your email marketing strategy, and nudge them towards making a purchase.
If this all seems a little intimidating, don't worry. In this article, I'll show you nine ecommerce welcome email examples from top brands. Plus, I'll share strategies you can implement in your own emails to maximize your engagement and boost conversions.
1. Tell a Story
If you're welcoming new subscribers to the fold, it's a good idea to introduce them to your history and your core messages.
As a species, we humans love to tell and hear stories. Storytelling inspires the imagination and engages our interest, to the point that people are up to 22 times more likely to remember stories compared to facts and figures alone.
You can use this to your advantage by introducing yourself to your new subscribers in an intriguing narrative form. Take this example from Johnny Cupcakes: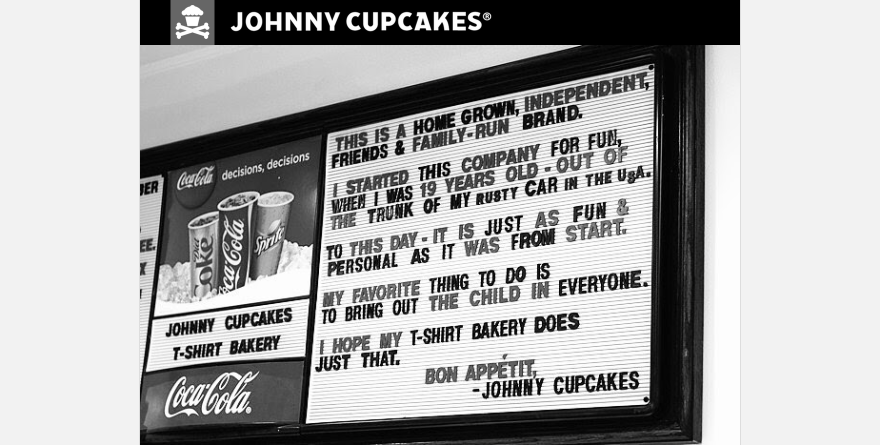 This email tells a simple but appealing story of how Johnny Cupcakes started, what they value in their company, and how they want to make you, the customer, feel. It flows naturally and feels personal and authentic, encouraging the reader to connect with and invest in the brand.
And it works! When I read this email, I immediately liked Johnny and the story of his "homegrown" business, so I clicked through to learn more and check out the store.
2. Showcase Your Values
Your welcome email is also the perfect opportunity to present your brand's core values to your new subscribers.
For Allbirds, this means emphasizing the sustainability of their products right from the get-go: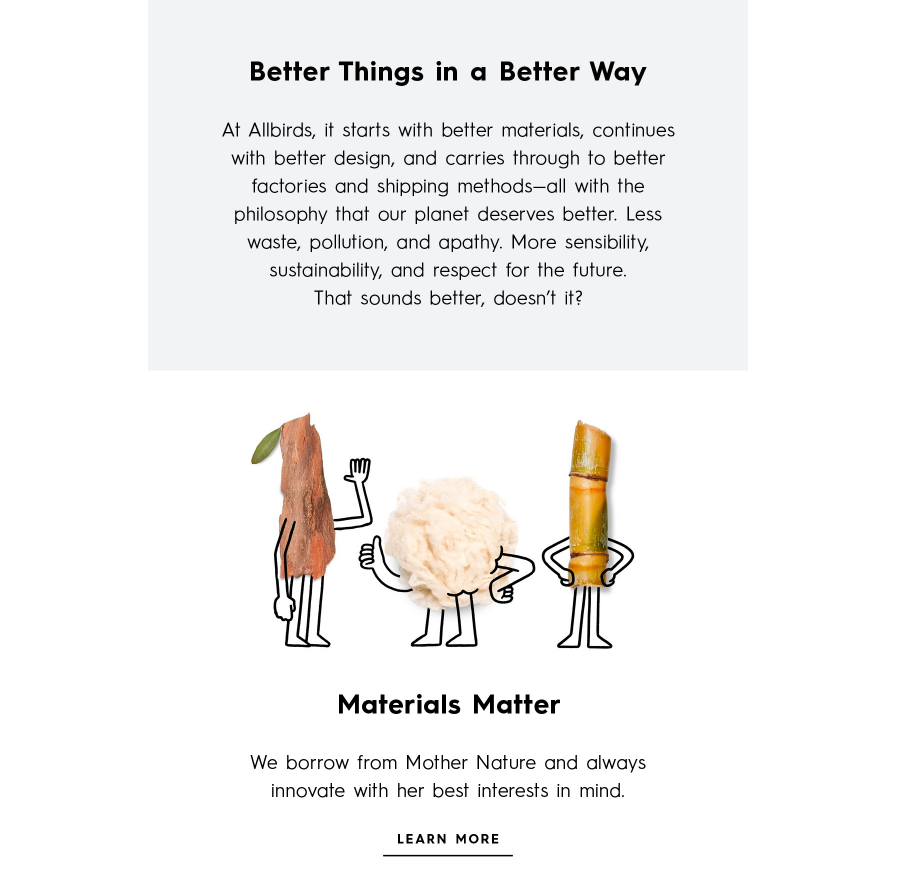 In terms of establishing your value proposition, it's difficult to get more up-front than this. Everything in their copy carries their mission statement of environmental-friendliness, from design to manufacturing to shipping.
This triggers what is known as the noble-edge effect, whereby a brand can improve people's perceptions of themselves and their products by demonstrating genuine social goodwill. Allbirds' email does this both succinctly and effectively, making it a great example of the strategy.
Margaux DelCollo of Twee talks about using their welcome series to tell their brand story. She mentions that, for Twee, it's more about giving the customer more ways to think about and experience their brand, without getting overly promotional right off the bat.

3. Inject Some Personality
One of the biggest mistakes that brands can make in their email marketing strategy is not including enough personality. You may feel like playing it safe with a fairly vanilla welcome message, but the most successful brands are doing the opposite.
A personal favorite of mine is Firebox, a brand specializing in funny and unusual gifts. Their welcome email looks like this: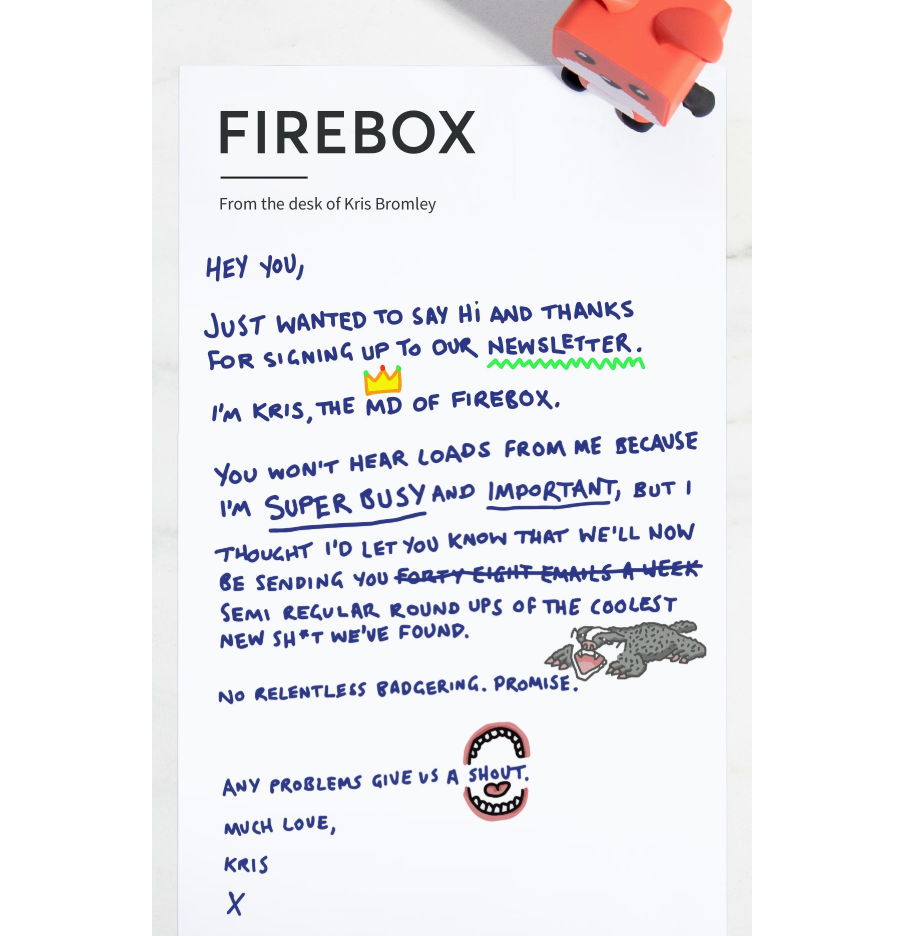 Immediately you can tell that their brand voice matches what they're selling. The playful look and copy in this email make it obvious that they don't take themselves too seriously, and you shouldn't either.
One of the best ways to inject some personality is by humanizing your brand with a founder story. This shows your customer that you're a real human being, just like them. Michelle Songy from Press Hook mentions how important it is to tell your founder story. Founder stories can help your customer better resonate with you, and while Michelle talks about it in a PR context, the same can be true for your welcome series – especially if you have a founder story that's particularly interesting.
By taking a chance and doing something fresh and new, this stands out from the crowd of bland and boring welcome emails. At the same time, it's also doing a lot of work! It clearly sets up what you can expect as a subscriber, including what kinds of emails you'll receive from them, and when. Then, it puts you at ease by promising that they won't be annoying and that you're free to contact them with any issues.
4. Recommend Products
If you want to start your subscribers on the path to purchase right from the very beginning, there's no better way than to recommend some products that they might want to buy.
Obviously, it's unlikely that you will have collected enough information from your new subscribers to give them targeted, personal recommendations, so this is an opportunity to try something different.
Fenty Beauty nudges its new prospects towards the checkout by placing a few best-selling products in its welcome email: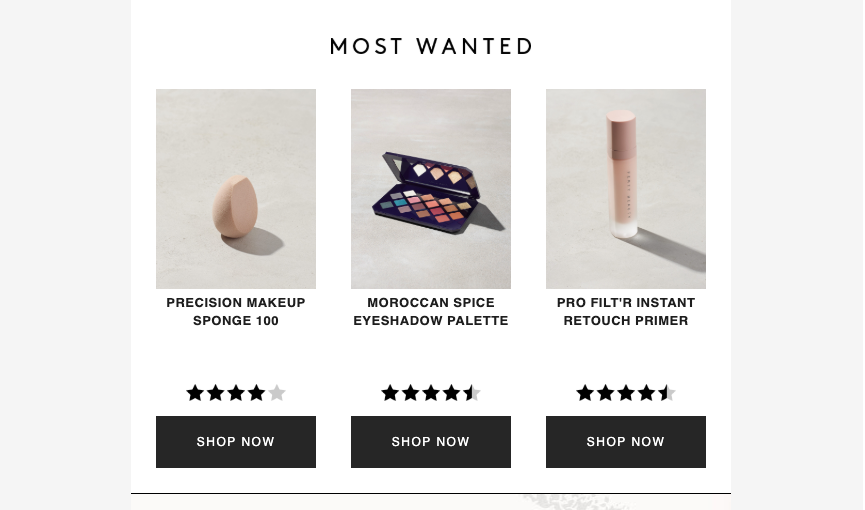 Not only do these products come with implicit social proof by virtue of being best-sellers, but they also come with ratings from real customers.
Adding reviews or ratings to your recommendations can really boost the trustworthiness of your recommendations. So much so that 91% of consumers trust reviews as much as they would a recommendation from someone they know.
Providing authentic and tempting recommendations right in your welcome email is a creative way to both onboard your subscribers to your range of products and increase conversions right from the outset.
5. Provide Social Proof
Including reviews from customers is one way to provide some social proof of your products' quality to your subscribers, but it's not the only way.
The luxury bedding brand Boll & Branch takes a different approach to testimonials by filling their welcome email with quotes from well-known magazines and journalism sites: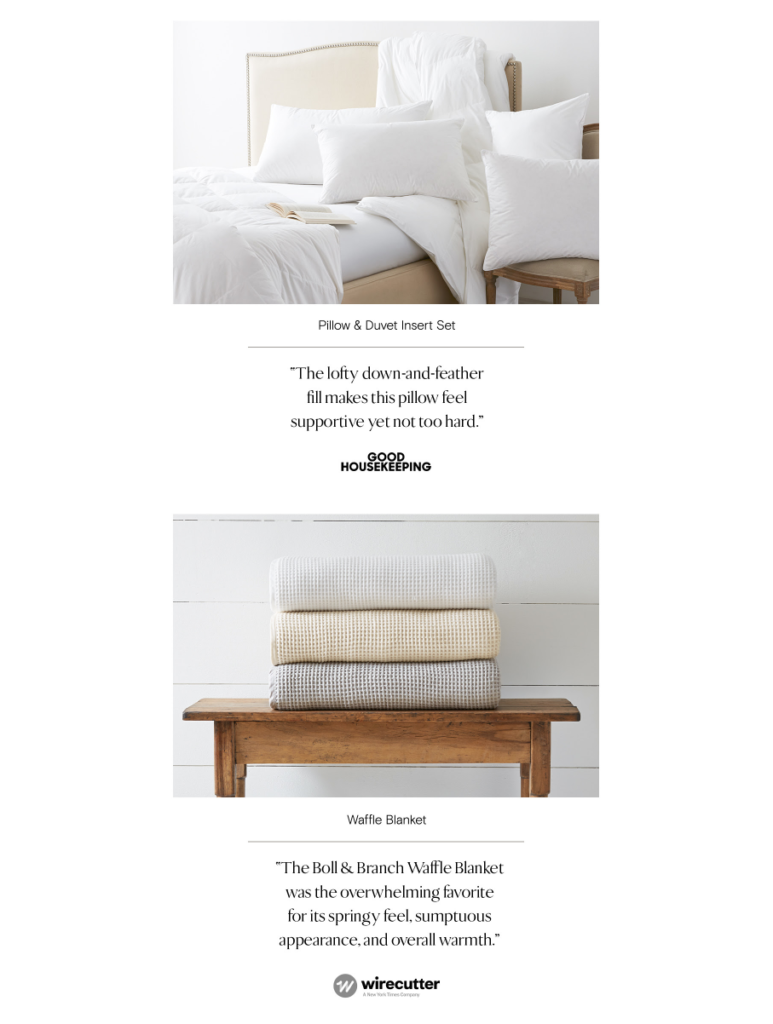 These testimonials are specific to particular products in their range, and detail exactly what is so great about each of them. We trust in publications like these to write reviews that are well-researched and honest, which means they hold a lot of authority in our minds about which products we should invest in.
Media approval of your products acts as a form of social proof that can't be matched by consumer reviews, making testimonials like the ones above the perfect way to convince your subscribers to add your products to their cart.
6. Make It Personal
If you think of your welcome email as your first real interaction with a subscriber, then it makes sense to give them a proper greeting.
In real life, the people that make the best first impressions are usually the ones that are friendly, welcoming, and polite, so why should it be any different when crafting your welcome email?
Vinomofo does a great job of just that. The subject line is a simple but friendly introduction that goes a step further by mentioning the subscriber by name:
Now, personalizing emails this way is nothing new, but you'd be surprised how few brands are using such a simple technique in their welcome emails. When this popped up in my inbox, I was actually surprised, and immediately clicked through to read more: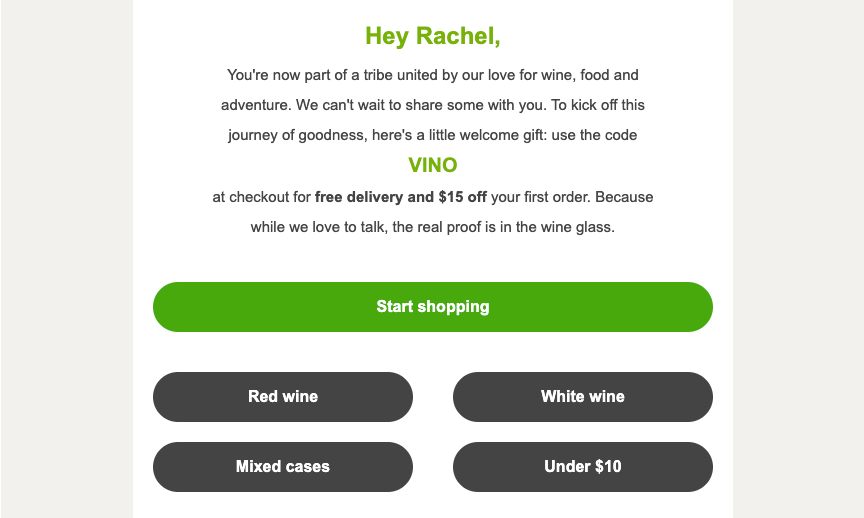 The body of the email continues the personalization trend. As well as addressing me by name, Vinomofo plays up a sense of community in their copy, announcing that I'm part of their "tribe."
By making your subscribers feel like part of something bigger, they're more likely to feel invested in your brand and perhaps even become your most loyal customers.
7. Reassure Subscribers
If a new subscriber to your emails isn't completely familiar with you or your products, they might be a little harder to nudge along the path to purchase.
In these cases, it's worth taking some time to reconcile their hesitance with some reassuring words (and deeds).
HELM Boots takes this approach in their welcome email: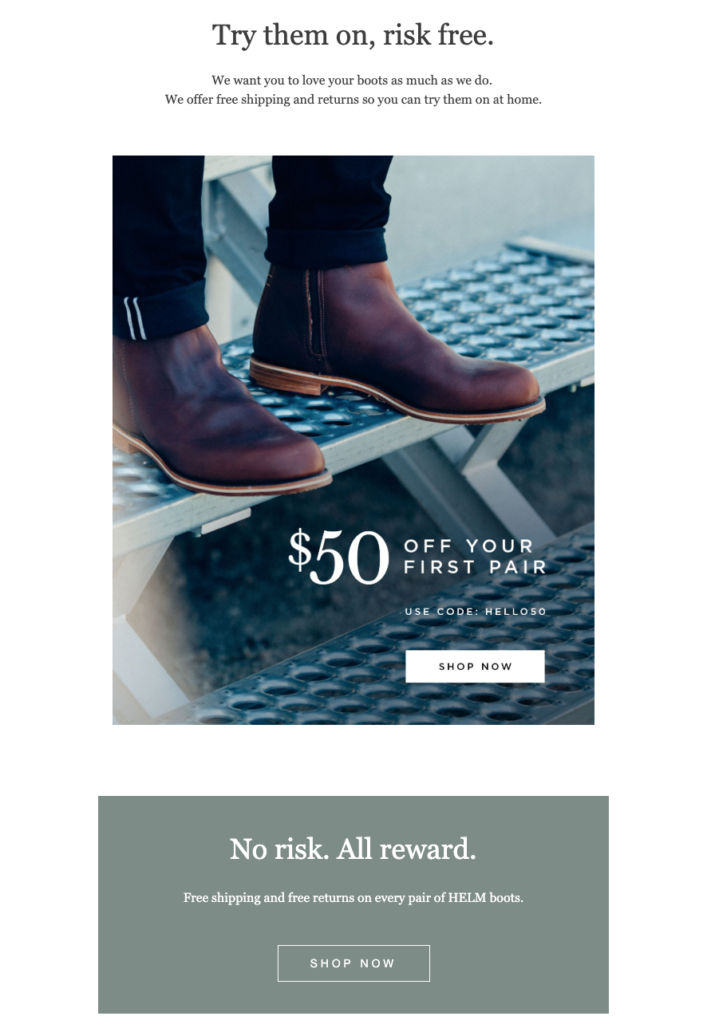 They state not once, but twice, that you can easily try on a pair of their boots and return them if you're not satisfied with their free shipping and free returns policy. This reduces the "risk" that you, as a customer, take by buying a pair of boots from their store.
This tactic works especially well with brands that sell high-value products, as it removes a lot of the objections around buying and keeping an item that is such a large investment.
By leading with this kind of promise in your welcome email, you're sure to get the doubters on your side.
8. Engage With Social Media
If you use social media as part of your marketing strategy (who doesn't these days?), then why not engage your subscribers in your social media channels right from the very beginning?
One brand that does this especially well is the apparel brand, Nasty Gal. Their simple welcome email ends with this section, inviting subscribers to follow them on Instagram: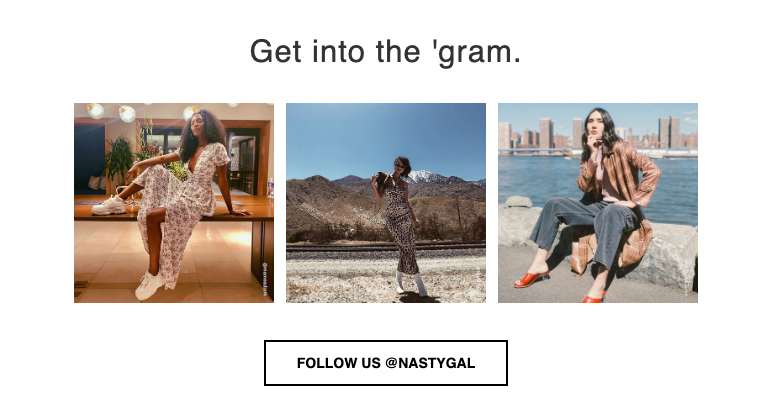 Social media and word-of-mouth have always been a big part of Nasty Gal's growth strategy, and at the time of writing, they have 4.4 million followers on their Instagram profile.
Their posts consist of both their own content and content from customers and Instagram influencers, making it a prime place to impress new prospects. Following a brand on social media is easy and, importantly, free, so it's worth considering if you're looking to boost your online engagement.
Sensi Graves from Sensi Swim told us "You can either put in a lot of time or you can put in a lot of money to gain new customers – and we've gone the time route." You can see this echoed in the welcome workflow for Sensi Swim, which spans over a few weeks of long-term nurturing. She brings in several channels into her welcome workflow to offer her customers several methods for engagement.
9. Don't Forget to Say Thank You
Lastly, comes perhaps the most important strategy of them all: saying thank you.
Signing up to an email list may seem like an easy thing to do, but by investing their time and inbox space in your brand, your subscribers are actually doing you a huge favor.
Out of all the brands that show their appreciation for new subscribers, one of my personal favorites is Aerie. Their subject line alone puts a smile on my face:

The cheery and appreciative tone continues in their email copy: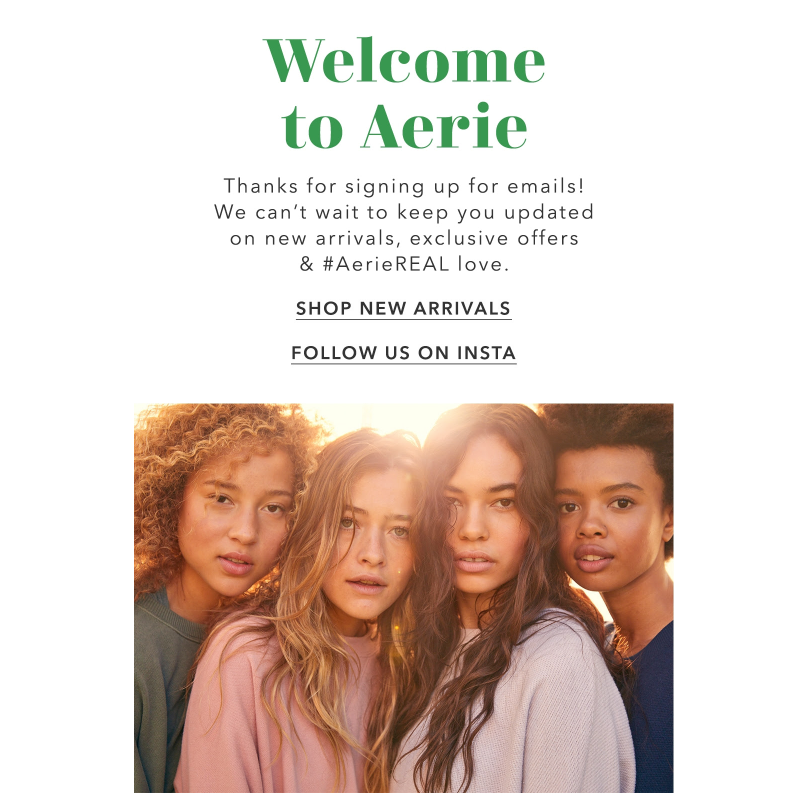 This email may not be as stylized or sales-forward as some of the other examples, but its simplicity is part of the charm.
When I read it, I truly believe that they are grateful that I subscribed and are excited to show me more of their content. And sometimes, that's enough to turn me into a loyal customer.
Bonus: How to Set Up an Ecommerce Welcome Email Automation
Now you know what type of emails you need to send as part of a welcome email workflow, it's time to learn how to put these ideas into action.
1. Choose a Workflow Template
Let's assume I have a Shopify store and want to drive first-time purchases. To avoid building a workflow from scratch, I can install a premade template with predefined Triggers and recommended Delays and Decisions.
First, I'll filter "Sales" by "Category" and "Shopify by Platform."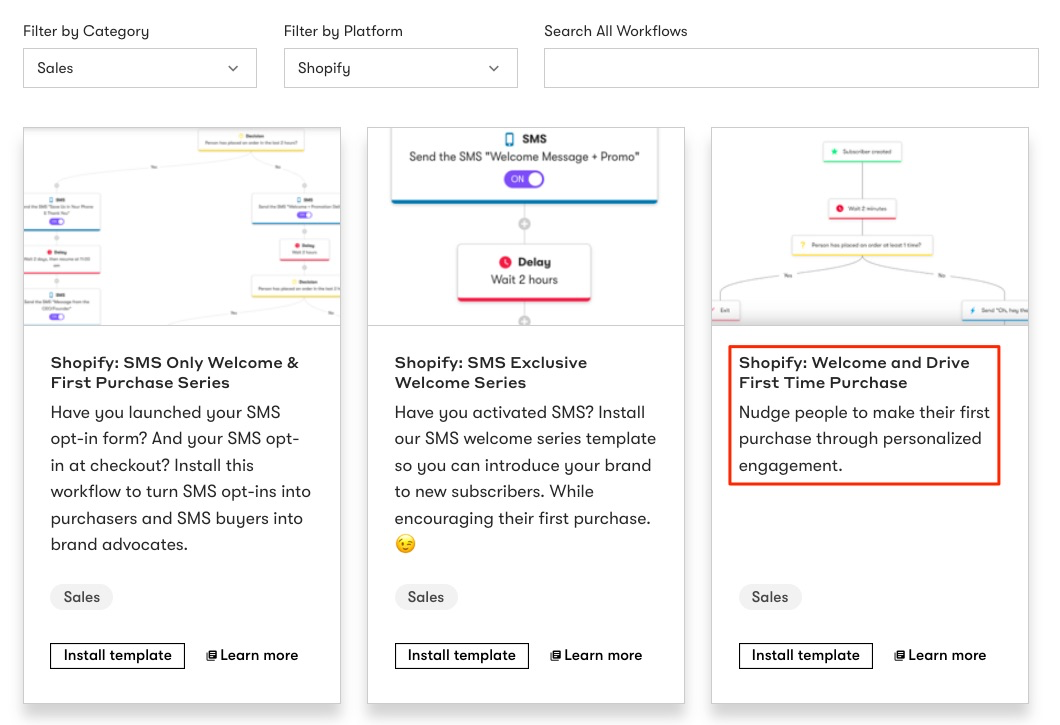 Then, I'll install the template "Shopify: Welcome and Drive First Time Purchase."
2. Review Your Setup
As mentioned above, premade templates come with predefined Triggers and recommended Delays and Decisions. However, if you want to customize each further, it's important to keep the following in mind:
i. Triggers
The "Subscriber Created" event adds anyone who is created in your Drip account to your welcome automation, including:
Anyone who submits a form;
Completes an order for the first time; or
Is imported via CSV file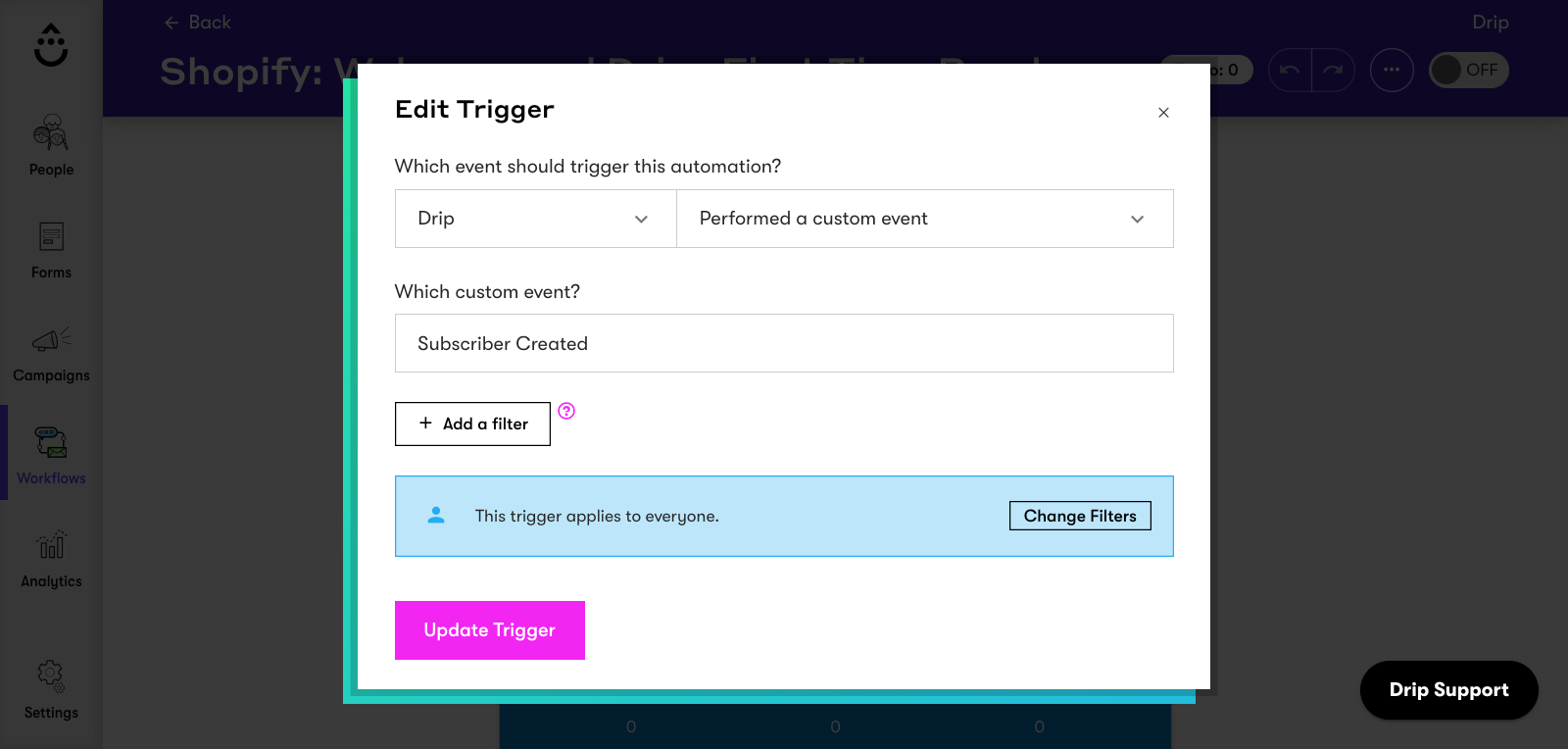 ii. Delays
Delays are pre-set to ensure people hear from you at the right time. You can always change the Delays to fit your needs or customer base by clicking on the Delay step.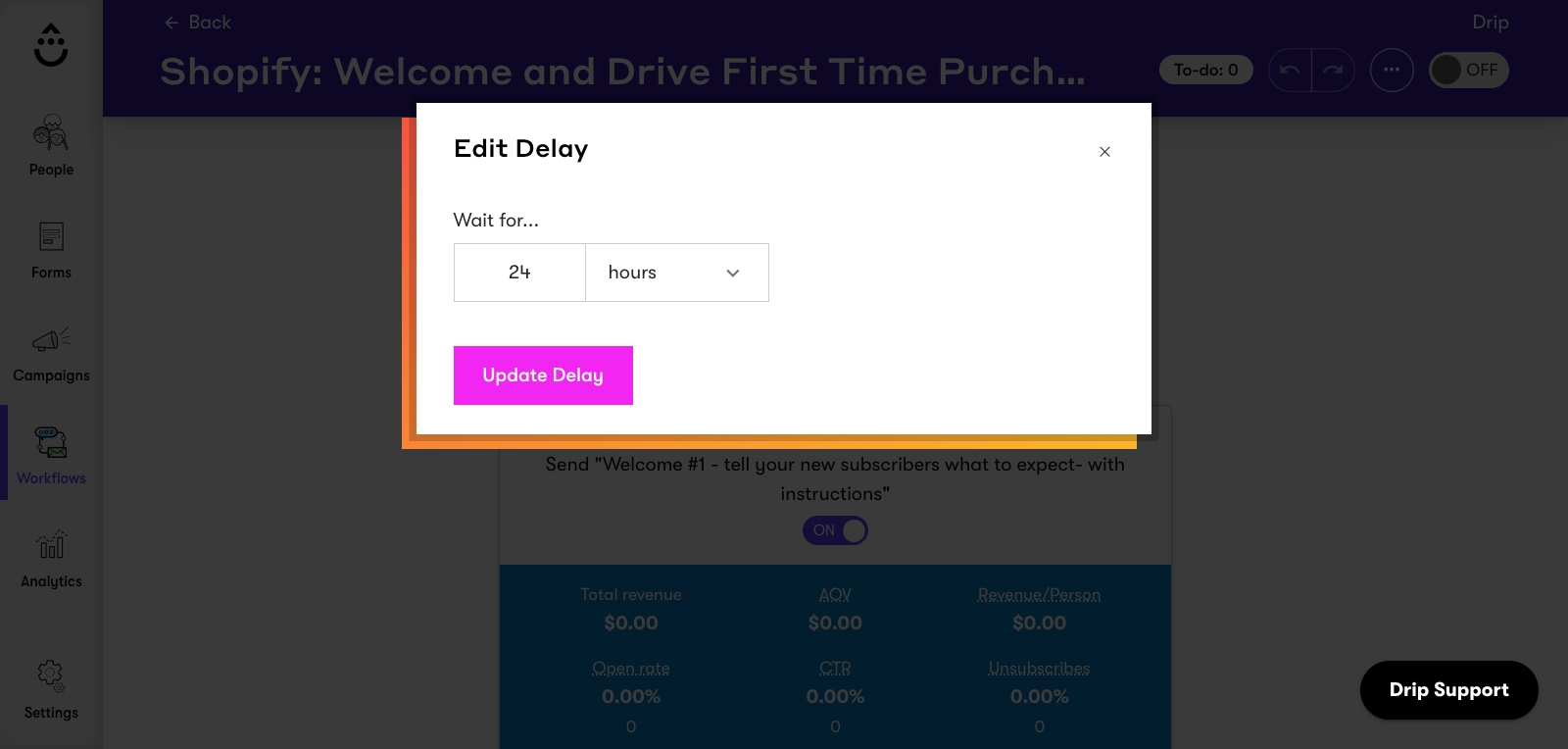 iii. Decisions
A Decision temporarily splits a workflow into two separate paths. When a person reaches a Decision, they continue down the Yes path if they meet the criteria in the Decision. Otherwise, the person will go down the No path.
For this particular automation, there's an optional Decision at the end of the workflow to incentivize anyone that hasn't made a purchase during their first week on your list.
3. Edit Your Emails
The "Shopify: Welcome and Drive First Time Purchase" automation includes three email templates to help structure your workflow with an optional fourth to incentivize new signups.
Using the Visual Email Builder, you can customize each welcome email from scratch, or if you prefer, use a prebuilt template. I'll try the "Welcome Email" template as I liked what I saw in the preview.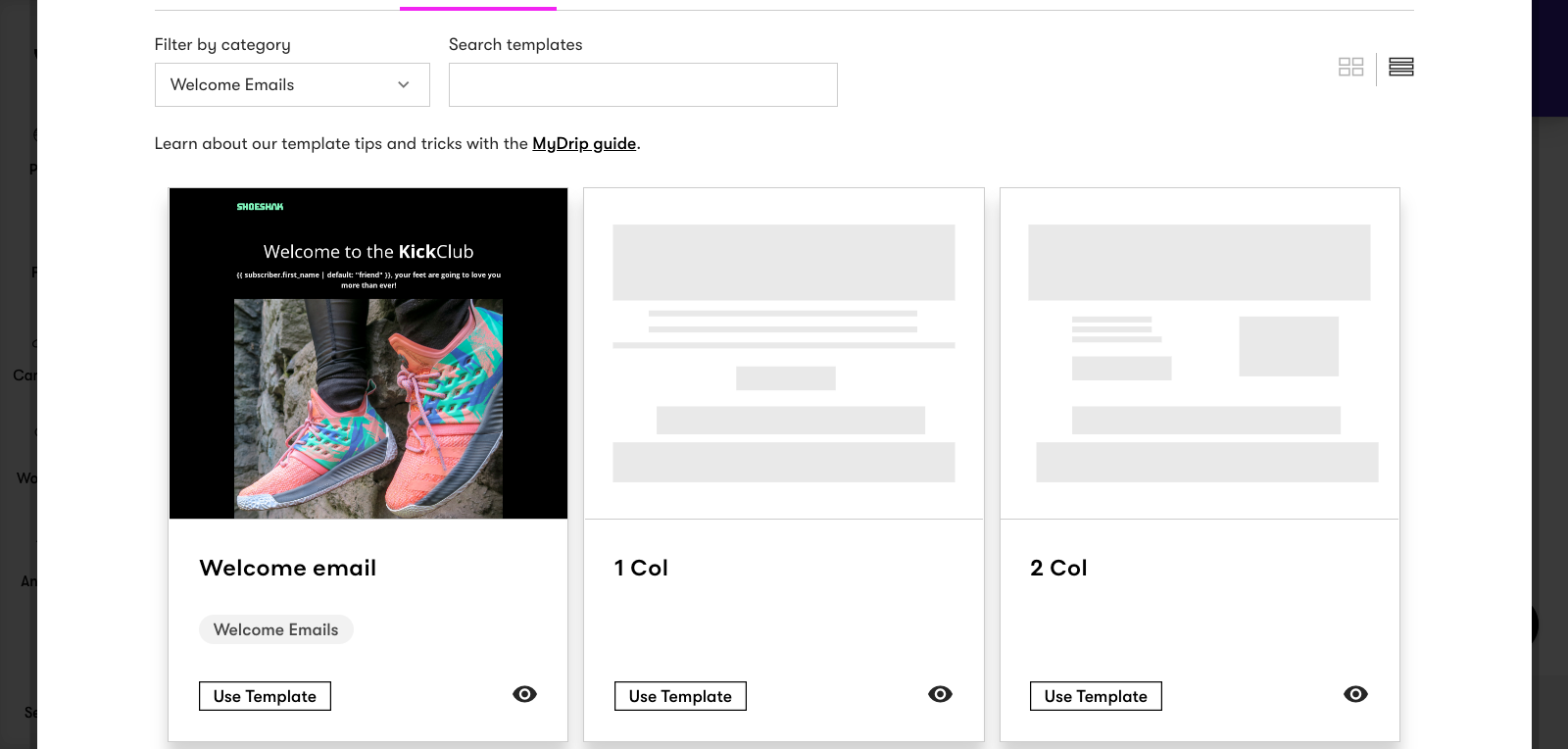 All I need to do now is ensure my email matches my brand's style guidelines. To do that, I need to:
Add my header logo;
Edit the font and button colors under settings and default styles; and
Write a subject line and email copy in my brand's voice.
Once I've built my email, I can click "Preview" to see how it looks on desktop, tablet, and mobile devices. Then, I can navigate back to the workflow editor and edit my other emails.
Lastly, once I've written my emails and double-checked my Triggers, Delays, and Decisions, I can toggle my workflow ON to welcome new subscribers and drive first-time purchases.
And that's it! If you're more of a visual learner and want an overview of the entire process from beginning to end, watch this video:
And if you're new to email automations and want to know best practices to follow, we got you covered:
Conclusion
These are just a few of the many ways to approach a welcome email, and you shouldn't think that you have to include everything here to make it work. After all, that would be one long email.
Instead, take some time to contemplate what you want to say as a brand, and what you want your subscribers to take away from your first interaction.
Try to think about what emails you'll send them next, and how you want your customer relationship to continue, and use that to shape your content and tone.