Imagine you start brewing your own lemonade. After months of honing your approach, you've landed on a winning recipe.
It's the perfect blend of tangy, refreshing, and sweet.
Now you want to share the wealth (and make a little money on the side) by selling your product.
At this point, you're faced with a choice.
Do you take full control of the sales, marketing, and fulfillment process, managing your own stock levels, taking orders, shipping products, and handling customer support?
Or do you leave all that stuff to a bunch of third parties in exchange for a cut of the profits?
For a growing number of brands, option #1—the direct-to-consumer (DTC) model—sounds a whole lot more attractive.
From 2016 to 2021, DTC ecommerce sales in the US more than tripled from $36 billion to $128 billion. They're expected to surpass $210 billion by the end of 2024.
According to Diffusion's 2022 Direct-to-Consumer Purchase Intent Index, nearly six in 10 Americans bought from a DTC brand at least once in 2021, while two-thirds plan to do so in 2022.
Whether you're new to the direct-to-consumer world, or simply looking for a little marketing inspo, I've rounded up nine of my favorite DTC email examples from the past couple years and picked out a key learning from each.
1. Allbirds: Promote Product Launches
Remember: if you're going down the DTC route, you can't rely on a network of retail partners to spread the word about your latest product launch.
That's all on you.
And if your promotion strategy isn't up to scratch, expect sales of your new product—the one you spent so long developing—to fall flat.
Heartbreaking stuff.
Of course, there are many strands to a successful launch. But email marketing delivers an estimated return on investment of about $36 for every $1 spent, so it should definitely play a part.
In this DTC email example, Allbirds shows us what a strong product launch email might look like: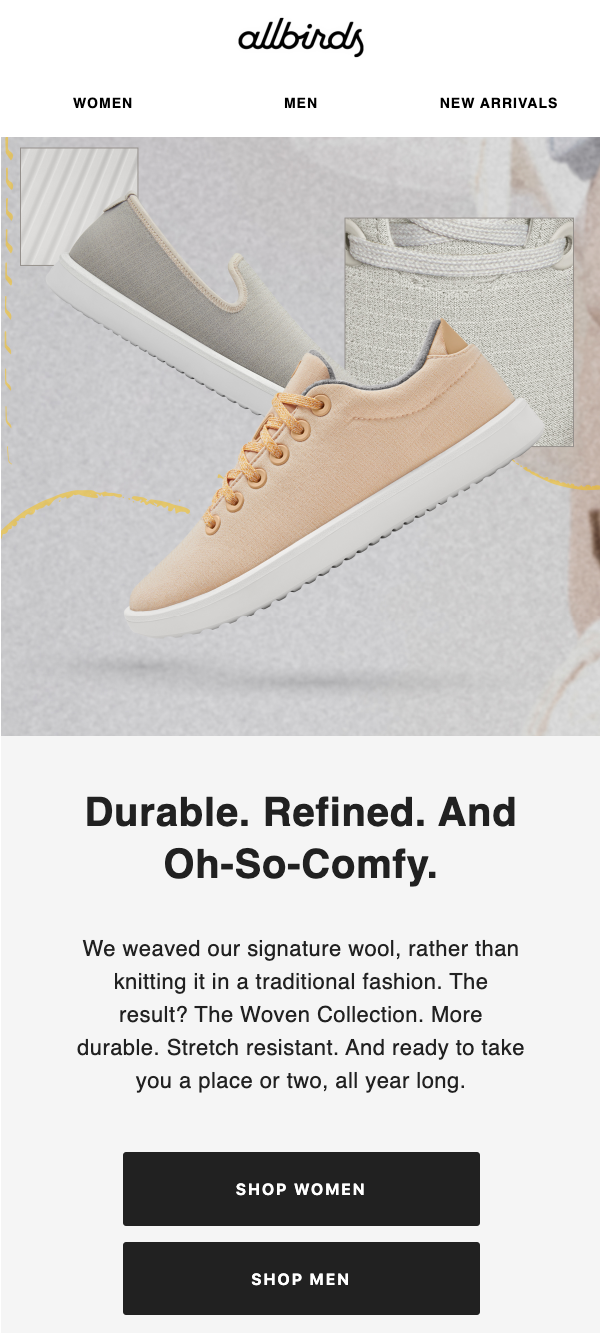 It includes three key elements to effectively show off a new product (or, in this case, a product collection):
2. Brooklinen: Showcase Everyday Low Prices
Price isn't necessarily the most important element influencing consumer buying decisions.
According to First Insight, 53 percent of consumers rate quality as the biggest factor, compared to 38 percent who say the same about price.
But you can't afford to ignore it—especially if you're a direct-to-consumer brand.
Diffusion's research revealed that one in four consumers who don't shop DTC believe they can get better prices and sales from traditional retailers, while one in five said traditional retailers sell similar products at lower price points.
Clearly, you're never going to impress everyone.
Brand loyalty is alive and well, so some consumers are simply never going to be won over by DTC brands—many of which are disruptors in established markets.
But that doesn't mean you shouldn't at least try to demonstrate the value of your products.
Brooklinen does this by highlighting its product bundling offers: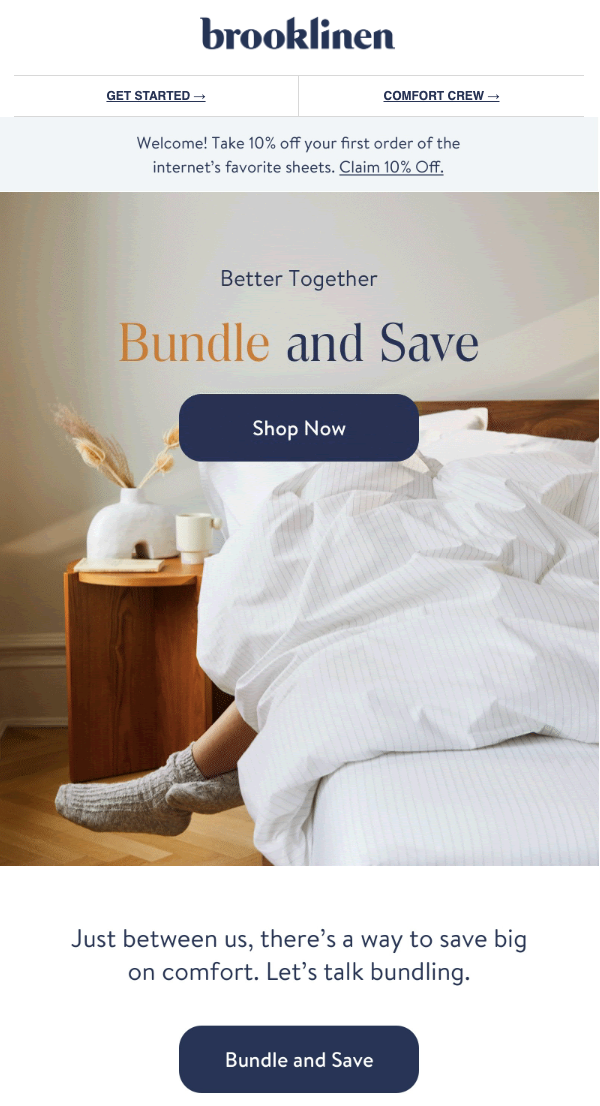 Not only is this a fantastic way to help customers save money, but it also helps boost your average order value.
What's more, bundling can make less-popular products look a whole lot more attractive.
That's definitely a good thing, because no brand wants a bunch of old stock clogging up its warehouse.
3. Casper: Demonstrate Product Quality
I've already noted how consumers say quality—rather than price—is their number one consideration when deciding whether or not to purchase from a brand.
This is an area in which DTC brands can truly stand out.
According to Diffusion, among customers who shop DTC, 23 percent believe direct-to-consumer companies offer higher-quality products than traditional retailers.
There could be any number of reasons for this.
DTC brands sell their own products (rather than someone else's), so maybe they're simply better at discussing features and benefits in a way that resonates with customers.
Or perhaps direct-to-consumer products really are of higher quality.
Whatever the case, this is definitely something you should speak about in your marketing, just like Casper does in this DTC email example: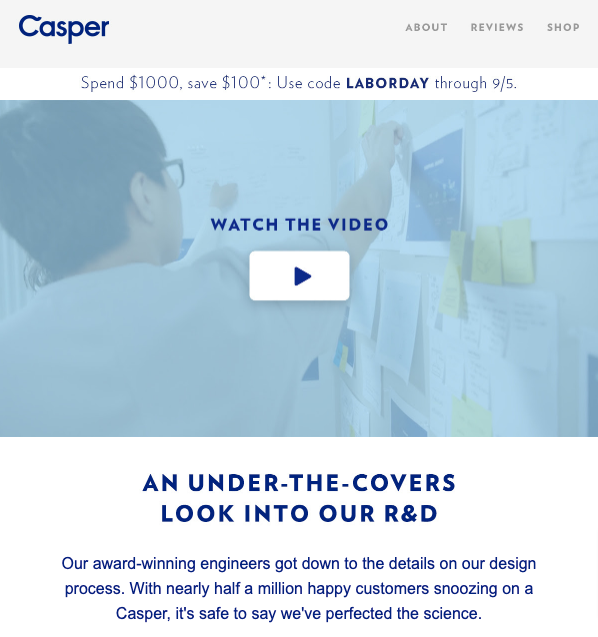 This email is a good example of "show me, don't tell me".
Rather than telling customers that its products are the best thing since Haribo, it lets them see for itself by incorporating a product video in its email.
I know what you're thinking:
"Is it really smart to add video to email? Won't it affect my email deliverability?"
Firstly, you don't actually need to embed the video within the email body. You can link to the video from an image, which is what Casper did in this example.
And secondly, don't be so negative, because it turns out video and email are natural bedfellows. According to one study, adding videos to emails:
Boosts open rates by 19 percent
Increases

click-through rates

by 65 percent
Reduces unsubscribes by 26 percent
4. Away: Highlight Shipping Information
Logistics might not be sexy. But shipping plays a huge role in the path to purchase.
According to Walker Sands, four in five consumers say free shipping makes them more likely to buy online.
What's more, research from Jungle Scout shows that a further four-fifths of consumers expect free shipping when purchasing a certain value of products, while two-thirds expect it on all orders, regardless of value.
For some reason, it appears DTC brands have a bit of a PR problem when it comes to shipping.
Diffusion's research revealed that 40 percent of respondents cited fast and free shipping as a reason to shop at traditional retailers rather than go direct.
While the very largest retailers are always going to be best placed to offer the cheapest shipping, free (and fast) delivery definitely isn't impossible for DTCs to achieve.
And if you're proud of your ecommerce shipping policy, why not shout about it?
That's what DTC luggage brand Away does here, starting with a clear subject line…

…and following up with an email that urges customers to buy now to receive delivery in time for Christmas: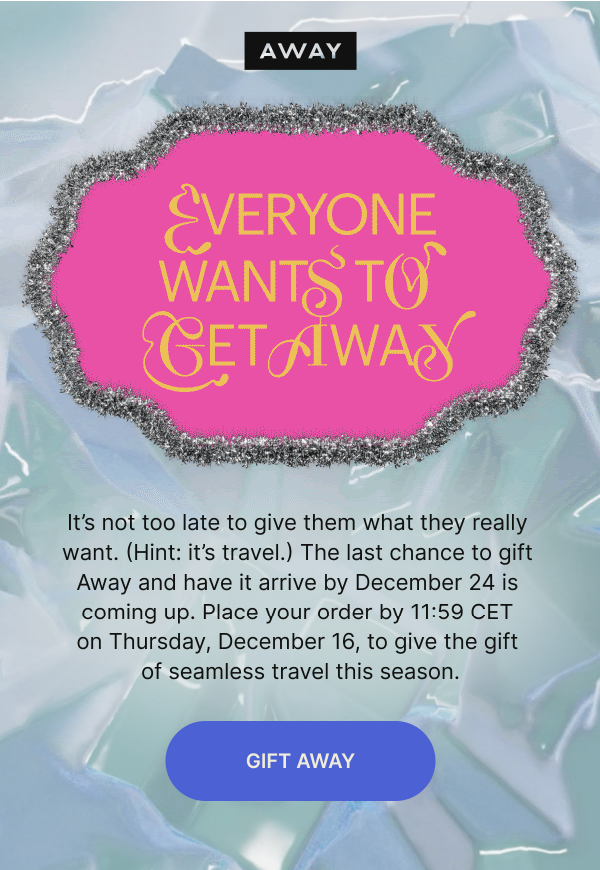 Not only does this DTC email example highlight Away's free shipping promotion, but the element of FOMO gives shoppers a compelling reason to purchase straight away.
5. Glossier: Share Your Best Reviews
If you printed off all the customer reviews you've ever received, they'd be worth their weight in gold.
(Probably. I'm a marketer, not a bullion trader.)
According to Trustpilot, nine in ten consumers read reviews before making a purchase, so it makes sense to show off your best ones in your email marketing.
That's exactly what Glossier does here: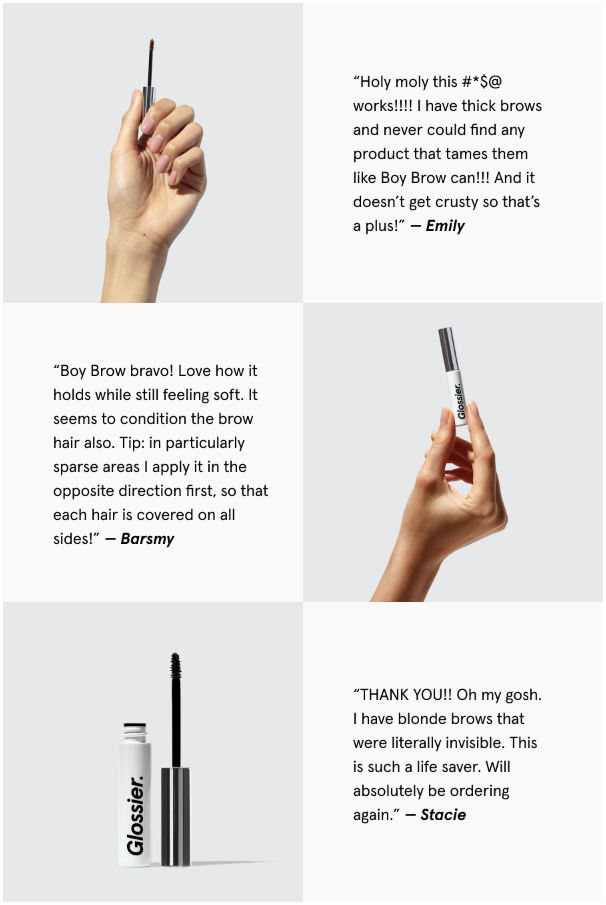 However, that's not the end of the story.
Sure, reviews are important. But there's a lot of skepticism around the authenticity of DTC reviews.
According to a large-scale test of DTC sites carried out by the Baymard Institute, 62 percent of DTC customers said they'd conduct their own research and look for third-party or external reviews before feeling confident enough to buy from an unfamiliar brand.
Furthermore, 29 percent actually went off-site during the test session to find reviews or external information.
So if you're going to use reviews in your DTC email marketing, consider adding links to those reviews on your website.
And when it comes to displaying reviews on-site, bear these best practices in mind:
Allow customers on your website to filter for negative reviews
Allow reviewers to attach their own photos
That way, your reviews stand a better chance of building trust and improving product perception.
6. Billie: Show Off Third-Party Reviews
I'm going to stick with the subject of reviews for a little longer, because used wisely, they can be a highly effective way to drive sales.
We're already familiar with the Baymard Institute's research into DTC reviews, and how consumers are often more than a little skeptical about the results.
Indeed, Baymard found that the vast majority of shoppers only give on-site DTC reviews a "passing glance".
Why? Because they prefer finding third-party reviews through Google, social media, and "expert" sources.
This brings me to an important point:
If your products have been praised by an expert source, you want to make sure people know about it.
DTC razor brand Billie does a good job of this, regularly sharing reviews and testimonials from trusted third parties.
Importantly, it makes sure that as many people as possible see those reviews by adding them to its email subject lines:

7. Warby Parker: Provide Product Recommendations
Consumers love choice, right?
Actually, that's not always true.
Research from Emarsys revealed that 10 percent of US consumers have backed out of a planned purchase after being presented with too many options.
The same study found that 17 percent of respondents report feeling overwhelmed by choice. When this happens, almost one in five simply buy the cheapest available option.
In other words, if you have a huge catalog of products, you could be driving down your order value or putting off potential customers.
That's where product recommendation emails come in.
Rather than leaving confused customers to fend for themselves, share topical, trend-based suggestions, like Warby Parker does here: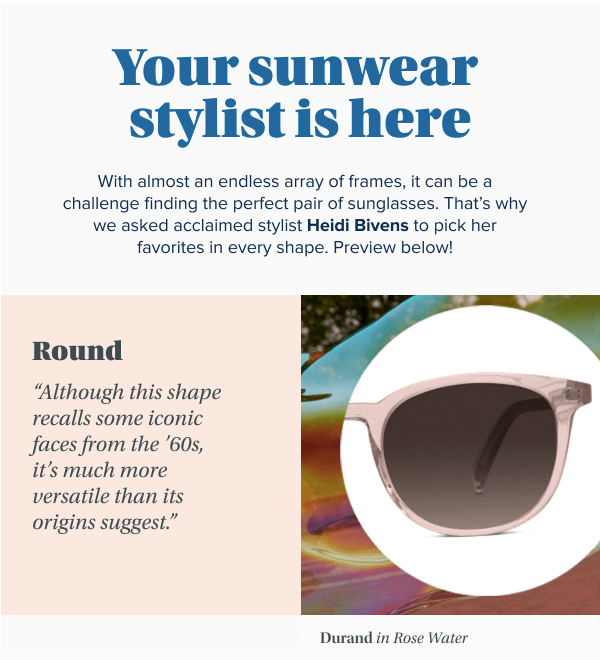 Warby Parker gets some extra brownie points for teaming up with stylist and costume designer Heidi Bivens to curate its recommendations, rather than just pointing customers in the direction of its bestselling (or most expensive) products.
For even better results, send dynamic recommendations emails based on your customers' previous purchases or browsing behavior.
Do they buy a graphic T-shirt every three months? Or regularly browse boot-cut jeans? Tailor your recommendations to their preferences.
This approach can produce fantastic results, with research from Accenture revealing that 91 percent of consumers are more likely to shop with brands that recognize and remember them, and share relevant offers and recommendations.
8. Bonobos: Nail Your Discounting
Discount strategies are a balancing act.
On the one hand, sales are a necessary evil. Sometimes, you're going to need to cut prices to drive revenue—especially if your rivals are running their own price promotions.
But on the other hand, too many sales can damage your brand.
Indeed, research from Klarna revealed that 25 percent of consumers are less likely to shop regularly with a retailer that always runs sales, while 38 percent believe sales make brands look cheap and unfashionable.
That's not good.
So it makes sense to position your sales as rare events, rather than something that comes along every month (or every couple weeks).
Bonobos gets this right by stressing that its season finale sale is a semi-annual occurrence: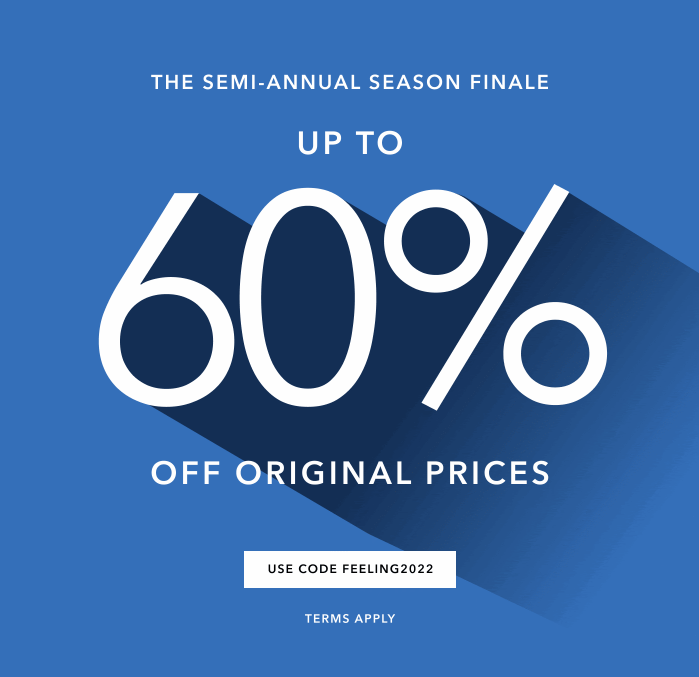 That makes it feel like something not to be missed.
9. Brandless: Help Consumers Make Sustainable Choices
The pandemic was a watershed moment for sustainability, with research from Mastercard revealing that 54 percent of consumers feel it's become more important to reduce their carbon footprint since COVID-19 reared its ugly head.
But they can't do it alone.
According to Zurich, three-quarters of consumers expect brands to help them be greener—both when buying from the brand in question, and also when making more general decisions.
Direct-to-consumer brands are well-placed to capitalize on this trend, because they have far greater control over how their products are made and shipped.
In this DTC email example, Brandless highlights the eco-friendly credentials of its tote bags: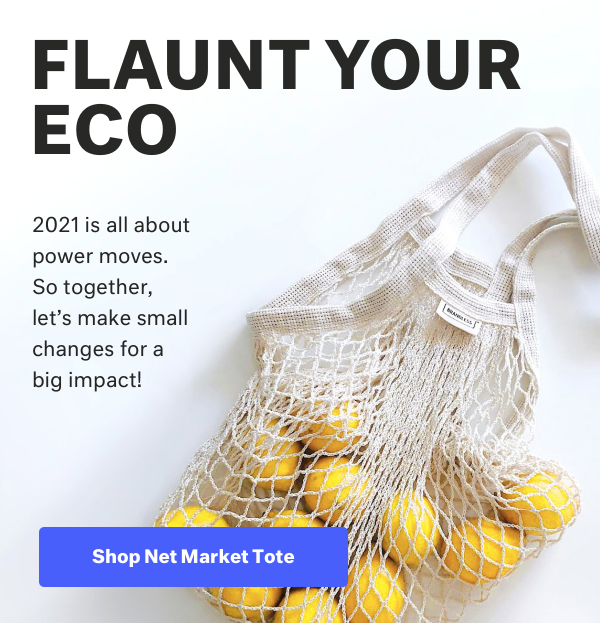 That's a simple way to help customers lead more sustainable lives.
Of course, that's not the only approach.
You could also demonstrate your commitment to cutting down on single-use plastics, or partner with an environmentally friendly shipping provider.
Just be sure that you don't fall short on your commitments. In an Ipsos survey, 34 percent of consumers said they've researched brands to ensure they do what they say they will when it comes to sustainability.
Turbocharge Your DTC Email Marketing With Drip
Drip is a dream come true for DTC marketers. With our…
Library of pre-built email templates
Simple point-and-click editor
Powerful segmentation and personalization tools
…we give you everything you need to build stronger customer relationships and drive revenue growth.
See for yourself by signing up for your 14-day free trial.