From PepsiCo to Nike, many of the largest global brands are adopting some form of direct-to-consumer (DTC) approach. Why?
DTC brands are some of the most innovative in the ecommerce space. Their business models and strategies are the ones to take inspiration from, whether you use the DTC model or not.
This post will cover how the up-and-comers in the space are killing it and the exciting new trends they're spearheading. But first, a quick reminder on what DTC is all about.
The 8 Best DTC Brands to Keep an Eye On
What Does Direct-to-Consumer (DTC) Mean?
DTCs cut out the middle(wo)men, i.e., the wholesalers and retailers, to sell directly to their customers.
Traditionally, manufacturers would sell the wares they produce to a wholesaler who then sells it to a retailer who then sells it to a customer. But direct-to-consumer goods go straight from the factory to the customer's front doorstep.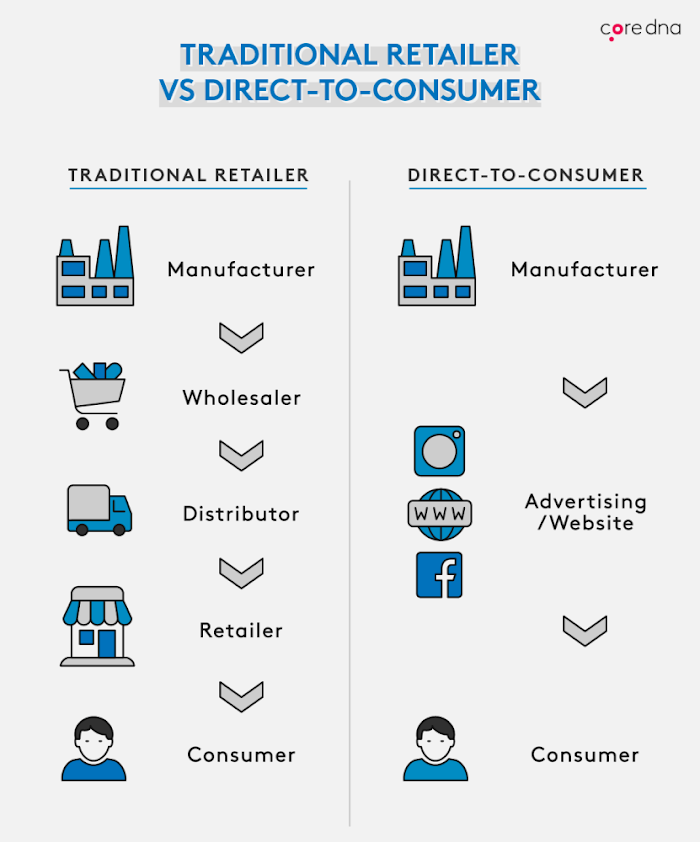 DTCs are on the rise. In 2022, DTC ecommerce sales are predicted to reach $151.2 billion, a 16.9 percent increase from the previous year. It's no surprise, as the business model benefits both the brand and the consumer.
DTC brands also control the entire customer journey, meaning they have greater control over their profits, and many benefit from higher margins. At the same time, consumers benefit from a smoother, more personalized customer experience, given the nature of the DTC model.
Now, let's take a look at some of the brands that are reaping these attractive benefits.
1. Tonal
We all know the OGs in the various DTC categories. Casper does mattresses. Dollar Shave Club does razor subscriptions, and so on and so forth.
But you may have also noticed that they're not the only ones in their categories now. These brands paved the way for newcomers like Purple and Harry's.
In the years to come, you'll see increased competition in spaces that others previously dominated. For instance, there are several notable newbies in the fitness space, on which Peleton used to have a stronghold.
Tonal, an at-home smart gym with a digital weights system, is my pick to watch out for.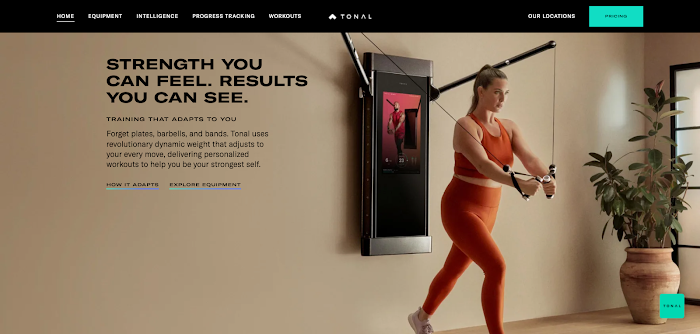 Tonal achieved unicorn status in 2021 and has raised $450 million in funding. Since 2017, the number of searches for "Tonal" has grown by 175 percent.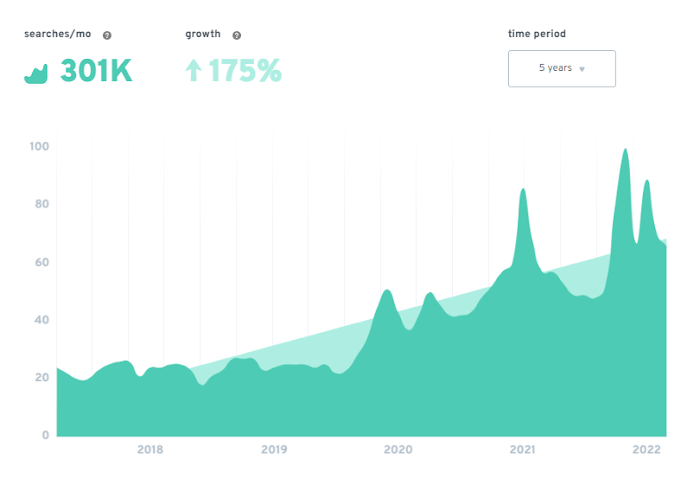 The product is disruptive and solves a significant customer pain point. It removes the need for big clunky equipment in your garage. Instead, the machine uses AI to set levels of resistance personalized to the user and the workout.
The lesson here is there's room to break into the DTC space even in categories that seem to be dominated by others. That is, as long as you have a robust and innovative product.
It's also worth noting that barriers to entry are becoming increasingly lower, given access to easy website builders and logistics services. This means that you have even more of a chance of breaking into one of these categories.
2. Haakaa
Along with expanding existing categories, you'll see new categories come into the DTC space in the coming years. DTC isn't just for eyewear and socks, after all.
Haakaa is a New Zealand-based company that sells silicone breast pumps and is one of the first brands in the breast pump category to choose the DTC model.
Its unique product is electric-free and a game-changer for breastfeeders.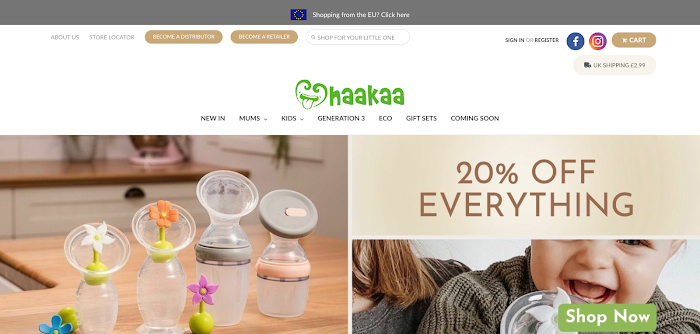 Thanks to its disruptive product and knowledge of its target audience, the company has achieved rapid growth.
It's also worked with influencers such as Chrissy Teigen to gain momentum. The campaign was effective as Teigen is a relatable figure for Haakaa's buyer demographic.
Other disruptive brands are entering the DTC market, such as TACKLIFE, a company that sells power tools, and Magic Spoon for healthy cereal.
So, now the question is, in which category could you bring a new and unique DTC to the market?
3. 4ocean
The subscription model continues to be popular among DTC brands. The reason is it brings in a predictable, recurring revenue stream.
4ocean offers standalone products and a subscription service. Its Clean Ocean Club membership includes a bracelet every month and exclusive perks such as early access to new lines and advanced shipping.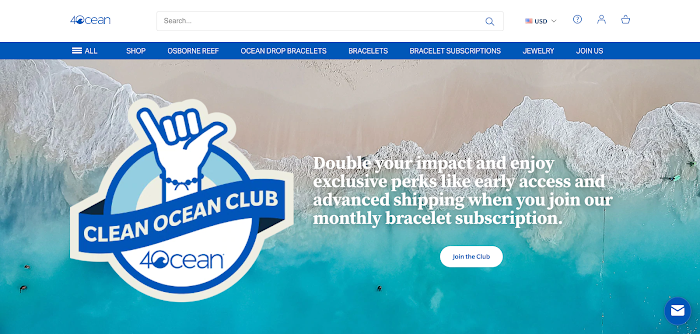 These perks undoubtedly encourage their most loyal customers, i.e., the subscribers, to make further purchases. It's a clever tactic.
Another reason why 4ocean is one to watch is their mission. When customers make a purchase, they fund trash removal from the ocean.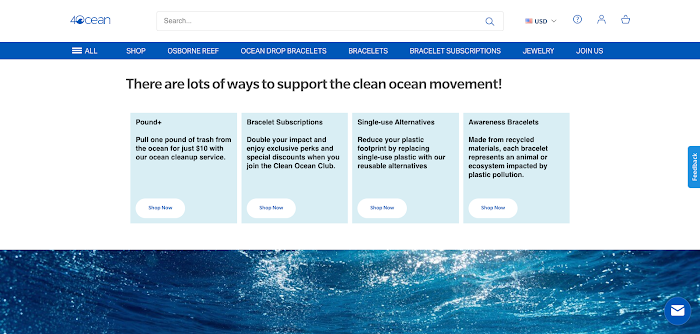 We all know the socially-engaged younger demographics love to have a cause to cling to, so 4ocean ingeniously ties this mission to its subscription program, too.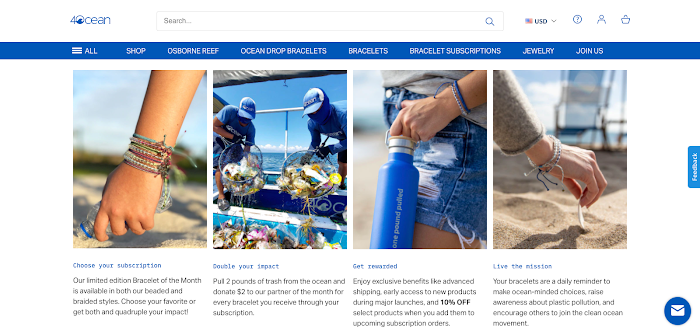 With phrases like "Live the mission," the customer's purchase becomes a lifestyle choice and a community effort. This is, of course, what encourages them to stay subscribed.
Products in all categories can lend themselves to a mission. Makeup brand Glossier, for example, has the whole skincare and natural beauty over beauty standards thing. If you have a DTC brand, you can do something similar, particularly if you have a subscription option.
You need to figure out what your mission is all about and how you can tie it to a brighter lifestyle movement.
4. Lume Cube
A solid social strategy goes hand in hand with having a successful DTC brand. Social media is a major marketing channel for DTC brands. Successful companies like MeUndies, for instance, rely on social media influencers and ambassadors when they launch new products.
Lume Cube is a brand to look out for as they have a super strong social media strategy in place. The company makes portable lighting for creators and influencers.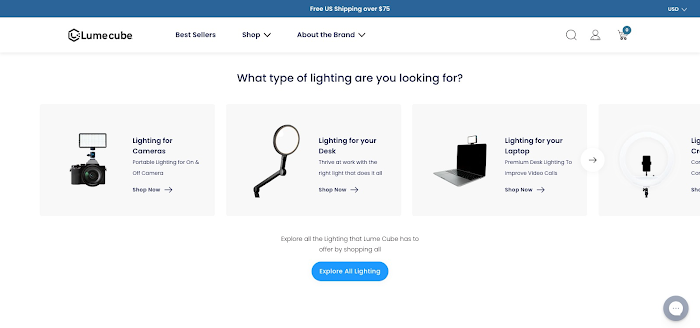 What's notable here is that the product lends itself so easily to producing user-generated content (UGC) from influencers and non-influencers—also known as regular humans—who like taking pictures. These are Lume Cube's target audience, after all.
This kind of thing is likely to happen naturally, given the nature of Lume Cube. But it also encourages UGC with hashtags such as #litbylume.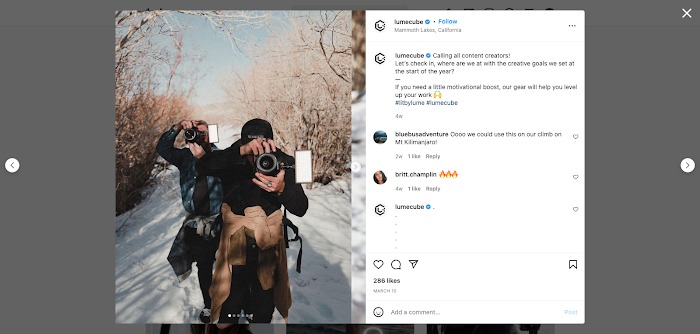 Another effective tactic it utilizes is to profile influencers that use the equipment as part of social media campaigns.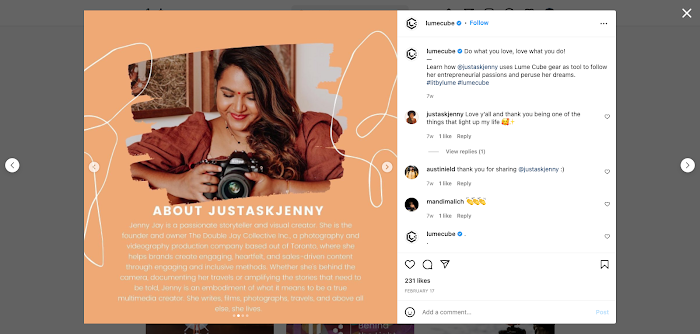 What's more, it has social commerce-enabled. Thus its target audience, who spends their time on social media, can make a purchase quickly and easily without even having to leave the app they're on.
You can also turn social media into an effective sales channel for your brand. Work on producing a loyal community on social media that are willing to create and share content surrounding your brand.
5. Princess Polly
You may have heard that Apple has removed third-party cookies. Google is also in the process of phasing them out.
This means that DTC brands that may have relied on third-party data to target or re-target customers via paid ads will need to shift their marketing tactics. DTCs will need to rely more heavily on other marketing channels like email and SMS.
SMS is a particularly beneficial channel for DTCs as demographics skew younger. And young people are, of course, always on their phones.
Another good thing, 90 percent of SMS messages are read within the first three minutes.
Princess Polly is a super cool fashion brand that has seen tremendous growth thanks to SMS marketing.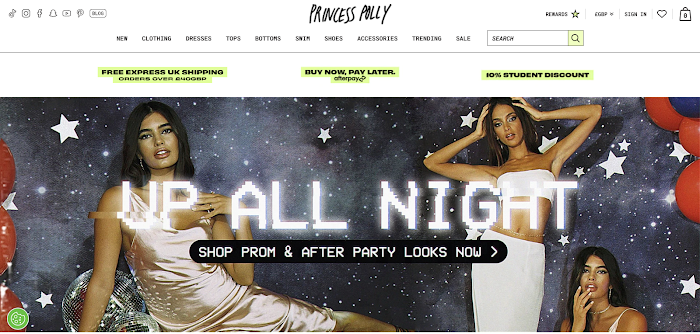 The company uses SMS to provide personalized shopping experiences and boost loyalty among its audience of Gen Z-ers. Their casual and fun SMS campaigns, like the following, achieved 64x ROI.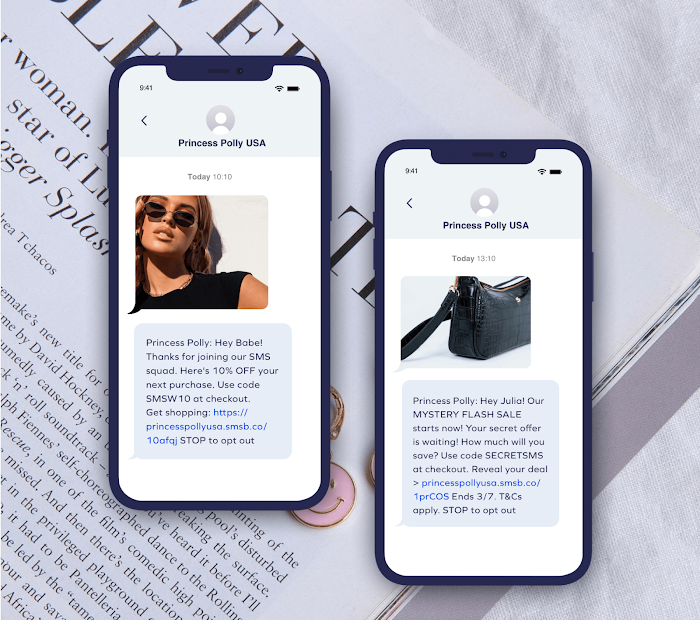 Successes like that mean the brand is, of course, one to watch.
To achieve results like Princess Polly's, you'll need to segment customers and send targeted messages and SMS sequences. For example, you can use first-party data to discover their browsing habits and interests and then send a discount code for relevant items.
6. By The Namesake
With pandemic restrictions coming to an end, more people are heading out to shop again. Shoppers are craving authentic and personalized shopping experiences.
This means that, over the next few years, DTCs will expand to realms beyond the web via pop-up shops and retail partnerships, and they may even branch out into brick and mortar.
Custom leather jacket seller By The Namesake is an excellent example of this.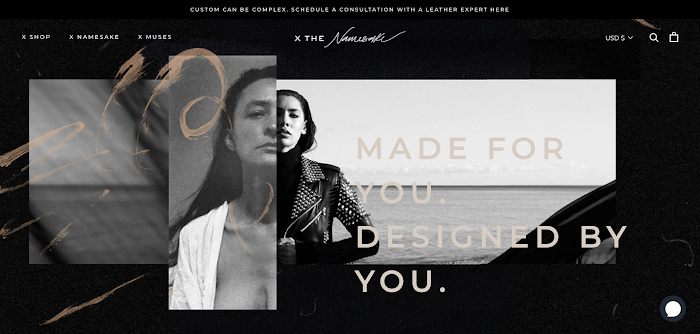 The brand recently ran a pop-up shop for two weeks in New York City. The company used a temporary space in the trendy neighborhood of Nolita.
The reason behind this strategy was that they found customers wanted to be measured up in person for their custom leather jackets. So the pop-up store doesn't carry any inventory; it's all about the experience.
The brand's regular pop-ups in New York account for 80 percent of online sales. So it's safe to say it works.
Does an offline experience or store make sense for your brand? You may wish to experiment with offline retail soon.
7. Hero Cosmetics
DTCs use new and exciting methods to increase average order value (AOV). But given the nature of the DTC model, it's crucial that any tactics they use add value to the brand.
Everybody can set a free shipping threshold. That's standard. But DTC brands are using tactics that benefit the customer.
Skincare company Hero Cosmetics is at the forefront of this new wave of AOV boosting tactics. First, it has a points-based loyalty program that customers can use to redeem rewards.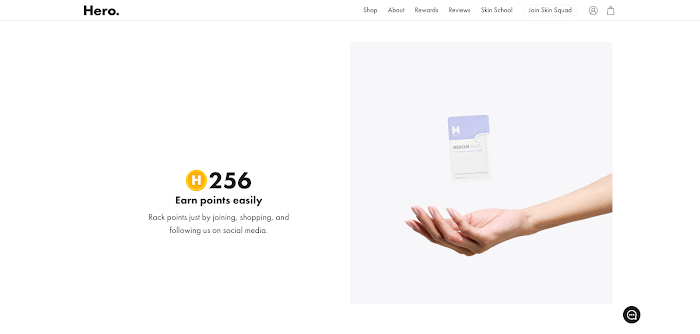 The bonus for customers here is that the points system means choosing the reward they want when they reach a certain threshold.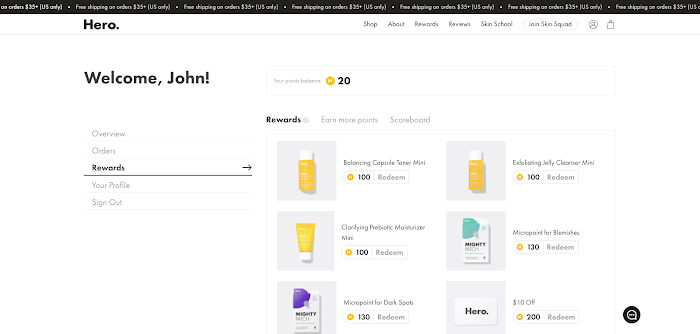 Furthermore, the way they encourage bundles differs from the standard approach by inviting customers to build a skincare routine via a bundle.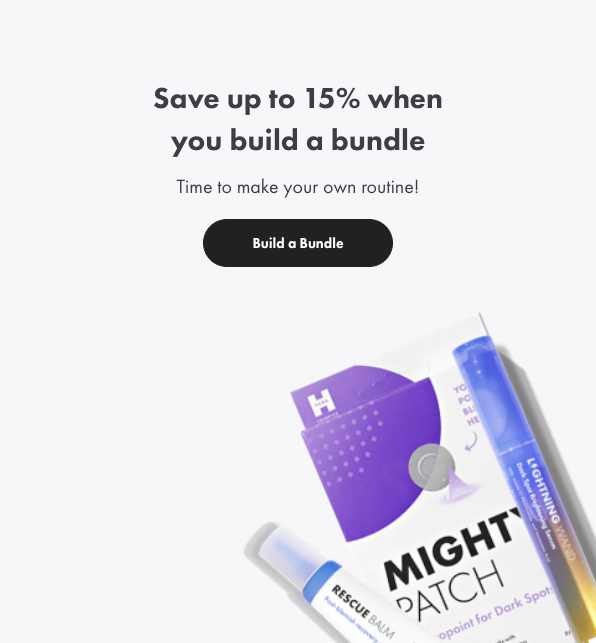 Again, this gives customers more freedom of choice. Not to mention the ability to create product bundles that are highly personalized to them.
The fact that they frame it as a skincare routine is also clever, making its products sticky, i.e., they become entwined in the user's day-to-day life.
Other cutting-edge tactics you can implement along with these are tiered discounts or mystery items when customers reach spending thresholds.
8. Prose
One thing DTCs do exceptionally well is personalization. It can be achieved more quickly as they have insight across the entire customer journey. They can map the different stages of the funnel against real numbers.
Custom hair care company Prose is particularly notable in this respect. Personalization is even in their mission statement.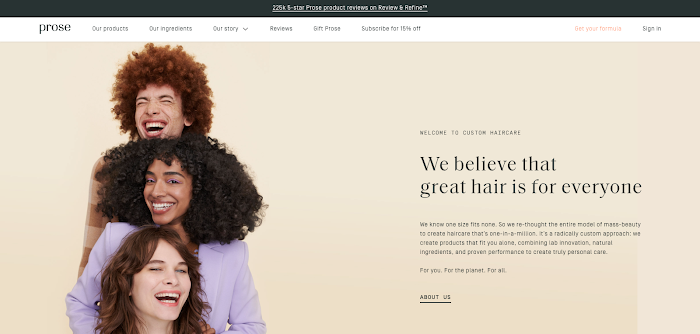 The customer journey begins with a quiz that takes the user through questions about their demographic info, lifestyle, and goals.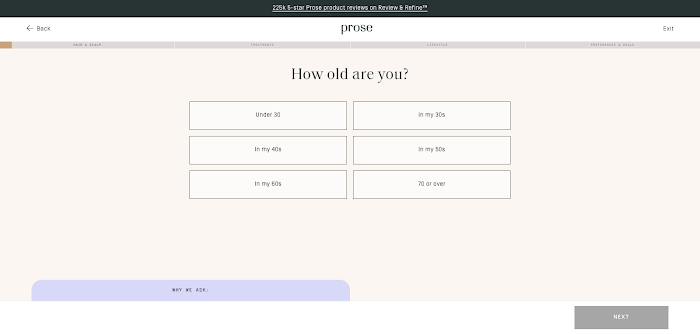 The brand then uses an algorithm to suggest individualized products of which there are 50 billion formula combinations available. That's more personal than a doctor's exam, for Pete's sake!
The brand can personalize more than just the product by collecting this kind of data. They can make content and communications relevant with pinpoint precision.
Take this email from Prose, for example: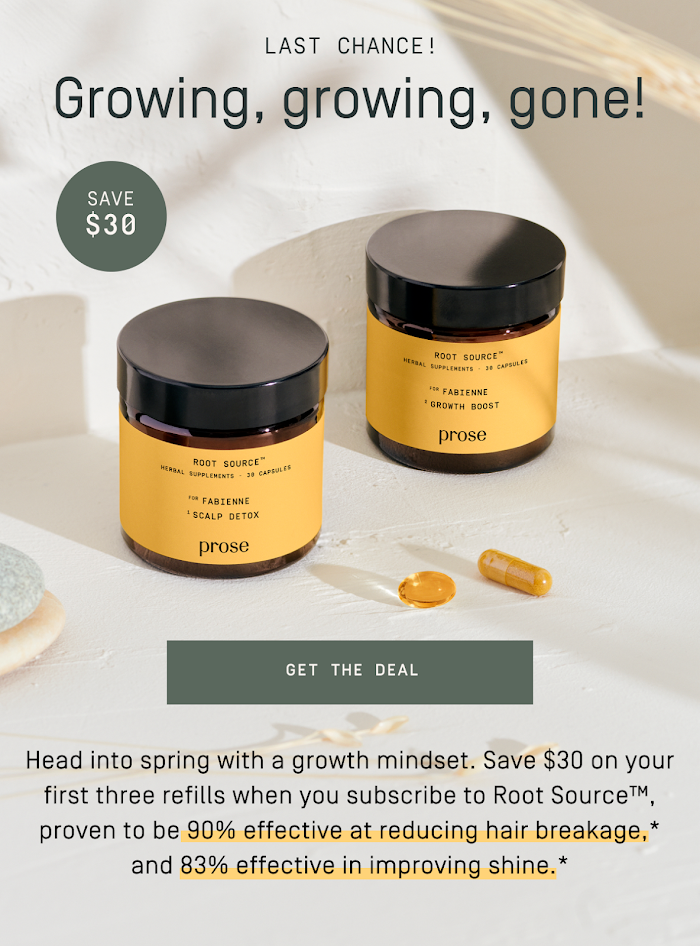 It's clearly targeting customers they know are concerned with hair growth. It even offers them an incentive in the form of a discount to get started with the product.
This level of personalization is easily achievable for DTCs. Don't be afraid to utilize the insights and data you have.
Final Word
These DTC brands are on the cutting edge regarding business, marketing, and sales strategies. Follow their progress and take inspiration from their successes.
If you're new to the game, take advantage of the low barriers to entry and/or bring a special category to the DTC space. If you run a DTC business, you may wish to strengthen your social strategy or explore what you can do with marketing channels like SMS, for example.
What's the next step? Figure out which tactics you've seen here make sense for your brand.