If you hadn't noticed, we're living in turbulent times.
So it's reassuring to learn that customer loyalty is alive and well, with a survey published in early 2021 finding that 57 percent of consumers remained loyal to their favorite brands despite the challenges of the previous year.
That's fantastic news for brands, with research from KPMG revealing:
86 percent of loyal customers will recommend a company to friends and family;
66 percent will write a positive online review after a good experience; and
46 percent will remain loyal even after a bad experience.
But we can't afford to be complacent.
However brilliant your product, affordable your prices are, and fantastic your customer service, there's always another brand (or, more likely, hundreds of brands) trying to poach your hard-won customers.
So customer loyalty needs to be a constant focus of your marketing strategy.
That's why I've once again dipped into our vast vault of e-commerce emails to round up this selection of killer customer loyalty email examples to help you build and maintain loyalty in your customer base.
The 7 Best Customer Loyalty Email Examples
1. Old Navy
Customer loyalty programs are an obvious solution to keep your audience coming back time after time.
Sure, there are a lot of loyalty programs around. But 52 percent of customers say they're happy to join a rewards program for a brand they feel loyalty toward.
However, they aren't a guaranteed win. KPMG's survey flags up some challenges with persuading customers—especially those in younger demographics—to sign up. Indeed, one in seven Millennials doesn't belong to a single loyalty program, while 69 percent find them difficult to join and earn rewards from.
What's more, 78 percent of Millennials (and 75 percent of all consumers) would switch to a brand with a better program, which shows loyalty schemes can be something of a double-edged sword.
Given the findings of KPMG's research, there's no small amount of pressure on brands to build an attractive loyalty program and communicate its benefits effectively.
Old Navy shows us how to get it right.

Let's break this down. For the program—Navyist Rewards—to achieve the desired results, it must:
Be easy to understand;
Offer a simple way to accrue rewards; and
Provide rewards that are sufficiently attractive.
This customer loyalty email tackles each of those points. There's even a section of the email that offers further, more specific, detail: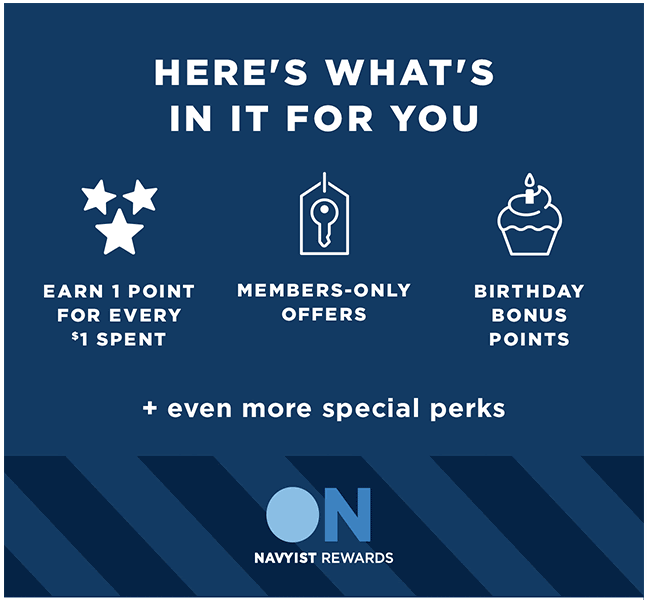 Earning one point per dollar spent is both easy to understand and a simple way to acquire rewards.
And the promise of members-only offers, birthday bonus points, and "special perks" makes the program sound even more attractive.
2. Anthropologie
One in three shoppers says retailers need to work harder to deliver more personalized experiences, according to data from Forrester Research. That proportion increases to two in five for households earning more than $100,000 a year.
Those eye-catching statistics suggest the key to long-term customer loyalty lies in leveraging data to create highly individual user journeys.
But things are never that simple. Forrester's survey throws a spanner in the works by pointing out that 52 percent of shoppers worry retailers know too much about them, with 46 percent admitting they feel uncomfortable with the amount of information that retailers can collect.
What does this tell us? Perhaps it's best to keep personalized experiences and rewards as un-creepy as possible.
Rather than congratulating your customers on their new haircut or that outfit they wore to the theater last Thursday, stick to something simple.
Anthropologie strikes the right balance between "personalized" and "creepy" with a customer loyalty email offering an exclusive birthday discount: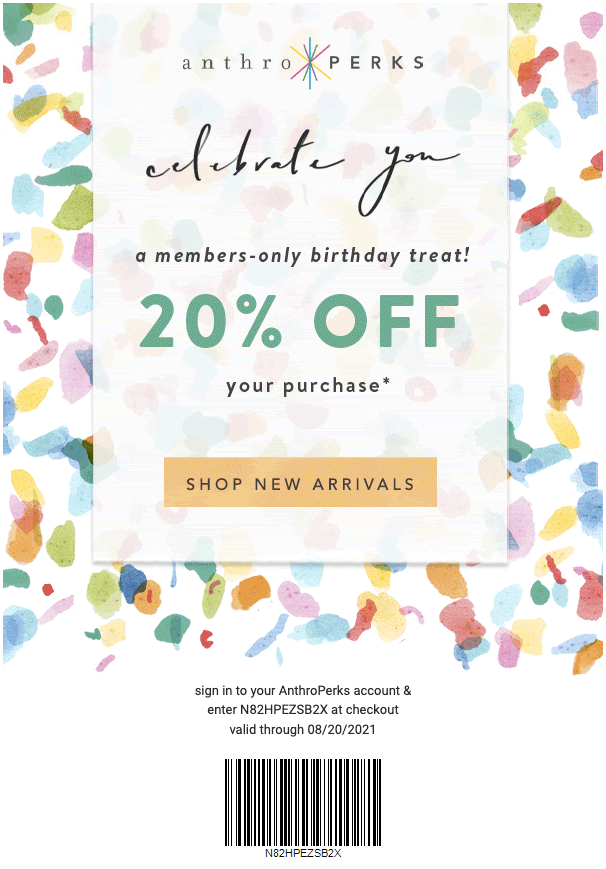 Sure, your date of birth is still personal information, but it doesn't feel overly intrusive revealing it to a brand.
And while it might not be the most original example of personalization, sometimes it's best to stick with the classics (so you don't scare anyone off).
3. Brooklinen
We're all guilty of occasionally suffering from "main character syndrome"—the impression that the world revolves around us and everyone else is just supporting our personal narrative.
So it's no surprise that we enjoy it when brands make us feel like the most important person on the planet.
Singling out customers by crafting personalized communications and offers is a fantastic way to make them feel special and strengthen your relationship with them. And the stronger your relationships, the more loyal your customers will be.
Brooklinen clearly understands this. In this customer loyalty email example, the luxury bedding brand reaches out with a personalized product curation informed by our previous browsing habits: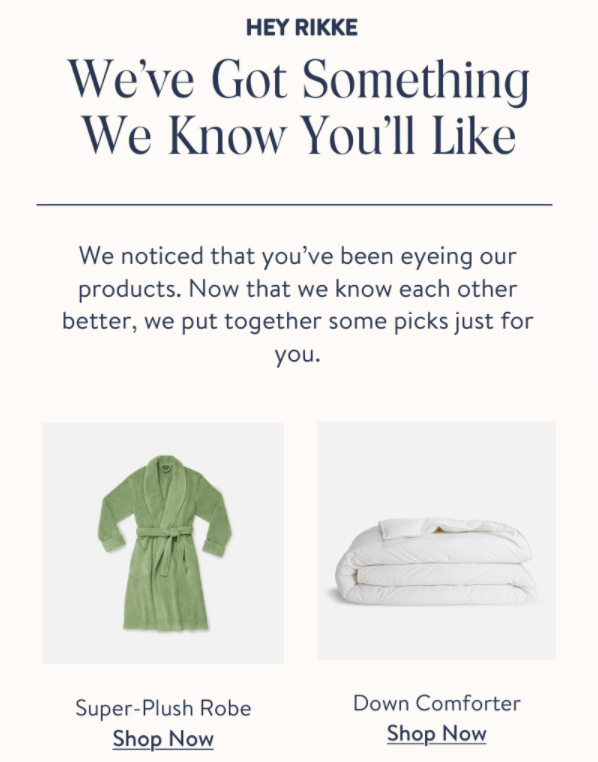 The idea that a brand has taken the time to craft bespoke product recommendations just for us makes us feel like we're a real priority (even though, as marketers, we know those recommendations are driven by an algorithm rather than a real-life personal shopper).
4. L'Occitane
One of the most impactful ways to demonstrate that you care about your customers and want to make them happy is to regularly ask for their feedback.
When consumers feel empowered to highlight the things they like and dislike about your business, they're more likely to stick around.
That's why customer surveys are a useful tool in building loyalty.
More than that, they give you a meaningful way of gauging how loyal your customers are. Analyzing historic customer data will only tell you so much; just because someone has bought from you three times in the last six months, there are no guarantees they'll buy again.
Sure, you might not get very far by asking a customer: "How loyal are you?" But you can definitely glean their overall satisfaction from a customer survey.
And, as Qualtrics explains, high levels of satisfaction are "strong predictors of customer and client retention, loyalty, and product repurchase".
Now, let's take a look at how L'Occitane uses email marketing to drive survey uptake: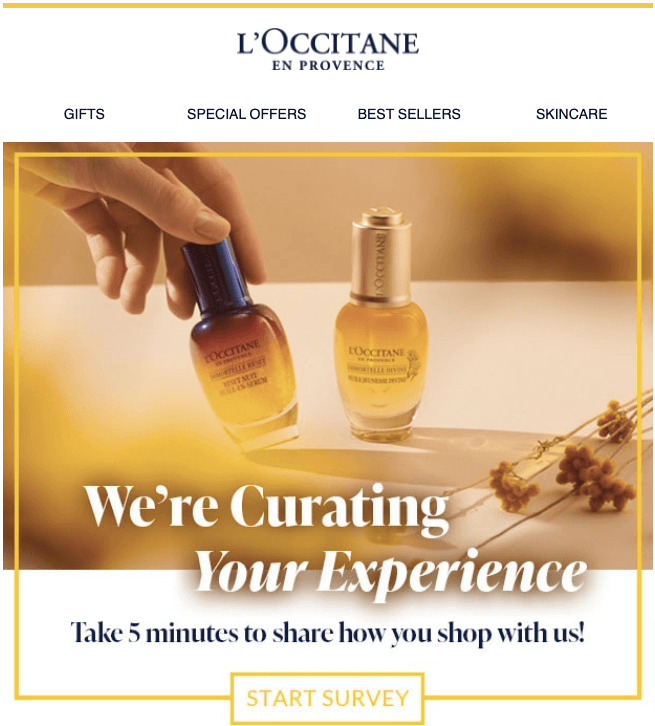 The beauty and skincare brand goes out of its way to make the survey feel personal.
It's not just trying to improve customer service or streamline the path to purchase; it's striving to curate your experience.
And rather than asking us to answer some generic questions, it wants us to share how we shop.
These personalized elements can be highly impactful, with research from Qualtrics showing that personalized surveys can increase response rates by as much as 48 percent.
5. Happy Socks
We've deduced that surveys are a valuable tool in your efforts to boost customer loyalty.
But while there's value in simply showing you care about people's opinions, your surveys are clearly going to be more valuable if you generate a lot of responses.
After all, if only a tiny fraction of recipients complete your survey, the data you generate won't be substantial enough to draw any firm conclusions.
One way to boost survey responses is simply to send a follow-up email or two, just like Happy Socks does here: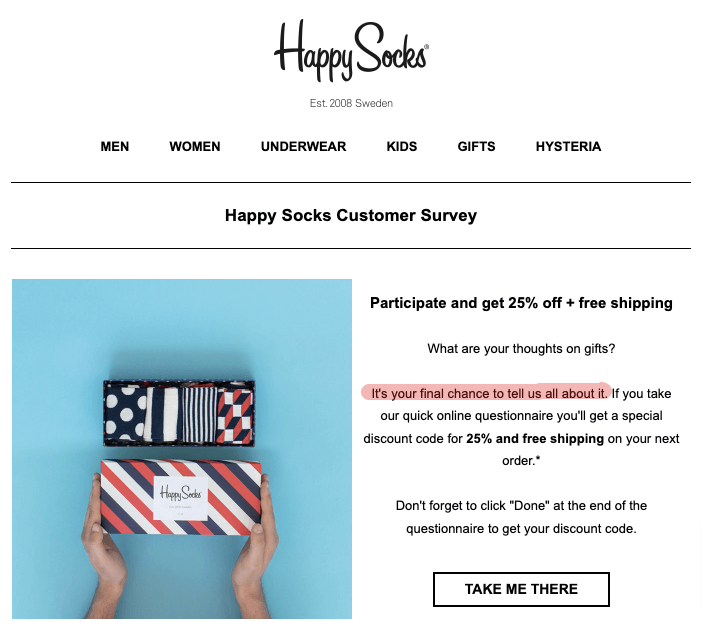 Remember: your customers are busy. And, as much as you'd like it to be, your survey likely isn't their number one priority.
Qualtrics recommends sending between one and three "gentle reminders" off the back of your initial survey email. Your campaign timings could look like this:
Day 1: Send initial survey email
Day 3: First follow-up
Day 6: Second follow-up
Day 10: Final follow-up
Each email should feature refreshed copy and creative so it doesn't feel like you're spamming recipients.
Of course, that's easier said than done. Ultimately, you're looking to drive the same action—completing the survey—from each email, so there are only so many angles you can take.
Happy Socks offers an incentive for completing the survey, which is one potential approach.
Another is to provide initial feedback on the data you've already gathered or the number of responses you've received. According to Qualtrics, this tactic "can really help to close the loop and demonstrate the value of the respondent's contribution".
6. Tuft & Needle
We know corporate social responsibility (CSR) initiatives can play a major role in customer acquisition, with 79 percent of consumers saying they make a particular effort to buy from brands that appear to align with their personal values.
The impact of CSR on customer loyalty is discussed less frequently—but can be just as significant.
Indeed, research published in the journal Sustainable Production and Consumption concludes: "High corporate abilities with well-executed corporate social responsibility initiatives lead to high loyalty".
We've written a whole article about our favorite social responsibility emails, but here's a good example from Tuft & Needle: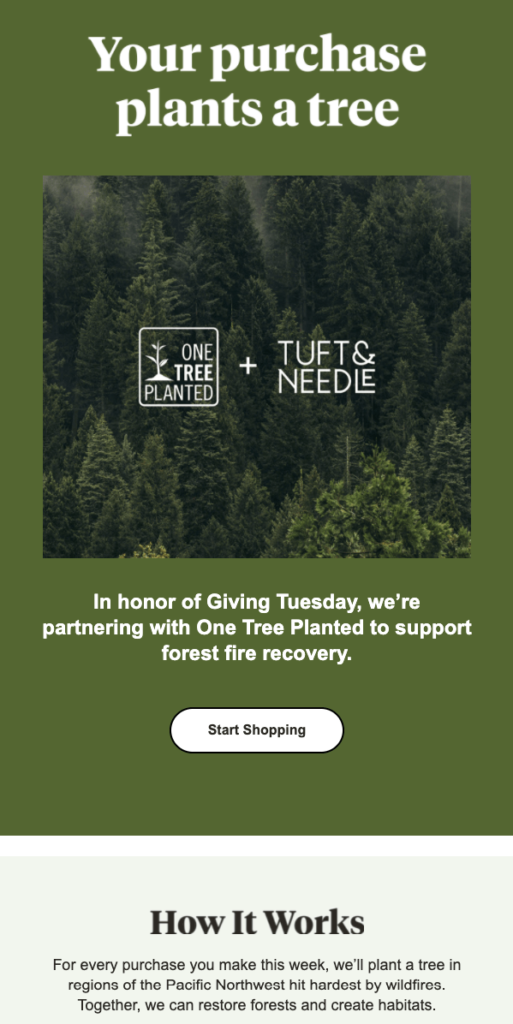 This is a super-effective customer loyalty email because it leverages a key issue for consumers: the environment.
According to Deloitte, climate change is the greatest concern for Gen Z and the third-biggest concern for Millennials. By highlighting its efforts to help the environment by planting trees in wildfire-affected regions, Tuft & Needle is tapping into an issue that's sure to resonate with its customers.
Not only that, but the email also successfully ties in a commercial element: for every purchase made, it'll plant a tree.
It's a rare example of a brand demonstrating its CSR credentials while also driving sales, without coming across as pushy or insincere.
7. Joybird
Ever walked out of a store feeling delighted at the service you received?
Or been left overjoyed by a customer support agent who truly went the extra mile to answer your query or solve your problem?
I know I have.
And if you're anything like me, after experiencing fantastic service, you'll feel more loyal to the brand that delivered it.
This isn't just a matter of personal opinion. Research from KPMG shows that customer service is the fourth-most important factor in building customer loyalty (cited by 56 percent of respondents), behind only product quality, value for money, and product consistency: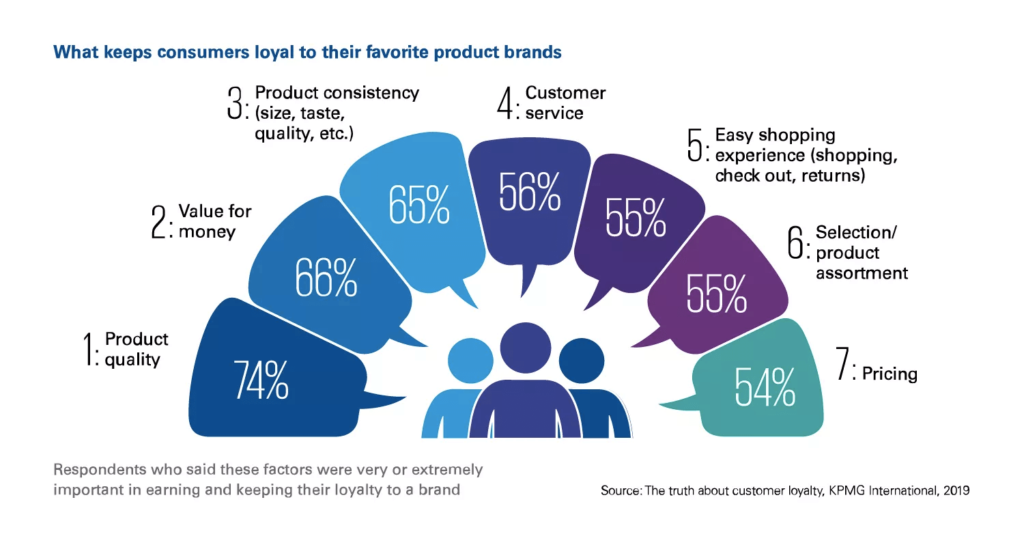 That means it's in your interest to emphasize the quality of your customer service in your customer loyalty emails.
Home decor brand Joybird does this by explaining how it recreates the in-store experience for customers who don't feel comfortable—or aren't able—t0 visit a brick-and-mortar store.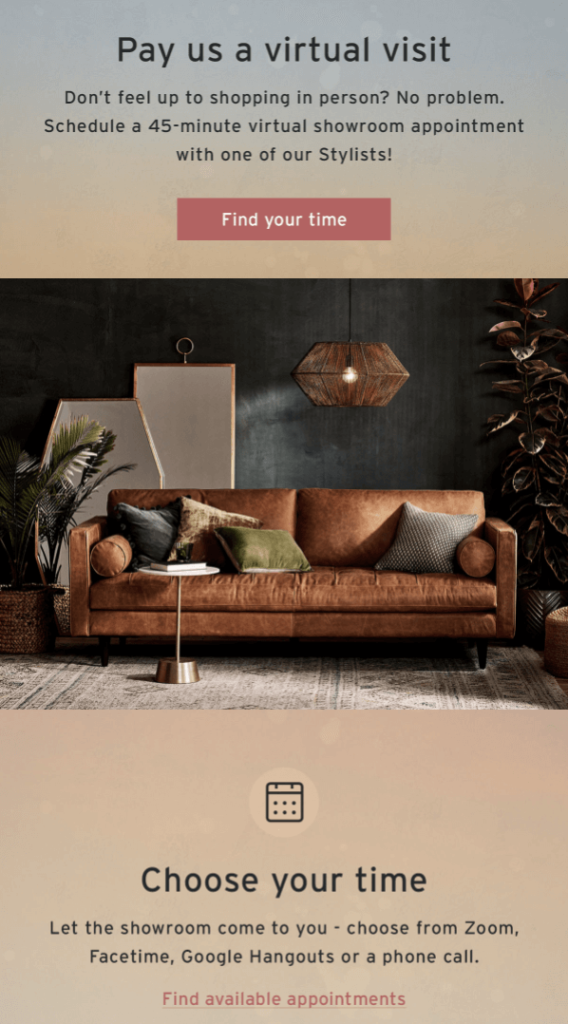 By leveraging a variety of platforms (including phone calls for the less digitally savvy), Joybird makes it as simple as possible for customers to access its virtual showroom appointments.
It's an excellent example of a brand going out of its way to deliver the best possible customer service, even when faced with significant external challenges (in this case, a terrifying global pandemic).
Conclusion
Clearly, there's no such thing as a single customer loyalty email template that's guaranteed to work for every brand.
From inviting your audience to take part in customer satisfaction surveys to demonstrating your corporate social responsibility credentials, there are lots of potential avenues you can take.
As ever, the best thing you can do is focus on your audience.
If you can make them feel special and give them a meaningful reason to buy into your brand, you'll go a long way to building a loyal customer base.