This is a case study on how one of our customers, Adrian Rosebrock of PyImageSearch, uses Drip to increase profits with email marketing.
In this post, Adrian shares how Drip played a crucial role in making his Kickstarter campaign successful.
Hi, my name is Adrian Rosebrock. I run PyImageSearch.com, a blog dedicated to teaching developers, programmers, and students computer vision. Computer vision is a field of study that includes methods for acquiring, processing, and interpreting the contents of an image.
One of my products is a course called PyImageSearch Gurus. You may have read about my specific Drip setup in this customer success story.
But what you may not know is that I funded this course (and validated the idea) using Kickstarter.
When I launched this Kickstarter in January of 2015 I was asking for $2,500. I raised all of it in less than 30 minutes. By the end of Day #1 I had raised over $8,000. And when the Kickstarter closed in mid-February, the total funds raised was sitting at $35,000.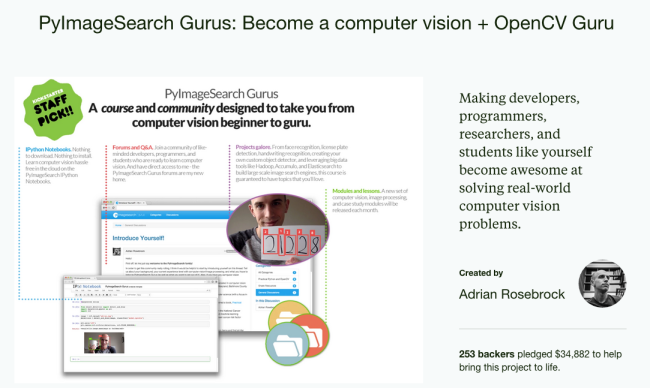 Email marketing, and Drip specifically, played a critical role in the success of this campaign.
As the Kickstarter launch date was approaching in mid-January 2015, I started sending emails to my readers showing what they were going to learn in my course.
These weren't promotional emails. And they weren't direct sales emails either.
They were simply educational, laying out the facts, and saying "Hey, if you're interested in taking the next steps with computer vision, I'm launching this Kickstarter — it would be awesome if you would join me in backing the project."
While I don't have any real numbers to back this up, I often hear in my own micropreneur circles that founders only send out 2 emails prior to their product launch. The first email normally goes out 1 week before the big launch, announcing the product launch date and instructing readers to keep an eye on their inbox. A second email will normally go out the day before the launch, normally as a reminder. And then we have the launch day email itself.
And I think following this template is a huge mistake.
Only sending 2 emails to promote your launch is far too low. There is only so much you can (reasonably) say in 2 emails. And perhaps more importantly, you have no real chance to build urgency.
When I launched my Kickstarter campaign, I decided to send 5 emails with a final launch email at the end of it using the following campaign structure:
Jan. 7 2015 – Launch Day Announcement: This was the first email I sent out. It was short. To the point. And included a bulleted list of what PyImageSearch Gurus was. More importantly, I also provided a second bulleted list that detailed the email sneak previews I would be giving readers over the next 7 days — that way readers had a heads up as to what was coming. This helped build urgency that PyImageSearch Gurus was a big deal.
Jan. 8 2015 – Sneak Preview: The very next day I sent out the sneak preview of the PyImageSearch Gurus course. Again, this email was also very short. I simply provided a screenshot and a link to the PyImageSearch Gurus Kickstarter video (which is about 1 minute in length), along with a bulleted list of the topics I was demoing in the video. Finally, I wrapped up the email by mentioning that the next day they would receive an email with the big list of topics to be covered inside the course. I had given hints and short demos as to what would be covered in the course in the previous two emails — but nothing beats having the big list to look over.
Jan. 9 2015 – The Big List: You can't have a book without a Table of Contents. And you can't have a course without a syllabus. This was a long, long email that detailed what I would be covering inside the course. Everyone loved this email and I got a huge response rate from it — people were clearly interested in participating in the course…they just wanted to know the price. Which brings me to my next email…
Jan. 12 2015 – Rewards List: So think about it. You've all revved up. You've seen the big list of topics to be covered. You've picked out one or two that you really love and want to learn more about…but how much does it cost? This email answered the "cost" question — but only in the perfect, beautiful way that urgency can. As we all know, Kickstarter has this concept of "backers." And it's very common to offer substantial discounts to your "early bird backers," or your backers to contribute their funds to the project before it reaches its funding goal. I carefully crafted this long email to demonstrate that there would only a few early bird spots for each "tier" of the PyImageSearch Gurus course — and if you wanted early access to the course, along with discounted pricing, then you better be willing to act on the Kickstarter fast because they would be snapped up instantly (and as you'll see from the screenshots below, that was no exaggeration).
Jan. 13 2015 – Reminder: This is a pretty standard email to send the day before the launch. I simply reminded readers that the Kickstarter was going to go live at 10am EST on January 14th, just as I had done in every single previous email.
Jan. 14 2015 – The Big Day: All of my hard work came down to this. At 9:55am I activated the Kickstarter campaign, copied and pasted the link into Drip and sent out the announcement email at precisely 10:00am. This email was short, sweet, and to the point — "If you want in on the PyImageSearch Gurus course, act now."
To be honest with you, I wasn't sure how the Kickstarter was going to go over. I was extremely nervous about it — the final two nights building up to the big day I was barely sleeping from the anxiety. I had invested over a month of my time and I really wanted my investment to pay off.
This lead to questions such as:
Would I even come close to hitting my funding goal?
Would people find the course too expensive?
Did I do a good enough job building the urgency of the Kickstarter early backer rewards?
The results were overwhelming.
As I mentioned above, I activated the Kickstarter campaign at 9:55am on January 14th, 2015. I needed to activate the campaign a few minutes before the 10:00am launch time I promised so that I could put the link in my Drip broadcasts, tweets, Facebook posts, etc.
And not even 60 seconds after I clicked the "LAUNCH" button on Kickstarter, I saw something magical happen in my inbox:



I was already getting Kickstarter backers at 9:56am!
But how was this possible? I didn't even email the link yet, let alone Tweet it or Facebook it! How were my readers finding the campaign?
The answer was Kickstarter. They were on the Kickstarter page, hitting the refresh button, ready to become a backer — because they all wanted the early bird rewards.
The urgency worked.
The PyImageSearch Gurus Kickstarter campaign was funded in less than 25 minutes, at a rate of $100+/minute. It closed Day #1 at $8,000+. And it was successfully funded 30 days later at $35,000.
Would the PyImageSearch Gurus Kickstarter have been successful without Drip? I don't know. Maybe. There certainly are other email marketing solutions out there.
But I do know this — it would not have been as funded as easily and quickly without the power of Drip. Between the automation rules, broadcasts, and campaigns, I owe a lot of the Kickstarter success to Rob, Derrick, Andy, and their team.
The Final Word: Love Your Subscribers
While I'm the author/owner of the PyImageSearch blog, I often don't think of myself that way. I'm part of something much larger — I'm part of the PyImageSearch community, something that reaches far further than a domain name. I couldn't be where I am today without my readers, many of whom have become my friends.
Which brings me to my parting words — love your subscribers.
Deliver value to them. Be respectful to them. And at the same time be able to demonstrate your knowledge and expertise in a way that impacts their lives in a meaningful way.
Do that, and you'll have more than a website and an income — you'll have a loyal community.