This is a case study on how one of our customers, Adrian Rosebrock of PyImageSearch, uses Drip to increase profits with email marketing. Drip also played a crucial role in making his Kickstarter campaign successful.
In this post, Adrian shares how he uses Drip for capturing and nurturing subscribers, serving his customers, selling products people love, and growing his business.
Who Is Adrian & PyImageSearch?
Hey, my name is Adrian Rosebrock. I run PyImageSearch.com, a blog dedicated to teaching developers, programmers, and students computer vision. Computer vision is a field of study that includes methods for acquiring, processing, and interpreting the contents of an image.

For humans, it's trivial for us to tell the difference between photos of a cat and dog:

But all a computer sees is a big matrix of numbers:

Over at PyImageSearch.com, I teach developers how to build computer vision applications to understand the contents of an image (such as the difference between a cat and a dog) using the Python programming language and the OpenCV library.
What Products Do You Sell?
Since starting PyImageSearch in January 2014, I have authored two books, Practical Python and OpenCV + Case Studies, available here.
I am also in the process of launching a computer vision course, called PyImageSearch Gurus, which technically qualifies as a membership site.
Both of these products are information products.
Who Is Your Target Market?
My target market is primarily programmers and students who are interested in learning computer vision and image processing.
Some of these readers may already have some experience in the Python programming language, but at the end of the day, that's not required.
As long as the reader understands the basics of programming and is interested in learning computer vision, image processing, or the OpenCV library, they will enjoy the PyImageSearch blog.
Why Does Email Marketing Work For You?
Personally, I love writing. I love telling stories. And I love getting people super excited about what computer vision can do for them — and the awesome programs that can develop using computer vision.
Even though I publish weekly blog posts on the PyImageSearch blog, I find that nothing beats getting inside a reader's inbox. Whether I am showing them how to detect faces in images, recognize handwriting, or demonstrating why Practical Python and OpenCV + Case Studies is the best possible book to learn the basics of computer vision and image processing, I've always found that email marketing gives the most engagement and response from my readers.
Using Drip for Growing A List, Nurturing Subscribers, And Delighting Customers
Adrian offers a couple of crash courses to provide high-quality educational material to his readers and makes use of Drip features like Automation Rules, Triggers, Segmenting, and more.
How Do You Use Free Crash Courses To Build A List & Deliver Value?
I actually offer two crash courses on the PyImageSearch website.
The first is a 21-day crash course on learning the basics of building an image search engine. Unlike a text search engine based on keywords (such as Google), an image search engine analyzes the contents of an image itself and returns images with similar visual contents — no text analysis is performed.
Each day, for 21 days, a high-value email is delivered to the reader, demonstrating how to perform a particular image search engine technique with Python + OpenCV code.
The second crash course is 10 days long and more general to the computer vision field and does not particularly focus on building image search engines. Instead, it focuses on various, practical applications of computer vision, such as building a mobile document scanner, detecting skin in images/video streams, or teaching a computer how to play a game of Where's Waldo? This crash course also includes actual quizzes that readers can take to test their knowledge.
Readers can opt-in to the 21-day crash course using the Drip toaster. I have a separate page dedicated to the 10-day crash course on general purpose computer vision techniques. Both of these courses are totally free.
In future versions of Drip, I look forward being able to split-test the toaster widget and determine which crash course performs the best, in terms of both opt-ins and conversions. But for the time being I am using two separate campaigns.
What Type of Emails Do You Send?
Both courses provide high value, educational emails. But at the same time, my emails are personal. I want to get to know my readers on a personal level and understand who they are and why they are motivated to learn computer vision.
My goal in each of these emails is to show how awesome computer vision is to my readers. Again, these emails are totally free. Even if my readers never purchase anything from me, I want them to enjoy the PyImageSearch blog, content, and emails.
Some people call me a computer vision "evangelist," and in some ways, I guess that's true. I love computer vision and I love teaching — so I'm more than happy to share the tips, tricks, and hacks I've learned with over 8+ years experience in the field.
What Kind of Calls-to-Action Do You Have?
In both crash courses, the primary call to action is to purchase a copy of Practical Python and OpenCV. The vast majority of emails in the crash courses are educational. A handful are soft sells. And there is a final hard-sell at the end.
What Other Drip Features Helps You Deliver Value To Subscribers And Customers?
Again, my primary goal of PyImageSearch is to provide a ton of educational value. A lot of other information products will remove their readers from a crash course after purchase. But I actually find this counterintuitive.
Just because a reader has purchased your content doesn't mean you should stop delivering value to them. In fact, I would argue that you should starting delivering more value to them.
You have a customer that just traded their cash for your content. Deliver. And deliver hard. Because you now have the ability to create a customer for life.
To that end, I actually keep customers on my crash course campaigns after they purchase. I continue to deliver value to the best of my ability. I use the ability to tag users inside Drip to format emails and deliver content specific messaging depending on if they are a customer or not.
How Do Automation Rules Help You Serve Your Subscribers?
Automation rules are my best friend. At the time of this post, I have over 120 automation rules in my Drip campaign: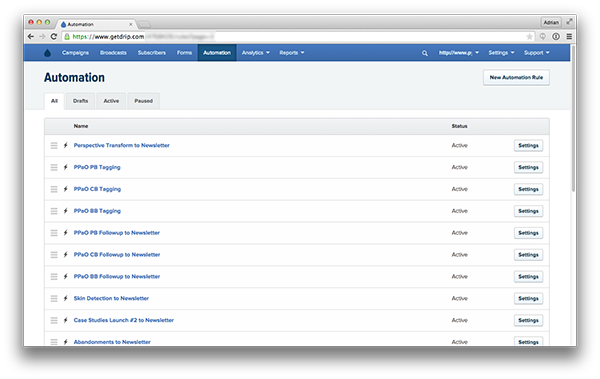 Does that sound excessive?
It's not.
Automation rules give you the freedom to take highly targeted actions based on very specific triggers.
If a user purchases a certain bundle of Practical Python and OpenCV, set up an automation rule to follow up with them. Thank them. Send an email to see how they are progressing. Help them set goals for a reading schedule. And then see if they are interested in upgrading to a higher level bundle.
What Value Do You Get Out of Split Testing?
As an analytical person, I love split testing. Right now Drip only offers the ability to split test subject lines and sending times. But I would love the ability to split test actual emails within campaigns, including both the subject line and the copy itself.
As Joanna Wiebe from CopyHackers says, a subject has only one purpose: to get an email opened. So on very critical sales emails I spend a lot of time and effort split testing and trying to nail down that perfect subject line.
For example, I once wrote a very detailed 7,000+ word blog post on building a complete image search engine with OpenCV and Python. The post is packed full of value and I know my readers really enjoy the post — this made for an obvious article to include in the PyImageSearch Newsletter campaign.
However, if I didn't get the subject line just right, then I knew my efforts would be for nothing. And when you write 7,000+ word articles, you want to make sure the ROI on your time investment is worth it.
In order to ensure I recouped my investment, I turned to Drip split tests. I tested the default subject line "Building an image search engine from your vacation photos" against the test "The complete guide to building a basic image search engine with Python and OpenCV."
You can see the results below:

While the results are not entirely conclusive, I felt comfortable stopping the split test after 3 days given the 80% confidence and the number of times each subject line was used. Overall, this lead to ~3% increase in my opens — which means more subscribers clicking back to read the article.
Perhaps my favorite split test was ran a few months ago when I announced that my book, Practical Python and OpenCV + Case Studies was having a birthday.
Over 1 year ago, I sat down at my kitchen table — and did not get up again for 36 hours.
During that time period I banged out the remaining chapters of my book. I was sleep deprived. Heavily over-caffeinated — I can still remember the coffee stain patterns on each of the mugs like it was yesterday.
But despite how exhausted I was, I couldn't help but feel light, like I was floating on a cloud.
Exactly a year ago I had finished my writing marathon and placed the final period on the final sentence of Practical Python and OpenCV.
It was an incredible experience and I wanted to share my victory with my readers — and not to mention, demonstrate the computer vision tutorials my book is packed full of.
So, to announce the 1 year anniversary of my book, I once again turned to Drip split tests. This time I tested the subject line "Exactly one year ago I nearly broke my laptop in half" versus "I'm kinda, sorta having a birthday."

As you can see the "I'm kinda, sorta having a birthday" subject line won out. I mainly attribute this to the fact that it's a more believable subject line.
Realistically, only under severe circumstances would a person knowingly break their laptop in half. On the contrary, everyone has birthdays — and if I'm "kinda, sorta" having a birthday, then you might be interested in knowing what type of "birthday" this really is.
Finally, a few months back I did a podcast with Scott Hanselman of Hanselminutes. It was a fantastic experience and I really enjoyed being on the show — a big thank you to Scott for having me on it.
Once the show was released, I really wanted to promote the show to demonstrate my authority and knowledge on the topic of computer vision. Blasting my email subscribers seemed like the perfect start. So, I ran another split test to determine the best open rate:

In this case, taking a less direct approach obtained the best results. Instead of doing "name dropping" like the first subject line, I instead tried to pique the curiosity of readers. In this case, the curiosity-based subject line won out.
In reality, the results of my split tests probably won't translate to success for your own campaigns and emails. Different audiences require different wording — and as you can see from my results, even the same audience can require a different tone at a given time. But by using Drip, I was able to split test my emails and craft that perfect subject line.
Why Should Someone Offer More Than One "Lead Magnet?"
It's interesting when people bring up that I have multiple lead magnets.
And in all honesty, why wouldn't you?
Some people want a PDF file of a resource guide I have put together, sharing my knowledge of computer vision and image processing.
Others want a long 21-day crash course so they can learn about computer vision and level up their skills.
And others simply want to stay up to date with the PyImageSearch blog.
By not offering multiple lead magnets, you are cutting yourself short.
Some people want different things. So why not offer as much as you can? In fact, I see many subscribers opting-in to multiple magnets, which I interpret as a good sign.
That demonstrates that readers see a ton of value in what the PyImageSearch blog offers — they want it all. And if they want it all, that makes them much more likely to purchase from me.