Sunshine, beaches, barbecues. I love summer. But (sorry, there's always a but), it's never been the busiest season for online shopping.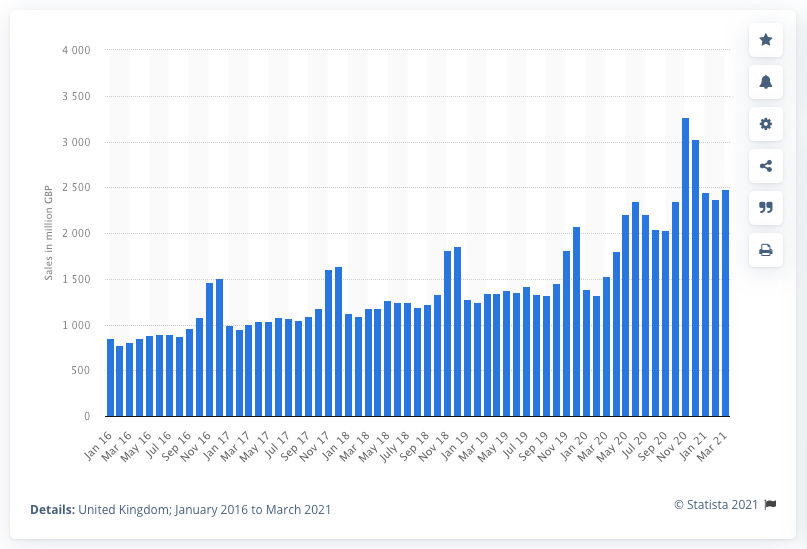 (Source: Statistica.)
All that hot weather and all those public holidays mean people spend comparatively less time glued to their screens, which inevitably leads to a drop-off in sales.
What's more, with Covid-19 still affecting global travel, there's no big wave of consumers panic buying Hawaiian shirts or giant novelty pool floats ahead of their trips overseas.
All of this means that if you're going to drive sales during the summer months, you can't afford to sit back and wait for shoppers to come to you.
Instead, your marketing needs to pick up the slack, reach new audiences, nurture existing customers, and promote attractive offers.
Here are seven summer marketing ideas to inspire your own campaign planning.
Summer Marketing Ideas
Idea 1: Capitalize on Key Events
Okay, so summer may not be the busiest season for online shopping—but that's not to say there aren't big opportunities to generate sales around key dates.
Of course, to do that, you need to understand what those key dates are, and how they apply to your business.
The US National Retail Federation can help us out here. According to its research, two of 2020's three biggest "shopping events" were back to college and back to school: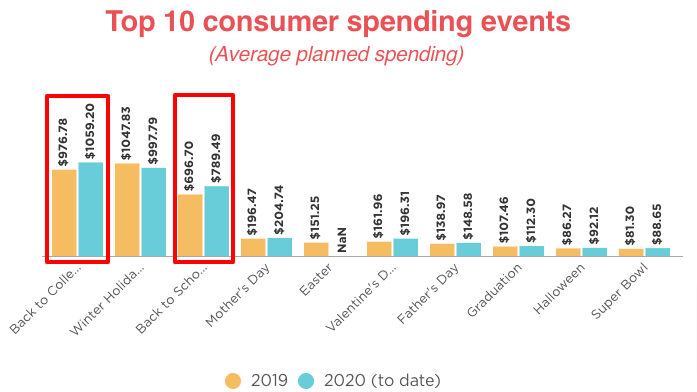 What's more, 2021 looks poised to see a bumper haul of school and college spending, with parents of preschool children planning to spend up to 32 percent more than last year, and parents of college-aged students preparing to shell out about 13 percent more.
Obviously, the exact dates when students return to school or university vary from country to country, but they typically fall in late summer or early autumn. That makes these key events an excellent target for your summer marketing campaigns.
But how do you do back-to-school marketing when Covid-19 continues to cause uncertainty around physical attendance?
That's a challenge a lot of brands faced in 2020 (and continue to face this year).
For backpack brand JanSport, "BTS" is one of its busiest periods. Since the dawn of the pandemic, it's been forced to dramatically rethink its approach to marketing around these events, as the company's head of marketing and e-commerce Monica Rigali told PR Week in a May 2020 interview:
In the past, we would have had all of our media assets done, baked, in the can and ready to distribute throughout the back-to-school season. Today, we are working on a much shorter timeline. We don't want to start putting out BTS messages like, 'It'll be great getting back in the classroom!' right now because that would be tone deaf.
Instead, in 2020 JanSport launched its traditional back-to-school messaging a month earlier than usual.
Titled "Lighten the Load", the campaign centered on the issue of mental health in young people, coinciding with Mental Health Awareness Month in May.
Evidently it worked, because the brand continued the campaign this year by launching a dedicated resource hub on its website: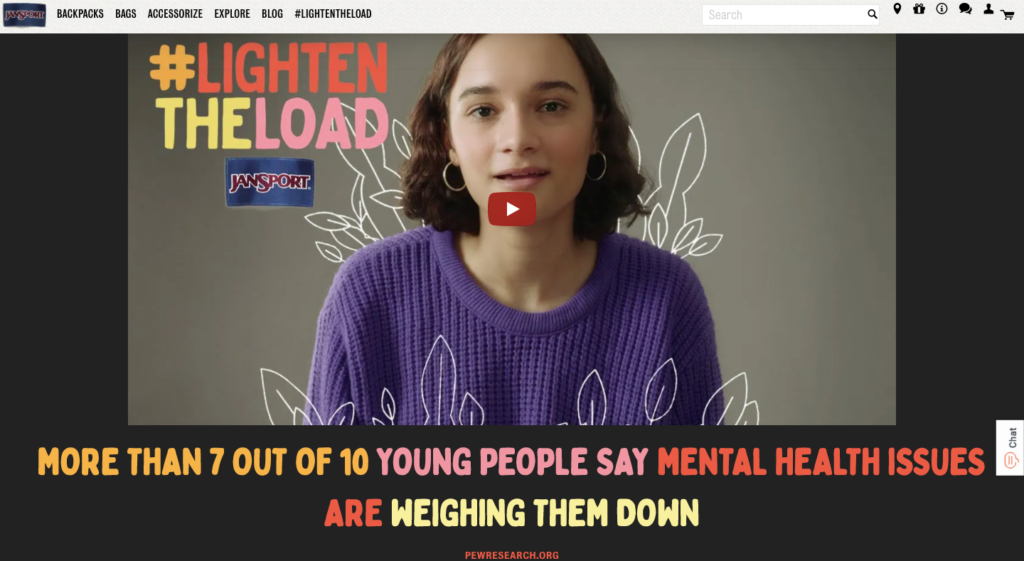 Idea 2: Tap Into Awareness Days & Causes
Which brings me nicely to my next point.
If you're ever short of marketing ideas, awareness days and causes can be the perfect inspiration. They allow you to piggyback on a wider conversation, helping you generate some much-needed brand awareness.
Fortunately, there's never any shortage of "national days." Some are focused on campaigns for social good, whereas others are pretty frivolous or entirely ridiculous. In summer alone, you've got:
World Oceans Day (8th June)
World Refugee Day (20th June)
International Joke Day (1st July)
National Ice Cream Day (third Sunday in July)
National Lasagna Day (29th July)
Friendship Day (5th August)
World Elephant Day (12th August)
And those are just for starters—honestly, there are hundreds of these things. Obviously, not all will be relevant to your brand.
What's more, some likely don't justify any more than a throwaway social post, while others are big events deserving of a whole campaign.
You (probably) don't need to devote a whole month of marketing activity to National Lasagna Day, whereas if you're going to join the conversation around a weighty subject like World Refugee Day, you really need to justify your involvement. Otherwise you'll come across as crass and opportunistic.
For an example of how to get it right, take a look at how Durex teamed up with Swedish pop star Zara Larsson to promote safe sex in the run-up to World Aids Day: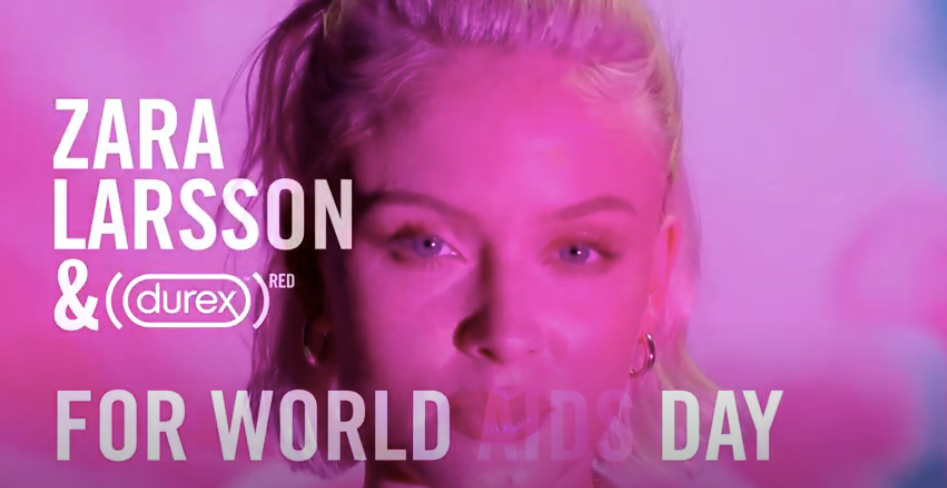 That's a strong campaign because it's directly relevant to Durex, and also because Larsson has a track record of speaking out on issues related to sexual health. It feels authentic.
Idea 3: Launch (& Promote) a Summer Sale
There's an obvious way to encourage sales during quieter times of the year—launch a sale.
In key markets across Europe and North America, it's traditional to run some sort of sales promotion during the summer months. Here in Denmark, sales often run from the start of June until the end of August, but those periods vary from one country to another. In France, for instance, sales periods can only run for a maximum of four weeks, with the specific dates dictated by individual départements.
Once you've figured out the logistics of when to run your sale (based on rules and consumer preferences in the markets you serve), it's time to spread the word.
Email marketing is one of the best ways to do this. With an ROI of 42:1, it can generate a staggeringly high bang for your marketing buck if you get it right.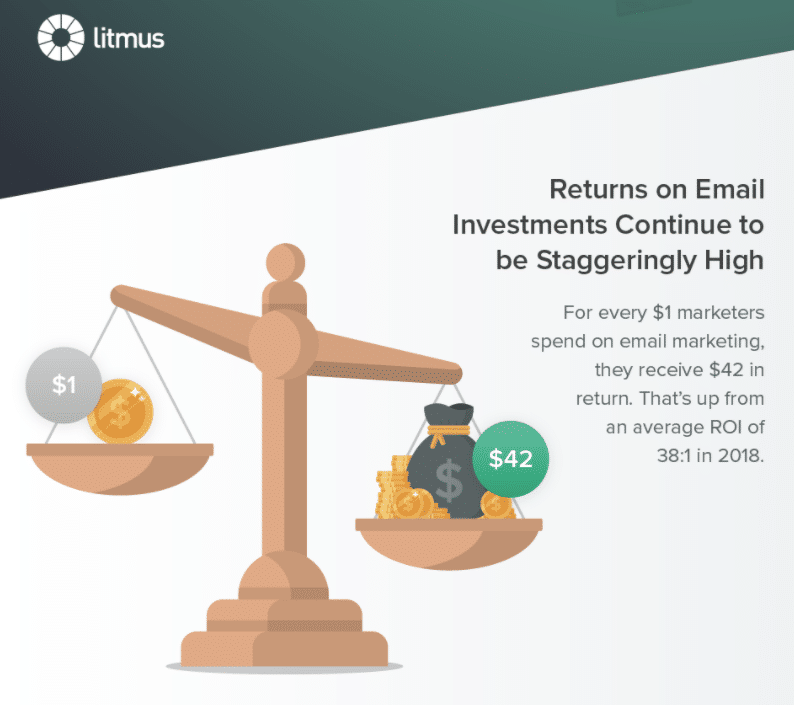 Even brands that don't typically offer discounts have been known to run summer sales (and promote them through email). Everlane is a good example: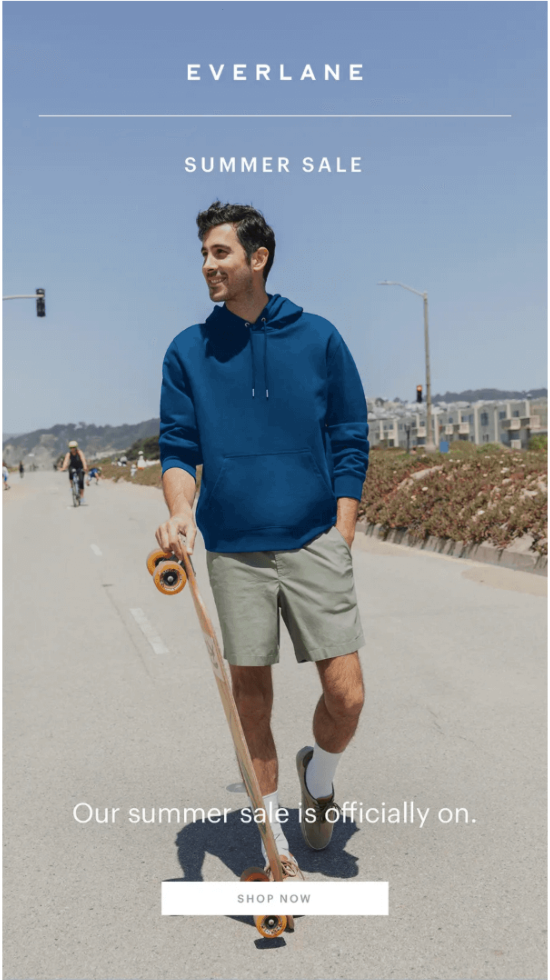 (Source: Really Good Emails.)
The US clothing retailer launched its first ever summer sale in 2020, promoting the event via an email campaign that highlighted how this wasn't simply an everyday occurrence: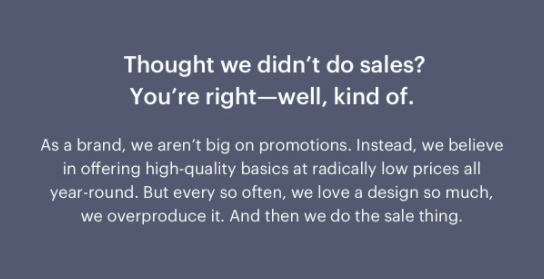 That gave the campaign some real scarcity value, which is always a great way to persuade consumers to take advantage.
Idea 4: Run a Summer Competition
Starved of attention while your customers bask in the summer sunshine? Coax them back, while building awareness among new audiences, by running a social media contest.
Importantly, competitions aren't just an effective way to drum up some extra traffic and sales at a quiet time of year. They're also a fantastic source of user-generated content, which is an absolute godsend for brands. Indeed, four-fifths of consumers say UGC highly influences their purchasing decisions, while just one in eight say the same about content created by brands themselves.
Summer photo contests can be an especially good fit for retailers selling seasonal products.
Outdoor brand Marmot gives us a great example of this in action. This summer, it's promoting The Elevation Grant, a photography competition targeting BIPOC creatives: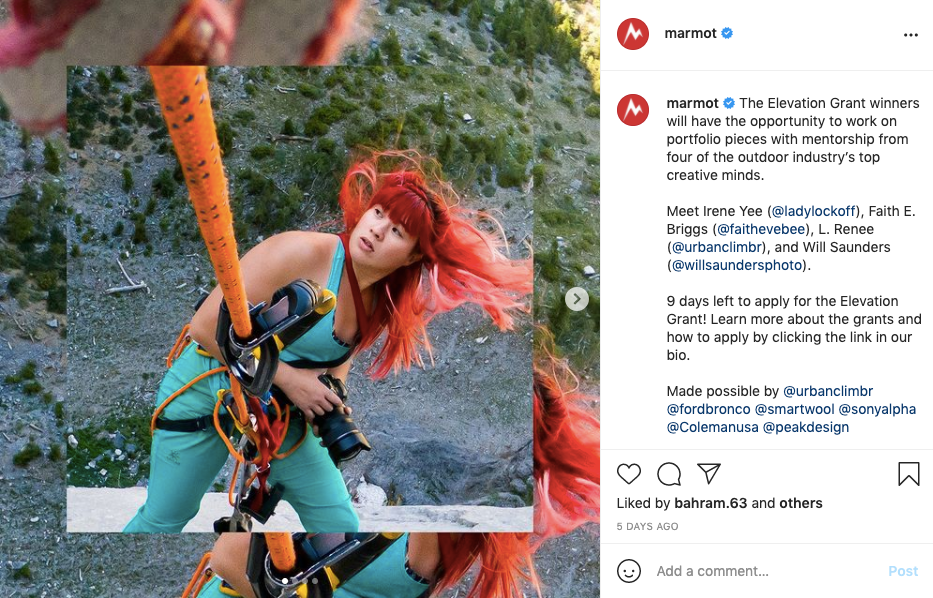 Let's take a second to look at all the wins this offers Marmot:
It gets to generate a bunch of UGC, which, as I've already mentioned, plays a big part in influencing buying decisions.
It's latched onto a social issue that's relevant to its industry, namely the lack of BIPOC representation in outdoor photography.
Its products are directly relevant to the conversation, which means the campaign doesn't feel forced, insincere, or inauthentic.
Idea 5: Offer Seasonal Freebies
There's no time of year when people don't love "free stuff," which means a seasonal giveaway is always a viable tactic.
But they can be particularly effective in summer (provided your products are the right fit). Why? Because people are out and about anyway, so there's a good chance they'll be taking lots of pictures. This, in turn, means it's a great time to give them free stuff they can show off for you—and you should never forget the value of user-generated content.
Giveaways aren't just an effective summer marketing idea for small brands keen to get eyes on their products; plenty of big names do it, too.
For instance, Starbucks regularly runs a summer game offering its rewards members the chance to win seasonal merchandize, free drinks, and a host of other prizes: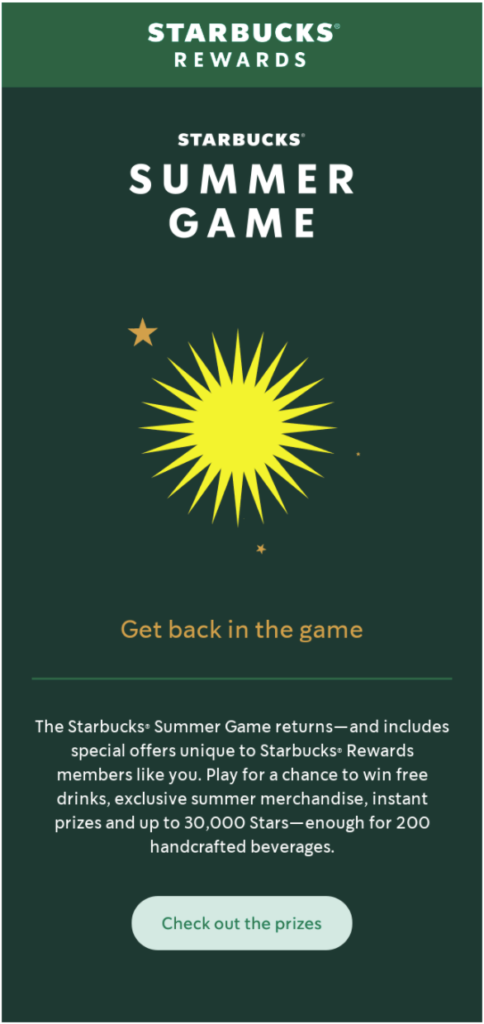 Make those prizes particularly eye-catching or unique (or ideally both), and there's a good chance people will share them on social media too, which helps generate plenty of brand awareness.
Idea 6: Update Your Visuals
Every season has its own look and feel.
That's the reason northern hemisphere Christmas adverts are all about snow and roaring fires, rather than sun-kissed beaches and palm trees.
Clearly, summer is no different. So if you're going to get shoppers in the buying mood throughout the hottest months of the year, your branding needs to resonate with how they're feeling.
With that in mind, a lot of brands update their social platforms and key landing pages to reflect the season. For example, take a look at how fashion ecommerce store Pretty Little Thing has given its homepage a distinctly summery facelift: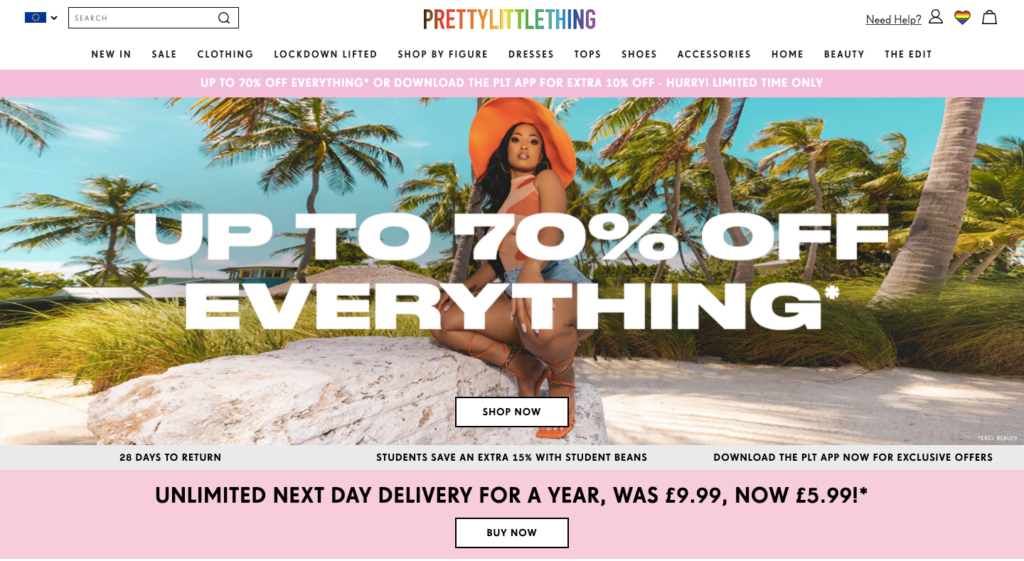 Of course, for fashion brands, seasons are kind of important. I'm no Harry Styles, but even I don't wear exactly the same clothes all year round.
But that doesn't mean updating your visuals for summer is only relevant to apparel retailers. Whatever industry you're in and whoever your audience is, there are benefits to giving your site a seasonal facelift.
Traditionally, computer games are pretty much the antithesis of enjoying the summer. After all, if you're playing a console game, you're almost certainly doing it inside, not in your sun-drenched garden. Yet UK-based videogame retailer GAME has still decided to update its website for summer with a simple banner image at the top of the homepage: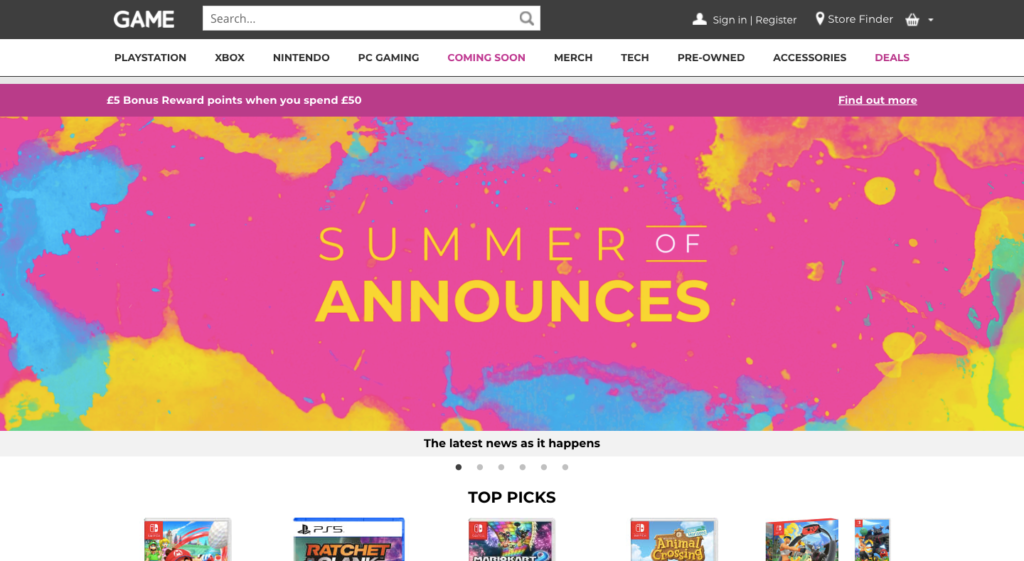 Both these examples demonstrate that there's no need to do an entire rebrand to make your website (and social channels) summer-ready. A change of background, or a few well-placed summery images, can do all the hard work for you.
Idea 7: Use Summer Emojis in Your Email Marketing
Think "summer" and any number of images spring to mind—ice cream; the sun; the beach.
Fortunately for us marketers, a lot of those images have their own corresponding emojis, so why not use them in your email marketing?
Now, emojis aren't for everyone—if you're running a law firm or you build tombstones, they're probably not a great fit for your brand.
But they can definitely work super well for some businesses. In fact, one study claimed brands that use emojis in their email marketing see a 56 percent increase in unique open rates.
In short, it appears that emojis can help your emails stand out in your customers' increasingly cluttered email inboxes.
Clearly, a lot of brands have already realized the summer marketing potential of emojis. Here's a snapshot of three recent emails I've received that have made smart use of emojis in the subject lines:



Still not sold on emojis? Try a little A/B testing. Take a subset of your customers, split it in two, then target one group with a standard email and the other with exactly the same email, but with a subject line containing an emoji or two.
If the emoji version has a higher click-through rate, chances are your audience liked it, so give them more of what they want.
Conclusion
Sure, marketing in summer presents a few key challenges. Especially at the moment, when pretty much the whole world is still waiting for normality to resume after the pandemic.
But those challenges also bring opportunities. Whereas there's a ton of noise around busy online shopping periods like the Cyber Weekend, summer as a whole tends to be a lot quieter.
That means if you nail your messaging, there's every chance your summer marketing ideas will generate some real buzz.