US Independence Day—otherwise known as the 4th of July—is one of America's biggest holidays.
And it's also one of the country's biggest shopping events.
According to a survey from the National Retail Federation (NRF), 84 percent of Americans planned to celebrate Independence Day 2021, with the average respondent intending to spend $80.54 on food items alone.
A further 29 percent planned to buy "patriotic items" like American flags, apparel, and decorations.
Traditionally, 4th of July celebrations are distinctly food-oriented, with 61 percent planning a cookout, barbecue, or picnic to mark Independence Day 2021.
So if you sell anything to do with food (or drink), it's a real chance to generate bumper sales.
But it's not all about eating or stars-and-stripes garlands.
One-third planned to attend a fireworks display or community celebration, one in eight had travel or vacation plans, and one in 12 intended to watch a parade.

From luggage to clothes to outdoor furniture, the 4th of July presents opportunities to brands and retailers across a wide range of niches.
But, as with any seasonal event, you'll only maximize sales if you get your marketing right.
This is why I've rounded up some of the best 4th of July email examples from the last year.
4th of July Email Examples to Inspire Your Own
1. Crate & Barrel: Launch a (Relevant) Seasonal Offer
I've already noted how the 4th of July is very much one for the foodies.
Indeed, total US spending on food items for Independence Day climbed from $6.3 billion in 2014 to an estimated $7.5 billion in 2021, according to the NRF.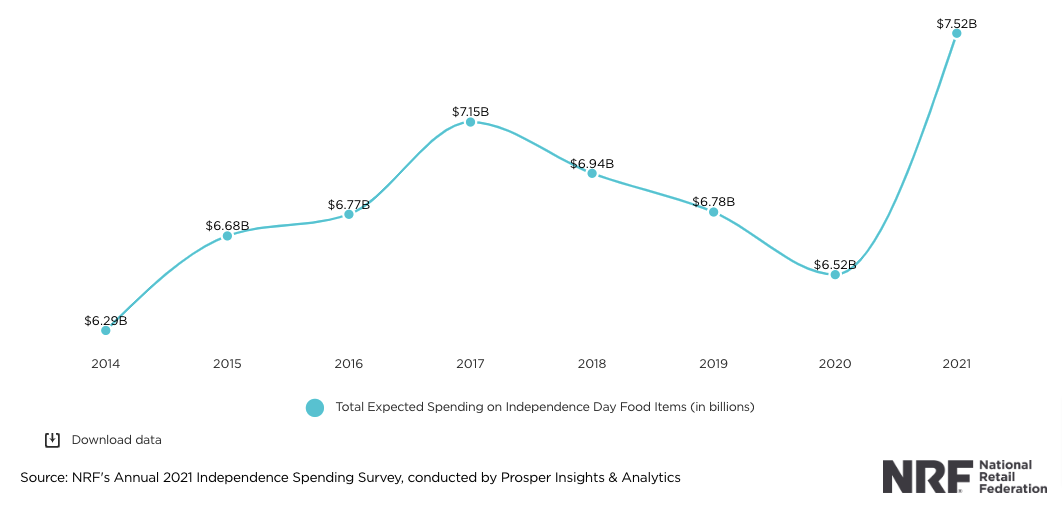 So if your products are in any way related to food—think cookware, homeware, glassware, recipe kits, snacks, and more—it definitely makes sense to push them in your 4th of July messaging.
Take a look at how home decor retailer Crate & Barrel does it here: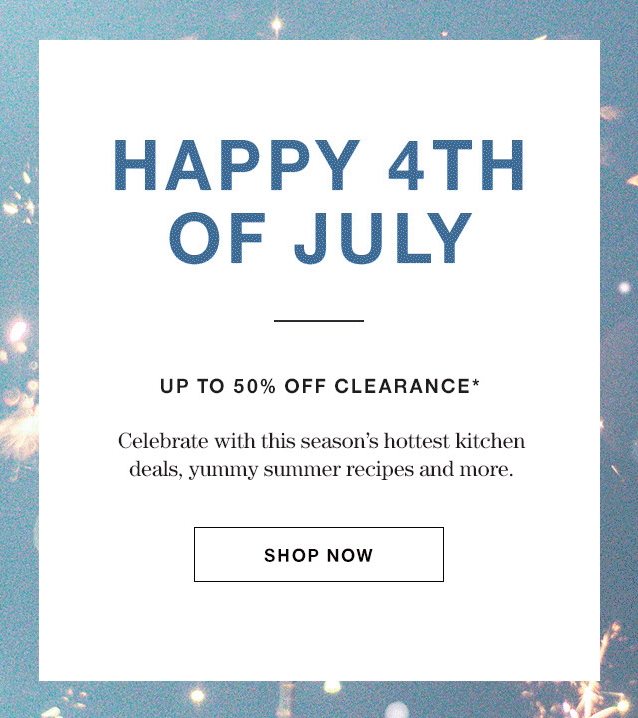 I particularly like how the copy isn't all sell, sell, sell.
It also promises "yummy summer recipes," which—as we've already seen—are extremely relevant to the 4th of July celebrations.
That gives recipients of this email a lot of incentive to click through.
Want to make a workflow like this?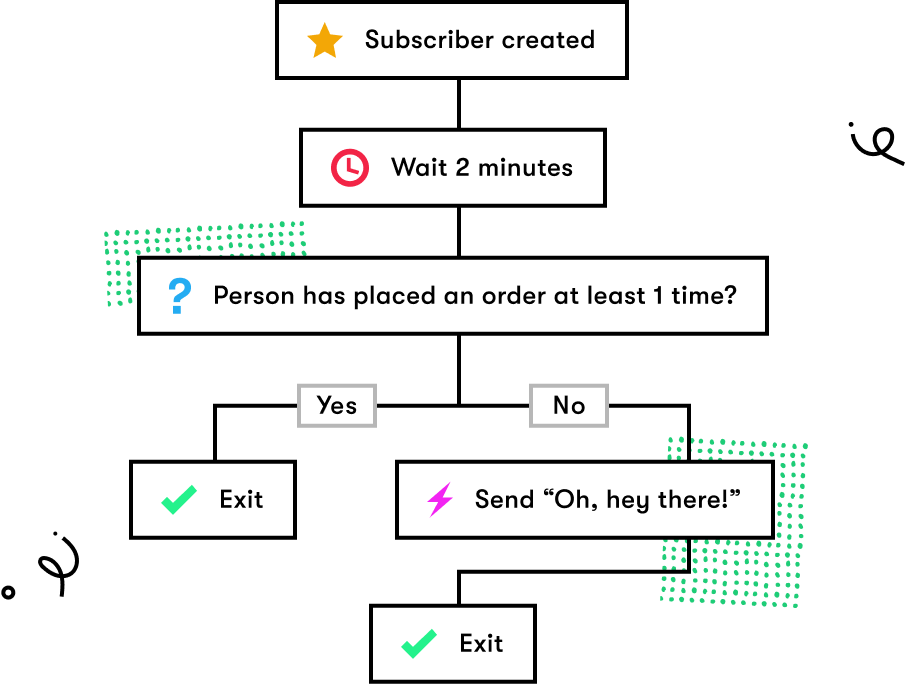 Hit the ground running with our pre-built workflows.
2. MADSEN Cycles: Run a Themed Competition
Okay, so Independence Day offers big opportunities for brands and retailers across a wide range of verticals.
But not every vertical.
Take MADSEN Cycles as an example.
It sells "bucket bicycles" and accessories—fantastic products, but not necessarily the sort of thing that's going to fly off the shelves in time for the 4th of July.
What do you do if you're in the same boat?
Simply ignore the big day and hope no one notices? Launch an arbitrary flash sale and cross your fingers for a few extra sales? Or do you find a more creative way to join the conversation?
With four-fifths of Americans celebrating the 4th of July, you can't simply bury your head in the sand, and a limited-time offer might not be appropriate for your market or audience.
That leaves option three: find some other way to get involved.
This is precisely what MADSEN Cycles do with its annual 4th of July bike decorating competition.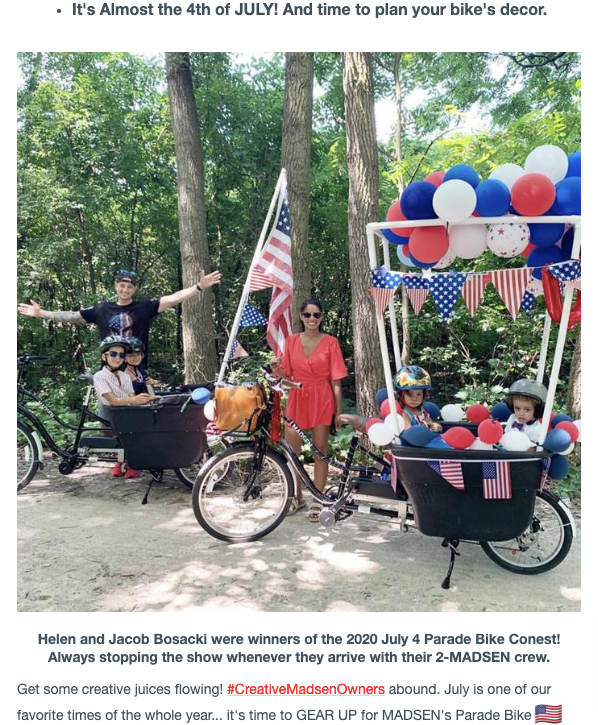 The idea is pretty simple—doll up your MADSEN bike and send photo or video evidence using the competition hashtag.
The best thing is that it doesn't feel forced.
As we already know, parades are a big deal on Independence Day, and so are buying patriotic items like flags and balloons. So it's not a huge leap to ask customers to combine the two.
If you're planning to run your own competition this 4th of July, take a leaf out of MADSEN's book and choose a theme that captures the imagination without requiring too much effort on the part of your audience.
Don't expect a ton of engagement if you're asking people to hike the length of the Grand Canyon dressed as Uncle Sam or make a scale model of the Statue of Liberty wearing items from your summer collection.
3. Missguided: Launch a Limited-Time Promotion
Independence Day coincides nicely with the start of summer in the northern hemisphere (the hottest season officially begins on June 21st, if you're interested).
So it's the perfect time to launch a sale on your summer merch.
Of course, you won't be the only retailer in your niche planning a limited-time promotion for the 4th of July.
With so much noise around, your best bet is to keep your sale simple and make it sound as attractive as possible, as Missguided did by offering 60 percent off absolutely everything ahead of Independence Day 2021.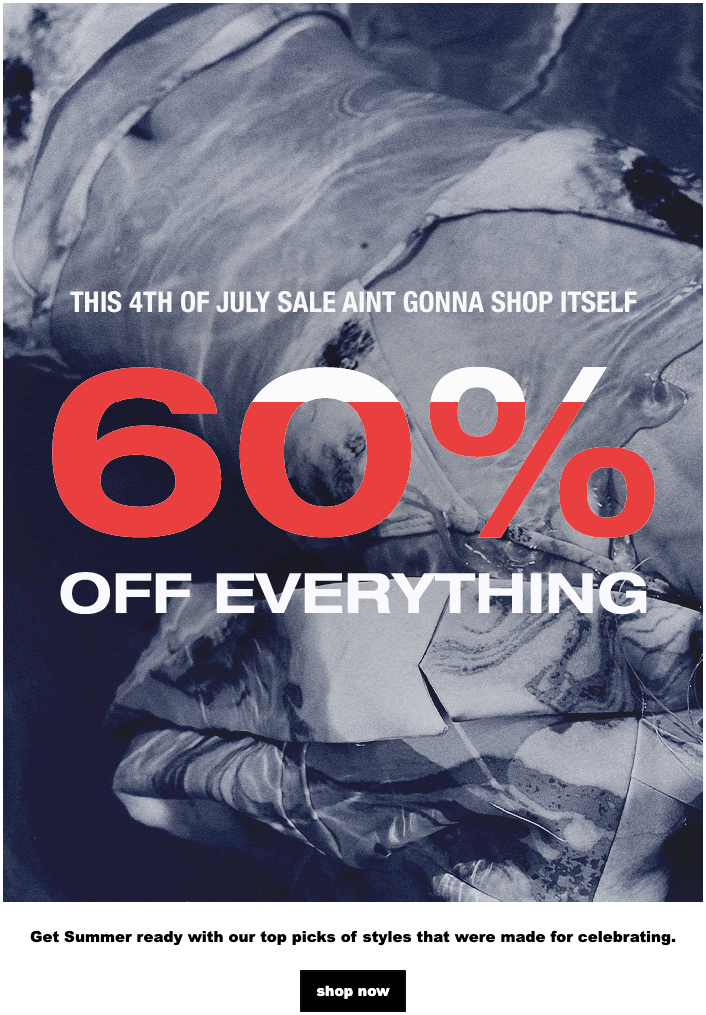 Clearly, that's a much more compelling proposition than giving customers 10 percent off clearance items in specific categories.
4. Team Man Crates: Engage Your Audience With Seasonal Messaging
What separates the best 4th of July email examples from the also-rans?
The fact that they feel natural.
Not every brand or retailer has a product range that aligns with the sort of things people are likely to buy ahead of Independence Day.
This means they need to work a little harder on their messaging as Team Man Crates does here: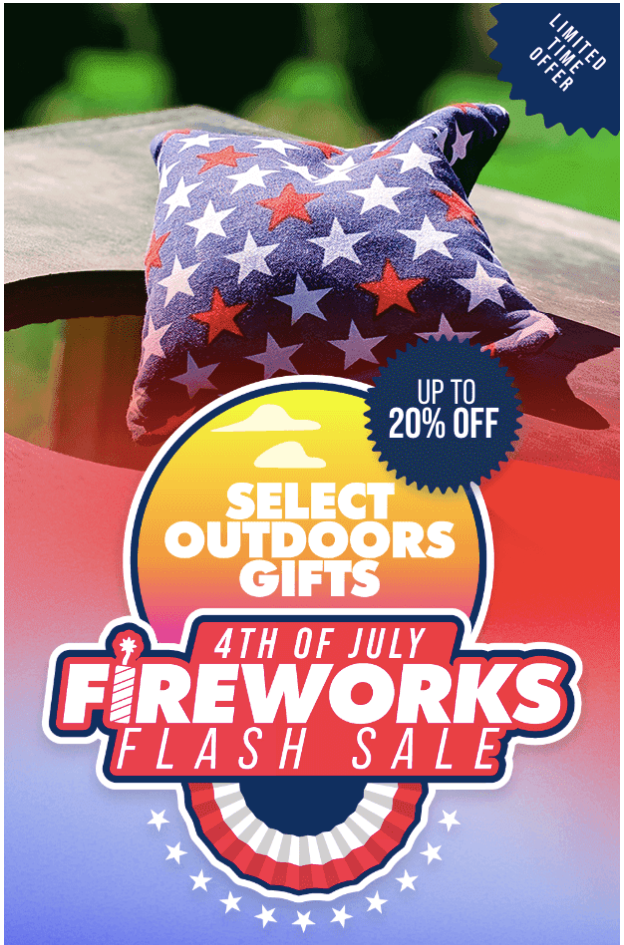 Fact is, Independence Day isn't an obvious ecommerce holiday—people don't traditionally mark the occasion by buying their loved ones a gift crate.
So Team Man Crates chose to launch a sale on outdoor gifts—the types of products people might want to buy if they're planning a cookout or attending an outdoor event.
And full credit to the copywriter who decided to brand the promotion as a "fireworks flash sale," which aligns perfectly with the 4th of July celebrations.
5. Framebridge: Lean Into the Patriotism
Independence Day is a distinctly patriotic holiday—it is, after all, often referred to as "America's birthday."
So it makes sense to bring a little patriotic flavor to your messaging, branding, or promotion (or perhaps even all three).
In this 4th of July email example, Framebridge chose to promote its most patriotic picture frames: those made from American hardwoods.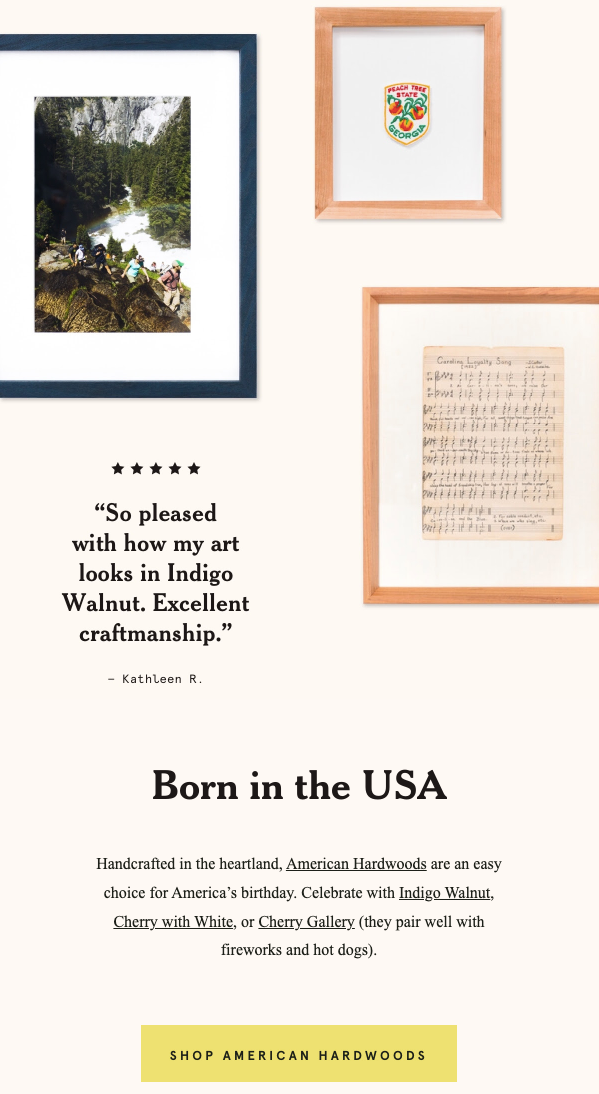 It continues this theme in the body copy, referencing how these frames are "handcrafted in the heartland," and positioning them as a perfect complement for an Independence Day celebration.
Whether or not hardwood picture frames actually pair well with fireworks and hot dogs is another matter, but it's another clever example of a brand finding a creative way to join the 4th of July conversation.
6. Wet N Wild Beauty: Theme Your Branding
Continuing the patriotic theme, if you don't have a specifically American product category and you can't come up with a way to tie your message to the holiday, let your branding do the talking instead.
If you've looked through as many 4th of July email examples as I have, you'll notice a lot of commonality around design and color palettes, with popular themes including:
The colors red, white, and blue
Stars and stripes
Fireworks
US flags
Wet N Wild Beauty managed to incorporate many of these tropes in the following email, sent to promote its sitewide 4th of July sale: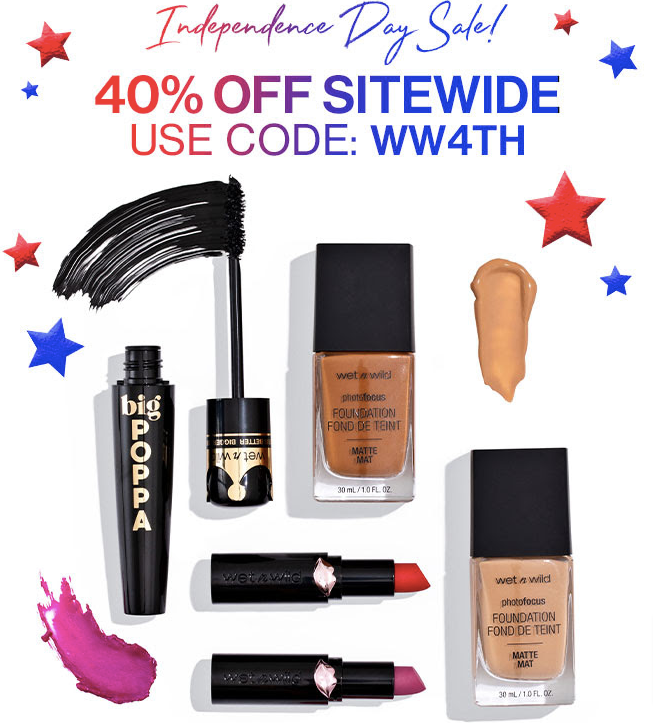 It's an easy way for brands to align their email marketing around Independence Day without making it feel like they're crowbarring themselves into the narrative.
7. L'Occitane en Provence: Send a Seasonal Greeting
As you'll no doubt have noticed, a lot of these 4th of July email examples are about finding a way to make Independence Day relevant to brands, products, and audiences that lack an obvious connection to the federal holiday.
But if you've been scratching your head for hours (or days) and still can't find a way to get involved in the event, it's fine to accept that 4th of July just might not be right for you.
Better to reach that conclusion than to send a clumsy, cringe-inducing email that tries to position your latest duvet and pillowcase set as the perfect accompaniment to an Independence Day celebration.
However, if you're serious about engaging audiences in the US, you probably don't want to keep completely silent on the big day.
Google Trends data shows us that the 4th of July consistently puts the other federal holidays in the shade, at least as far as search activity is concerned: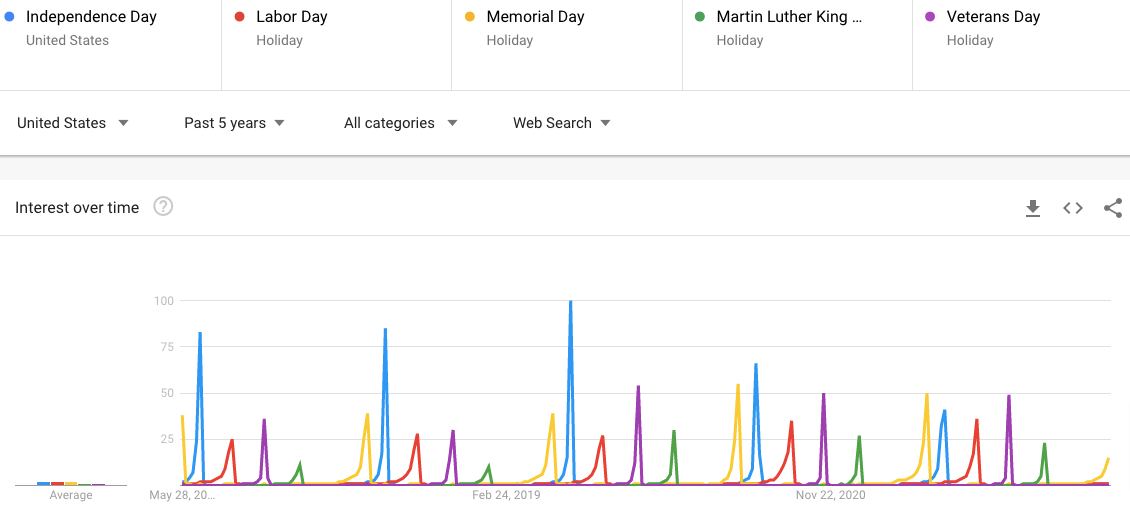 While you likely won't ruin anyone's 4th of July if you don't send an email, it's a safe bet that all your rivals will have something up their sleeve to mark the occasion—and you don't want to be left behind.
L'Occitane en Provence is a classic example of a brand that doesn't naturally fit with Independence Day.
Firstly, and most obviously, it's a French brand—and France famously has its own national day, Bastille Day, which takes place a couple of weeks after US Independence Day.
Secondly, its product categories—luxury natural beauty and skincare—don't obviously align with the holiday.
So rather than launching some contrived campaign, L'Occitane settled for simply wishing its audience a happy 4th of July: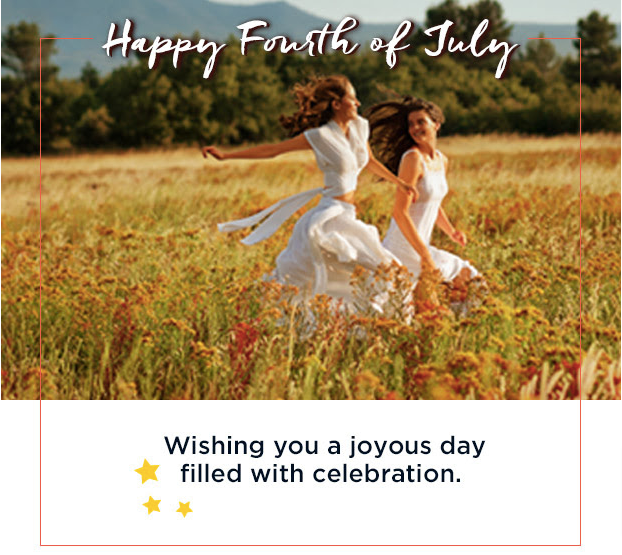 It's not trying to drive any specific action; it's just about joining the conversation and keeping the brand at the front of mind.
When all else fails, that's your best bet too.
8. Taylor Stitch: Time Your Sale to End On 4th of July
Another perfect solution if you're not sure how to get involved this 4th of July: plan a limited-time promotion that ends on the day itself.
That's precisely what Taylor Stitch did in 2021, as you can see from this 4th of July email example: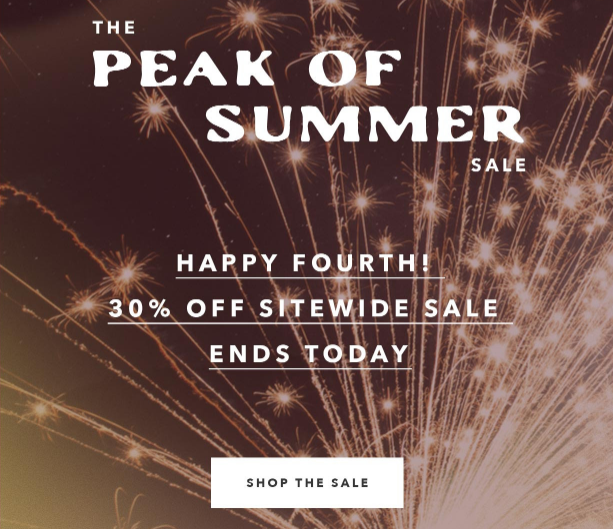 It's such a simple (and smart) approach because it gives you an obvious reason to reach out to your audience on the day.
You're not just cluttering up their inbox with yet more Independence Day noise; you're warning them that they'll miss your fantastic discounts if they don't act now.
And, as I've noted previously, the fear of missing out is a big motivator when it comes to driving sales.
9. Cravory Cookies: Give Your Audience What They Want
Given how many times I've referenced food in this 4th of July email roundup, I could hardly end the article without showing you a single example from an actual food brand.
Step forward Cravory Cookies: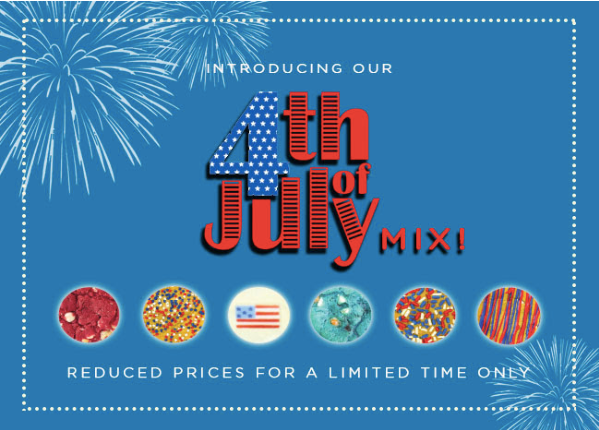 This is a classic example of keeping things simple.
We know people will be snacking, picnicking, and barbecuing their way through Independence Day, so if you literally sell America's favorite snack food, it would practically be a crime not to introduce a special 4th of July product line.
Throw a price reduction into the (cookie) mix, too, and you've basically created a license to print money.
Send More Impactful 4th of July Emails With Drip
Of course, crafting the right message or promotion for your 4th of July email campaign is only half the battle.
Next, you need to ensure your email stands out in a crowded inbox.
Because if your email blends into the background, you might as well not have sent it.
Fortunately, Drip is here to help.
Our ​​powerful email segmentation and personalization functionality helps you generate more engagement from your emails, drive click-throughs and conversions, and generally keep your audience coming back for more.
Best of all, we do the leg work for you, making it simple for you to dynamically personalize content with laser-targeted product recommendations and promotions based on your customers' previous activity.
But I'm obviously going to tell you that Drip is the best thing since sliced bread.
Don't take my word for it; test our features for yourself by signing up for a 14-day free trial.
And because we're generous types, we won't even ask for your credit card details.