We all know the golden quarter can be make or break for ecommerce businesses.
But did you know that in 2022, June was the second-biggest month for US retail sales, with consumers shelling out over $597 billion?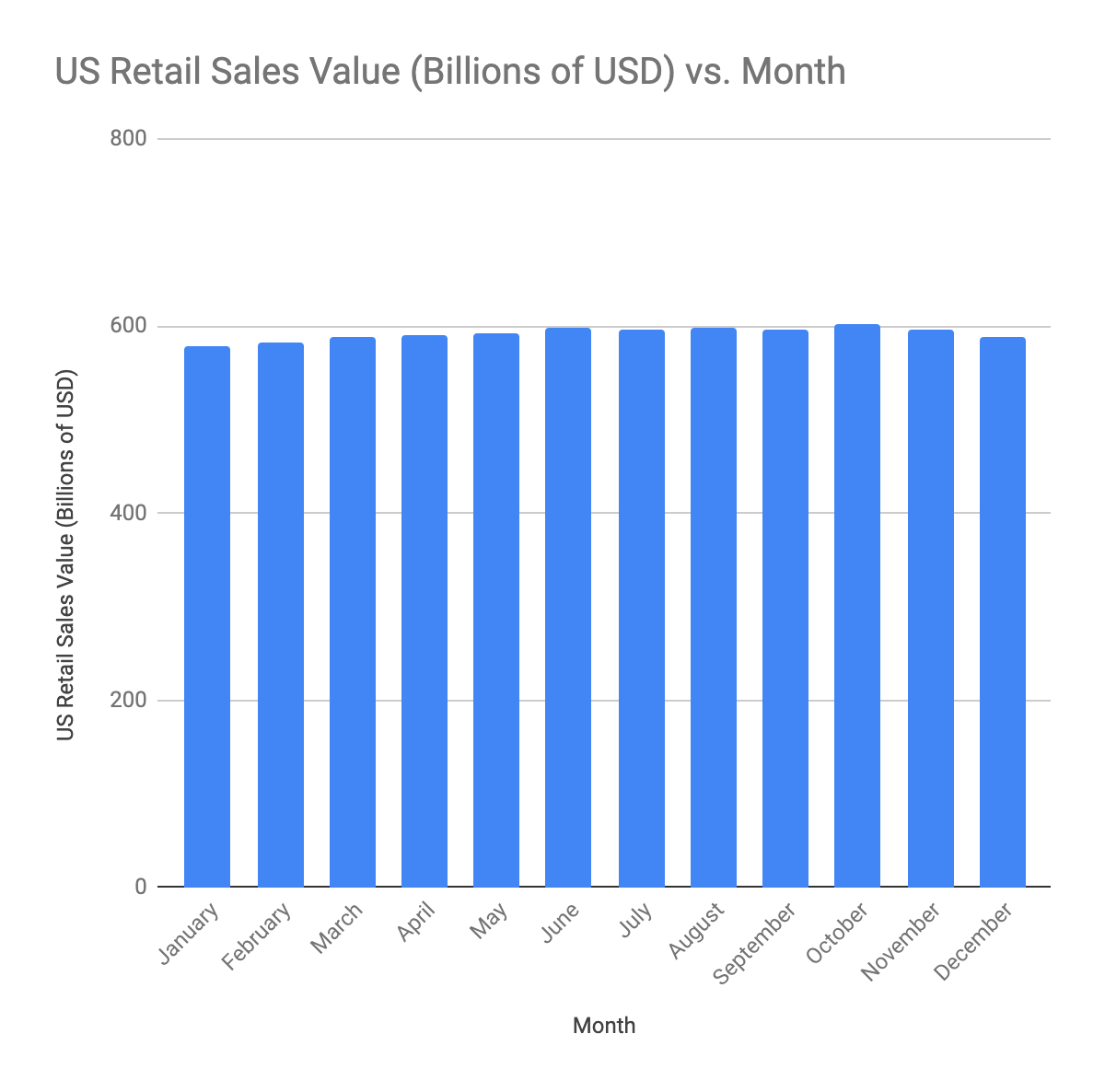 With the sun shining and a succession of big ecommerce holidays taking place throughout the month, there are huge rewards for brands that nail their messaging.

To help you out, I plunged into the azure waters of Drip's email marketing swipe file to surface nine of my favorite June newsletter ideas and examples.

Let's dive in…




1. Bombas: Target Last-Minute Father's Day Shoppers


While it's often seen as less important than Mother's Day, Father's Day (June 18) is still a big deal for ecommerce brands.
According to the National Retail Federation (NRF), three-quarters of Americans plan to celebrate Father's Day in 2023, with the average shopper expecting to shell out $196.23 on gifts — taking total predicted spending to a record $22.9 billion.
Top purchases include:
Greeting cards (purchased by 61 percent of respondents)
Clothing (55 percent)
Special outings (52 percent)
Gift cards (48 percent)
Personal care items (32 percent)
And there's even more good news for ecommerce marketers, because online is the #1 destination for Father's Day shopping, chosen by 43 percent of consumers.
So how can you maximize sales on this key retail date?
One strategy is to target all those tardy Father's Day shoppers, with almost one-third of Americans admitting they're "sometimes", "always", or "frequently" late in sending Father's Day gifts.

Sock and apparel brand Bombas used this to its advantage by issuing a reminder prompting shoppers to buy now to ensure their gift arrives on time: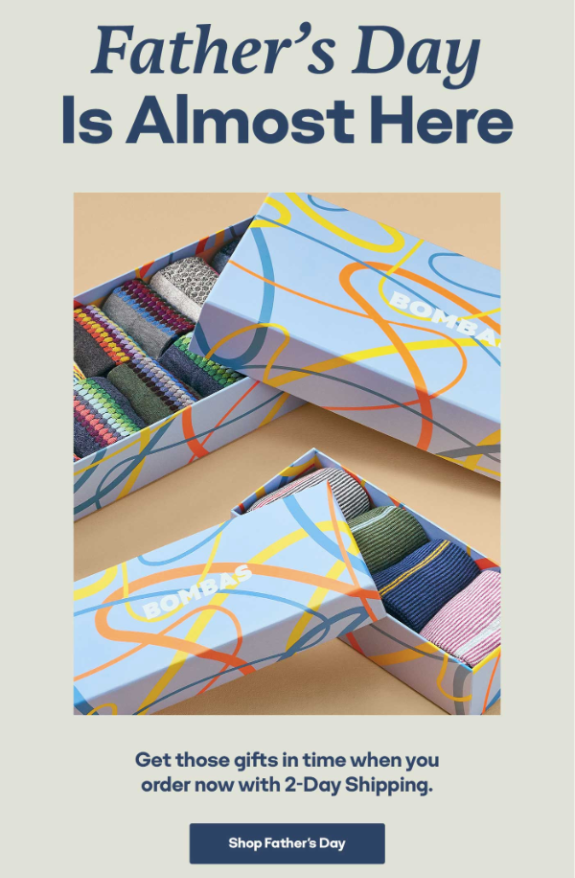 This is a simple way to build urgency into your messaging, compelling customers to take action right now.

It works doubly well for a brand like Bombas, given that socks are pretty much the default panic-buy gift idea for dads everywhere.
2. Framebridge: Celebrate Your Commitment to LGBTQIA+ Issues
As you're probably already aware, June is Pride Month. And as you're probably also aware, it's a time when brands take to the rooftops to shout about their love and support for the LGBTQIA+ community.

Once upon a time, businesses were applauded for adding a rainbow background to their social media profile pictures for a month — but that sort of skin-deep involvement just won't cut it anymore.

Today, two-thirds of Americans believe brands should demonstrate their support for the community all year round, with most (45 percent) wanting them to educate their audiences on LGBTQIA+ issues and misconceptions.
In short, joining the Pride conversation has definitely become a little trickier. But that doesn't mean you shouldn't do it — you just need to prove your words aren't empty.

Custom picture frame brand Framebridge got it right in this Pride email: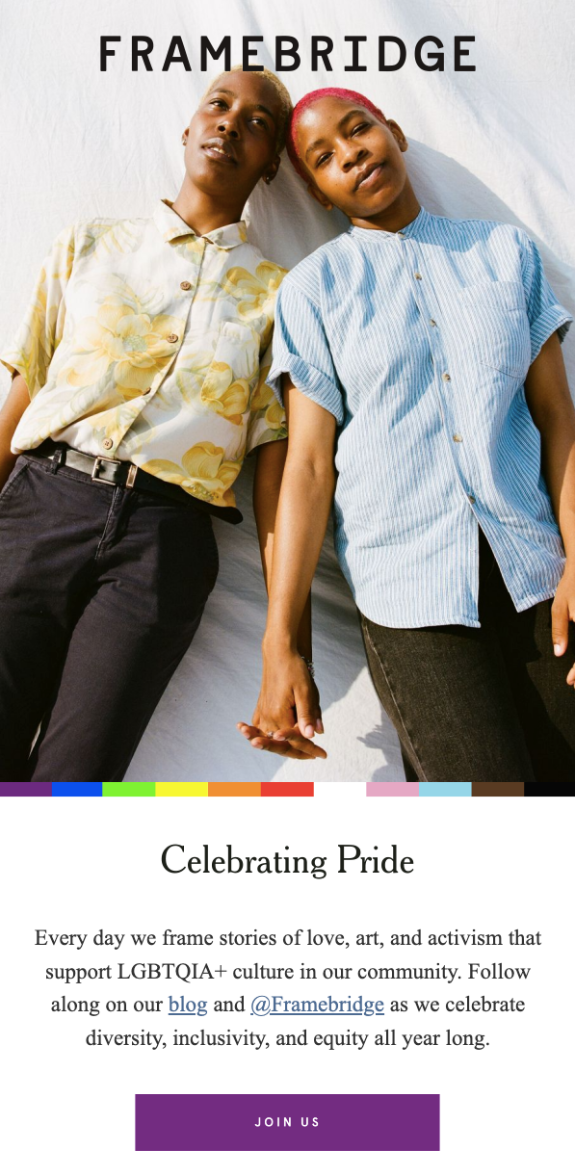 First and foremost, it's not actually selling anything. The whole purpose of this newsletter is to celebrate Pride and highlight the brand's support, rather than shifting a few rainbow flags, T-shirts, and tote bags. That makes the messaging feel a lot more meaningful.
Beyond that, I like how Framebridge stressed its support for diversity, inclusivity, and equity throughout the year, not just during Pride Month.
3. Mavi Jeans: Support a Good Cause for Juneteenth
Juneteenth (June 19) — commemorating the emancipation of enslaved people in the US — is the newest federal holiday, having been awarded the status in 2021.

Since then, awareness of the event has increased significantly, with 59 percent of respondents to a 2022 Gallup survey saying they know "a lot" or "something" about Juneteenth — up from just 37 percent a year earlier. Just over one-quarter of Americans have celebrated Juneteenth at least once.
Like Pride, Juneteenth isn't the easiest holiday for brands to navigate. You want to show your support for the occasion without sounding cynical or trite. And you definitely don't want to be accused of using the event for commercial gain.
So what are your options?
One approach is to show your support for Juneteenth by promoting and contributing to a good cause, just like sustainably made denim brand Mavi Jeans did in my next June newsletter example: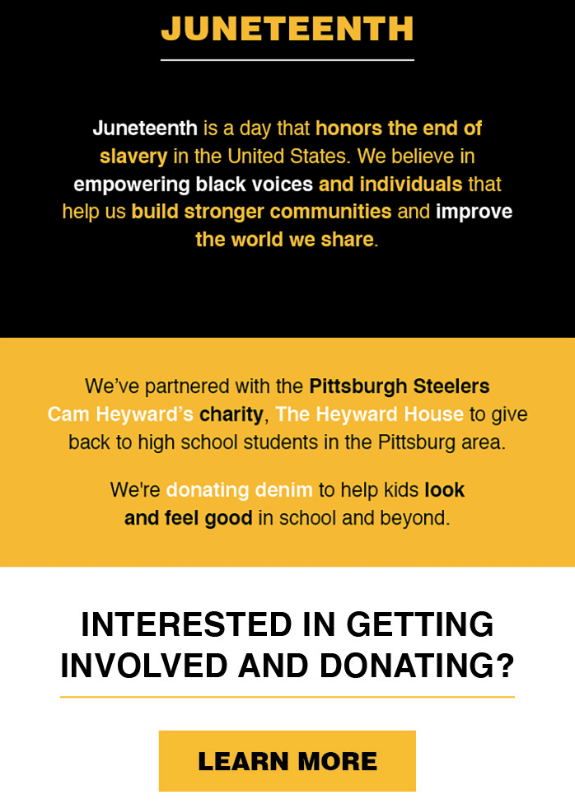 Again, this email isn't about selling something; it's purely designed to drum up support for Mavi's partner charity, The Heyward House.

Yet it still managed to reference the retailer's products. That's important, because research shows that 60 percent of consumers believe brands should only get involved with good causes that in some way relate to the "thing" they sell.
4. Beauty Bay: Reach Out to Eid al-Adha Shoppers
Eid al-Adha is one of the two main holidays celebrated in Islam. The date shifts based on moon sightings in different parts of the world and doesn't occupy a fixed spot on the international (Gregorian) calendar — but in 2023, it's estimated to fall in late June.
Whenever it happens, the event traditionally involves spending time with loved ones, wearing smart clothes, and giving gifts. That makes it a valuable component of your email marketing plans.
One US brand to capitalize on the holiday is Haute Hijab, which compelled its customers to "get ready for Eid" by shopping its special occasions collection: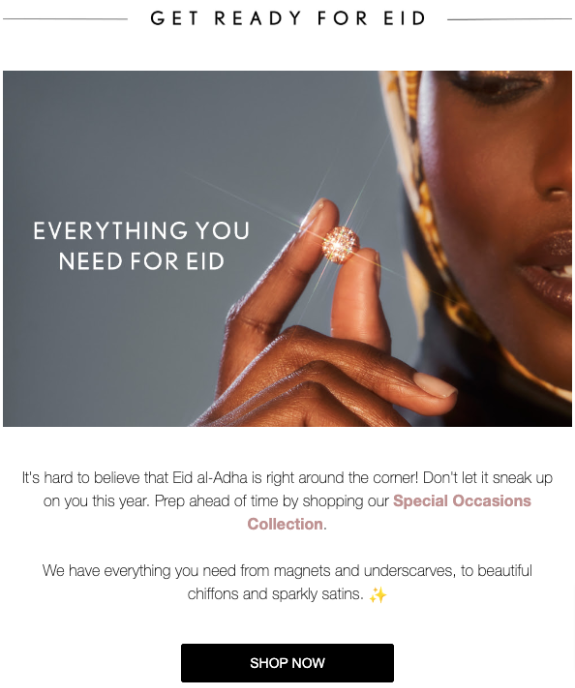 Incidentally, we're big fans of Haute Hijab here at Drip — and they love us too!
Why? Because our marketing automation platform has helped them generate over $1 million in revenue and deliver a 30 percent increase in average order value. Just one of our workflows (our abandoned cart playbook), combined with Haute Hijab's own experimentation and testing, drove $200,000+ in total revenue.

Check out how they did it here: How Haute Hijab Drove $1 Million+ in Revenue With Drip.
5. AYR: Keep Pushing Summer Products
I doubt I'm blowing many minds by revealing that June is a good time to promote summer products. But Google Trends data shows us the importance of going hard on summer-y messaging in your June newsletters: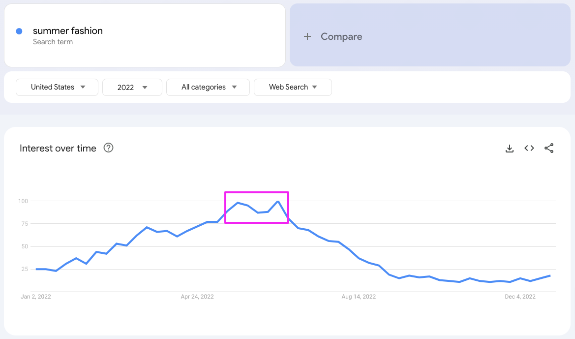 That pink box covers the whole of June, when search around the term "summer fashion" is at its highest. As you can see, activity drops off sharply once the month comes to an end.
All of which means that if you don't shout about summer in June, you risk being left with a ton of unsold seasonal stock in your warehouse when July and August arrive.
Denim brand AYR is clearly aware of this, sharing the following email with its customers in June 2022: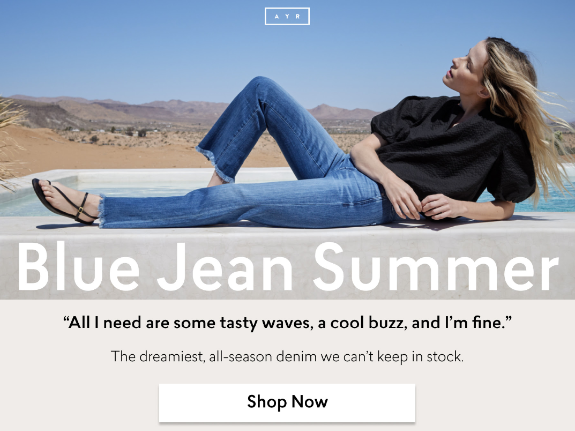 While denim isn't the most obvious summer purchase, this campaign worked by emphasizing the all-season potential of AYR's jeans. I also like how the email brings a little scarcity and urgency into the mix by mentioning how AYR simply can't keep these products in stock.
6. Taylor Stitch: Launch a Summer Sale
So we know there's a pronounced peak in summer-themed sales—and that by the end of June, there's a substantial dropoff in activity.
For that reason, many brands choose to launch summer sales, offering a significant discount on summer-related products. But there's a problem: sales don't always send the right message to consumers. Indeed, one survey found that 25 percent of shoppers are actually less likely to buy from brands that run constant promotions.
Sometimes, people are just impossible to please.
That's why I love this summer sales announcement from men's clothing brand Taylor Stitch: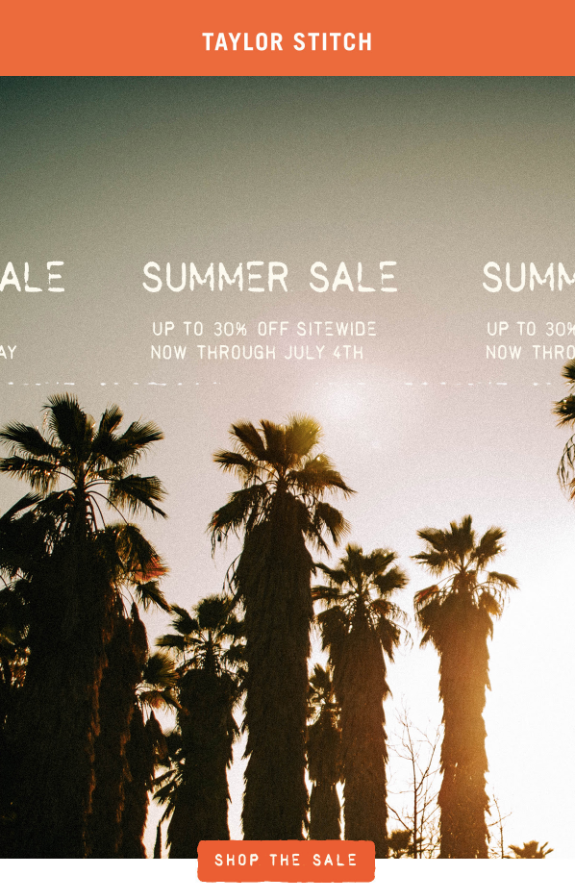 Taylor Stitch didn't position this as a clearance sale on all the summer gear it's struggling to shift — because that risks sounding desperate. Take a look how it actually described the promotion: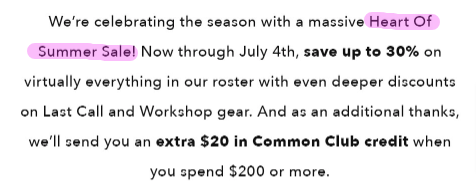 With just a little smart wordplay, Taylor Stitch made this sale sound a whole lot more attractive.
7. Recess: Get Excited About Festival Season
By June, festival season is in full swing.
Apparel companies share their favorite festival fits; beauty retailers offer party-friendly makeup recommendations; even luggage brands get in on the action (because not everyone's lucky enough to live within a short drive of the Coachella site).
But what if your brand doesn't have an obvious "in" with festival-goers? You've got two options:
Ignore festival season completely
Find a creative way to join the conversation
Soft drinks brand Recess chose option #2, joining forces with a complementary (but non-competing) brand — Hi-Chew — to launch a Lollapalooza-themed giveaway: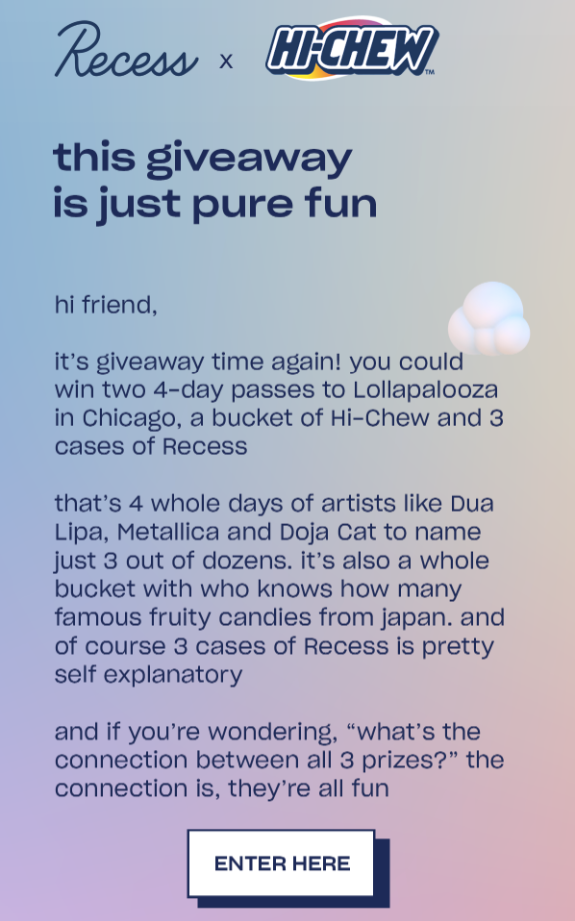 This is a smart play, helping Recess and Hi-Chew crowbar their way into festival season without feeling too tenuous or like they're trying too hard.
There's also plenty of evidence to suggest that audiences love when brands join forces, with 71 percent of consumers saying they enjoy co-branding partnerships.
8. Warby Parker: Shout About Summer Vacations
For many of us, June is primetime for vacays, with millions of Americans jetting off to exotic destinations at home and overseas. So if you're short of June newsletter ideas, it's well worth building a campaign around the joys of summer travel.
At this point, you might be thinking: "That's all well and good, but my brand has nothing to do with travel. What are we supposed to say?"
Fact is, any brand can share vacation-themed messaging, as Warby Parker demonstrated in my next example: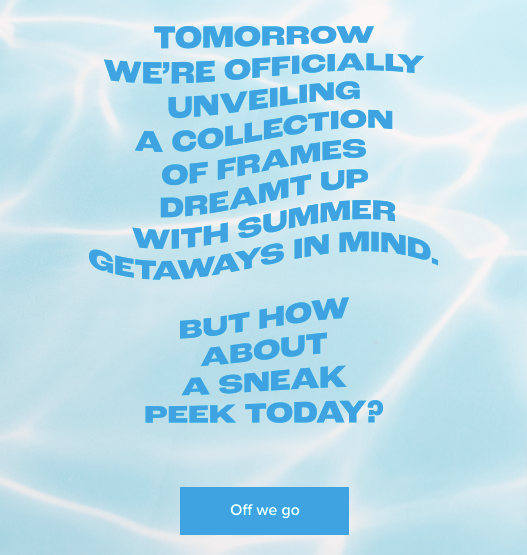 This is such a clever email, because technically, anything — glasses, stationery, bedding — could qualify as a collection inspired by "summer getaways."
But my favorite thing about this campaign is how Warby Parker built anticipation for the product launch by offering customers a sneak peek before the big day.
Warby Parker wasn't asking customers to buy something there and then, because the collection wasn't even live. That makes the "Off we go" CTA extremely compelling: there's no sales pressure here, so why not click?
9. The Spice House: Start Your Independence Day Campaign
The Fourth of July is one of America's most ubiquitous holidays, with NRF data revealing that 84 percent of people planned to celebrate the occasion in 2022. Typical plans include throwing cookouts, attending community events, and traveling to visit friends and family.
All that revelry presents a big opportunity for ecommerce brands. The average American was set to spend over $84 on food for Independence Day 2022, while 26 percent planned to buy patriotic items like flags and clothes.
By this point, our more switched-on readers will have realized that Independence Day isn't actually in June. But it's such a key holiday that it's well worth including in my roundup of June newsletter ideas.
Online herb and spice retailer The Spice House is one brand that understands the benefits of starting the Fourth of July conversation early. For context, it shared the following email on June 19, 2022 — one of the earliest Independence Day-themed emails we received that year.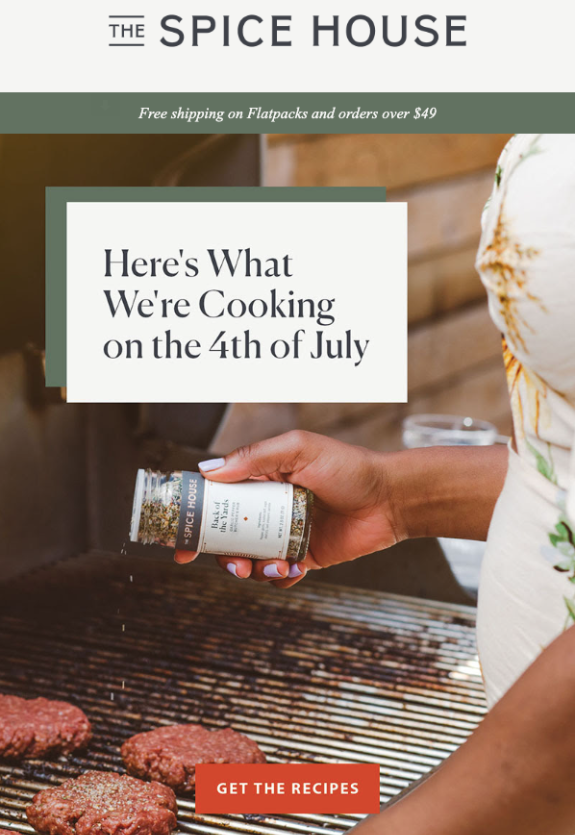 For any food-related brand, Independence Day is an absolute slam dunk, so it makes sense that The Spice House was in a hurry to launch its campaign.
I particularly like how this email lured customers in with the promise of recipe inspiration, before presenting them with relevant product recommendations: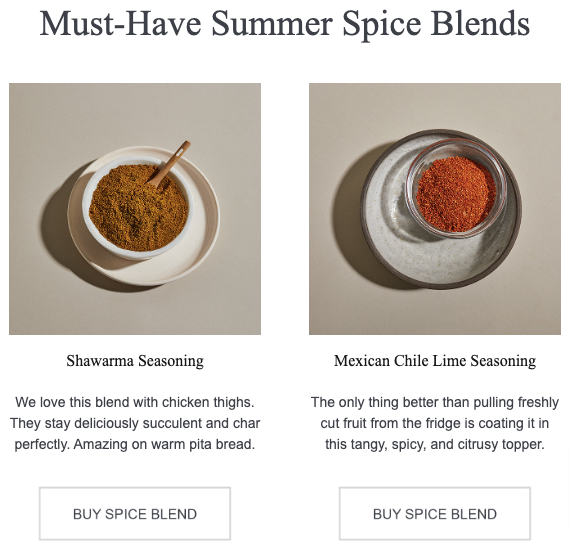 And I love how the email incorporates delicious-sounding product descriptions that (briefly) explain what you'd do with each spice blend, rather than just presenting readers with a simple product image and call to action. Honestly, my mouth's watering here.
Boost Year-Round Email Marketing Revenue With Drip
Whether it's the height of summer or the depths of winter, the primary goal for your email marketing campaigns is to generate more sales and revenue.
Drip gives you all the tools to make it happen.
Our automation platform features pre-built playbooks catering to a wealth of common ecommerce scenarios, from welcome emails to retention sequences and abandoned cart campaigns.
See for yourself by signing up for your 14-day free trial.