Every year around Christmas, my aunt sends her annual family newsletter.
She tells us how the vegetable garden is flourishing, how well the boys are getting on at work, and how my uncle has added a new branch line or station to his model train set.
In some ways, my aunt is a marketing genius, because newsletters are one of the most effective ways to build and maintain a loyal, engaged audience.
Research from Kinsta shows that emails containing the word "newsletter" in the subject line see an average open rate of 24 percent—significantly better than the overall average email open rate of 18 percent.
Even more impressively, they achieve an average click-through rate of 7.6 percent, which is three times higher than the average for all types of email.
But email newsletters don't just drive opens and clicks.
They also send highly engaged audiences to your site, as demonstrated by these stats from the publishing industry (where newsletters are arguably more important than in any other field):
If you're unsure what to send to your subscribers week after week, here are six proven e-commerce newsletter ideas you can try right away.
E-Commerce Newsletter Ideas You Can Use Today
What Are E-Commerce Email Newsletters?
The term "email newsletter" is sometimes used as a catch-all for any kind of email marketing, but it's actually a distinct type of communication.
Specifically, newsletters are a form of email designed to tell your audience about what's going on at your company, incorporating things like:
Breaking news;
Product updates; or
Tips and guides.
Some e-commerce brands send weekly newsletters rounding up all their latest content; others send monthly or quarterly newsletters focusing on broad trends or key developments. But as a general rule, it's helpful to think of email newsletters as an engagement tool rather than a way to drive lots of immediate sales.
Tell your audience something interesting, useful, or funny rather than bombarding them with special offers. Save that for other types of email marketing.
Now, if you're ready to launch your first e-commerce newsletter or elevate your existing one, get some much-needed inspiration from these six e-commerce newsletter ideas.
1. Draw Inspiration From Awareness Days and Events
Arguably the most difficult thing about running an e-commerce newsletter is the commitment it requires.
You've sent your first ever newsletter, which basically says: "Hi, this is our first-ever newsletter, thanks for signing up." So what are you meant to say next? How on Earth are you going to find inspiration to send one of these things every month (or even every week)?
One smart approach is to reference major events and awareness days that tie into your company mission and the priorities of your audience.
There are awareness days for pretty much anything you can imagine—National Thank a Mail Carrier Day, anyone?—so it's guaranteed you'll find something relevant.
Here's a good example from women's activewear brand Sweaty Betty, which sent this newsletter to tie in with World Mental Health Day: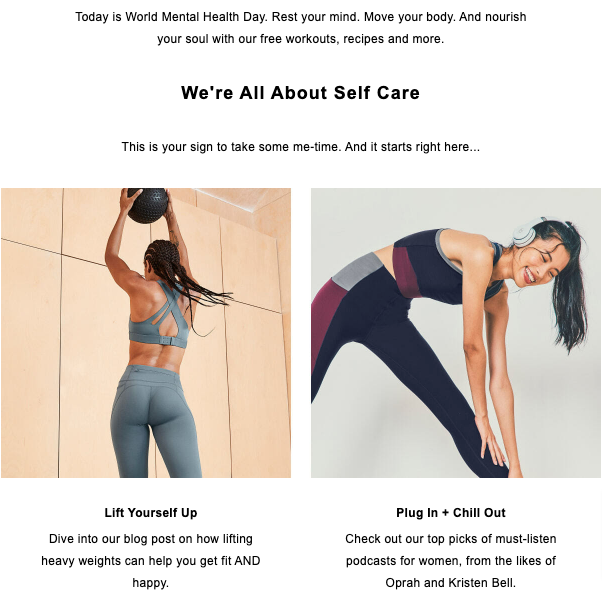 It's a strong theme for a brand like Sweaty Betty because there are plenty of studies demonstrating the benefits of exercise to mental health.
In this next example, 4ocean—which, among other things, sells bracelets made from recycled materials—uses its newsletter to draw attention to Earth Day, an annual event that clearly aligns with its sustainable mission: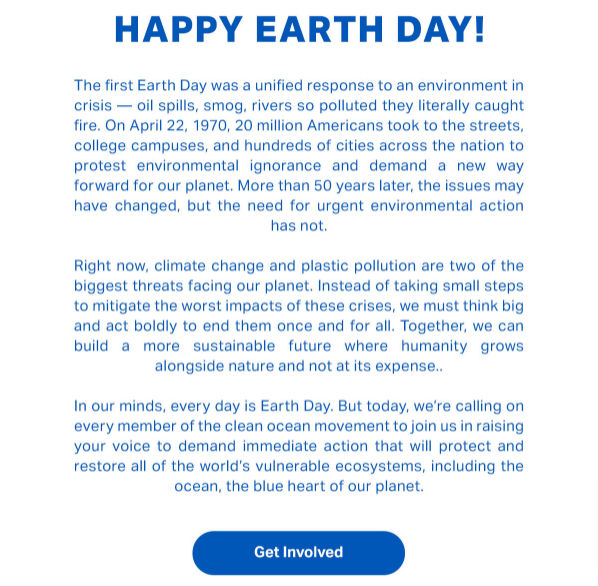 Hopefully, you'll notice both of those examples have one thing in common: they aren't trying to overtly sell anything.
Awareness days can be a great way to engage your audience and demonstrate your corporate social responsibility efforts, but if you're only using them to sell a few rainbow logo t-shirts, you risk angering your audience.
Keeping track of all those events can be a real headache, so take the time to trawl through sites like Awareness Days and add all the most relevant ones to your marketing calendar for the coming quarter or year.
2. Provide Expert Advice on Your Niche
Whatever products you sell or market you serve, you're definitely an expert on something.
Your audience might turn to you for advice on the hottest new fashion trends, the latest tech announcements, or the most desirable beauty products.
Newsletters are an excellent way to demonstrate your credentials as a thought leader, either by highlighting the high-quality content on your blog or by providing in-depth advice in the email itself.
Mattress and bedding brand Tuft & Needle chooses to present itself as an expert on all things sleep-related. In one email, it offers subscribers a bunch of useful tips on how to enjoy a better night's sleep: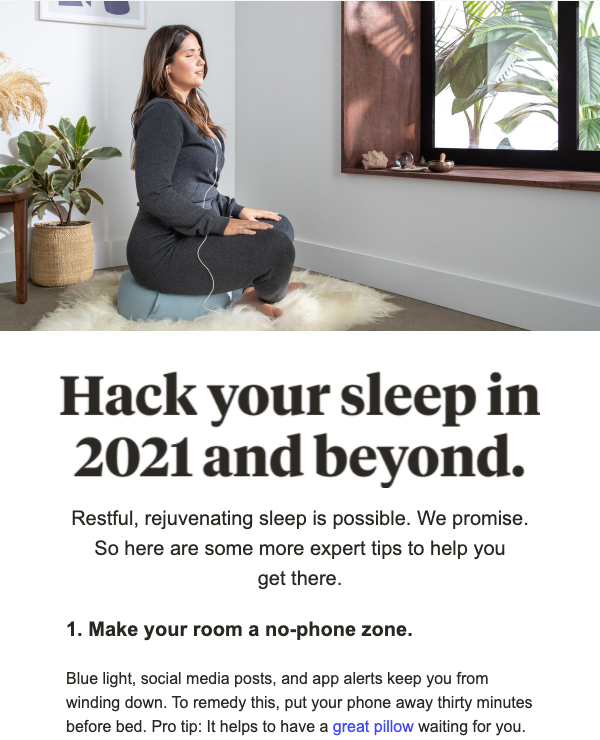 And in another, it discusses the issue of "sleep debt" and incorporates a call to action to its blog content: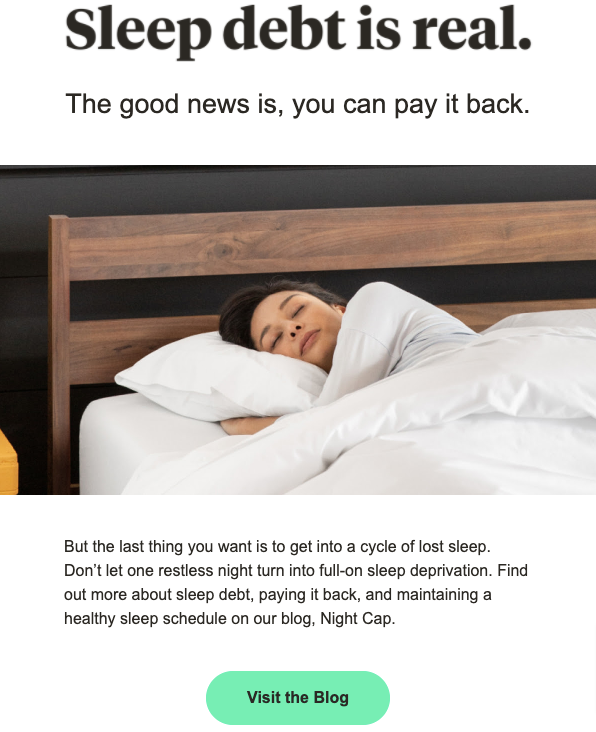 Admittedly, it's not a massive leap for a bedding brand to write about sleep. But it's still a smart tactic, with almost half of all Americans saying they feel sleepy during the day between three and seven days per week.
The key here is to identify an area of expertise that closely aligns with your business and products, and is of interest to key segments of your audience (or, ideally, your entire audience).
3. Offer (Personalized) Product Inspiration
Newsletters are rarely about going for the "hard sell". But you're a business, so naturally, you want to reference your products as often as possible.
One of the most natural and engaging ways to do this is to offer your audience curated recommendations on how to tap into a specific trend or style.
Home decor business One Kings Lane shows us what this looks like by demonstrating how its customers can create their own Southern California-style living room: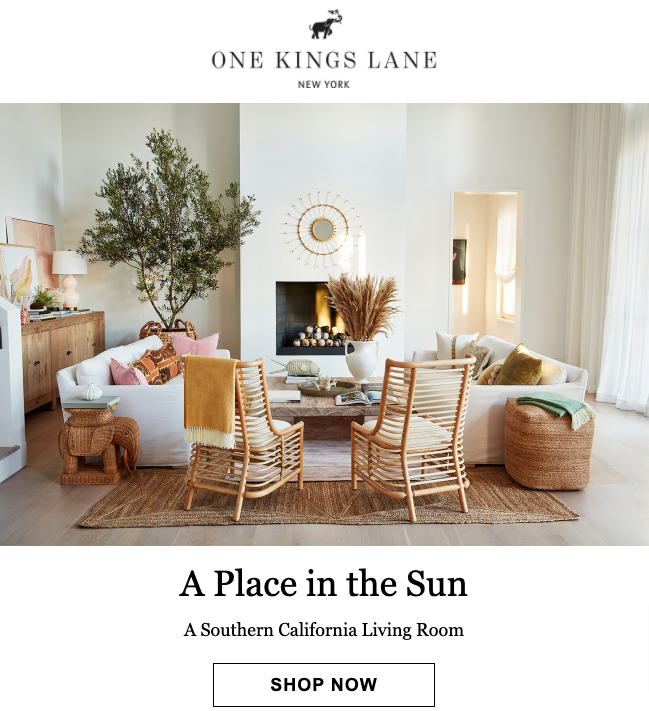 Of course, that creates an obvious opportunity to incorporate a "Shop Now" CTA to highlight relevant products.
If you can bring an element of personalization to your product curation emails, all the better. Google data shows that 61 percent of consumers expect brands to tailor experiences based on their preferences, while Forrester Research found that up to 36 percent of shoppers feel retailers should offer more personalized experiences.
Tea brand Sencha Tea Bar (formerly Cup & Leaf) has found a super smart way to share bespoke product recommendations.
It created a lead generation quiz that challenges its audience to find their perfect tea, then used the results to send personalized recommendations to respondents: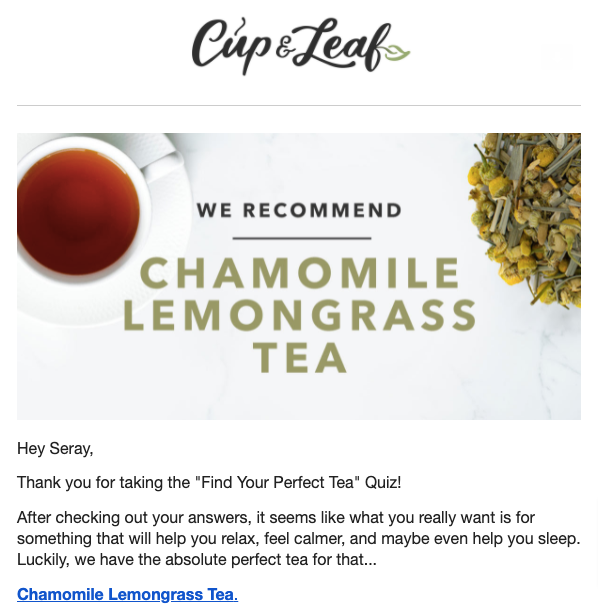 This is exactly what marketing should be: providing individual customers with recommendations that you know they'll love, because they've effectively told you so themselves.
4. Show Customers You Care
It's easy for consumers to feel underappreciated.
Without them, brands simply wouldn't exist. Yet often, all they get in return is an endless stream of emails urging them to BUY NOW.
That's why it pays to remind your customers that you genuinely have their best interests at heart. But how do you do that?
It could be as simple as introducing your audience to a useful feature or service they might not be aware of, like luxury fashion e-commerce brand Mytheresa does here: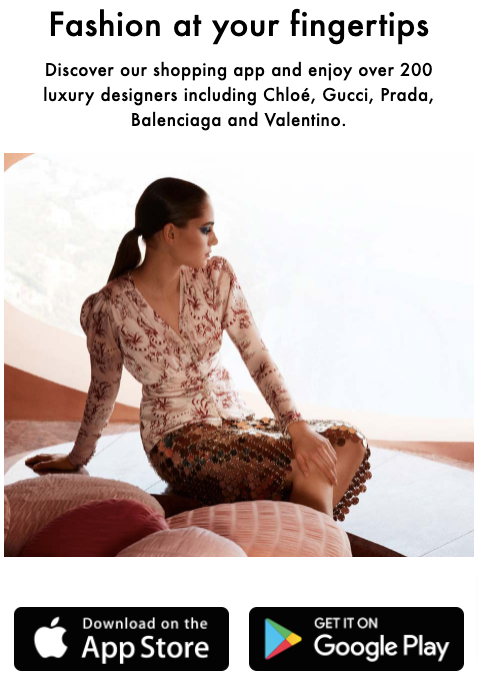 Or it could be a little more complex, such as this email newsletter from Bed Bath & Beyond that highlights a new measure designed to protect customers shopping online: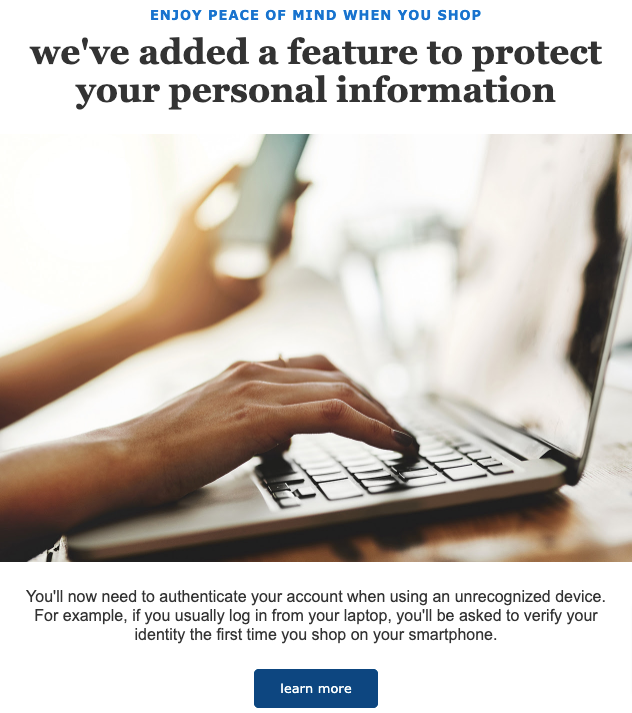 Bed Bath & Beyond is onto a pretty sure thing here because security is a persistent concern for online shoppers.
Research from NTT Application Security reveals that just 58 percent of consumers believe their personal data is protected online, while 26 percent have suffered identity or credit card theft after making an online purchase.
But even if you're certain customers will love your latest feature, consider running an e-commerce survey to gauge demand before you get started.
Trust me, it'll save you plenty of headaches down the line.
If you're going to introduce a new feature, make sure it's something your audience actually cares about. The last thing you want is for your development team to spend weeks or months creating a snazzy new tool or update that no one uses, or that hampers the user experience.
5. Share Video Content
We tend to think of video and email as totally separate channels, but the two can actually play very nicely together (if you know how).
In fact, SuperOffice found that by simply including the word "video" in subject lines, its email open rates increased by 6 percent. So how should you be including video in your email newsletters?
ArtSnacks, a monthly subscription box service for art products, shows us one way to do it. The brand produces a monthly video series in which a leading mixed media artist explores different techniques and discusses the supplies contained in its latest subscription box: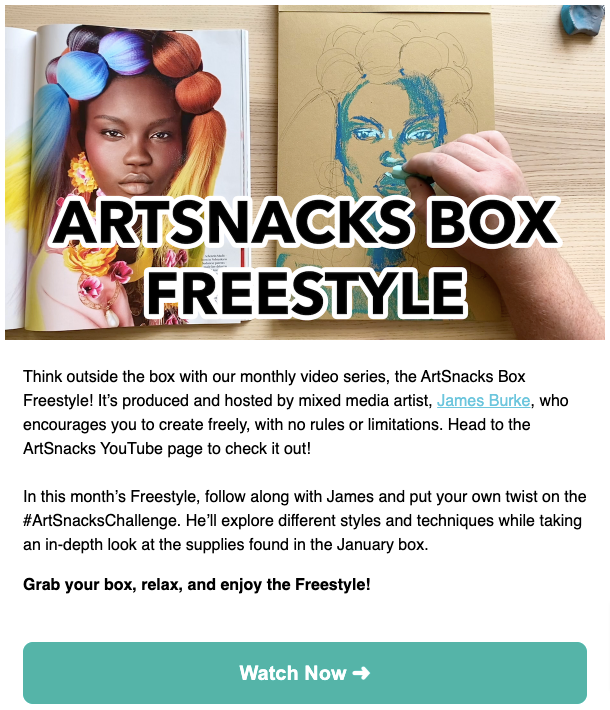 That's a smart approach because it's not just featuring a bunch of products and urging recipients to buy now; it's offering something visual and interesting.
There's also an element of gamification, with customers urged to use the latest batch of supplies in unique and creative ways.
When it comes to embedding videos in newsletters, size is an important factor; too large and it might be rejected by the recipients' servers.
Additionally, embedding video in email risks damaging click-through rates—once someone's watched the video, they may be less inclined to click through to your website. And the video might also distract attention from other CTAs in your email.
So don't embed at all. Instead, include a thumbnail image of the video and link it to a landing page on your website, or to your YouTube channel.
Or if that's too much work (or you can't find an impactful thumbnail), it's fine to include a simple text link to your video, like Cloth and Paper does here: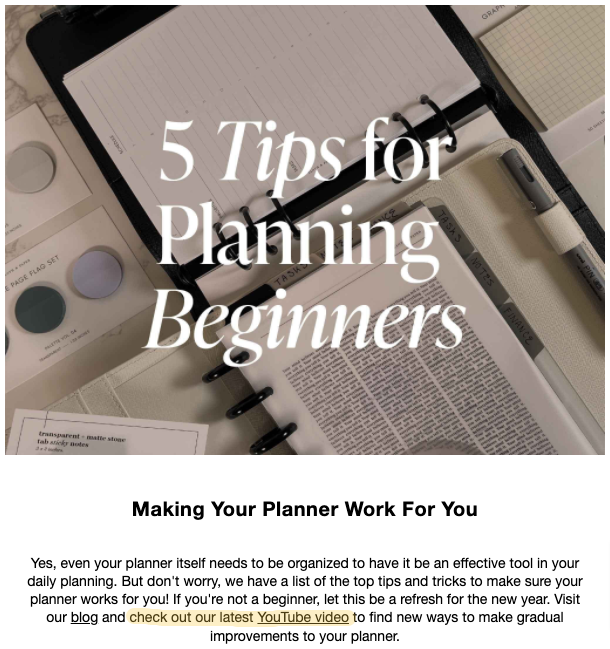 6. Promote Reviews and Testimonials
We all know social proof is one of the most impactful tools we can use to drive sales. When your newsletter subscribers read about how much customers love your product, it encourages them to buy too.
The proportion of consumers who say they trust reviews as much as personal recommendations from someone they know more than doubled between 2015 and 2018, while the percentage who say they don't trust reviews at all dropped from 17 percent to just 6 percent.
In other words: if you're not currently including reviews in your e-commerce newsletters, you definitely should be.
There are various ways you can do this. Here, makeup subscription box brand Birchbox takes a subtle approach, including star ratings and review scores next to three of its products:
I like how Birchbox hasn't just included three products with 4.9-star ratings.
One of those products "only" has a four-star rating—sure, that sounds pretty good, but in reality, it's the very least that consumers expect. But that only makes the other two products, with ratings of around 4.5 out of five, look more appealing.
A less subtle, but no less effective, approach is to simply include a round-up of customer testimonials in your e-commerce newsletter, just like Allbirds does here: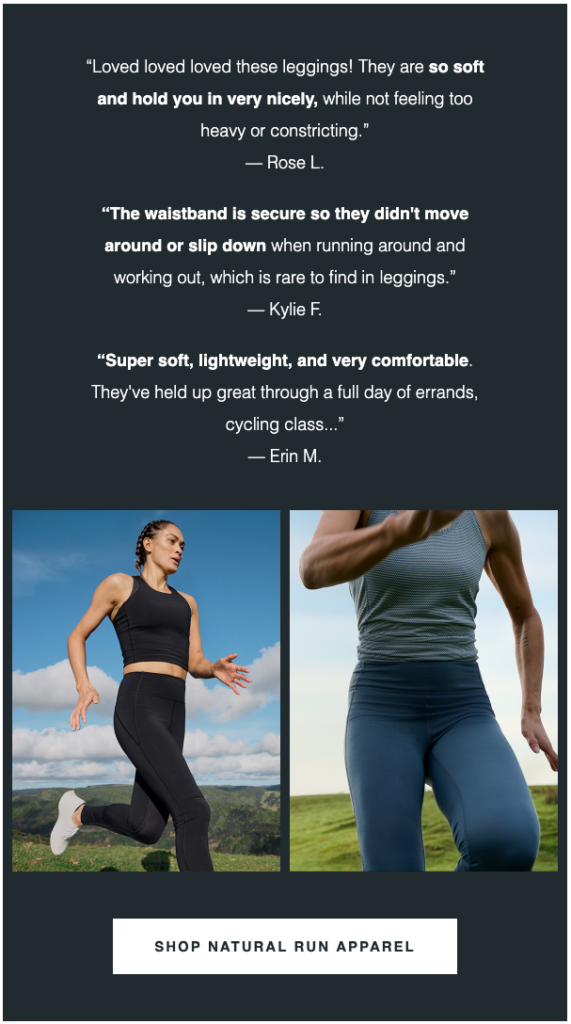 The only thing I don't love about Allbirds' approach is that there's no way to verify whether those testimonials are real.
Where possible/practical, ask reviewers for permission to share their testimonials and incorporate a link to their social handles. That way, your audience will feel reassured that everything's legit.
Conclusion
I know what you're thinking: if email newsletters are more about engagement than sales, why bother?
After all, you're trying to sell to these people, not become their best friends.
The answer is simple—engaged customers are your best customers.
Research from Rosetta Consulting shows that engaged customers:
Buy 90 percent more frequently;
Spend 300 percent more than the "average" customer each year; and
Are five times more likely to say your brand is the only one they'd buy from in future.
All that, just from sending a few emails? It seems like my aunt had the right idea all along.