Back-to-school is one of the busiest retail "events" of the year.
According to the National Retail Federation (NRF), the average US household planned to spend a cool $864.35 during the 2022 back-to-school period…

…while planned back-to-college spending was even higher at an eye-watering $1,199.43 per household.
To put that into perspective, graduation—another education-themed ecommerce holiday—attracts average spending of "just" $114.89 per household.
So back-to-school is very much a big deal for retailers and brands across several niches, including:
Apparel
Shoes
School supplies
Electronics
Personal care products
Dorm/apartment furnishings
And with 69 percent of respondents planning to start their back-to-school shopping at least three weeks before school begins, retailers have a sizable window in which to engage customers and drive sales.
To help you do just that, I've rounded up nine of my favorite back-to-school email examples from the 2022 season.
1. ASICS: Highlight Your Most Relevant Products
I'm going to start by making an obvious point:
If one (or more) of your product categories is especially relevant to the back-to-school season, you should definitely promote them in your e-commerce email marketing campaigns.
So how do you decide which products are most relevant?
Fortunately, you don't have to rely on guesswork, because the NRF's research breaks down the top categories by consumer purchase intent. It named the most popular back-to-school purchases as:
School supplies (94 percent of households planned to buy in 2022)
Clothing and accessories, excluding shoes (93 percent)
Shoes (91 percent)
Electronics or computer-related equipment (65 percent)
Which brings me nicely to my first back-to-school email example, from ASICS: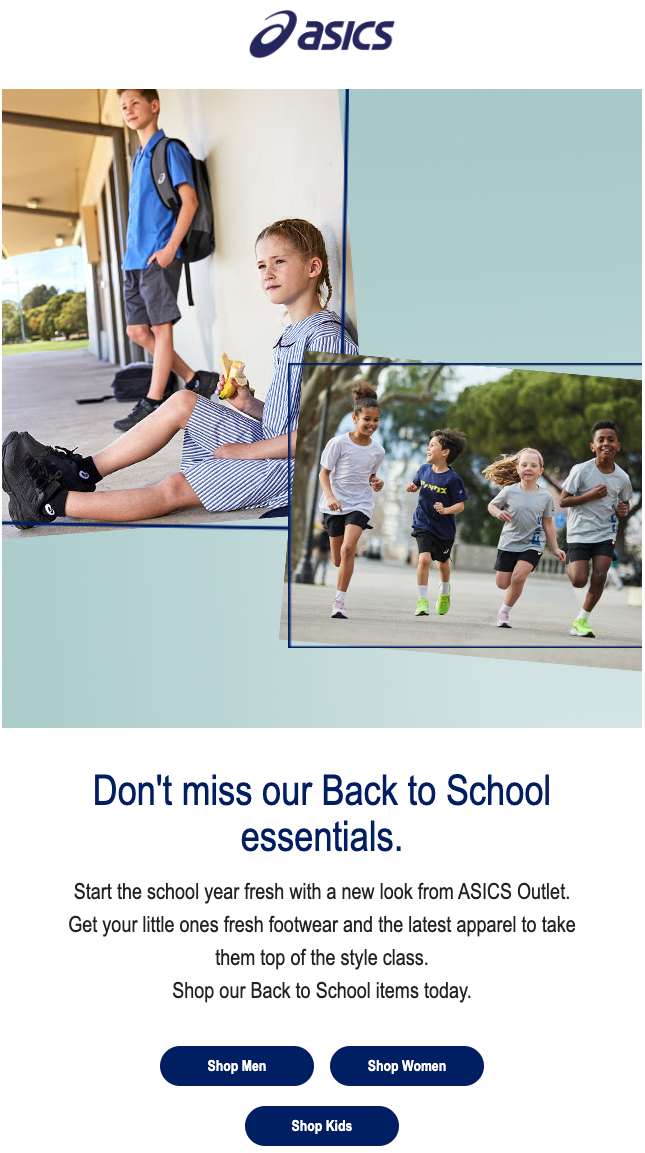 It strikes the right tone by focusing on back-to-school essentials within its footwear category.
Remember, there's a ton of noise around at back-to-school time, with countless brands and retailers fighting for the attention of students and parents.
So if you can position your products as essentials rather than nice-to-haves, you've got a much better chance of closing the deal.
2. Philosophy: Highlight Your Product Range
I've already alluded to the fact that certain products are traditionally associated with the back-to-school period.
Like a shiny new pencil case or a good, solid ring binder.
But here's the thing: people are already planning to buy that stuff.
Of course, it's better they purchase it from you than someone else, so these must-buys should definitely play a key part in your back-to-school campaigns. But they shouldn't be the sole focus.
Your job as a marketer is to open your customers' eyes to a whole world of other potential must-have back-to-school items, like Philosophy does here: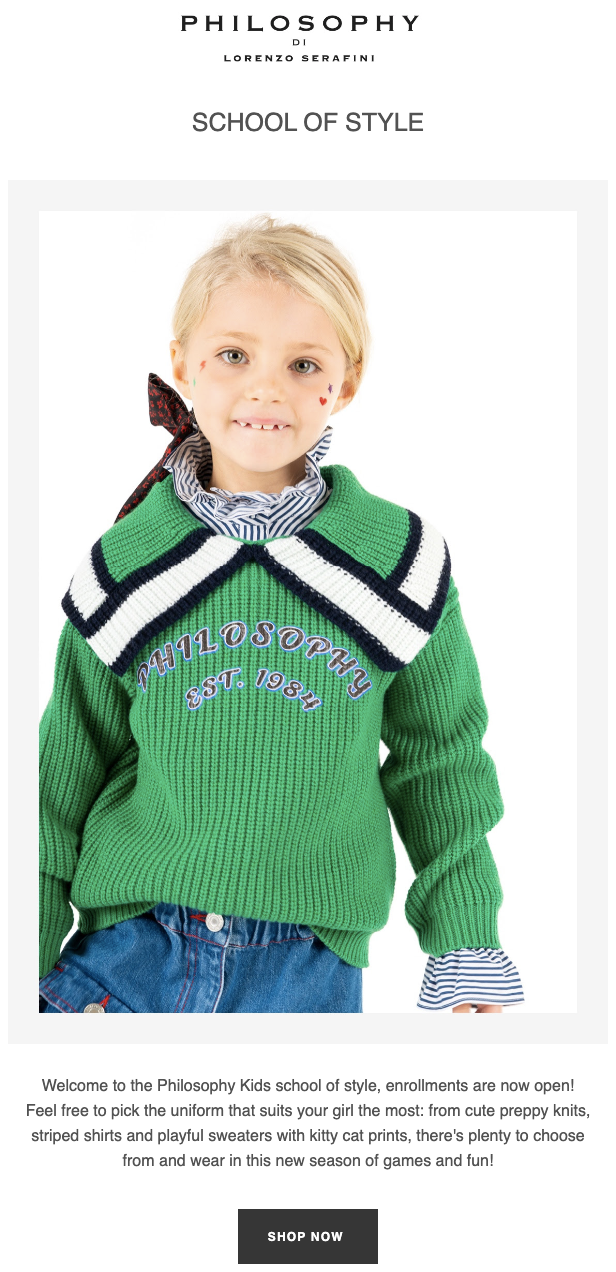 The imagery works well, but for my money, the email copywriting is the real star of the show. I like how it showcases a variety of product categories and styles.
Also, props for the way it shifts the message around back-to-school marketing away from all that dull learning stuff and toward games and fun.
A little positive sentiment can go a long way in persuading consumers to part with their cash.
3. Glow Recipe: Sell a "Fresh Start"
Back to school is kind of like New Year's Day.
It's all about new beginnings.
Anything's possible.
If I make a good impression, maybe everyone will forget that time last semester when I accidentally called the teacher "mom".
(Just me?)
Anyway, new beginnings are a powerful driver of buying intent.
Because how can you be your best self without a whole new wardrobe, some fancy stationery… and glowing skin?
Skincare brand Glow Recipe clearly realizes this: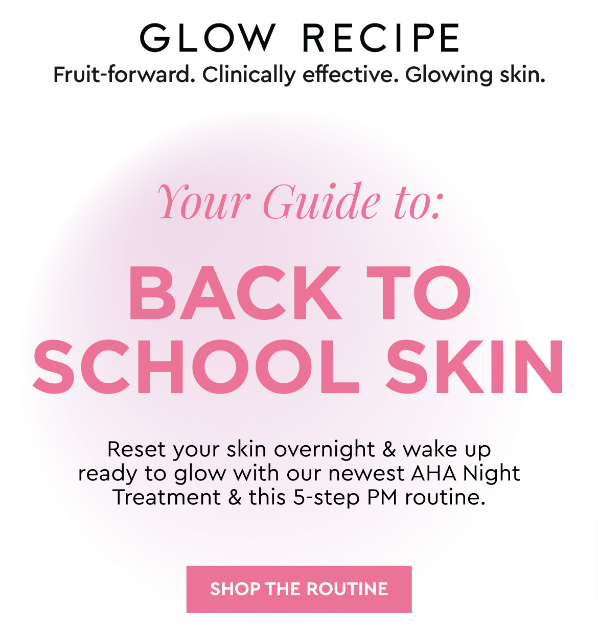 In this back-to-school email example, it urges customers to get "back to school skin".
That's a smart way to join the back-to-school conversation, which is typically more about school supplies and apparel than skincare products.
While I'm on the subject of Glow Recipe, I want to applaud the brand for understanding its audience and tying its email marketing into other channels.
At the bottom of this email, it prompts readers to view a TikTok tutorial for its back-to-school skincare routine: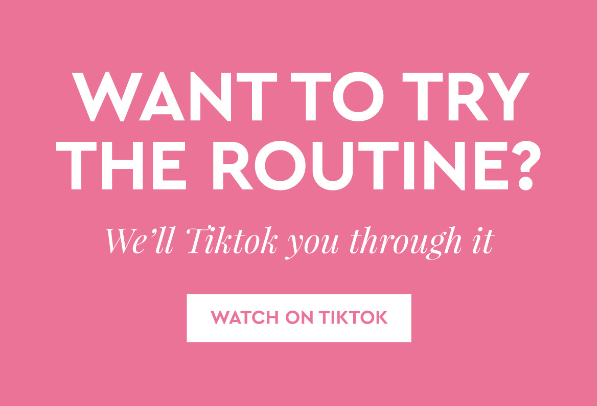 With 67 percent of American teens saying they sometimes use TikTok and 16 percent using it almost constantly, this is a great fit for the campaign.
4. Benefit Cosmetics: Create a Back-to-School Checklist
You'd think that after three months of trying desperately to keep their kids entertained, parents would be relieved when schools go back.
That's true to an extent.
But it's worth remembering that back-to-school is also pretty stressful.
A survey commissioned by Zzzquil claimed eight in 10 parents experience back-to-school anxiety, with 63 percent insisting it's the most stressful time of year.
Shopping is a big part of the problem. In fact, parents named it as the most anxiety-inducing element of the back-to-school season, ahead of other challenges like adapting to new schedules, dealing with early mornings, and helping with homework.
Okay, so parents aren't exactly excited about the prospect of back-to-school shopping.
So how can you make the whole thing seem a little more… chilled?
You could follow Benefit Cosmetics' lead by creating a back-to-school checklist full of useful purchases:

Admittedly, I'm not totally convinced that lip and cheek stain really counts as an essential back-to-school purchase.
But that's not the point
Fact is, this is an effective piece of email marketing, right down to the compelling subject line:

If you're a stressed parent fretting that you've forgotten something important, the promise of a back-to-school checklist sounds too good to miss.
5. Old Navy: Lead On Cost Savings
Another concerning tidbit from the Zzzquill survey I referenced in the previous section:
Almost three in five parents say financial stresses caused by the back-to-school season have actually caused them to lose sleep.
With so much stuff to buy, it's hardly surprising—especially considering many parents will have spent the summer months shelling out on activities to keep their kids entertained.
That's why it's definitely smart to make price a key element of your back-to-school marketing, like Old Navy does with my next email example.
Once again, it begins with a highly impactful email subject line:

If you're a parent worried about the cost of all the back-to-school gear you need to purchase, there's a good chance you're going to open that email.
Once inside, Old Navy presents you with a list of products priced from just $5, beneath a reassuring message that prices have been locked down until the end of September:

6. Paperchase: Promote Back-to-School Bundles
Okay, so we know that back-to-school can be a pretty challenging time of year for parents.
Just think how much they'd appreciate it if brands could make their lives easier.
One way to do that is through product bundling.
The idea here is to group together multiple products in similar categories and offer them at a slight discount.
The benefits cut both ways: consumers get a better deal and retailers get a higher average order value.
At this point, it's worth noting that some products are a better fit for bundling than others.
One old-but-interesting study from Towson University, published in the Journal of the Academy of Marketing Science, discovered that consumers are most likely to favor bundling "when bundle choice will reduce search effort".
In other words, if each individual product requires careful scrutiny, a bundle isn't likely to help. But if the products you're bundling are comparatively interchangeable, consumers will appreciate the time saving.
For stationery retailer Paperchase, bundling is a smart option. If I can save a bunch of time (and money) by purchasing a bundle of stationery rather than picking each item individually, I'm going to jump at the chance. And I bet a lot of other people feel the same.
Paperchase starts this back-to-school email example with a strong subject line that teases the cost-saving benefits of bundling:

It continues by showcasing a variety of bundles aimed at school-goers, college kids, uni students, and home office workers: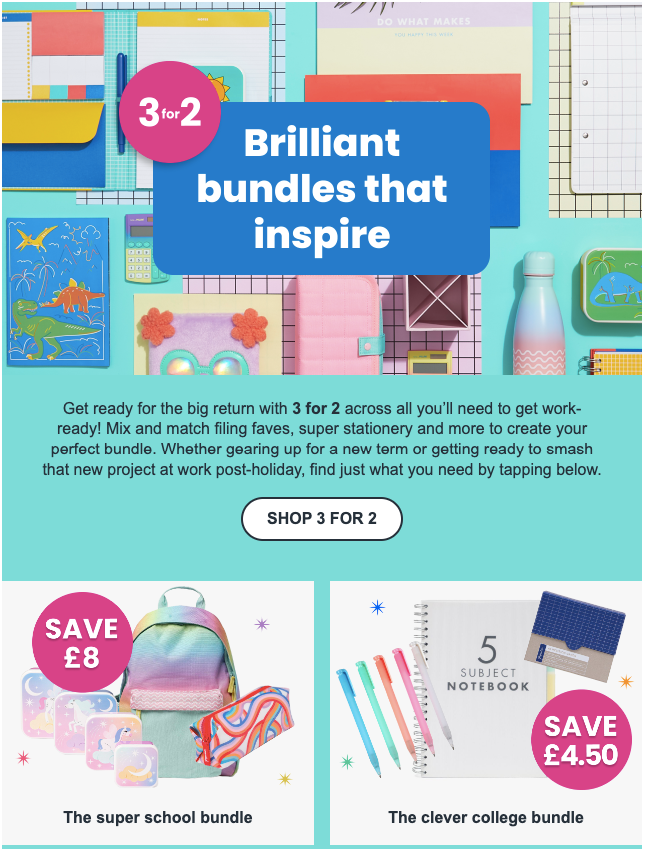 That's a smart play, because it widens the scope of Paperchase's back-to-school campaign.
This isn't just about children going back to school; it's about anyone returning to "normal" after the summer holiday downtime.
That means a bigger audience and greater potential to drive sales.
7. Huckberry: Hijack the Conversation
Talking about Paperchase's efforts to broaden the audience for back-to-school campaigns brings me nicely to my next point:
The back-to-school season clearly isn't relevant to every brand in the world.
If you sell wedding dresses or lawnmowers or fishing rods, there's no (obvious) way to join the conversation.
So should you just ignore back-to-school and continue with your regular marketing?
Possibly.
Or you could take a leaf from menswear retailer Huckberry's book and force your way into the conversation: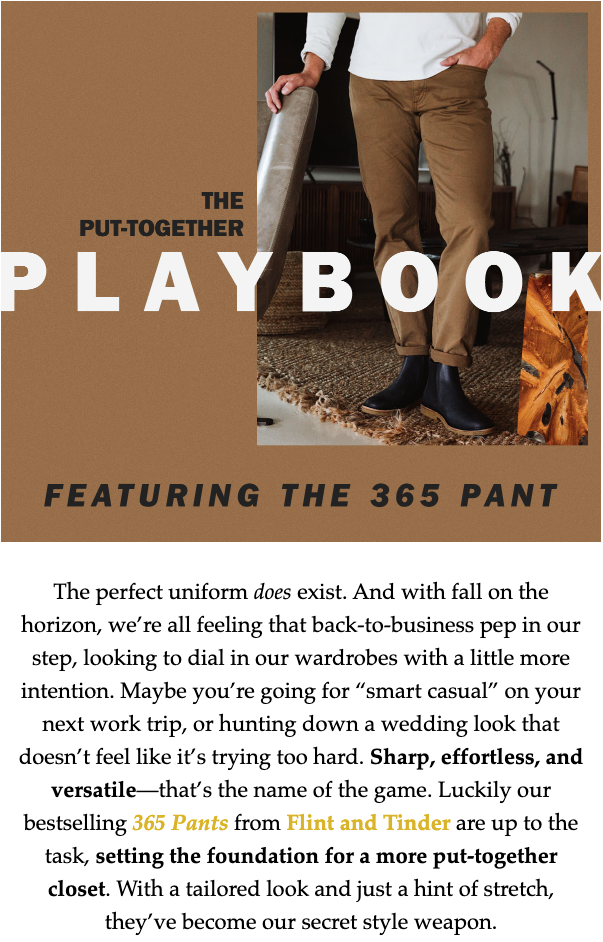 This is another back-to-school email example that's all about the copywriting
Let's be honest, no one's going to a brand like Huckberry to buy their kid a new school outfit.
Rather than leading with a "hard sell", Huckberry starts by discussing uniforms, which helps this email feel relevant to the whole back-to-school discussion.
But then it recenters the conversation around "back-to-business", thereby allowing the brand to recommend its own products in a way that feels natural.
8. Levi's: Leverage Influencer Marketing
You probably already know that influencer marketing is one of the best ways to engage a younger audience.
Indeed, research from Google found that 70 percent of teenage YouTube subscribers relate to YouTube creators more than traditional celebrities.
The same study found that videos created by the 25 biggest YouTubers generated…
3X as many views
2X as many actions
12X as many comments
…as videos owned by traditional celebrities.
That makes influencer marketing a great fit for your back-to-school email campaigns.
"But wait," I hear you say. "How do I use influencers in my email marketing?"
Levi's shows us how in this back-to-school email example starring none other than TikToker Ellie Zeiler: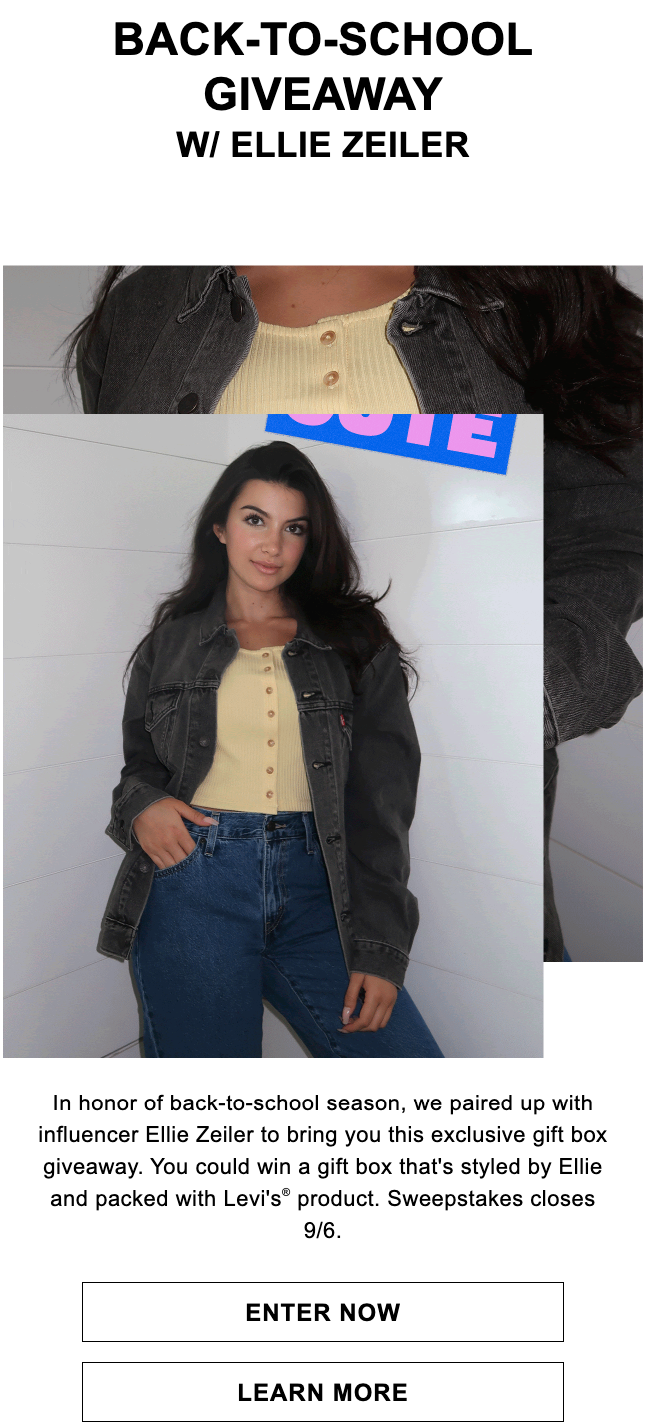 (To be clear, I have no idea who Ellie Zeiler is, but Cosmopolitan tells me she's known for "her dancing and vlog-style videos on TikTok, and also for looking a lot like fellow TikTok star Charli D'Amelio".)
This approach works well because it uses Zeiler's clout to generate email opens and clicks.
And because she's so popular with a young audience—to the tune of 10.7 million TikTok followers—she's a great fit for a back-to-school campaign.
All in all, this is a superb example of how email marketing doesn't exist in isolation. It reminds us that we should always look out for ways to align our email messaging with what's going on across other channels.
9. Quip: Use Time Pressure to Close the Deal
As I've mentioned several times, back-to-school is a stressful time.
So I'm definitely not suggesting that you add to the stress.
However, with shopping events like back-to-school, there's a natural deadline in place. If you don't buy the stuff you need in time, you've missed the boat.
That time pressure can be a useful selling tool, provided you use it the right way.
Don't make people feel like their terrible parents for leaving it so late in the day to do their back-to-school shopping (unless you want a bunch of people to unsubscribe from your marketing list).
Instead, give them an added reason to buy now, such as a time-limited discount.
Oral care brand Quip uses this tactic in my next back-to-school email example, starting with a subject line that prompts customers to take action:

This message continues within the email body, which warns readers that the 25 percent discount expires soon: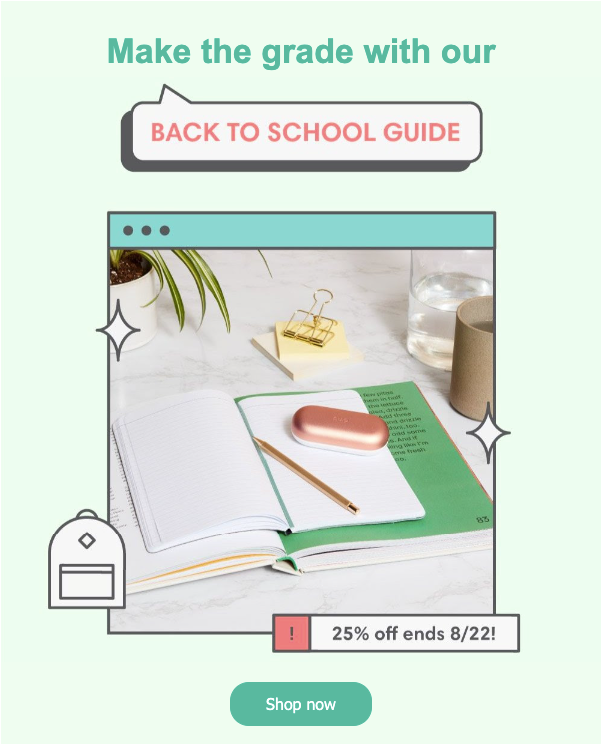 That's a good reason to click the "Shop now" CTA straightaway
Drive Back-to-School Sales With Drip
Back-to-school is a better fit for some audiences than others.
Trouble is, you likely have multiple audiences.
For some, back-to-school just won't be relevant.
But some have school-aged kids. Some are heading back to the office after a summer holiday. Some are returning to college.
Wouldn't it be useful to segment all those audiences? That way, each and every customer only receives emails that are engaging and relevant to their needs.
Drip makes it easy.
Our audience segments update in real time, allowing you to send laser-targeted emails at exactly the right time.
Put our segmentation tools to the test by signing up for your 14-day free trial.