Pride Month is arguably the world's biggest celebration of the LGBTQ+ community.
And it's also a big opportunity for brands.
Google Trends data shows us how search interest in Pride has climbed year on year since 2016:
Cynical as it might sound, there's a clear commercial incentive for brands to support Pride.
According to research from YouGov, 24 percent of US consumers are more likely to do business with companies that are known to be LGBTQ+-friendly, with certain customer segments especially likely to favor such companies:
Gay and lesbian individuals (71 percent)
Bisexual people (53 percent)
Liberals (52 percent)
Millennials (32 percent)
High-income earners (34 percent)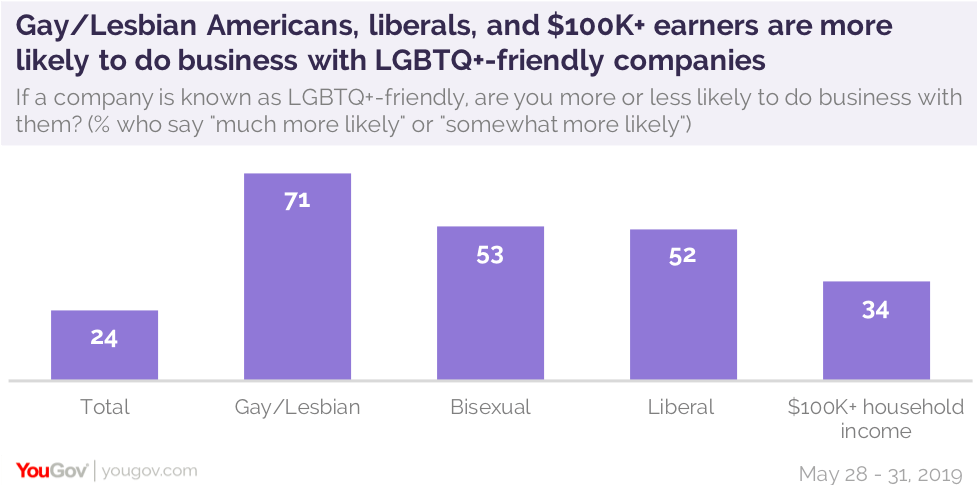 However, Pride isn't a slam dunk for marketing teams. It's not a traditional ecommerce holiday, so treating it with sensitivity will be needed.
Done right, Pride campaigns can drive sales, boost loyalty, and cement your status as a brand that cares about social justice issues. But get it wrong and the results can be highly damaging.
From AT&T and Anheuser-Busch to the Coca-Cola Company and General Motors, countless brands have been called out for so-called "rainbow capitalism"—in other words, using LGBTQ+ allyship for their own gain.
Consumers are becoming increasingly distrustful around this issue, with 50 percent of Americans saying they're more likely to see Pride-themed products or content as a marketing tactic rather than a genuine reflection of the brand's values.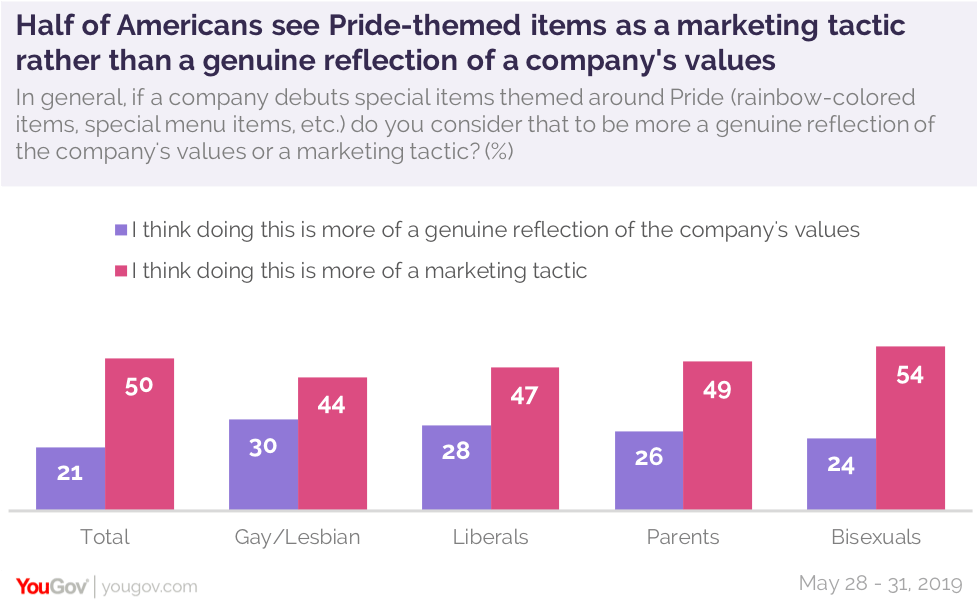 That leaves marketers with a headache: don't get involved in Pride and risk accusations of silencing LGBTQ+ voices; do get involved and risk looking like you're exploiting Pride for commercial gain.
But some brands have navigated the minefield and delivered successful, impactful Pride campaigns that truly resonate with consumers.
Here are seven Pride Month email examples that get it exactly right.
7 Inspiring Pride Month Email Examples
1. Levi's
When you decide to run a Pride Month email campaign, you have to expect consumers to scrutinize your brand and values.
They want to know that your allyship is the real deal. That it won't end the second Pride Month draws to a close.
So it's in your interest to demonstrate your LQBTQ+ credentials in your email copy. Which is precisely what Levi's does here: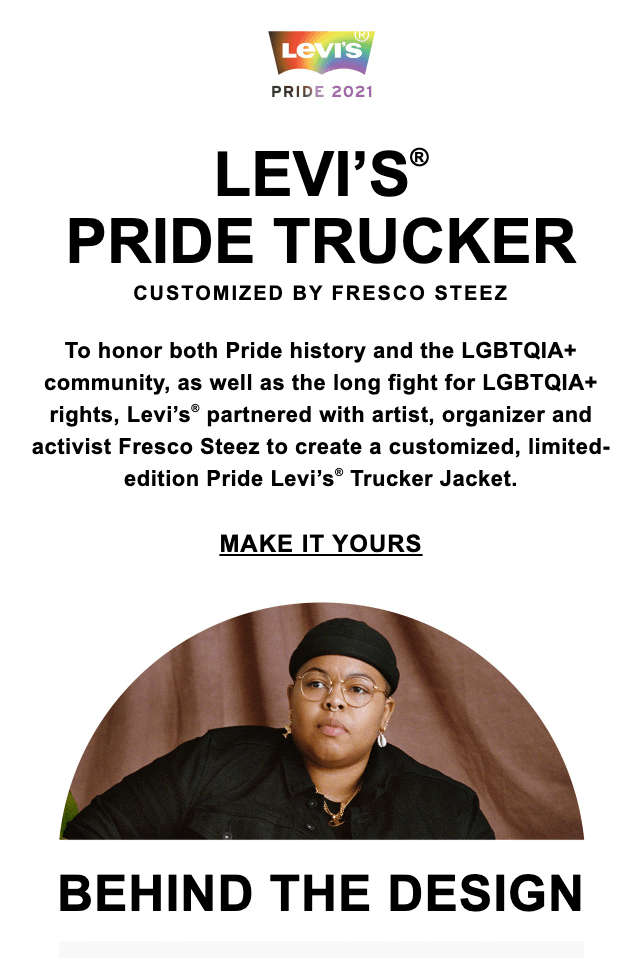 There are a couple of factors that make this an effective email. For one thing, Levi's has teamed up with queer feminist campaigner and designer Fresco Steez to launch a custom Pride jacket.
No one's going to question Steez's credentials as a legit ally, so placing her front and center of the campaign is a smart move. Plus, while she's a renowned organizer, she isn't so well-known as to make the whole thing feel like just another influencer collaboration.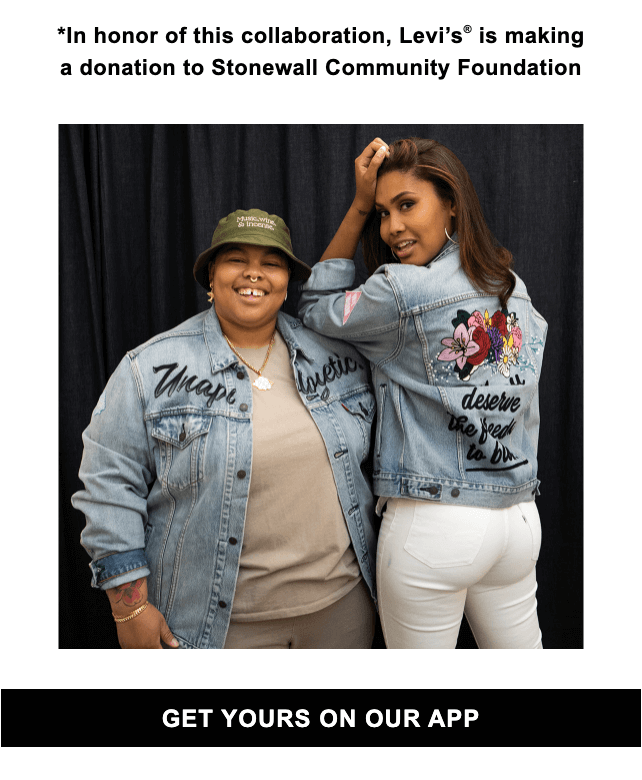 Additionally, it's clear this campaign isn't solely about making money, with Levi's choosing to donate to the Stonewall Community Foundation.
Sure, it's obviously still a marketing campaign. Levi's hasn't introduced this new product for fun; it wants to make money from the LGBTQ+ community and its allies.
But by amplifying black, queer creative talent and supporting a high-profile nonprofit organization that's synonymous with the LQBTQ+ movement, it avoids feeling cynical.
2. Mavi
In an ideal world, your Pride Month email campaign will enable you to "speak your truth", take an authentic stand on an issue that's close to your heart, and win over a bunch of new customers at the same time.
In reality, it doesn't always work like that.
While it's raising a positive message, the majority of Pride marketing is still ultimately about selling something. Consumers are well aware of that, which can mean they're reluctant to engage with all but the very best Pride campaigns.
As demonstrated by Levi's, supporting a charity or nonprofit organization is one way to mitigate this issue. Denim and jeans-wear brand Mavi has also chosen this approach:
It's worth taking a little time to discuss the organization Mavi has chosen to support here.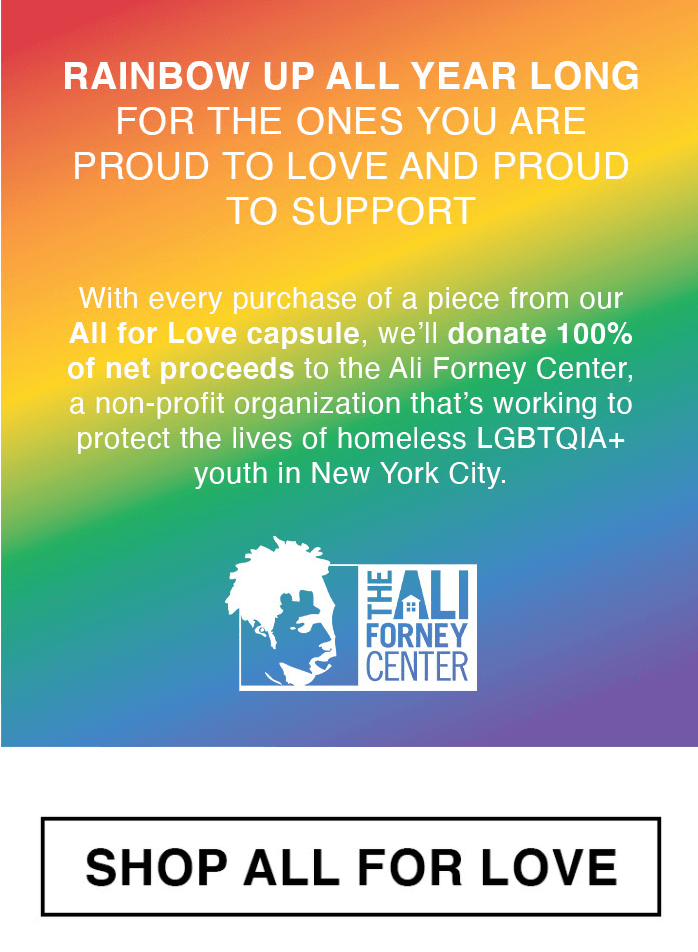 The Ali Forney Center is America's largest community center helping LGBTQ+ homeless young people. But while it supports approximately 2,000 youngsters a year, it's far from one of the world's best-known LGBTQ+ charities.
It's not a Stonewall or a Human Rights Campaign.
So by choosing to support a less well-known organization, Mavi comes across as being well connected with the LGBTQ+ community, rather than as yet another brand exploiting Pride to sell a few rainbow tote bags.
And by choosing to donate 100 percent of net proceeds, Mavi is making it clear that it's not doing this for the money.
3. Bean Box
One of the biggest mistakes that brands make during Pride Month—or pretty much any awareness day or celebration, for that matter—is to make it all about them.
Pride is, and always will be, about celebrating the history of gay rights and related civil rights movements, so you shouldn't put your brand front and center.
That presents something of a conundrum for marketing teams: you want to sell something, but you don't want to distract from the core mission of Pride.
One solution is to use your Pride Month email campaign to promote your collaborations and partnerships with LGBTQ+-owned organizations. Here's a good example of this approach in action from coffee subscription service Bean Box:

I'll summarize what's going on here.
Bean Box uses this email to promote Broadcast Coffee, a gay-owned brand that launched a limited-edition Pride-themed coffee, Loud and Proud.
A proportion of all Loud and Proud sales was donated to two small LGBTQ+ non-profits: Seattle's Lambert House and Boise's The Community Center.
In short, Bean Box has removed itself from the narrative completely, instead choosing to focus on the good work one of its partners is doing to support Pride.
As a marketer, it takes a lot of effort not to be all me, me, me. But Bean Box shows that sometimes it can be the right approach.
4. Native
In the previous example, Bean Box demonstrates one way for brands to steer clear of making themselves the "main character" of Pride Month.
Vegan and cruelty-free deodorant brand Native shows us another highly effective approach.
Here, Native avoids accusations of exploiting Pride Month for commercial purposes by hiding its Pride-themed messaging right at the bottom of an email (you can see the relevant part here):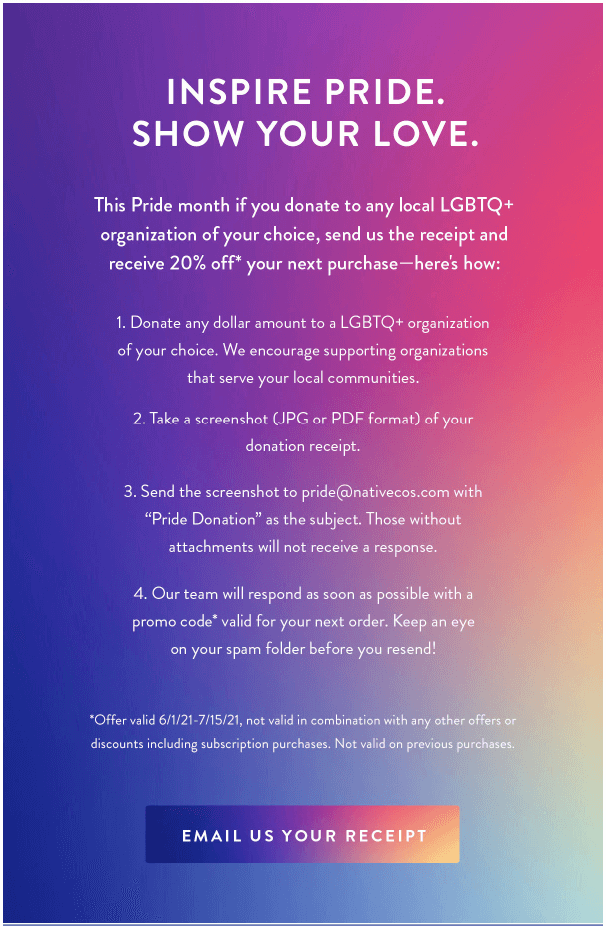 This tactic is kind of like saying: "Obviously we're doing something for Pride Month, we just don't feel the need to make a big deal about it."
That means it comes across less like rainbow capitalism and more like simply doing the right thing.
And there's another aspect that works well here. As we've seen from the previous examples in this article, lots of brands use their Pride Month emails to donate to relevant charities.
Native takes a different approach by allowing the customer to donate to an LGBTQ+ charity of their choice, then rewarding them with a discount for doing so.
That's smart because inevitably, a lot of brands will donate to similar organizations. Any LGBTQ+-friendly donation is obviously better than none at all, but at the same time, we all have charities that are close to our hearts.
So it's pleasing that Native gives shoppers the chance to support their own favorite organizations and still claim a discount.
5. J.Crew
When you're dealing with anything diversity-related, it's easy to fall foul of cultural appropriation.
There are countless examples of movies that have been criticized for failing to hire actors from the backgrounds and cultures they claim (or attempt) to portray. And it's an issue in the world of marketing, too.
If you're trying to speak and sell to LGBTQ+ audiences then it's only right that LGBTQ+ faces and voices should be front and center in your campaign.
J.Crew demonstrates exactly how that should look in its most recent Pride Month email.
First, it introduces the LGBTQ+ people and allies who appear in the campaign: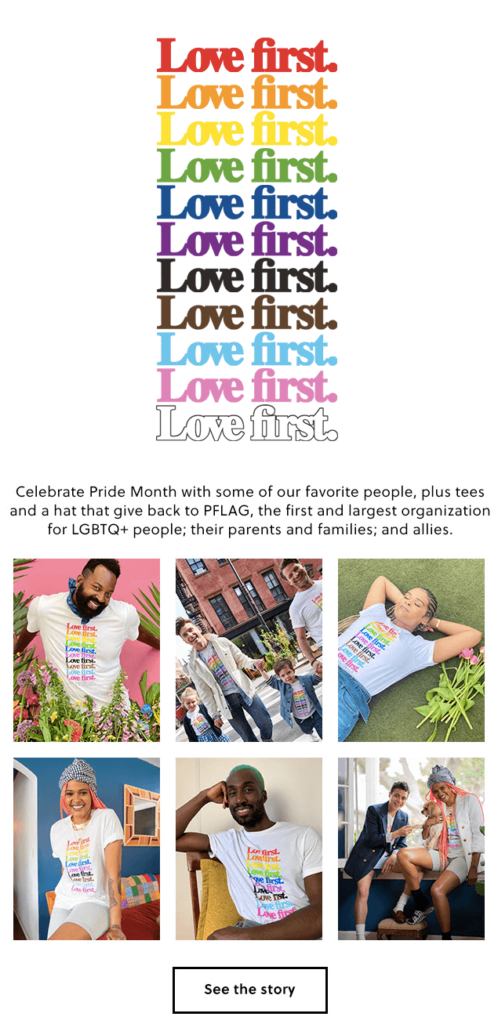 Next, it expands on the stories of each individual or group. Importantly, it does this by quoting the person in question rather than putting words into their mouth: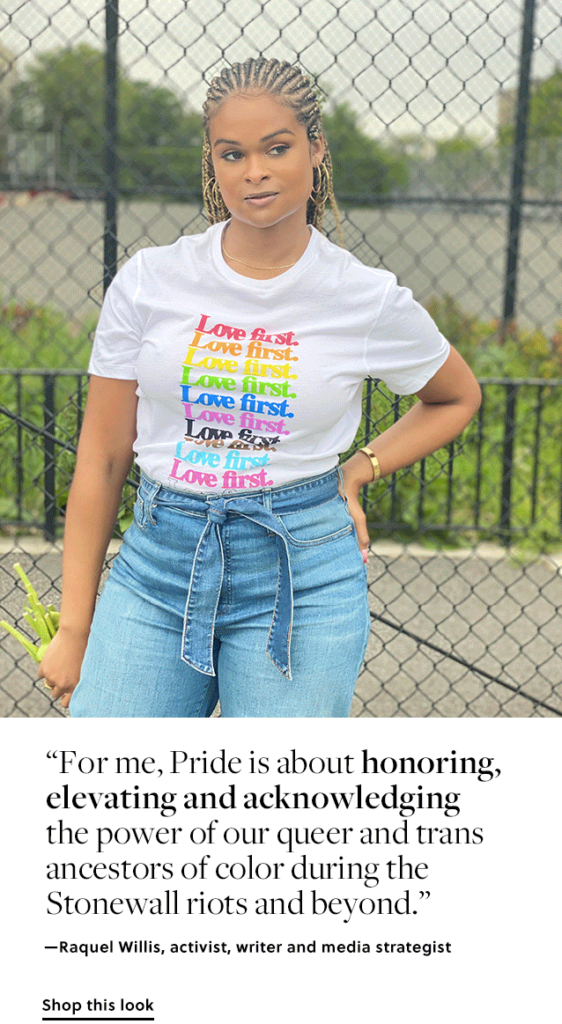 Of course, this is still a marketing campaign, so after each story, there's a subtle call to action prompting readers to shop the look.
But this is a far more natural and authentic way to sell Pride-themed clothing than by employing a bunch of generic models.
6. Crocs
No one said your Pride Month email marketing needs to stick with a single theme or message. If you're supporting Pride in multiple ways, why not showcase them all?
In this email marketing example, Crocs effectively takes a three-pronged approach to Pride Month marketing: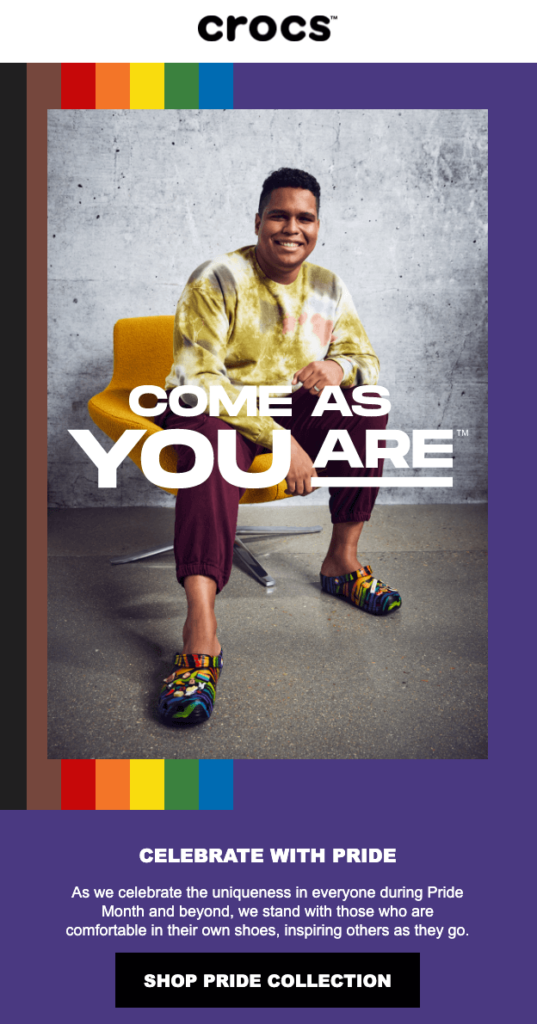 Let's dig into what's going on here.
In the introductory text, Crocs sets the scene by explaining it wants to "celebrate the uniqueness in everyone" and stand up for people who are "comfortable in their own shoes".
Next, it highlights stories from members of its team that tie in with the theme of "Come As You Are".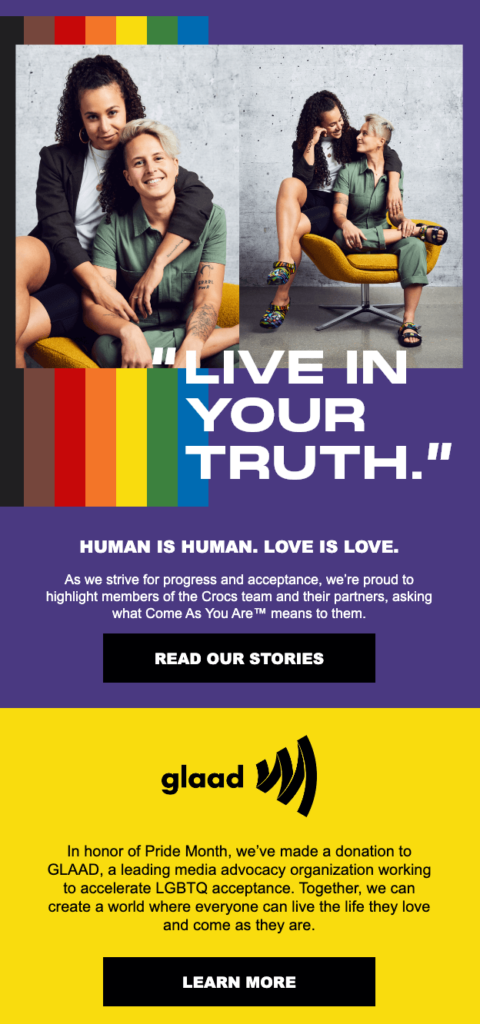 And finally, it promotes its corporate social responsibility efforts by discussing its donation to Glaad, a non-governmental media monitoring organization founded as a protest against defamatory coverage of LGBTQ+ people.
That's a lot of different LGBTQ+-friendly messaging in a single email. But events like Pride Month are a rare exception to the rule: "Less is more." If you have a lot to say in your Pride campaign, go ahead and say it.
7. Bath & Body Works
A survey from communications agency Markstein found that 46 percent of consumers scrutinize a brand's social responsibility efforts before buying a product.
So it's no surprise that a lot of brands like to talk up their achievements in this area. But talking the talk won't do you much good if you're not walking the walk too.
The same survey discovered that just nine percent of consumers believe corporate claims about social responsibility "all the time", while 67 percent only believe them "some of the time".
What does this tell us about how to approach Pride Month marketing?
Simply: it pays to put some real, tangible meaning behind your claims about LGBTQ+ allyship. Fortunately, it's extremely easy to do that. You just need to get specific about the actions you're taking.
Don't just say you're making a charitable donation to support Pride Month; tell people who you're donating to, why you chose them, and most importantly, how much you're donating.
Bath & Body Works shows us how it's done here: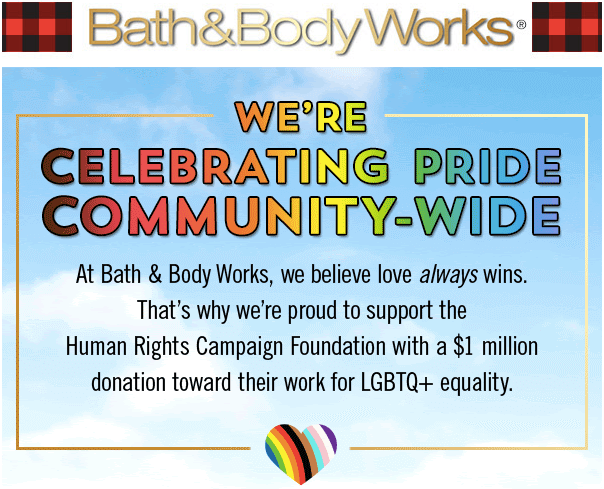 Sure, $1 million is a drop in the ocean for a company that achieved net sales of $6.4 billion in 2020, but it's still an impressive-sounding amount.
Not only that, but the brand compels users to read about the additional commitments it's making to support LGBTQ+ communities: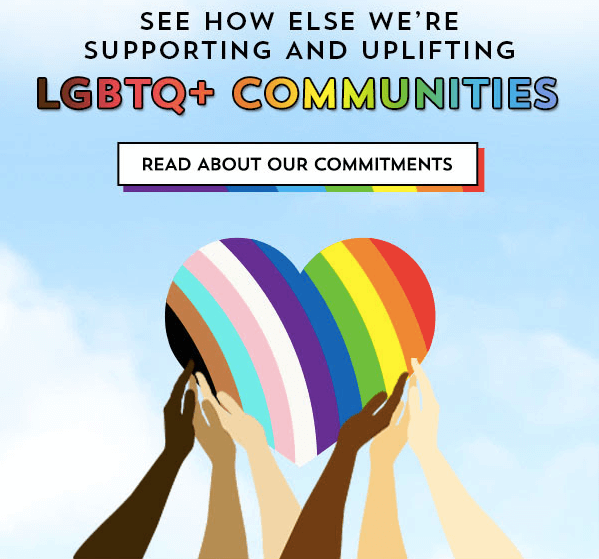 By publishing those commitments, Bath & Body Works knows it'll be expected to achieve them. And if it doesn't, it'll have to explain why.
So it should be applauded for not shying away from specificity here.
Conclusion
Reading this article probably makes you think there are a lot of pitfalls to avoid in running a Pride Month email campaign.
In reality, there's only one real pitfall: if you're only using Pride as an opportunity to sell rainbow-adorned products, you really shouldn't bother.
Consumers are too smart for that. It won't do your reputation any good.
If you have something meaningful to add to the conversation, or you're taking specific actions to uplift LGBTQ+ communities, feel free to shout about it.
Just don't make it all about you.