Labor Day, celebrated on the first Monday in September, is your final chance of the year to dress head-o-toe in white.
More importantly for retailers, it's also traditionally one of North America's biggest shopping dates.
However, as consumers struggled with the ongoing effects of the pandemic, it's fair to say Labor Day 2020 was a bit of a damp squib, with credit card spending on clothing dropping 6.7 percent year on year.
So retailers will be delighted to hear that consumer attitudes are looking distinctly more positive this year.
According to Numerator, just eight percent of Americans expect Labor Day 2021 to be significantly impacted by COVID-19, while 44 percent believe it will have no impact at all: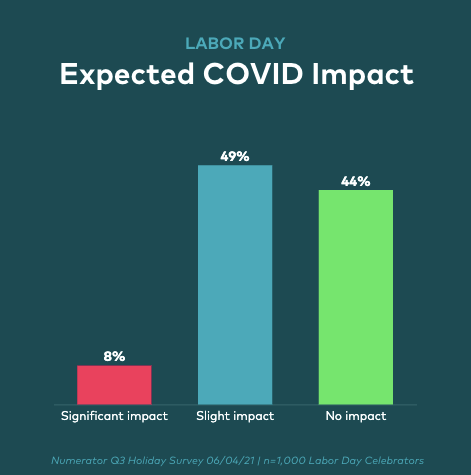 Even more pleasingly, consumer spending also looks set to recover, with one-quarter of shoppers gearing up to spend "somewhat" or "significantly" more on Labor Day than in previous years. By contrast, only 11 percent plan to spend somewhat less, and two percent think they'll spend significantly less: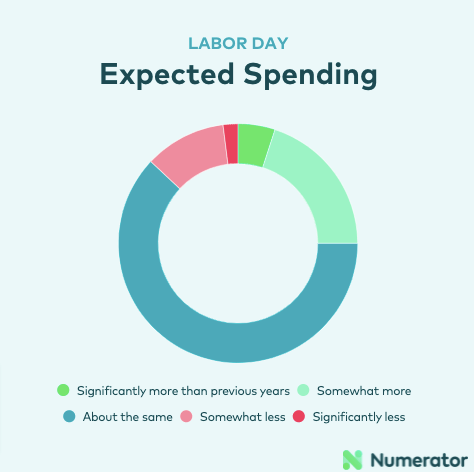 So if you're an e-commerce brand and you're not planning to make some serious noise about the September holiday, you definitely should be.
Now, here are seven Labor Day marketing ideas to help you smash it ahead of Labor Day 2021.
1. Run a Sale Across the Labor Day Weekend
What do you do when you've got a little time on your hands?
For all our lofty goals to visit a gallery, run a marathon, or finally finish War and Peace, a lot of us inevitably end up filling a lot of our free time by gawping at our phones.
That means we end up seeing more adverts, which in turn means we end up buying things we weren't planning to. That's exactly why long weekends are perfect for shopping.
A lot of brands use this to their advantage by running flash sales across the Labor Day Weekend. If you don't do the same, there's a risk your messaging will struggle to cut through all the discounts and promotions.
If you're planning to launch your own Labor Day sale, make sure that the only purpose of sales isn't to let your existing customers buy your products for less—it's also about bringing in new customers; people who otherwise wouldn't have bought from you.
With that in mind, you really need to be promoting your sales weeks in advance. Ideally, you should get started right about now.
Run social ads announcing your sale, and email your list to let them know more details about the types of offers you'll be running. Take a look at this example from BioLite, an outdoor and off-grid energy brand, which used Labor Day to push a simple promotion—15 percent off its entire product range: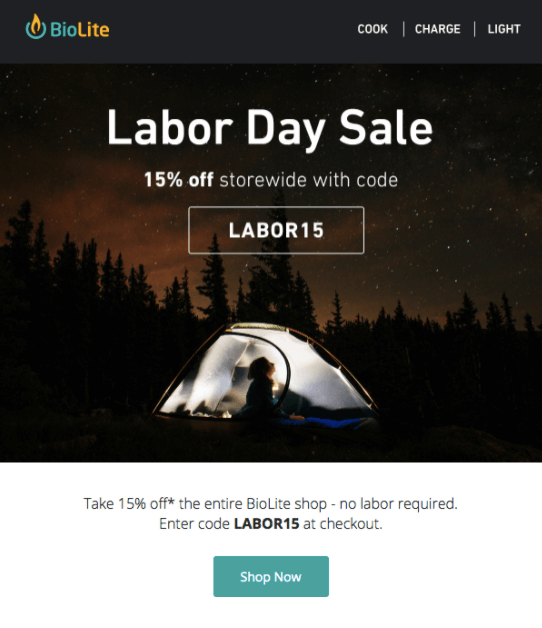 Source: ReallyGoodEmails
In my second example, Postable does exactly the same thing, albeit with a slightly more generous 20 percent discount: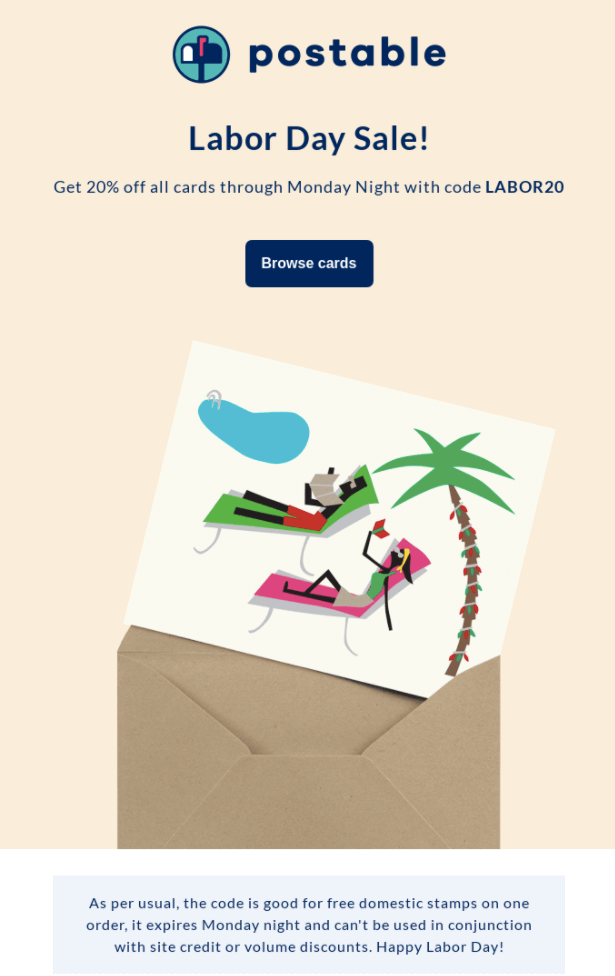 Source: ReallyGoodEmails
Both of these emails are super simple. There are no overly smart copywriting or gimmicky visuals; just a clear header highlighting that the email is about a Labor Day sale, followed by a succinct explanation and a catchy discount code. There's no reason you need to do anything more complex.
2. Understand What Consumers Are Looking For
While most big shopping events—Halloween, Christmas, Valentine's Day, Mother's and Father's Day, Easter—are associated with a specific type of gift or theme, that's not true of Labor Day.
After all, a holiday dedicated to the labor movement doesn't exactly scream "consumerism." That makes it tough to make Labor Day relevant to your brand.
However, while the holiday itself might not offer a ton of relevant marketing tie-ins, like other ecommerce holidays, there are plenty of traditions associated with Labor Day that present opportunities for retailers.
To help you unearth those opportunities, let's dive back into that research from Numerator to understand how people like to celebrate Labor Day: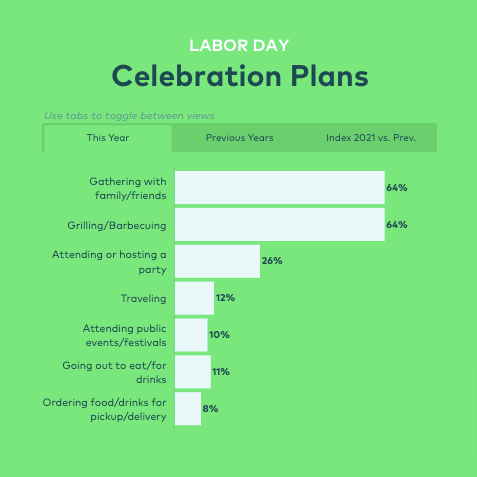 The occasion is often about spending quality time with loved ones, such as attending or hosting barbecues or parties. So, if you're in the food and drink game, this is a key holiday for you. But it can be just as valuable for plenty of other brands.
If you've got guests coming to your house, you definitely want it to be looking smart—especially if those guests are your immediate family. That means a lot of shoppers will be in full-on bargain-hunting mode, looking out for the best deals on things like indoor and outdoor clothing, bedding and mattresses, clothing and accessories, and much more besides.
Plus you can't have a barbecue if you don't have a grill.
A lot of these products are big-ticket items, which means people likely aren't going to buy without spending some time shopping around and weighing up their options.
Once again, this highlights the importance of teasing any offers or promotions you're running ahead of time so people know what to expect and are ready to buy.
3. Tap Into the Back to School Market
According to the National Retail Federation, Labor Day isn't one of America's top 10 annual consumer spending events. However, "back to school" and "back to college" both rank in the top three: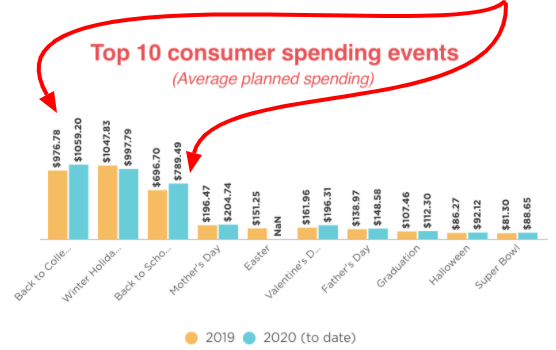 Between them, those two events were predicted to generate more than $1,800 in average household spending in 2020.
As you're probably aware, most US students go back to school (or college) in early September—shortly after Labor Day.
Since most of us love leaving things to the last minute, three-fifths of consumers plan their back-to-school or college shopping around major sales events like Labor Day: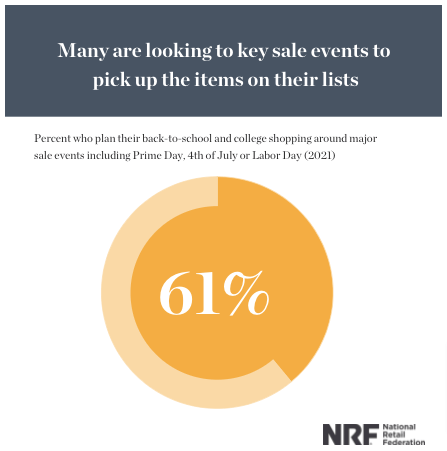 In other words: Labor Day is a massive opportunity to capitalize on back-to-school spending.
What's more, back-to-school shopping isn't just about new lunchboxes and stationery. Clothing and accessories are the real big hitter, although there's also a lot of interest around school supplies, electronics, and footwear too: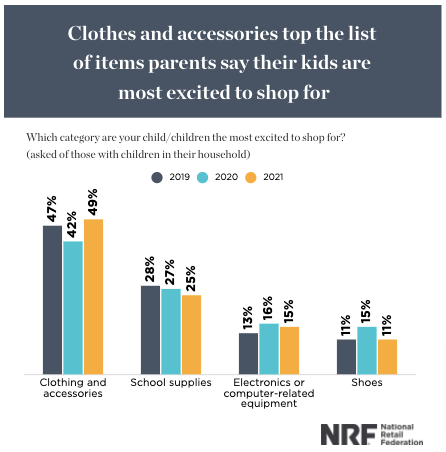 4. Segment Your Audiences Effectively
I'm not saying list segmentation is specific to Labor Day—it's a must-follow marketing strategy at any time of year.
According to Mailchimp, segmented email campaigns achieve 14 percent higher open rates, 11 percent more unique opens, and an astonishing 101 percent more clicks than non-segmented campaigns: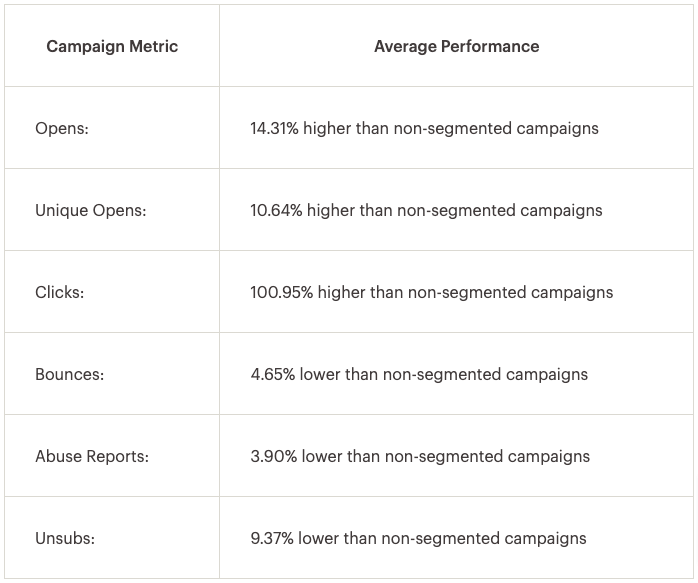 However, there are a couple of specific segmentation points to make in relation to Labor Day, provided you've captured the necessary information about your customers:
Firstly, there's no point targeting back-to-school campaigns at people who don't have kids—although Gen Zers are a good target for back-to-college content.
Secondly, remember Labor Day is a North American event (or, at least, celebrating it in September is unique to the US and Canada), so don't bother targeting your Labor Day campaigns at international audiences.
5. Don't Be Afraid to Try New Things
To do marketing well, you need to be prepared to take a few risks. Occasionally pushing the boundaries can open you up to new audiences and help you craft more compelling messaging. Plus, even your most loyal customers don't want to see the same types of ads over and over again, forever.
On the other hand, no one wants to take any marketing risks around major events like Black Friday or Christmas. Getting them wrong is simply too costly.
Do yourself a favor and save your experimentation for a less high-stakes occasion. Because consumers have no real preconceptions about what Labor Day marketing is "supposed to look like", it's the perfect opportunity to flex your creative muscles and try something totally different. Feel free to play around with things like:
Marketing channels;
Content types;
Discounts and promotions;
Tone of voice;
Calls to action; and
Visuals.
The lessons you learn from your Labor Day marketing ideas can have a massive impact on the higher-profile campaigns you run later in the year.
Hair and skincare brand Art Naturals gives us a great example of what happens when marketers feel free to take a break from the norm: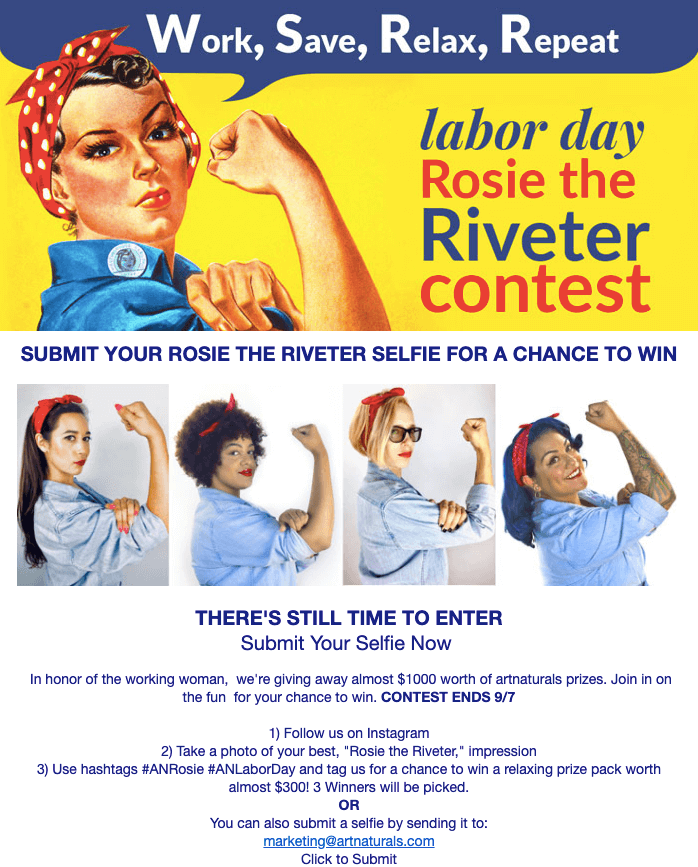 Source: Milled
Rather than running a classic, uninspired 15 percent off promotion, it chose to launch a photo competition prompting customers to share selfies as Rosie the Riveter.
That's a smart campaign because it aligns with the roots of Labor Day while being relevant to Art Naturals' predominantly female audience.
6. Use End-of-Summer Messaging
Labor Day is often seen as the unofficial end of summer. Once it's over, North American students and workers alike get their heads down and power through until Thanksgiving comes around.
Unsurprisingly, a lot of brands use this to their advantage by weaving end-of-season messaging into their Labor Day marketing ideas.
Here's an example of this in action from fashion-based e-commerce brand AHALife: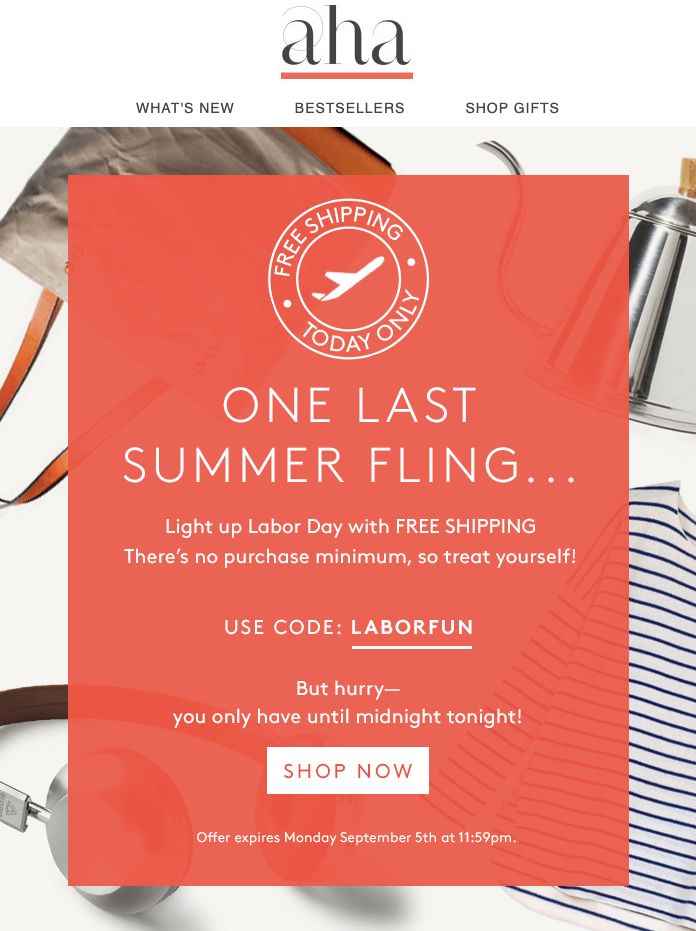 Source: MailCharts
Again, there's nothing especially complicated about this campaign—AHALife isn't even offering a promotion beyond the free shipping. That makes it comparatively easy to replicate.
Alternatively, you can use Labor Day to shift out-of-season products by running a limited-time discount. After all, there's a good chance you've got a bunch of unsold summer stock, so why not take the opportunity to sell it off at a time when shoppers are actively looking for great deals?
That way, you get to make your customers happy while freeing up valuable space in your warehouse. It's a double win.
7. Send a Simple Status Update
Maybe Labor Day isn't relevant to your brand or you don't want to run a discount or flash sale campaign. After all, if you sell a premium product, slashing the price might cheapen your brand.
Whatever your business plans, Labor Day is still a big occasion, and you don't want to ignore it. In that case, one option is to send out a simple greeting encompassing a reminder that you're available over the Labor Day weekend. That's exactly what car-sharing service GetAround did in this example: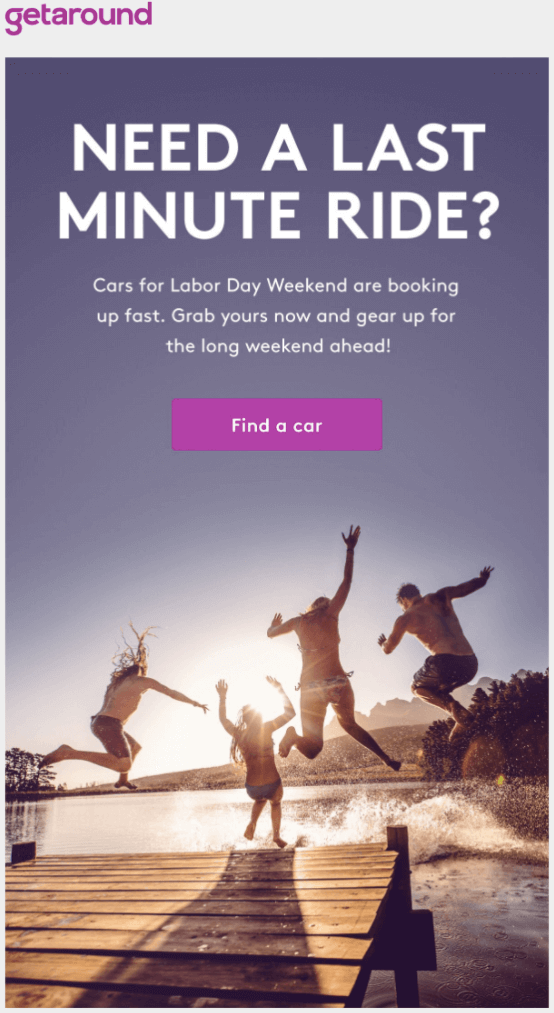 Source: ReallyGoodEmails
There's no special offer here; no competition or weekend-long sale. Instead, it's simply saying: "We're here if you need us." Sometimes, as a marketer, that's all you need to do.
Conclusion
Labor Day may not be North America's most-hyped shopping event.
You generally don't see brands building dedicated Labor Day landing pages months in advance. But it's still a big deal.
US consumers dropped $2.08 billion on Labor Day 2018, making it the first single-day holiday to pass the $2 billion spending mark outside of the peak November-December shopping season.
So unless you're not interested in generating more sales or reaching more customers, you definitely don't want to ignore it.