Black Friday might be over, but it only marks the beginning of a high-revenue holiday shopping season. With Christmas and New Year around the corner, online holiday sales are expected to reach $190 billion this year in the US, alone.
You're likely using email marketing to capitalize on the holidays ahead, and if you are, you know the importance of compelling subject lines that'll get your holiday emails opened.
While there's no secret formula that works for all, you can always take inspiration from top e-commerce brands and how they craft inventive holiday email subject lines year after year.
To help you with that, I gathered 62 of the best holiday subject lines I've seen and divided them into categories for your convenience.
7 Types of Holiday Subject Lines You Need to Master
1. Gift Guide Subject Lines
Holiday season means gift shopping season.
Your potential customers are in a rush to get the best gifts for their loved ones during the weeks leading up to Christmas. This is your chance to outshine the competition by offering gift shoppers a helping hand.
Holiday gift guides, as used by many e-commerce brands, can be highly effective in turning your email list into buyers, when supported with the right emails and subject lines.
Check out this example by Happy Socks:

Although Happy Socks doesn't openly write that a gift guide is awaiting you inside, you can tell from the context.
Rather than talk about its giftable products, Happy Socks smartly turns it around on you and compliments your gift-giving skills in its holiday subject line.
This is what the email looks like: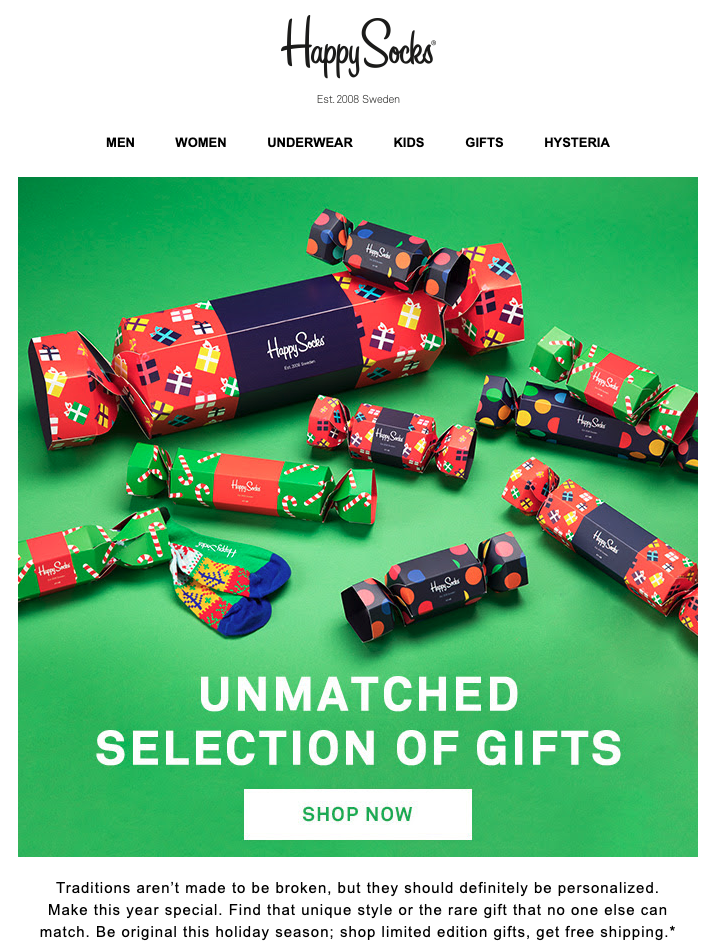 In it, Happy Socks promotes its "unmatched selection of gifts" by explaining why you shouldn't break gift-giving traditions (read: buying socks,) but instead, personalize them.
In the remainder of the email, the company displays its traditional (but unique) gift options divided into categories, so you can click through and get your gift shopping done at once.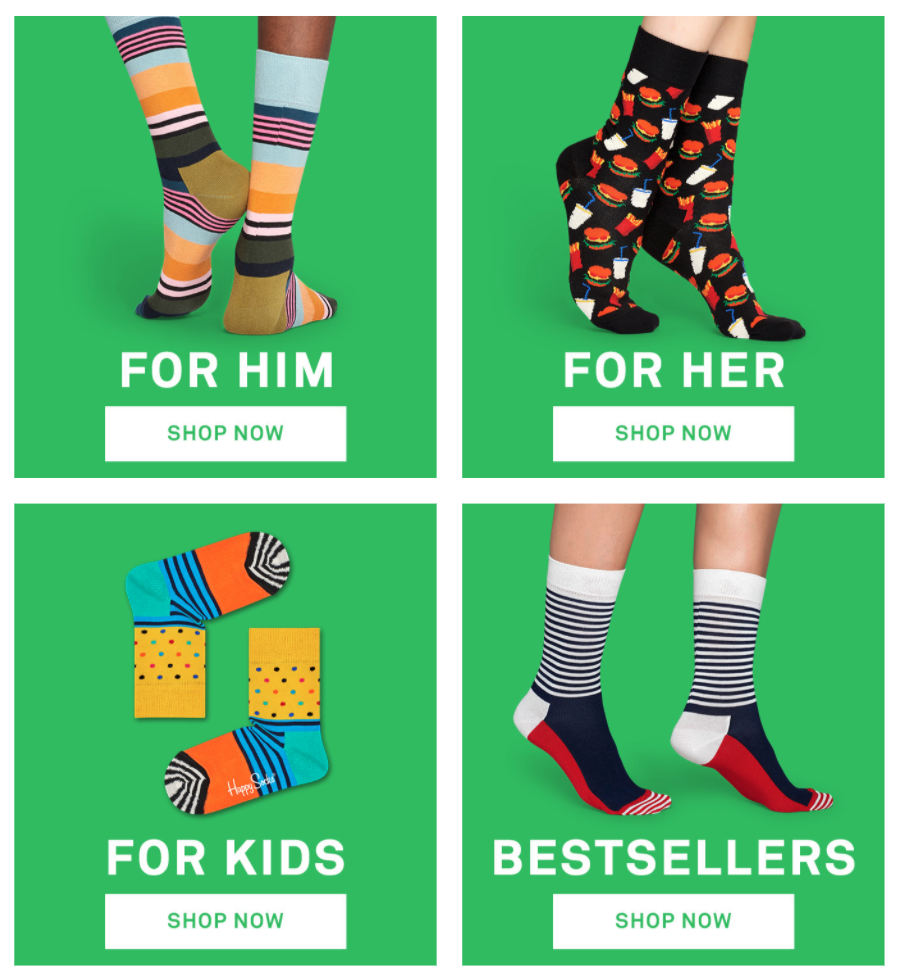 While Happy Socks takes an indirect approach to gift guide subject lines, Ban.do does the opposite: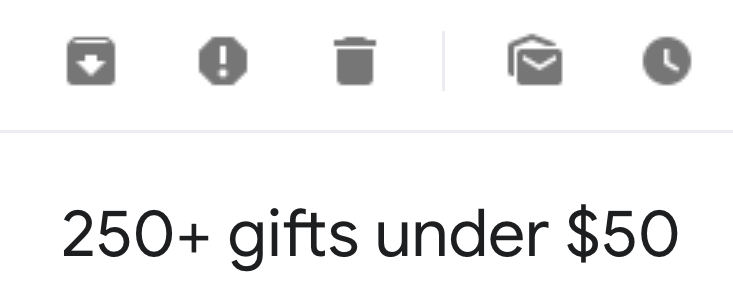 With this short and straightforward subject line, Ban.do cleverly targets gift shoppers who are on a budget. Rather than dividing its gift options by gender or interests in the email, the company categorizes them by price: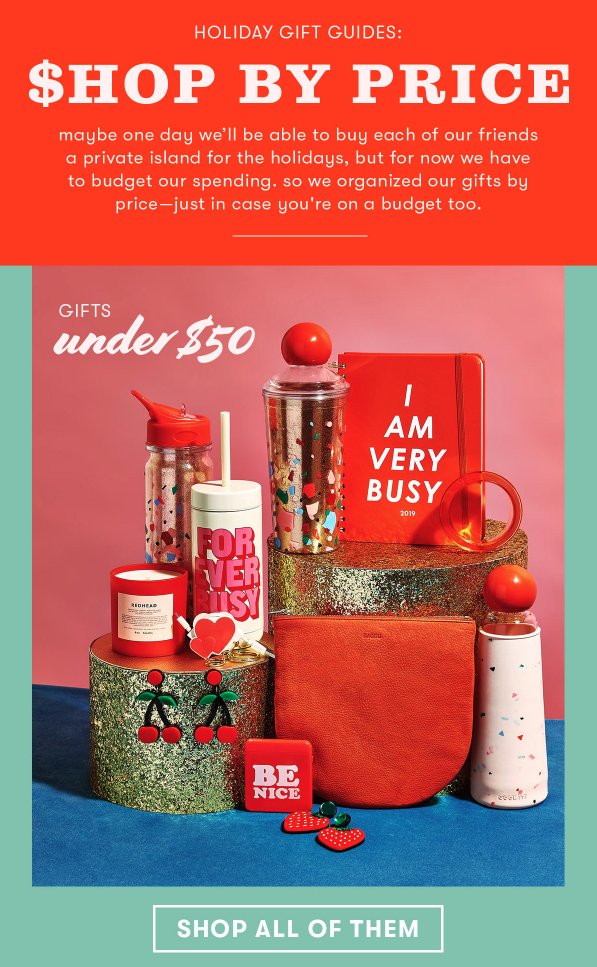 In the email, Ban.do tells a story you can relate to: You're looking for amazing gifts, but you're likely on a budget. Then, you can check out their two simple categories: gifts under $50 and $25.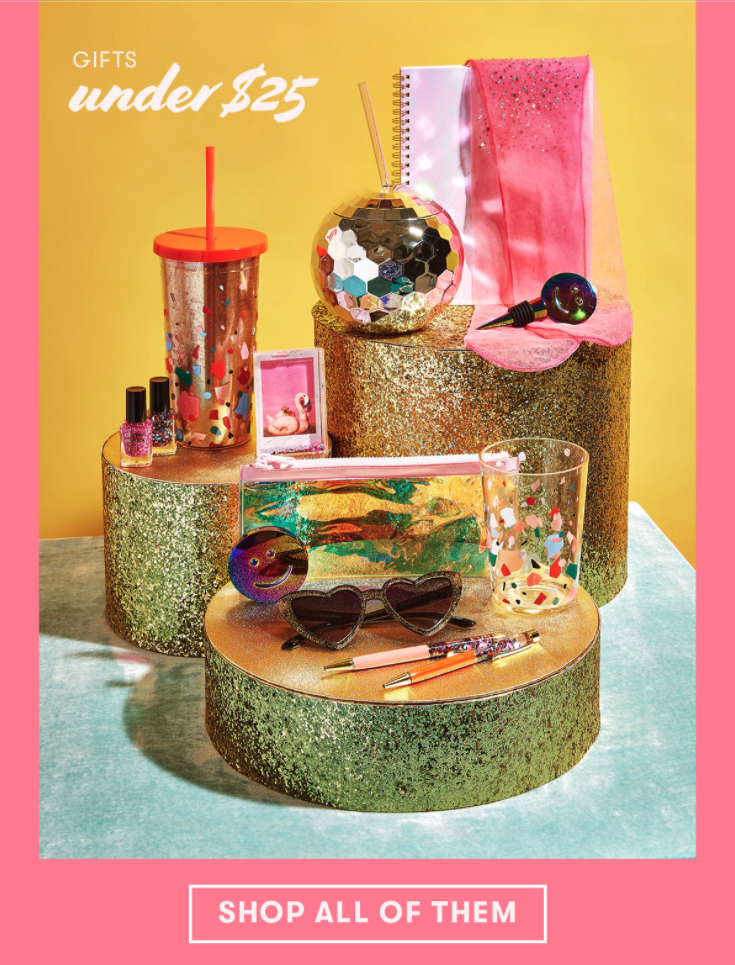 Your gift guide subject lines don't need to get more complicated than this.
More Gift Guide Subject Lines:
Bliss: Holiday Shopping Has Never Been So Easy.
L'Occitane: Holiday Gift Guide To Nature's Wildest Gifts
Adidas: Are you ready? ⏰ Check out our gift ideas to get started.
Too Faced: You're Welcome for the Best Christmas Gift Ever
MAC Cosmetics: NEW Holiday Kits = Perfect Gifts! 🌟🎁
kikki.K: Year round gift ideas 🎁
Everlane: Gifts The Won't Blow Your Budget
One Kings Lane: Gifts for everyone on your list
Boozt: The Christmas gift shop is open! 🎁🎄
2. Promotional Subject Lines
With gift guides or not, you're likely trying to make more revenue out of your email list with promotional emails all year round.
Holidays are a great excuse to promote your products with a jolly spin, and your subject lines are no exception. Take a look at this example by Miss Selfridge:

With this subject line, where Miss Selfridge rhetorically asks "Christmas Day outfit panic?" the company makes you question if you're ready for Christmas. That's why you open the email shortly after a momentary freak-out.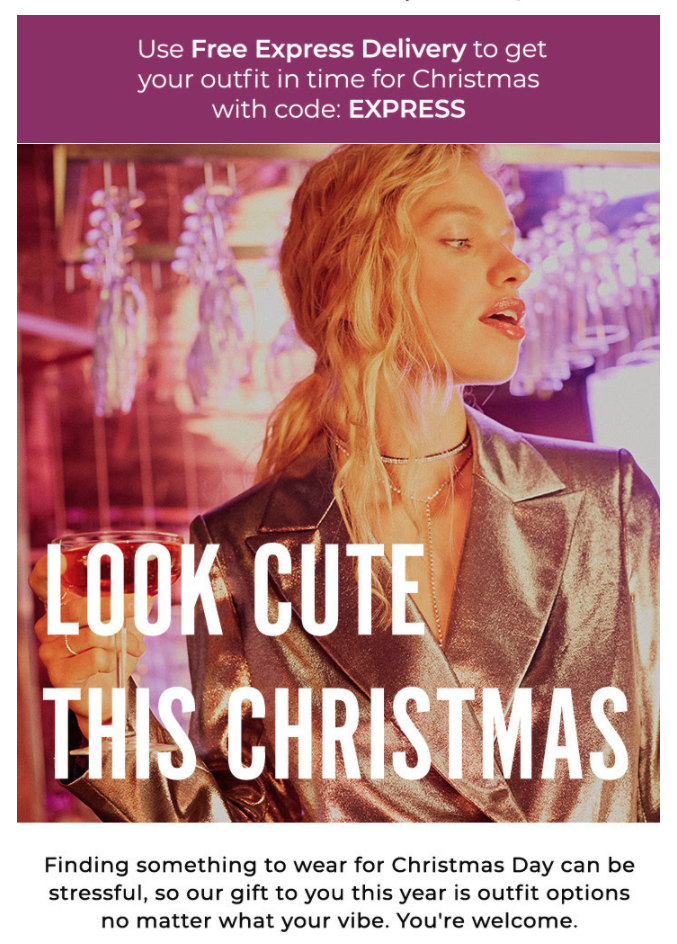 In the email, the company repeats the problem of finding something to wear for Christmas day and, once more, tells that they're there for you.
After an irresistible call to action that reads "Look cute this Christmas," Miss Selfridge showcases its products based on different styles, ranging from "Glitzmas" to "Festive & Chill," to "Cosy Christmas."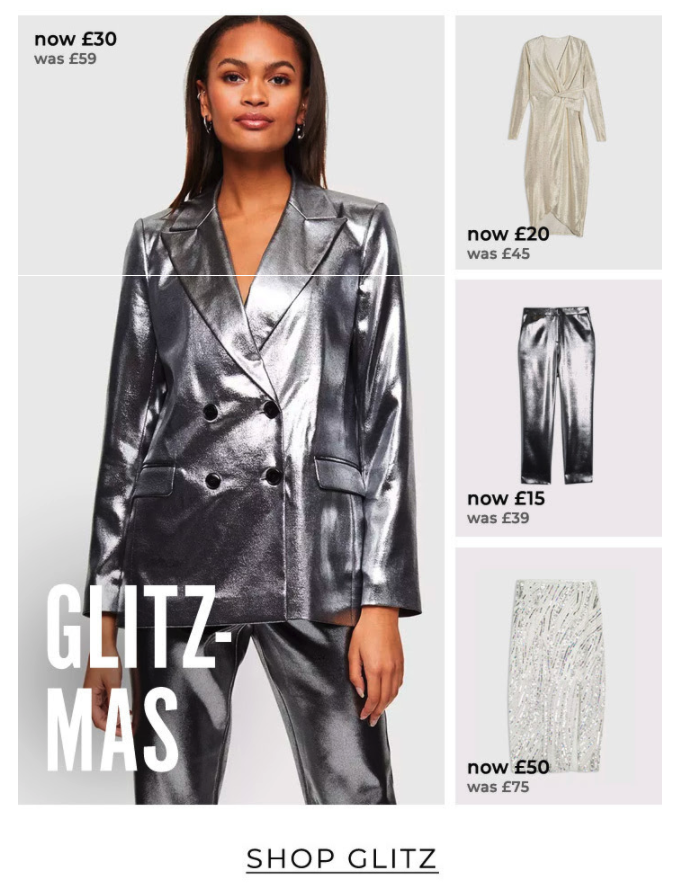 While doing so, the company also highlights its products on sale, in a subtle way.
While Miss Selfridge frames its ordinary products around the Christmas theme, Paperchase curates its seasonally-relevant items under the category of Christmas bestsellers, starting from its subject line:

Paperchase quickly grabs your attention by using wordplay and social proof in the subject line. Here's what the email looks like: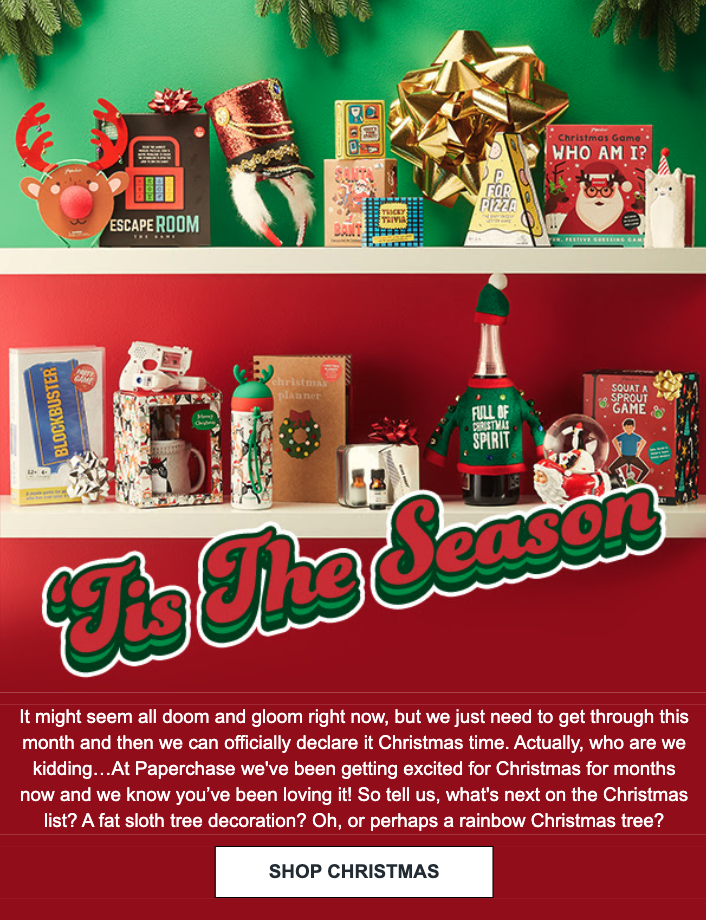 In this email, sent in November, the company mentions the gloomy mood we're all in, and that, luckily, it's soon Christmas. Once Paperchase gets you excited about the holidays, next, they invite you to shop its bestsellers for Christmas.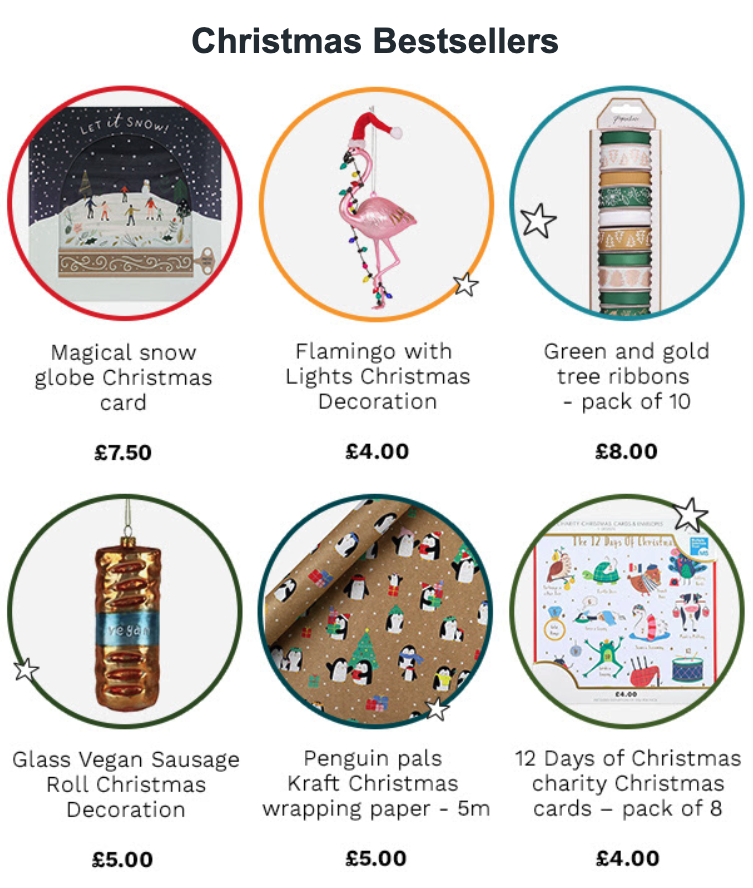 Whether you're running a year-end sale or simply promoting your seasonal products, remember to add a little holiday joy to your subject lines.
More Promotional Subject Lines:
Crate & Barrel: 🎄 Get ready to holidazzle.
The White Company: In need of Christmas inspiration? Discover these influencer favourites
MOO: Christmas has arrived at MOO 🎁
Hollister: Up to 30% off last-minute gifts! 🎁 Open now to get 'em by Christmas.
west elm: VERY MERRY CHRISTMAS SALE ⛄ Up to 60% off select styles
Shein: Drop everything… Our Christmas sale is here
3. Urgency Subject Lines
Holiday marketing is driven by urgency, whether or not you make an effort to do so. After all, gift shopping itself is a big countdown to holidays. Do it late and you won't get your gifts delivered on time.
Knowing this well, many e-commerce brands drive urgency in their holiday subject lines, but only a handful of them do it right. Some, like Allbirds, leave the urgency to the email itself, and evokes curiosity in the subject field, instead: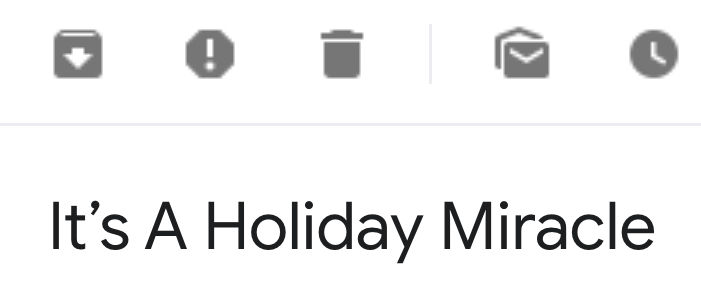 If you want to find out about this holiday miracle, as I did, you open the email and see this: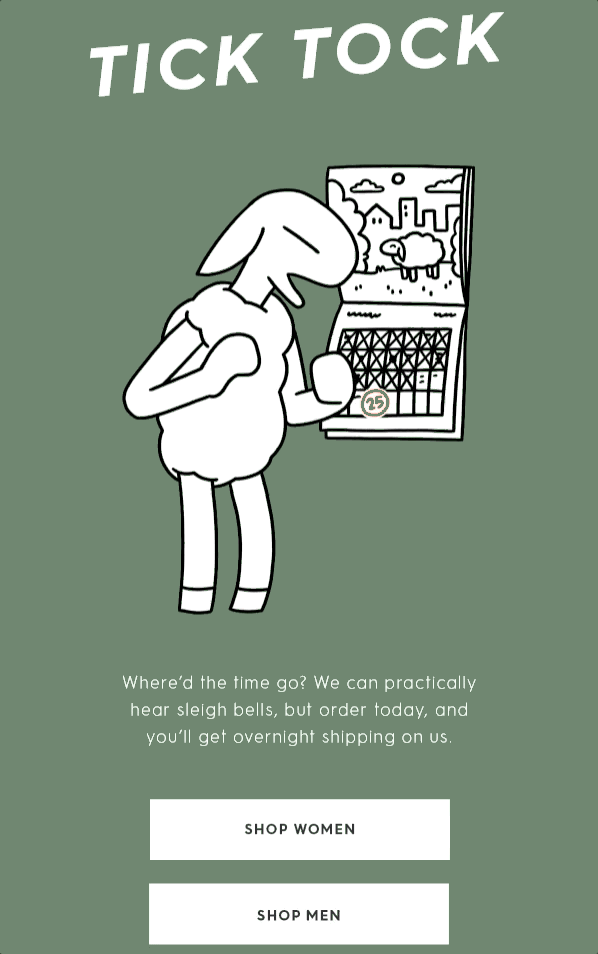 In the email, sent on December 21, Allbirds reminds you that Christmas is near and promotes its one-day-only overnight shipping offer.
If you're still missing gifts for your loved ones, Allbirds' offer is a lifesaver, and that's why it's so effective in driving urgency without stressing people out.
While Allbirds favors curiosity over urgency in its subject line, Bellroy, who has a similar message, fully leverages scarcity:

Two weeks before Christmas, Bellroy reminds you that it's time to shop for gifts in its subject line and makes you open the email without much thinking: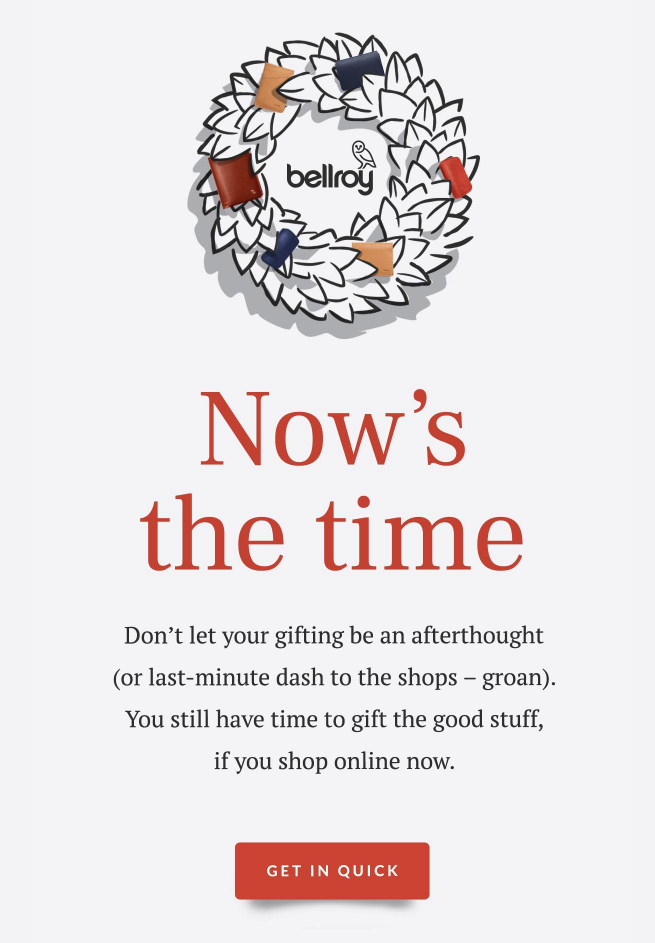 In the email, the company highlights the urgency of holiday gift shopping once again and warns you against last-minute panic. Rather than write generic, scarcity-driven copy, Bellroy makes a valid point by saying "if you want to gift the good stuff, you better shop now."
It's a smart way of driving urgency without resorting to overused persuasion triggers.
More Urgency Subject Lines:
Wool and the Gang: TODAY 📮 Last Chance For Xmas Delivery!
Banana Republic: You should claim your surprise gift (it's well-deserved!)
Away: Free shipping on us for the holidays
west elm: Christmas is coming… beat the holiday rush! 🎄
MOO: A three day Christmas sale? Let's go!
Man Crates: 🎁Last Chance to Get Our Coolest Gifts For Christmas🎄
Bath & Body Works: 🗓 5 DAYS 'TIL CHRISTMAS 🗓
Cath Kidston: Tick tock | Last chance to order in time for Christmas!
Framebridge: Last chance for free shipping on Christmas gifts 📦
The White Company: Order by tomorrow, get it for Christmas
Bath & Body Works: 1 DAY for this deal. 🎁 2 weeks 'til Christmas! 🎄
4. Last-Minute Subject Lines
While the weeks leading up to the holidays are ideal for converting early gift shoppers, you can keep selling gifts even during Christmas.
If you're offering gift cards or digital products on your site, you can target last-minute gift shoppers and turn procrastinators into buyers without much effort.
While doing that, you can take the easy road and write "Buy Gift Cards" in your subject line. Alternatively, you can go the extra mile to stand out during busy holiday times, as Chubbies does: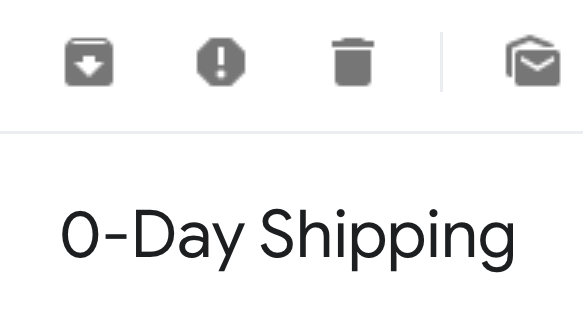 Chubbies sends this email on December 23, where the subject line promises something even better than same-day delivery. Since this offer is too-good-to-be-true, especially around the holidays, it makes you open the email immediately.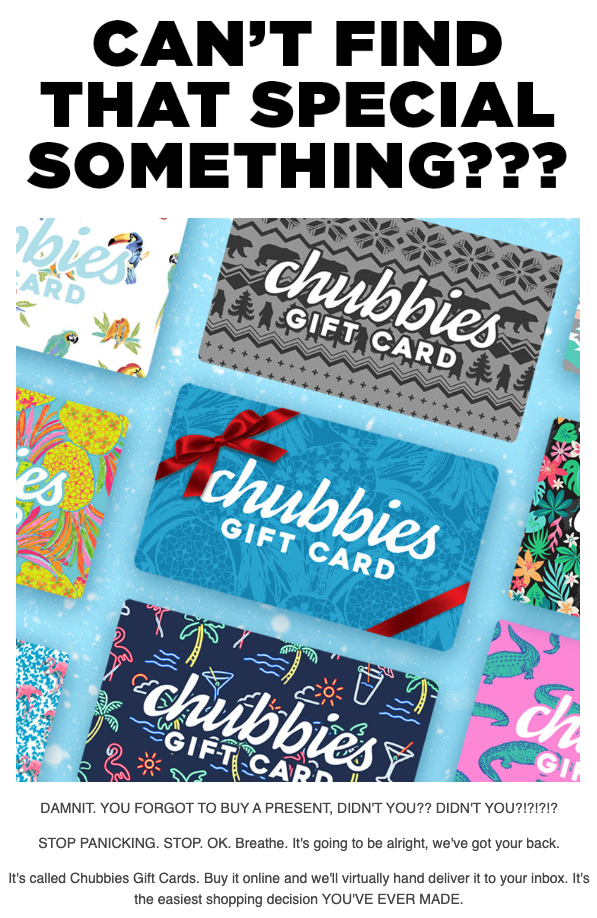 In the email, Chubbies promotes its gift cards, in its infamous, funny tone. As Chubbies says, "it's the easiest shopping decision you've ever made" because gift cards do come with 0-day shipping.
While many companies guilt-trip last-minute shoppers in this type of subject line, exceptional brands, like Chubbies above, relieves buyers by offering them a helping hand. Violet Grey falls into the second category, as well.

Although it's as late as December, 20, Violet Grey wants you to know that there's still time to gift—if you buy a gift card.
After hinting at its virtual gift option in the subject line, Violet Grey's email keeps building on the promise of getting your gifts on time: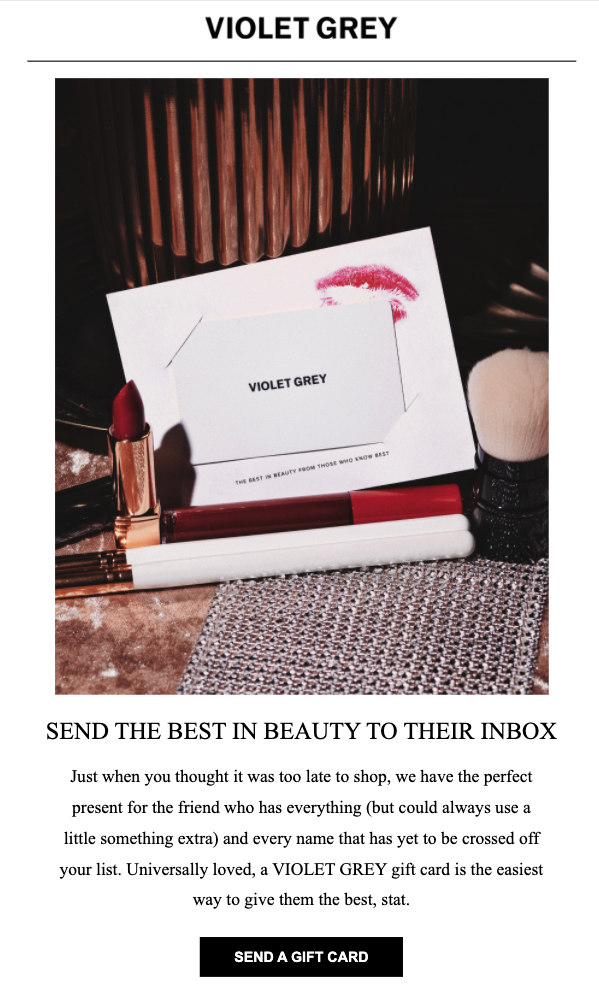 In the email, Violet Grey explains why you should send a gift card to your loved ones, and it's simple: "A Violet Grey gift card is the easiest way to give them the best."
Next, the company cleverly invites you to treat yourself while shopping for others: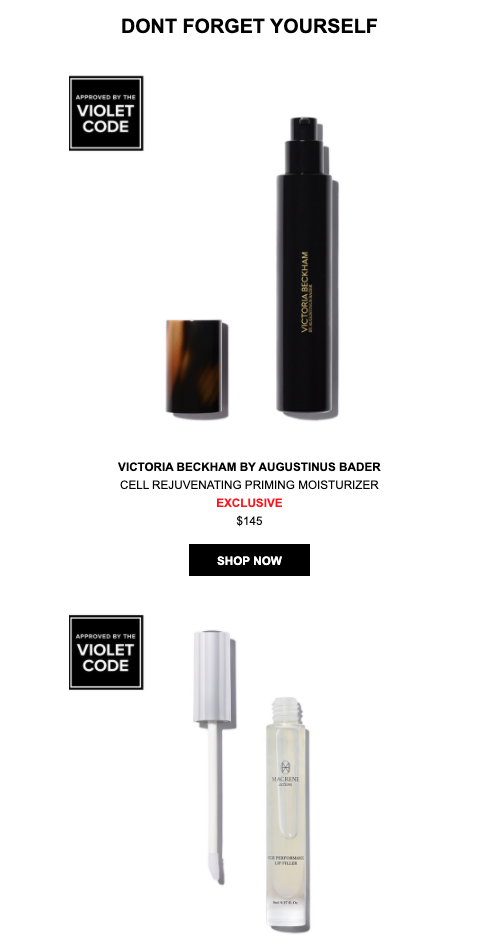 It's a small, but effective, addition you can use in your holiday emails to drive more sales, even after the gift shopping period is over.
More Last-Minute Subject Lines:
Warby Parker: Forgetting someone?
Aerie: Last minute shopping? We're here for you!
Allbirds: Need A Last Minute Gift?
Wool and the Gang: Relax, Get a Gift Card.
Chubbies: Your Gift Card is Ready.
5. Salient Subject Lines
Everybody's busy around the holidays. Your competitors are fighting for attention in your prospects' inboxes and your subscribers have little patience to read yet another uninteresting holiday email.
You need to bring your A-game to craft salient holiday subject lines that stand out in the crowd. A few proven ways of doing that include writing unusually long or short sentences, asking curiosity-evoking questions, and using emojis and puns.
United by Blue does a great job with this subject line they used last Christmas:
The company knows that the competition is fierce, and their subscribers likely get hundreds of promotional emails around Christmas. Once they acknowledge that, they make a strong claim to send the best email of all. Here's what the email looks like: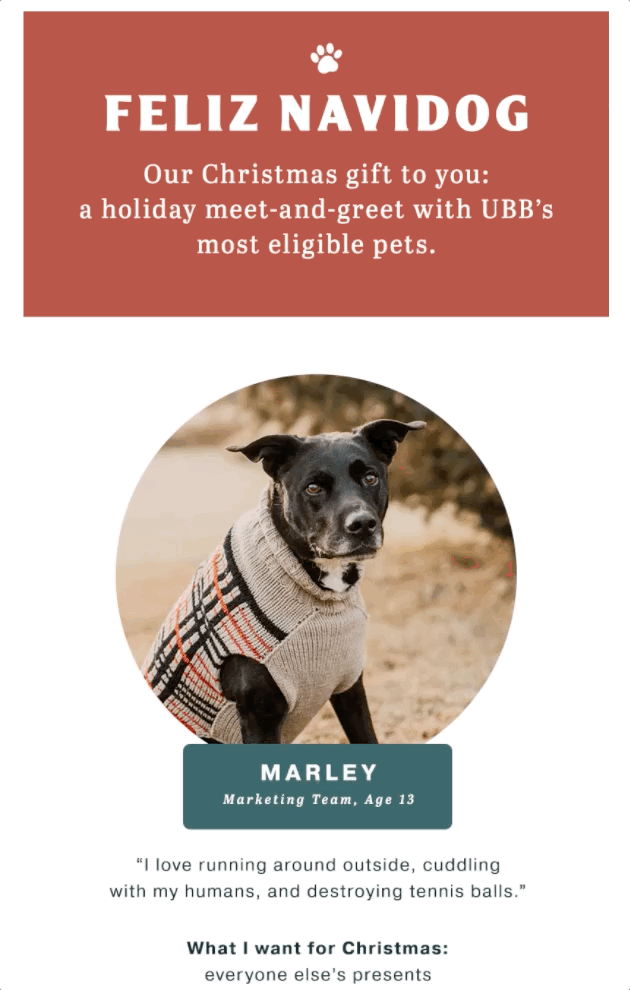 It really is, pawsibly, the best Christmas email I've seen of this kind. In it, United by Blue features the furry members of its team and wishes you a merry Christmas in the cutest way possible.

The email introduces 17 adorable pets of the United by Blue employees, together with a short description of their likes and Christmas wishes.
It does a great job of engaging the company's email list on Christmas day and, pawsibly, puts a smile on their subscribers' face. In my opinion, half the success of this email comes from its humorous, assertive, and salient subject line.
While United by Blue uses wordplay in its subject line, Dollar Shave Club leverages emojis to stand out with its holiday email:

At a time when people get thousands of promotional messages and gift options in their inboxes, Dollar Shave Club's email catches the eye:

After Dollar Shave Club convinces you not to choose the gift options above or below, they promote their own gift sets: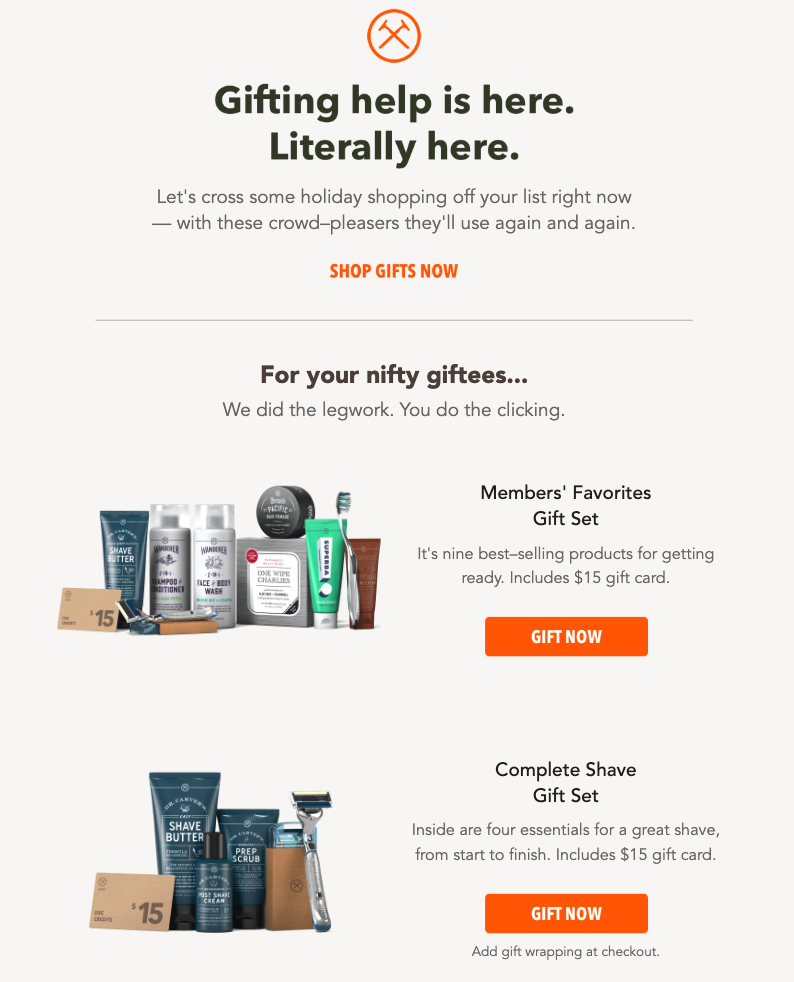 It's a brilliant use of emojis during the highly competitive holiday shopping season.
More Salient Subject Lines:
Brooklinen: ATTN: procrastinators 🚨
BarkBox: You Pupcrastinated. We got your back.
Bellroy: Get eggnog in your hand and Bellroy under the tree.
Bath & Body Works: 🎅 tip: add a little Christmas to every room.
Wool and the Gang: All they want for Christmas…
Fenty Beauty: Lips shinin' brighter than the Christmas tree
BarkBox: To Do List: (1) Open this ✉️ (2) Get BarkBox, a FREE Santa hat + FREE delivery by Christmas 🎁 (3) Pop 🍾
6. Engaging Subject Lines
Pre-scheduled marketing emails from salesy brands will likely be the last thing on people's minds during Christmas.
While promoting your products directly during Christmas isn't the best idea, you can still engage your email list with heartfelt messages (and subtle promotion. 👀)
The best part is, you can be direct with your subscribers in your subject lines and write your holiday wishes, as Kate Spade does:

Kate Spade's subject line feels like a genuine Christmas message, and it would only be rude not to hear what they have to say. The email looks like a cute holiday card, too: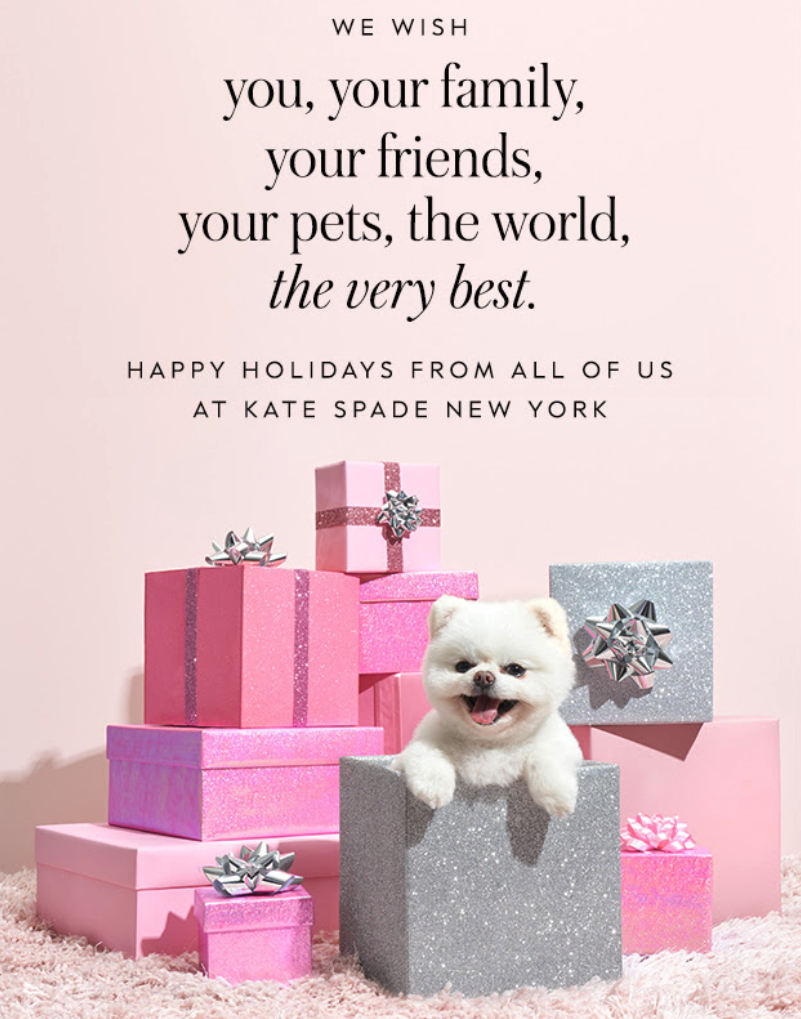 However, once you scroll down, you see this subtly promotional section about the company's very-last-minute gift options, if you still need one: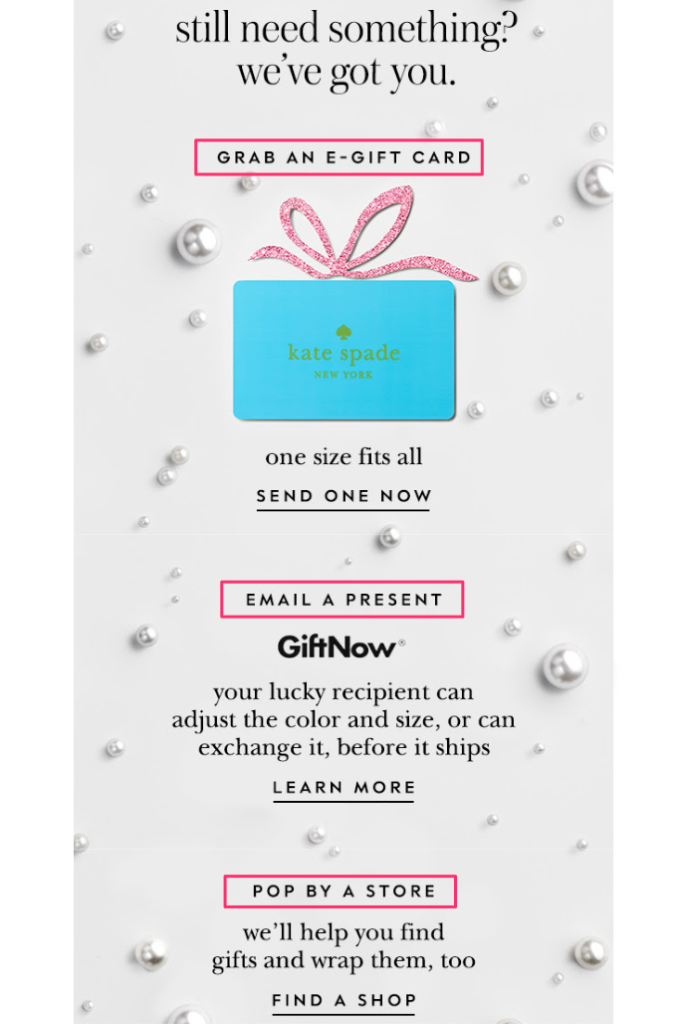 Rather than aggressive sales pitches and guilt-shaming, Kate Spade helps you find last-minute presents—even on Christmas day.
Kate Spade finds the right balance between authenticity and marketing. You can easily replicate their approach if you want to engage your email list without overwhelming them during holidays.
More Engaging Subject Lines:
Blue Apron: Wishing you sugar, spice, and everything nice!
west elm: To our friends & family at Christmas 🎄
Torrid: Wishing you a very Merry Christmas…
7. After-Christmas Subject Lines
If you're the type who likes to be prepared, you likely know what your next step will be after Christmas.
Whether it's a new year campaign or a post-Christmas sale, you need to refuel your subject lines and get your subscribers' attention, who, by now, are tired of holiday emails.
One brand that does this right is Shinesty:

Sent on January, 10, Shinesty's subject line easily stands out in your inbox because it's (1) funny, (2) unexpected, (3) and curiosity-evoking.
This is what you see if you wonder why Shinesty is offering you more Christmas: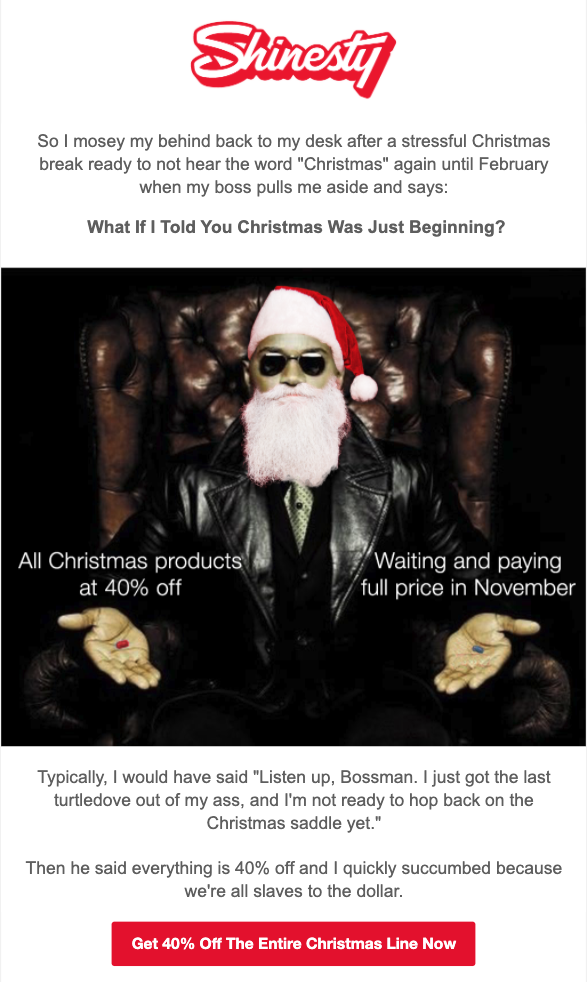 In it, Shinesty promotes its sale, where you can get its Christmas collection with a 40 percent discount. (Taking the red pill is, obviously, the right choice, if you don't want to pay full price again in November.)
While "more Christmas" is an inventive angle for your sale subject lines, leveraging the new year and its associations can also help you sell more, even without a sale campaign.
Charlotte Tilbury knows that many of us commit to resolutions in the new year and smartly uses this in its subject line:

If you're on Charlotte Tilbury's email list, you're likely interested in beauty and skincare. And if you just made new commitments to your skin, you open this email immediately.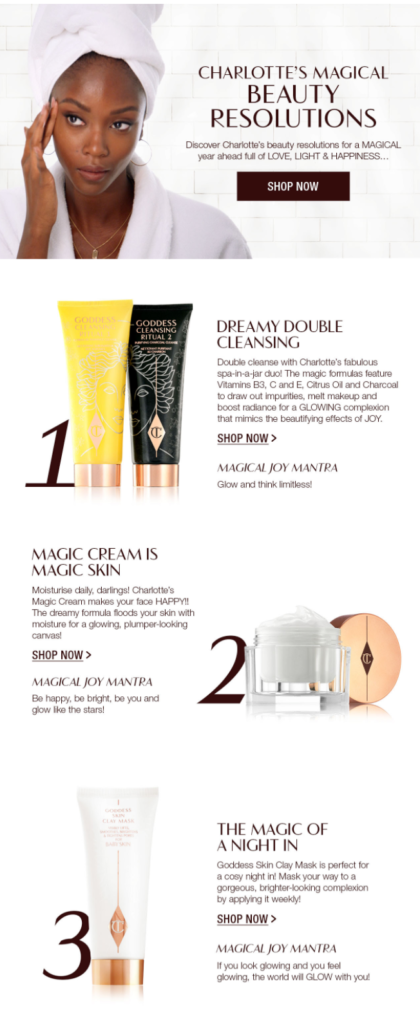 In it, the company simply suggests a six-step skincare regimen you can create in the new year, unsurprisingly, by using Charlotte Tilbury's products.
Whether you're selling beauty products, workout equipment, or healthy meal subscriptions, remind people of their new year resolutions and show how your products can help them stick to their commitments.
More After-Christmas Subject Lines:
Macy's: Extra 20% off? Our After Christmas Sale is on!
Rifle Paper Co.: The After-Christmas SALE!
Cloth & Paper: After Christmas Sales 🎁
L'Occitane: New Year's Resolution: Revamp Your Ritual with $20 OFF
Anthropologie: New year, new sale: 40% OFF Fresh Cuts!
Crate & Barrel: Happy New Year + free shipping 🎊
Violet Grey: 7 New Year Hangover Cures
Forever 21: New year, new jeans 👖
Conclusion
Whether you already planned your emails for the month or you're still on the hunt for creative holiday email ideas, I hope you got what you needed from this article.
Remember that hundreds of other brands compete for attention in your subscribers' inboxes, so make sure to stay relevant, timely, and interesting with your holiday emails.
Have you seen any good examples of holiday email subject lines? Share with us in the comments below.