After the mayhem of the golden quarter, January can seem like a long-overdue break for ecommerce marketers.
That sense of relief lasts right up until you remember that you've still got targets to hit. At that point, things get a little more… difficult.
January is a tough time for retailers. In 2021, it saw the second-lowest US retail sales total of any month: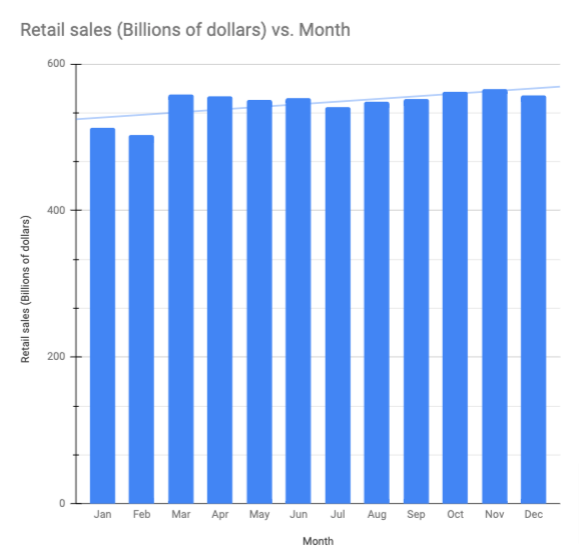 (Source: YCharts.)
That's hardly surprising. With the average US adult expected to spend approximately $870 on Christmas gifts in 2022, the last thing on our minds is to spend even more. Instead, our priorities switch to looking after our cash, with Bank of America research revealing that our #1 New Year's resolution heading into 2023 is to save more money.
With the majority of ecommerce holidays having just ended, customers are less willing to make many purchases.
And the bad news doesn't stop there, because January is also a barren period for email marketing.
January languishes in the bottom quartile for average email open rates by month, at 19.83 percent. That's almost 11 percent lower than the highest month, November. To make matters worse, January also sees the joint-highest email unsubscribe rate of any month (0.12 percent).
In other words, consumers aren't spending money or opening emails in January—and when they do engage, there's a higher-than-average chance they'll unsubscribe.
So should we all just give up and take January off? Never. For the best marketers, every challenge represents an opportunity. Get your messaging right and there's still money to be made.
Want some good news? I've done the hard work for you by rounding up seven of the best January email marketing ideas from Drip's bottomless email swipe file…
7 January Email Marketing Ideas
Sweaty Betty: Say 'Happy New Year' With a Sale
The first few paragraphs of this article should make it crystal clear that your average customer isn't looking to make any big, flashy purchases in January.
So what better time to launch a sale?
If you're planning a January sale, you naturally want as many eyes as possible on your email. That means nailing the subject line. In this example, yoga brand Sweaty Betty struck the right note by wishing customers a Happy New Year, then immediately segueing into promotional, sale-related messaging:

A 60 percent discount sounds pretty attractive—especially at a time when consumers are tightening the purse strings. Mentioning it in the subject line could make the difference between someone opening your email or scrolling on by.
Sweaty Betty reiterated the price reduction at the top of the email body, ensuring customers know exactly what to expect from the promotion: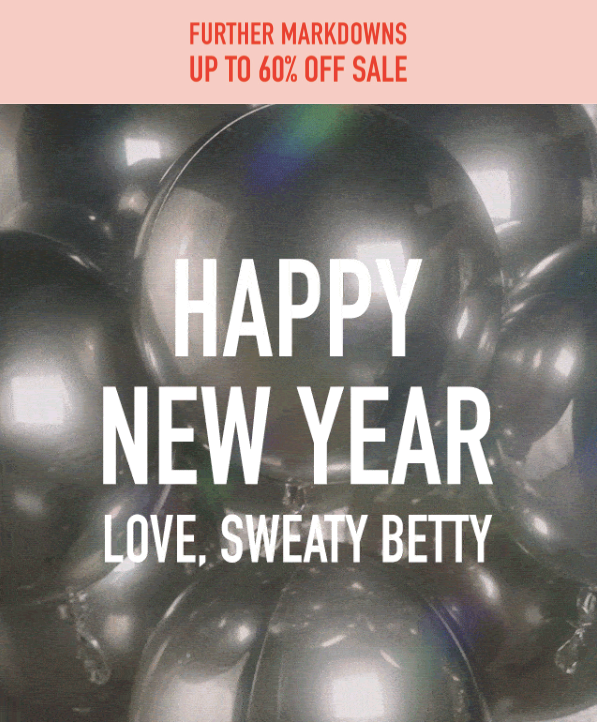 The email also contains no fewer than eight CTAs prompting readers to shop the sale or browse specific product categories, ensuring customers remain in the buying mood as they scroll down the page.
Okay, so Sweaty Betty got the messaging right. But there's another key element of a successful "Happy New Year" email: the timing. When's the right time to send it?
Logic dictates that New Year's Eve or New Year's Day are the best dates. But the data suggests otherwise.
According to DMD statistics from the 2020-21 Christmas and new year period, email open rates hit rock bottom around NYE, from an average of 5.7 percent on December 31st to just 3.2 percent on January 2nd: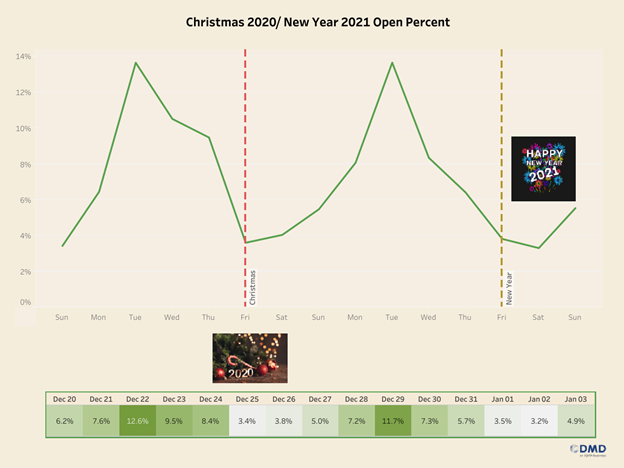 That's even lower than December 25th—and, honestly, who's opening emails on Christmas Day?
So if you're planning a big sale launch, it makes sense to hold back your announcement for a few days until everyone's back into the swing of checking emails.
And, of course, you'll want to follow up with two or three reminder emails over the coming days to ensure your messaging hits home.
Apothékary: Tap Into Popular New Year's Resolutions
Referencing New Year's resolutions is an easy win for (some) email marketers in January.
Specifically, it's a fantastic strategy for any brand selling self-improvement-related products. According to a Forbes Health/OnePoll survey, health—in all its forms—is a top priority for consumers heading into the new year:
45 percent resolved to improve their mental health
39 percent want to improve their fitness,
37 percent are aiming to lose weight
33 percent vowed to eat a healthier diet
Plant-based supplements brand Apothékary is well-placed to capitalize on this trend. In this example, it devoted an entire email to customers who want to cut down on their alcohol consumption, offering everything from alcohol-free beverage alternatives…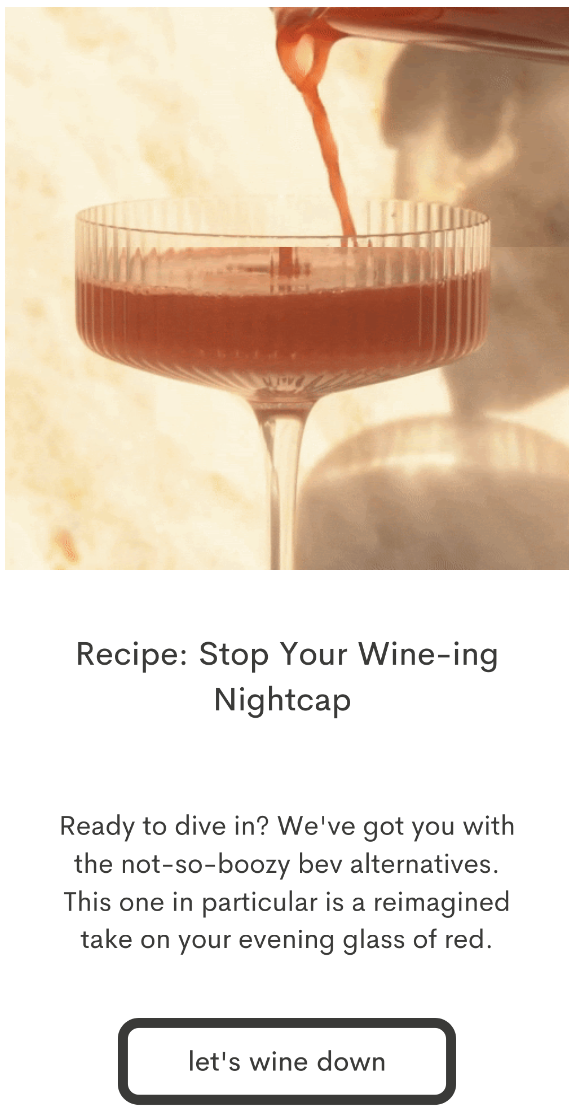 …to a dedicated alcohol-alternative herbal blend designed to replicate the feeling of drinking a rich glass of red wine (without the associated blue teeth and pounding headache):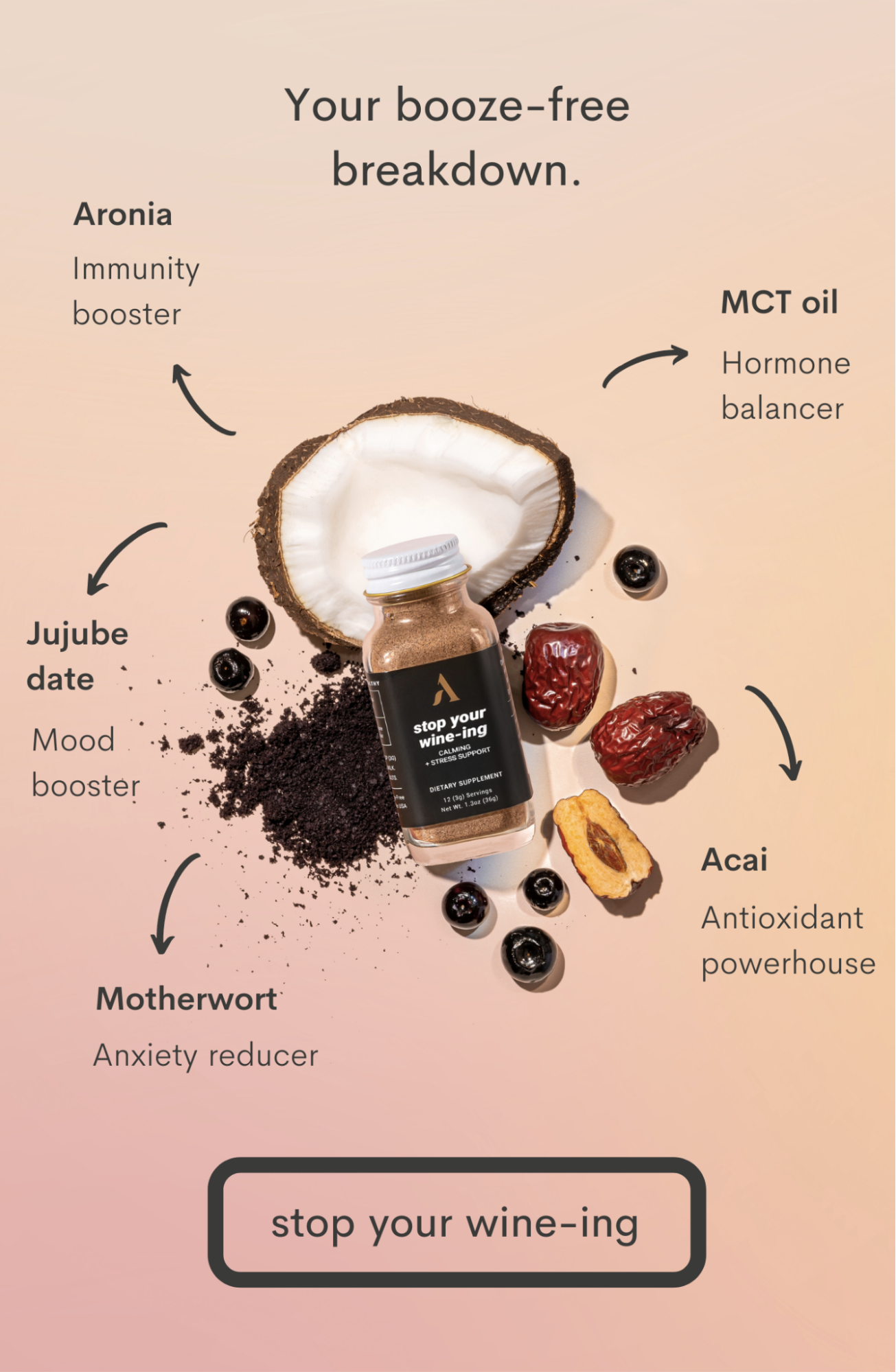 This is a smart play.
Not only does reducing alcohol consumption align with all those health-related goals, but it's also a resolution in its own right, with the same Forbes/OnePoll survey revealing that drinking less alcohol is a top priority for:
Four percent of 18 to 25-year-olds
Eight percent of 26 to 41-year-olds
Eight percent of 42 to 57-year-olds
As such, it feels less like Apothékary is selling something and more like it's helping customers solve a pain point.
Torrid: Showcase New Year Trends
As an ecommerce marketer, it's your job to keep on top of the latest trends in your niche.
It's important to remember that the same isn't true for your customers. Sure, they have at least a passing interest in whatever you sell, but they have no insider insights or sneak peeks at new season collections.
They're out of the loop—and it's up to you to clue them in.
Plus-size fashion brand Torrid did this in one of its first emails of 2022. As with every successful marketing email, it started with an engaging subject line:

I like the unsales-y tone here. It's not about showing you a bunch of products; it's about explaining key fashion trends for the current year. It makes you feel like you'll miss out on valuable information if you don't click.
Torrid continued this theme throughout the email body, describing each trend in turn and showcasing each with relevant product imagery: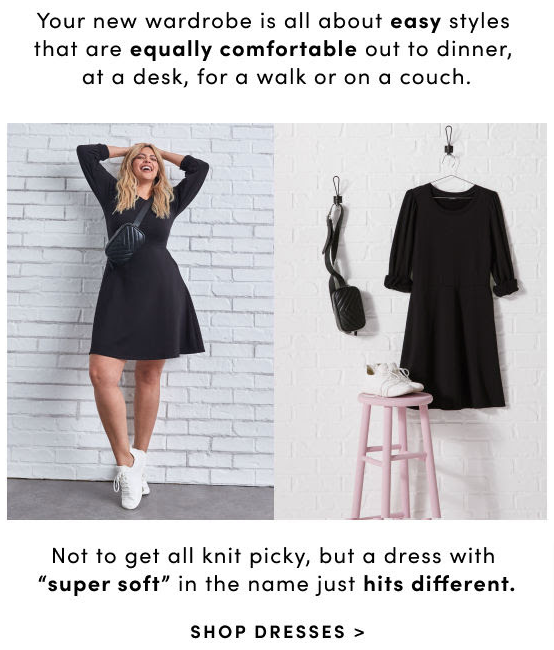 I'm a big fan of the formatting here. Key phrases are highlighted in bold, while the call to action is marked out in uppercase text. Even if you're just skimming the email, those messages are going to stand out.
Supergoop: Leverage Social Proof to Drive Sales
Without laboring the point, it's clear that spending money isn't exactly a top priority for consumers in January. Quite the opposite, in fact.
You need to give them a good reason to part with their hard-earned cash at a time when cutting costs is front of mind.
One of the best ways to do this is to leverage the power of social proof—the phenomenon that prompts people to replicate the actions of others so they're seen to display "correct" or "accepted" behaviors.
Customer reviews are one of the most potent forms of social proof. According to research from Trustpilot and Canvas8, nine in 10 consumers read reviews before making a purchase, so they're clearly an invaluable tool for driving sales.
Skincare brand Supergoop evidently understands this, building an entire email around its best-reviewed product.
Again, let's start by examining the email subject line:

This is a classic example of social proof in action. The message here is subtle but effective: all these people love this particular product, so you should probably buy it.
I like the subject line, but the email body is even stronger. It starts with a customer quote and a reference to the high review scores for Unseen Sunscreen, before detailing some of the product's key features and benefits: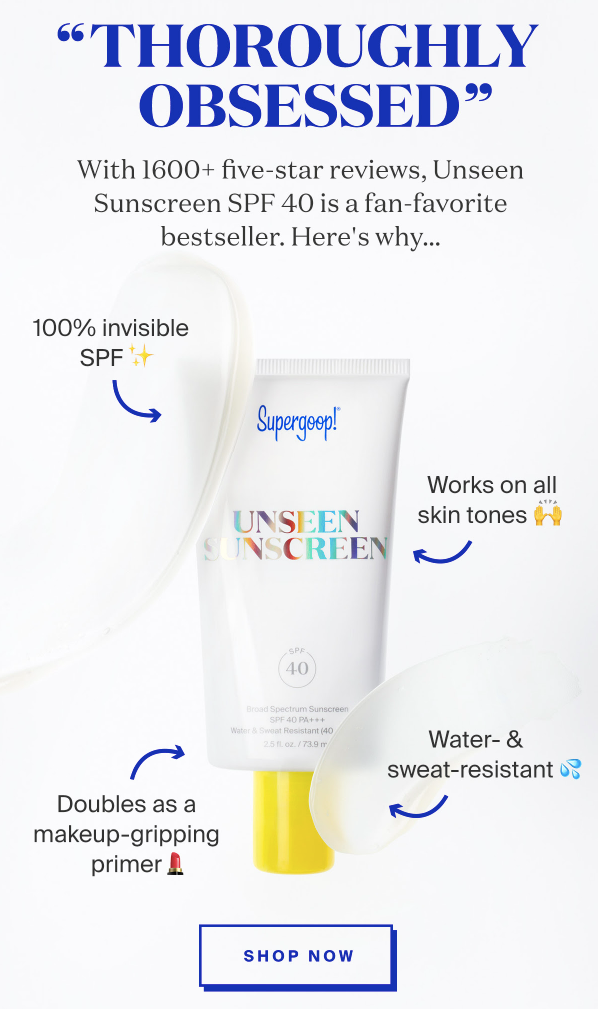 And, of course, it wraps things up effectively with a call to action pointing directly at the product page.
4Ocean: Start Sharing Valentine's Day Messaging
I know what you're thinking:
"Surely January's too early to start worrying about Valentine's Day? We've only just taken down the Christmas tree."
However, evidence suggests consumers think differently. Searches for "Valentine's Day" climb throughout January, with the first (small) spike in activity occurring mid-month: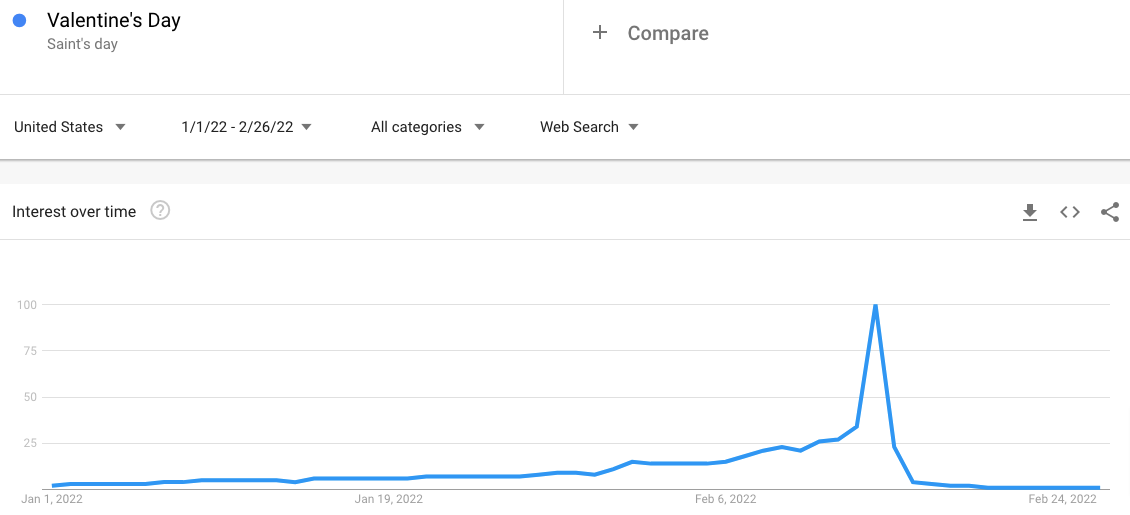 While it pales in comparison to the big-spending retail events of the Golden Quarter, V-Day is a huge deal in its own right.
More than half of Americans planned to celebrate the holiday in 2022, according to the National Retail Federation, with the average consumer expecting to spend over $175 on gifts and activities in 2022—for a combined total of almost $24 billion.
In other words: January definitely isn't too soon to start your Valentine's Day email marketing campaign.
One brand that got the memo is 4Ocean, which shared this ocean-friendly Valentine's Day gift guide on January 19th: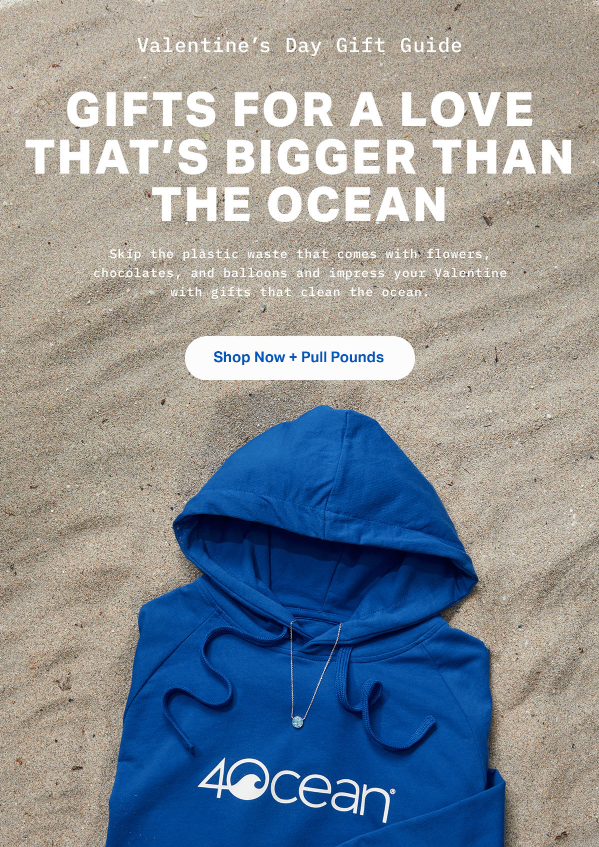 Beyond getting the timing right, 4Ocean's email works by positioning its products as a more meaningful gift than Valentine's Day classics like flowers and balloons.
This is an attractive message for consumers, with 62 percent of respondents to a Mastercard survey saying it's become more important for brands to behave in a sustainable, eco-friendly way since the pandemic.
The Frye Company: Encourage Sustainable Shopping Habits
Speaking of sustainability, let's dive into the thorny subject of fast fashion.
Evidence suggests consumers—particularly those in younger demographics—are increasingly turning their noses up at fast fashion brands, with qualitative research from the British Academy of Management revealing that Gen-Zers associate it with terms like:
Unsustainable
Bad quality
Unethical
That's… not great.
So consumers are looking to make more sustainable choices. But they can't do it alone; they need help from brands. According to a survey from insurance giant Zurich, 75 percent of consumers expect organizations to help them make greener decisions—not just when purchasing, but more generally.
This is a strong angle for your January email campaigns. Everyone starts the year with good intentions, so what better time to demonstrate your sustainable credentials?
There are various ways to do this. You could highlight the sustainability of your materials or the eco-friendly nature of your packaging. Or you could position your products as long-lasting and versatile, like The Frye Company did here:

The subject line suggests you can wear this shoe throughout the year, while the body copy describes it as an "everyday" purchase, positioning it as a high-value-f0r-money purchase.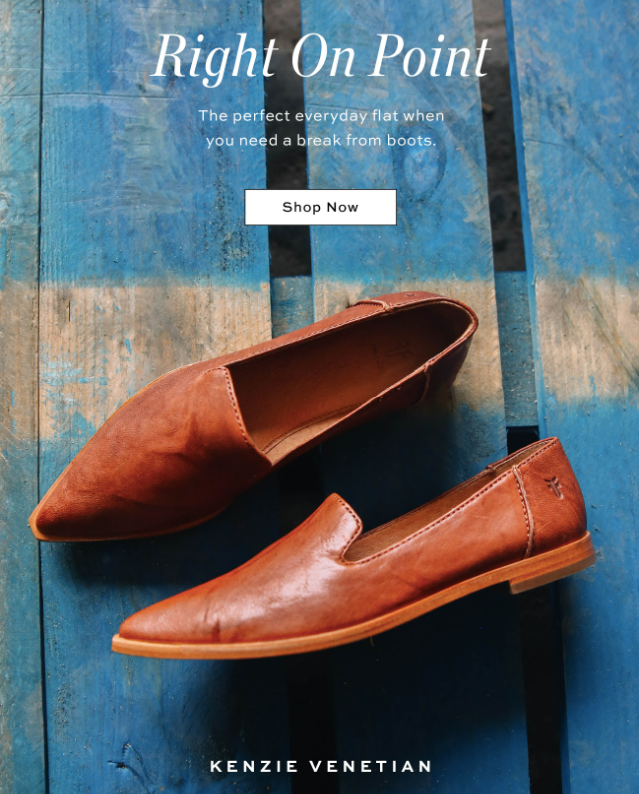 This messaging clearly aligns with how a lot of shoppers are feeling, with research from sustainable fashion platform Unfolded finding that 61 percent of consumers want to upcycle and reuse their fashion purchases more.
WEEKDAY: Showcase Your Spring Collections
The warmer months feel like a distant dream in the midst of a drab, dreary January.
Despite—or perhaps because of—this, search activity around spring fashion trends climbs sharply throughout the month before peaking in late February and early March: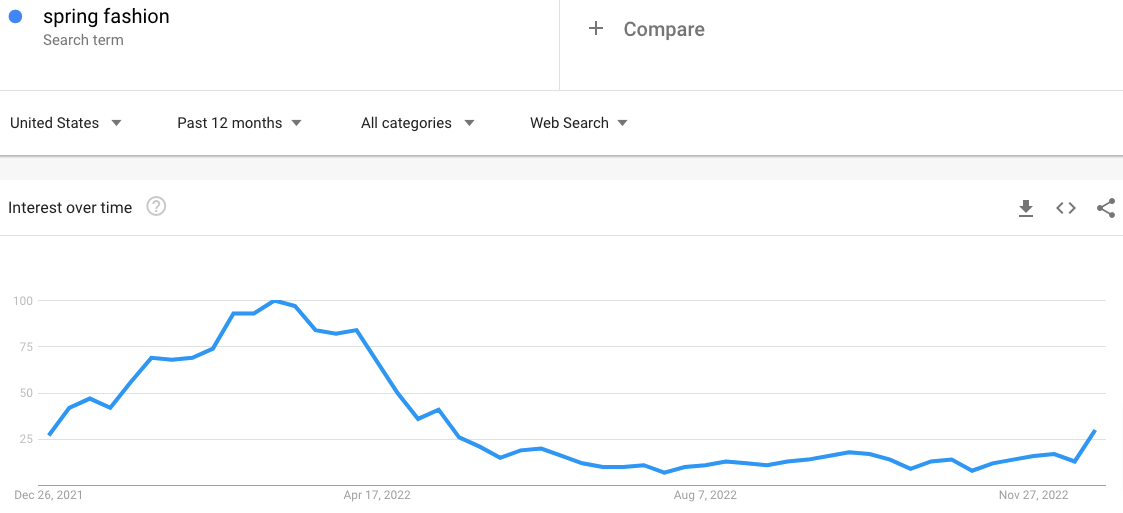 So it makes sense to start showing off your spring collection in your January emails, just like Swedish fashion brand WEEKDAY did here: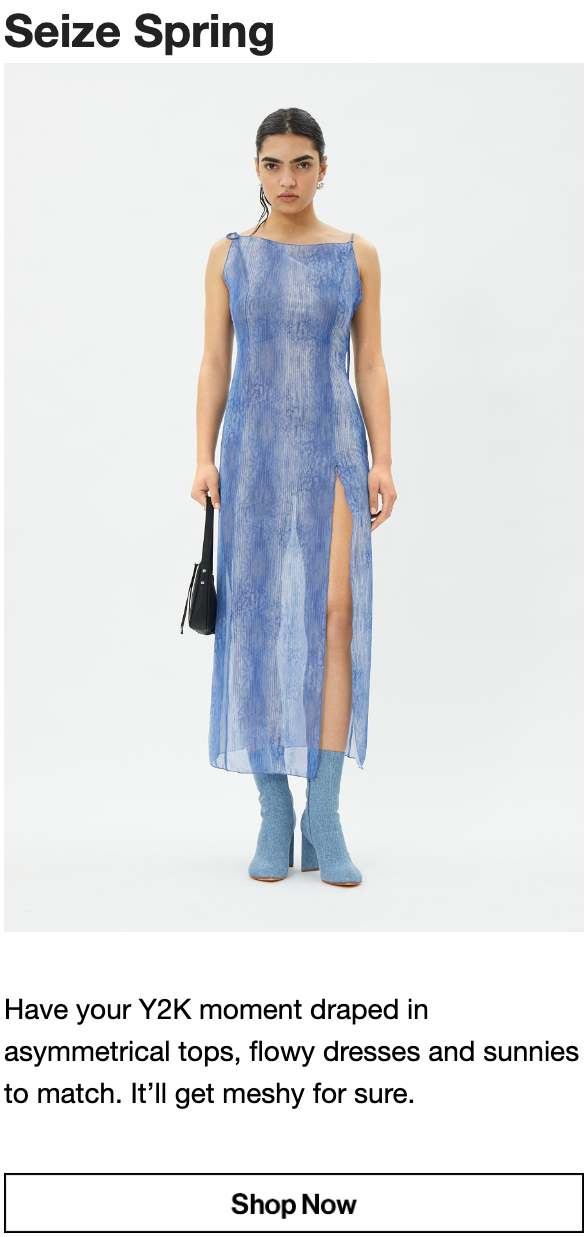 The imagery, email copy, and call to action all work well, but I particularly like the subject line:

The use of actionable language prompts customers to start preparing for spring right now, rather than waiting until the weather heats up.
Create Automated, Revenue-Boosting Email Workflows With Drip
Successful email marketers spend far more time coming up with campaign concepts and analyzing performance data than on creating and sending emails.
Drip helps them do it.
Our pre-built workflows make it super simple for you to start building relationships with customers from the day they join your email list. Just take our high-quality templates and add your own messaging and branding—giving you more time to focus on adding real value.
See for yourself by signing up for your 14-day free trial today.