Ever since the ancient Babylonians started making New Year's resolutions, the dawning of a new year has been a time of change and growth.
Fast forward about 4,000 years and the tradition is alive and well, particularly among younger consumers, with research from YouGov revealing that about two-fifths of American under-30s make resolutions.
The good news for marketers? Many of those resolutions—from living healthier and losing weight to personal improvement and traveling—will likely involve spending money.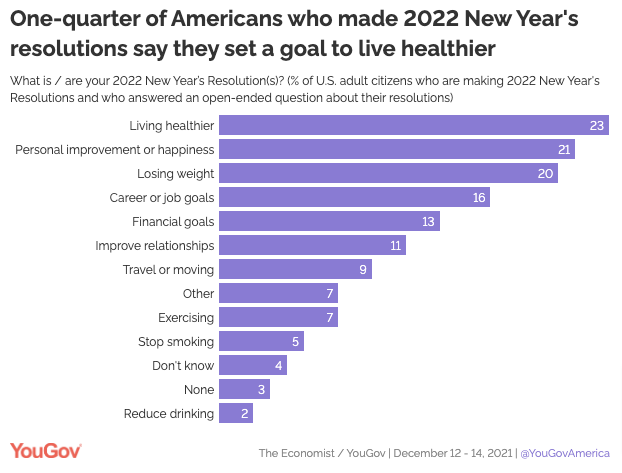 But consumers don't have a bottomless pit of cash. With the average US adult expected to spend approximately $870 on Christmas gifts in 2022, it takes razor-sharp messaging to prise open your customers' purses.
What does that look like? To figure it out, I've dipped into Drip's cavernous email swipefile to track down seven of the best New Year email examples…
Recess: Tap Into the Mindfulness Trend
It's fair to say life has been pretty stressful in recent years.
A March 2022 survey from the American Psychological Association found that 87 percent of US adults feel like there's been a "constant stream of crises" since 2020, while 73 percent say they feel "overwhelmed" by the number of problems facing the world today.
So it's no surprise that a growing number of consumers are taking active steps to feel less stressed. For instance, the number of Americans who practice yoga has increased from 21 million in 2010 to 34.4 million in 2021, while one in five US consumers used a mindfulness or meditation app in Q3 2022.
This trend is reflected in our New Year's resolutions, with two of the most popular resolutions—living healthier and personal improvement or happiness—aligning with our growing love of mindfulness.
All of this is fantastic news for brands like Recess, which makes "drinks and powders to help you feel calm cool collected despite the stressful world around you." In the runup to New Year's Eve 2022, it shared the following email with its customers, urging them to "take some more time for yourself":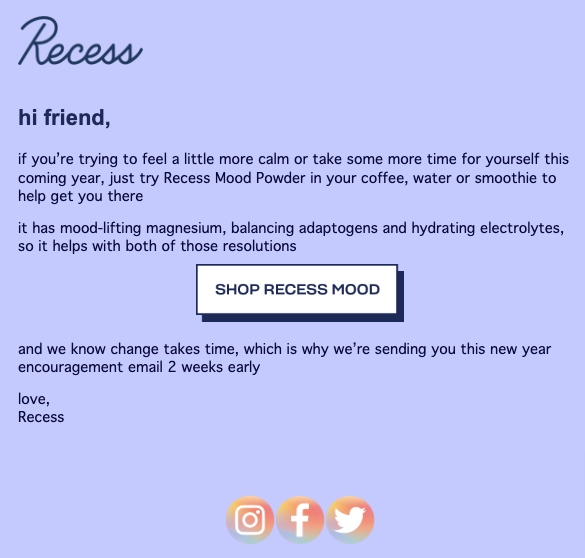 I like this New Year email example because it's not trying to change consumers' minds; it's encouraging them to do something they're already thinking about.
As such, it barely feels like Recess is selling anything in this email. It's merely highlighting a trend and recommending a product that fits.
Goop: Offer Style Recommendations
Whether watching the ball drop in Time Square, attending a fireworks display, or hosting a house party, New Year's Eve is a distinctly social affair.
But while we all love hanging out with our nearest and dearest, it can also be a little stressful—not least when it comes to dressing up. Indeed, half of Americans say choosing an outfit is the most stress-inducing part of going out, while about one-quarter have canceled on dinner plans because they couldn't find anything to wear.
So why not take a leaf from Goop's book by offering your audience some New Year's Eve styling tips?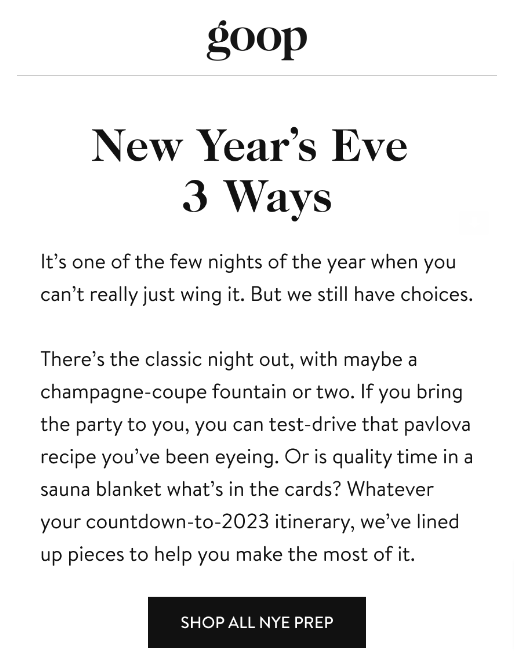 This email works well because it balances sales-oriented messaging with genuinely useful advice.
I also like how it's not just about party outfits. Even if you're not planning a big night out or social get-together for NYE, there's something in this email for you.
AllSaints: Launch a Pre-NYE Sale
I've already noted how the ecommerce holiday season is an expensive time of year. So it's hardly surprising that YouGov's research found roughly one in eight New Year's resolutions relate to financial goals.
This is a potential problem for marketers. If your audience is actively taking steps to save money, how can you compel them to drop a little more cash ahead of New Year's Eve?
You could always follow AllSaints' lead by launching a special NYE-themed sale.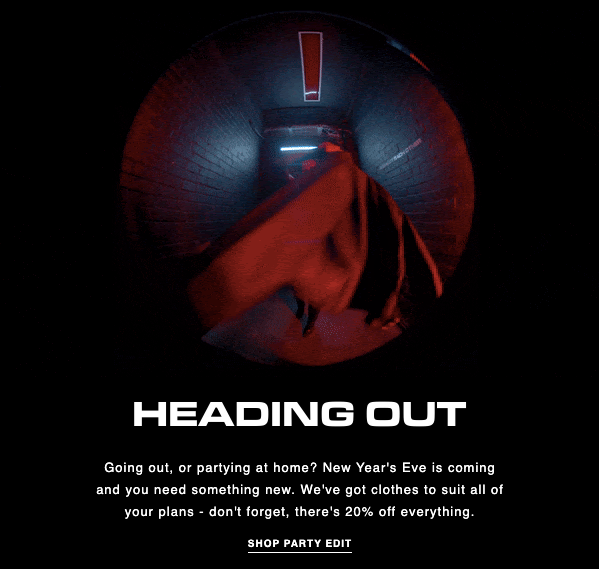 Of course, there's an obvious challenge with this strategy:
You need to launch the sale early enough for customers to order in time for their fancy new outfits to arrive ahead of the big night. In reality, this almost certainly means promoting your discount ahead of Christmas, which risks interfering with your other festive campaigns.
So is a pre-NYE sale really such a smart tactic?
Ultimately, that depends on your brand and audience. AllSaints is targeting a younger audience that's more likely to be actively shopping around for a new outfit to debut on December 31st, so it's worth taking a break from their standard gifting-themed emails.
If your audience skews older or is more family-oriented, a campaign like this might not be such a good fit. And that's fine. After all, marketing isn't meant to be a one-size-fits-all approach.
Bed Bath & Beyond: Promote Speedy Shipping Options
Attending office parties; buying and wrapping presents; traveling across the country to see your family. It's fair to say there's a lot to keep us busy in the days and weeks leading up to Christmas.
All of which means that New Year's Eve can often be something of an afterthought.
Even if we have concrete plans, we might not take any steps to prepare for them. Next thing we know, it's December 29th, and we don't have enough food and drink—or chairs—for all the people who've RSVP-ed to our NYE bash.
It's at times like this that we thank our lucky stars for the existence of curbside pickup.
Clearly, COVID-19 introduced the joys of curbside and instore pickup to a bunch of people who may not otherwise have used it.
But this isn't a fleeting trend. About half of Americans used curbside pickup before and during the pandemic, while 33 percent of under-50s in the US who started using it in the pandemic plan to keep doing so.
In a post-coronavirus world, curbside pickup really comes into its own when speed is of the essence, helping customers make last-minute purchases that otherwise wouldn't arrive until well after those NYE fireworks have fizzled out.
In my next New Year email example, Bed Bath & Beyond demonstrates how to effectively promote a service like curbside pickup. As you can see, it all starts with a strong email subject line:

The retailer leans into the convenience of curbside pickup, emphasizing the speed with which orders can place and collect their orders.
This messaging is backed up within the email body through a simple banner that encourages shoppers to buy everything they need to celebrate the New Year:

Of course, curbside pickup isn't an option for everyone. If you're an online-only retailer or direct-to-consumer brand, there are a couple other solutions you can leverage:
Encourage customers to pay for expedited shipping
Invest in a

micro-fulfilment model, opening smaller warehouses close to large population centers
Target customers earlier, thereby helping them beat the last-minute rush
Sweaty Betty: Promote Healthy Living
No doubt inspired by the excesses of the holiday season, many of us prioritize healthy living in our resolutions. In fact, YouGov's research named it as our most popular resolution, with one in four Americans promising (to themselves) to lead healthier lives in the new year.
This feels like a home run for any brand in the health and fitness niche. Just like with the mindfulness trend, it's simply a case of showcasing products that consumers are already planning to buy.
Of course, nothing is ever that easy in the world of marketing. There are thousands of health and fitness-related brands, all battling it out for a slice of the pie.
For that reason, yoga brand Sweaty Betty decided to sweeten the deal by promoting an up to 50 percent off sale alongside its New Year messaging: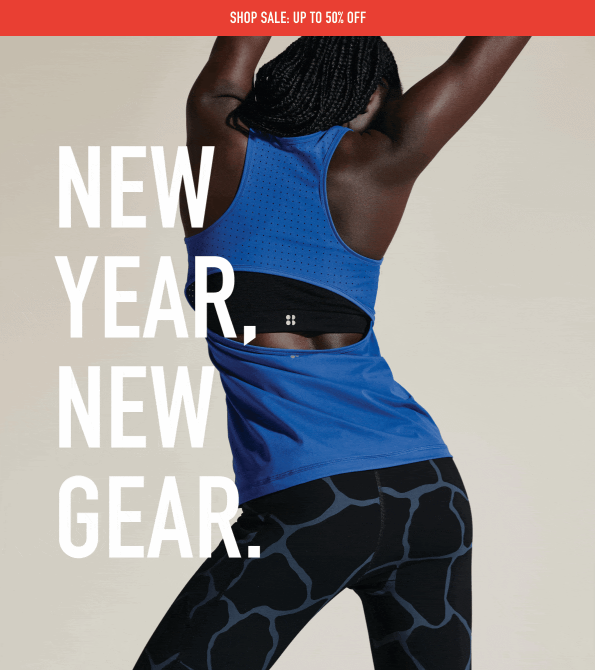 Not only is this New Year email example showcasing a popular product, but it's also offering a substantial discount. That's a tough combo for consumers to ignore.
Mugsy: Wish Your Audience a Happy New Year (& Promote Your USPs)
We all know email marketing is a fantastic revenue driver. Its return on investment is unmatched, delivering $36 of revenue for every $1 spent.
But that doesn't mean every single email you send represents an opportunity to boost your bottom line.
Take New Year's Eve emails. For the vast majority of people, checking their email inboxes simply isn't a priority as midnight approaches—they've got better things to be doing.
So it's no surprise that research from DMD found the average email open rate on December 31st is just 5.7 percent. And it drops even lower—to a paltry 3.5 percent—on New Year's Day.
To put that in perspective, DMD reported the average email open rate for 2021 as a whole stood at 13.59 percent—about 2.5 times higher than the figure for New Year's Eve.
So if you're planning to wish your audience "Happy New Year" on December 31st, most people on your marketing list won't read the message until days later (if at all).
Does this mean it's simply not worth reaching out to your audience on New Year's Eve?
Not necessarily.
Thing is, these sorts of messages are an easy way to demonstrate that you care about your customers.
And while they're not a great opportunity for driving direct sales, they can definitely be an effective way to demonstrate why people should consider buying from you in future.
In my next example, menswear brand Mugsy uses its "Happy New Year" message to share some of its top USPs: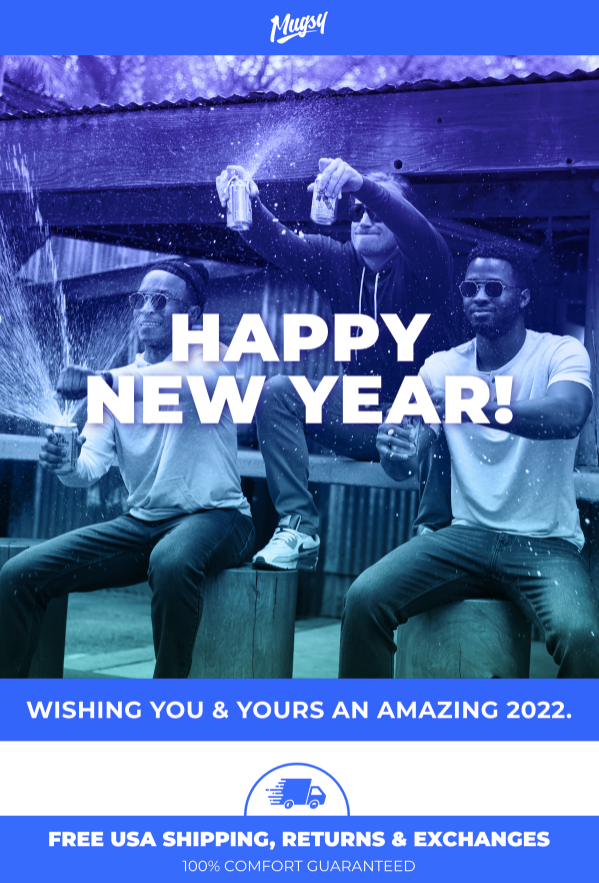 With 56 percent of all abandoned carts caused by shipping-related concerns during the checkout process, there's really no bad time to promote your shipping policy.
That's the sort of messaging that could persuade recipients to buy next time you reach out with a compelling offer.
Brooklinen: Showcase Product Bundles
January can be a challenging time for ecommerce marketers.
On one hand, you know your audience is looking to tighten the purse strings. But on the other, you've got revenue targets to hit.
For that reason, many brands choose to welcome the New Year with some sort of sale—either on specific product categories or across their entire websites.
But sales aren't a silver-bullet solution. Launch them too often and you risk damaging your brand, with 38 percent of consumers agreeing that constant discounts make retailers look "cheap and unfashionable". Ouch.
Sales can also eat into your margins, so it's easy to understand why many brands look for alternative tactics to drive revenue in the New Year.
Product bundling is one solution. Promoting a product bundle can be a highly effective tactic, boosting your average order value and making your prices look more attractive without forcing you to launch a "regular" sale.
In this New Year email example, Brooklinen promotes a mixed bundle—that is, a bundle made up of products that can also be purchased separately: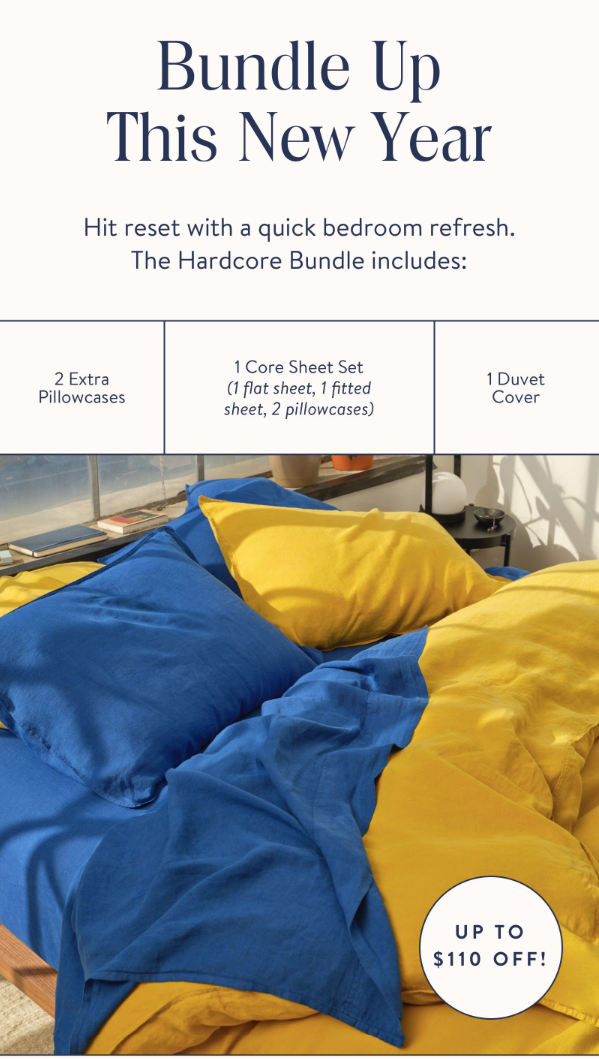 If this approach doesn't work for you, there are several other bundling strategies to try, such as pure bundling—whereby the bundled products can't be bought separately—and cross-sell bundling, which often involves a high-ticket item being bundled with a lower-priced, complementary product.
Like the sound of product bundling? Check out my roundup of nine product bundling examples that'll boost your revenue.
Drive Revenue With Personalized Email Marketing From Drip
Do you find that you're spending a ton of time simply "doing emails", and not enough time crafting persuasive, personalized emails that drive clicks, sales, and revenue?
Drip can help.
Our pre-built templates make it super simple to create eye-catching, on-brand emails, while our templated playbooks can automate even the most advanced email sequences, from welcome series to abandoned cart emails.
Find out for yourself by signing up for your 14-day free trial today.