Limited stock available. While supplies last. Last chance. You likely know and use these words in your marketing to create a sense of scarcity.
When something is about to go away, it becomes more attractive. And to avoid missing out on an otherwise lost opportunity, we take action, often with little afterthought.
While scarcity and urgency are widely used in email marketing, they're still underused in website popups. The best way to leverage them on-site is to use countdown timers in your popups.
After analyzing 1+ billion popups, we found out that popups with a countdown timer convert better than those without a countdown timer by 112.93 percent.
If you want to learn how to increase your popup conversions by 112.93 percent, too, this post is for you.
First, I'll share a step-by-step guide to create a countdown popup, and then, introduce six of the best countdown popup use cases that go beyond Black Friday popups.
How to Use Countdown Timer Popups
How to Create a Countdown Popup (Step-by-Step)
Before we begin…
If you already know how to do this, you can skip this step and jump directly to countdown timer best practices.
And if you're not using a marketing automation platform that allows you to create onsite countdown campaigns with a few clicks, you can start a free Drip trial here and play along.
Let's jump right in. 👇
Select a template with our popup, form, or bar onsite campaigns: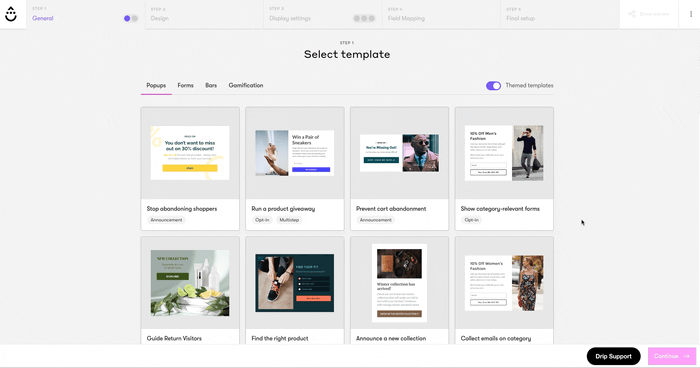 Today, I'll create an "Autumn Sale" popup.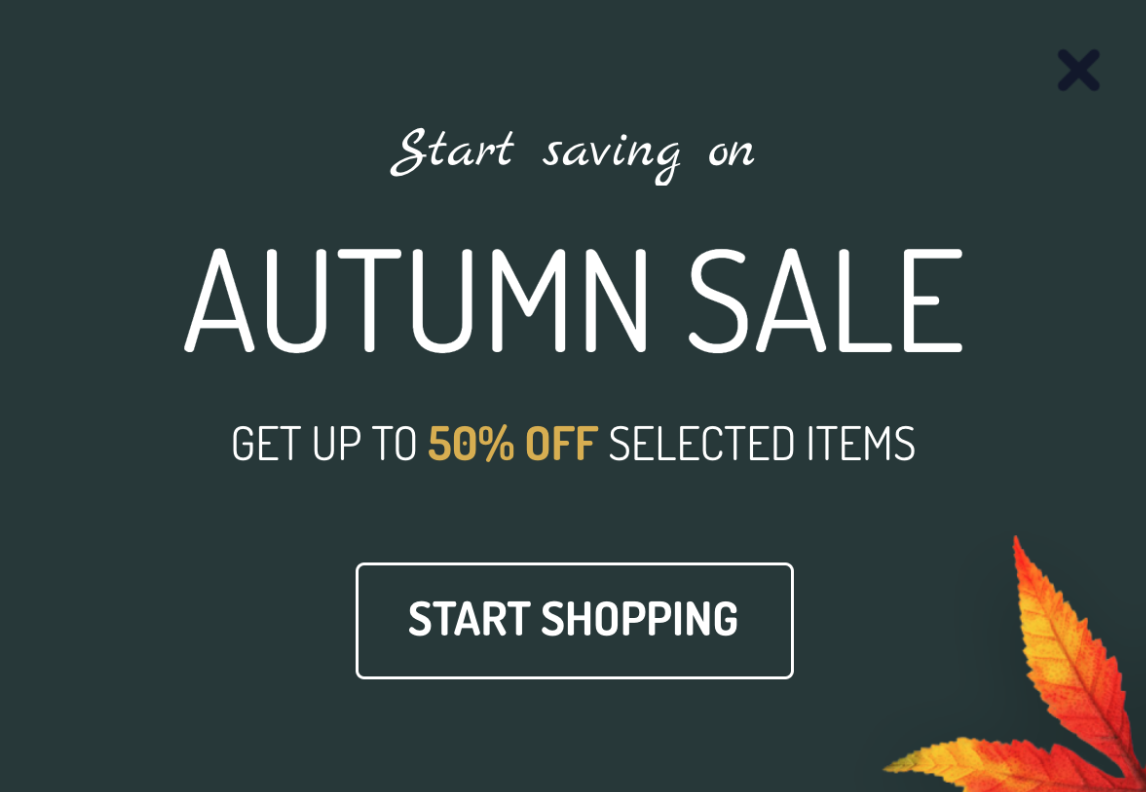 Customize your popup as much or as little as you need. For example, I change the background color to make it match "my" website: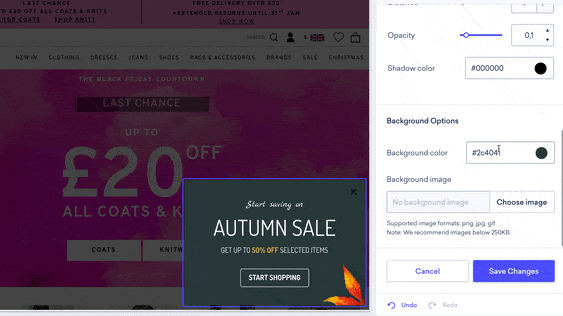 Then, I upload my brand's font and use it in the popup: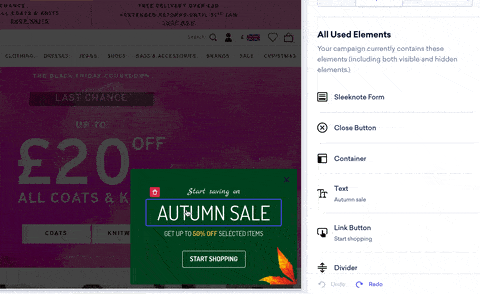 Once you're happy with your changes, drag and drop the countdown timer onto your popup and adjust the styling to fit the rest of your design: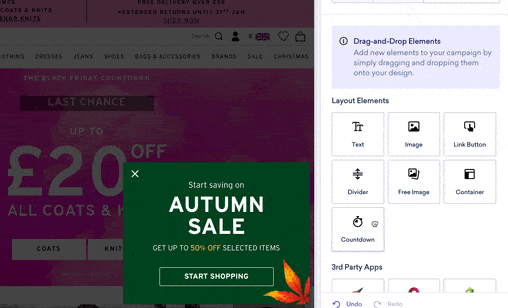 (Hint: Countdown timers work on mobile popups, sticky bars, and teasers, too.)
Next, set an end date for your timer and select its language. (We'll change the date format based on that.)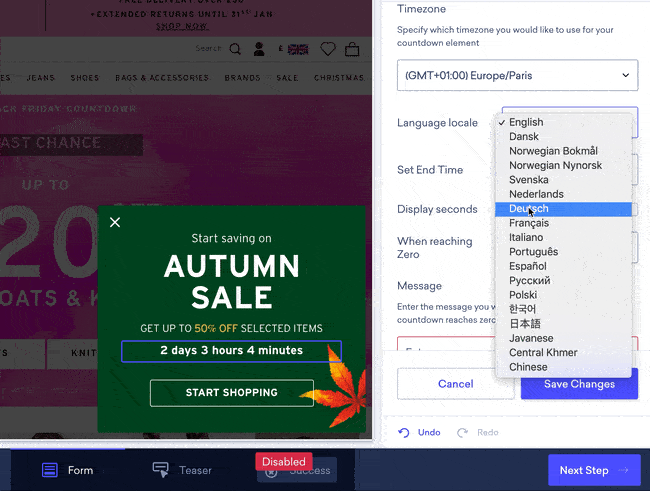 Finally, decide what happens when the time runs out. You can show a message that replaces the timer or you can disable the popup completely.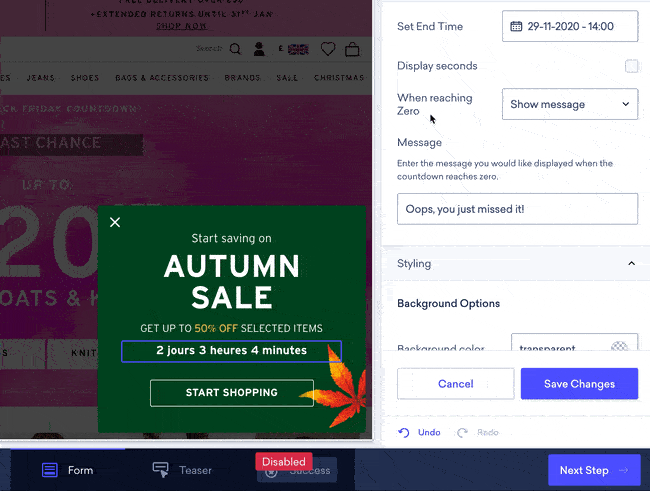 Once you set up triggers and targeting options, you're ready to set your popup live on your site. 🚀
Now that you know how to create a countdown popup in minutes, let's talk about how you can use them the right way.
How to Use Countdown Popups
Contrary to popular belief, there's more to countdown timers than a simple urgency message.
When used right, countdown popups can help grow your email list, keep your subscribers engaged, sell more products, reduce cart abandonment, and more. All without sounding too salesy.
Here are six of the most effective ways to use countdown timers in your popups and why they work so well.
1. Drive More Email Signups
If you're already using email popups on your site, you may be asking visitors to join your email list or take part in a competition. But without a deadline to do so, they'll be less motivated to submit their information.
If you're running time-bound giveaways among new subscribers or offering your new signups early access to an event, make it stand out in your popups with a countdown timer, like in this example: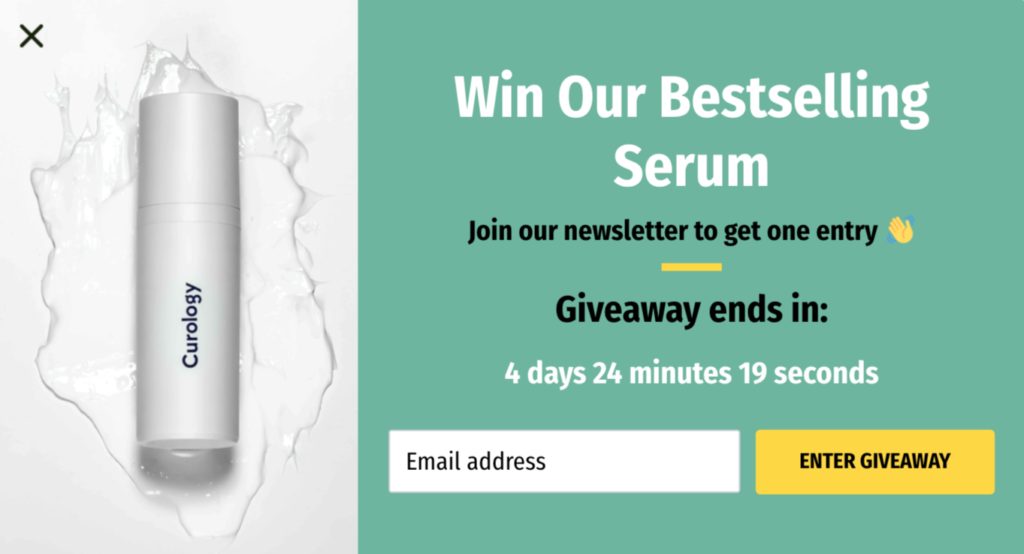 While it's a common practice to offer discounts in exchange for email signups, many companies can't afford discounts for each and every subscriber.
A better way to offer discounts, without hurting profit margins or decreasing your perceived value, is to do it for a limited time only. Wedio, a camera rental company, knows this well: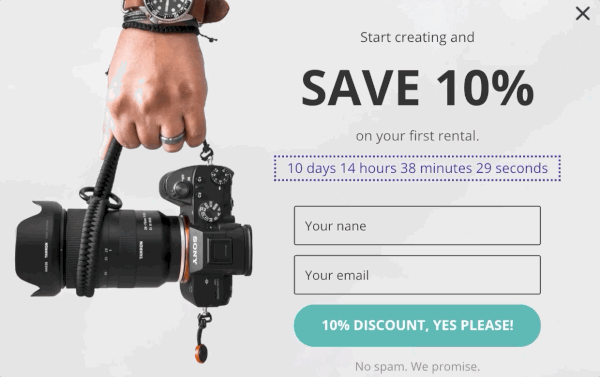 Instead of having a discount popup without an end date, the company uses this incentive sparingly and drives urgency with an attention-grabbing countdown timer in its email popup.
2. Build Excitement for Product Launches
Anticipation creates excitement.
Think about the Apple fans sleeping in tents for the newest iPhone model, or how Sony teases PlayStation 5 long before its launch date.
Whether you're about to launch a new product line, stock hyped products your customers are waiting for, or simply introduce new season items, you can build excitement for your launch with promotional popups.
Check out this example: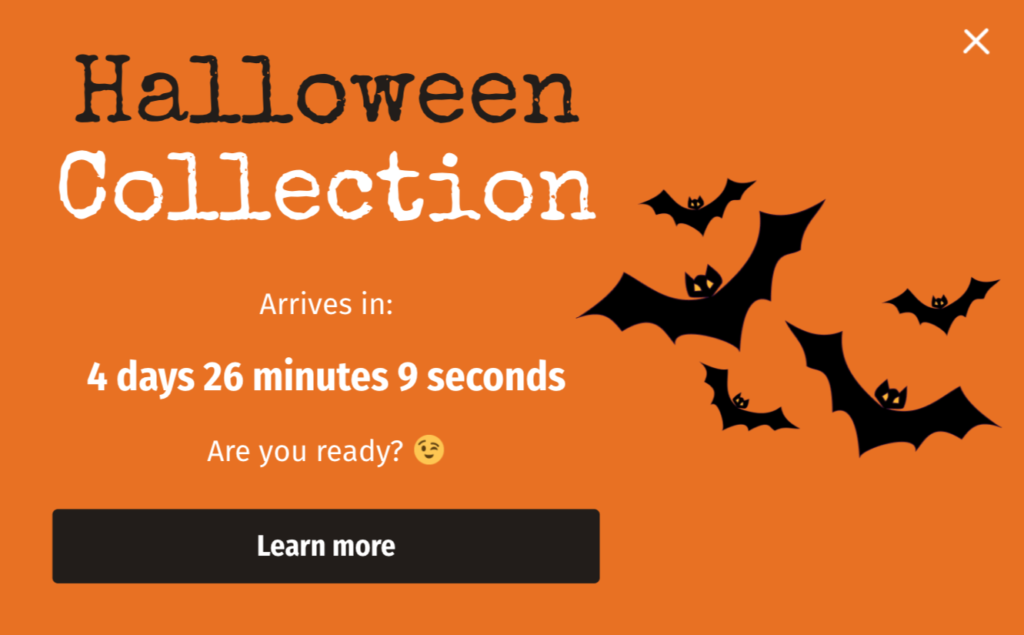 With a countdown popup like this, you can set expectations for anticipated products and collections.
You can also create a demand for new arrivals by creating mystery or offering a sneak peek. To enhance the feeling of anticipation in your popups, you can count down to the big day.
It's a great incentive for visitors to join your email list and for you to get new subscribers who are interested in a product when it launches.
3. Tease Your Sales Campaigns
Speaking of counting down to important events, it's no secret that the promise of an upcoming big sale is a powerful incentive to take action.
Countdown popups of this type work especially well with long-awaited deals, such as clearance sales or Black Friday offers. You could, for example, create two popups for two visitor groups before your sales begin, and convert each group towards different goals.
You can show subscribers a popup, counting down to the big sale, and ask them to prepare their cart, like this: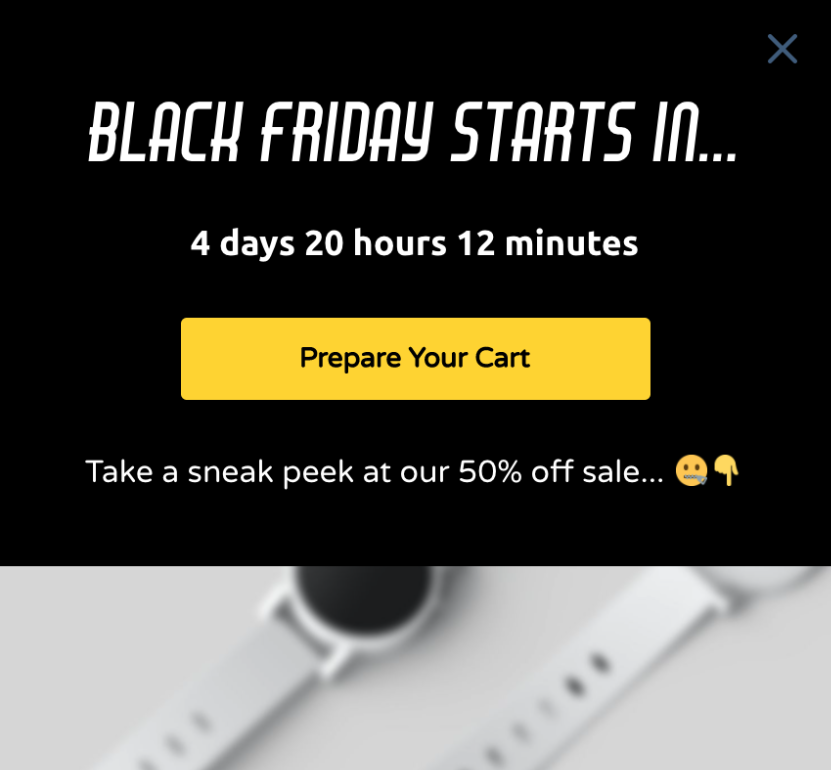 For visitors who aren't already on your list, you can create another popup where you invite them to get early access to the sale: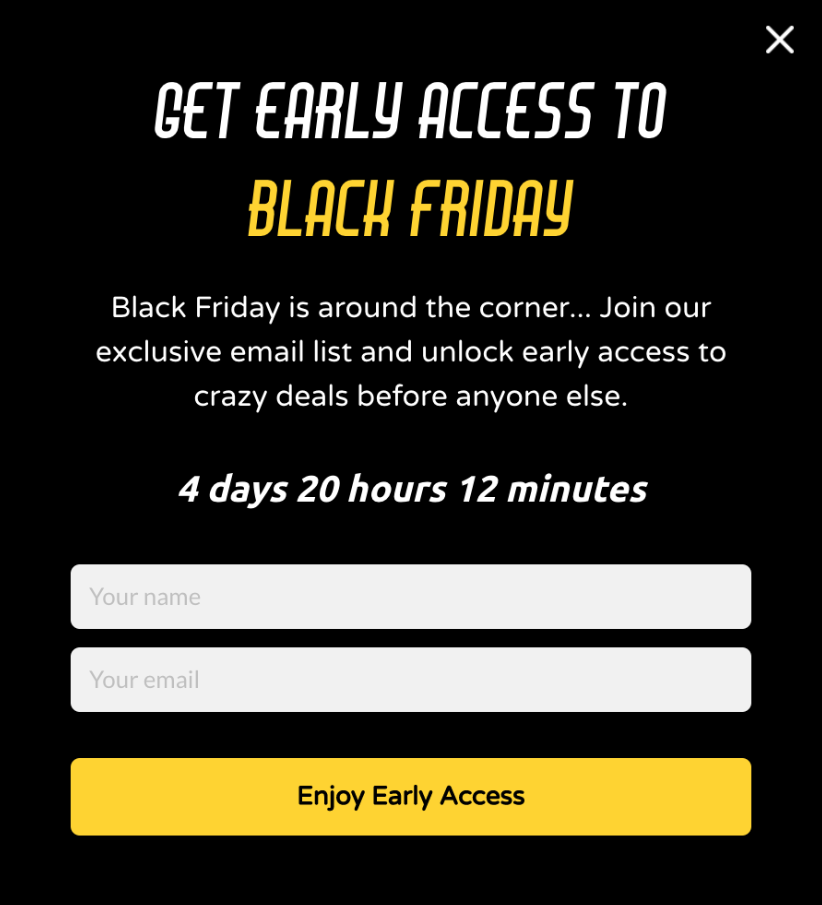 Whether you want to get more people into your email list before your sales campaigns begin or sell more to your existing subscribers when they return to your site, pre-sale popups like the above can help you with both.
Remember to schedule your popups in good time before the sale, so you can get the maximum return from them.
4. Promote Limited-Time Offers
It's not only big sales you can promote with a countdown timer.
Hourly deals, one-day-only sales, long weekend offers… If you have an offer valid for a limited period, countdown popups can help you promote them the right way by driving urgency.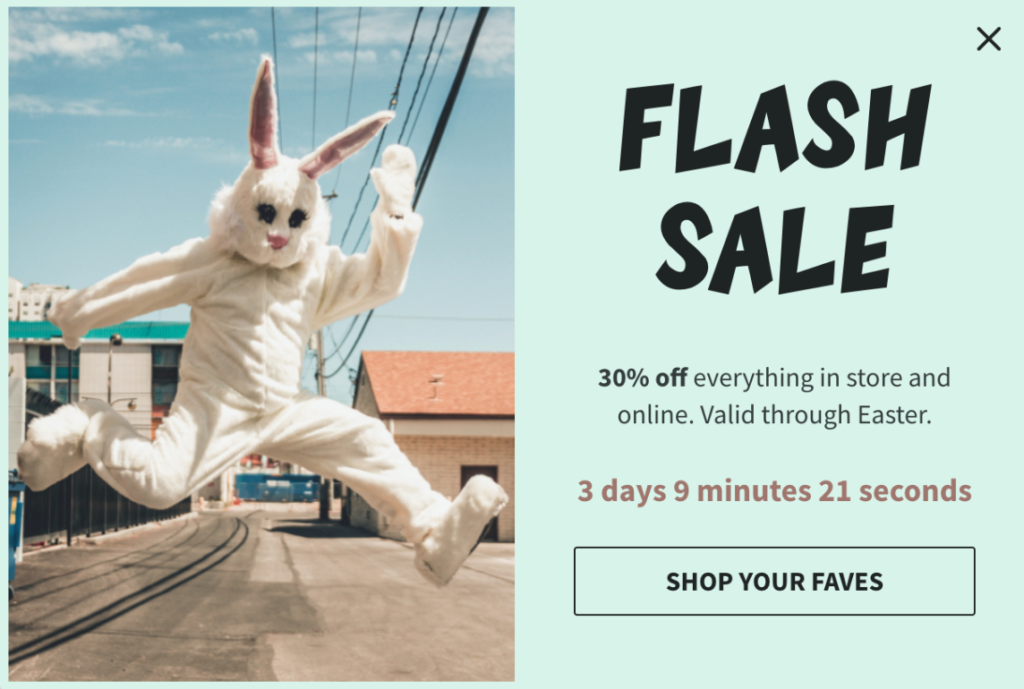 The key is being subtle, yet grabbing attention at the same time. You want visitors to notice the urgency, but you don't want to intrude on their shopping experience with an annoying, old-school popup.
5. Reduce Cart Abandonment
If you're like most e-commerce marketers, you're likely going above and beyond to reduce cart abandonment on and off your site.
While doing that, you might be offering (or at least considering) discounts to stop abandoning shoppers. Although discounts are effective in persuading potential customers, incentivizing every abandoning visitor is costly.
My suggestion is to offer discounts or similar benefits in your popups to prevent cart abandonment—but only for a limited time.
Check out this example: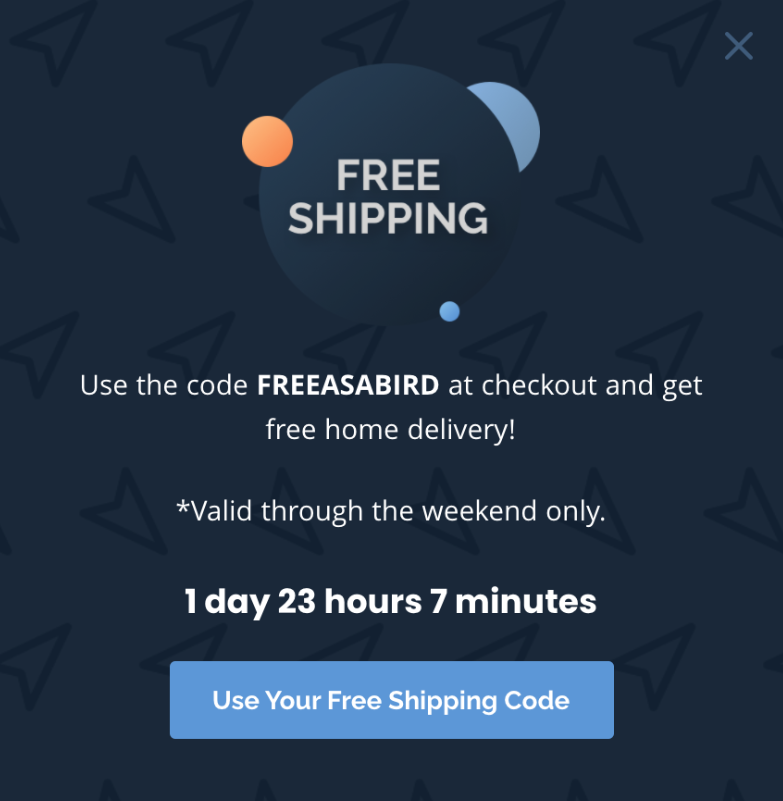 Combine this popup with an exit-intent trigger and you'll stop abandoning visitors at the right time by highlighting the urgency of your offer.
It's an effective way to reclaim otherwise lost sales, without encouraging abandoning shoppers or hurting profits all the time.
6. Count Down to Special Days
It's not only sales campaigns and limited-time deals you can count down to in your popups. Any day that's an excuse to shop is a day to look forward to.
Whether there's a special occasion in your niche, such as the National Puppy Day or Earth Day, or a holiday ahead, promote it with a countdown timer in your popups, even if you don't run a sale.
My personal favorite tactic in fall is to count down to the holidays in December and invite visitors to shop for gifts.
With a popup targeting gift shoppers and a countdown timer reminding that there's little time until Christmas, you can drive urgency and nudge visitors to buy gifts from your store, like this: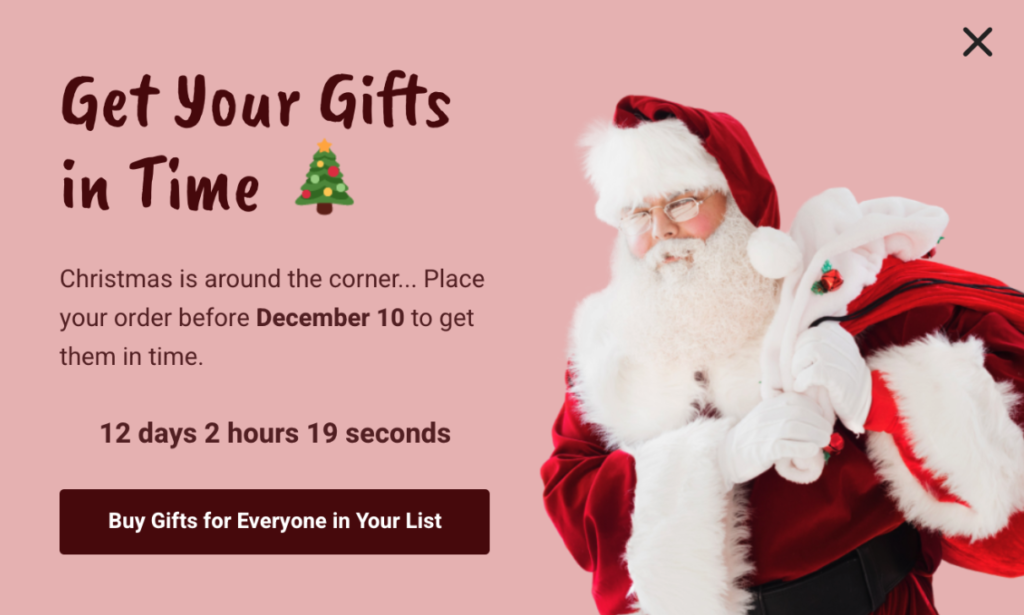 The countdown timer drives urgency and sets expectations for delivery before Christmas. When the time runs out, you can replace this popup with another—this time, targeting last-minute shoppers.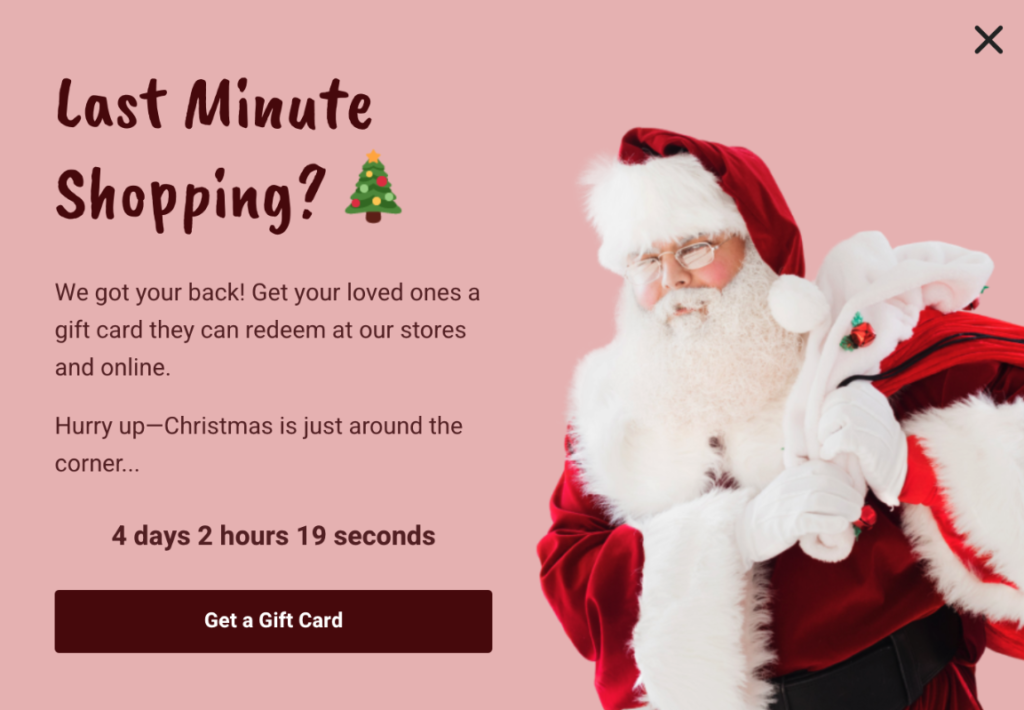 Easy, effective, and best of all, possible to set up in advance.
Conclusion
I've said it before and I'll say it again: Popups are the most versatile tools in your marketing arsenal.
When combined with the right persuasion triggers, such as scarcity and urgency, popups can help you achieve different conversion goals.
Now that you know how to create one popup for each of your goals and how to add a countdown timer to your popups with a few clicks of a mouse, it's your turn.