Whether you're a newbie or a seasoned marketer, there's always something you can learn from top e-commerce brands.
That's why we are huge fans of e-commerce case studies here at Drip.
Every time we write one of our e-commerce growth guides, it fascinates us how simple tweaks in design and copy can make a huge difference for those brands (and for yours, too.)
From getting top-of-funnel (ToFu) leads to bolstering customer loyalty, we've gathered seven of our favorite marketing strategies from our e-commerce growth guide series.
The best part is, you can apply these ideas to your online store, even if you don't have a marketing team or a big advertising budget.
Let's get started.
7 E-Commerce Case Studies You Need to See
1. Increase Conversions with Compelling Copy
Good e-commerce brands don't rely on attention-grabbing visuals or big advertising budgets—they go above and beyond to write compelling copy that convinces users at every stage of their sales funnel.
Only with well-crafted and persuasive copy, can they position themselves as the best option in the market.
To follow the path of leading brands, start with your value proposition and answer the problems you're solving with your products.
Then, repurpose your value proposition across different channels, such as your site, social media content, email marketing, and paid ads.
While there's no one-size-fits-all recipe for crafting a good value proposition, there's one proven copywriting formula you can try: Problem, Agitation, Solution (PAS).
It's as simple as it sounds:
You define a problem;
Agitate the reader's emotions;
Offer a solution.
Take this example by Bellroy and how they use PAS in their value proposition:

Bellroy, first, introduces a common problem among their target audience: getting weighed down by baggage, bulk, stuff.
Then, they touch upon the results caused by this problem and agitate the reader's responses: It can slow you down and narrow your view.
Finally, they relieve you by saying that it doesn't need to be that way.
Because Bellroy's products are the solution to your problems.
The PAS formula is easy to replicate for your brand, once you find the answers to the following questions:
What are your buyer persona's typical problems?
How do these problems affect their lives?
How do you solve them with your products?
With a similar approach, you can promise to free your prospects from pain.
See how Bellroy positions their products as a solution that'll save you from lots of trouble in their ads:

When you click the ad, this is what you see: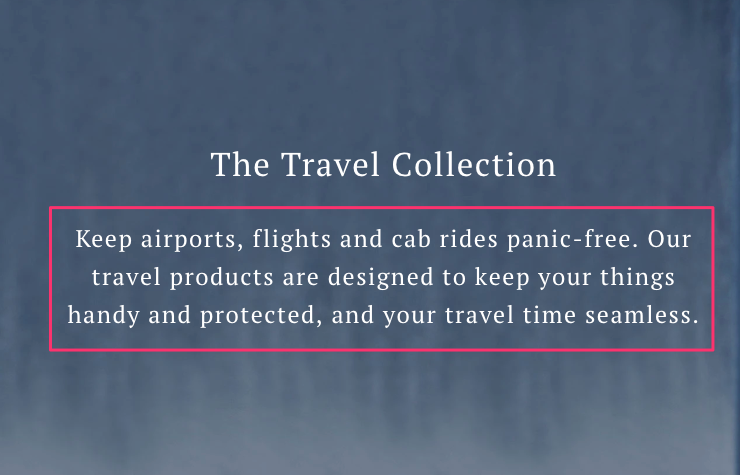 Bellroy makes it easy for you to relate to the problems they solve. And they promise to free you from problems, pain, and panic.
Use the PAS formula to address prospects' fears and pain points, and offer your products as the best solution for them.
2. Build Powerful Backlinks to Your Online Store
Even though most online stores rely on Google search for their organic traffic today, few e-commerce marketers know and appreciate the importance of e-commerce SEO.
And even fewer spend enough time and effort on link building.
Getting high authority sites to link to your online store will make your domain more powerful. And a powerful domain will help you outrank your competitors in search engine result pages (SERPs).
I'll be honest—link building takes time and effort, but the results are worth it.
No matter if you're selling men's apparel, design furniture, children's books, or personalized gifts—chances are, your e-commerce site specializes in something.
And there's a greater chance that many publishers are already writing articles about the best products in your industry.
Here comes into play, what Sam calls, "The Best-Of Backlink Builder" strategy.
Simply put, you reach out to authority domains in your industry and ask to get featured in their "best-of" content.
MeUndies is a great example of this. You can see them on BuzzFeed under "21 Inexpensive Gifts For The Cool Guy In Your Life" …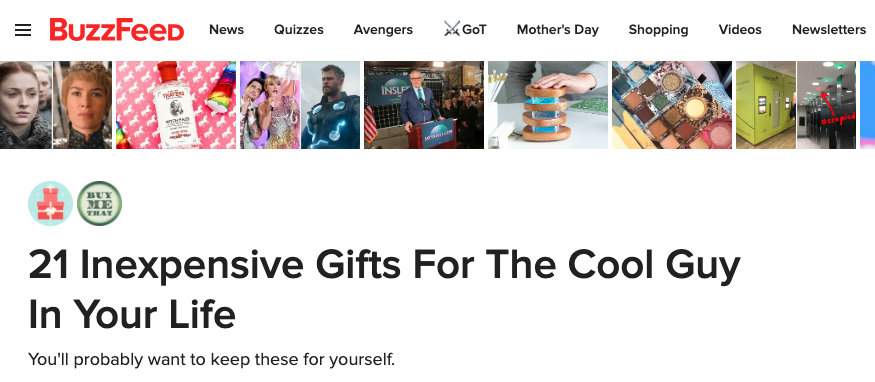 … as well as on smaller sites, like The Pearl Source: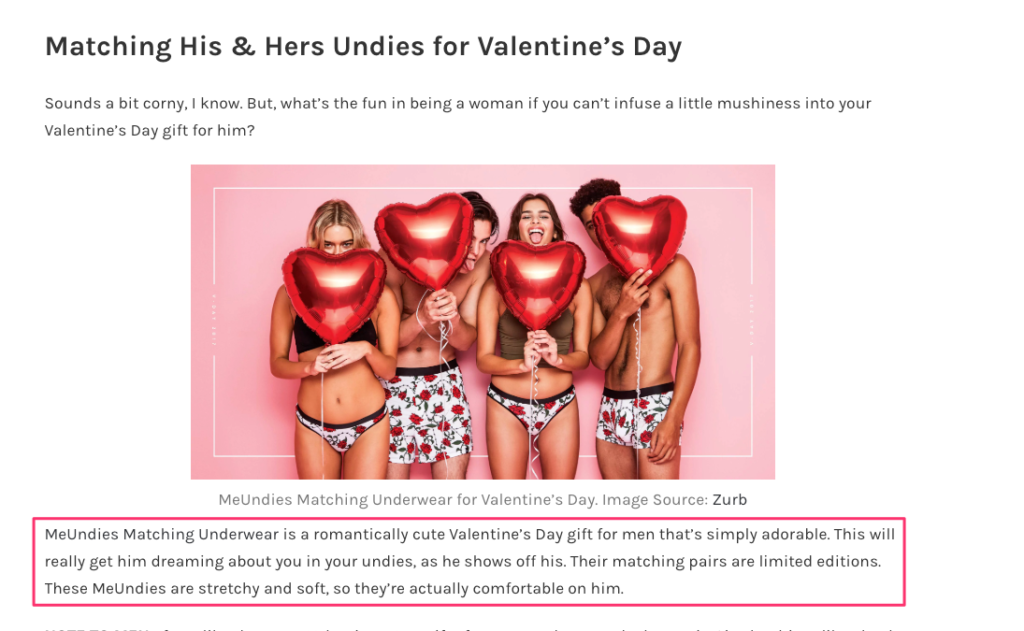 Getting backlinks from these "best-of" articles helps MeUndies rank for several competitive keywords, such as "boxer briefs":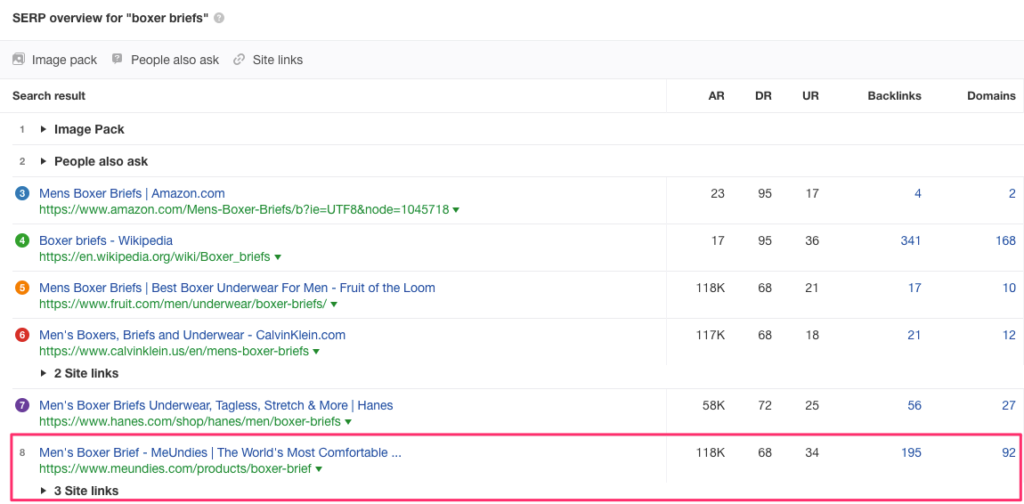 (Note the number of backlinks they have.)
MeUndies also sponsors several podcasts, both to get high-quality links and to expand their reach to new audiences.
That's why they create dedicated landing pages for each podcast they sponsor and offer their listeners a special discount: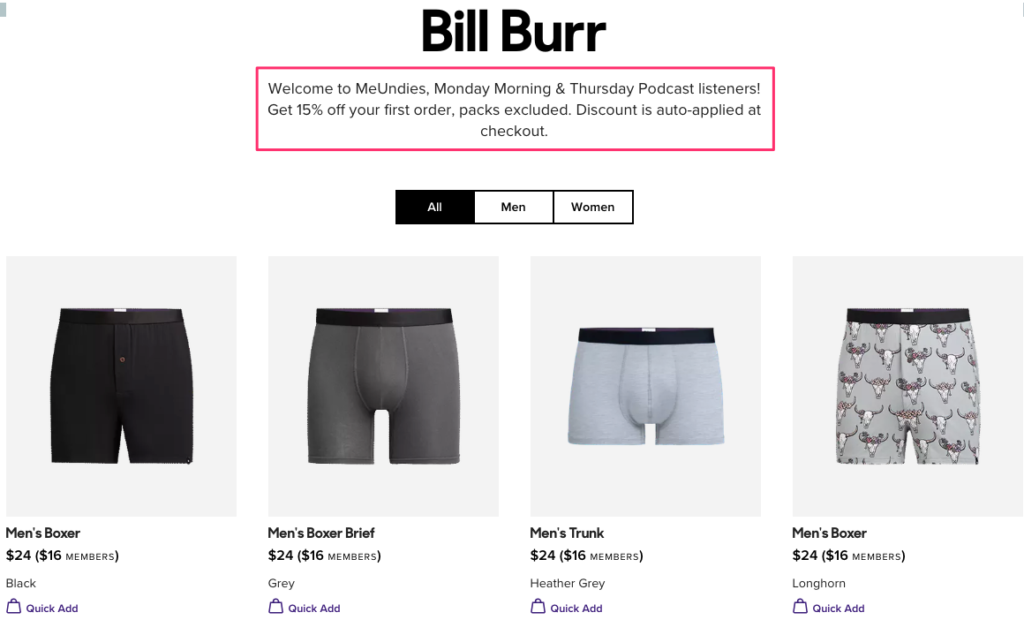 I don't suggest reaching out to the biggest names in your industry and spend all your budget on sponsorships. However, this strategy is worth testing with small, niche-specific podcasts. You can also build strong links and expand your reach by sponsoring local events or awards.
3. Create Content for Each Stage of Your Funnel
Whether you're a novice in your field or a seasoned marketer, it's likely you know about the effectiveness of content.
E-commerce content marketing can help you acquire new leads and convert them into customers.
But no piece of content will work the same for different people.
Users at different stages of your sales funnel have different questions, concerns, and needs. That's why you need to align your content marketing with the buyer's journey.
This doesn't mean that you need to write 5,000-word blog posts for different segments each week. It simply means that you need to find the questions in your prospects' minds and answer them with your content.
Take Beardbrand as an example.
The company's ToFu prospects most likely have questions about how to grow a beard. And when they Google that term, they'll see Beardbrand after featured snippets: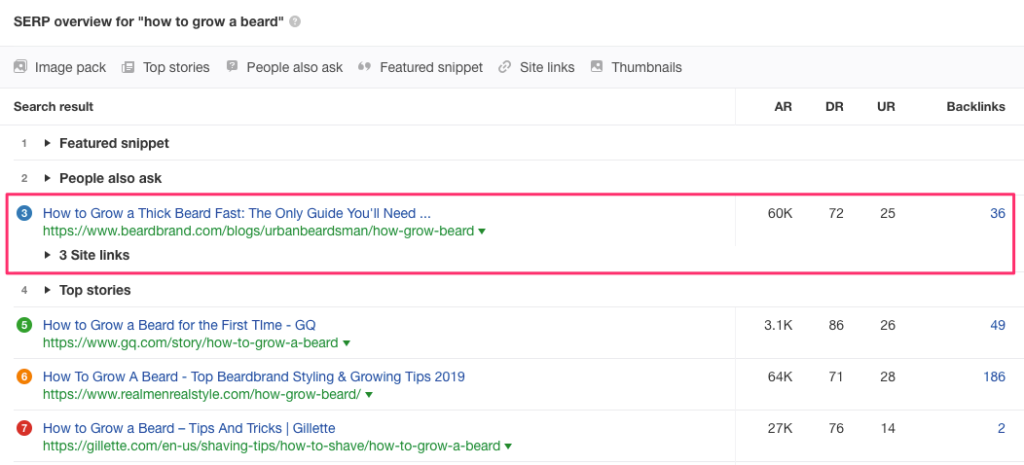 Why does Beardbrand rank so well for that term? Well, beyond having a strong backlink profile, they have a highly-detailed guide about how to grow a beard: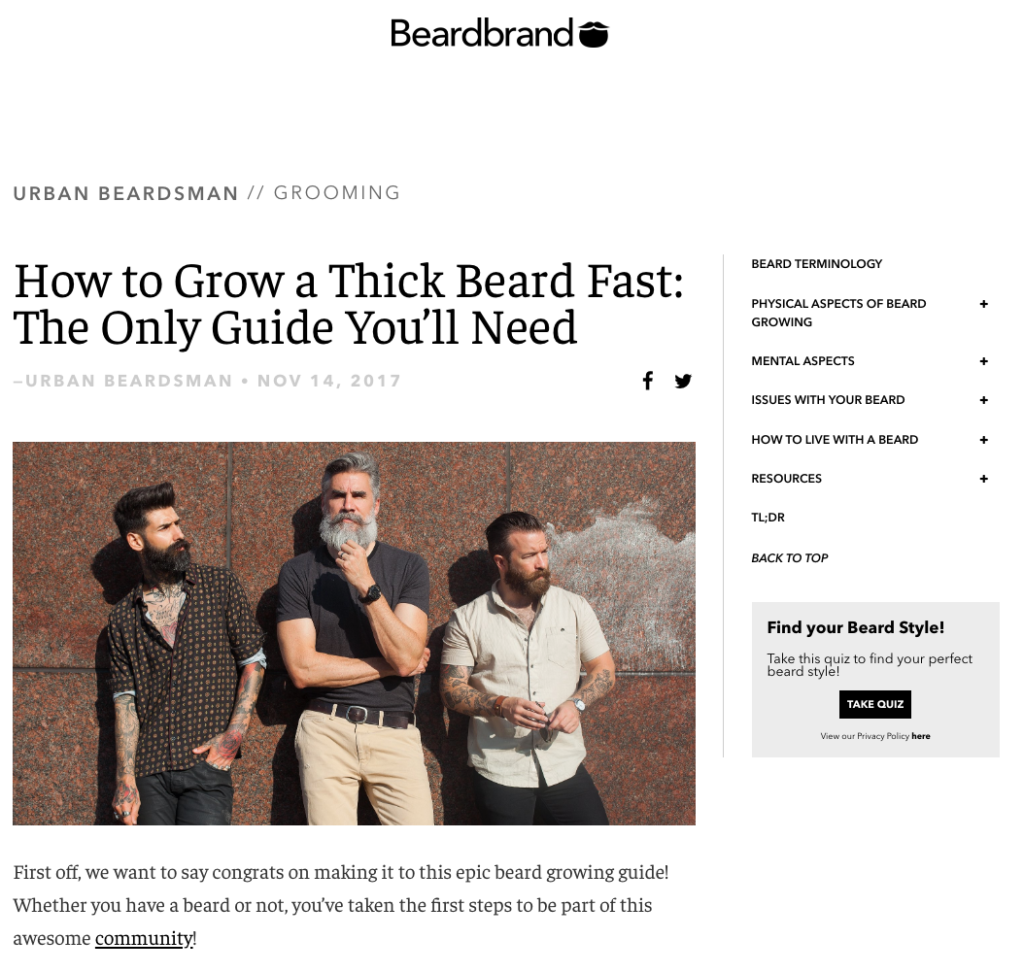 Once you learn that you need to take better care of your beard, you slowly become interested in Beardbrand products.
This means you then become a middle-of-funnel (MoFu) prospect for the company.
At this stage, Beardbrand has content to educate you while subtly promoting their products. So if you're wondering what the difference is between beard oil and beard balm, you'll most likely end up on another one of their blog posts: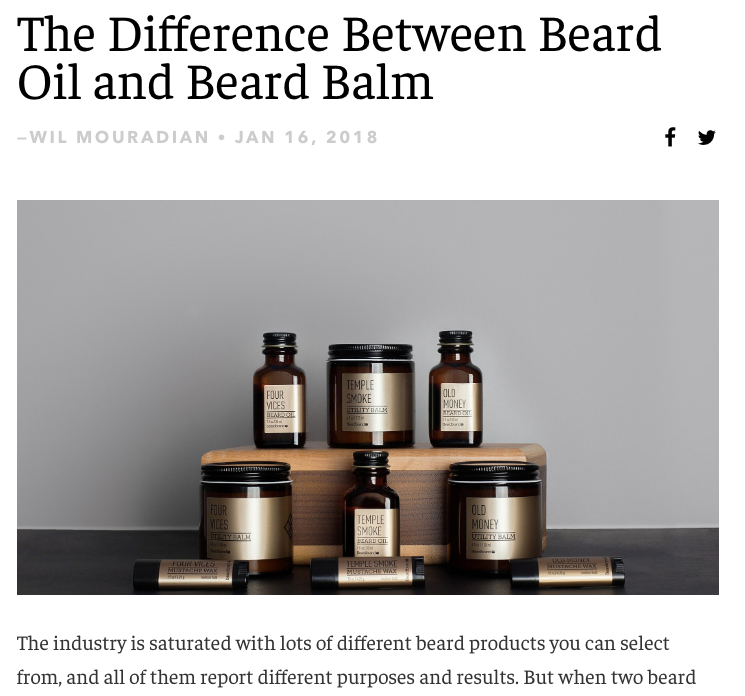 And in that blog post, you'll see call-to-action (CTA) buttons to buy their products: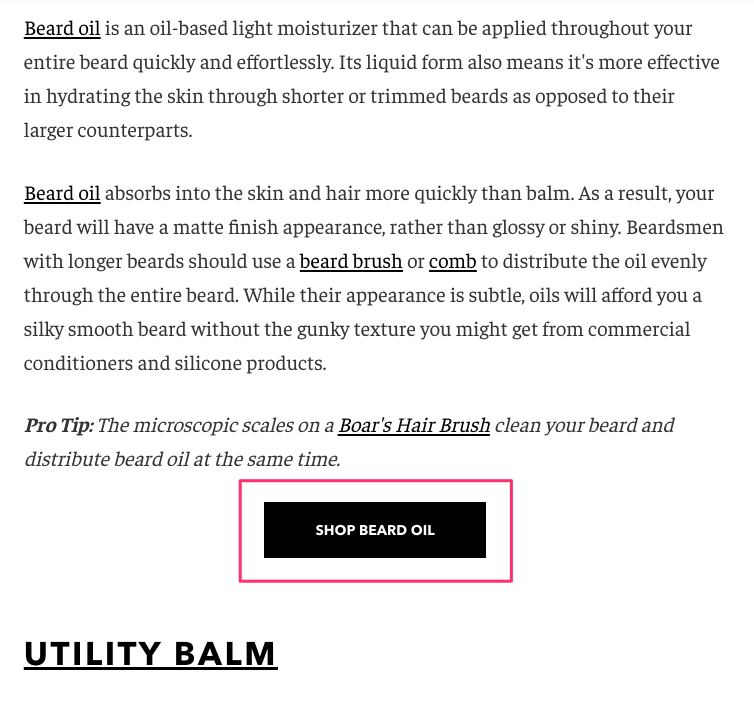 If blogging isn't a part of your marketing strategy, try creating "how-to" videos to educate your target audience and subtly promote your products, just like Beardbrand does:

Visit Reddit or Quora to understand what your prospects are discussing, then create content to answer their questions. Implement product marketing into your content strategy, without being salesy.
4. Recover Abandoned Carts with a Twist
Cart abandonment is every e-commerce marketer's nightmare.
According to Baymard, the average cart abandonment rate for e-commerce is close to 70%. This means that most of your visitors will leave your site without buying the items in their basket.
While cart abandonment is inevitable, luckily there's something you can do to minimize it.
With an optimized checkout and well-written abandoned cart emails, you can go beyond recovering the abandoned carts—and even sell more.
In the end, you'll not only recover potential lost revenue but also increase the average order value (AOV).
Harry's has a genius strategy to reclaim abandoned carts (with a twist.)
When you leave Harry's' site without starting your subscription, you receive an email that reminds you to complete the process.
At first, it looks like any other abandoned cart email: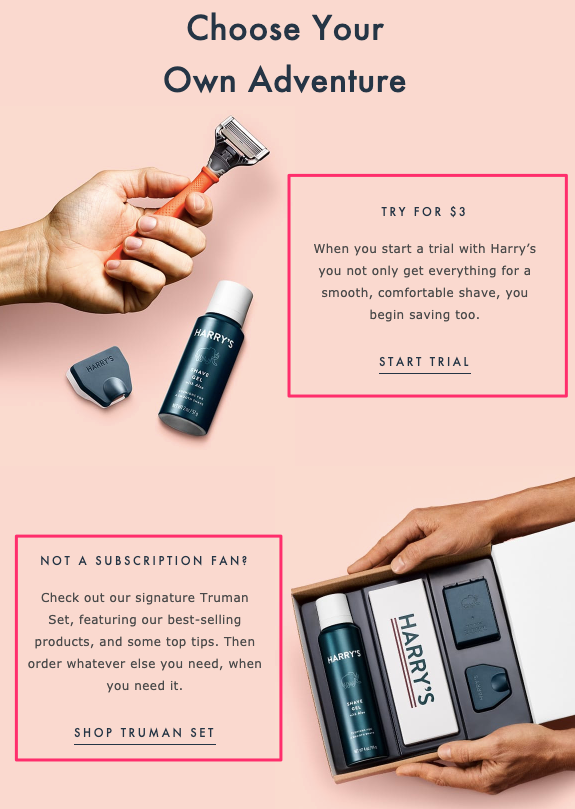 In the first part of the email, Harry's reminds you about the benefit of buying a subscription plan.
But in the second part, things get interesting.
Harry's offers you a downsell, in case you're not ready to commit to a subscription.
But they don't stop there.
When you follow the link and add the Truman Set to your cart, this time they upsell with a popup suggesting a mystery item.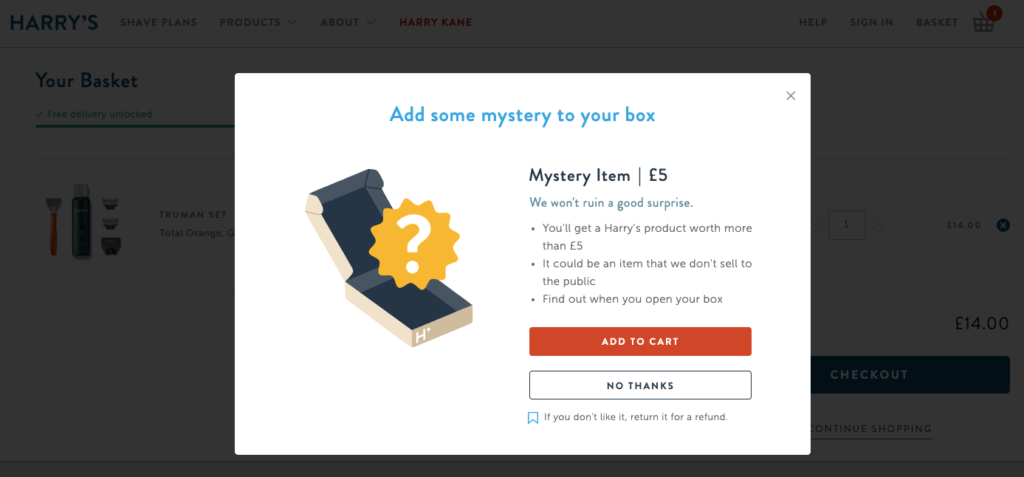 This way, they take you back to a higher price point, even if you're not ready for committing to a subscription plan.
Editor's Note
If you want to upsell a customer with an exclusive mystery item (or any item for that matter), you can create an onsite campaign with our SiteData condition and display the popup to visitors who exceed a certain basket value.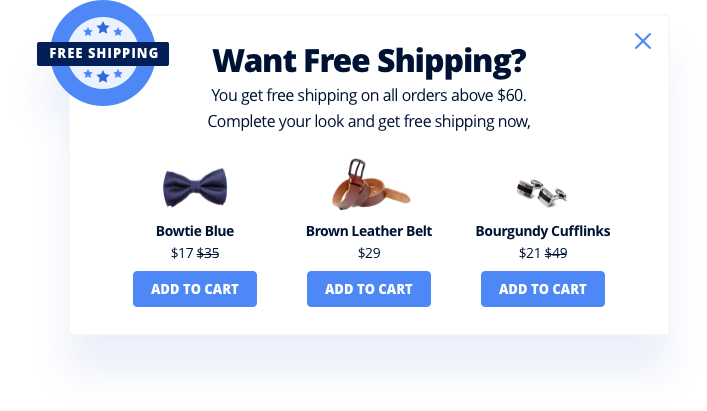 Seray Keskin
Product Marketing Manager, Drip
5. Make the Most of Your Customer Reviews
When it comes to customer testimonials, there are two main challenges waiting for e-commerce marketers:
Collecting as many rich and insightful reviews as possible; and
Using those reviews in the best way possible to convince your prospects to buy from you.
How you're asking for testimonials can have a huge impact on both the quantity and the quality of the reviews you collect.
Even if you convince your customers to leave a product review, most of the times they're too generic and broad.
Casper finds a clever solution to this common problem. A few days after you become a customer, the company sends you this email asking for a product review: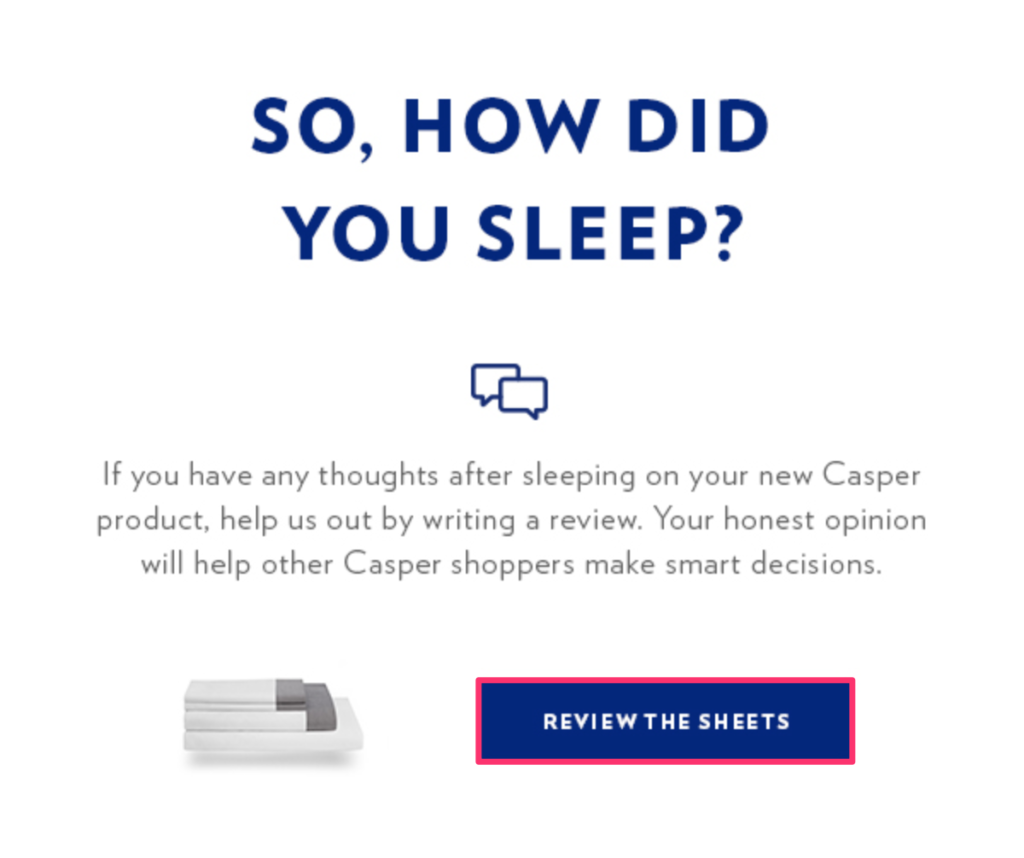 When you click the CTA button, you land on a page where you can submit the following form and leave a review: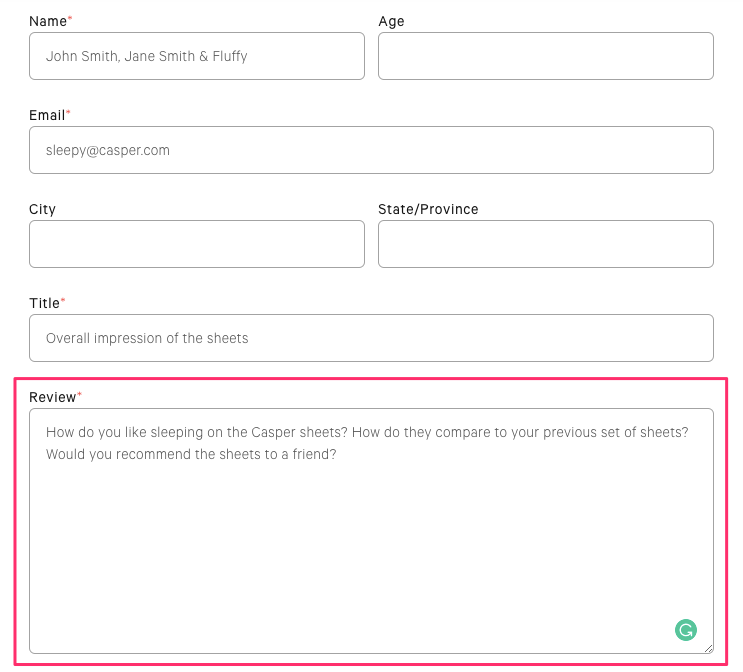 Casper invites you to answer some specific questions rather than leaving it completely open-ended. This way, it becomes easier for their customers to fill the form.
Plus, they get richer and more meaningful product reviews, like this:

How you display your reviews is as important as collecting them.
You can repurpose your customer testimonials across several channels: Use them in your emails, product pages, paid ads, and many more.
Take inspiration from Casper again. They both display customer reviews on a dedicated page…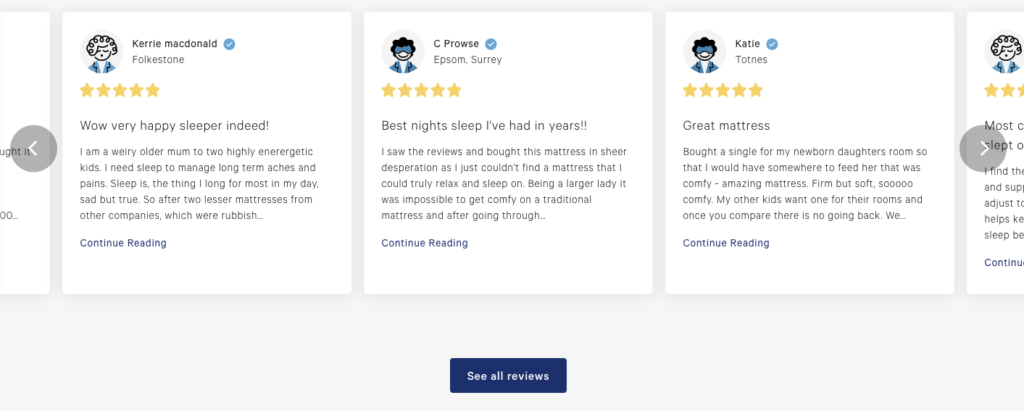 … and use it in their email marketing as social proof: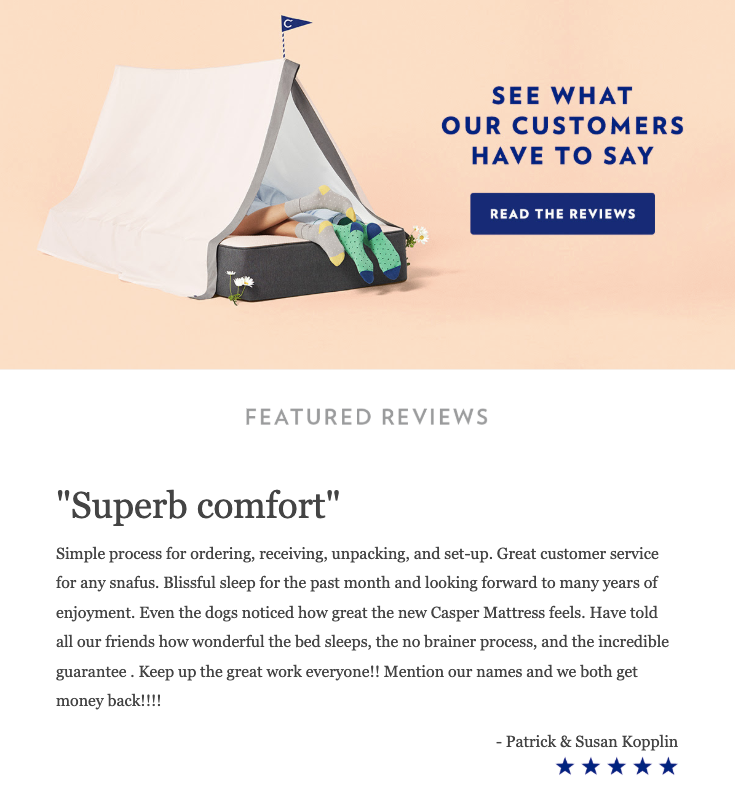 6. Create an Irresistible Unboxing Experience
With the rise of user-generated content and electronic word-of-mouth, the phenomenon of unboxing made a quick entrance into our lives.
It's not a coincidence that today a YouTube channel on unboxing has over 14 million subscribers.
Both consumers and marketers love unboxing videos. Because they help consumers get a detailed overview of the products they're interested in. And they mean social proof and more reach for marketers.
In order to create an irresistible unboxing experience for your customers, you need to set their expectations from the start.
Man Crates does that well by teasing the unboxing experience. When you enter your zip code on one of their product pages, the company gives you an estimated delivery date: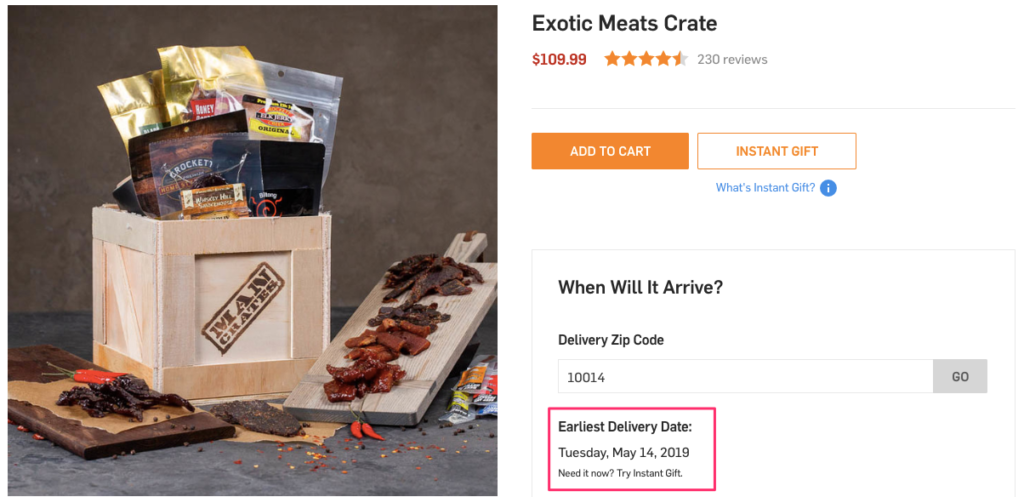 Plus, they give you more information about how your delivery will ship: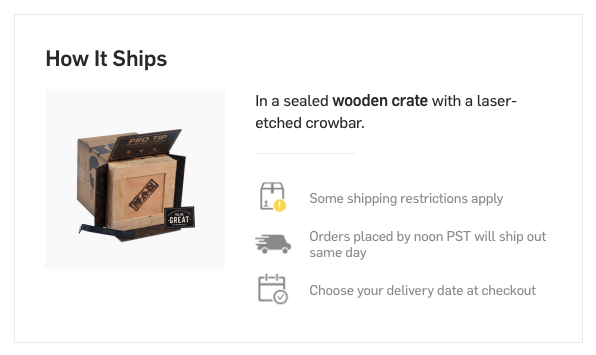 During checkout, they also let you write a gift note and enhance the gift recipient's unboxing experience.
And even better, they suggest some fun pre-written notes to choose from:

Their crates don't only come with a fun note …
… but also with a message that encourages you to record and share your unboxing experience.
If you want even more people to take action, you can offer your customers a special discount on their next order, in return for sharing their unboxing moments.
7. Turn One-Time Shoppers into Repeat Customers
Many e-commerce marketers focus too much on getting ToFu leads and converting them into new customers. While doing that, they fail to use the full potential of their existing customers.
In fact, repeat customers spend around 67% more than your new customers.
But without the right incentive, your customers will have little reason to return to your store.
With an attractive customer loyalty program, you can turn one-time purchases into repeat buyers and increase your revenue dramatically.
Knowing this well, Sunski has a unique customer loyalty program that rewards their customers for different actions they take.
Going beyond shopping points, they offer you many other ways to earn credit: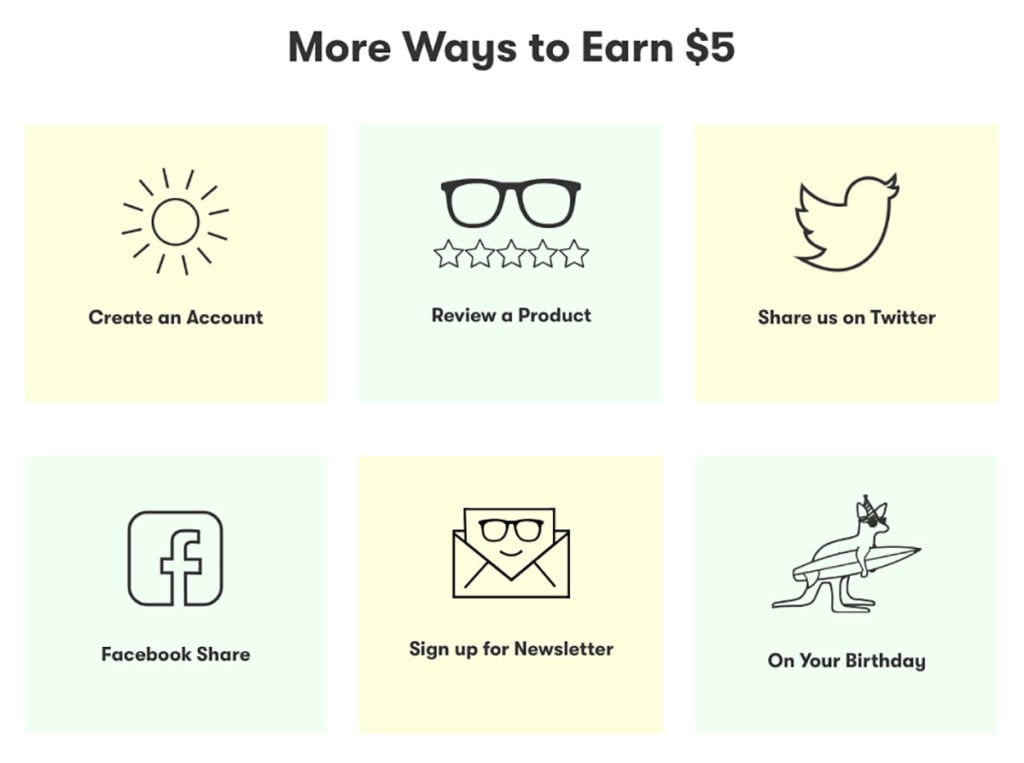 As part of their customer loyalty program, the company also uses referral marketing.
All you need to do is to write your friend's email address and Sunski takes care of the rest for you.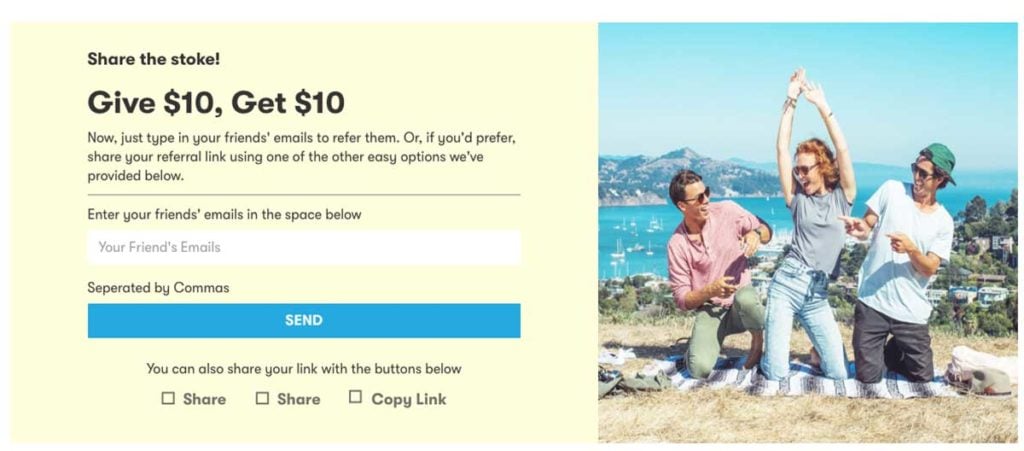 Your friend receives the following email and you both get a nice $10 discount on Sunski products.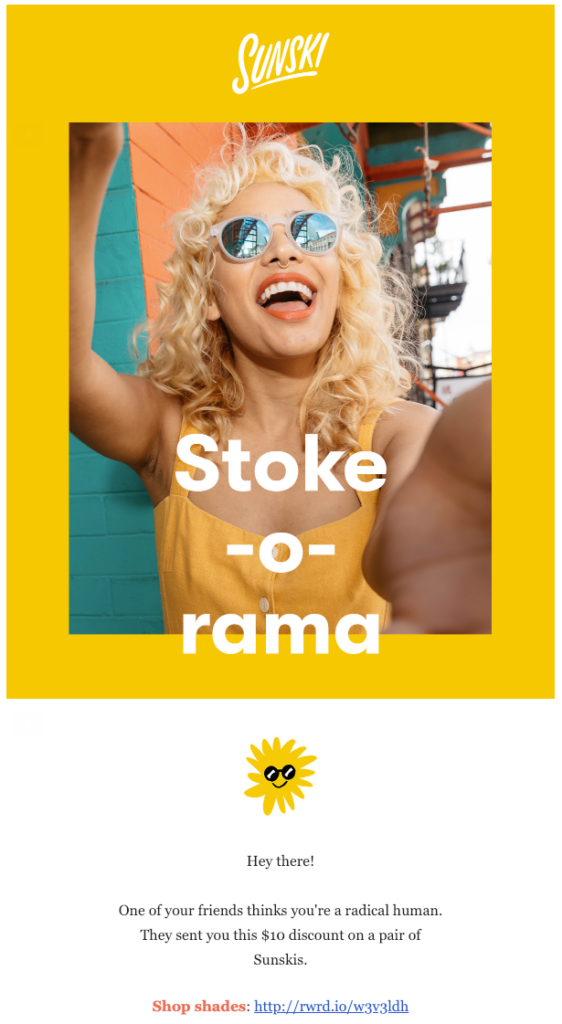 This way, you don't only retain your existing customers, but also let them bring you more customers.
The best part is, you don't need to create a loyalty program from scratch to use referrals. You can easily set up a Shopify app or use a third-party tool to start a referral program.
Conclusion
These were the key takeaways we had while writing e-commerce case studies on our blog.
No matter how many employees you have or what kind of products you're selling, I'm sure you'll find something valuable in them for your online store.
You can implement some of these strategies already today and test them out for yourself.