Ecommerce has been experiencing steady growth between 2008 and 2017.
As of Q3 2017, it accounted for 8.4 percent of total retail sales at $107 billion, which isn't too shabby.
So there is plenty of opportunities.
Being successful largely boils down to gaining visibility and getting your ecommerce site in front of your target audience.
And what's the best way to gain visibility and drive a high volume of qualified leads to your store?
Two words: search traffic.
According to Wolfgang Digital, "43 percent of ecommerce traffic comes from Google search."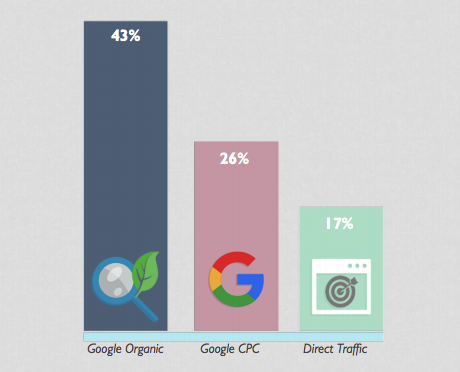 So it's clear that ecommerce SEO should be your top priority.
Nailing the key elements and covering all of your bases should help catapult your online store to the top of the rankings.
And luckily, outranking most of your competitors shouldn't be all that difficult.
While SEO, in general, has become incredibly sophisticated, you could argue that the SEO for many ecommerce sites is pretty lackluster.
It's all about following the right formula and putting in the time.
With that being said, here's a guide on the fundamentals of ecommerce SEO and the steps you need to take to outrank your competitors.
Table of Contents
1. Site Structure
Let's start from the top.
Site structure plays an integral role in the user experience as well as where you rank in search engine results pages (SERPs).
So you want to get it right.
One mistake many ecommerce stores make is getting "too cute" with their site structure to the point that it becomes needlessly complex.
What you want to do is make sure that it's simple and easy to navigate.
Ideally, every single product page will be a max of three clicks away from your homepage.
After all, the more clicks a visitor has to make, the lower your conversion rate will be.
Here's an example of an ecommerce store with a great site structure: Soaptopia.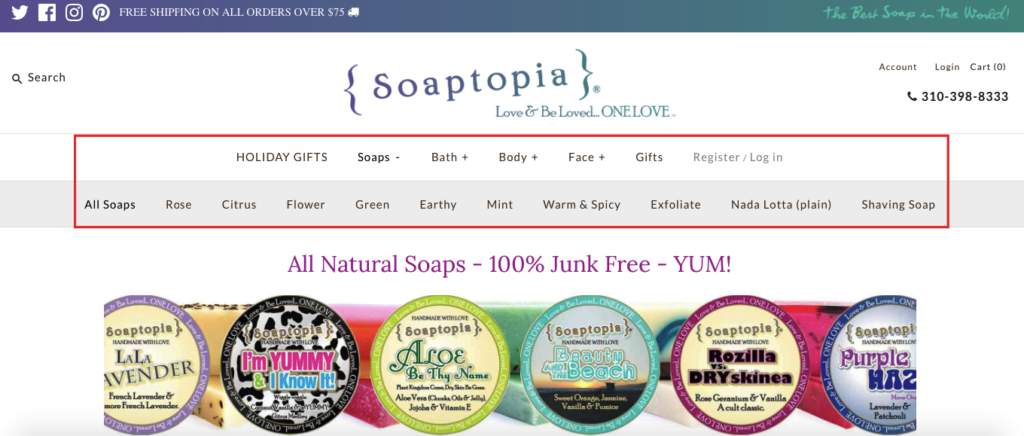 Notice how they break their products down into categories so visitors can quickly find what they're looking for.
Click on "Citrus" and you're instantly taken to a relevant page for citrus soaps.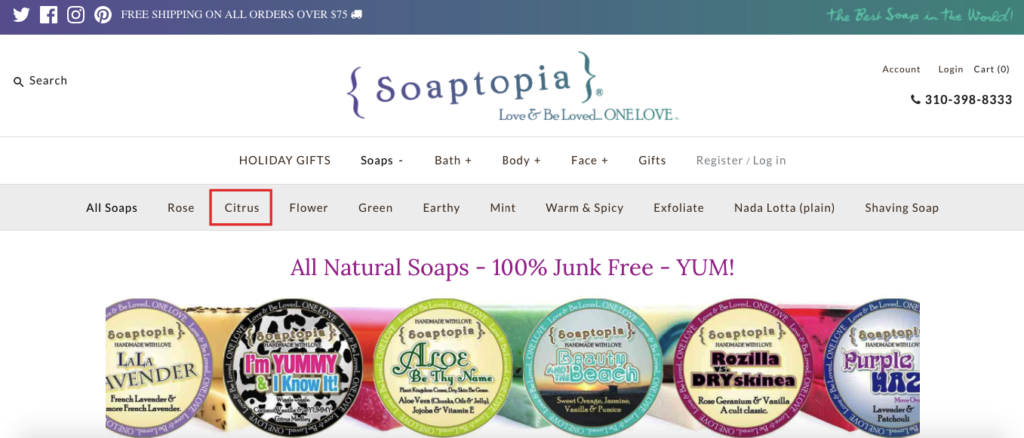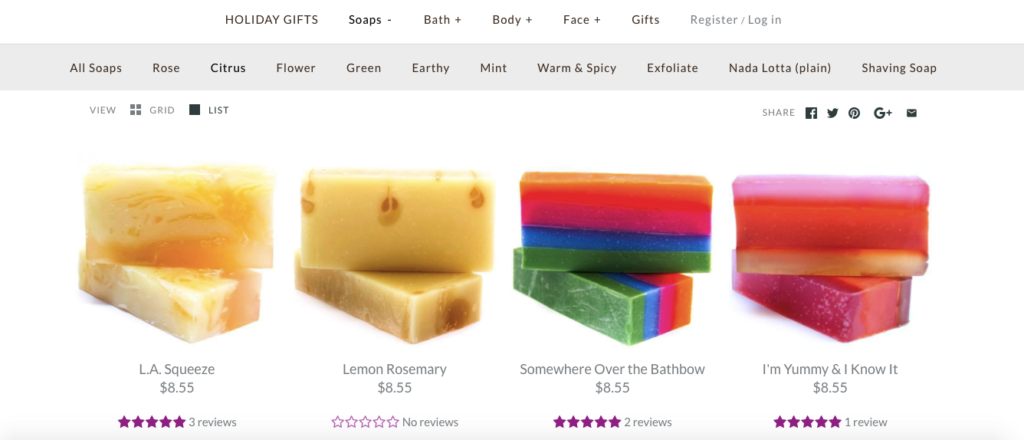 Click on a particular product, and it instantly pops up and offers you the option to add it to your cart.


The whole process is super simple and allows you to find what you're looking for without any fuss.
On top of this, Google can easily index all of the site's product pages.
So by keeping your site structure simple and well organized, you're appeasing both customers and search engines.
Keep this in mind when designing your layout and navigation.
2. Keyword Research
Performing keyword research is a critical step that will impact the rest of the process from here on out.
There are a few ways to go about this. You could always use the Google Keyword Planner, which can yield some decent results.
But I like to think outside the box and gain a better understanding of what online shoppers are really looking for.
One technique that can do wonders is simply using Amazon.
Of course, Amazon is likely one of your main competitors considering that they accounted for nearly half of all ecommerce sales in 2017.
But what better way to get a pulse on what online shoppers are looking for than using Amazon Suggest?
And it's really quite easy. Here's an example:
Just type a broad keyword into the search box.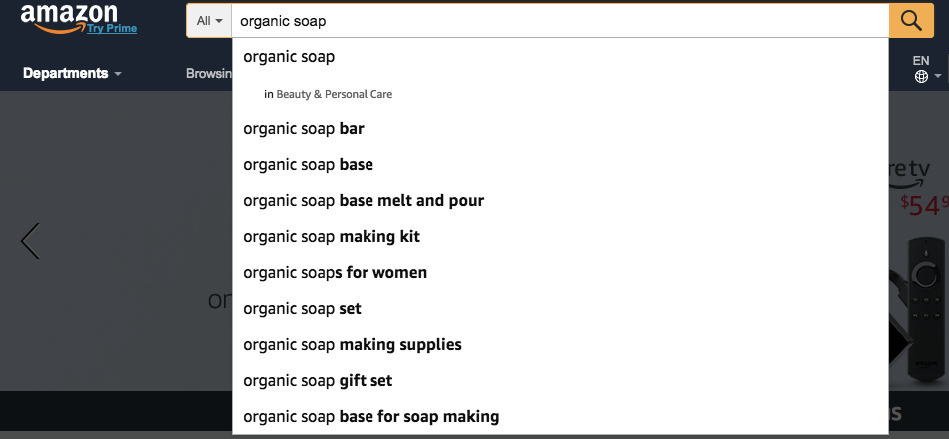 You'll quickly get a nice list of keyword ideas.
Then repeat for all of the key products on your site.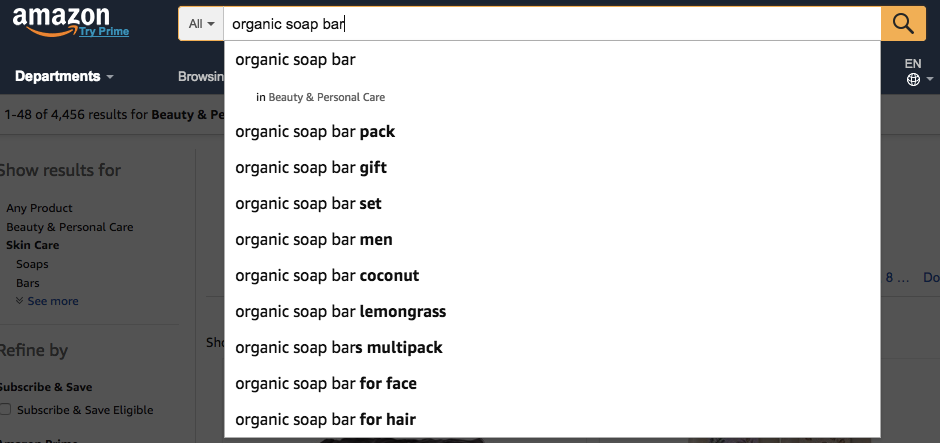 Another simple trick is to use Google's related searches features.
Again, type in a broad keyword.
Then scroll down to the bottom to related searches.

This can supply you with even more ideas.
You can also click on one of the related searches to get even more specific keyword ideas.

Scroll down to the bottom again, and there you go.

Repeat ad infinitum until you have a sizable list of keywords.
From there you may want to do a bit more investigating to check out details like a keyword's monthly search volume, difficulty to rank for, and more.
You can do this with Ahref's Keyword Explorer.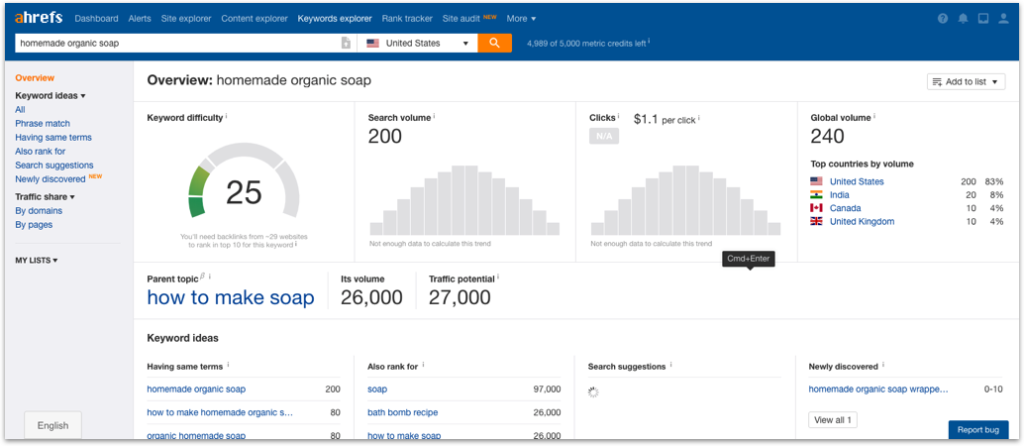 Generally speaking, your best bet is to stick with long-tail keywords with a minimum of three words.
Being too broad can marginalize your efforts. It's going to be difficult to eclipse competitors and get out from Amazon's shadow (unless of course, you perform a competitor analysis).
3. Optimizing Product Pages
Now it's time to take your keywords and incorporate them into your product pages.
Doing this involves following many of the same basic SEO principles that you would for any other type of website or blog.
i. URL
You want to start by creating a short, succinct URL that incorporates your target keyword.
According to Backlinko, 3-5 words is ideal.
Here's a good example:

ii. H1 Tag
As you probably already know, header tags (H1s in particular) carry a considerable amount of weight.
So it only makes sense that you'll want to include your target keyword in the H1 Tag of your product page.

iii. Product Descriptions
To truly get the most out of ecommerce SEO, you want to include some well-crafted copy for each product.
This helps search engines figure out more details about your product, which should give you an edge in the SERPs.
But here's the thing. Many ecommerce stores skimp on this area.
Many create product descriptions that are too thin or simply feature duplicate content from the manufacturer's website.
This, however, is good for you because it provides you with an opportunity to surpass your competitors.
By creating robust product descriptions featuring target keywords, you can elevate your overall SEO.
In terms of length, there's still some debate as to what's ideal. Some experts recommend using up to 300 words.
Others, like Brian Dean, recommend going all out and writing 1,000+ word descriptions.
Dean's logic is that it helps your customers better understand your product and helps Google understand what your page is about.
Others think that this is overkill when you consider that much of online shopping is done through mobile devices and say that 50-100 words often makes more sense.
Quite honestly, there isn't an ideal length for product descriptions that works 100 percent of the time.
And it largely depends on the product. For instance, 1,000 words may make sense for a complex electronic product with dozens of features, but would probably be unnecessary for a bar of soap.
Therefore, you should use your best judgment.
At the end of the day, the product description should be thorough enough to answer any pressing questions your customers may have and should incorporate your keywords in a natural manner.
If you do this, you should be good to go.
iv. Image Optimization
There are two steps that go into image optimization.
First, be sure that at least one of your images contains your target keyword in the file name.
For example, "lemon_rosemary_soap.jpg".
Second, be sure to include the target keyword as part of your Alt text.
v. Meta-Data
Just as you would include your target keyword in the meta description on any other page, you'll want to do this for each product.
This should be a max of 160 characters in length.
4. Adding Customer Reviews
Customer reviews kill two birds with one stone.
First, they help you build trust with online shoppers and increase your brand's credibility.
In fact, "88 percent of consumers say that they trust online reviews as much as personal recommendations."
This can ultimately increase your conversions and overall revenue.
Second, they provide some additional text that search engines can use to better understand what the content on a particular page is about.
Here's a good example: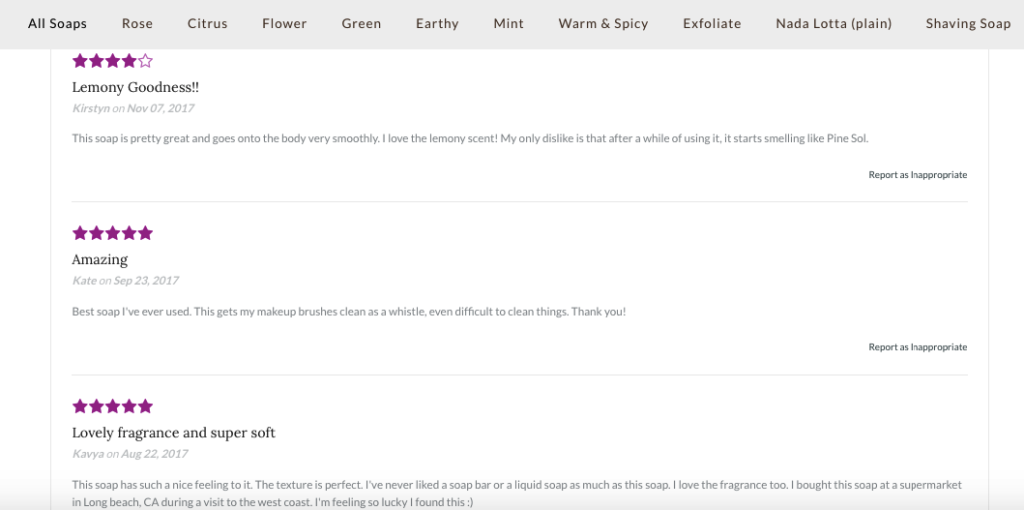 Studies have even found that "reviews can have an impact of up to 10 percent on a business's search rankings."
Although this may be over the top, every little bit helps. So it's smart to include a few reviews of your products if at all possible.
And you don't need to go crazy because "40 percent of buyers form an opinion of a business after reading just 1-3 reviews."
5. Social Signals
While there's still some debate as to the exact impact that social signals have, you can't deny that they do affect SEO.
Here's a screenshot of where Brian Dean ranks some of the most common social signals among his top 200 Google Ranking Factors.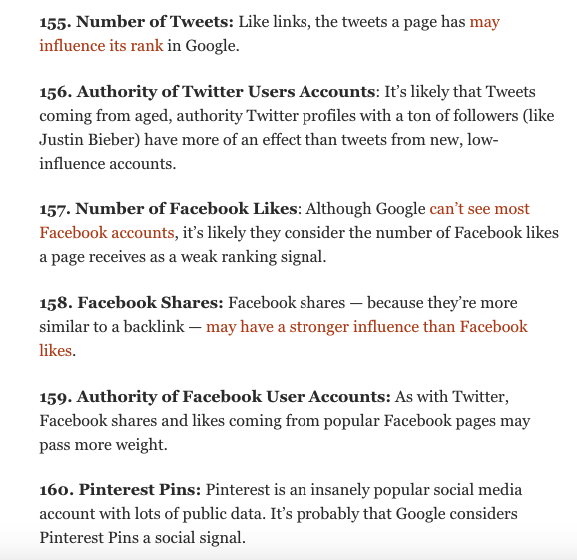 So yeah, social signals are kind of a big deal.
Following this line of logic, it only makes sense that you would want to incorporate social share buttons into your product pages.

This encourages customers to share your products and provides them a convenient means of doing so.
And in the long run, this can definitely give your ecommerce site more SEO oomph.
6. Building Internal Links
You're probably already aware of the value that internal links can have on a regular website or blog.
Brian Dean even lists the number of internal links and the quality of internal links as numbers 38 and 39 on his top 200 Google ranking factors.
This same concept applies to an ecommerce store.
So make it a point to look for internal linking opportunities where you link from authoritative pages to your top priority product pages.
Also, be sure that you're using keyword rich anchor text when doing so.
Check out this resource from SEMrush for more on anchor text optimization.
7. Addressing Security
Online security is a huge deal these days.
Every single day more than five million data records are lost or stolen, which equates to 59 records every second.

So it should come as no surprise that Google now considers security to be a ranking factor.
More specifically, HTTPS is a ranking signal meaning that you want to switch from HTTP to HTTPs if you haven't done so already.
This is done by obtaining a secure socket layer (SSL) certificate, which you can learn about here.
Making this move is pretty much a necessity in this day and age.
Not only does it help protect the sensitive information of your customers, it makes your ecommerce site look more legitimate in the eyes of search engines.
8. Revving Up Your Site Speed
This is a biggie, and page loading speed is even listed at number 20 in the top 200 Google Ranking Factors.
Even if you have an amazing ecommerce site that's optimized to perfection, your success will be marginalized if it's painfully slow.
Here are a few stats that show just how critical this really is from a customer satisfaction standpoint:
47 percent of consumers expect a web page to load in two seconds or less.
40 percent abandon websites that take more than three seconds to load.
79 percent of shoppers who are dissatisfied with website performance are less likely to buy from the same site again.
As little as a one second delay decreases customer satisfaction by about 16 percent.
The bottom line is that having a fast loading site is important for SEO and for pleasing your customers.
So how do you speed it up?
First, use the Pingdom Website Speed Test to determine just how fast your site is and how it compares with similar sites.
Simply enter your URL and start the test.

From there, your site will be graded, and you'll receive some specific performance insights.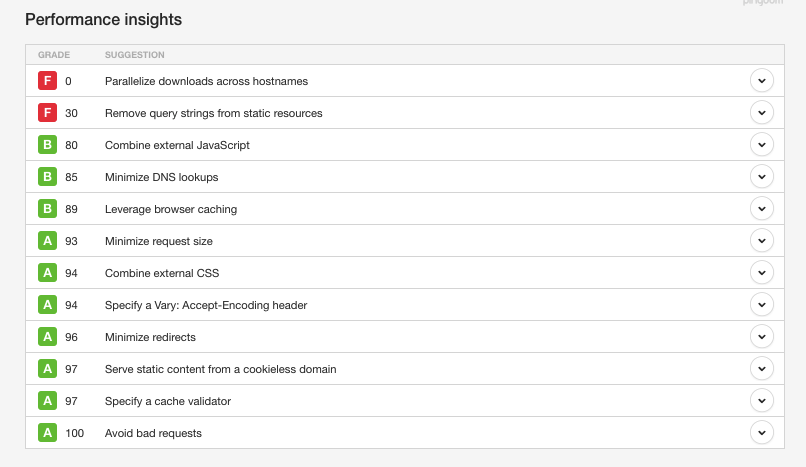 Then use this information to identify which specific areas you need to address in order to speed up your site.
Master Ecommerce SEO One Step at a Time
As you can see, there are a lot of factors that contribute to ecommerce SEO.
While it may seem a bit overwhelming initially, it becomes much more manageable if you break it down step-by-step and focus on one element at a time.
You'll typically want to begin by fleshing out your site structure so that it's well organized and easily navigable.
Then take the time to perform adequate keyword research, and use your targeted keywords to optimize your product pages.
From there it's a matter of tackling some other key areas like customer reviews, social signals, security, and speed.